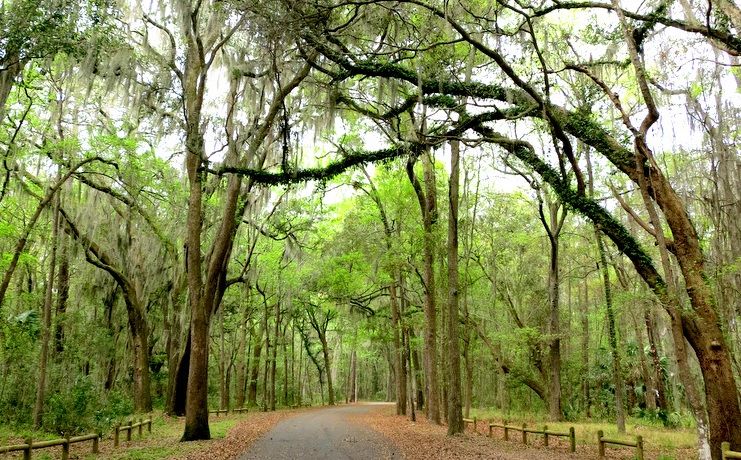 Georgia is in the south eastern part of United States. Its population was said to be over 10 million in 2014. Georgia has a total area of almost 154,000KM square. Like all other states in the United States, Georgia has so many camping and hiking sites that you would need a book to list them all.

Many of these camping and hiking areas are particularly rocky, one thing I found very convenient was using a camping hammock, and be sure to bring a camping stove, many of the camping facilities are pretty lacking in amenities.

Skidaway Island State Park
This park is a great spot for hiking and camping in Georgia. What makes this site a hot spot is the availability of some wildlife like egrets, raccoons, fiddler crabs and reindeer. Campers can enjoy their camping activities and still enjoy the presence of some of these animals.
Apart from the animals, what also attracts campers to this park is the 20-foot reptile room built in the shape of giant ground sloth. It is a campground that offers interesting scenery. After spending a few hours of hiking, you can rest under well grown oaks surrounded by Spanish moss. The tranquility of this site is also worthy of mention.
Mistletoe State Park
This is another great site for camping and hiking. This park is actually famous for having fantastic fishing spots. It also has a sandy beach where visitors can cool off after the activities of the day.
This is a busy location as programs are organized all through the year in this location. Some of them are nature walks and musical concerts. It has 10 well equipped cottages around the lake therein. And it also has 5 log cabins. There are canoes for rent too.
High Falls State Park
This is another venue suitable for both camping and hiking. This park is located at the north western part of Macon. To make visitors have a wonderful fishing experience, there are boats for rent and ramps. There is a fishing dock that leads to the lake in the park.
There is enough space for overnight campers. And it also has lakeside yurts that can provide warmth on a cold night. To make visitors feel at home in the yurts, each of them has a picnic table, a deck, an outdoor grill, a ceiling fan and some furniture. One thing that should be mentioned is the availability of a swimming pool. Hikers can walk along the long river's edge and also through the hilly forest.
Cloudland Canyon State Park
What makes this park unique is the presence of a deep gorge in it. Only rugged hikers who are tough enough to get to the bottom of the deep gorge will find out that the park also has two waterfalls. In addition to the features mentioned above, visitors will also enjoy its surrounding scenery.
Vogel State Park
This great camping park is said to be one of the oldest parks in Georgia. What makes it unique is its being located at the base of Blood Mountain in Chattahoochee National Forest. It offers a lot of trails from which hikers can choose.