Enrapturing beauty of Mountains, bewildering charm of landscape, re-energizing wind of Himachal Pradesh will take your breath away for a while. God's awe-inspiring masterpiece, Himachal Pradesh is a symbol of resplendent beauty. Himachal Pradesh justifies a true meaning of incredible India. A blissful beauty of Himachal does not only reflect in its complex but also in people. I might fall short of words to give a meticulous description of Himachal. Himachal touches your soul where you are aware of the fact that your heart has been stolen now by Himachal. You voluntarily surrender your soul to Himachal. You elicit a fascinating bonding with this place with each and every day.
Have you ever spent your night in a camp or just lying under the sky full of stars? Our topsy-turvy routine life never allows us to step out but just kick hard to this toxic life once. Escape yourself once in Himachal and you will realize the value of your life. Life in Himachal is not covered by fancy stones, it's simple yet very grandee. These 5 places are marvellous beauty of Himachal which will force you to pack your bags to travel. See the beauty of your soul by exploring Himachal which is hidden somewhere inside you.
Kasol: An enchanting place sleeping on the lap of charismatic Parvati valley. Kasol is a blender of prodigious psychedelic culture and benevolent Himachal culture which has been attracting travellers and tourist from past few years. Many Israelis are living here as a localite in small villages around Kasol. Massive growth has been experienced in the tourism of Kasol. A popular destination among youngsters as it offers enigmatic way of exploring life and it's true aspects.
How to reach: This travel guide is as per Chandigarh but you can travel via Delhi as well. Book a bus from Chandigarh to Bhunter which is approximately 6 hours journey. Bus fare is variable as both private and public buses are available. Once you reach Bhunter, your next destination is Kasol which is 32KM away from Bhunter. Just walk a little to go to another bus stand (ask any local for the exact location) and take a public bus for Manikaran Sahib. Bus fare is 45 Rs then get down at Kasol chowk which is the last stop before Manikaran.
Where to stay: Many guesthouses are available near Kasol Chowk which is pretty affordable. Dev Lok guesthouse is one option for solo travellers where you can get a pleasant room for 500 Rs per night equipped with coffee table, Television, geiser and free Wi-Fi is also available. Dev Lok is located at Kasol Chowk itself. Apart from Dev Lok, other options are also available. Take guidance from Local people as they will guide you well for reasonable accommodation options.
Places nearby Kasol: Kasol is surrounded by small villages and divine holy places. Take a hot bath at Manikaran Sahib, trek to Kheerganga, Enjoy Irish Coffee in Chalal Village, Smoke superior quality of Hash in Malana, Explore beautiful splendid route of Barsheni to Tosh Village.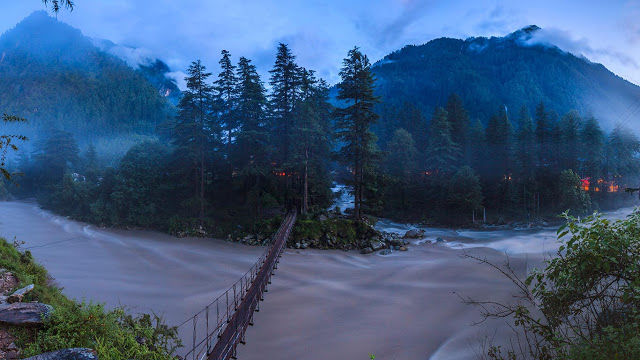 Mcleodganj: Stupendous hilly town where you explore different colours of nature and culture. Our own mini Tibet which is comprise of illustrious Monasteries, stunning Israeli cafes crafted beautifully, and radiant Tibetan markets. Breathtaking view of Dhauladhar ranges and sparkling beauty of Mcleodganj invites various travellers from all around the world. Exhilarating way of living life with fewer amenities is a Mool Mantra of people residing in Mcloedganj. Over crowded with tourist and travellers which has seized the real beauty of Mcloedganj nevertheless it represents the evergreen beauty of Himachal.
How to reach: This travel guide is as per Chandigarh but you can travel via Delhi as well. Book a bus from Chandigarh to Mcleodganj. Buses are usually available during night only. An overnight journey of 7 hours directly drops you at Mcleoganj bus stand. Now use your bargaining skills to book a cab till Mcloedganj chowk or take a pleasant walk till chowk. Your bargaining tricks can give a ride in 100 Rs maximum.
Where to stay: Hills Heaven located near Bhagsu nag can give a pocket friendly stay in 500 Rs. Apart from this, there are several options to stay such as Trimurti Garden Cafe, Skypie guest house, Ketan lodge and many more. Get a best deal online or take a guidance of any localite for affordable stay.
Places to explore in Mcleoganj: take a deep rejuvenating bath in Bhagsu Waterfall, Trek to mesmerized Triund Hills, Enjoy a blissful night sleeping under the sky at campsite (Triund), take a visit to Dalai Lama Monastery, and wander with your backpack on the streets of Dharamkot.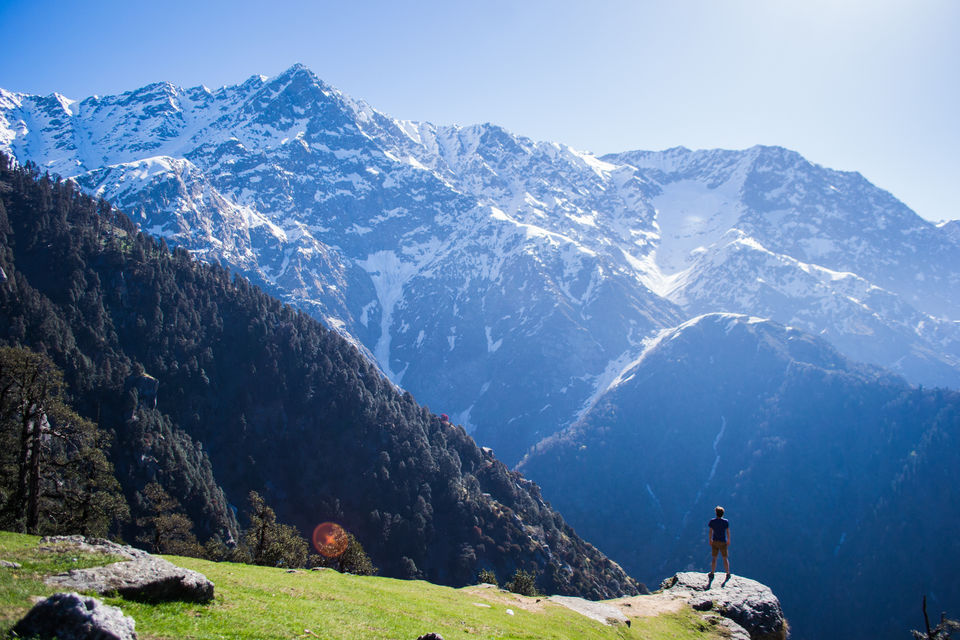 Bir: There is a big blue sky waiting just behind the clouds and it's Bir Billing in Himachal Pradesh. Unexplored hidden gem of Himachal Pradesh located in Kangra district gives you a pleasure of experiencing natural beauty at its best. Walking on the streets of Bir will not make you feel tired at all. Picturesque Bir is a noted centre for ecotourism, spiritual studies and meditation.
How to reach: This travel guide is as per Chandigarh but you can travel via Delhi as well. Take a bus from Chandigarh to Bir. Distance will be of 7 hours so a night journey is a preferable option. Take a taxi to go to the main chowk once you get down from bus. Taxi fare can be variable but minimum cost is 100 Rs.
Where to stay: Near Bir chowk, there are numerous options to stay. An economical stay in guesthouse will cost you around 300 Rs. Room will not be very luxurious but simple and completely safe. Guesthouse options are in abundance so just take a local's guide or check online for affordable deals. Enjoy a low priced stay at Bhawani guesthouse, pawan guest house and Sangrai guesthouse.
Places to explore in Bir: Paragliding World cup 2015 has happened in Bir Billing so experience a thrilling joy of Paragliding at Bir Billing. Billing is one hour away from Bir. Paragliding will cost you 2,500 Rs during off season. It includes your transportation from Bir to Billing and Go Pro Shoot of your whole paragliding journey.

Spiti Valley: Ecstasy ride on your way to Spiti will make you hold your breath for a moment. Snuggled in the arms of higher ranges of mountains like Rohtang Pass and Kunzum Pass. Spiti is a precious gift of nature to Himachal. Spiti is a middle land between India and Tibet which unveils an exclusive Buddhist culture. Being a research and cultural centre of Buddhism, Spiti is a heaven for adventurous backpackers.
How to reach: This travel guide is as per Chandigarh but you can travel via Delhi as well. Take a bus from Chandigarh to Manali. From Manali take a Jeep or Bus to keylong which will take another 5 hours. If you want to travel by train then Jogindernagar is the nearest railway station. Taxi and buses are available to take you directly to Lahaul and Spiti.
Where to stay: Explore the best service at Tashi Zom guest house in Kibber and Kay Chee Lodge in Kaza. Check online for best deals regarding accommodation in Spiti. You can avail a reasonable stay option for 500 Rs per night in Spiti.
Places to explore in Spiti: Trek to Chandra Taal Lake and have a euphoric camp night at Chandra Taal, Enjoy an adventurous Mountain ropeway at Chichum, Hike to Key gompa, have a delightful full moon view at Spiti river and praise the ancient architecture of Tabo Monastery.

Kinnaur: A real treasure from city's hustle-bustle and the beauty of Kinnaur district will make you feel awe. Splendid mixture of Buddhism and Hinduism culture and beliefs, Kinnaur offers quaint places to explore. Inheritance of Himachali culture lies in its every corner. Amazing culture, heritage and tradition of Kinnaur is the major reason behind Kinnaur's popularity among youngsters as well as among old folks.
How to reach: Start your journey from Chandigarh to Shimla by 4 hours bus journey then preferably take a road trip from Shimla-Kalpa-Sangla. Another option is you can take public HPTDC bus from Chandigarh/Shimla to Reckong Peo. A route to reach Kinnaur is considered to be the deadliest roads in the world.
Where to stay: There are ample options available in Kinnaur for stay which is pretty economical. PWD rest houses are also in your options but availability is the only concern. Guesthouse and luxurious stay both are available in Kinnaur. Check online or take a guidance of any local for more stay options.
Places to explore in Kinnaur: Experience a soothing stay at last inhabited village of India – Chitkul, enjoy divine colours of sky while sunrise and sunset at kalpa, visit enchanting Sangla Valley, Take a blissful hike to Kinner Kailash.
Image Credit: Flickr
These places are my personal favourites but it's equally true that Himachal has plenty of beautiful places to explore. so if you know any other place in Himachal which is your personal favourite then do mention in the comments below. I would love to explore more places in Himachal.