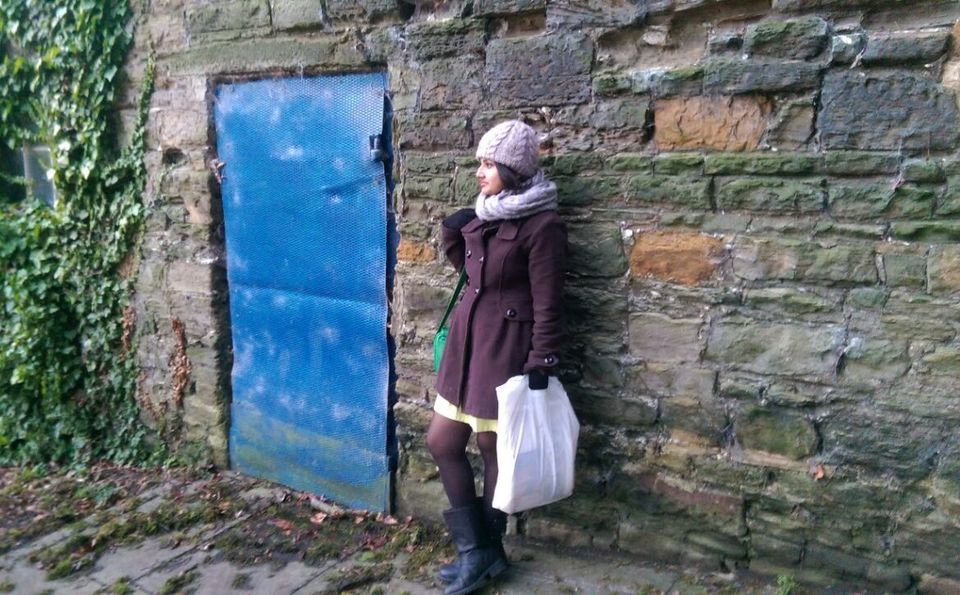 I feel like I live in the past, too many flashback moments, too many #throwback posts and it gets so difficult to feel happy where you are when you know that certain places exist where complete bliss resides.
So listing below, 5 places that where I sat down, no matter what the weather was, no matter how I was feeling before…5 places that made me forget everything for a bit and just not leave.
Belfast was on my list for 2 reasons. 1st, I had to visit at least a part of Ireland before I left the UK and 2nd was the Antrim Coast and the Giant's Causeway tour. It was my first complete solo travel experience, and I loved it.
At one location (above picture) I sat on a bench, in heavy rain and cold wind just to sit and smell the sea for a few seconds. And stare at how rough and yet gorgeous it was looking. These are the things that are literally imprinted in mind through memories. I wouldn't have left that spot if my coat was not drenched and boots not soaked. Yes, definitely left a part of my soul there.
This one is Pangkong Lake, Ladakh. Been years since I was there and I still dream of it. -6 it was while I sat on that rock and let my dad take this picture. I looked terrible with the chapped lips and the stupid white cap that didn't match anything. But when something that beautiful is in front of you nothing seems to matter. I'm going to go back one day, hopefully soon and soak in the saline air at the top of the world again.
This one was one of my most favorite moments in life ever. The sun was out in Newcastle, and we just had to get out of the dorms and head to Leazes Park. The gorgeous Autumn sun and soft grass was perfect. Sitting there with that glass of wine with my friends was possibly the happiest and relaxed I have ever felt. I would never want to leave that moment and that spot in the sun if I had a choice. #Nostalgia
It might be safe to say that it is (almost) every girl's dream to visit Paris. My visit didn't happen over night but I was excited and even nervous of being in the world's most loved city. It was the first time I really traveled with friends. It was the start to my first ever Euro -tour! And as I got onto that walk so my friends could take a picture of me with the Tour de Eiffel in the background, I just happened to turn towards it and it suddenly hit me!
I was in Paris!!! and duh I didn't want to leave, I would go back in a jiffy. I picture myself living on the Saint Michel road with the cute Notre Dame flea market next door. Having Croissants and coffee every morning and traveling to Nice on weekends.
Finally, the 5th place/spot I didn't want to leave ever! Was Loch Ness. Growing up as a book worm I read so many stories about this place. I was thrilled. I was in awe of the vast space in front of me. That feeling of a never ending space and looking up towards a distant horizon was just breathtaking. I want to move to Scotland for a couple of years and drive up to Urquhat castle on occasions. Lonliness, sadness, happiness no feelings matter at all when you just lose your self in a moment and in a place. For me this spot on the shores of Scotland's most famous lake was just that.