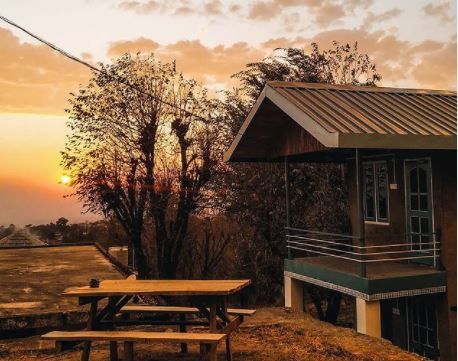 A sweet old lady in the village of Sharchi once told me that what you're doing on the 1st day of a year is what you'll be doing for the majority of the year. Now I'm not one to believe in superstitions but let's just say that the lady's words did push me to make the most of that 1st January. I can't promise that the way you spend your new year will determine the tone of your entire but I am sure that ringing in 2022 at scenic location is just the dose of joy that you need!
Don't worry, if you are on a tight budget, we've curated a list of some of 5 cozy properties across India that will keep you grinning with their pocket-friendly prices as you wake up on 1st January, 2022. Scroll below to find out!
1. Cliff & Coral, Varkala
Sea breeze tickling your skin, sun rays and palm tree leaves playing peekaboo and you laying in a hammock with a sleepy smile on your face. Is this your definition of the perfect start to 2022? Well then, dear beach bums, not everyone has to head to Goa this December! Instead, make your coastal dream come true by heading to the serene town of Varkala. At Cliff and Coral, you can run on a sandy beach on one hand or watch a mesmerising view from the cliff on the other. Both these experiences are only at 100 metres of distance from the hostel. So, who wants to go visit the waves?!
Approx. Price: Rs.700 (as checked on December 18th, 2021), website: www.makemytrip.com

2. Tree Souls, Jibhi
Meanwhile, if you're daydreaming about another episode of "Mountains and me", then you'd better head to Himachal Pradesh's darling Jibhi. The TreeSouls hostel was started with the mission of encouraging more plantation of trees and you will experience this greenery in their ever so green retreat. With a private waterfall, tube swinging adventure activity and river facing rooms, the property is an ideal hilly getaway. A little birdie thinks you may even witness snowfall! Make friends with their dog, Shera and gaze at the undeniably beautiful Tirthan Valley to make it a January to remember.
Approx. Price: Rs.1,094 (as checked on December 18th, 2021), website: www.booking.com
3. Heritage Homestay, Chikmagalur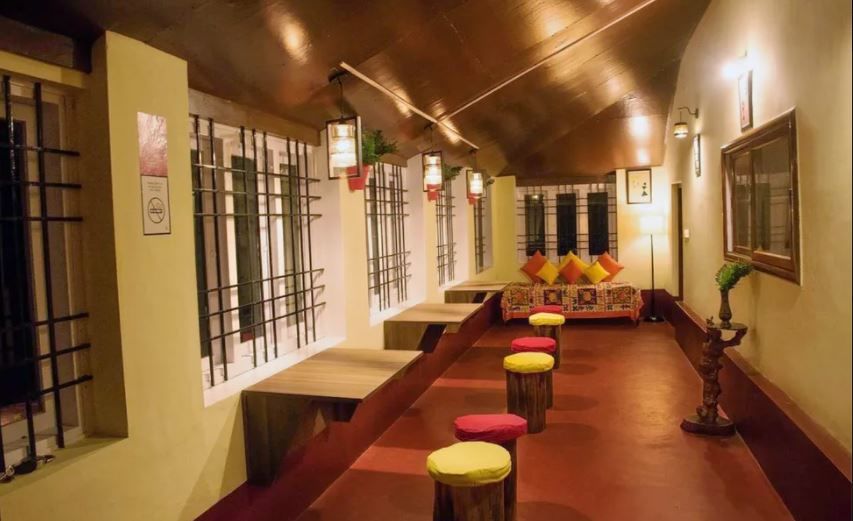 A blanket of mist and a throng of trees will greet you at this 150-year-old homestay. Decorated in simple yet tasteful tones, the property is equipped with basic amenities to keep you comfortable. Want to know the best part? It certainly has to be how the homestay successfully cuts you off from the busy world of the city life. Here it is just you, friends made on the road and the coffee plantations that you can look out at right from your window. Go for hikes, visit view points and revisit the nostalgia of picnics to indulge in a wholesome trip in Karnataka's Chikmagalur.
Approx. Price: Rs.999 (as checked on December 19th, 2021), website: www.thrillophilia.com

4. Ira's Hideaway, Kandbari
I think one can never explore Himachal Pradesh enough. The state crops up gem after gem and never lets one's wanderlust be satiated. 15 minutes from the heart of Palampur lie the Kandbari Hills. Ira's Hideaway is tucked away over here for those seeking a tête-à-tête with the mountains. Made with mud and bamboo, the walls of this mountain home have you sniffing into the Kangra Valley air. The property reward its visitors with unforgettable sunsets. So, as the evening of 1st January approaches, you could curl up in a duvet, with your favourite book in your hands, the Lumineers cooing from your phone and the sight of a magical sunset over the Dhauladhars filling your heart.
Approx. Price: Rs.913 (as checked on December 19th, 2021), website: www.tripadvisor.com

5. Hotel Tokyo Palace, Jaisalmer
Having once lived in Rajasthan, I cannot emphasise on this enough but I'll say it all over again - the state has the best hospitality in the country! Plus, in Rajasthan even budget properties splash a riot of colours and fabrics in their rooms to brighten up every nook and corner. At Jaisalmer's Tokyo Palace, the dorms have you sinking into the bed upon cheerful patterns of rustic cushions. Take a swim in the outdoor pool if you dare or cocoon yourself in woollens as you sit by a bonfire. On the first day of 2022, walk up to the hotel's terrace for your eyes to feast upon the majestic sight of Jaisalmer Fort, the Sonar Qila that glistens in the sun and even under the moonlight.
Approx. Price: Rs.633 (as checked on December 19th, 2021), website: www.booking.com
So, if you're looking to wake up far away from the metropolitan life, choose amidst the forest or the riverside, a cultural hub or a hill station hamlet to make it a new year to remember!
Think we missed out on something? Tell us about it in the comments below. Or write about it here on Tripoto and earn Tripoto Credits!
You can say hi to the author on Instagram @migrantmusings