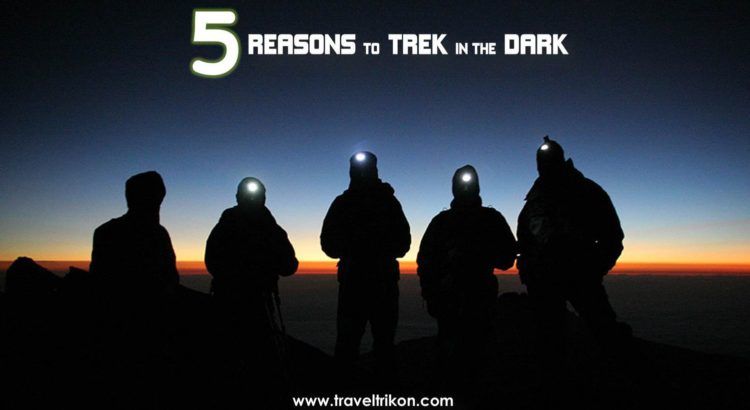 5 Reasons to Trek in the Dark (Night Trek)
Trekking is a life changing experience that keeps you going and teaches you to beat obstacles in life.
What makes it even more happening is the added amount of thrill and excitement? Bidding adios to the monsoon, here comes the time when we enter a new genre of treks. Yeah!!! It's time to play hide and seek with the mountains.
Bye Bye Heat!!!!
Night trek usually ends at sunrise, which makes it an amazing experience for a trekker who absolutely hates trekking in the sun. As the dawn breaks, you've already finished your trek successfully.
Look Above!! Witness the Galore of Stars
Millions of stars have opened their wide arms to welcome you. As soon as you reach the top of the mountain, simply lie down and look above. If you're lucky enough you'll be able to see shooting stars.
Fun starts at night
Trekking in the dark is indeed a heavy adventure dose, with absolutely zero visibility and route finding tasks; you'll have immense fun with your travel buddies. Yes, your torch is your companion who guides you during the night trek.
Night Trekking is thrilling indeed
You carefully tend to follow the footmarks of your leads and make way following the convoy. It's just you, the stars and the buzzing bees giving you the much needed solace.
Time for enough rest
Most of the night treks at Sahyadri end as soon as the sunrises, so post breakfast it's time to head towards home. You get sufficient time to relax and rejuvenate, which gets you kick started for a hectic weekday.
It's not just monsoon that offers bliss, trekking continues to surprise you all throughout the year. Grab your torches and set out to camp, chill and climb mountains.
You've got many more reasons to trek at night? Well, do list it down; we are eager to hear from you!!