While visiting a new place, one always wonders what they could have in store for them.. So we will give you the low-down on the cheapest places, so that you have the most memorable experience, even when you're the most broke!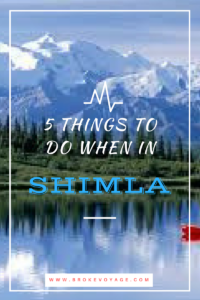 Channa Bhatura – If you are in the mood for some cheap, affordable food, that excites your taste buds too, Sita Ram and Sons is the place to go. At Rs.30 per plate, you get what is touted to be the best channa bhatura Shimla has to offer. It is the perfect solution to hunger pangs, and is light on your broke wallets, too!
Bird Watching – The Shimla Water Catchment Sanctuary is most definitely going provide a wholesome, affordable experience to you bird lovers out there. Make sure you reach before the crack of dawn, and make use of the head start you have. A few popular, and not-to-miss birds that one can see, are Chakor, Kalij Pheasant, Black and Brown Partridge, Thrushes, Himalayan Magpie, Bulbul, Wood Peckers, Parrots, and Mynahs. The entry fee to this location is also only Rs 50, making it a cheap affair, which keeps your broke soul at peace.
Lower Bazaar – The Lower Bazaar is home to the city's affordable hotels, cheaper restaurants and stores, and a congested wholesale vegetable market. Lower Bazaar retains an old worldly charm and is an excellent place to try some Shimla specialty dishes, like Uradh Dal with rice or Shepard's Pie. It also sells clothes and household items, at cheap rates!
Summer Hill – A gorgeous tourist spot, located at an altitude of 1283 metres, Summer Hill is is an exceptionally beautiful tourist spot in Shimla. It is situated at an altitude of 1283 meters. The area is beautified by the serene beauty of quiet hills that give it a nice and breathtaking aura. The pine and deodar trees add to the mystic, and romantic feel of the place. Keep your broke senses alive, without paying a penny!
River Rafting – River rafting is one of the most popular adventure sports in Shimla. Owing to the free flowing rivers present here, the weather conditions are ideal for this sport to happen! Look out for the cheapest packages while satisfying your affordability parameter.
This post was originally published on Broke Voyage.