Most of us are always curious about the most beautiful and exotic beaches, forest, and mountain tourist destinations. We all want to go there and learn and explore new things and meeting peoples from different states, city and country. But today I am going to tell you about the 5 most dangerous tourist destinations around the world you will we amaze after knowing that peoples are crazy about these destinations.
1. Volcano boarding.
Volcano boarding is famous as a sport and performed on volcano slopes. The most popular slope is Cerro negro near Leon in western Nicaragua. But it can be very dangerous, people used some safety equipment but it can be extremely dangerous for life. For example, falling off and getting cut by the rough volcano ash, there are some poisonous gasses which can harm because when people inhale it the poisonous gasses entered in your body which can harmful for the health, or being hit by flying molten lava. when people coming down they can reach the speed of 85 km per hour which is quite dangerous. But there is no major casualties have been recorded like any death etc. Volcano boarding was first established in by 1970 to 1980 and other Swakopmund in Namibia around 1974; jacksmith and Gary fluid popularized it in California in the early 1980s. and now it becomes a sport or a thrill experience. The number of tourists is rapidly increasing especially those who want to experience this once in their life.
2. Wangshang Ordovician Chongqing theme park ( China).
The wangshang Ordovician Chongqing theme park is near to the Chongqing in southwest China. this park is the home to the worlds most terrifying thrills and not for the fainthearted - among other scare-inducing attraction.
Sky-high glass bridge
It's a home to the worlds longest glass footbridge. It is built in the skywalk to test your limits and worlds longest glass footbridge the bridge is totally transparent and you can actually see down and when you see down your heartbeat would be on its top speed. let me tell you the cost of this thrilling adventure it will cost you about 40 million yuan ( 6.5 million dollars). this bridge also has a Guinness world record as the longest of its kind.
Swing on the edge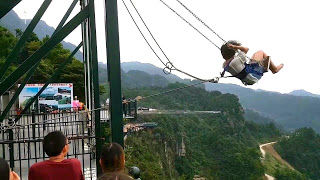 This swing takes extremely to a whole new 300-meter level. staff will provide you with the safety equipment harness etc. people are pushed by the staff as they swing off the edge of a vertical cliff-face. it is recommended if you are not a person who loves the thrill should not go there.
The 500 foot-high gap bridge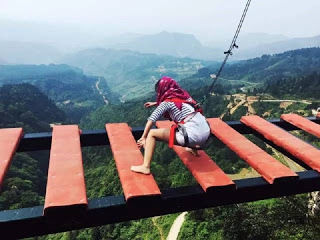 While walking on the road it is very important to look ahead especially when you are walking on this 500 foot-high gap bridge in the sky. the bridge simply looks like the wooden bridge if you ever see in the hilly area. But it has a big gap between each ledger and protected only by the harness on the name of security. Guests just have to jump from one ledge to other by ensuring not to fall down.
3. Mount Huashan, China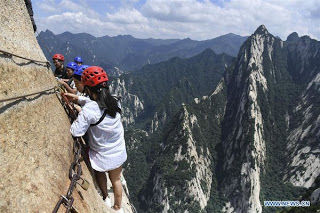 Mount Huashan is a mountain in China and the nearest city is huayin in Shaanxi province. Entrance is 180, but if you take the bus and west cable car up (recommended) that will be 150 each way 40 for bus and 110 for the cable car. this mountain is known as the "world's most dangerous hike " it is also famous for its natural vista and the amazing views. It's five peaks are the representative attraction and each has its distinctive charms but the east peak is the best place to enjoy the sunrise; the south peak has the highest altitude. To climb on Hua it has a narrow plank of wood bolted to the side of a cliff, 2000 feet in the air. The 2154m tall Mount Huashan is considered to be one of 5 sacred mountain in China, and locals know it as the "most precipitous mountain under heaven". Adorned with influential Taoist temples, this mountain has been part of folklore for thousands of years. Impossible pathways have been carved all over the crags, and it is the place that has caught the imagination of adventure everywhere.
4. Death Valley, California and Nevada, USA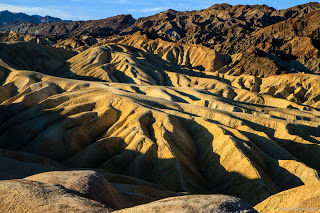 Death Valley is considered as the most hell on earth the area is located between Nevada and California (USA), covers around 3,000 square miles and is stranger to rain. This valley is also famous for mysterious vanishings and deaths. It has a record of highest temperature ever recorded on our planet: 56.7 C on July 10, 1913, as well as the highest recorded natural ground surface temperature on earth at 93.9 C on July 15, 1972. Many people have died in the valley from dehydration or heat stroke, including Harry Potter actor Dave Legeno. The highest point in Death Valley itself is Telescope Peak in the Panamint Range, which has an elevation of 3,366 m. A number of movies have been filmed in Death Valley, such as:-
- Greed etc. The Valley is surrounded by mountains, while its surface is mostly flat and devoid of planets so much of the sun's heat can reach the ground, absorbed by soil and rock.
5. Trolltunga, Norway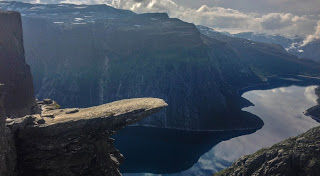 Trolltunga is a unique rock formation and one of its kind that's why it attracts travellers especially those who love adventure and thriller. It is situated about 1,100 metres above sea level in the municipality of Odda in Hordaland county, Norway. Hovering some 700 metres above Lake Ringedalsvatnet and it may excite you but there are some points to focus that safety is very important because safety equipment is not available there so make sure that you are in good shape and have a right equipment. The hike goes through high mountain terrain and the weather may change quickly make sure you start early in the mourning and there is no mobile coverage along the route. but when you reach on the top of Trolltunga the view you will see blow your mind and you will not forget that view on your whole life