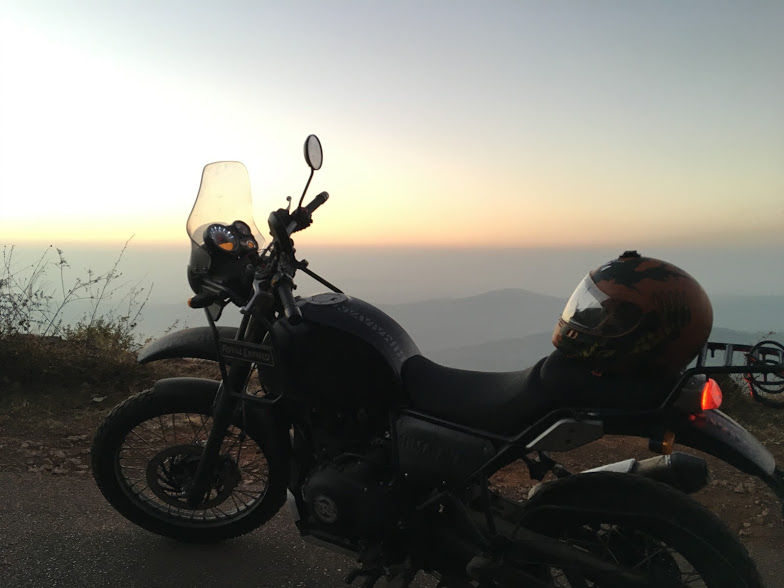 I fell asleep on the shores of Gokarna only to ride longer and farther the next day. The trip to Chikmanglur from Gokarna had begun the moment I woke up at 04:00 AM the next day. The sun was not up yet, it was dark and the breeze cold, WITH all the moisture it carried from the sea. A shower could not be skipped, especially after all the drinking and trekking, I had done the day before. The water was freezing, yet, it was unavoidable. That was one of the shortest showers I've ever had. The moment I stepped out, all hell broke loose. My wet towel and the cold air came into perfect unison to make me shiver to the bone. With all this happening, how would I survive Ladakh I thought?
Time: 04:25 AM
Fast forward to me getting all geared up, bags packed and looking into the sea with my last smoke in Kudle beach, Gokarna. From the seas, I would be riding inwards to the lands of hills. The distance was only 320 Km, but the duration of the ride would be long and as usual, I started early.
The motto had always been to cover more miles before the sun was at its prime, luckily though, the terrain I was travelling through did not have much of sun's harsh influence. The land was hilly and covered with a vast expanse of trees.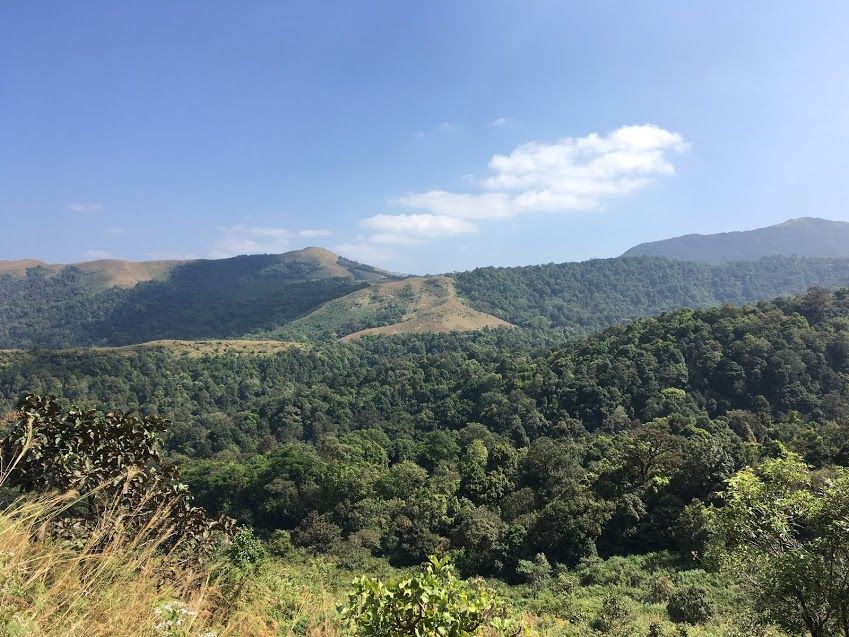 What I had not anticipated was how easy was it for me to get lost on this road not taken with little or no mobile connectivity. Let's get to that later. Before things got exciting, (They look exciting now when I look back at those moments), I was riding through the west coast of India.
The scenic beauty was beyond what my mind could process. For long stretches, I was riding by the ocean. The whole point of coming on this trip was to cover everything on the west coast. I had begun to call it the West-Coast trip.
Coming back, after riding for a few hundred kilometres on the coastline, I began my wander into the hills. The calm was deafening and in this, the only noise breaking the melancholy was the roar of the Himalayan!
I was looking forward to reaching my destination in Chikmanglur. It was the first time I would be living in a Zostel and I was looking forward to it. It took me a lot of effort and planning to get a reservation in Zostel Chikmanglur. I was so excited the day I made the reservation, that, I took 2 of my interns for a break. I was happy and couldn't contain it.
A Zostel is a travellers paradise and it is one cus everyone you meet there is on a journey of their own and everyone has a story to tell. It's like taking a pitstop in a resthouse whose residents are a part of your extended travel family.
I was on my way to Zostel Chikmanglur, the journey ahead was going to be long and a little tough. That said, the moments I spent riding through those hilly terrains was picturesque. I did get lost at a point as I had taken a diversion and my guide Google Maps was not able to find an alternative route as I was far away from cell phone coverage. That pushed me behind the schedule. I wandered for at least 35-40 kilometres before I rode across another vehicle. After gathering some local intel, I headed the way I was asked to go and soon caught up with digital connectivity. In that brief phase, I truly felt like a wander who was travelling with just a map.

I passed a couple of tea and coffee plantations, the tarmac was smooth, the air fresh and the ride lovely. It was time to take a break and I stopped at a coffee shop that served coffee from the beans they grew in their plantation. The coffee was tasty, the aroma was tantalizing. I couldn't just have one, I ordered for another cup and the owner was glad to see me. I could tell.
I fell in love with coffee and bought a packet of their mix for myself. I still cherish drinking that coffee. 2 hours after the coffee, I arrived at Zostel Chikmanglur.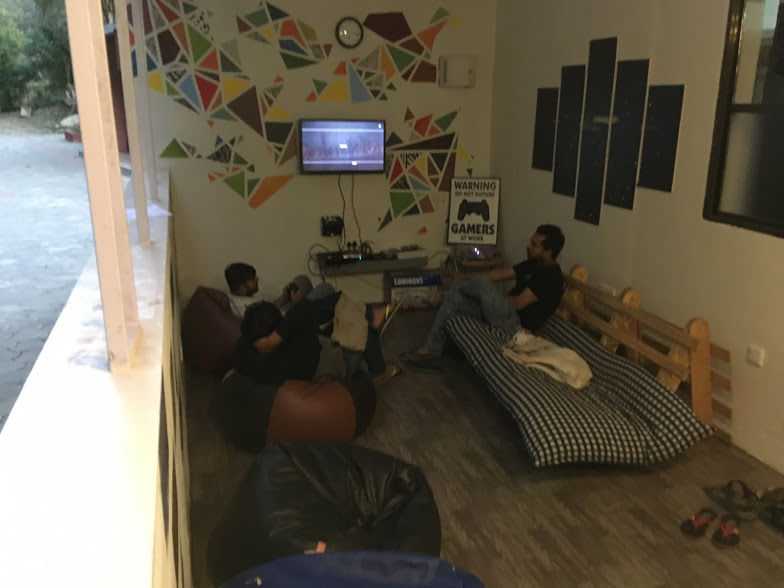 The property felt abandoned when I rode in. Disappointment started to get me when the thought occurred that I might be the only one there that day. I wanted to meet more travellers and this was not going according to the plan. Not initially at least.
I went in, settled down, and came out to see a whole bunch of crowd coming back from their local trips.
They had all checked-in a day before me and they had ventured out to see what the famous Chikmanglur had to offer. A lot of small talks and a few hours later, we lit a campfire and were passing drinks. The mix was different, we had that weed guy who was always happy as long as he smoked weed and made necessary arrangements to ensure that not a day passed by without it. There was a shy girl, there were 2 girl-best friends from Mumbai (of course), there was an HR from a major MNC there. It was nice to see the fun side of a HR personnel too.
There was me a writer (oooo, offooo, what do you write), thinking about that, it reminds me of the times when I introduce myself to people.
Me: Hi, I am Vimal. I am a writer
He: oooooooh nice, what do you write, what inspired you?
Me: Wait wait, lower your expectations! I am a normal guy!
Almost everytime it is like this until I meet another writer. Then the game changes, then each of us try to size the other one up!
Coming back, the night was fun and alcohol was doing its magic. I was only scheduled to be there for a day. That night, I fell in love with the Zostel experience and the owner of the place was nice enough to say that he would try to do something about my accommodation for the next day.
If you happen to go to Chikmanglur, try the Zostel experience there and also visit the Z-Point there for Sunrise.
Z-Point is where we planned to go the next day for sunrise. We re-grouped at 04:00AM, hired a Gypsy and the rest rode our bikes to the hilltop.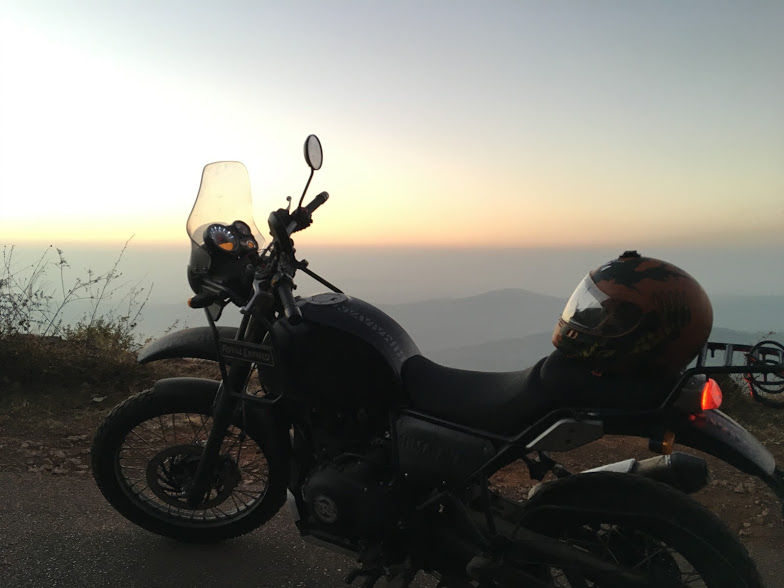 After close to 90 minutes of riding, we reached Z-point. I never knew South-India had so much to offer. I often dreamt about places in Himachal and Arunachal that I forgot to check what my backyard had to offer.
The place looked like a cloud maker. This is where you'd think clouds and fog are manufactured. It had so much of it.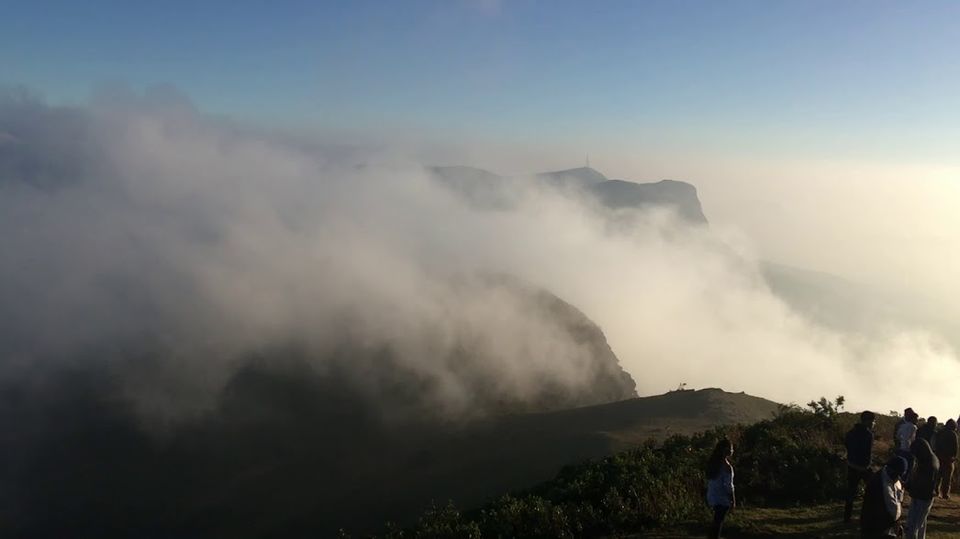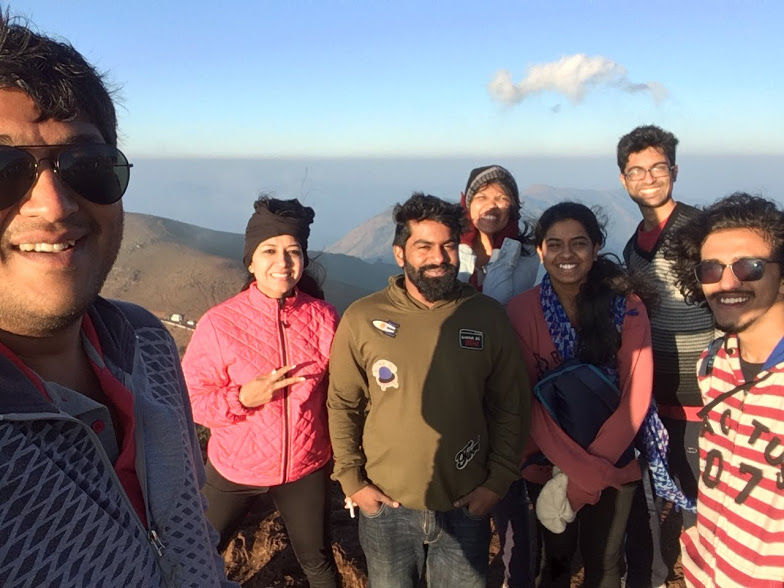 The wind was so powerful in these areas that the 190KG beast fell down while at rest. The handle was slightly bent and this got me panicking. I knew that I had to get that fixed ASAP. To begin with, it was Anthony's bike and he would strangle me to death if he knew it and the next is that my entire ride was dependant on that.
The new family I had made at Zostel Chikmanglur was planning to go to Baba-Budangiri, I had to drop out and head to get the bike fixed and from there continue my journey to Coorg. Earlier, I wanted to stay here for another day and skip Coorg, but now I was curious to know what Zostel Coorg had to offer.
I got the handle fixed at a Royal Expensive showroom in Chikmanglur at INR 21. That's right, I was shocked too. The manager there even offered to replace the handle at no extra cost, but it would take a day and a day is something I didn't have.
I left for Coorg at 2PM after a light lunch. Coorg was only 4 hours away and I could reach there before sun-down. Though after all the hiking and riding that I had done that day, I began to feel drowsy halfway through the route. That is when I called everyone I knew, even if it was to speak for a few minutes. Sneha, thank you, I know I bothered you the most!
I arrived at Coorg and was on my way to Zostel Coorg, which was another 10km ride. On the way, I was tempted by the posters of river rafting and elephant rides. I didn't succumb and kept riding. It was half past six in the evening and anytime soon the sun would bid adieu and the last thing I wanted was to encounter a pack of wild elephants. Did I tell you Coorg was famous for it? No? Now, you know.
I reached Zostel Coorg. The place was literally amidst a jungle and it couldn't be more beautiful. The place was well lit and on arrival, I met a gang of Bikers who had travelled rode here from Chennai. They invited me for dinner, but I was too tired, I wanted to freshen up first.
I walked into my room to meet my new room-mates. They were two girls travelling from Bangalore and one of them was a teacher. They did come to bid me a safe journey the next morning. Should have spent some more time with them. ????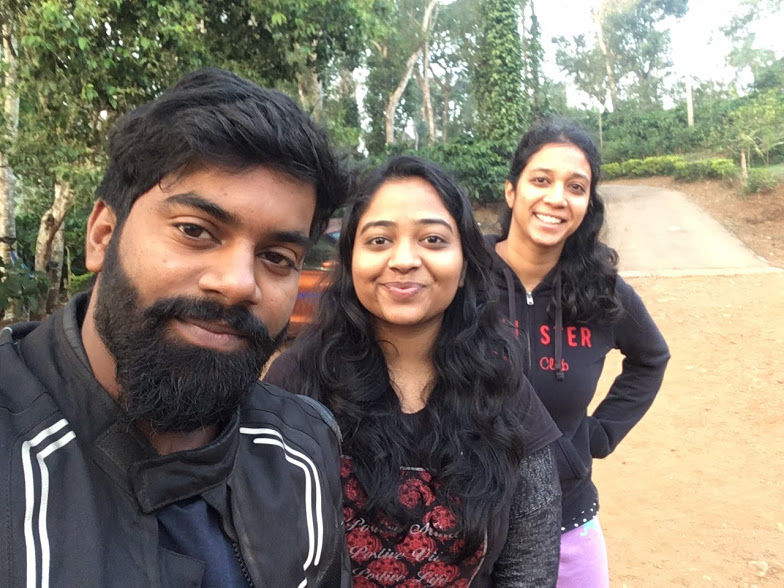 I don't have a lot of memories with them because as the night progressed I had made friends with whom I ended up drinking till 3AM.
It all started with a Hi.
I'll tell you what happened here soon!