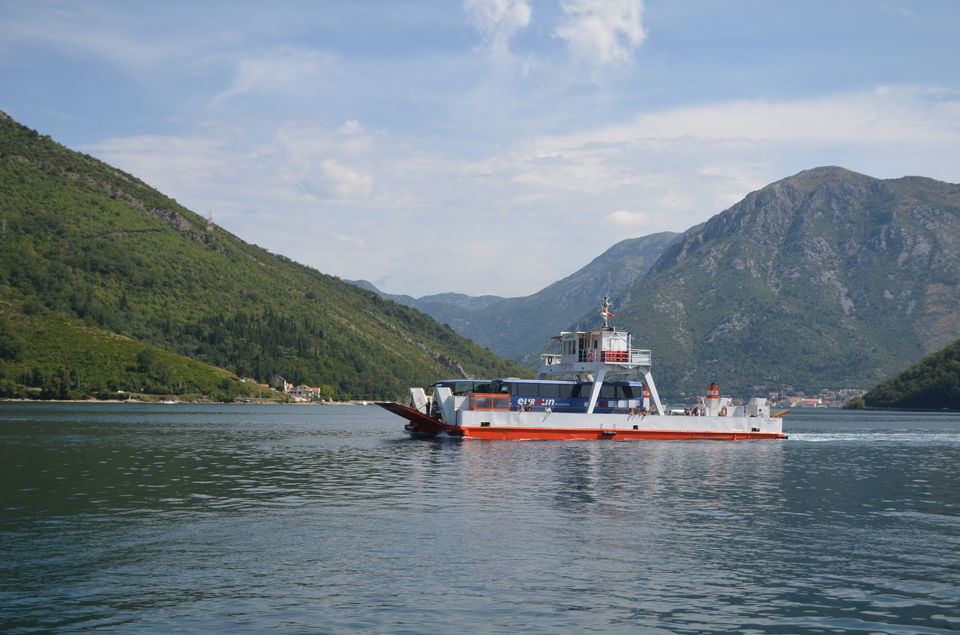 Montenegro might come as one of Europe's smallest nations, albeit rewarding with picture-perfect villages clung to coast, gorgeous beaches, untouched nature that's best explored on horseback, hikes or river rafts. The rugged wilderness showing up at every sight remind you of your favourite travel writer Bill Bryson when he says:
"Woods are not like other spaces. To begin with, they are cubic. Their trees surround you, loom over you, press in from all sides...They are vast, featureless nowhere. And they are alive."
This Balkan marvel makes you feel alive right from the moment you look up to the imposing mountains that wall the coast and inspired those 15th-century Venetians to name it Monte-Negro, or Black Mountain. I can't resist spreading the word that Montenegro is turning out to be on-the-radar European idyll, so go and explore before it's really discovered and altered.
Kotor Bay and Town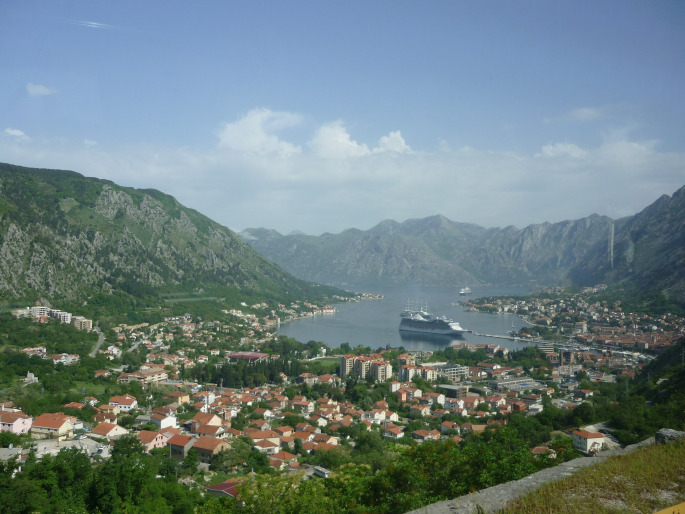 Begin your Montenegrin experience in the laid back town of Kotor. Before heading into the historic city centre one, is bound to be mesmerised at the UNESCO recognised Bay of Kotor. It's vastness sets you think the location is quite something and you need to see to believe it. There are dozens of boat tours and at the first impression more than the boats, your eyes catch sight of luxury cruises, Kotor being an important pit stop for cruise travellers. Cruising through the bay, clung with photogenic medieval towns and flanked by towering peaks, almost feels like cruising in Norway, minus the Scandinavian climes. The added bonus certainly is the century old history and culture, listing the Bay of Kotor as one of the World Heritage Sites. In time, Kotor Bay has become a favourite port of call for big cruisers like Royal Caribbean, MSC, Costa, Celebrity, Viking, and Norwegian, all of which dock regularly outside the city's medieval walls.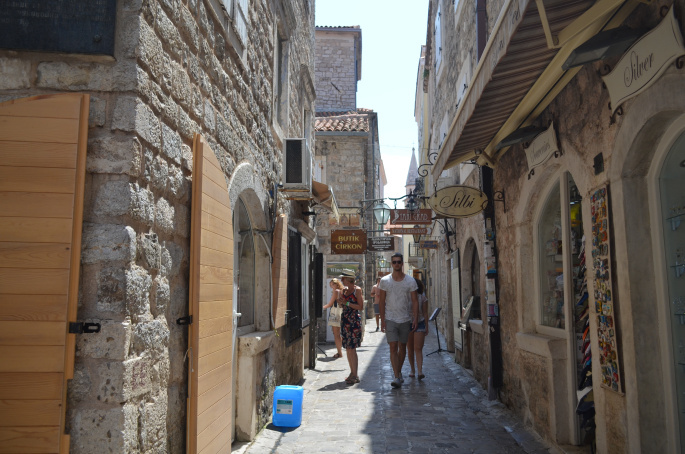 The tiny medieval town of Kotor packs a punch with Venetian style churches, maze of alleys lined with honey-coloured stone buildings and a piazza full of restaurants and cafes. On most days, when cruise ships dock teeming crowds fill up the quaint corners and restaurants, you can still find a quite place journeying up the 1,350 steps to the fortress where the views induces a mind-blowing effect on you.
Perast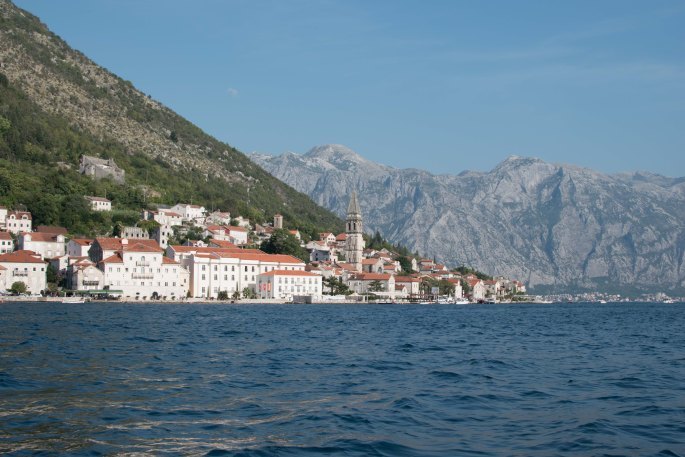 Anchored on the Bay of Kotor, nothing much have changed in the medieval town of Perast. The tiny town with a population of approximately 400 lives has only one pedestrianised street. Seeing the honey coloured town, its churches and palatial buildings, some have shaped into historic ruins, all of it may reflect an Italian flair to new comers. Island hopping out to Our Lady Of the Rock, sitting by the waterfront restaurant to enjoy the freshest of seafood and fixing eyes on the gigantic mountains that backdropped the town are some of the biggest draws. I understand Michael Douglas and Catherine Zeta-Jones were lured into buying a summer house keeping in mind the grand air and the beautiful setting.
Sveti Stefan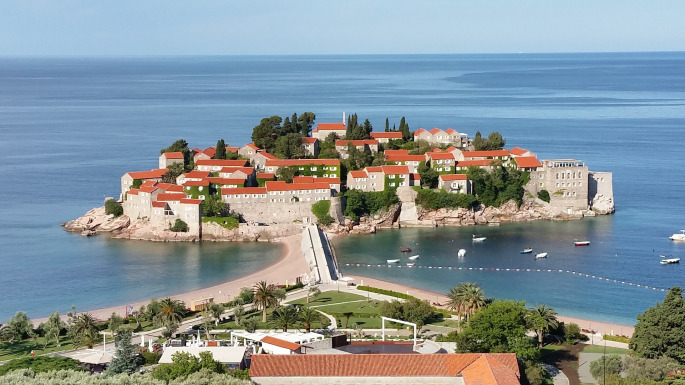 One's mind takes off to Sveti Stefan after catching sight of the most photographed image of an fortified island village built around a collection of red tile-roofed buildings, connected to the mainland by a narrow causeway, in the Adriatic. A few kilometers away from the Kotor Bay, Sveti Stefan is a private island owned by Aman group of Hotels and those sleeping in luxury are only the rich and the famous, meaning its off limits to the general public.
But the little islet had a different face back at the 15th century. After giving a good hiding to the Ottoman Turks and looting their wealth, the locals built a a fortress town on a little islet comprising one house for each of the 12 local tribes. However they were struck by the fickle finger of fate that turned into a tourist spot and the villagers were relocated to the mainland by the government making room for the new resort. Its still looks like a century old fortress build in modern times only to house the multi millionaires today.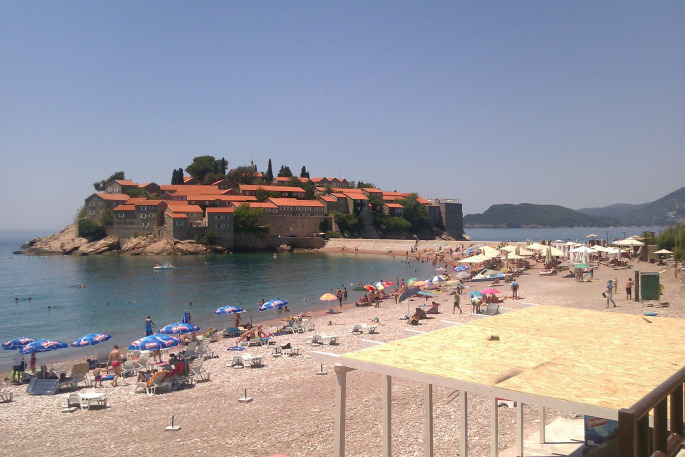 For non- multi millionaires there is the pink gravel beach to enjoy, the township that's sprung up onshore offering island views or if nude beaches lures you, a short hike leads to a series of rocky red sandy beach called Crvena Glavica. If you can dish out 80 euros to hire a lounger on the Aman private beach, you can instantly buy feeling a million bucks.
Porto Montenegro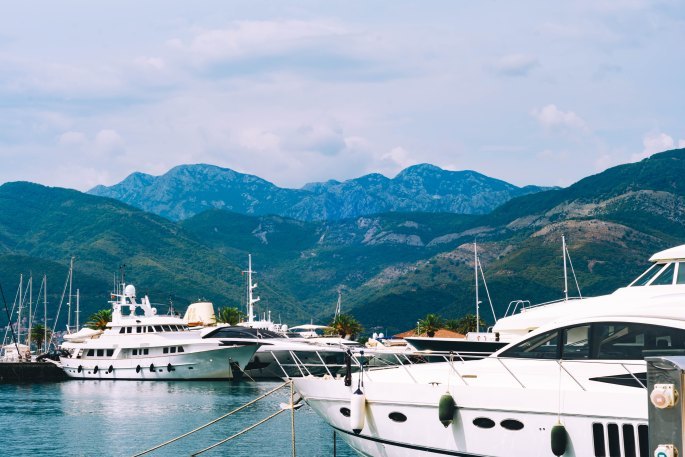 There is a reason Montenegro is not yet overshadowed by it's famous neighbours. Porto Montenegro is certainly one of the reason, located on the shore of the Kotor Bay. This all-new marina opened in 2014 is looking like the Monte Carlo of East Europe. Luxury and adventure meets in this elegant nautical village brimming with penthouses, restaurants, bars, boutiques, retail outlets, a yacht club, and the new Veuve Cliquot bar in all French-ness allows travellers to drink in style. For non yacht clubbers, you can make your base at the Regent hotel making an impression right from the point to step in to the port. A evenings can be spent at the Italian inspired De Gustibus seafood restaurant paired with a roof top bar keeping an eye out at the majestic views. Although posh and chic ambience afloat in this Balkan's hottest summer vacation destination, yet everyone is made to feel welcome.
Durmitor National Park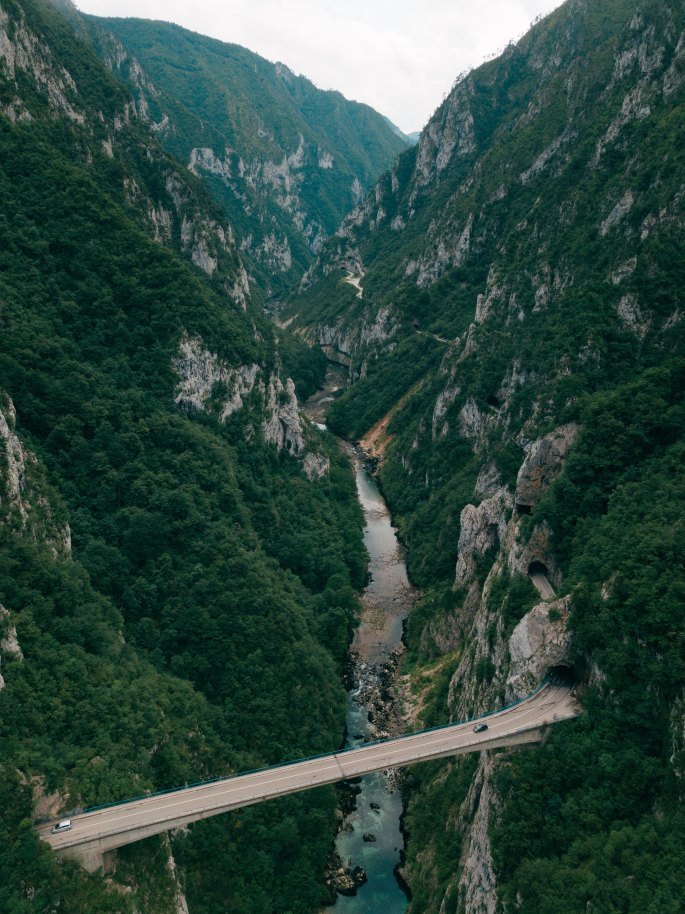 The rock massifs thickly forested with pine and deciduous and cutting through are the breathtaking canyons, lakes and underground streams, are a sure invitation for professional hikers and adventure seekers. Such is the landscape of Durmitor National Park, in namesake to its chain of mountains. The national park houses Europe's deepest canyon, Tara river canyon plunging 13,00 meters deep. If luck is on your side, one can come in close quarters with European cats, wolves and bears on the marked trails of the Park. For hikers there are 25 marked trails making up a total of 150 km, laying down a beginners hiking trail. There are more compelling reasons to go this part of Montenegro. The rugged terrain of Durmitor acted as hideouts for Partisons in their resistance against Nazis. The biodiversity and the Park's geological history has declared Durmitor as a UNESCO World Heritage site.
For outdoorsy kinds, hiking, river rafting, skiing, zip-lining or simply a safari drive settles you impressed and simultaneously bewildered; in a world where trees are dying in frightening numberings, Durmitor National Park is one of the few virgin forests in the world. Montenegro is truly a country in the Adriatic with million dollar views and here in the national park, on summers rafting along the river rewards you with starling views of the canyon. Come winters, the park turns into a prefect playground for free-skiing mountaineers. Zabljak , a small town in the heart of Durmitor National Park, is a ski resort and a launch pad for hiking tours. Before venturing into the wilderness, do your research and get help from local tour operators ready to offer their best crafted outdoor activities. Durmitor National Park is the most diversified sweep of woodland ever to grace the Mediterranean lands, and if ever there was a time to visit the singular wilderness, its now. Glide on those hiking boots, shoulder your backpack and bump your way up to those inviting mountains of Durmitor.
Budva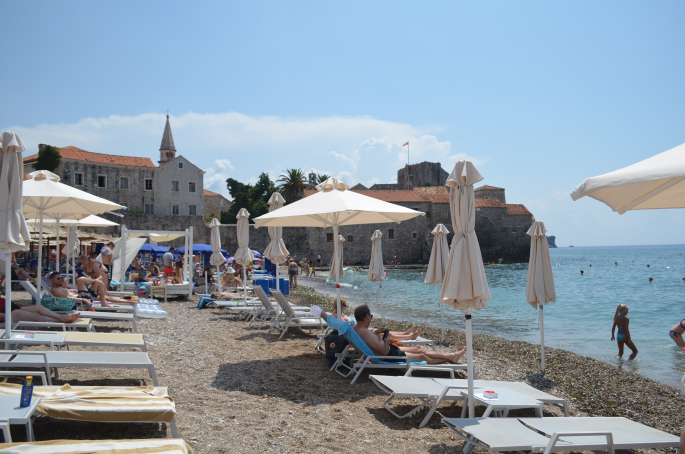 In Montenegro, don't hit the sack before hitting its golden beaches. When its comes to a beach destination the ancient town of Budva, founded by the Greeks, top the list. The town comes and meets into the Budva Riviera, running 22 miles of sandy and pebble beaches alongside series of sheltered coves. I stumbled through an arched doorway in Budva's medieval walls leading onto the town beach. Rarely you lounge on a sundowner on a beach backed by fortress walls and citadel views. There are rows of beaches within walking distance and all are gifted with best of both worlds. Slovenka plaza, a beach overlooked by restaurants and late-night bars, remain packed with glamorous locals and sunloungers. West of Budva, the Blue Flag Jaz beach throws the summer concerts and the annual Sea Dance Festival. If you long a secluded corner, boat to the small island of Sveti Nikola and marvel over pine-shaded coves and of course the gorgeous blue as far as eyes could see.
Who go Montenegro

You really have to struggle not to give in to the desire to extend your stay in Montenegro. The landscape hewn in limestone mountains, lakes, canyon and national parks and pretty medieval villages. On the meandering roads along the coast sighting a multi-million dollar country-house is a common occurrence. While Montenegro is emerging to be the next to St.Tropez, Monaco or Cannes peppered in glamour, I have found life breathes slowly like no other European towns. Beaches are less busy, the views can stir the dullest of heart so much so, in the wilderness of Durmitor, still lacking glamping sites but huts and bivouac blends into the woods so seamlessly that a mother bear with clubs often roam right up to it, to peek through the window. Experience, can't get much more magical than that.
That's why I'll say Montenegro is the other Europe we didn't know exists.