I generally don't travel to places I've already been, for I feel the world is an oyster and there's so much to see and do. Budapest, however, will always be one city I wouldn't mind revisiting. Because it's awesome.
I have to tell you I'm legit in awe of Budapest. The city is a melting pot of all things cultural, historical and contemporary.


Of course, Budapest is a hot spot for tourists, and it isn't surprising why. Here are 6 things to do which are unique to Budapest, and you cannot miss these while on your visit.
1. TAKE A DIP IN A THERMAL BATH
Bathing in thermal baths is a part of the Hungarian culture, and was brought here during the Turkish regime. There are about 100 natural spring water sources in Budapest, and these baths are extremely popular.
The largest and most frequented one, though, is Szechenyi Baths. It's massive! The entire setup is in a beautiful neo-Baroque palace, and there are about 18 pools, 10 saunas, several massage therapies, facial treatments, and a whole lot more.

They also have spa parties (or sparties, for short) on most Saturday nights through the year, so you can soak your troubles away!
These baths are also rich in mineral salts that have medicinal significance and get directly absorbed into the bloodstream to heal an array of ailments.
Here's the price list for Szechinyi Baths.
2. SAMPLE HUNGARIAN CUISINE
Budapest has the best food ever, you guys! Being such a hit with tourists, I reckoned the food would be average at best. Most touristy places have compromised food quality.
But I can't recall one bad meal I had in Budapest.
I LOVE Lángos, a deep-fried flatbread with cheese and spices. You also have to try the Goulash, Főzelék, and Mádartej for dessert. Oh, and Hungarian beer.
Now let me go fix myself a sandwich whilst dreaming about Lángos. *sigh*
3. SHOP LOCAL AT THE GREAT MARKET HALL
This has to be your go-to spot for all things local. A restored hall in gorgeous gothic architecture, you'll find small setups selling everything from Hungarian wines to scarves and dresses for kids.

The market is popular not only with tourists but with locals too. There's fresh produce of meat and vegetables on sale, and you can also buy souvenirs to carry home.
Recommended: Make sure to buy Hungarian Paprika and Palinka (a local liquor).
4. GET A VIEW OF THE CITY FROM ABOVE
There are so many places in Budapest you can enjoy stunning views of the city from. The not-to-be-missed ones are:
- St Stephen's Basilica: With a flawless exterior, and very novel architecture and layout, this Basilica makes for a classic postcard picture. Against a small fee, you can take the elevator up to the top of the central dome to get a 360-degree view of Budapest.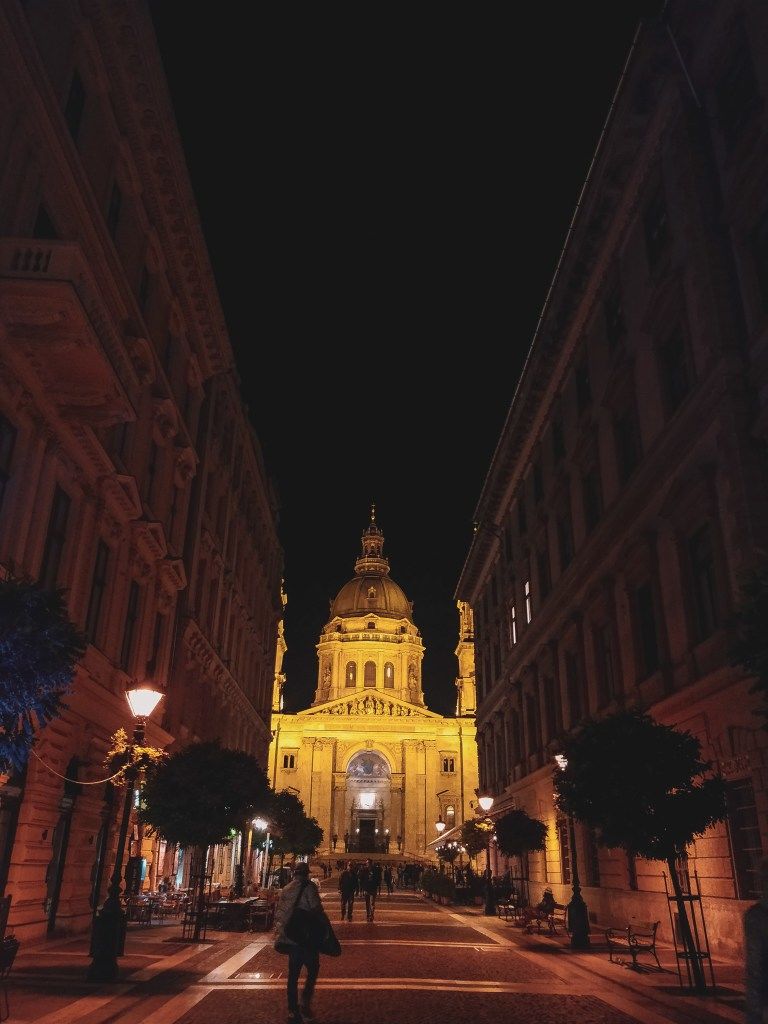 - Fisherman's Bastion: Located above the Buda Castle hill, this terrace offers a breathtaking glimpse of the Danube, panoramic views of the city, and if you lower your gaze a tad, you can see the Hungarian Parliament across the river.

- Gellért Hill and the Citadel: This charming, gorgeous fortress with a perfect vantage point has a rather sad history. It is said that St. Gerard, whom the hill is named after, threw himself to his death from the hill.
5. HAVE A DRINK BY THE RIVER

Pick up some beers from a supermarket, and sit on the bank of the Danube River, as you reflect on life and its purpose. Just kidding, you could go there with a friend and have long chats by the calm of the water, or just people-watch! But it's a great spot and spending an afternoon here will be one of the highlights of your trip.
6. PARTY IN THE RUINS
Can you visit Budapest and not hit one of them Ruin Bars? Nu-uh.
The concept of the ruin bars was born when a bunch of guys decided to gamble on a dilapidated, abandoned building on Kazinczy street, that was soon to be demolished. The crumbling building was converted into a bar, and the idea took off in a big way.

Ever since, a lot of ruin bars/pubs have come up, however the oldest and also the most popular one is Szimpla Kert. Seriously, you guys, walking into this sprawling throng of bars is the best feeling ever. It's LIT, beyond you can imagine. And it's packed all days in a year.
I also LOVED Instant/Fogus, which are a series of interconnected ruin pubs with bunkers and some really cool interiors. The music is manic, as is the energy.
So there's that. I hope you have an awesome time in Budapest, and I hope you include all these items in your itinerary!