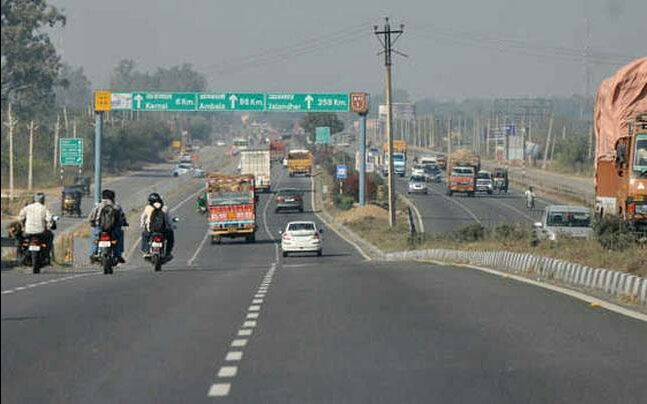 Saturday nights are always unpredictable.  With all yours weekdays worries deep buried down your mind, you tend to get carried away with the flow. This is what exactly happended this time a gang of six friends agreed to meet and planned for an outing to Murthal, Haryana to relish some mouth watering parathas.
We started off at 10 pm in a all new giant that my friend got recently.
Rohini, Delhi to Murthal -  40 km
We hit our destination at around 11:15 pm. It was was well known Dhaba cum Restaurant Amrik Sukhdev.
Its a multi cuisine restaurant originally famous for parathas but now more or less it has become a full fledged eating point.
One of my friends suggested that we don't meet quite often together so why not make it large, why not to go down the lane further. We convinced our friend who brought the car for Chandigarh. We didn't have much food there as Chandigarh was on our mind.  Without giving it a second thought we headed towards Chandigarh.
Murthal, Sonepat to Chandigarh -  200 km
We hit Sector 17, Chandigarh at around 2:30 AM. 
We had no clue about this place. We could only see the closed market.. vacant roads. 
So we started googling the late night open restaurants and came to know about a place called as Night food street.
It's a 24 hour open food outlet in sector 14 located exactly in front of panjab University.
Offering wide variety of food at affordable rates, this is a perfect place to fullfil your hunger pangs.
We ordered some parathas there.  Old bollywood melodies were being played which were constantly adding their own flavor to the moment.
We got some photographs clicked on the streets just to mark our presence that we went to Chandigarh.
Some other all night open restaurants we found on the list while searching were
1. Virgin courtyard
2. Pal Dhaba
3. 24/7
We roamed through sector 22 as well. At around 4:30 AM we planned to get back to Delhi.
The parathas with lot of butter was acting soporific for all of us however the friend who had to drive suffered the most :p.
We headed back to Delhi! As all were feeling sleepy we had to take a halt for a tea break which was much needed.
It falls around 130 km on chandigarh Delhi route. A nice location and a perfect place to take a break.  We had  revitalizing tea there and clicked some photographs.
Delhi wasn't much far now and with all the peeps forced to keep their eyes wide open( as it was inducing sleep to the driver :p) managed to get back to Delhi at 8 am.
This experience was indeed a unique one. We covered roughly 600 km in less than 10 hours.
One can always add more places to this itinerary to make it more happening.
"It never has to be a special destination you cover, sometimes the company you go with makes any destination special! "
Cover photo - Google Images
#nightout #chandigarh #shorttrip
Trip Duration - 1 Night
Trip Cost - INR 1000 per head