Shopping in Malaysia is one of the major vacation highlights. Whether you are on a Malaysia honeymoon package or on a family trip, you certainly must reserve a day for shopping in Malaysia. The vibrant city has a diverse shopping scenario with both the malls and the bustling street shops. While there are branded stores, there are also cheaper shopping options which are equally enjoyable. Just so that you have the right places to shop in your bucket list, here is a quick guide on the places of Malaysia where you are likely to get the best deals.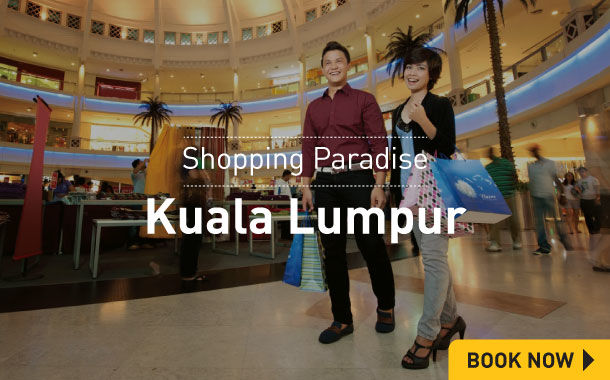 1.Central Market: Kuala Lumpur's central market is a shoppers paradise with a holistic shopping experience packed under one roof. There are a number of stalls in an air-conditioned mall, that celebrate the country's diverse culture. Malay stalls at Lorong Melayu, Chinese stalls at Straits Chinese, and Indian stalls at Lorong India showcase the diversity that this beautiful county has rooted in itself. If you are planning to buy some souvenirs and handicrafts for people back home, then central market is the right place to be in.
2.Flea market at Amcorp mall: A place where you are likely to get some excellent deals on second hand items which are sometimes even unused. There are various items like CDs, accessories, shoes, bags and much more that one can just find here at very good prices too.
3.Sungei Wang Plaza: One of the most fun loving malls of Malaysia, vibrating with young and the fashionable. Young ladies comes to this mall to indulge in the latest fashion goods like apparels, accessories, and much more. There are also a number of trendy salons and boutiques that offer some extra indulgence along with the shopping.
4.Petaling Street: There is no better destination to shop that finding a local China town street where you are likely to get the most innovative products at extremely reasonable rates. If you are game for some street shopping, then you are going to love the Petaling street shopping experience. From bags, shoes, clothes, electronic items and much more; Petaling street is a must add location in your Malaysia tour package.
5.Taman Connaught night market: Spread across 2 kms of shopping, the Taman night market is flooded with retail stalls and food outlets. Take a trip around the night market to browse through some trendy clothes, bags, accessories and gift stores. Taman Connaught night market also has a street filled with some delicious local street food options that have cultural cuisines of various countries.
6.The factory outlet store: If you are looking for branded products at reasonable rates, then a trip to the FOS is your best bet. The stores carry big brand names like Tommy Hilfiger, Ralph Lauren, Abercrombie and Fitch, GAP and much more. FOS stores are spread across various big malls of Kuala Lumpur and should certainly not be very difficult to find.
7.Kasturi Walk: Another open air shopping haul of Kuala Lumpur, Kasturi walk is filled with bags, shoes, accessories, clothes, and much more for the shoppers to indulge in. In case you want to go hunting for some last minute souvenirs, then Kasturi walk is the place to be.