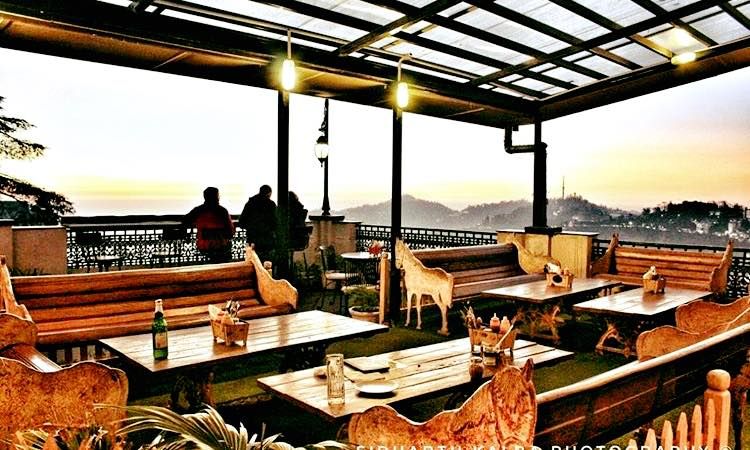 Whenever I travel to some place, the food is the first thing I find out about. I want to know the best road-side eateries, the best fine dining restaurants and the best cafes before I even begin my journey. And the one place that never fails to disappoint on the culinary front is Shimla.
With all the modernisation, urbanisation and increase in tourist population that has happened over the years, the one thing that hasn't changed is that Shimla is still has some of the best eating joints in the country. In recent years, however, the cafe culture has caught up here and boy has it caught up well! Whether you're looking for a hearty breakfast, a light snack, a decadent lunch or a bite in the evening, cafés in this hill town offer it all!
So, while you might have read a lot about the desi food in Shimla, here's a run down of the best cafés that will make you want to keep coming back for more.
With its artistic interiors, relaxed vibe and gobsmacking food, Cafe Simla Times is a popular hang out spot for youngsters and tourists. The cafe celebrates Shimla in all its glory with artwork of the town's popular attractions donning every workable surface. They offer indoor as well as outdoor seating for those who want to enjoy the view while gorging on their favourite food. A part of Hotel Willow Banks, this multi-cuisine cafe serves everything from Indian to Italian and American delicacies. They also have a delicious range of desserts and shakes. There are live band performances on some evenings, which are a real hit among the audience.
Cost: ₹800 for two (without alcohol)
Cuisine: Multi-cuisine
Standout dishes: Tomato olive toasties, smoked chicken and olive pizza, fish and chips with mushy peas.
Timings and location: 12 noon to 11pm; The Mall Road, Shimla
Contact: 099101 70312
Sitting at an elevation of 8,000 feet, Cafe Under Tree is the highest cafe in Shimla. It offers some of the most breathtaking views of the town and has delicious food to boot. The decor boasts of wooden furnishing and lighting filaments that make it feel mysterious. What makes it unique is that it's vegan and well regarded for its variety of dosas – not something you expect to find at such a place. The best part about the place, though, is that it wont burn a hole in your pocket. This should be on your must-visit list of places.
Cost: ₹500 for two
Cuisine: Multi-cuisine, fast food
Standout dishes: Pahadi chai, crunchy masala dosa, cheese club sandwich
Timings and location: 7am to 9pm; Near Hanuman Temple Jakhu
Contact: 070182 21101
Located right in the heart of town, Wake and Bake is the perfect breakfast place. Imagine starting your day with a hot cup of coffee while gorging on delicious waffles as you take in a spectacular view of the town – this is where you can do that. Although, Wake and Bake's relaxed ambience, amazing service and lip-smacking food makes it a popular joint any time of the day. And if you're lucky, you might catch a group of musicians jamming in here.
Cost: ₹400 for two
Cuisine: Mexican, Tibetan, European, Chinese, and Middle Eastern
Standout dishes: Olive oil and herb toasties, Wake and Bake special roll, carrot cake slice, chocolate fudge cake.
Timings and location: 9.30am to 10pm; The Mall
Contact: +91 0177 281 3146
One of Shimla's most iconic landmarks, Combermere's Café Sol and Lounge boasts of a well-stocked bar, a multi-cuisine restaurant and some absolutely breathtaking views of Shimla. It has an older, more rustic section and a new one that has a sort of futuristic vibe. Located on the Mall Road, it is the perfect place to rest your feet after a long day of exploring the colonial town. The menu is packed with fresh and tasty treats. There's also a tiny bakery section with a great selection of pastries and cakes.
Cost: ₹1,000 for two
Cuisine: Multi-cuisine and fast food
Standout dishes: Grilled fish, caesar salad with grilled chicken, Turkish pita platter, fried prawns and paneer tikka
Timings and location: 10am to 11pm; The Mall
Contact: +91 0177 265 2251
Indian Coffee House has been synonymous with tourism for decades now, so it comes as no surprise that the one in Shimla is always packed, no matter what time of the day you go. With its old leather seats, blackboard-style menu and the perpetually busy waiters, this institution has an old-world charm characteristic to Shimla. And of course, it serves the best breakfast in town. While the menu includes omelettes, cutlets and French toasts, it is the filter coffee and variety of dosas that have people coming back for more.
Cost: ₹300 for two
Cuisine: Indian, coffee
Standout dishes: Filter coffee, masala dosa, mutton dosa, pakoras.
Timings and location: 10am to 8.30pm; The Mall
Contact: +91 9805786077
Located bang in the centre of town, Hide Out Cafe is the place you go to if you're looking for hearty portions at decent prices. This small but extremely busy joint dishes out Indian and Italian favourites in a fun, friendly setting. The most popular item on the menu here is the breakfast platter that comes with a serving of an omelette, roasted tomatoes, grilled toast and a hash brown. The desserts are also extremely popular.
Cost: ₹800 for two
Cuisine: Indian, Italian, fast food
Standout dishes: Breakfast platter, vegetable pasta, chicken roll, sub sandwich
Timings and location: 8am to 10.30pm; The Mall
Contact: +91 89882 68674
Established 2007 in Shimla, Honey Hut is a chain of concept cafes that feature only honey-based products. It was started in an attempt to spread awareness about the health benefits of honey. Everything in this small eatery contains honey. Mix that with beautiful views of the town and affordable pricing and you get the formula for the perfect winter afternoon. If you're in Shimla, this place is a must visit.
Cost: ₹700 for two
Cuisine: Coffee, fast food, honey-based dishes
Standout dishes: Chocolate walnut pie, honey-ginger tea, blueberry cupcake, sandwiches, honey laced cappuccino
Timings and location: 9am to 10pm; The Mall
Contact: +91 120 422 9989
What are your favourite eateries in Shimla? Write about them on Tripoto and maybe we can head there next.