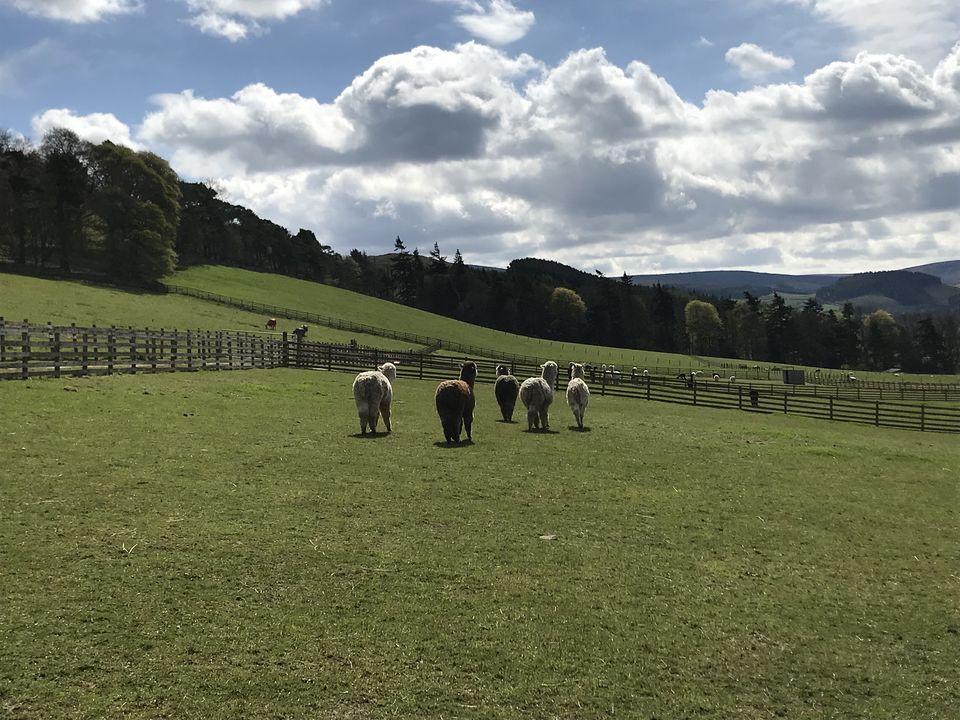 I recently took a 7 days trip to the UK and Ireland and this blog is basically to share my itinerary and do's & don'ts of the trip. If you're looking for some help around planning a similar trip, hope it comes handy!
First things first, how to apply for visa and book flight tickets?
You will have to apply for a visitor visa for traveling to the UK or Ireland. You get a combined visa under BIVS (The British-Irish Visa Scheme) in India, and you will have to apply for visa for the country you're landing in. If you plan to land in UK (I took a flight from Delhi to Manchester), you can go to https://www.gov.uk/apply-uk-visa?utm_source=visa-application-form&utm_medium=internal-link&utm_campaign=svv-apply-visa. You don't need an agency to get this done - the application process is pretty much straightforward!
As for the flight tickets, the usual skyscanner & makemytrip drill works just fine! Try taking a flight from Delhi, and book yourself a domestic return ticket to Delhi in case you're living somewhere else. Worked for me pretty well!
Also, do carry AT LEAST 100-120 pounds in cash, because you can only pay in cash if you wish to travel by bus inside the city.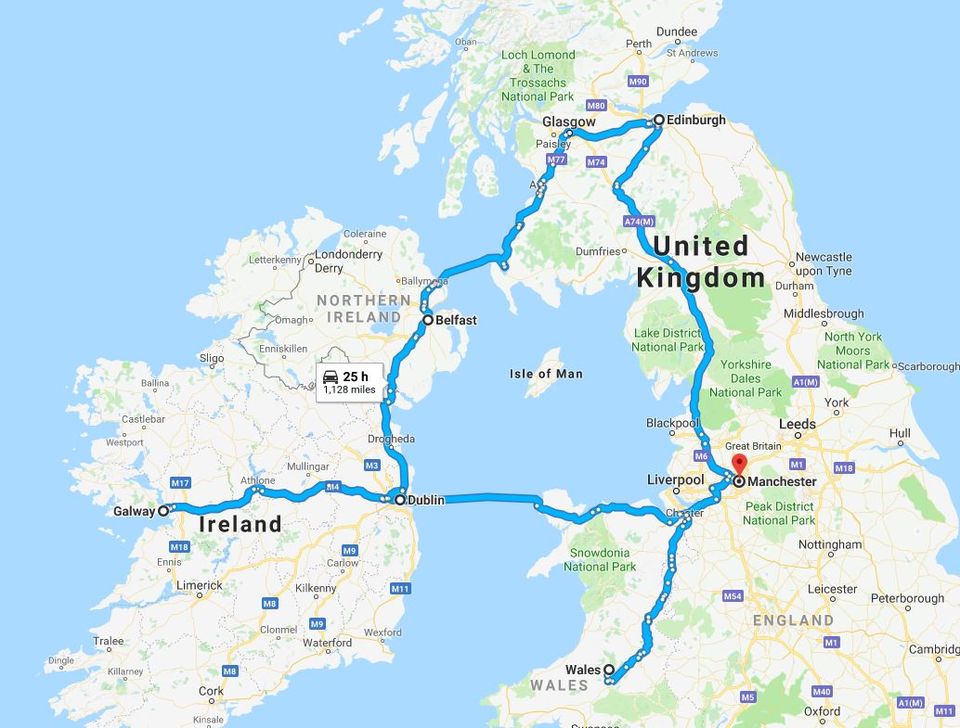 Day 1: I landed on 27th April at around 8 PM and checked in at Fairways Lodge (Prestwich, Manchester). It's a decent and affordable lodge (around 2500 INR), but a bit off from the city center. Buses are easily available from Prestwich, but you can spare a lot of time and money if you can spend a bit and take one which is closer to the city.
Day 1 (28th April) was all about Wales. I booked myself a tour from Smile Adventures for North Wales Tour (3000 INR per person) covering LLandudno, Conwy and Snowdonia. Llandudno is a coastal town and has a beautiful pier location - and you can find abundance of dog walking and cute ice cream parlors all over the place. Conwy is famous for its castle and wall walk, which gives you a stunning top view of the town with pretty houses. Also, while you're at it, don't forget to see the smallest house in the UK! The last major stop was at Snowdonia National Park. This place is home to glacial mountains and beautiful valleys (TBH, if you've been to the Himachals, you'll be a bit disappointed. Nonetheless the view was beautiful) and we hiked a little to reach the view overlooking one of the famous bottomless lakes. We also made a small stop at Betws-y-Coed - a small village in Snowdonia, but that was more about grabbing a coffee and enjoying the small village market. Also, Wales has 3 times as many sheeps as humans, so make sure you enjoy the sheep-strewn fields during the drive.
Tip: Try Welsh Cake, and may be a Welsh pie as well if you like meat.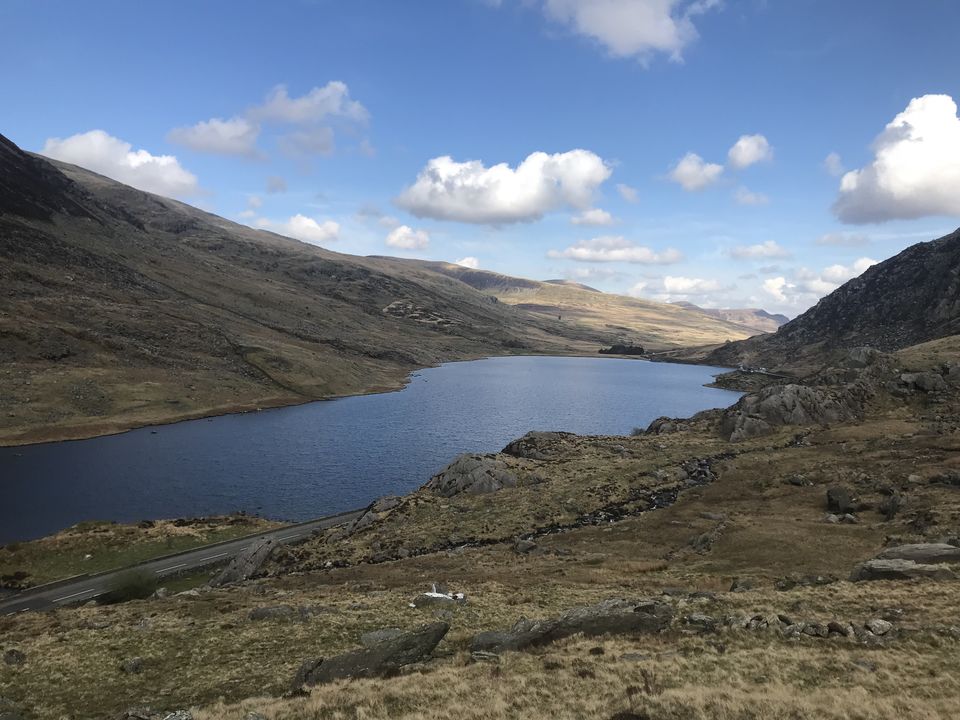 Day 2 (29th Apr): Manchester. Manchester is home to two of the biggest European football clubs - Manchester United and Manchester City, and if you follow football - you would definitely not leave Manchester without watching a match at Old Trafford or Etihad Stadium. I could somehow manage tickets to one of the most anticipated fixtures of the Premier League - Manchester United vs Arsenal. And the last minute winning goal by the home team was the cherry on top of my fat dollop of cream! Old Trafford was buzzing with fanfare and glitterati, and made a spectacular display of football culture in Europe. The entire experience was just overwhelming - to say the least! (For any specific query on match tickets, please write to me on my mail ID)
Pro tip: Don't carry a bag to the stadium. They only allow small clutches, nothing bigger than that!
After the match i.e around 7 PM, I took a train to Edinburgh, Scotland (3000 INR) from Manchester Piccadilly. Old Trafford doesn't provide locker facility during match days so I had dropped my luggage in Piccadilly Station's cloak room (left luggage) which comes with a charge of 6 Pounds per piece for 3 hours.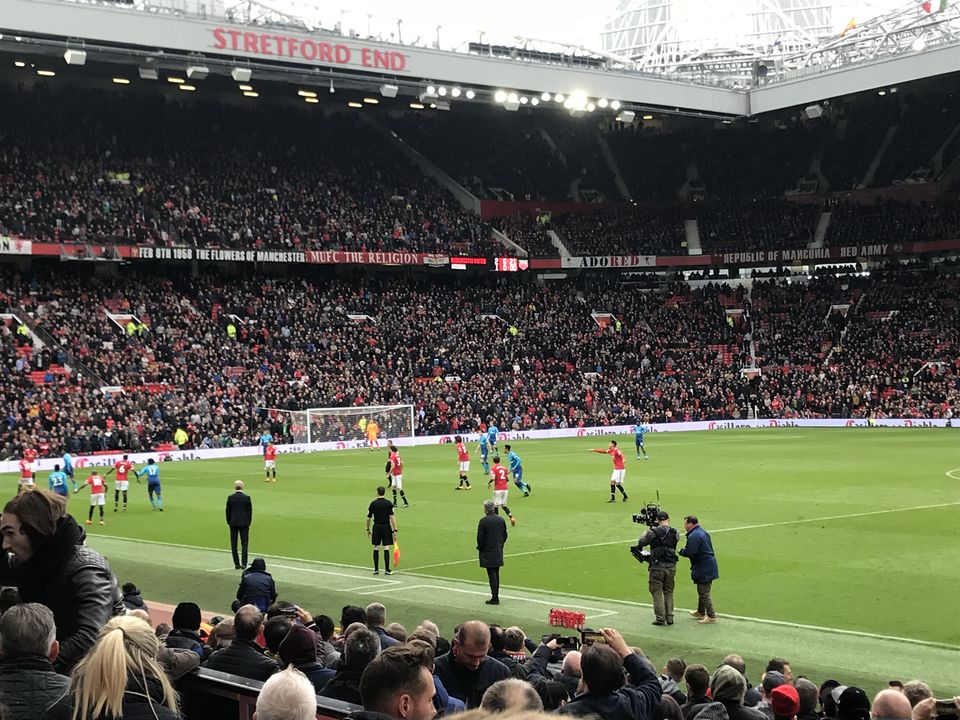 Day 3 (30th April): Scotland. In Scotland, I stayed at the Castle Rock Hostel (1500 INR per bed) in Edinburgh. The hostel is located right in front of the Edinburgh Castle and is a couple minutes from the bus stop/ Waverley railway station. The first day I took a tour of the famous Scottish Highlands - with Rabbies Trail Burners agency (booked on Viator, 4000 INR). The tour includes some really good pit-stops at small Scottish towns like Callander, Pitlochry, Spean bridge and Fort William, apart from the key attractions - Loch Ness (famous for spotting its in-house monster Nessie) and Glen Coe (Skyfall shooting location). The trip also includes a stop at Spean bridge - where you can enjoy free whiskey tasting and buy some local tweed garments at decent price. Our tour guide, Jonathan, is a guy with a funny bone, and he made the ride quite enjoyable. So, I would like to personally recommend this one!
Tip: At Callander, you can try their world champion pies at Taste of Trossachs. At Pitlochry, go for a Scottish tablet or chocolate whisky ice-cream at any of the cute ice cream corners!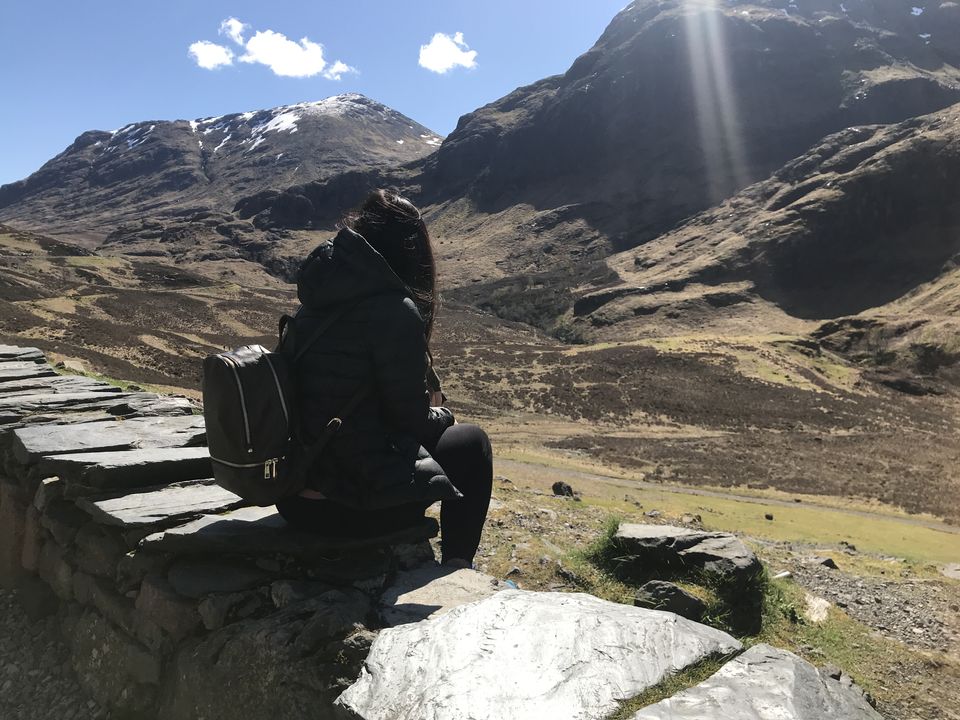 Day 4 (1st May): Alpaca trek at Innerleithen and exploring Edinburgh. This is one of my favorite days in the UK - I booked a morning (10 AM - 11 AM) Alpaca trek with Velvet hall alpacas (15 pounds), located at Innerleithen (a small town 40 kms from Edinburgh). You can take the direct bus X62 from North Bridge bus stop which will directly take to the Velvet hall (12 pounds round trip). The place is run by a wonderful couple - who are extremely passionate about their work and will show you around their beautiful estate and give you an insight into their tweed production. Though the trek was only for an hour, I ended up staying there for 2.5 hours - just admiring their farm and the beautiful beasts in it! If you're hard-pressed for time, you can consider going to Bobcat Alpacas, which is in Edinburgh itself - but they don't do treks all days of the week so check if it fits your schedule.
The second half of the day was mostly about going around Edinburgh that included- a quick look at the famous Edinburgh castle, admiring Greyfriars Bobby statue (commemoration of a Skye Terrier who guarded his owner's grave for 14 years!) and enjoying live Celtic music at Sandy's Bell.
At the end of the day, I took a flight to Belfast (2500 INR). You can easily catch a tram or a bus to the airport at 6 pounds per ticket, which will directly drop you at the airport.
Tip: Click a selfie with Pearson if you visit the Velvet Hall Alpacas!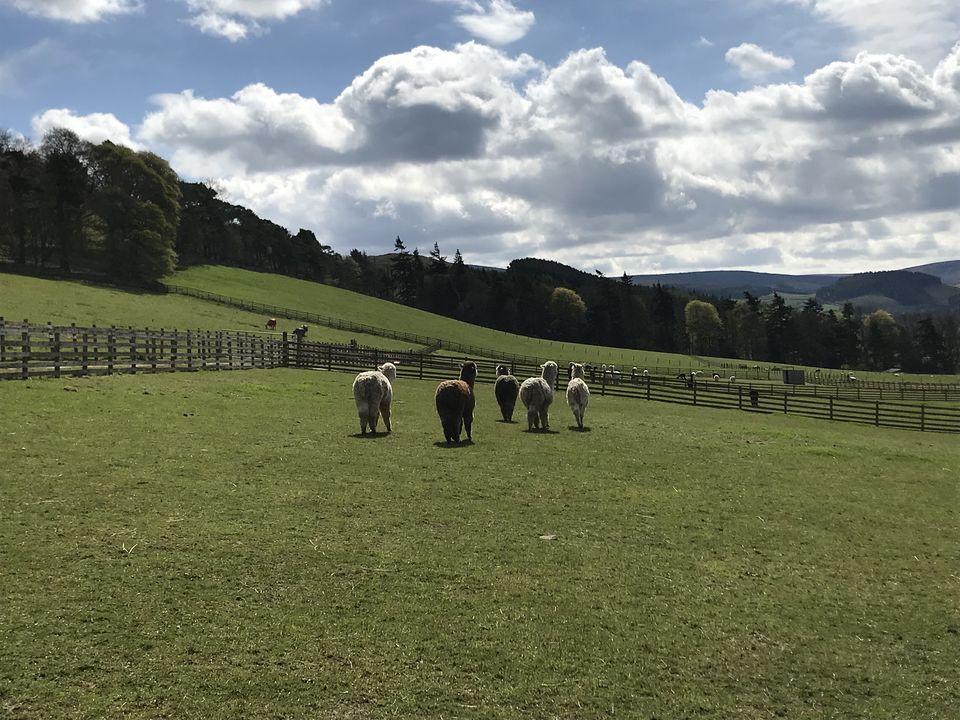 Day 5 (2nd May): Belfast, Northern Ireland. I stayed at the Ballyrobbin Country Lodge (4000 INR) - just a mile away from the airport. Again, it's always better to book a place at the city center so that you don't end up spending on commute - hence, this might not be a good option for most people.
In Belfast, I booked a 9 hour Game of Thrones (GoT) inspired tour with Irish Tour Tickets (booked on Viator, 2200 INR). If you don't follow GoT, you can opt for a similar tour on Viator without the GoT commentary on the background. The locations would be more or less the same! If you're a fan, you're in for ride. Every other person in Belfast has a GoT story to share, since they have been a part of the crew or "extras" in the series at one point or the other. My tour guide was one of the dead wildlings and her best friend worked as an inmate at Little Finger's establishment! :) Again, if you don't follow the series, you would be particularly interested in Giant's Causeway (Lonely Planet's #01 place to visit in 2018, aka Iron Islands) and Carrick A Reed Rope bridge. The tour also has a lot small stops at various other GoT filming locations like the dark Hedges, Cushendun Caves, Portstewart Strand (Dothraki land) and Carnlough Canal (Braavos). Also, as you travel, you get a sneak peak at "The Wall" of night's watch and the Quoile River aka Riverrun.
Tip: If you're taking the GoT inspired tour, do take a couple of pictures in GoT costumes that the tour guide offers!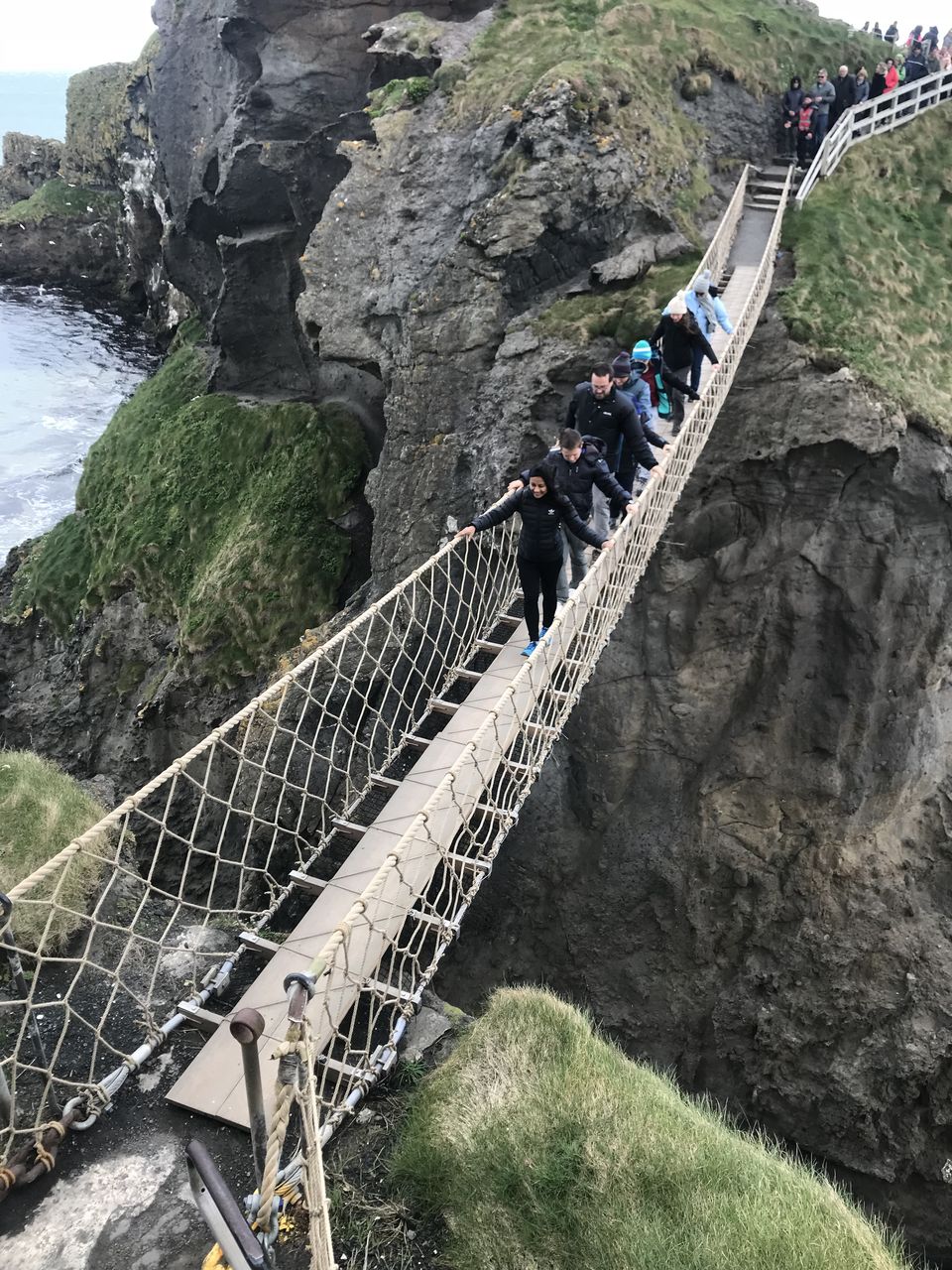 Day 6 (3rd May): Cliffs of Moher and Galway City. I booked 2 nights at Maldron Hotel, Newlands Cross (5000 INR). This, again, is a bit off from the city center but you can easily get a ride from there. I booked a tour with Wild Rover Tours (on Viator, 4000 INR), which was a 12 hour tour including Cliffs of Moher and Galway City.
The tour starts pretty early at around 7 AM, so if you are taking this one remember to have some light snack with you for breakfast. It's a long but an extremely scenic ride from Dublin to Galway, which runs across the Atlantic coastal line. On your way, you will also pass by President Obama's ancestral village - Moneygall, and can notice the Obama fanfare in the small village.
The Cliffs of Moher are a sight to behold, but since the weather wasn't in my favor - I could only view 50% of the drama that the cliffs have to offer. There's a well established visitor center next to the viewpoint, and you can catch a small teaser video of the cliffs while munching on some Irish Chocolate. The next stop was Galway City - the city has its own intriguing history and, the beautiful buildings and street performances bear testimony to this. One of the recommended places to eat at Galway is The king's head - you can try some Irish Coffee or Guinness beer, and some awesome lunch to go with - sitting beside a small fireplace.
Tip: Buy a paddy-inspired green souvenir, and carry a raincoat!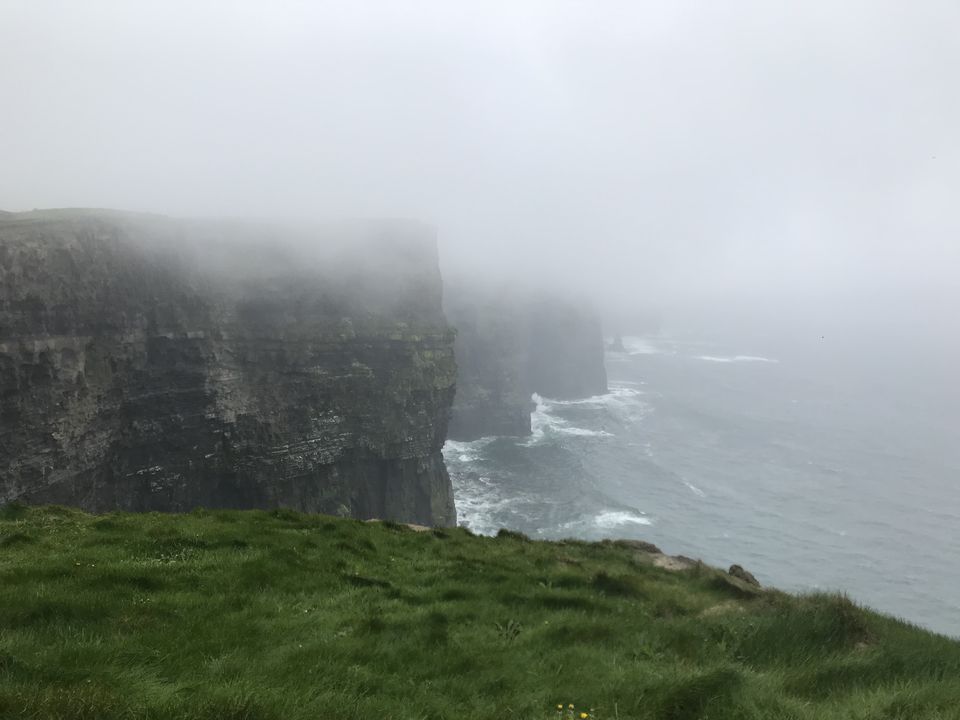 Day 7: Manchester United Museum + Stadium Tour & Hotel Football. I took a flight back to Manchester in the morning (1000 INR) and headed to Old Trafford area for a planned stadium tour.
My stadium tour was scheduled for 3 PM, so in the meanwhile, I had lunch in Cafe Football (cafe inside Hotel Football). The food was pretty below average TBH, what you really pay for is the ambiance and its proximity to Old Trafford. There's Red Cafe inside Old Trafford itself - which looked much more inviting when I later went inside for museum tour. The stadium tour was as expected - there's a tour guide who would walk you through all the key areas of the stadium - the dressing room, player's tunnel, media center etc. Inside the museum, you can enjoy reading about the team's rich history and checking out some really cool jerseys of the past. The lockers are available for free during non match days, so you can make use of it in case you have luggage on you. A personalized tour certificate can be collected from the Manchester United mega store, which is right in front of the holy trinity.
Tip: Have some fish and chips at Manchester; and record your staged entry through the player's tunnel during the stadium tour!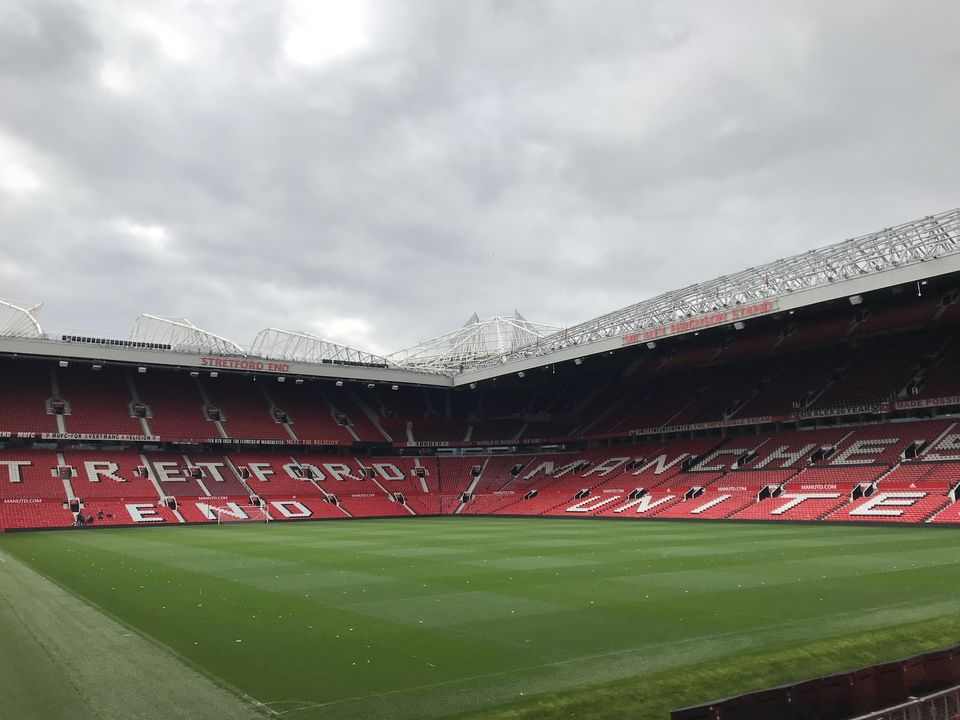 Well, that's the end of my 7 day trip to the UK and Ireland. There are a lot of other things that I was considering while planning the trip, but couldn't do so because of time and budget constraint. First - I missed London. It's the most visited city in the UK, but it turned out to be a bit expensive plus, since it's one of the mainstream cities I believe I can may be come back later on some other occasion. Second thing which I was looking forward to do is to cover whale watching in Cork City, Republic of Ireland. In case you have more time, you should definitely explore this option.
Hope this blog helps at least one soul in planning his/her trip! Do feel free to email me at kashyap.priyanka123@gmail.com for any specific queries related to the itinerary. Will be happy to help. Cheerio! :)