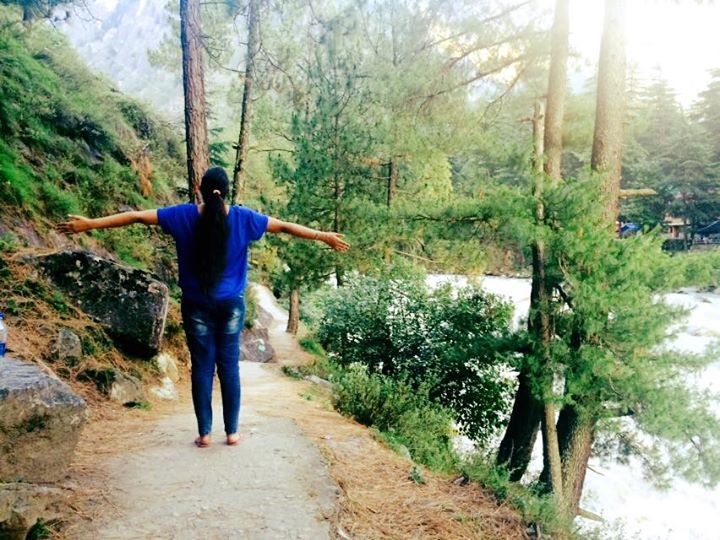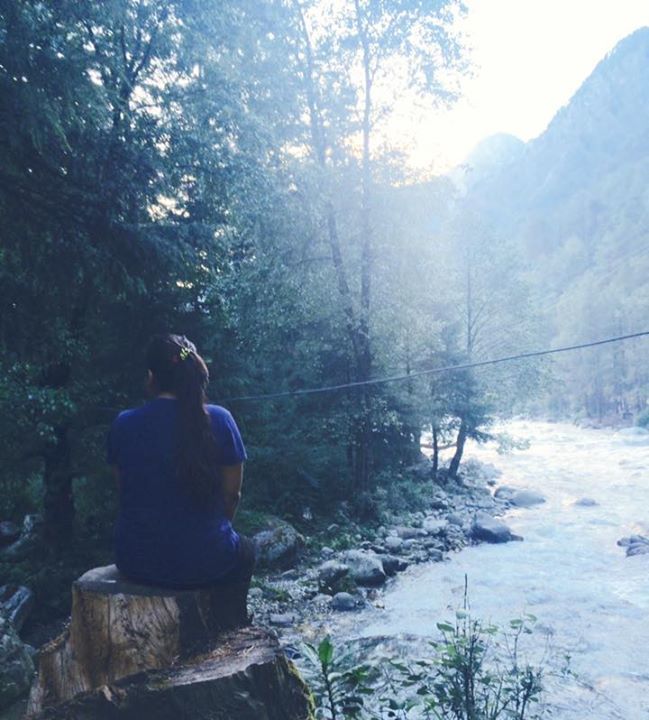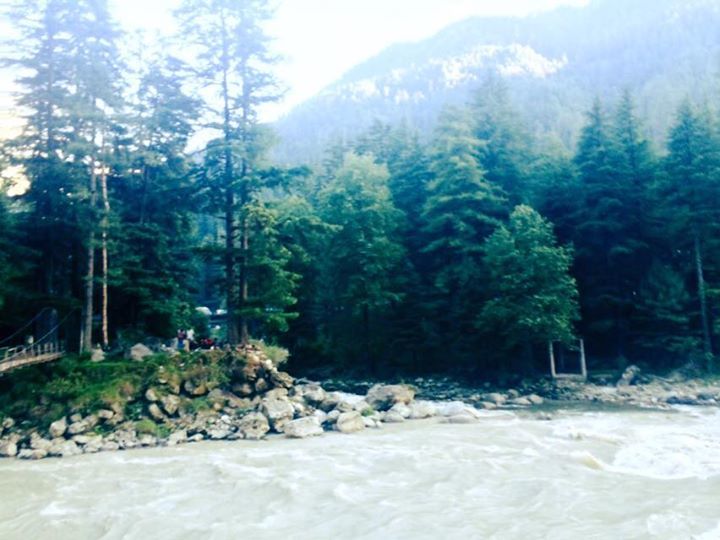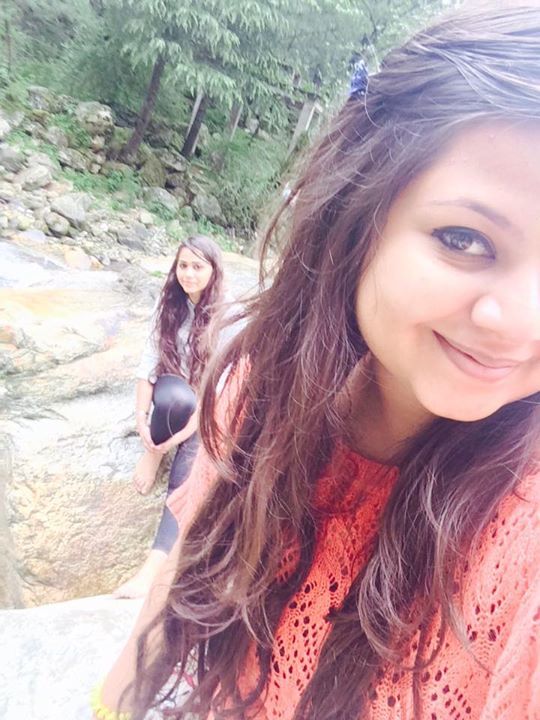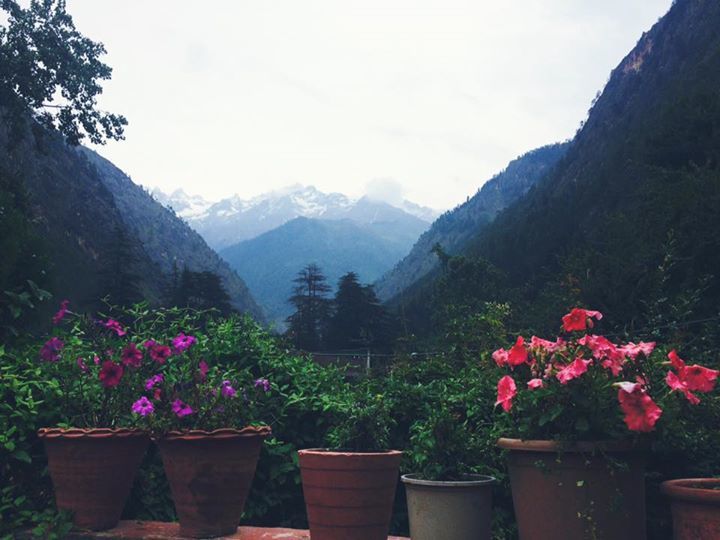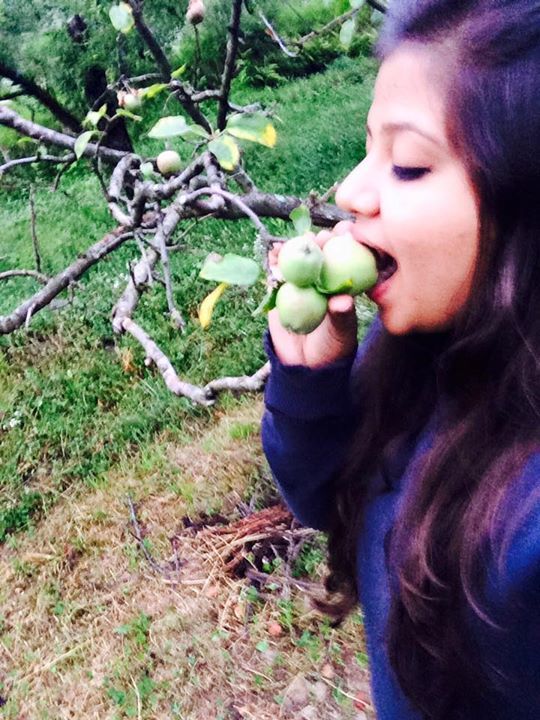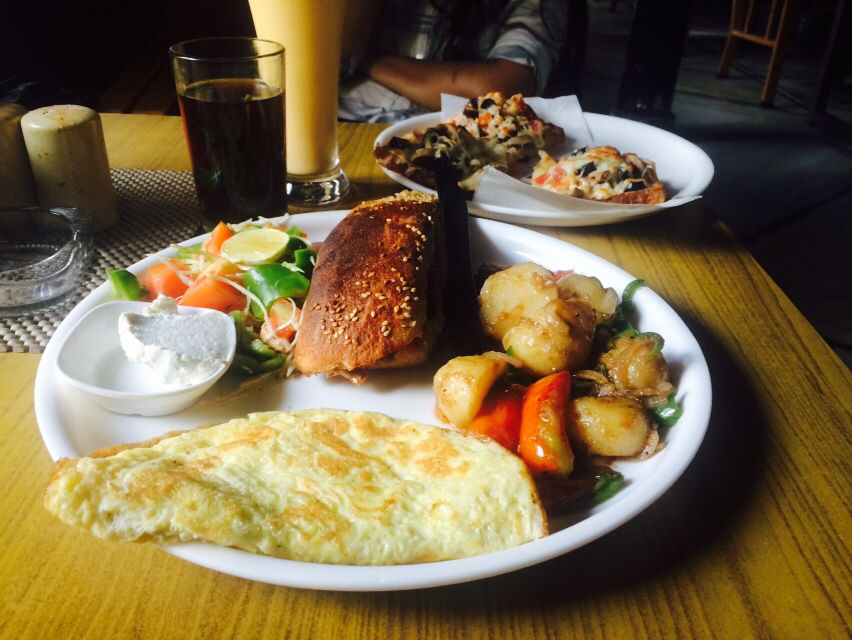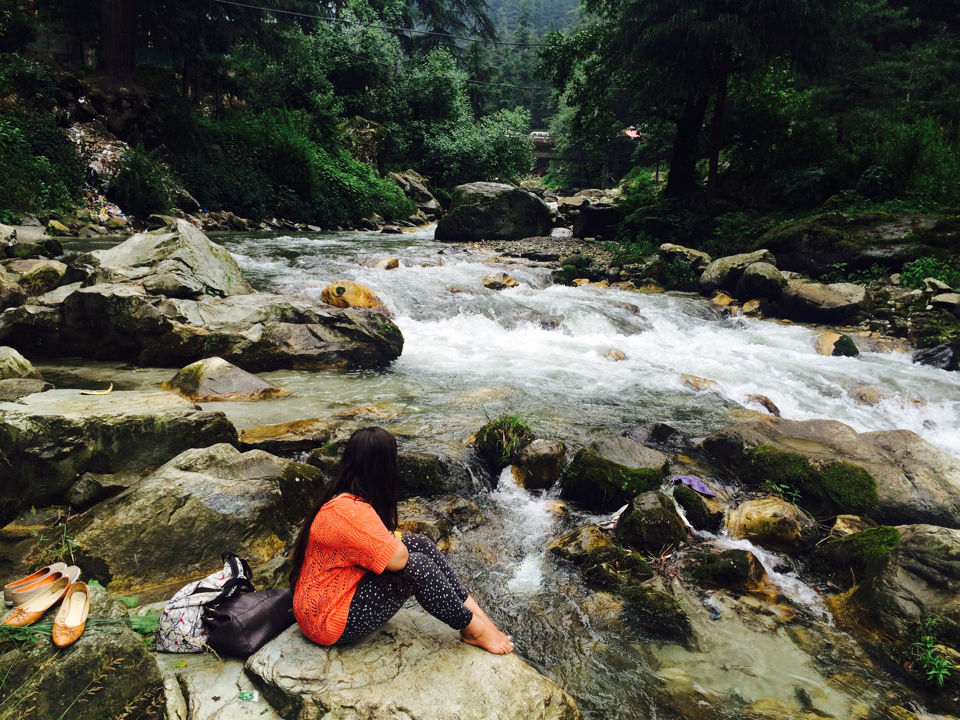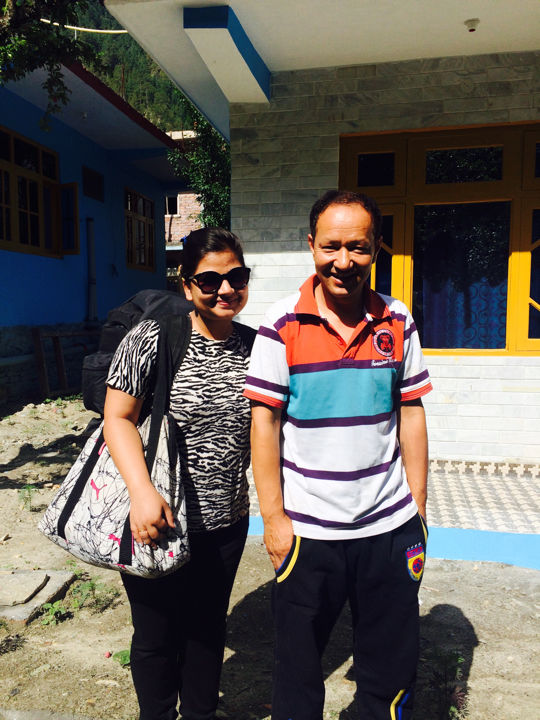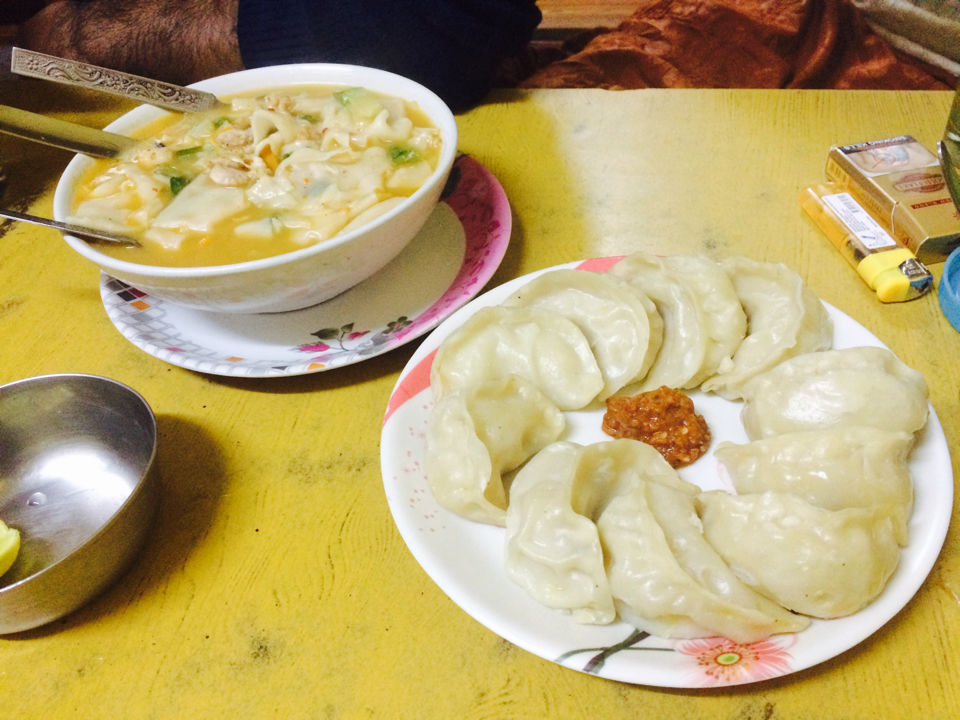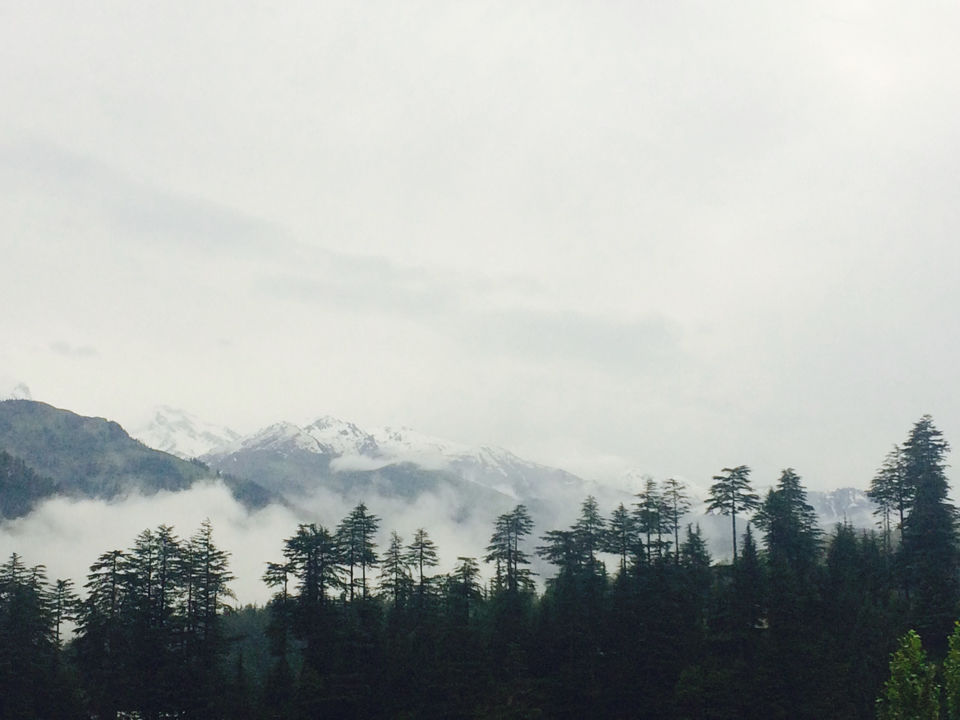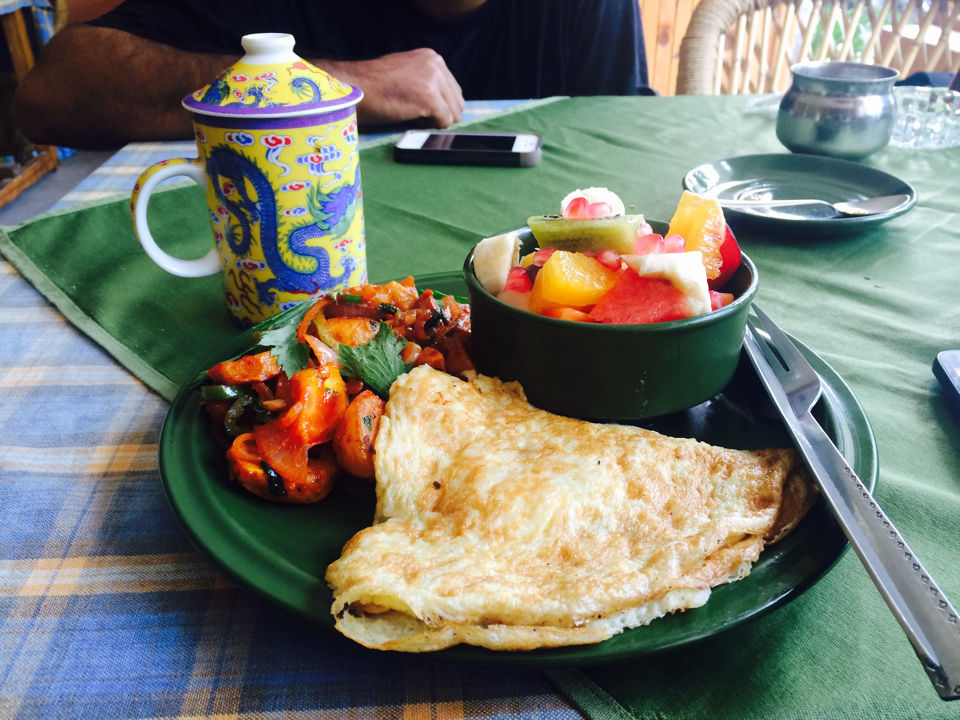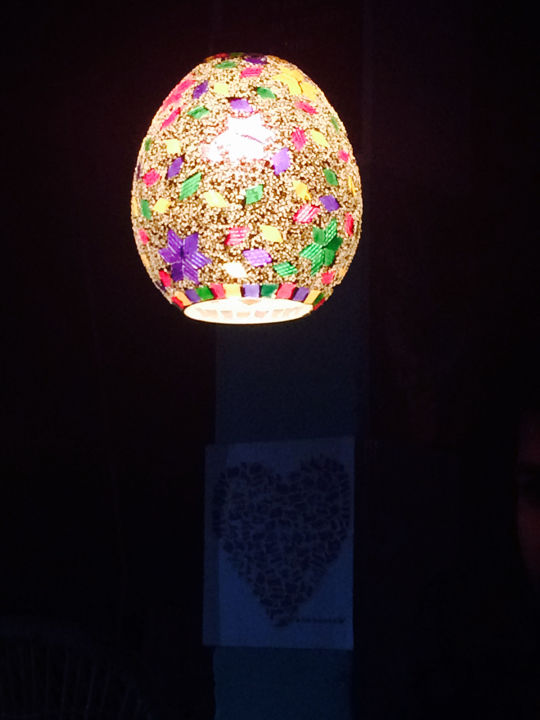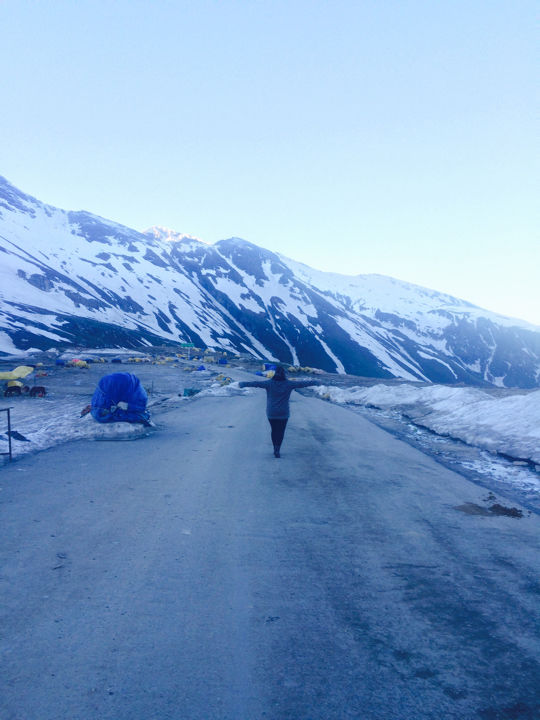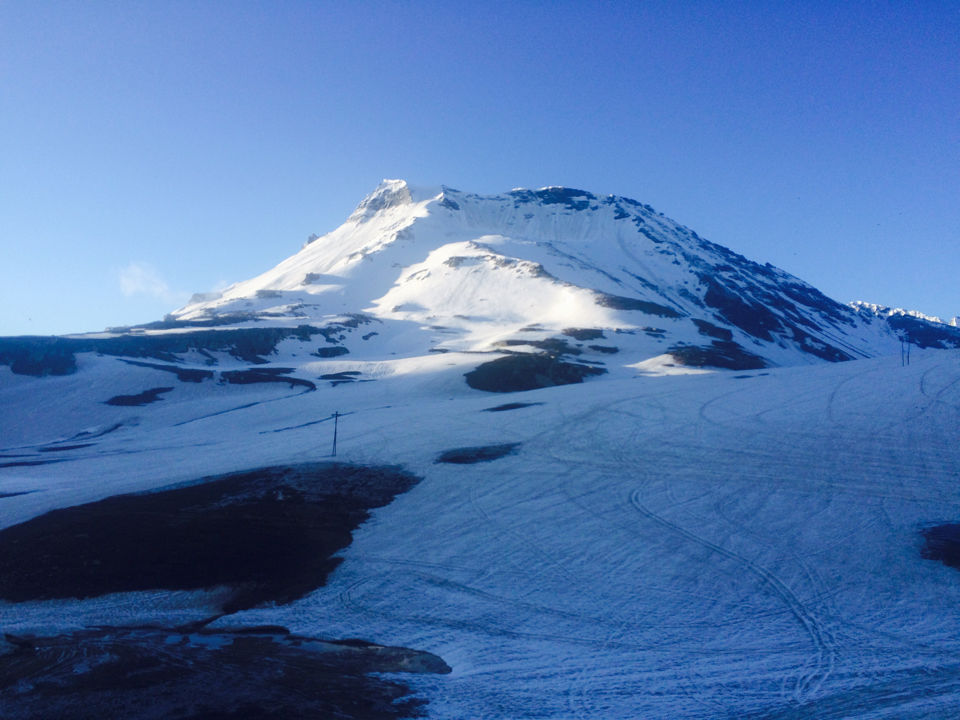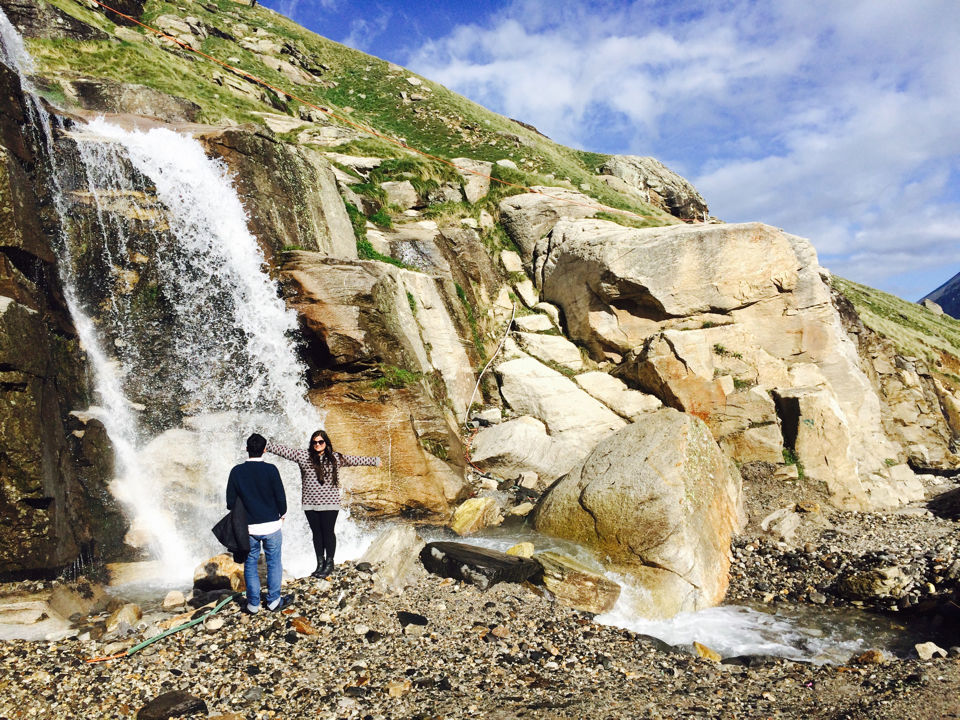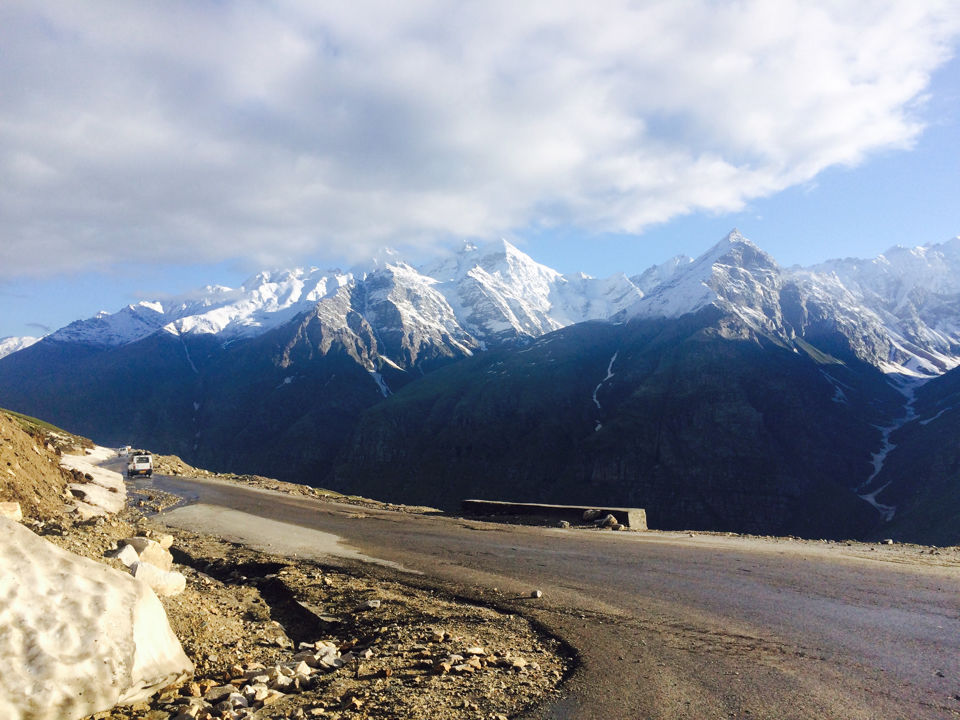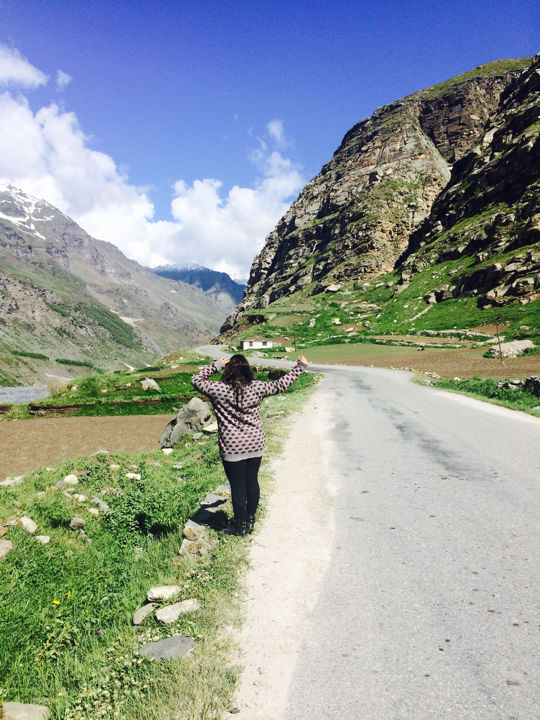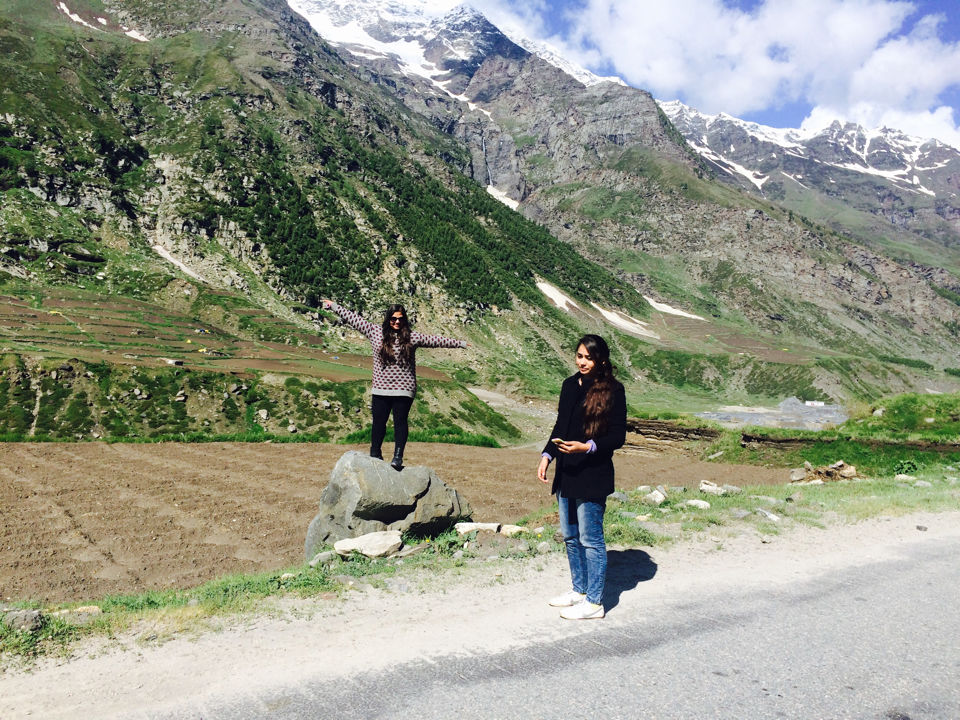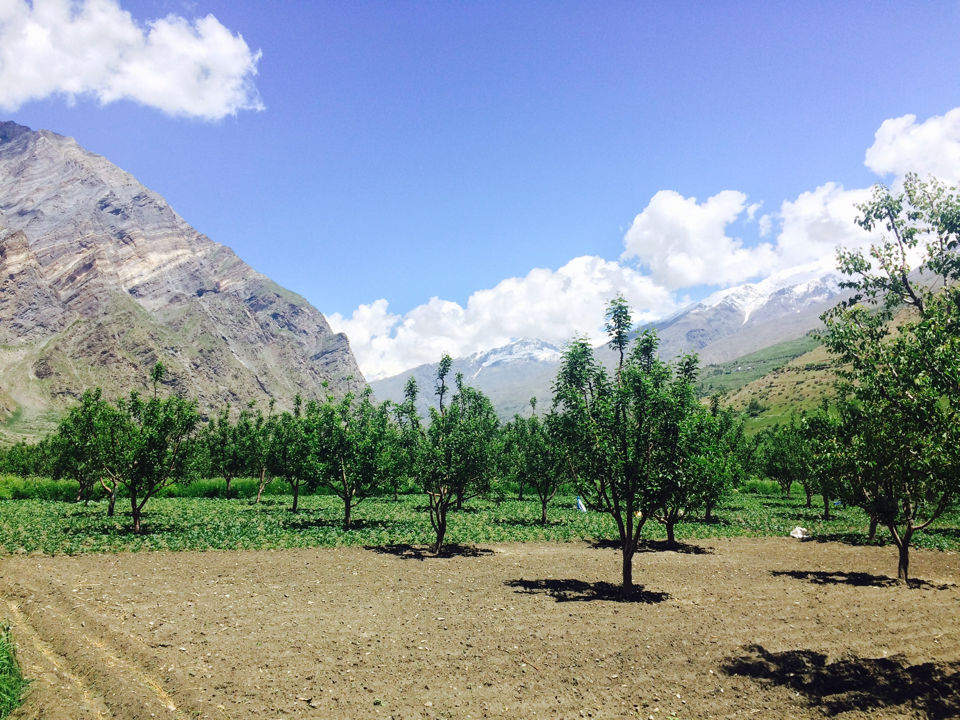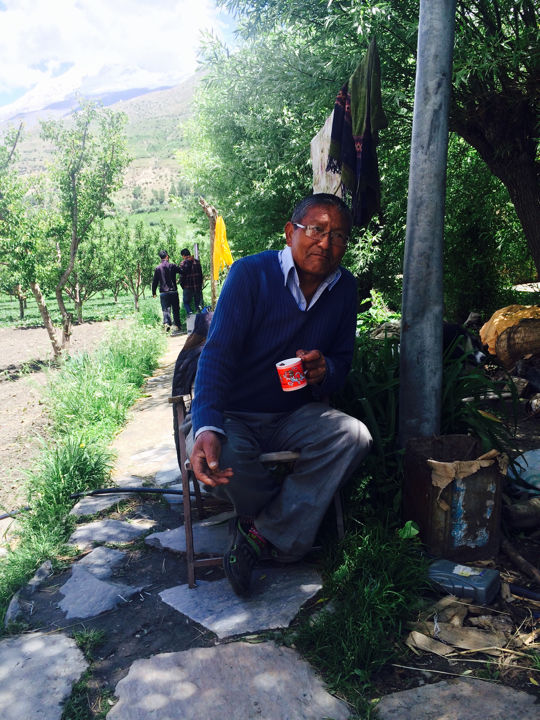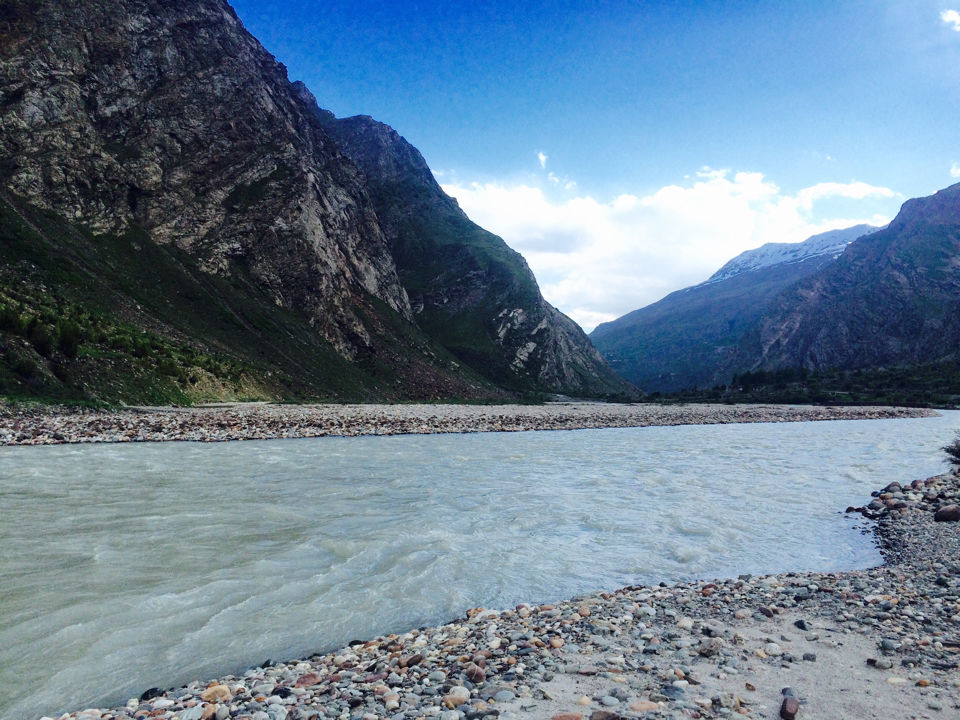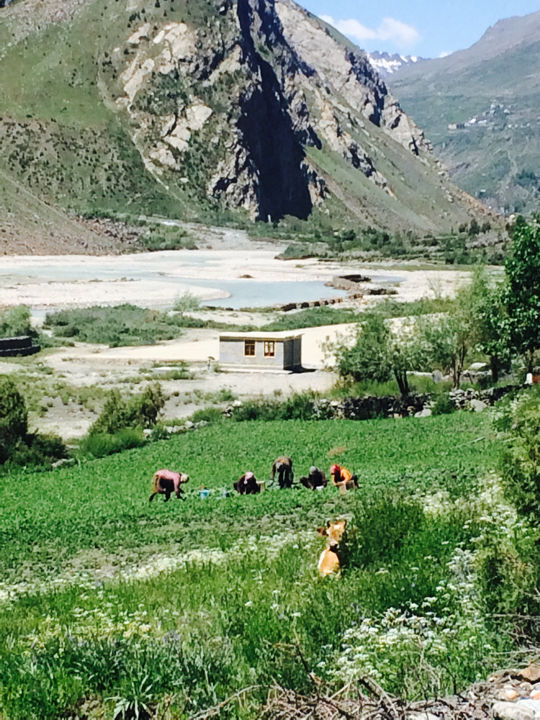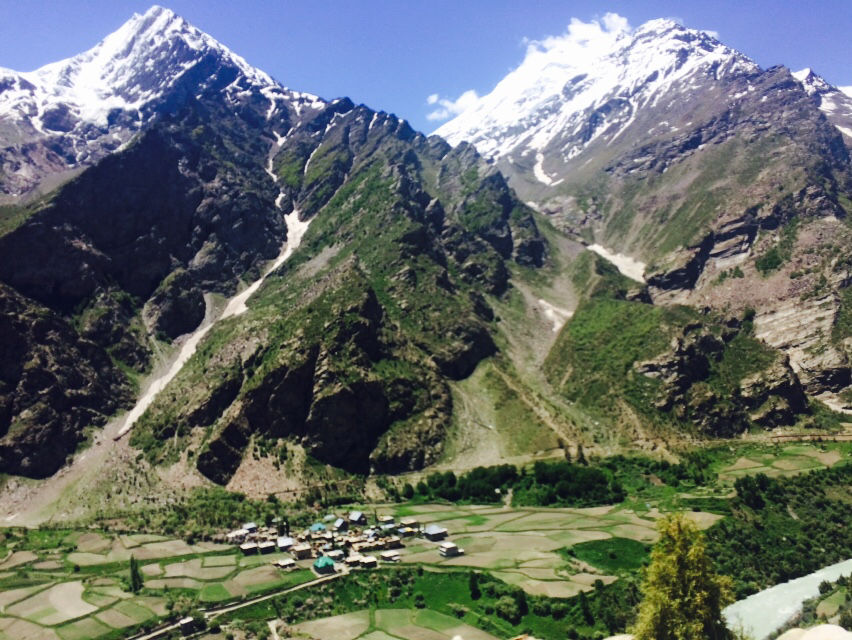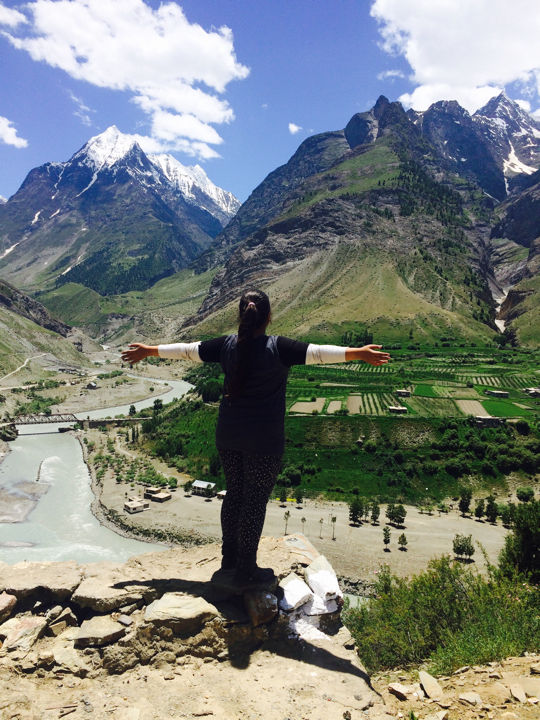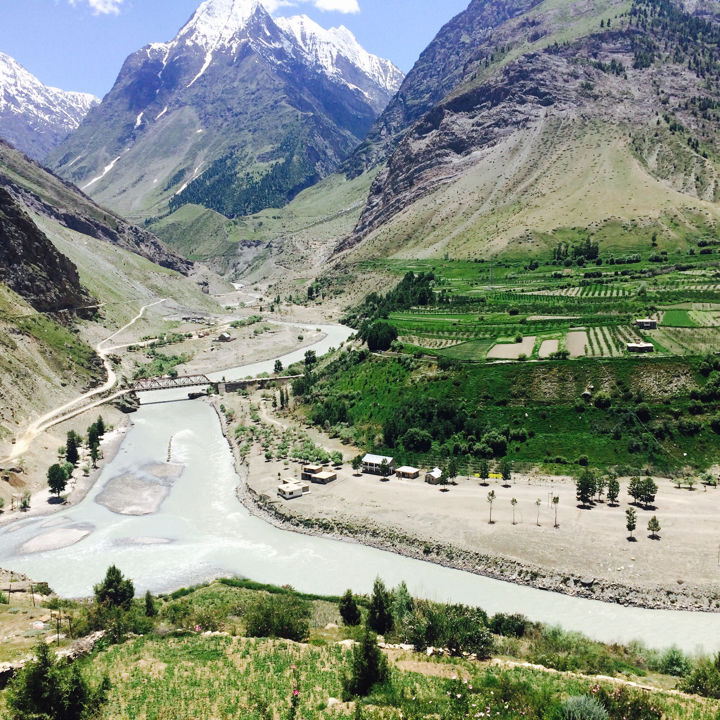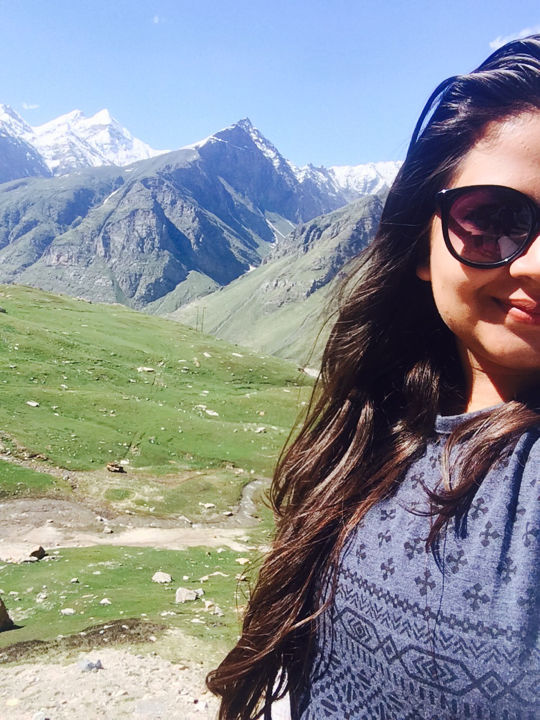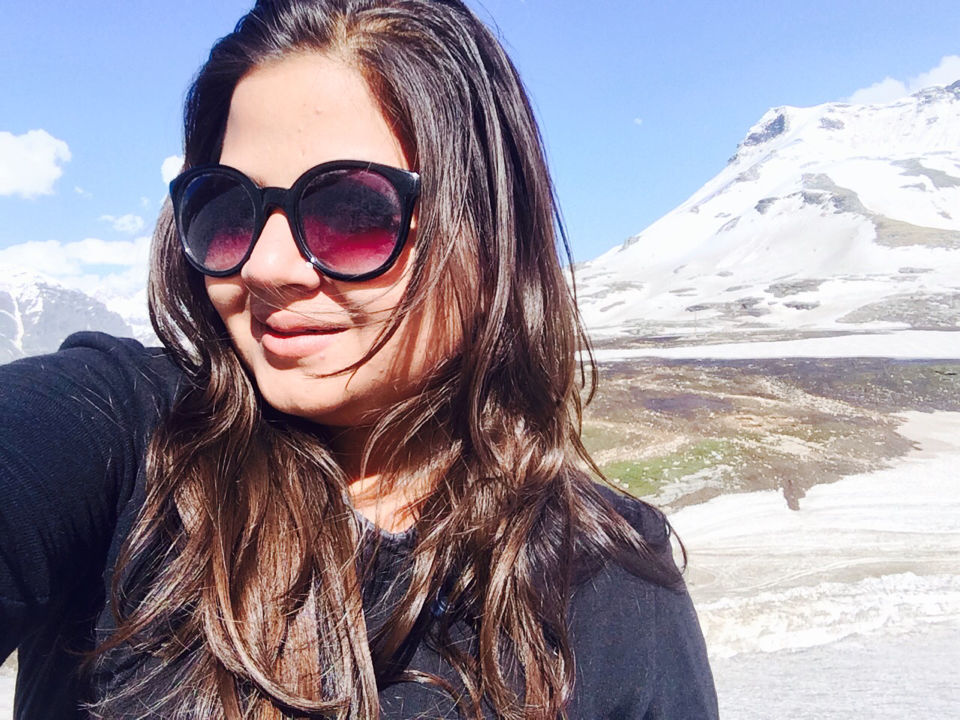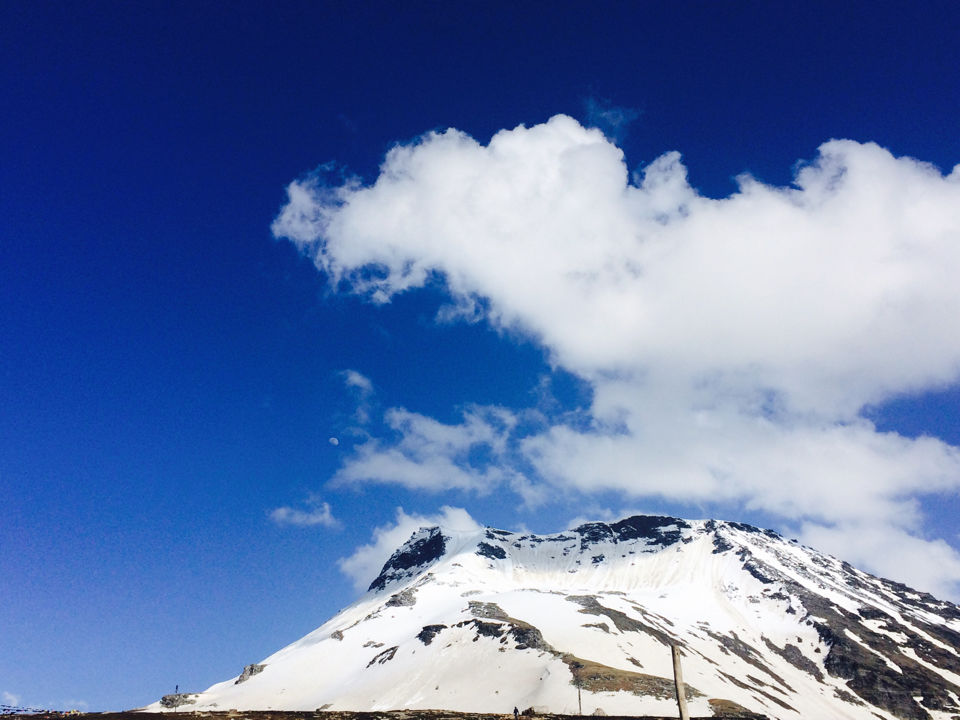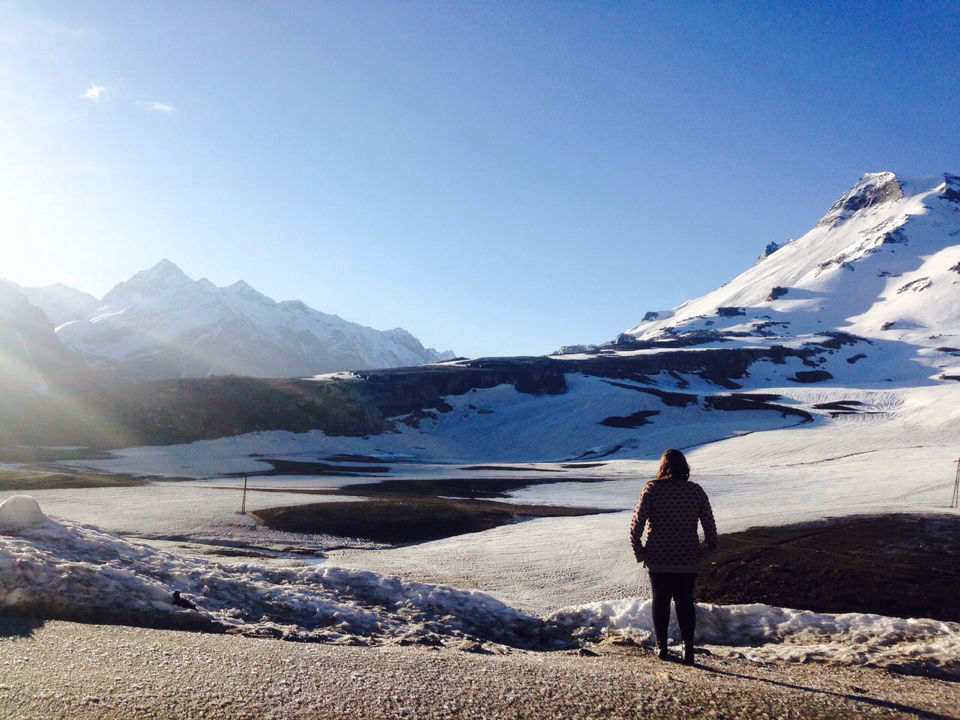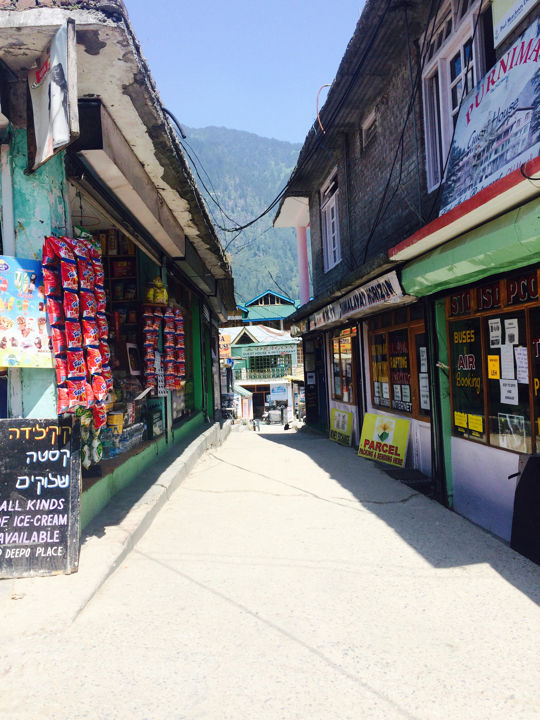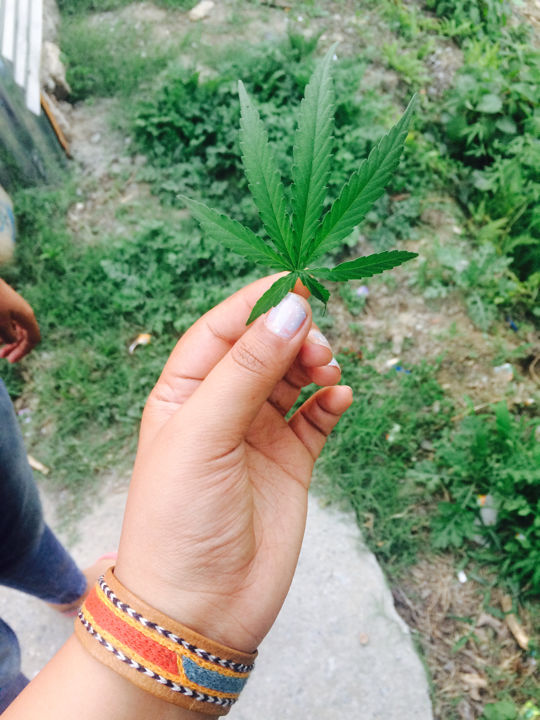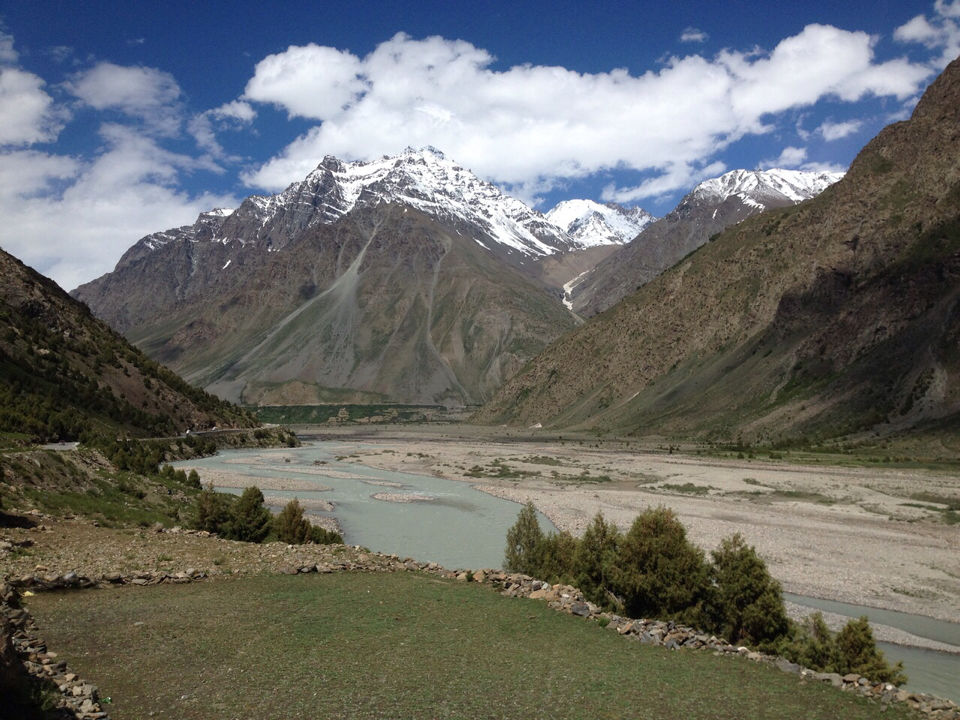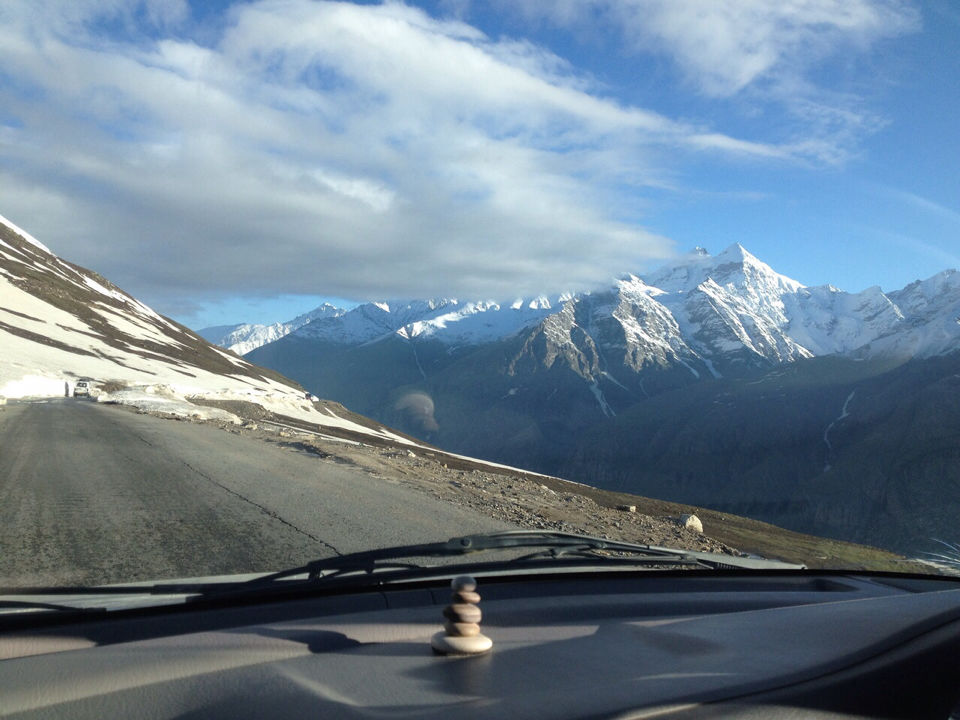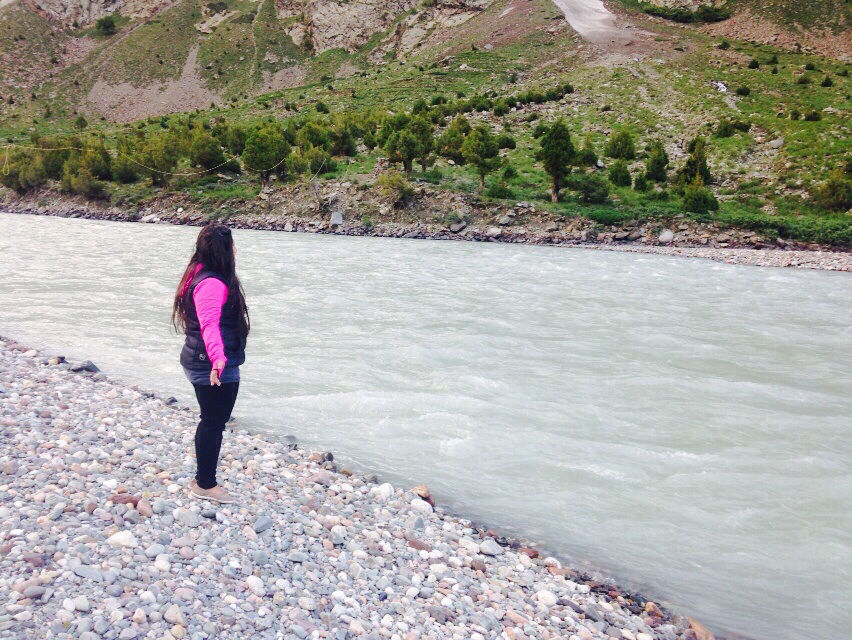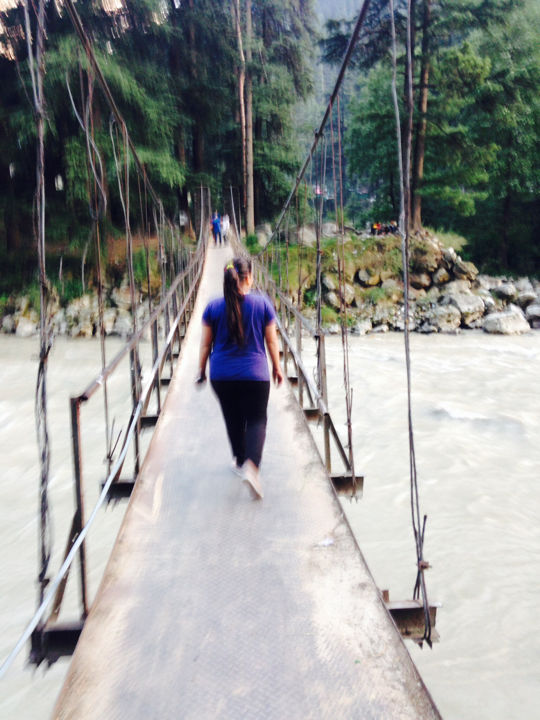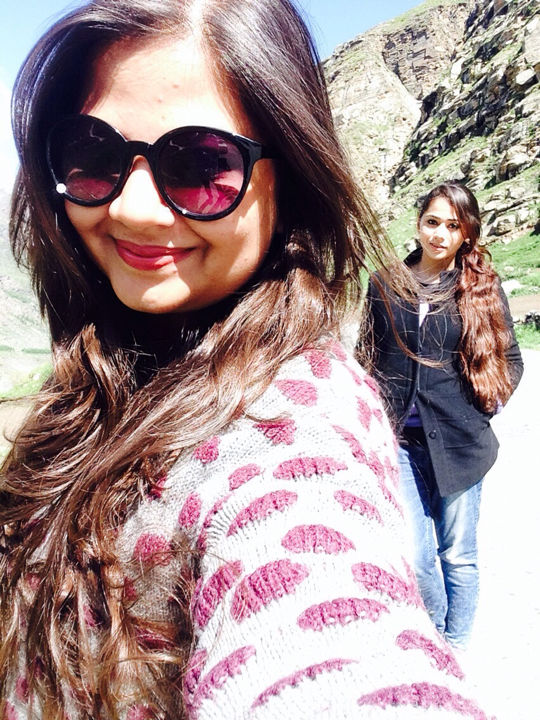 Delhi-Kasol-Manikaran-Old Manali-Rohtang-Kokhsar-Ghoshal-Keylong-Jispa
It was the month of June, summers weren't that hot but the temperature in NCR region is never pleasant. We wanted to get away from Delhi. Two of my workaholic friends had finally got the opportunity to utilise their annual leaves and i was on a sabbatical for two months so this is how Lahaul and Spiti Valley happened ! :)
We were three people, two of us left two days early and the third joined us at Manali. Me and my friend Ginny started from Kashmere Gate at 9pm, via Himachal Volvo service on
21st June, 2015
. We had met after a long time, so there was a lot of catching up to do. We reached
Bhuntar
the next morning at around 11am, (yes we were two hours late due to a landslide in
Bilaspur
) and boarded Himachal roadways for Kasol. One can witness the confluence of rivers Beas and Parvati at Bhuntar, it is a delight to watch the view.
DAY 1- 22-06-15 - KASOL and other things ! 
The temperature was around 23-25 degrees when we reached Kasol at 1pm. We checked in at Arvind Bhaiya's home stay, a very sweet and friendly host and it was located near the bus stand. It was a beautiful home stay with all the basic facilities and had a beautiful view of nature. There were Apple and Pear Orchids just nearby the homestay, which we had decided to explore the next day. We freshened up a little and went out to eat and explore the beautiful Kasol.
Since it is a tiny pretty town, one can cover Kasol in maximum two days.
Kasol is a place that is admired by three kinds of people- 
1. Marijuana lovers
2. Nature lovers
3. Both of them
Well I happen to fall in the third category and my two day visit to Kasol was amazing. Peace and tranquility is what I attained at this beautiful place.This mini
Israel
of
India
is surrounded by lovely green and snow cladded mountains, beautiful apple, plum and pear orchids, the majestic Parvati River flowing across the valley and Kasol's very famous HEMP/MARIJUANA plants.
My love for exploring good food is as great as my love for travelling to good places. Ginny and i were hungry, so we stopped by at Moon Dance Cafe, grabbed some crepes and went back to the homestay for some rest.
Ok while my friend and I were strolling down the streets of Kasol, i got a very pleasant surprise ! My ex-boyfriend happened to bump into me with his new girl friend ! It had been 6 months since we broke up but he and i were still in touch those days so i knew that he would be here but i had no idea that he would be here with his NEW girlfriend ! Well that was a shocker for me and in any case i didn't want to ruin my trip for this reason. I broke down for a while, gave myself some time, picked myself up and pretended that this never happened. I think it was a sign from God for me that nothing could have been better than letting go of all the negatives here and start life a fresh through this trip, mother nature healed me in its own way. My friend supported me through out and i made sure that i don't kill her travel vibe due to my personal problems. It was my friend's 4th visit to Kasol, she's a hard core Kasol lover and since it was my first time so she had decided to make me fall in love with the little village. :)
We went out again in the evening, started with the river side first and spent a few hours there, sitting and experiencing the silence and beauty of nature. But before you reach there, you've got to cross the walking bridge that connects Kasol to
Rasol
and it takes you to an another level of HIGH! ;) It shakes and moves and trembles, i wonder how is it hanging in there! In that area, you'll find all kinds of travellers and locals, be it the loud group of guys  from North India, a few couples having the time of their life and a few local hippies offering you varieties of hash/weed and even a few higher level of drugs ! When we visited Kasol, there were a lot of rave parties going on, so we were asked to be careful and safe only because we were GIRLS and travelling alone. We sat at the river side in peace, lit one each and admired the mesmerising view. The temperature had dropped by 5pm, so we decided to move back and to pamper our taste buds with some herbal tea at Evergreen Cafe. The sound of Parvati River, the dark green and snow cladded mountains, the green and red Apple orchids, everything suddenly started to make sense of my existence, I was feeling blessed to have witnessed the sheer beauty of nature there. Trust me a mere glimpse of the nature gave me a rejuvenating high, smoking up was secondary for me. Every little thing is beautiful about Kasol. After eating we went back to our room, chit chatted for a while, had a home cooked delicious meal prepared by Arvind Bhaiya and dozed off for the day.
DAY 2- 23-06-15 - MANIKARAN, Patiala Group and two stoners !
The second day was refreshing and even better. We began our day with some herbal tea and a sumptuous breakfast at our favourite Moon Dance Cafe. We ordered an Israeli Breakfast and Bruschetta with tomato and basil (all for 400 bucks !). Well my friend, Ginny and I are big time foodies, so we didn't compromise on the food at any time ! ;) We ate to our heart's content and after awhile left for Gurudwara Manikaran Sahib via local roadways for just 10 bucks per person ! It's just a 30 min journey from Kasol to Manikaran. But it had started to rain when we reached there, and since it was the month of June, the place was packed with devotees coming mostly from
Punjab
and Delhi. Manikaran Sahib is a beautiful Gurudwara which is famous for its natural hot water springs. The devotees offer 'prasad' in the form of rice and cook it in the water springs. Isn't it amazing, amidst the mountains and Parvati river, God has a place of its own. I felt very peaceful inside the Gurudwara, we sat for sometime, listened to the gurbani and then proceeded towards the Shiv Temple where the Almighty Lord Shiva's statue can be seen at the entrance of the temple. We had to get in the queue to reach the temple, the temperature  that time was around 18-20 degrees and it was pelting, but the floor was so hot, one could not walk bare foot ! There were wooden planks placed on the floor for the people to walk. Only God knows where did those hot water springs come from. Nature flaunts its beauty in its own mysterious ways. We offered prayers at the temple and waited for some time for the rain to stop. We left after half an hour, boarded the local roadways to Kasol and stopped at Evergreen Cafe to calm our hunger pangs. Evergreen Cafe has a good variety of tea and main course, the food quality is good and the service is prompt. One should sit outside and enjoy the natural view, it's blissful. We had a lot of time in hand so we scrolled to the river side for some nature tripping. Sitting across the banks of Parvati River, with your feet submerged in the water, letting them play with the flow, and enjoying the nature high, without the need of materialistic pleasures... What more can one ask for ?  I was at peace, that is when I realised what Peace of mind is.
The temperature had dropped down to 15-16 degrees, so we headed back to our room for a power nap because in the evening we had to explore the fruit orchids located near our homestay. At around 5 we had put on our sweatshirts, had a cup of green tea and headed towards the orchids. It was a mini hike of 15 mins and when we landed the flat fields, i felt as if i've entered some fruity face wash TV commercial, where the models flaunt their facial glow and tell you about the benefits of apple and apricot ! :P The view was so beautiful, i was blessed to have witnessed it with my naked eyes, all shades of green, peach and magenta, the fruits looked gorgeous. The pleasure of plucking fruits straight from the trees and taking the first bite was Ohh-so-Foodgasmic ! Apples and Pears were never this tasty and fresh, no chemicals, no preservative injections, it was straight out of its birthplace. While we were enjoying the green apples, there was a group of guys from Patiala, staying right beside our room and since the first hour they tried their best to initiate a conversation with us, so two of them started following us to the orchids. But they weren't disturbing us while we were busy capturing the orchids. When we were returning back, one of them started a healthy conversation with us to which we responded the same way. We came back to our room introducing each other and those guys asked us to join them later at night for the bonfire. We had to leave early morning for Manali, so we decided to sleep on time, but since the boys asked us as a friendly gesture, so we joined them.
There were almost 6-7 under graduates including a lawyer from Patiala, Punjabis are very loud and lively in nature, they had played punjabi tracks, sipping pegs of red label with some 'chakhna' (snacks) placed on the table and joints were being rolled one by one. We joined them, everybody introduced themselves to each other and a healthy and lively conversation continued for some time. One of those guys offered us a joint and we accepted it. Dinner was ready, Arvind Bhaiya had especially cooked Chicken Rice for us and it was delicious. We continued sitting there for some more time, when we heard two girls shouting and laughing on the top of their voice (i still don't remember because they were too stoned to react) came running towards the homestay and asked out for help. When the guys asked them that what was the matter about, they were so stoned that they couldnt even talk, they kept laughing but managed to say that they were being followed by a Mafia who had a gun in his hand and who said that he'll kill them! The girls were in their 20s, too high on Kasol crush, didn't realise what trouble they would have gotten into and still couldn't stop laughing ! The Mafia guy tried following them to the homestay, but three of those Patiala guys went after them and threatened him to go away and not follow the girls any further. Those girls had a narrow escape ! Those days there were a lot of Rave Parties going on in Kasol, so me and my friend were given strict orders by our third friend not to go out alone or become vulnerable to such events. :P So Ginny and I realised that we were responsible enough not to expose ourselves to the danger that can appear anytime to a vulnerable girl. When the situation calmed down, all of us sat together across the bonfire and discussed about our rest of the journey plans. The guys had to visit Tosh and Kheerganga the next day and one of those who was hitting on my friend especially asked us if we had the same plans, well he definitely wanted to join us but we had different plans. The lawyer in the group interacted quite a lot with us because me and my friend both being Lawyers, it was a lawyer-lawyer connection, we shared common interests and his intentions didn't seem evil. The good thing about travelling to places is that you meet new people and make contacts, depending on the limits that you maintain with the people. That lawyer was a good guy, he wasn't talking with the intention of flirting or having fun, he was fascinated by the fact that he became friends with two budding female lawyers from NCR region. ;) :D It was too late so we said our goodbyes to the Patiala Group and headed back to our room, just when we heard a knock at the door! The guy who now definitely had a crush on my friend was standing at the door and politely asked if he can join us the next day to Manali ?! I couldnt stop myself from laughing but i controlled and broke his heart by saying that some of our friends would be joining us at Manali, so its a NO ! :P ;) My friend was too overwhelmed to react to that situation, and the moment he left with a sad face, i closed the door and we both burst into laughter. That moment was hilarious ! Guys..guys..guys ! They can dump their co-travellers and can literally change their travel plans for a girl based on a 5-6 hours of interaction with a girl ! Ha ha ha ! :D Put efforts where the situation actually demands for and not where it's not even expected ! :P
DAY 3- 24-06-15 - OLD MANALI <3
We bid our good byes to the Patiala Group, they entertained us really well :) but the broken-heart guy didn't react, i guess he was too sad ! :P After a one day halt at Old Manali we had to head to Lahaul and Spiti and Arvind Bhaiya's village was located in Lahaul, so he helped us in the itinerary and made a map of the places that we could cover in the coming three days. We paid the bills thanked him for his great hospitality and left Kasol with lots of cherishing memories. We grabbed some muffins and pie from a local bakery and boarded the local roadways to
Kullu
. Since there were no direct buses plying to Manali so we boarded one to Kullu. Okay here comes another Punjabi Pind chasing incident ! By now we realised, that we were being noticed by a lot of guys ! :P From the time when we waited for our bus at the bus stand to the time when we had almost crossed 10-15 kms from Kasol, a white Maruti Swift was following our bus for like 20 mins. They started stalking us at the bus stand when we were busy eating muffins at a local bakery nearby, we ignored first but got in the bus and started our journey, those perverts started following our bus ! Travelling solo or just girls definitely has its own side effects. After 10-15 kms those dumbheads realised that they are just wasting their car fuel and that they won't get anything out of it, so they returned back ! Guys... i tell you, can be so lame at times ! :P 
By 12 we reached Kullu, the temperature had risen to 26-27, it was a sunny day and we missed the pleasant ambience of Kasol, we boarded another bus to Manali and reached there by 2. Our third friend joined us at the bus stand, our 'all girls trip phase' was over ! ;) Meet my third friend, Yatin, another budding lawyer from
Gurgaon
. After having lunch at a local dhaba, we proceeded to our favourite 'Old Manali'. Its a 15 min drive from the Mall Road, depending on the traffic, the autowalas charge you not more than 100 bucks whereas a cab will cost you almost double. Since we didn't have any pre-bookings made, we had to do a little bit of room hunting for about 15 mins. One can easily get rooms starting from Rs. 500- 2000 per day at Old Manali. It was my third visit to Manali, so i had a clear idea about the rates and room availbility and luckily we got one for Rs. 500 for a day at The Green Chilli Cafe and Restaurant. It was the month of June, the place was packed with tourists but still we managed to get a room at such a cheap fare ! :) Old Manali welcomed us with heavy rains! A little village where you can find the locals on one side and the fast growing tourist population and cafes on the other. We checked-in, got fresh, sipped some ginger lemon tea and waited for the rain to stop, which had only gotten heavier by the night. We were supposed to leave for Lahaul and Spiti the next morning, but looking at the extreme rains, we couldn't risk ourselves by continuing our journey, as the Manali-
Leh
highway wasn't a smooth drive. So we decided to stay back for a day and wait for the weather to get better.
It was around 3pm, we were hungry so we started our food journey from our favourite food joint, Raj Food Corner. Its located just opposite the very famous Drifter's Inn Cafe. Raj Food Corner has everything that one can think of. We discovered this little food joint during our first visit to Manali. Its a little cafe with a lovely food menu. There is this family of 4-5 members and all of them cook together. From Tibetan to Indian to Israeli, you'll find a variety of eateries. I am penning down my favourite delicacies- Chocolate/Nutella/Fruit Honey Pancakes, Cheese Tomato Omelette Toast, Veg/Chicken Thukpa, Veg/Chicken Noodles and any Tea. The food is very cheap and tasty, the service is slow but the wait is worth it. Everytime we visit this little place, we eat like Kings and Queens and when it comes to paying, we never end up paying more than 500 bucks. There is just one SBI ATM in Old Manali located to the left side of the bridge, which is most of the time out of cash and the next ATM is located at the mall road, so one should carry enough cash in hand when staying at Old Manali.
For the tourists who are trying to escape the hustle and bustle of metro cities, Manali's Lazy Dog cafe-cum-lounge is the place to relax and pamper yourself with its naturally chilled out ambience. So we entered the cafe at around 9 pm and ordered some whiskey and salad for starters. Its open seating area is beautiful, but since it was so cold and windy outside, we decided to sit inside. The ambience was amazing, people had just started to come and the music was good too. We had a great time there, had lots and lots to catch up. Our main topic of discussion was our last trip to Manali together, the same time, last year. We were reliving the times we had spent the last year, everything was the same, except my "Ex- boyfriend"'s presence ! In our last visit, we were four people, that was my first trip with my ex, so it was obvious that i was happy and excited about the same, things were different then and i wasn't this close to Ginny and Yatin (who is also my ex's best friend). But i had a realisation at that moment that how things change in a span of one year! You lose "the one" but you gain a lot of friends. ;) And i had a few nostalgic moments as well, but i think i was doing pretty good by the time i had had my 4th peg of Black Dog ! ;) We laughed and had fun and got back to our room by 12:30 am. 
DAY 4- 25-06-15 - RAINING OLD MANALI-
My day began with a headache and a little hangover, i had some mint tea and felt better. It was 10am and we were just chit chatting about last night when a guy from the restaurant asked us to check out by 12pm as there was another booking for the room ! We had almost forgotten that we had booked the room for just one day! The rain had not stopped at all, we were already worried about our Lahaul and Spiti entourage and now we didn't have a place to stay for the day ! Yes, i agree there was some mismanagement and lack of planning on our part, which everyone should avoid, please book the accommodations days before your start of journey. We quickly packed our bags, paid the bills, left the bags at the reception because we couldn't carry it while hunting for another hotel, the staff was courteous enough to let us keep the luggage. We checked out many guesthouses and after some struggle, chose The
Oakland
House Resort for Rs. 800 per day, got a very spacious room with double bed, cross ventilation and an attached bathroom with hot water supply. This was the cheapest that we could get. The caretaker was a stoner, he could barely speak, he was just smiling and nodding to whatever we said ! ;) We paid an advance amount of Rs. 500 and went back to Green Chilli to pick our luggage, since we had another half a day to spend at Manali,so we asked those people if the same room was available after two days. Very cleverly the manager said that the same room will be available but for Rs. 700 since it was a weekend so the prices can fluctuate ! We tried negotiating a lot but the manger took advantage of our situation and didn't agree for Rs. 500. Without any delay we booked the same room for saturday night, because it was an on season time and we wouldnt get anything cheaper than this and we also made sure that the room is ready and available on saturday night.
We got back to Oakland House, got fresh, had some tea and our next plan of action was to finalise our Lahaul and Spiti tour. We had limited time, there was a lot to cover, and the rain didn't allow us to finalise our plan, so we went out to seek some help from the locals and came across a travel agent office by the name of FOH (Far Out Himalayas). There were two guys sitting in the office, we told them about our dates, destinations and budget and asked them to guide us as to how to go about it or customize a package for us. The guy's name was Prashant, a local resident of Lahaul Valley, initially we thought he would just be some regular travel agent, but as we interacted with him, we had no idea how talented and a gentleman he would turn out to be! He was a 30 year old fit and toned himachali guy married to the love of his life with a 6 months old daughter, who has had an experience of almost all the adventure sports that i've heard of till date. A very talented guy who owns an Alto, and has travelled almost all of Himachal with his car, who loves taking road trips, an adventure freak, a very knowledgeable person, who has answers to all the questions, (literally all of them), who knows about every peak, temple, monastry, village, population, weather conditions, historical information, flora and fauna and many other things related to Himachal Pradesh. Since we had heard Lahaul and Spiti together, we thought we can cover both in a span of two three days, but when we interacted with Mr. Prashant, we realised that it was not at all a cakewalk for anyone to cover both Lahaul and Spiti in three days, its huge and has a lot of places to discover and explore. So this time we picked Lahaul Valley as it was near Rohtang and accessible. He told us about the major destinations to explore at Lahaul Valley, he first made an itinerary for two days in which we would be able to cover the following- Old Manali- Rohtang- Keylong- Jispa- Bara-la-chala Pass. Due to our budget constraints, we had to cut down Bara-la-chala Pass and fix till Jispa.
He further gave us two options-
1. Use the public transport- Take the early morning local roadways to Keylong from Manali bus stand at around 4am (which is very difficult because one can find queues early morning for the tickets) and reach Keylong at 2 in the afternoon. Take another local bus to Jispa and stay there for the night either in a river side camp or some lodge, (depending on the availability) and come back the next day via the same route and board the local buses from Jispa and Keylong respectively. The public transport would cost us Rs. 200 per ticket and the accommodation for Rs. 1000-1500 per tent and Rs. 500-2000 per room. Considering three people, transport around Rs. 1000 per person and Rs. 600-700 per person, food for Rs. 600-800 per person, including some souvenir shopping around Rs. 200-400 per person, which would in total cost us around Rs. 8500 !  
2. Use FOH's serivces by booking a reserve cab for two days with the convenience of stopping anywhere, clicking pictures of the landscapes and having our own privacy and comfort as well.
After understanding our budget and other requirements, we preferred the latter and Mr. Prashant finalised a two day mini tour to Lahaul Valley for Rs. 7000/- without any extra charges with the following itinerary-
Start early morning from Old Manali at around 4am, take a halt at Rohtang by 5-6am, another halt at Keylong for lunch by 1-2pm, a mini hault at Goshal by 3pm and stop at Jispa for a night halt. The next morning leave Jispa by 10-11am after breakfast, halt at Keylong for lunch, a half an hour halt at Rohtang, and return to Old Manali by 5-6 in the evening and most amazing part, we could stop and click pictures anywhere we would want to ! :D We had limited time and cash for the rest of our trip, after a detailed discussion and negotiations we fixed the deal for Rs. 6500, which sounded better than opting for the public transport option. We paid an advance token money of Rs. 500 and the rest was to be paid at the end of the journey. I was so happy and relieved that i would finally be able to see the unexplored world beyond Rohtang! I had heard a lot about Lahaul and Spiti Valley from friends and many bollywood directors choose himachal for movie shooting, now was the time to finally experience the hidden, unexploited, mysterious and gorgeous world beyond Rohtang ! Mr. Prashant promised us that we wouldn't be disappointed and that the investment we had put in was going to be worth the journey.
All three of us finally took a breath of relief and had a clear vision that the next two days were going to be the most awesome two days of the trip. We had calculated our budget for everything for the coming three days, so we were a little careful about spending the rest of the money. We headed towards The Olive Garden cafe and bar at Old Manali for dinner and drinks. I visited the same place with the two of them including my ex last year as well, so i have memories attached to this cafe, we took the table adjacent to the one we sat at last year. Same place, same people, almost the same table but something was missing for me, i had a flshback of the moments that i had spent here with my ex, it was a little weird for me to come to terms with the reality, but then both my friends cheered me up and i thought it would be better if i let bygones be bygones!
We ordered beer and Cheese Margharita Pizza first, it was King size ! A beautiful pizza loaded with mozarella cheese and topped with sun-ripened tomatoes. We spent most of our time thinking about the next two days and just couldn't wait for the night to pass. Mr. Prashant had to pick us from our hotel at 4am, the next morning, so we decided to leave early from The Olive Garden Cafe. Our conversations kept going on and on while we reached our room at around 11pm. But since the excitement was at it's peak we thought going off to sleep on time won't solve the purpose, so we changed into our sweat pants and zippers and proceeded towards the Israeli Lane that we had discovered this morning. We had a tea craving so scrolled down that street to look for an open cafe, by chance we found one open, 'Nirvana Cafe'. They were closing, so we requested them that we just wanted to have some ginger lemon tea which won't even take much time to prepare, so the owner agreed. It was a small cafe with wooden flooring and a beautiful arrangment of lamps and led lights on the roof, there was an Israeli Couple enjoying dinner and romancing in the candle light, making good use of the vacant place and the better thing was that our sudden presence didn't bother them much ! ;)
Our Ginger Lemon Tea arrived and that couple's PDA invoked a thought in our big heads about our own personal lives, if we had such carefree mind to be the way we wanted to or if our Indian society were carefree and liberal enough about such sensitive issues, we dived too deep in the conversation and that ended up in attaining some sort of Nirvana and shocking and hilarious confessions which i wouldn't want to include in my story ! :P It was half past 12, the owner told that he's closing so we left the cafe and headed towards our room. We had decided to pull an all nighter, the beer had started to talk and the confessions helped us in carrying on the conversations till 2:30, we needed some rest for sure so we took a one hour power nap and had set atleast 3-4 alarm alerts so that we don't get late !
DAY 5- 26-06-15 - ROHTANG- KEYLONG- JISPA :)
Prashant bhaiya was outside our hotel at sharp 4am. We almost forgot that we had to clear the outstandings and check out,but the caretaker couldn't be seen anywhere at that early hour and we couldn't delay, so we just left !
We started from Old Manali at 4 am, it was pretty cold outside so we were all packed with woolens and wide awake to watch the sun rise enroute Rohtang. It is best to leave at early hours from Manali, you're saved from hours of traffic jams. Another important thing, only 1000 vehicle per day are allowed to visit Rohtang Pass everyday and you need to get a permit issued for the same. Permits can be obtained on first come first serve basis everyday including Sundays and holidays at Tourist Information Centre, Manali from 10 a.m. to 8 p.m., preferably a day or two in advance. Since Mr. Prashant was a localite so he ensured that seeking permit won't be much of a problem especially when you're leaving at such an early hour. We reached the check point at around 4:30, the permit verification took a lot of time and it was freezing outside, we couldn't step out of the car ! We finally got the permission and felt like a free bird ready to spread wings across the mountains and valleys. :) 
Usually taxi drivers tend to mind their own business while driving and they talk only when it's required, but unlike those, Prashant Bhaiya was very interactive, he was less of a driver and more of a guide or host who made sure that we enjoy every moment to the fullest. He started telling us about every extraordinary and fascinating tale behind every temple, mighty mountain peak, rugged terrain, imposing monastery, perennial river, beautiful lake, sloppy village, majestic glacier and fort that we were coming across enroute our road journey. Prashant Bhaiya made us feel like he's the history teacher who's trying his best to narrate a story with the live visuals and we three are the students, actively engrossed and enjoying the story. :) The tale telling stopped at Rohtang ! The temperature would be around 5-6 degrees at the early hour of 5:30. It was miraculous to view the snow capped mountains glimmering with a thin layer of sunlight. That was my first ever experience of witnessing snow all around me early morning. It was so cold, we couldn't even speak, our lips were turning grey and dry, eyes were watery, i was in triple layers backed up with leather boots still the cold dry wind blowing at the height of 13054 ft. above the sea level managed to pass the layers of my woolens and ripped apart my body warmth tip to toe! We saw locals fixing and loading their tea and maggie stalls at the valley, such brave people, its not easy to earn a living at this place, salutations to all of these people ! We quickly bought tea and some biscuits and got in the car asap. The car at that time felt like a mother's womb to us, it was so warm, cozy and comforting, we closed all the windows, sipped our teas and waited for the sun to rise completely. In a few mins, the sun rose, Prashant Bhaiya drove half a mile further and stopped at a very beautiful point. It was the most beautiful view i had witnessed in my 25 years of life, i could see crystal clear fresh snow all around me. One can actually call that place the gateway to heaven, a single road connecting the valley and snow cladded peaks all around. I cannot find even the best of words to define the beauty of the Rohtang Valley. It had cast a spell on me, i was taken aback by it, i felt like surrendering my soul to the nature. When looking at our reactions, Prashant bhaiya said if you think this is the most beautiful view , then how will you react when you come across Lahaul Valley, that has a 100 times beautiful view than Rohtang valley ! We had an adrenaline rush, the excitement level rose a lot higher. After clicking a few pictures we moved beyond Rohtang valley and what we entered into was something that one can only imagine depending on one's creativity in defining the extent and description of the beauty of nature. Have you seen something so beautiful that you fell in love with it at first sight ? I did... I fell in love with that place at the first sight ! Love struck is the word. It was beyond beautiful, every turn had a more beautiful view with something new to gaze at. The roads looked like grey velvet carpet, the sky got crystal clear and flaunted the most original shade of blue, the majestic waterfalls flowed like melted diamond, the mountains had all shades of green and brown, the lush greenery was so pleasant to watch, the cold sweet breeze was of its purest form. It seemed that terms like pollution, dirt, traffic etc., never existed there ! This is what heaven must be like. I tried my best to put my thoughts into words but i guess the pictures will justify themselves better. We witnessed atleast 7 to 8 different peaks that were hidden and unapproachable, after a while we saw 7 mini peaks connecting each other cladded with snow, it looked gorgeous. Nature, when explored well, can surprise you to greater extents.
Our first major halt was Kokhsar, it was 21kms beyond Rohtang Valley, the temperature was 10 degrees but the sun's warmth comforted us enough. We used the public toilet, a pretty decent one, we were charged around 10 rupees each. All the local transport take a mini halt at Kokhsar. In my last visit to Rohtang, we had amazing Mutton Rice for 100 bucks, so this time also our hunt was on for the same and luckily we found a food stall nearby. So we ordered a plate of mutton rice, bread omelette and tea. Guess what, mutton was not cooked properly and the gravy was okayish, major disappointment ! We sticked to bread omelette and bought a few packet of biscuits for our journey. Prashant bhaiya didn't eat and just had a cup of tea, to keep his energy levels charged up as he had a long way to drive.
The temperature rose a little so we took off our top layers and continued the journey gaining more and more must-know facts about Lahaul and Spiti. In another half an hour we stopped at (Indian Oil) the last fuel filling station of HP at
Tandi
. You will find the next filling station after 365kms at Leh, so do stop here and feed some food to your vehicle. Prashant Bhaiya is from Lahaul Valley and he gave us a pleasant surprise by taking a halt at his village, Ghoshal. It was one of those hidden and unexplored villages that didn't look like a village. It looked like a big resort situated in the valley, surrounded by the green and white mountains and bordered by Bagha River. The village was beautifully constructed, the beautiful cottages looked so unreal and unexploited. As we came close to the village, we witnessed more of flora and fauna and less humans. Prashant Bhaiya took us to his chacha's house. It was a beautiful house that was more of a resort, surrounded by acres of apple orchids. It actually reminded me of the game Farmville that went viral on facebook a few years ago. Imagine that game in real, it was that organised and beautiful. Prashant bhaiya introduced us to his Chacha, an ex-army (BSF) gentleman and a very friendly one. He gave us a very warm welcome and showed us his beautiful acres. After getting fresh, we all sat down together for a cup of tea and i was offered a very special 'masala herbal tea' which was authentically delicious and refreshing. It made my day. The old man started sharing his life experiences, he had worked really hard to get into the army and when he finally got through, after some point of time he missed the sustainability in his life, so he quit the job and came back to his village for a better living. Now, he is the Boss of his own life, living his life the way he had always wished to, a sustained and settled life. He loves farming and takes care of his crops all by himself. For all the tea lovers, the masala herbal tea that he offered me had 9 different spices and condiments, some of which i remember were cinnamon, black pepper, coriander seeds and cardamom and these spices were planted by him in his own fields and all these spices flavoured perfectly. He also had a female dog and she was the most friendly living being i had come across, she jumped into my lap like she'd known me for ages, i kind of had a connection with her, pretty adorable bitch ! :)
After spending an hour at Ghoshal, we said our goodbyes to the lovely people at the lovely village and proceeded further to Keylong. It is the district headquarters of the Lahaul and Spiti district that stretches along the north side of the green Bagha Valley just below the Manali–Leh highway. It is also an over-night stop for all the buses and taxis plying to Leh. The weather was pleasant but sunny. Another important thing, you won't find network connectivity (except BSNL) from Rohtang untill Keylong where Airtel signals are available and when you proceed further from Keylong, the network disappears ! So, take a halt at Keylong and call your family or friends to let them know that you're safe and sound and having the time of your life ! ;) Prashant bhaiya dropped us at a restaurant for lunch and went to meet his friends from Keylong. We took a table at the window side, it had a beautiful view. To my right were a few local guys rolling joints, sipping beer and singing country music. To my left i could see a rooftop of a house where a lot of vegetables like onion, tomato, capsicum and potato were spread evenly for drying, which we then understood the reason behind it as Prashant bhaiya had already told us about this that due to inaccessibility of the manali-leh highway in winters, Lahaul and Spiti Valley gets disconnected from its state becuase of which during summers every family stocks the winter supply of fuel on top of their houses. It is a difficult task but you have to work hard to survive and you have to go by the harsh rules of nature. We ordered butter chicken, tawa roti, israeli salad, clear soup and tea. The food tasted above average but we were hungry and a little tired so we had all of it. At around 1:30 we headed to our halt for the night, Jispa.
Jispa is a beautiful tiny village in Lahaul Valley, one of the most beautiful villages in Himachal Pradesh. It is located at 10,500 ft. along the Bagha River and the magnificent Manali-Leh Highway. We reached there at around 3 in the afternoon. After checking out a few private hotels, river side huts and tents, Prashant bhaiya finally accomodated us in a PWD guest house for just 500 bucks, it was a very fine deal, it had a little drawing room with sofa and table and a dressing table, a double-bed room and a huge bathroom. The best thing was the view, you open the window and witness the beauty of nature- green and brown mountains greeting you, the beautiful light green bagha river flowing across the valley, the sun rays hugging you and the flora and fauna welcoming you. It was candid ! :) Prashant bhaiya dropped us at the guest house, showed us a food joint, Jispa Cafe, nearby and left from Jispa to his friend's place, he would meet us the next day at around 12 in the afternoon. We were tired so we decided to take a 2-3 hour nap and then go out to eat and explore the valley. Thank God, there was no network connectivity, all of us got the chance to connect to nature and each other and ofcourse save batteries as the electricity supply was limited.
We woke up at 5 in the evening, all charged up, the temperature must be around 18-20 degrees, so we wore double layers and went towards the river side to romance with the nature! You know when everything around you is beautiful and natural, you tend to feel beautiful from inside. "..I was at peace, i didn't care about my past or the future, i was blessed to be present at that moment, the natural ambience was beyond beautiful and refreshing. I was out of the so-called plastic world, no high-rise buildings, no traffic jams, no layers of pollution, no crowded metros, the scorching heat never existed there, the fresh breeze healed me inside out, that was when i realised how is it like to be at PEACE. I thank God for giving me such beautiful moments to live and for introducing nature's hidden beauty to me, i felt "blessed and happy... !"
We chose our rocks and sat near the river side for sometime. The river Bagha was b-e-a-u-t-i-f-u-l ! I had never witnessed in my entire life, that silverish green colour of water, it was so pure and fresh, the course of the river was very smooth. Trust me i had a naturegasm at that moment, just wanted to go with the flow. We captured the unmatchable beauty of the valley through our lenses and just when we were admiring the view of the valley, we randomly started having fun at the river throwing pebbles and stones and competing with each other that whose stone goes the farthest. Ginny and I had a sudden realisation that we should just let go of all the negativities in our life and the stone throwing took a hilarious turn when we started naming the stones with people those who've hurt us, situations when we've been let down, places that had bad moments associated, songs that reminds us of bad memories and many such other things. Girls are emotional and sensitive and boys, they make fun of it ;), so while we were throwing bad people and memories out of our system through those stones, the only guy among us availed the opportunity and started making a video of the two of us, which motivated us a lot and we got more creative with the names ! :) The situation got very funny and thanks to him for capturing those moments and i hope the names involved in the video never get to see it ! :P
It was getting dark and the Sunset looked like nature's farewell kiss for the night. We left for Jispa Cafe to dine and used the owner's phone to inform our family members about our whereabouts, as Jispa has a very limited network connectivity, only local bsnl signals are available. We dropped the idea of having snacks and ordered a typical budget dhabha dinner- Egg Curry, rice and roti, tasted like home-cooked food. We headed back to our guest house and dozed off for the day.
DAY 6- 27-06-2015- HEAVENLY DRIVE BACK TO THE VALLEY- 
It was beautiful to wake up in the lap of mother nature, my morning was bright and beautiful. I went out to have some fresh air and it felt amazing to find mountains and rivers in front of you instead of high rises coated with layers of pollution. The first set of sunrays were comforting my skin and rejuvenated me inside out. All three of us left from the guest house with our luggage and stopped at Jispa Cafe for breakfast. We had the regular bread omelette and tea. A group of 5-6 average aged men were sitting beside us and they were all gearing up for the journey. Their discussions made us understand that those people were on a backpacking trip, they took a halt at Jispa for a day and were then proceeding to Leh. Excited faces from Punjab, the best thing about them was that they carried every little thing that was required and didn't use a public transport. Another adventurous and amazing observation that i came across were the crazy brave travelers from US, UK,
Australia
and
Germany
, bicycle hiking the mountain trails. They were all laced and charged up, scrolling down the highway to Leh. We obviously had questions, and then came Prashant Bhaiya, enlightening us about this amazing adventure. Other than Bicycle hiking, one can take bike hiking to the mountains, there are a lot of packages available, all kinds of fully equipped bicycles and moterbikes are available for rent but at a very high rate (starting from Rs. 500 to 2000 rent per day) for mountain hiking from Manali or Rohtang to Leh. The tour varies from 15 days and can take upto 2 months also. One needs to be fit and have a good stamina because it requires a lot of energy as riding a bicycle in the mountains for hours is not a cake walk. But i think this kind of adventure is worth it. Those guys were courageous and they were doing an awesome job. Someday i would love to go bicycle hiking at the mountains ! :)
We said our good byes to Jispa and its lovely people and began our mystical journey on the Leh- Manali highway. The view was so mesmerising and gorgeous that clicking pictures didn't do justice to the view. The best way was to capture the whole journey through my eyes but then i won't be able to show and flaunt it to others, so i decided to make a lot of videos to capture the air and vibe of the place. 
Since day one i had a food goal, to explore authentic tibetan momos in Lahaul and Spiti. My love for momos finally brought me to a cafe at Keylong. The surprising thing about the place was that no cafe served Chicken Momos, strictly veg and Mutton Momos only! It was around 2 pm when we reached Keylong and the cafes had just open, so we had to wait for another 15-20 mins for our order to be served. We had two plates of mouth watering mutton momos and mutton stew, all for 150 bucks ! It was a good meal. Another important thing, Keylong only has airtel networks and you'll find those vintage PCO/STD shops in the market. So, people using network other than Airtel, don't panic or freak out while you're there. Just find a PCO and inform your loved ones. After speaking with our family, we strolled down the local market of Keylong and did some souvenir shopping. One of the must buys from the market are the Beautiful multi coloured Prayer Flags and beautifully hand crafted tea and coffee mugs. We had to reach Old Manali before dark and also enjoy the sunshine and snow at Rohtang, so without wasting anymore time we resumed our journey. 
But, there was a bit of a halt in our journey, on the way we came across a traffic jam, a carriage truck broke down. We had to wait there for an hour which we very efficiently utilised by putting our 'shutterbug' mode on and started capturing the beautiful landscapes. In an hour the jam got cleared and we resumed our journey.
During noon, the temperature in the valley fluctuates a lot, the sun was on her head, the wind was cold though but the temperature had risen upto 26-27 degrees. On the way we came across various waterfalls and river streams, obviously we couldn't resist stopping at those waterfalls and tasting the heavenly water. All three of us dipped our heads under the waterfall. It was a beautiful cascade and the water was freaking cold, i started banging my head against the terrific fall of water. It felt like i was at a rock concert, waterfall was the music and that was one hell of a trip! ;) Trust me, one of the most amazing feelings is when you sprinkle some fresh icy cold water on your face ! It's a total refresher ! :)
In another one and a half hours we arrived at ROHTANG PASS ! We were asked by Prashant Bhaiya to put on our woolens as the temperature had immediately dropped. We played for sometime at the nearby snowfields and could still feel the warm glow of the setting sun. Tourists all around were happily enjoying snow sports and we tried a little of snow tubing and sledding. As soon as the sun hid behind the mountains, we rushed towards the road and stopped at a stall for some MAGGIE and TEA ! With all the ban happening in my dear country, Maggie was also one of the victims lately, so when we got to know that Maggie was available at Rohtang, i couldn't be any happier. We quickly ordered three plates of Vegetable Maggie (Rs. 50 each), a few packets of Biscuits (Rs. 30 each) and Tea (Rs. 40 each). The sun had set, Maggie (super delicious) and Tea were the only mode of relief and warmth at that time. We chit chatted a little with Prashant Bhaiya and headed towards Beas Kund. It had rained heavily in the last three days due to which the road conditions had gone worse. Please don't drive at the Manali-Leh highway if you don't drive on mountains, it is always advised to hire local drivers or use public transport. Alto is the best car to commute on such risky paths. At some places you won't even find roads, just a disfigured arrangement of pebbles, mud and water using all its power, trying to wash off the path and making way towards the thick boundaries of snow at the side of the road. It's risky but like it's said, "No risk no gain"... so that experience is a must. After crossing 5-6 kms from Rohtang, that heavenly feeling was slowly fading, we had left behind the hidden, magnificent and mystical world. The snow capped mountains were bidding goodbye to us and the velvet green mountains were welcoming us. Through out the journey, another USP of the road journey was the amazing playlist of one of my favourites, Mohit Chauhan, that Prashant Bhaiya had put on, on his music player. He also gave a slight information about the legendary singer, he is from Himachal Pradesh and often visits the state to perform. He is a hash person and doesn't sing without booming one ! ;) His songs, the view, the drive, the whole journey, the air, everything was just so perfect. Life was perfect at that moment. Nothing like the awesomenes of nature to quiet our minds, renew our souls and heal our hearts !
We stopped at Beas Kund for nature's call, enjoyed the sky view full of paragliders and by 6pm we were at Old Manali. Technically we were in the car for almost 20 hours, but it didn't feel like we were tired or exhausted by the journey. On the contrary we all felt very rejuvenated and like it was a journey to explore our own existence. We thanked Prashant Bhaiya for giving us an enthralling experience and making us live such amazing moments. We made the final payments, bid him our goodbyes and checked in at the Green Chilli cafe again. A quick hot shower and tea was all that we needed, so we took rest for sometime.
We left the Oakland House on day 5 without clearing the outstanding amount. So it was time to show some honesty. We went to the guest house and found the caretaker in his usual condition ! He was passed out and didn't even remember that we had to pay him the dues ! We still paid him the dues and our 'daddy figure friend' Yatin gave him a sort of mini lecture about responsibility! ;) It was our last evening at Old Manali so we wanted it to be a good one. After checking out 5-6 cafes, we stopped at this roof top cafe (don't remember the name), the tables were full of Israelis enjoying their booze and joints, the large TV screen aired Fashion TV and our server was pretty attractive. :) Our food expectations had risen because of the pretty awesome ambience. We ordered beer and a variety of cuisines after a few mins of brainstorming, one nepali veg thali and some noodles (that i don't remember) with some gravy. Everything was bad except the beer ! I still wonder what on Earth compelled my dear friend Ginny to order that "Nepali Thali"! Except the salad part everything sucked about that thali. Major disappointment ! We went back to our room for some good night sleep.
DAY 7- 28-06-2015 - BACK TO THE ROUTINE- DELHI-
Last few hours in Old Manali, SHEER NOSTALGIA ! The last day of the trip is always depressing and sad. It feels like you're a school going kid and your summer/winter vacations are over, like it's the last day of college, like you're moving to some other city or country, like the happy days are over or like you just woke from a long happy dream. Paulo Coelho said, "If you think adventure is dangerous, try routine, it's lethal." I can now very well relate to the lines of Mr. Coelho, Routine is always lethal !
We checked out at 12pm, left our bags at the reception because we had to have breakfast and do some souvenir shopping. We had to catch our bus at 3:30pm from the bus stand, so we exactly at three hours in hand. The sky was clear and the temperature had risen to 26-27 degrees. We had already got the feeling that it's time to get back to the real June summer zone :( ! We stopped at Cnaan Cafe for breakfast. It's a very nice cafe, again has a variety of breakfast options, free wifi and pretty awesome israeli crowd. We felt as if we were in Israel ! :D Ordered one
Spanish
Breakfast, Indian Breakfast and some tea. Spanish Breakfast was the best, it had a spanish omelette, hash brown, a bowl of fresh cut fruits (and when i say fresh i mean pretty fresh and beautiful fruits) :), two slices of brown bread with butter and jam spread, and a choice of fresh fruit juice (i chose Watermelon). It was a wholesome breakfast. We spent an hour at the cafe and left for Green Chilli Restaurant to pick our luggage. While scrolling around the narrow lanes, you can find the market dispalying a variety of quirky and hippy stuff. Well if you are from Delhi and you've bargained a lot in GK M block, Sarojini and Janpath market, then bargaining here is a piece of cake! You can find some pretty fancy bags, bracelets, belts and footwears made of leather, key rings made of recycled products etc. The products may range from Rs. 50 to 1000. My friend packed some cakes from the German Bakery located right beside the bridge and then we left for the bus stand.
Our bus started at 3:30pm, we said our good byes to Manali and promised to come back soon to make more and more memories. The next morning we arrived Kashmere Gate, Delhi at around 6am and went back to our routine lives.
 Budget- Rs. 10000-12000 per person (3 people) for 8 nights and 7 days
HP Volvo, Delhi to Bhuntar and Manali to Delhi- Rs. 2600 (to and fro) per person
HP Local roadways, Bhuntar to Kasol and Kasol-Kullu-Manali- Rs. 150 per person
Private Cab service from Old Manali to Jispa (2 days) and back to Old Manali- Rs. 2300 (to and fro) per person
Places to stay and eat in Kasol-
Arvind Bhaiya's home stay- Rs. 600 per room ( fully furnished room with a double bed, extra mattress, TV, beautiful view, attached bathroom with all the facilities)
Evergreen Cafe- Rs. 300 for 2 (amazing view, no wifi, good food and service)
Moon Dance Cafe with a lovely bakery- Rs. 300 for 2 ( wifi, best Israeli breakfast, open seating area, live counter for crepes, best bakery in town)
Places to stay and eat in Old Manali- 
Green Chilly Cafe and lodge- Rs. 500-1000 per day (includes a double bed, carpet flooring, cupboard,
bathroom with hot water supply and limited room service)
The Oakland House Resort- Rs. 800-1100 per day (a spacious room at ground floor, cross ventilation, attached bathroom with hot water supply and room service)
The Lazy Dog cafe cum lounge- Rs. 1000 for two (very spacious seating area, river side is awesome, all IMFL and major imported liquor available, delicious food, (don't try the soups) )
The Olive Garden cafe- Rs. 1000 for 2 (amazing pizzas, all major liquor available, ambience is good)
Nirvana Cafe- Rs. 400 for 2 (a small trippy cafe with floor seating)
Raj Food Corner - Rs. 300 for 2 (best food joint in Old Manali, everything is tasty, hygenic place, pancakes, cheese tomato omelette toast and herbal tea are a must try)
Cnaan Cafe- Rs. 400 for 2 (best option for breakfast, service is a little slow, so don't visit the cafe if you're in a rush, don't you miss their Spanish breakfast !)
Places to stay and eat in Jispa- Rs. 500- 2000 per day for river side tents, camps, resorts and guest houses. Do a lot of research before booking one, you might save a lot of money)
The Jispa Cafe- Rs. 400 for 2. (The only food joint in Jispa where you get to eat ! So accept what they provide with, the food is tasty and reasonable. Place the order a little early, because the service is slow, as there are less customers even during on-season.)
Rohtang- Maggie,Tea, biscuits for Rs. 50 each at the local stalls situated in the valley (Do try the veg maggie, yes its still available at the heights! :) )
Extraordinary expenditures (hash/weed/cigarettes/alcohol and other things) ;) Rs. 500-1500 per person (depending on the capacity and consumption from person to person)
Souvenir Shopping- Rs. 500-1000 per person
Food (on an average) Rs. 1500-2000 per person for 8 days
Miscellaneous expenditures Rs. 500-1000 per person