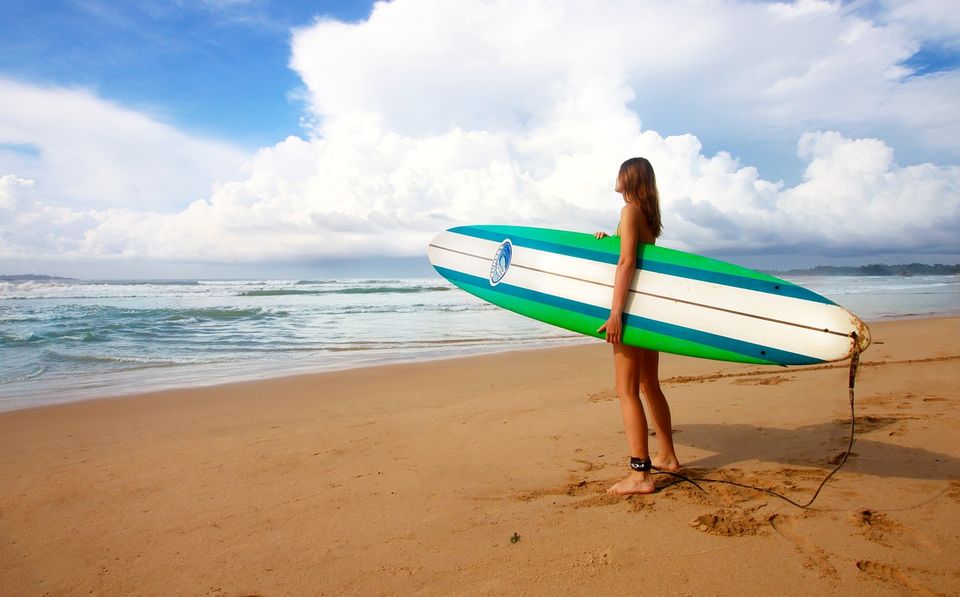 If your idea of a good time is wind in your hair, sun on your face and flying across the waves on a surfboard, then Bali has you covered. There are tons of unique experiences you can try out in Bali but we stumbled upon some really mind-blowing water adventures that will make jet skiing look like child's play!
Flyboarding
This extreme sport is the future of water adventures that combines the thrill of flying above water with wild spins and flips. It's a pretty unique contraption where the rider is strapped on a wakeboard with a pipe connected to a small jet ski. The pipe is powered by a jet ski throttle that pumps water and kind of catapults the rider upwards.
Rate: ₹4138 for a 15 minute session
Where: Jalan Segara Windu No.112, Tanjung Benoa, Nusa Dua Bali, Indonesia
Call: +62 (0)8 222 666 7339
Minimum age requirement: 10 years and above
Best time to go: Flyboard is a sport you can try out at any time of the year.
You can book this fun sport on Flyboard Bali, a trusted operator and organiser in Nusa Dua.
Subwing
If you would rather spend more time underwater than on land, then this extreme sport might just be the thing for you. Subwing, the latest water craze allows a rider to fly underwater while being towed by a speedboat. The 4 foot wing allows the rider to control the depth, direction and glide effortlessly through water.
Rate: ₹1909 for a 25 minute session
Where: Gili Air (pick up next to Warung Ceria)
Call: +65 6850 5065
Best time to go: The dry season from May to October offers good visibility and is a great time to see the marine life.
You can book this underwater adventure on Eoasia, a team that takes a test ride on all the activities themselves before advertising.
Flying fish
If you thought banana boat rides were fun wait till you try flying fish! Imagine gliding through the water on a rubber craft and then being airborne in a matter of seconds, screams and thrills included. The flying fish is basically merging three banana boats together with wings on either side to resemble a fish which it actually does resemble once airborne.
Rate: ₹1519 per person
Where: Free pickup and return from South Bali-Legian, Seminyak, Kuta, Jimbaran, Nusa Dua and Tanjung Benoa
Call: +62 (0)822 2666 7339
Best time to go: The months from April to September is ideal to try out watersports in Bali because the wind condition and waves are favourable.
You can book this adventure on Watersportsbali.com, balistarisland.com or govoyagin.com
Canyon Tubing
The adrenaline junkies in Bali are now taking up a more adventurous route and hopping in tubes while steering through wild ravines and canyons. Tubing is where you get your own donut-shaped raft without paddles and basically let the water current lead you through a few rocky plunges and rapids that are guaranteed to make you scream with delight. The guys at Quad Discovery also throw in a complimentary flying fox ride 100 metres above the river where you actually get to fly through the canyon and see what you are up against!
Rate: ₹5666 adult/ ₹3756 child
Where: Payangan, Desa Kerta
Call: +62 361) 720766
Best time to go: The month from May to September which sees sunnier days is ideal for tubing when the water force is ideal for tubing. 
You can book this exciting trip through Bali Quad Adventure, with over 15 years of experience in the field and the first company to bring the quad, buggy, and canyon tubing tours together to Bali.
Underwater Scooter
Explore the beauty of Bali's abundant marine life while hitching a ride on a really cool submersible scooter. One of the swiftest way to move underwater, the sub scooter requires no prior experience of diving and is actually quite a hassle free and fun way of enjoying the experience of diving without breaking a sweat. The scooter can reach a depth of 7 to 15 feet and speed of up to 7km/hr.
Rate: ₹6048 (children below 12 are not allowed)
Where: Ceningan Island, pick up from hotel is included in the price.
Call: +62 361 849 622
Best time to go: The dry season from May to October offers great visibility and divers can reach upto 40 metres at this time of year.
You can book this exciting trip through Baliunderwaterscooter.com.
Canyoning
An extreme sport that requires you to rappel down a majestic waterfall and experience the raw beauty of Bali in a completely different way. A challenging but thrilling activity that will have you descend breathtaking gorges, some steep-sided, some slippery and slide down rapids for a real adrenaline-packed adventure.
Rate: ₹9231 beginner level
Where: Kalimudah canyon, North Bali. Pick up from hotel is included in the price.
Call: +62 361 849 622
Best time to go: Many people prefer doing canyoning just before the heavy downpour season which is November, so anytime from April to October is a good time.
You can book this exciting canyon adventure through Adventureandspirit.com
Check out the Adventure & Spirit guys in action!
Kitesurfing
One sport that is dominating the waters of Bali is kitesurfing which is also known as kiteboarding. A good adrenaline packed combination of paragliding, windsurfing, and surfing–kiteboarding mostly utilises wind power and the kite to propel the board across the water. And with the right wind conditions and instruction you will be soaring high in no time!
Rate: ₹4911 for beginner kite surfing level 1 class
Where- There are two schools, one in Legian and the other in Sanur, so choose based on your proximity to the location.
Sanur-Hotel Prama Sanur Beach Selatan, Sanur Kauh, Jalan Cemara, Sanur, Kota Denpasar, Bali 80228, Indonesia
Legian-Jl. Arjuna, Legian, Kuta, Kabupaten Badung, Bali 80361, Indonesia
Call: +62 361 735858
Best time to go: The dry season, May to September also famous as the kite season, is the best time for kitesurfing.
Who better to learn the tricks and trades from than the surfing legend–Rip Curl!
Have you ever tried any of these extreme water sports? Share your story and tips with us on Tripoto and inspire our community of thrill seekers to set off on their next adventure!