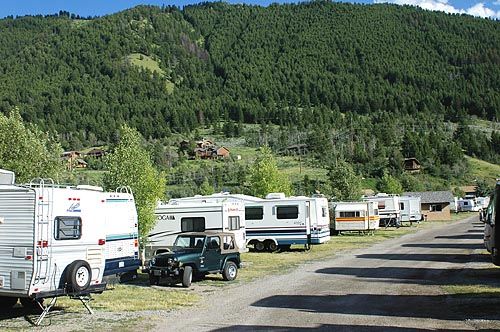 With their advanced safety options, best entertainment features, and extensive choices for customization, luxury motor homes offer everything that a glamper might crave for. And the prestige of being seen driving them does add to their worth. But not everyone can afford a brand new Winnebago or a Monaco. What to do? Opt for a pre-owned unit. In fact, purchasing used luxury motor homes for sale is one of the best ways to see the country. Used vehicles will offer you all the high-class amenities at nearly half the price of a factory-fresh model. However, don't rest after finding a suitable unit; start looking for matching RV parks. It looks odd when you drive a high-end motor home and spend your nights in just about any crowded campground. Ideally, you should stay in one of those plush, Class-A-only venues. However, it may not always be possible to locate one on your route. In such situations, opt for those private sites that might not fall under the ultra high-end categories, but offer some critical facilities befitting your exquisite rolling home. Here are those seven features that tell you that this is the park that can house your premium motor coach for the night and can give you the convenience that you deserve:
Privacy
Great RV parks are designed to give you a great sense of privacy. They create a community ambiance without making you feel suffocated. They leverage simple yet innovative landscaping features such as shrubberies or manicured grass patches to help maintain the distance between you and your neighbors.
Sufficient Space
Those big rigs with sliders on both their sides need a lot of space. A good RV park provides enough room between two parking sites, facilitating the ease of maneuverability for parked vehicles and granting breathing space for RV-ers.
High-quality Restrooms
After a long day on the road, all that a driving-weary traveler wants is a hot shower in a bathroom which is not only clean but also well-provided with toilet paper, paper towels, and most importantly, hot water. Cheap shower curtains, peeling paints, and cold water only scream that this RV Park is not up to your class.
Transparent Terms and Conditions
What is the quintessential quality of a wonderful RV park? It has a transparent tariff chart. They have a defined price structure and wound not charge an extra fee on every small pretext.
Friendly Staff
A place is as good as its staff. The best RV parks employ a regiment of trained staff who will serve you with a smile throughout your stay. Also, they are qualified to guide you in the matters of itinerary and road directions. They will also help you park your rig.
Overall Look and Feel
RV parks are, as a rule, located in remote, scenic places. But a spectacular location will not be of much use to RV-ers if they are deprived of the pleasure of enjoying those views right from their rigs. Such deprivations may happen due to an erroneous sloping, unimaginative planting of utility posts, or thrifty spacing between the parking sites. The best RV parks come without such vices, plus they offer several extras in forms of large common areas, trails, or sometimes even a small stretch of beach.
If you have decided to buy a used luxury motor home for sale, congratulate yourself. You have just chosen one of the best yet affordable ways to get around the US. However, before setting off on your maiden trip, carefully go through your itinerary and check the availability of suitable RV parks on your route. Our tips will come in handy while singling out the best fits for your luxury rig.