Located on the south-west side of the Indian subcontinent, the Republic of Maldives is an archipelago of hundreds of islands dispersed in the Indian Ocean. As the name suggests "Maldives" or Maladweepa ( "garland of islands") is a chain of islands located on a mountain range that is submerged in the Indian Ocean. If that doesn't amaze you enough, here are some serious reasons why you need to plan a visit to this tropical paradise NOW ...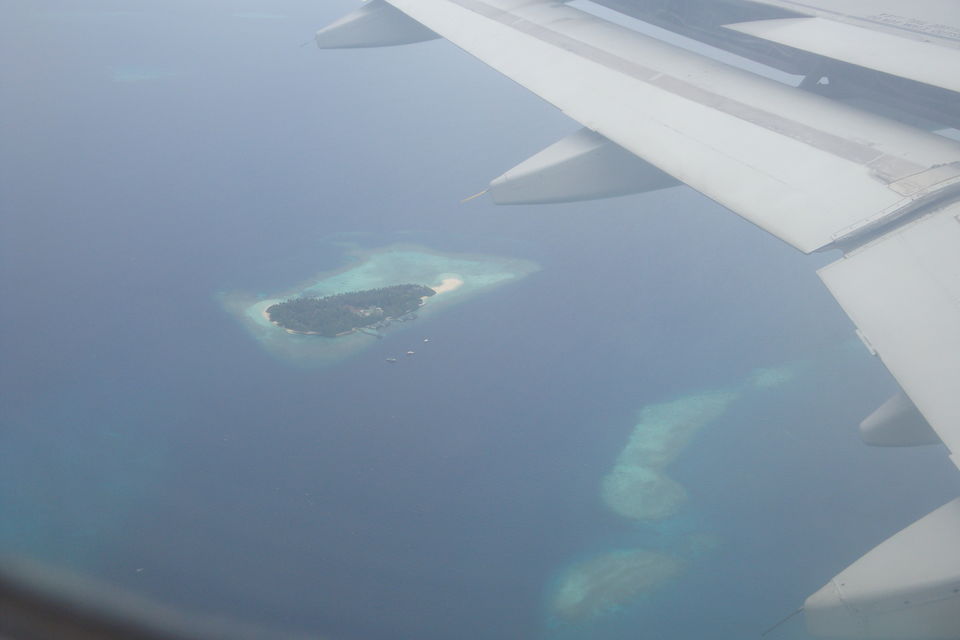 No. 1 Experience island country life before it disappears
When I visited Maldives, the first thing that struck me was how hard the locals were working to make a daily living. Tourism and fishing are the primary occupations here, but people have to struggle really hard to make these industries thrive in a geography that is threatened by the perils of rising sea level. People here are extremely conscious about using natural resources responsibly - control carbon emission, reduce toxic waste to preserve the coral life & maintain ecological balance. In fact, locals here say that if the carbon emission rate is not controlled strictly, Maldives will cease to exist after 20-25 years. Imagine this - each island in Maldives is a resort and each one is connected to the airport & other islands by boats or water planes and the industry is bound by law to control the pollution caused. Visiting Maldives will make one aware of the hardships of island life in a very different way.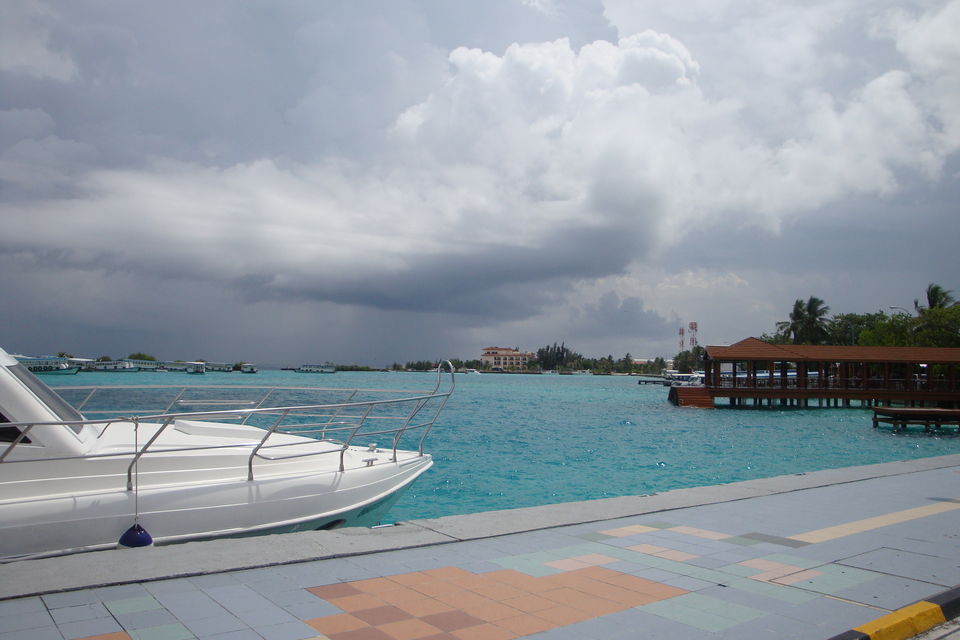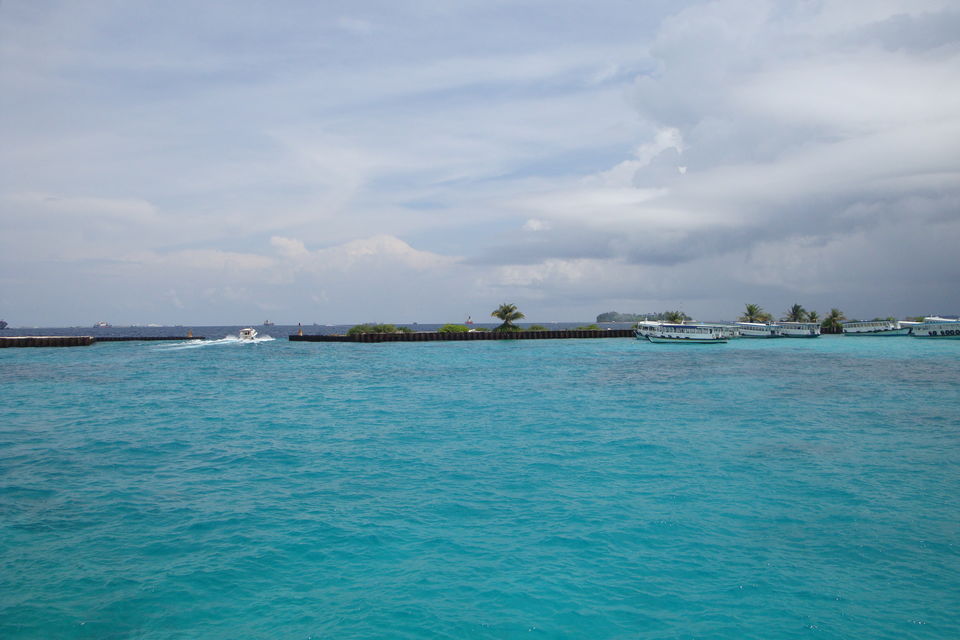 No.2 Every one deserves to see the sunny side of life
Being a tropical country, Maldives is warm and sunny all year round but the cool sea breeze keeps the temperature under control and bearable enough for tourists to stay outdoors even during the day. One can choose to stay cool by spending the whole afternoon in a pool or snorkeling or diving in the ocean. The ocean water is never too warm or too cold. But there is always a risk of getting tanned beyond recognition if you aren't careful enough. One can also go for the glass bottom boat ride, if diving or serious snorkeling sounds too much. If you are the hammock and book type, the tall palm trees and other smaller trees with denser foliage provide enough shady corners on the beach itself. No matter what time of the day it is, the sunny beaches of Maldives are never deserted completely, not until midnight. No matter which island you choose, you are always too far away from any kind of sound pollution except the sound of waves crushing on the beach, or the rustling of leaves or just the croaking of herons and storks.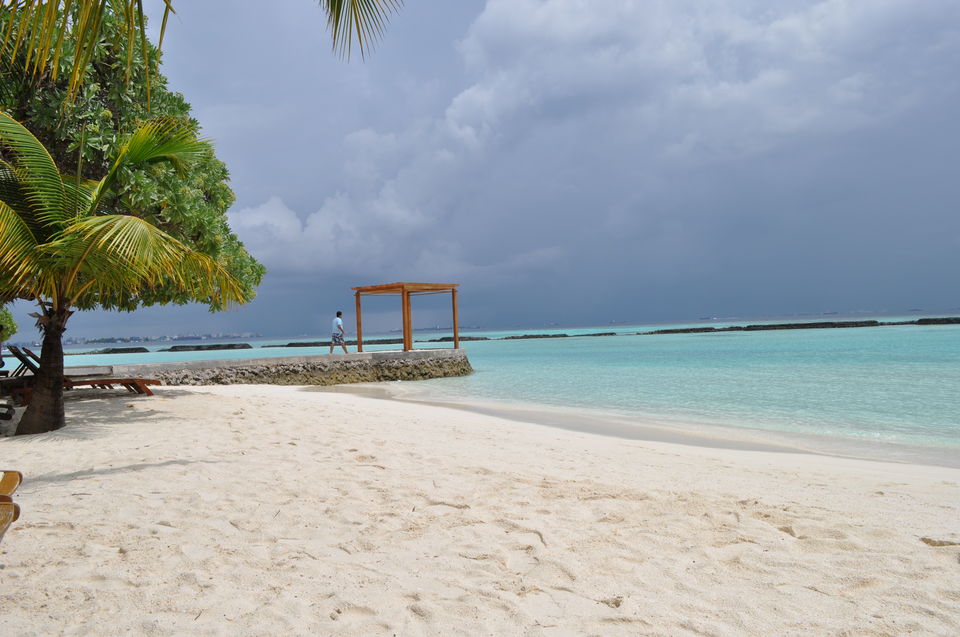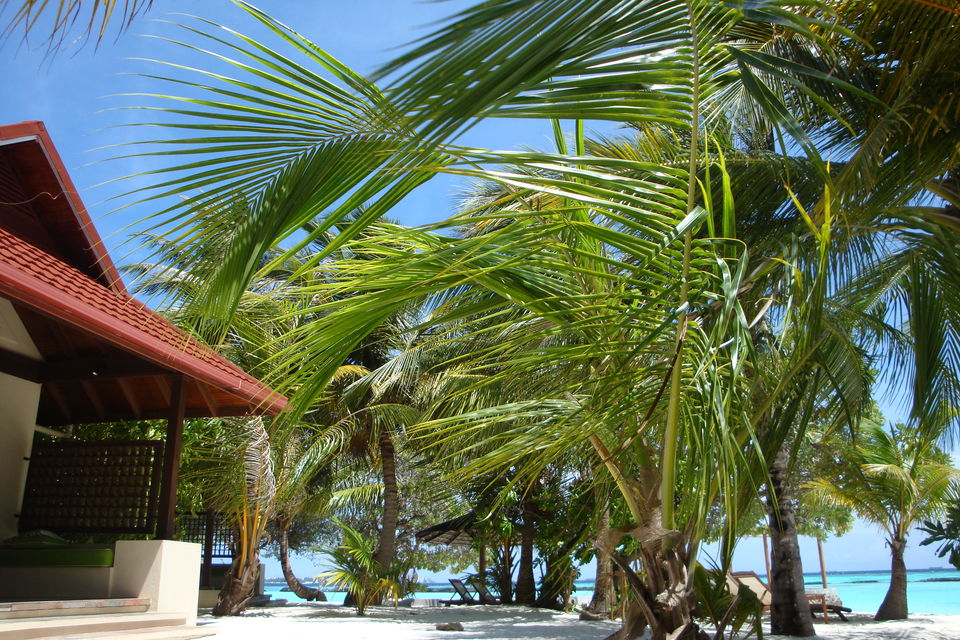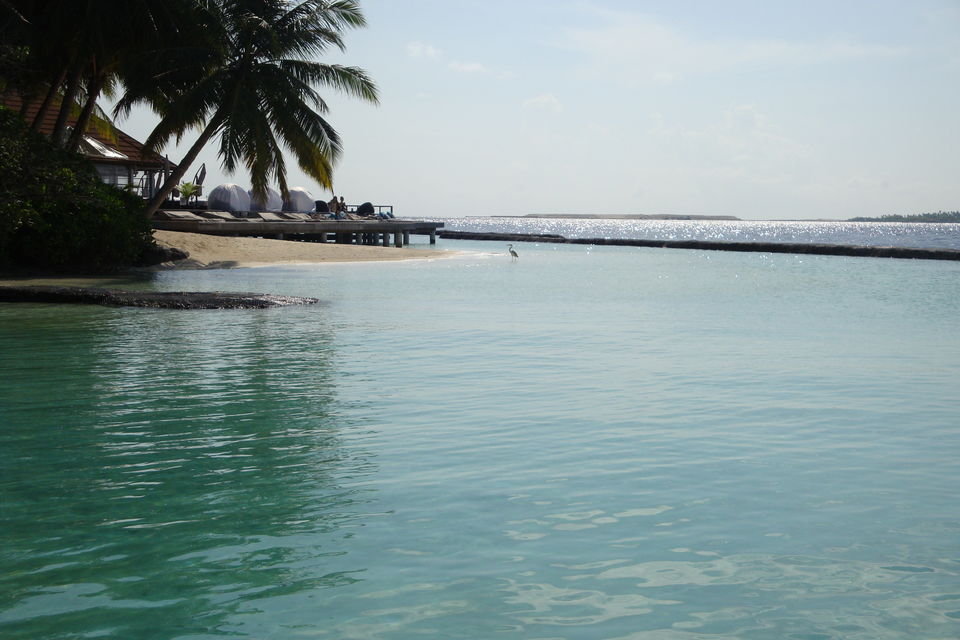 We visited Maldives in the fag end of May..the monsoon is said to be building up during this time so we experienced storms but only late in the evening.
No.3 Breakfast with sharks
One our last day in Maldives, we woke up early and decided to catch a glimpse of the sunrise before 6 AM. Soon after reaching the beach, we spotted a herd a sharks heading directly towards the shore. Well, at first we didn't know that we had encountered sharks. A resort staff who had come to do his rounds told us that it is a certain harmless species of sharks that is common in Maldives but not seen coming that close to the beach, not so commonly. We were happy to see a rare sight..the herd stayed near the shores for the next hour or so..circling the entire island stopping at places to greet tourists may be..until then sharks only reminded me of the movie Jaws.. this sweet experience changed my mind at least for a while!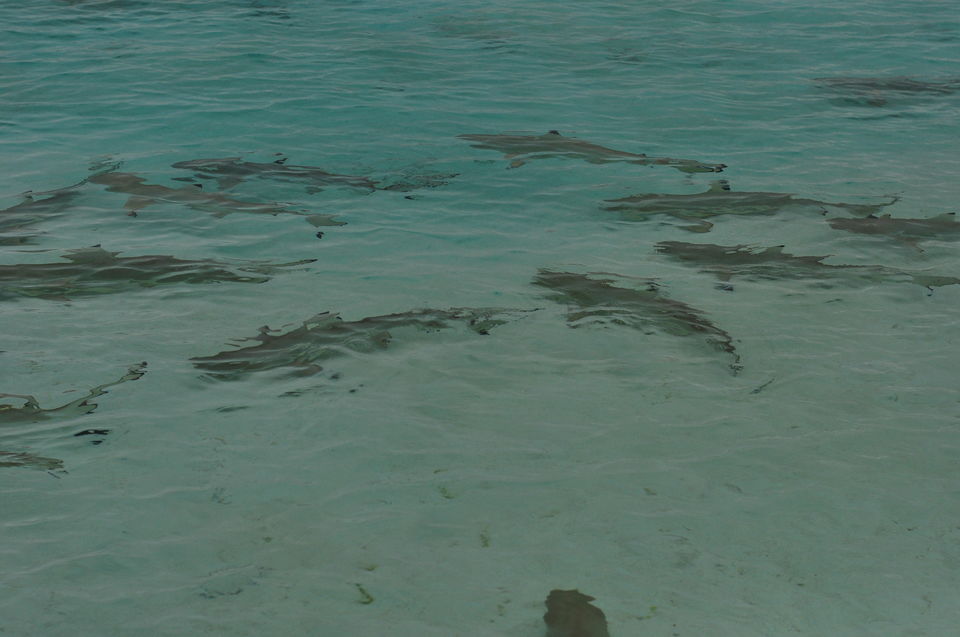 No 4. Explore the underwater world at Maldives
The country is known for its white beaches, coral islands and rich marine life. To shy away from water for any reason would be a mistake. The clear waters of the reefs attract divers and adventure enthusiasts from across the globe. Even beginners cannot stay away from this experience for long. Wouldn't it be nice to get surrounded by schools of tiny fishes under water while they make waves on the surface. All these happen so near to the beach that it is difficult to keep kids away from the water. Go a few meters further and you can find colorful corals and tropical fishes brightening up the underwater world. The resorts also provide free training and guides to those interested in snorkeling and diving. There are even guided moonlight snorkeling tours. Maldives has something for every one and both adults and kids enjoy themselves equally and and remain the water as long as they can.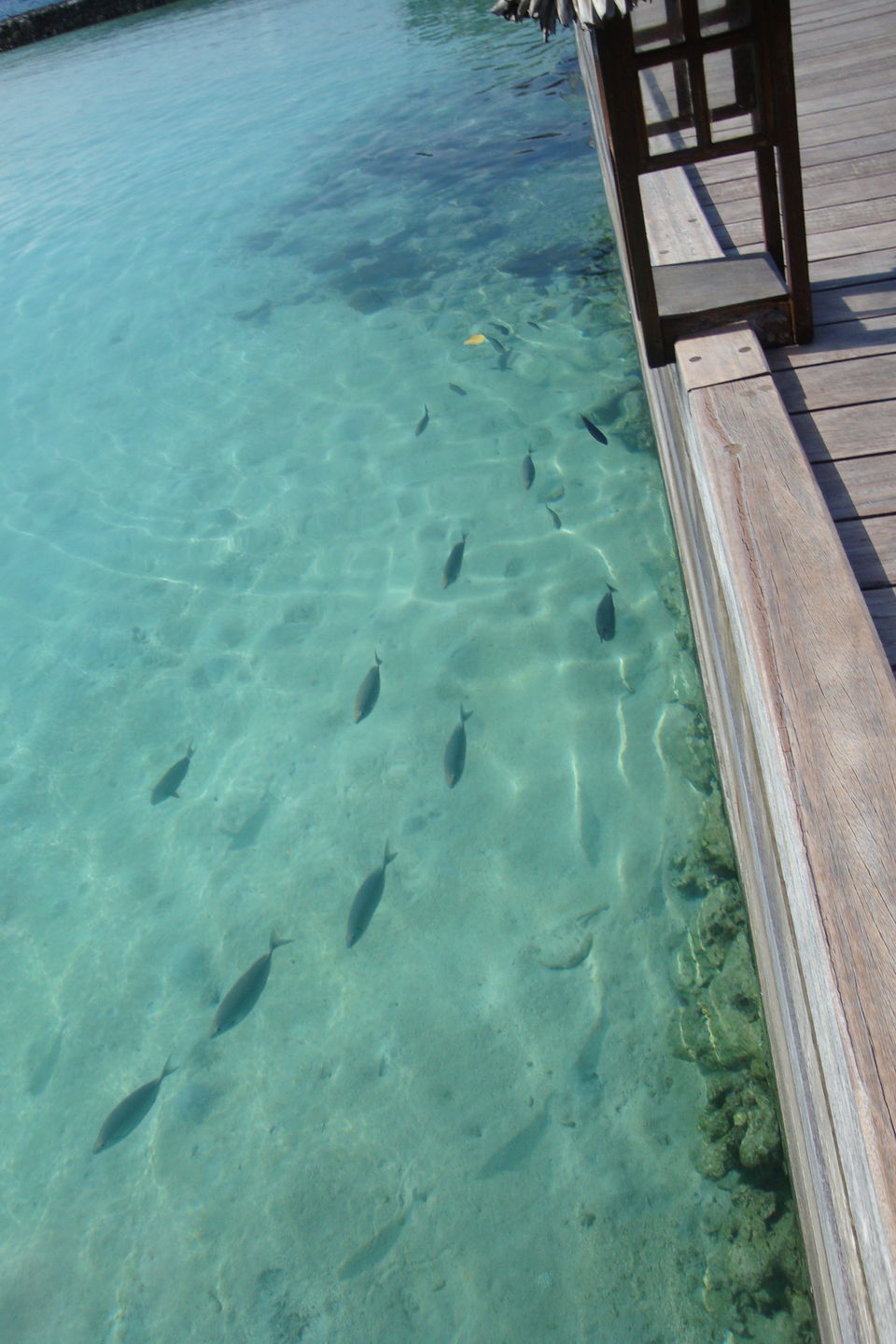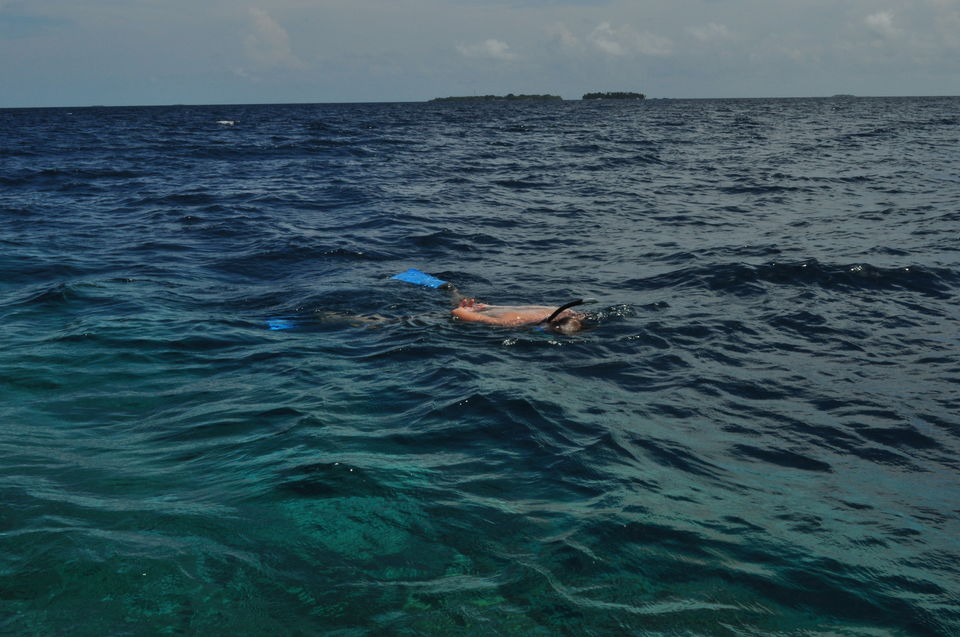 No. 5 Other activities in Maldives - adventure, food and others
If you are still not tired enough or tanned enough to retire to your room, try canoeing in the reef water. Don't forget the life jacket, as the waves created by passing boats and yachts can pop you into the water. One can also try speed boats, sailing and other fun water sports.
The resorts in Maldives provide world class hospitality. Pamper your taste buds with the finest range of delicacies from across the globe. Maldives boasts of providing some of the best dining experiences, so whether you are looking for luxury dining experience or sea food specialty restaurant or a simple vegetarian cuisine or a bare foot beach cafe, rest assured, Maldives is not going to disappoint you. If I were to name a must have item in Maldives, it would be the coconut ice cream..fresh and sweet, it complements the warm weather. One scoop is just not enough..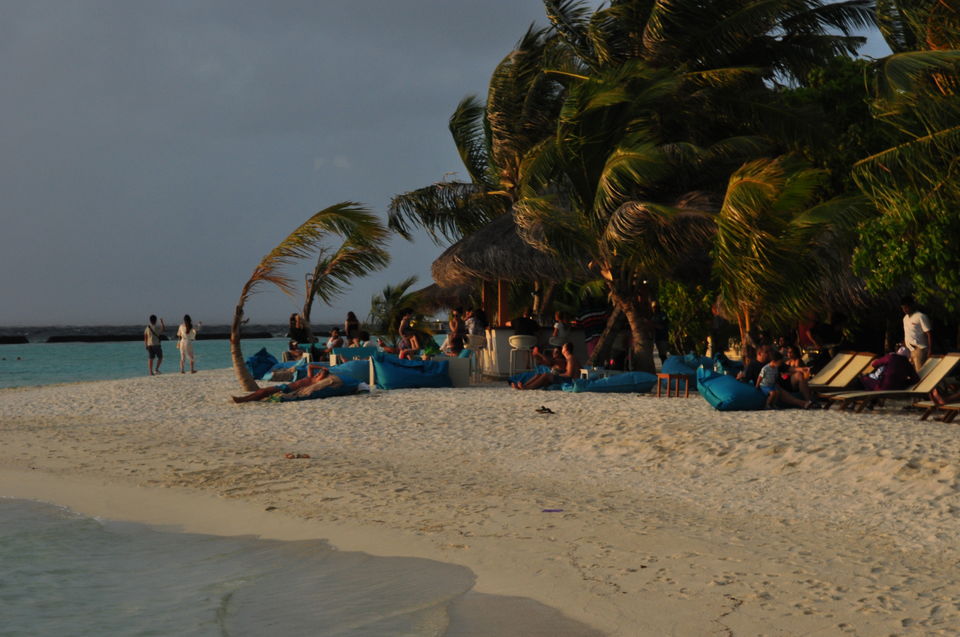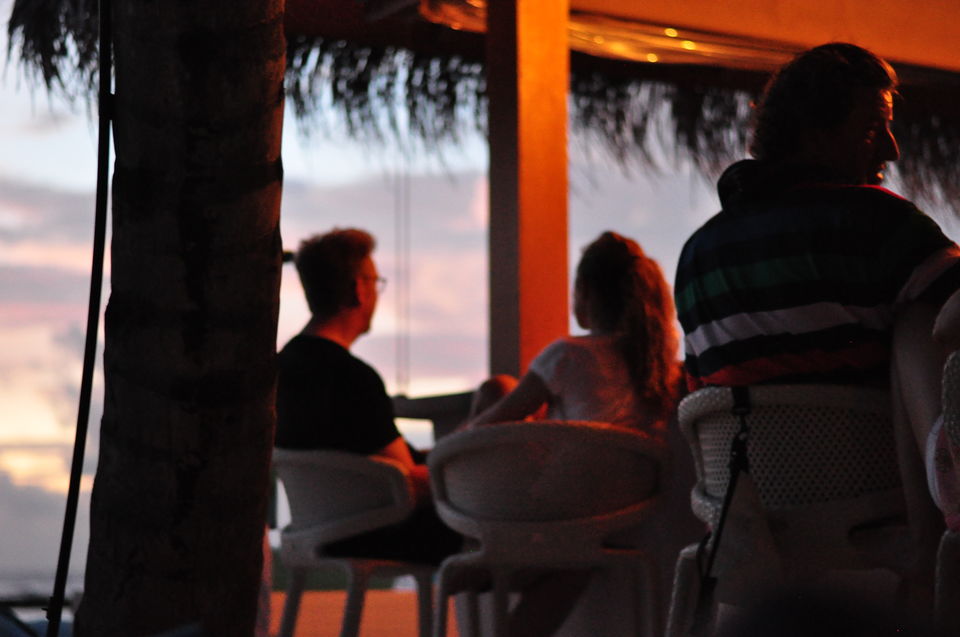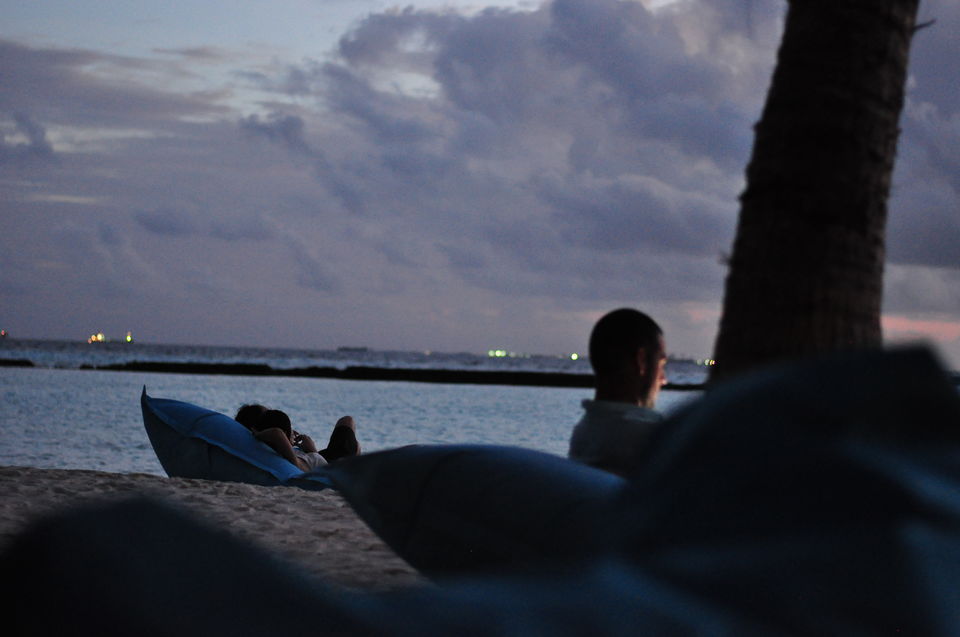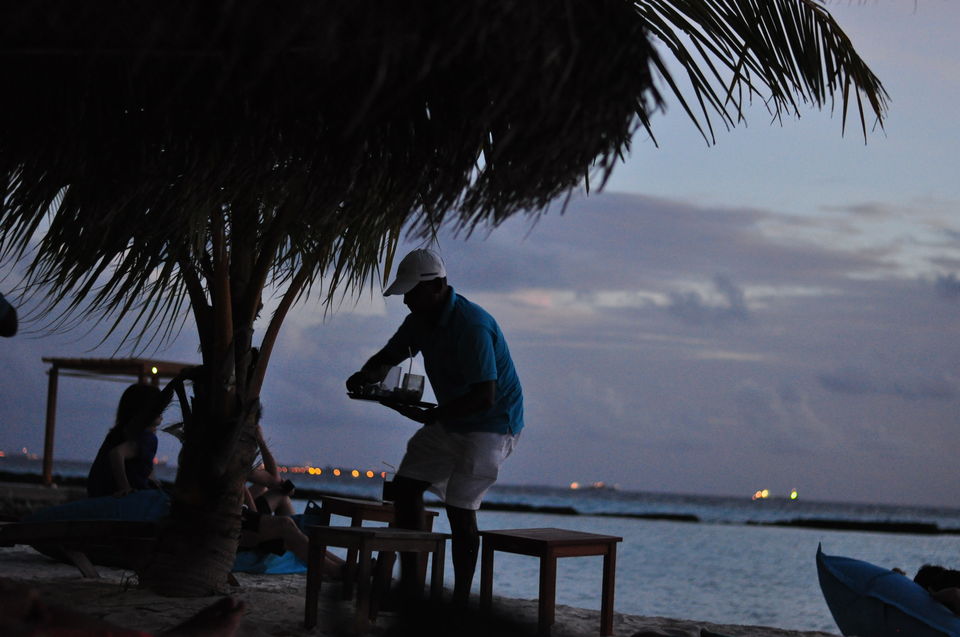 If time permits, do try the spas in Maldives. This is based on feedback from our travel companions, that the ingredients used in these spas are 100% natural and prepared from herbs and plants grown in the resort garden itself...wow! After spending the whole day swimming and snorkeling you are bound to crave for the spa experience...
As I mentioned earlier, Maldives, unlike the popular belief, is much more than a honeymooner's paradise. It has something for everyone.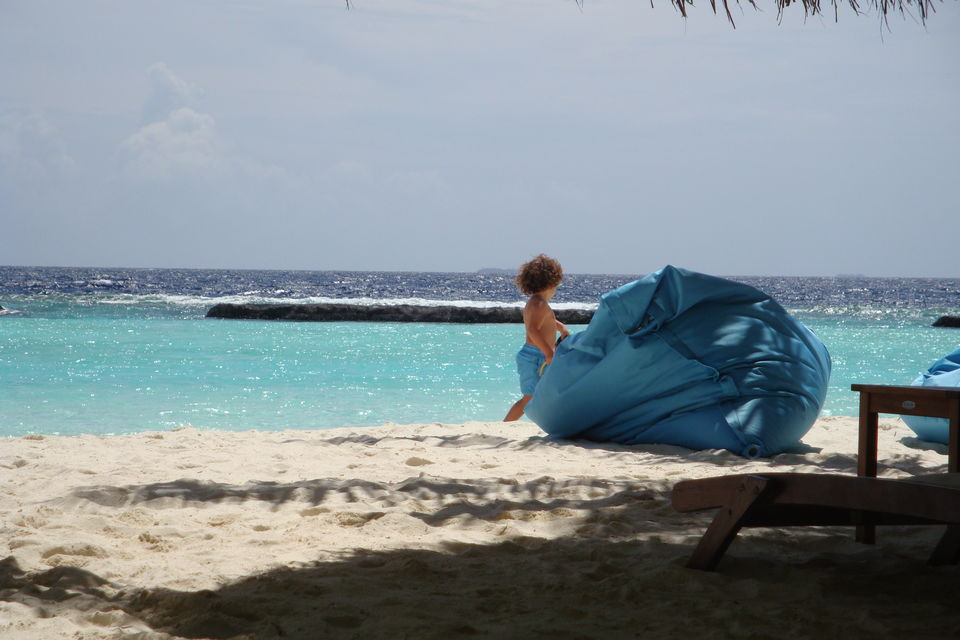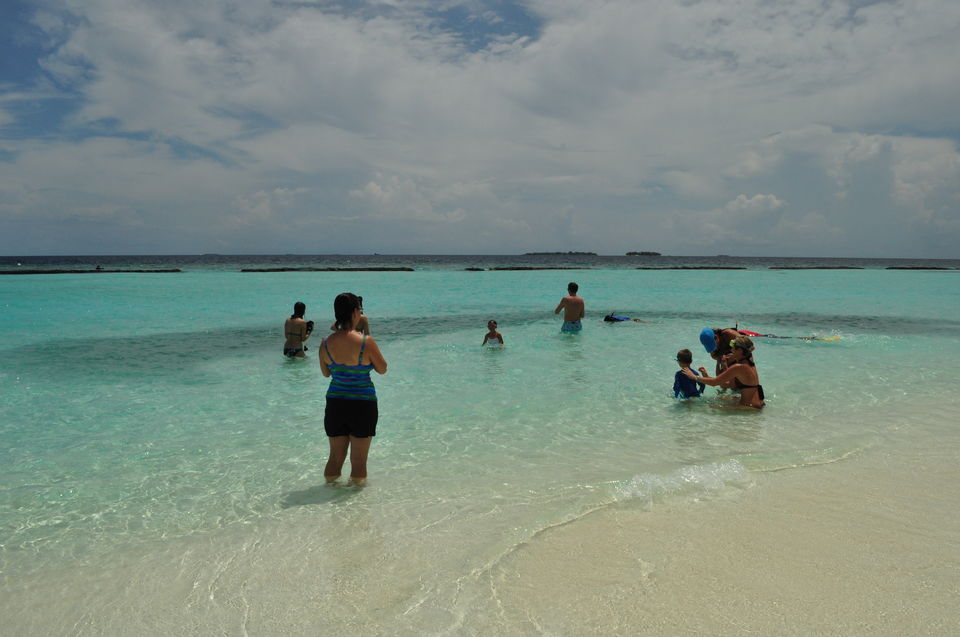 No.6 Do the dolphin cruise at sunset
If breakfast was with sharks then sunset has to be with dolphins..when in Maldives, you cant miss the experience of sunset cruise. The sky is a riot of colors at sunset, with several hues of orange, golden, crimson, blue, grey and so on..but this gets more exciting as you are joined by playful dolphins from all sides.These dolphins keep following the cruise boats and yachts, hopping and spinning out of the water at times..they move in groups and make your evening a very special one..an enjoyable experience for both adults and children.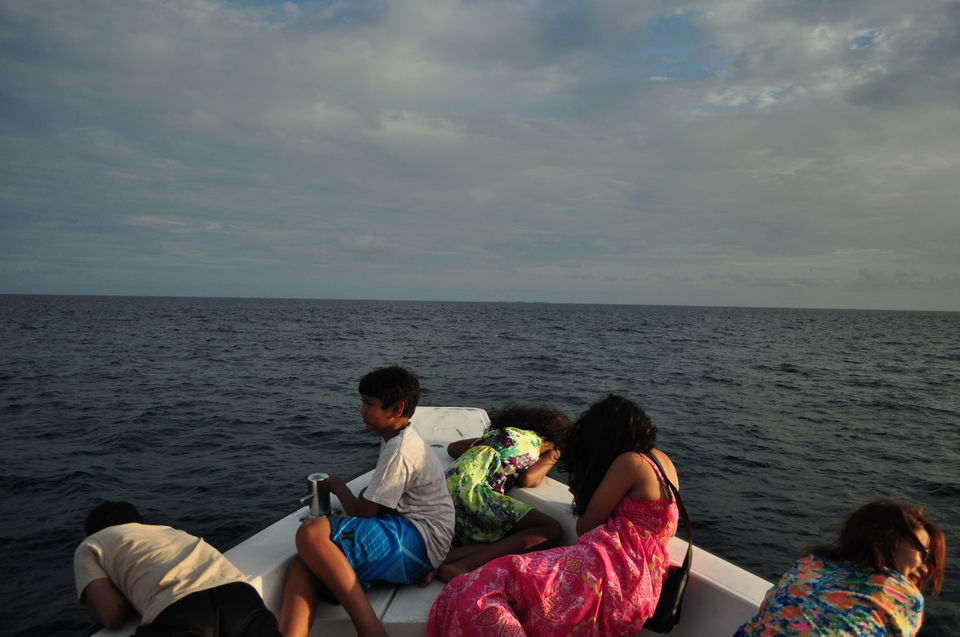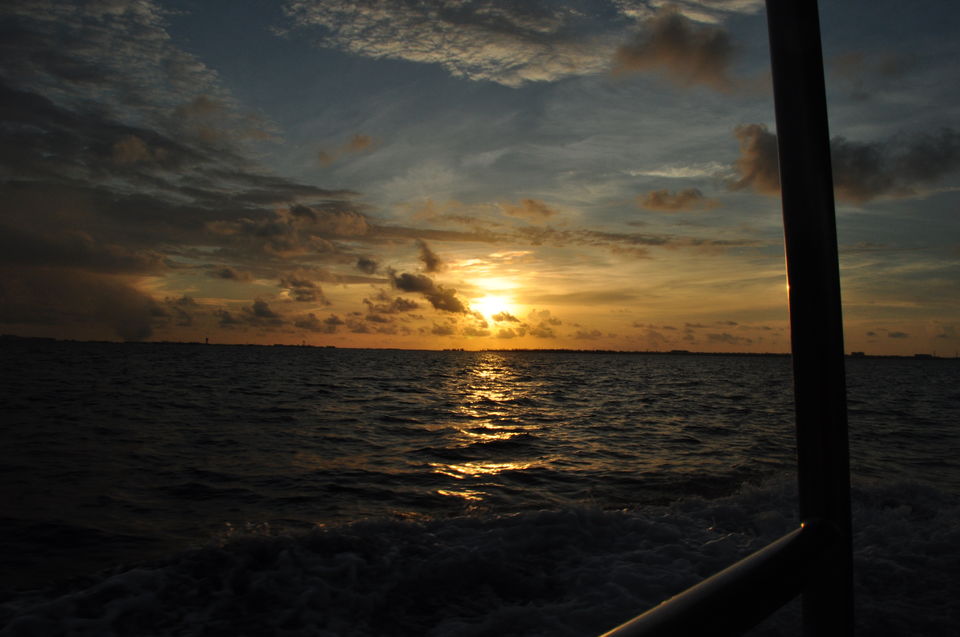 No. 7 Experience the bluest and clearest water
Maldives is one of those top destinations known for their turquoise blue waters and white sand beaches. The different shades of blue, blending into each other with each wave, will leave you wondering how many forms of blue are there actually..well, may be countless or just a little more than what could fit in the color palette . Not just that, the water is so crystal clear at places that one can easily get a view of the magnificent underwater world from above the sea surface. Even at night, the faint light from the resort premises was enough to lit up the under water kingdom of fishes and sting rays of varied shapes and sizes. In fact, my favorite past time in the evening was to sit at the edge one of the many gazebos in our resort and enjoy the view of corals and marine life without getting my feet wet.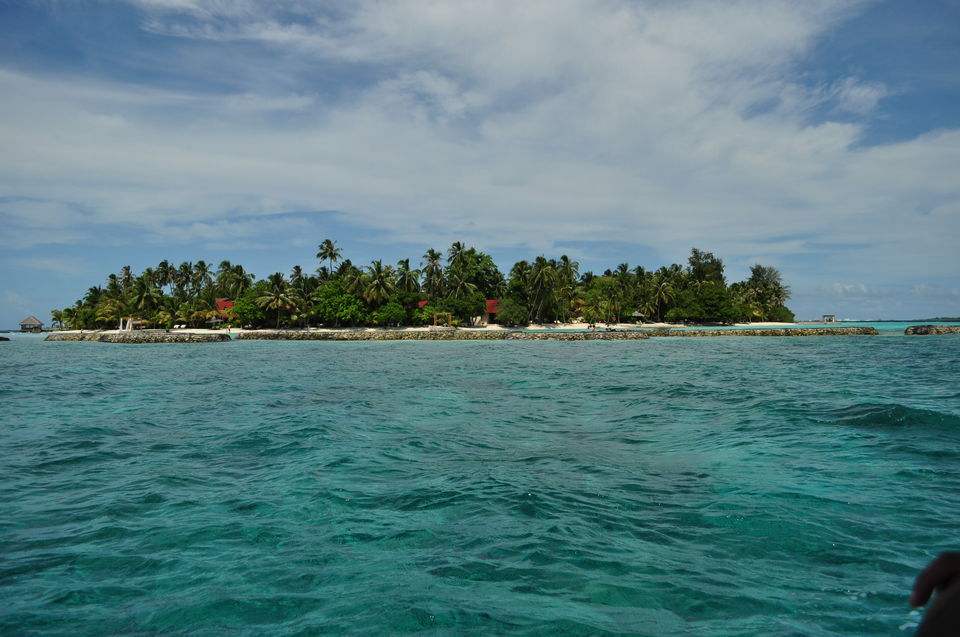 Finally, the most important point - BUDGET. Maldives is a considered a luxury destination by all.That's not a complete myth, given the cost of maintenance in an island country. However, there is a wide range of hotels and resorts to chose from. One can choose to stay at Male where the hotels would be cheaper compared to luxury island resorts. Again not all resorts are equally expensive. Expenses can go up if one needs to hire water taxis/sea planes for commuting between islands. A 3 nights stay at a reasonably good island resort can cost something like 100K ( INR). We had stayed at Kurumba Maldives which the first island resort of the country and their services left us spellbound. We will definitely suggest this resort to anyone who is looking for value for money. Apart from this, one needs to consider air fares for reaching Male. From India there was only one carrier when we traveled and the experience was not so good. However new channels are opening up and it is better to do some research and book your tickets in advance to avoid last moment price hikes.
So..why wait more..get ready to explore the beautiful islands of Maldives for an unforgettable experience....happy island hopping!