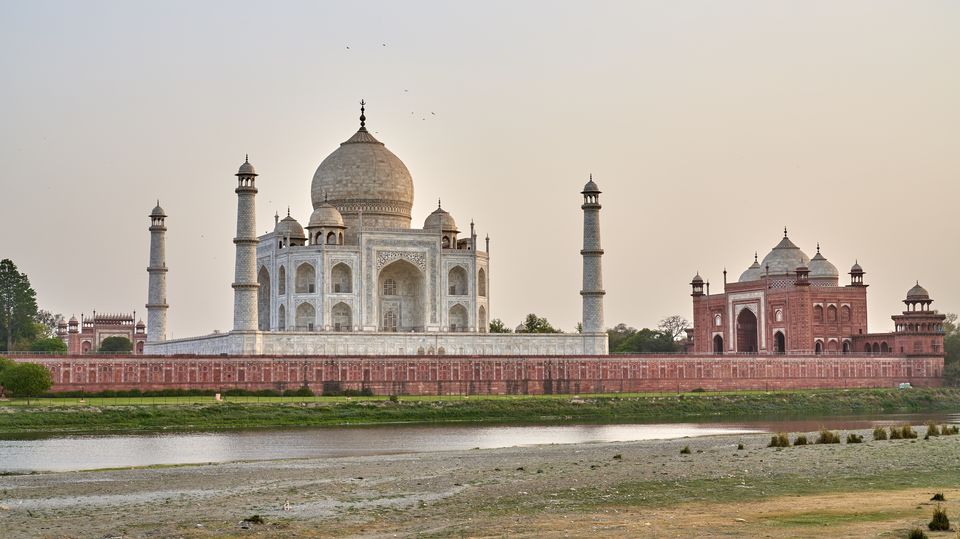 One Friday evening this winter, I was watching a documentary that had a clipping of the Taj Mahal to represent India in that video. I had never seen the Taj for real despite living in New Delhi for past three years, and I really wanted to know why 8 out of 10 times, it's a picture or a video of the Taj Mahal that represents India? I was intrigued and I really wanted to witness this amazing historic wonder of the world.
So, in that overwhelming moment of fascination and temptation, I suddenly made up my mind to embark on my maiden trip to the Taj Mahal, the very same day. And guess what, true to my apprehensions, I missed out a lot and didn't have the best of experiences. So, here I am, sharing with you the 7 things that I did on my first trip to Taj Mahal that no one should do unless you don't mind regretting it later.
1.) A decision in haste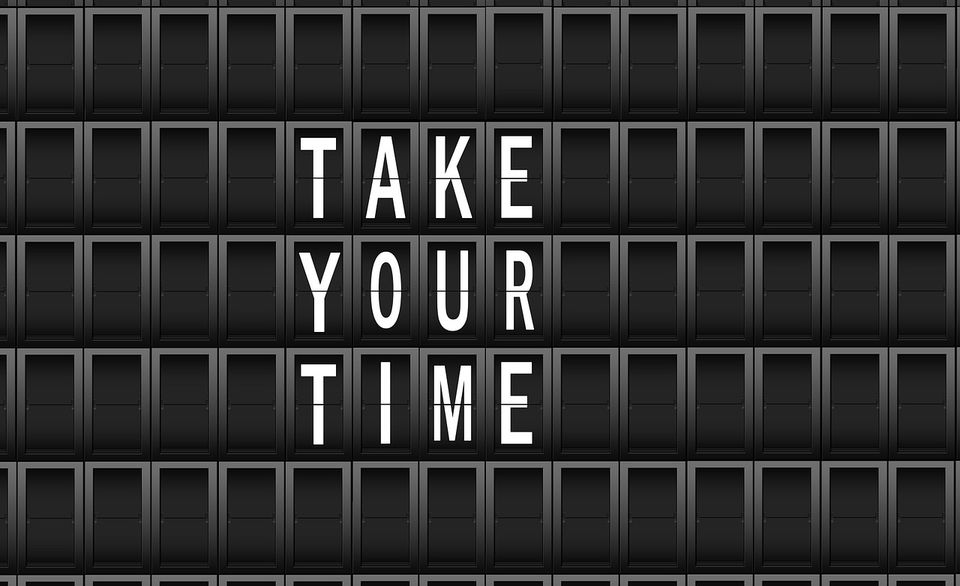 The biggest mistake I could make while planning my maiden trip to the Taj Mahal was acting in hurry. I almost planned it like I was going to visit some local museum! By the time I had made up my mind to travel to Agra, I was hardly left with any time to do as much research as I'd've liked to.
Seats were not available in any of Delhi-Agra trains, travelling by air wasn't a viable option (I'm a budget traveller), and the last state-run bus (UPSRTC) was scheduled to leave from ISBT Sarai Kaale Khan, Delhi at 11:00 pm. I had no time to give a thought about weather in Agra, or to search for best budget hotels near Taj Mahal, but the repercussions of my lack of basic research were going to be inevitable. Unplanned trips might be fun but definitely not when you are visiting the Taj Mahal for the first time, using public transport, all by yourself.
What should you do: Plan early so that you have at least a day to research and book your travel tickets [which becomes nearly impossible at the eleventh hour]. Don't underestimate the enormity of any outstation trip in India.
2.) Early morning visit, during winter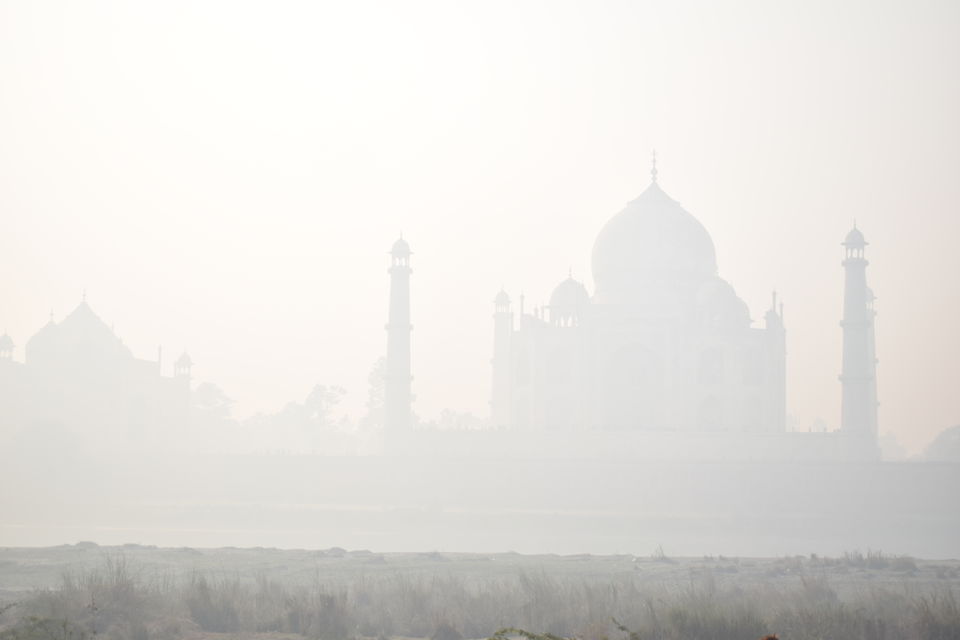 I had always read and heard that sunrise is the time of a day when Taj Mahal looks most beautiful and is least crowded. I, too, wanted to witness that moment. So, there I was; at the Taj Mahal, a few moments before sunrise, on a foggy morning in the beginning of winter. The picture above sums up how another mistake [of underestimating and overlooking the weather in Agra] literally obscured what could have otherwise been a truly mesmerising sight of this wonderful monument from Mehtab Bagh across Yamuna river. Add to it the biting cold and I was already regretting coming in during this time of the year.
What should you do: It's usually foggy in the morning during winter. March, April, September, and October make for the clearer and pleasant weather conditions, which is when you should plan your visit to see the Taj during sunrise, or sunset. Also, you can witness Taj Mahal on a full moon night; the only time when entrance gates are open to public after sunset.
3.) Taj Mahal on weekend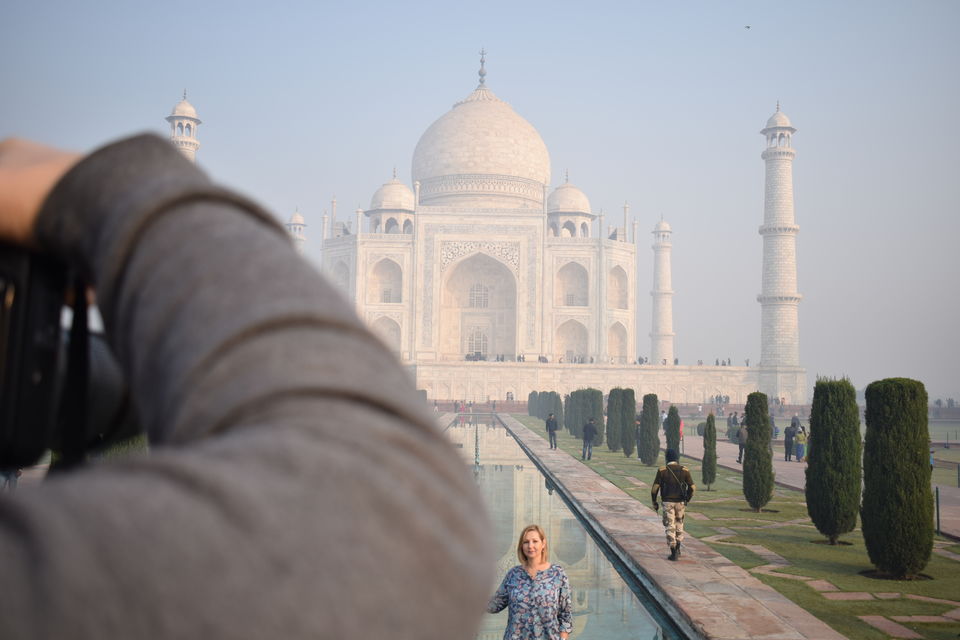 It was a weekend and it seemed like a perfect time to go ahead with my long pending plan of visiting Taj Mahal and clicking some great pictures. I still can't believe I missed the fact that it was a weekend not only for me but many others from all over the world who had this great monument on their bucketlist for long! By the time it occurred to me, I was about to reach Agra in the morning. As a result, I encountered overwhelming crowd at the Taj Mahal that kept swelling all the time. The picture above can give you an idea of how difficult it was to compose a decent shot of the monument.
What should you do: Avoid visiting on weekends unless you are okay with standing in long queues, and ruining most of your shots of Taj Mahal.
4.) Whirlwind one-day tour
I had two full days with me, yet I was so sure of not extending my trip that I didn't even book an accommodation. It was definitely a blunder, for I had known that Agra is much more than Taj Mahal. Had I not restricted myself just to this one monument, I'd have been able to see and do so many things in Agra.
I could have visited the historic city of Fatehpur Sikri, clicked some great pictures like the one above, savoured local dishes, and much more. Perhaps, that'd also have allowed me an evening visit to the Taj Mahal. Anyway, there was a lesson to be learnt: one should never travel with closed mind and narrow scope.
What should you do: The Taj Mahal is the most significant attraction in Agra, but it's not the only one. If you are not really short of time, don't stop yourself from exploring Agra beyond the Taj Mahal. Who knows, when you'll be able to make such a plan again!
5.) Missed this at Taj Mahal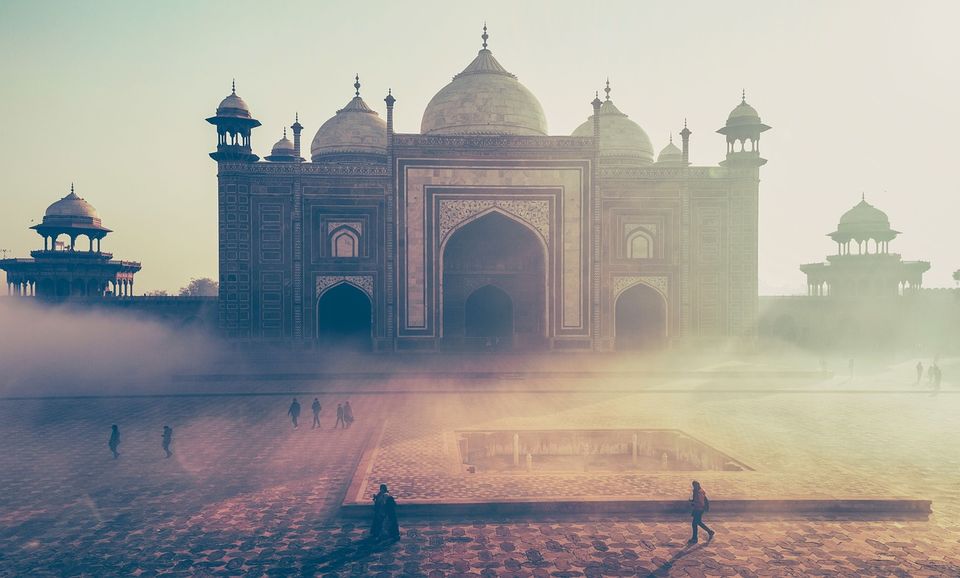 It's so easy to get completely overwhelmed by the sheer grandeur and beauty of Taj Mahal, and that's exactly what happened when I first caught sight of this historic epitome of love. It was nothing like anything I had ever witnessed before. And in that rush of excitement, I completely forgot to even enter into any of the two outlying red sandstone structures on either sides of the Taj Mahal. I made no effort to understand the significance of those mirror-symmetrical structures until I was reading an article about the Taj during my return journey to Delhi.
What should you do: Definitely explore these two structures and choose spots from where you can compose some really great shots of the Taj Mahal, unlike from the entrance gate that opens in to the forecourt.
6.) No spare battery for camera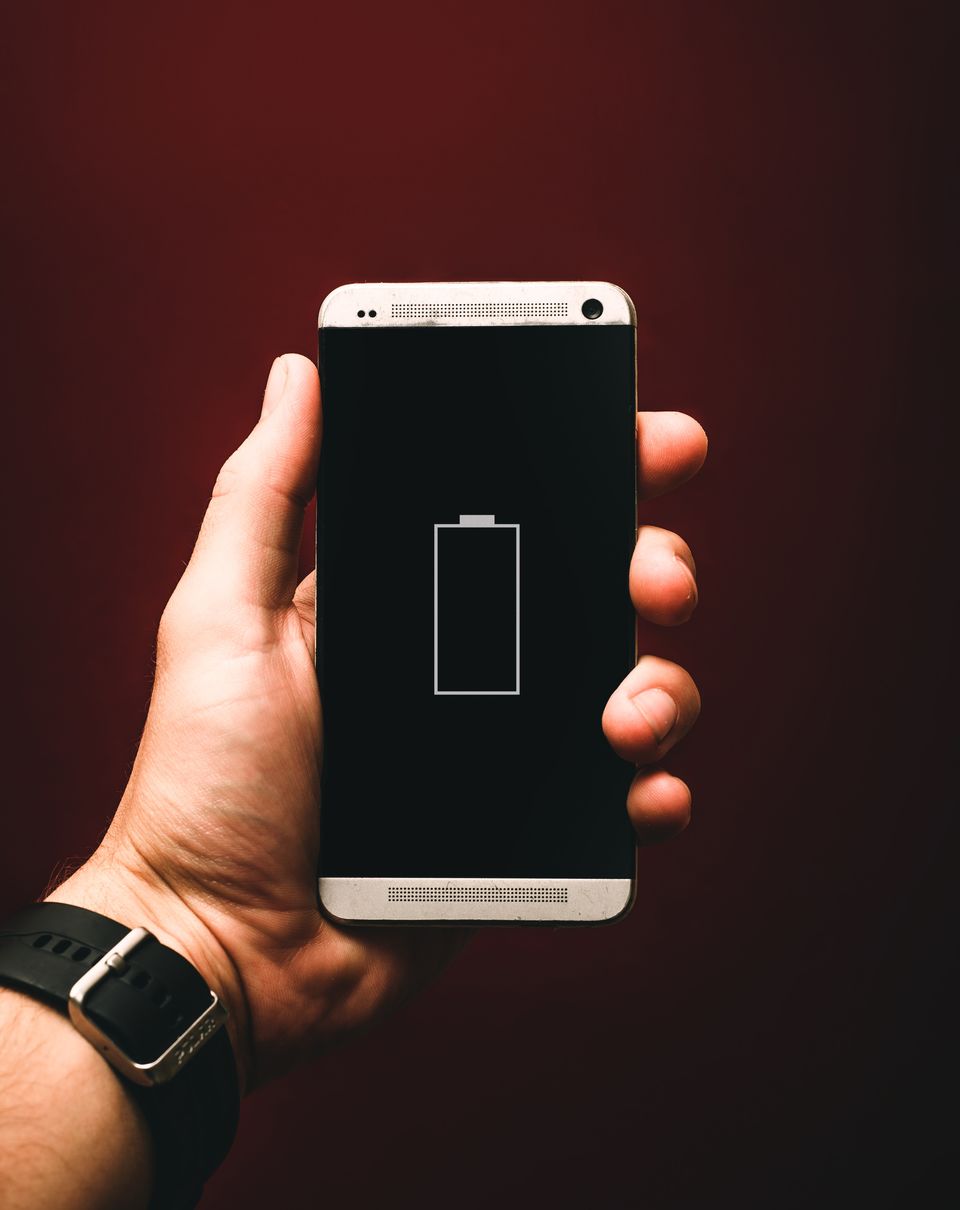 Phone/camera batteries drain faster in cold surroundings; I had known this fact for long. But knowing something useful and implementing the same in the real life when the need arises, especially suddenly, are two different things. Even before I arrived at the Taj Mahal, I had started clicking pictures crazily. I wanted to capture it all while it lasted, but I gave little thought to rapidly-draining charge in my camera battery. By the time I was to exit out of the Taj's premises, the battery indicator showed one bar remaining. And since I didn't care to pack the spare battery, or the charger, I ended up missing out on clicking many more pictures in Agra.
What should you do: Even if you've planned a day trip, always, always pack chargers and batteries for your cameras, phones, laptops, etc.
7.) Misread transport in Agra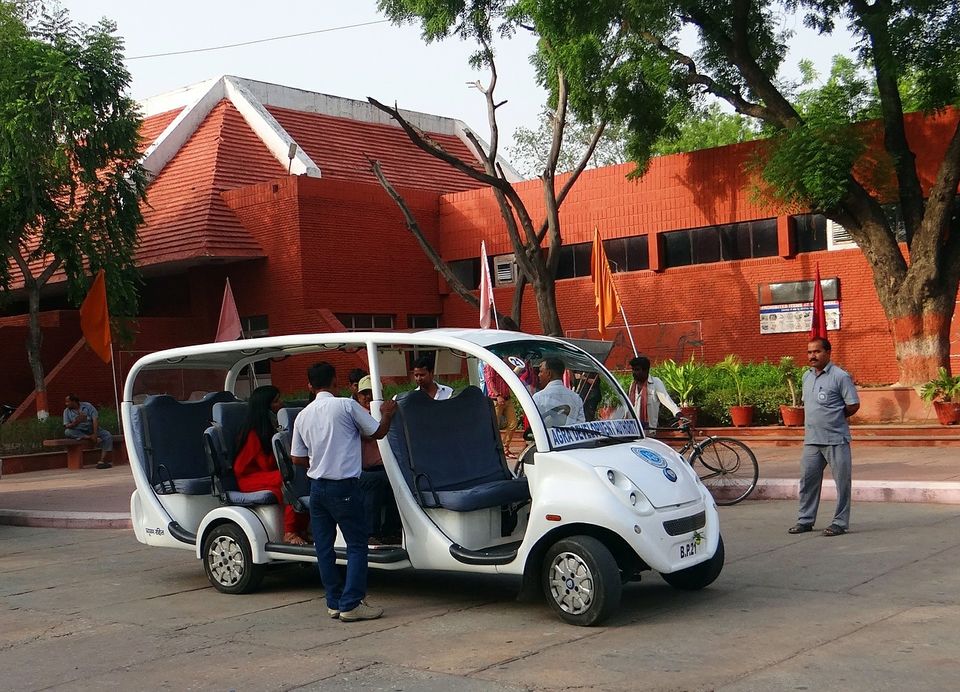 When it came to using public transport, I considered myself a pro until I was in the city of Agra. I ended up paying an extra ₹150 for an auto ride to the Taj Mahal in the morning because I didn't know that Uber had already started cab services in Agra. Later, I also got to know that electric buggies ply between parking areas and entrance gates at the Taj for the convenience of the visitors.
During my return journey, I initially got in a shared autorickshaw as the fare was only ₹50. After spending 20 minutes in the auto, I realised that it wouldn't move until the driver was happy with the number of passengers inside. And I knew if I waited more, I was going to get late. So I asked the driver to take me, and I paid ₹150 for the exclusive ride. Thanks to the traffic on the road leading to the city's inter state bus station, I was only 3-4 minutes from missing my bus.
What should you do: If you have a bus, train, or a flight to catch, start early. Do not underestimate the traffic, even if you are in Agra.
It was all haphazardly done and I realised I had no one to blame but myself. Comment below if you, too, made any of these mistakes on your first trip to the Taj Mahal. Also, you can share your own travel stories with Tripoto community here. Last but not the least, if you enjoy watching great travel videos, subscribe to Tripoto on YouTube.