Leh, a historic city of Tibetan Buddhism located in the Trans-Himalayan cold desert condition, is the administrative headquarter of the Ladakh region in northern India's Jammu and Kashmir State. One of the greatest tourist attraction around the world. Leh is mainly known for its beautiful landscape and rich colourful culture. It offers lifetime experience for tourists, adventure lovers like bikers, trekkers and explorers.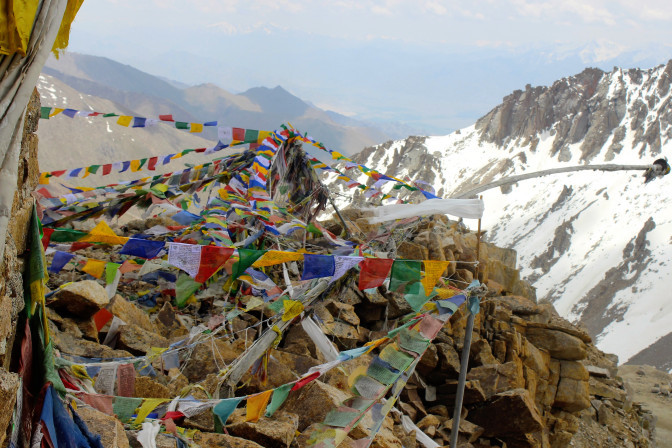 For me it's was a dream come true to visit Leh, Ladakh with my closest friends. I knew 8 days were not enough to completely uncover the mystery and beauty of the place but as we all are working, leave milna is very muskil. Still we tried our best to utilize 100% of our trip.
We started from Bangalore, Karnataka. There is no direct route from Bangalore so we decided to take flight to Delhi and then Delhi to Leh. Being aware of the fact that the route by road is more beautiful, but that leave ka panga tha.
So we started from Bangalore on 9 th of July 2019 midnight and reached Delhi in the early morning. We had a layover of around 5 hrs at Delhi airport. When we were about to board we got an update that the flight got delayed for an hour. We boarded the flight, but unfortunately again there was some runway issue at Leh airport because of that we have to wait couple of hours more inside the flight to take off. Around 10 O'clock the flight started moving and our journey started towards Leh.
Day 1-
We landed in Leh, while landing the view of the Himalayas was breathtaking. Leh airport is one of the smallest airports in India. The runway has space only for two flights for landing. The trip was organized by one of the local tour organizer called Ladakh Expedia. Mr. Paldan was waiting outside the arrival gate holding my name-board. As soon as he saw us, he welcomed us with immense pleasure. The weather was quite hot that time around 25 degrees celsius.
We reached the hotel situated in the middle of the city near the Leh Market, around 20 mins drive from the airport. We were advised to take rest for the whole day, to acclimatization at this real high altitude area with low oxygen level in the thin air. It was lunch time so we decided to head out and explore some of the local cuisines. We tried mokmok, thendthuk, thukpa etc. Those were really yummy and pocket friendly. In the evening we decided to take a stroll towards the market.
The Leh Market is well organized, you can find each and everything inside the market, the market is meant for both locals and tourist, filled with cafes, restaurants, souvenir shops, vegetable shops etc.
Day 2-
was planned for sightseeing; we started with Sindhu Ghat, Rancho's school then Thikse monastery followed by Shey monastery and Santi Stupa. For a day's trip it was more than enough as we were still in the AMS mode.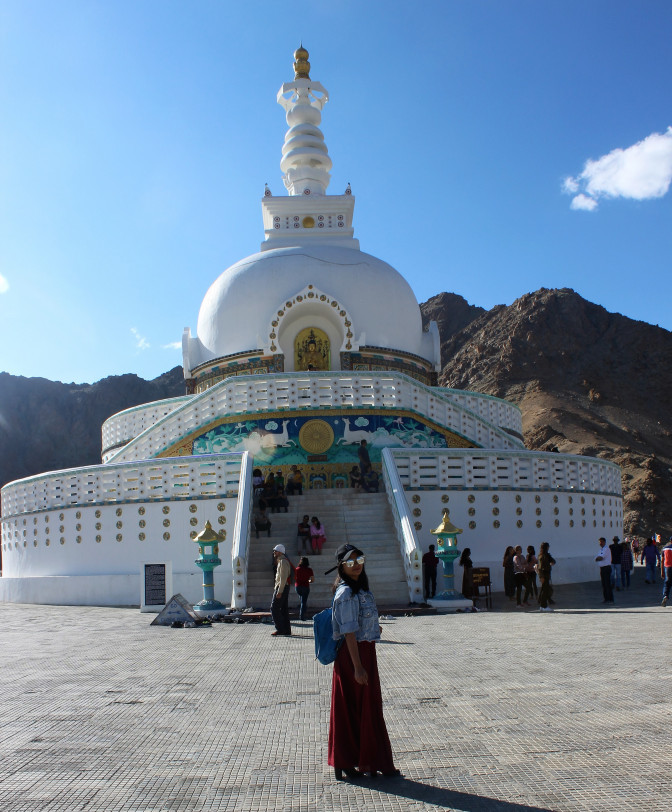 Santi Stupa
Day 3-
After breakfast we started towards Nubra valley via Khardung La. To reach Nubra valley it was 6 hours' drive from Leh city. It is 160 km from Leh via Khardungla pass. Once you started from Leh you can gradually feel that you are heading towards the sky and after sometime it feels like you are driving in between the clouds. The experience at khardungla Pass was unforgettable. The Khardungla pass is the one of the highest motor able pass in the world. The elevation of Khardungla is 5.359 m (17,582 ft.).Since it is the highest point one can have breathing problem for some time. After Khardungla the road was really good and you can see Sayok River running beside you. Small road side cafes are there for refreshments. After reaching Nubra we decided to visit Diskit Monastery which is one of the oldest and also the largest monastery in Leh. After that we headed towards Hunder, to experience the double humped camel ride. I must say that the camels are really cute and well mannered. It was a pleasant experience in the midst of sand dunes deep inside the Himalayas. After a wonderful day we reached our camp for night stay. The camp was very well maintained, all the tents are having good facilities, with charging points, double bed, basic bathroom facilities but the only problem was there were no lights after 11pm till 7am in the morning.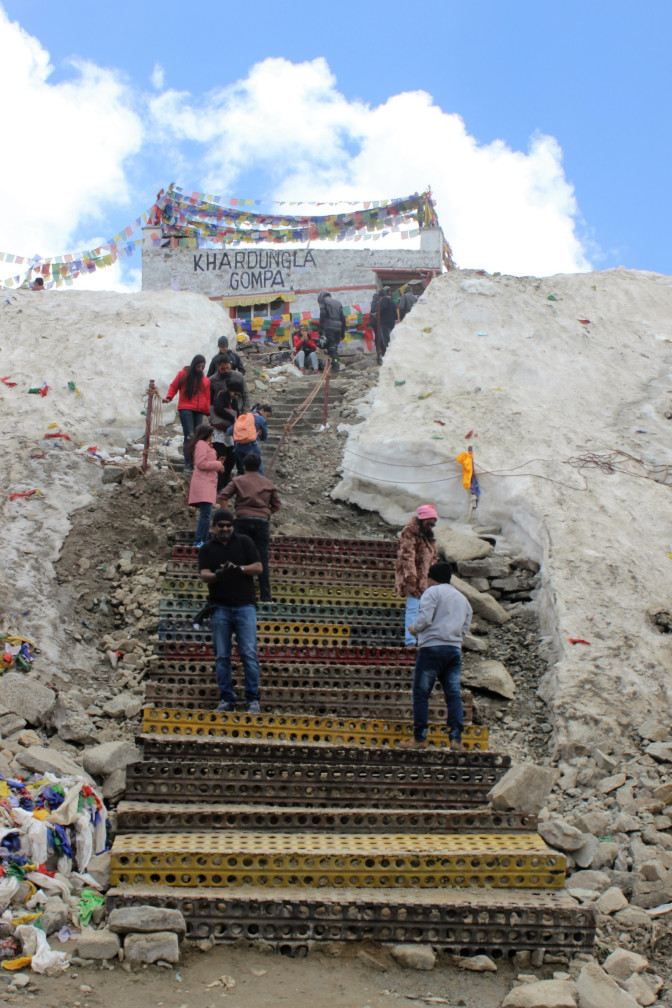 Day 4-
Next day we started our journey towards Pangong Lake. The famous Pangong Tso is situated at a height of about 4350 m. it is 134 km long and extends from India to the Tibetan Autonomous Region, China. The 20% of the lake is in India the rest 80% in China. The lake is surrounded by barren multicoloured hills. From shades of turquoise to dark blue this lake has its own natural beauty. This place is also famous for few famous Bollywood movies shooting point like 3 Idiots and Jab Tak Hai Jan etc. On the way to Nubra to Pangong via Sayok, the route was really full of scenic beauty.
In Pangong Lake you will not find any hotels or home stays, its only camps. The Camps are similar to Nubra valley, and the electricity issue continues here also. After enjoying the beautiful view of Pangong, we decided to spend our rest of the day inside the camp area only.
At 7 o'clock in the evening the dinner was served and after dinner it was all our own time to recall and refresh.
Day 5-
The very next day it was planned to return to the Leh city again. We started our journey after breakfast. It was again a 6 hrs. journey from Pangong Lake. We started and stopped by another view point of Pang gong lake, the color of the water in sunlight was amazing. We reached Leh in the afternoon and the rest of the day we took rest.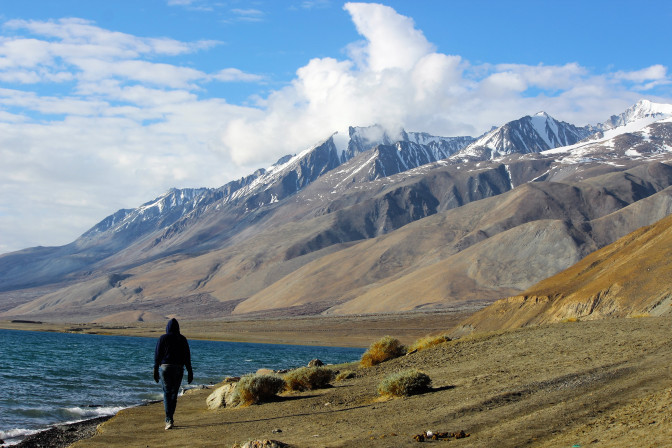 Pangong Tso
Day 6-
All the excitement was over by now, as we have already been to Pangong and Nubra. This day was planned for local sightseeing. First we went to the famous Hall of Fame museum, after paying our tribute to Indian Army, we visited Patthar Sahib Gurdwara. After that we headed towards Magnetic hill followed by the Sangam, where the Zanskar and the Indus River meet. Sangam was famous for river rafting. If you want to do rafting the charges are 900-1800 INR per person. After all of that we decided to visit one small village to chill and capture some beautiful landscapes. The Nimmo village was the nearby village from that place, so we decided to go there. Nimmo is situated amidst mountains and greenery, we have seen few apple and apricot trees inside the village, and it was beautiful.
Day 7-
It was the last day of our trip, and we don't want to waste it. As per the itinerary the last day was kept for leisure and shopping, but since we haven't been to the Tso Morori Lake we decided to utilize our last day as well. We researched and asked some local people for suggestion, and the outcome was Hemis Monastery.
We contacted a local tour agency and planned for a day trip to all the nearby monasteries and palaces.
From Leh city to Hemis its around 50 km distance and the rout was amazing full of flora and fauna. We need to cross few small villages on the way to Hemis. Hemis monastery itself is a beautiful one. One can definitely feel peace and calm inside the monastery. It was one of the oldest monasteries of Ladakh. It has beautiful architectural design and they also have a museum inside. After exploring all of it we headed towards the Hemis café situated just beside the monastery serving amazing local food. After Lunch it was time to visit another monastery on the way. This monastery was small yet very beautiful from inside. Unfortunately the main temple was closed that time, but we could take some beautiful pictures on that picturesque monastery. The whole day trip was amazing, full of natural beauty.
But the trip was no way enough for a place like Ladakh for us.
Day 8-
With heavy heart and all the beautiful memories we headed towards airport to catch our flight.
P.S. - if you want to enjoy Ladakh to the fullest my suggestion wouldn't go for any pre planned packages, plan your trip by yourself and utilize your days thoroughly. If you love bikes then Ladakh is the place for you, rent a bike in Leh and go on a long bike ride with your friends. But friends be sure to get yourself completely acclimatised else you miss the whole fun. Keep at least 8-10 days in hand to explore the place nicely, if you are travelling by road then plan your trip well in advance gather all the information required and keep more at least 15-20 days in hand to explore each and everything thoroughly. At the end I can say that you can never quench your thirst of Ladakh at once the place will call you again.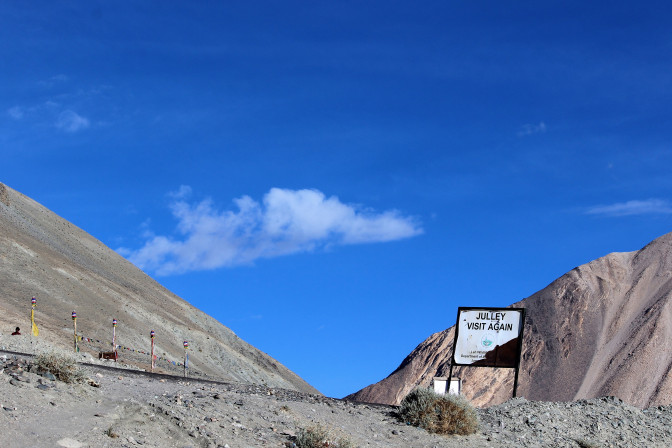 Welcome to my blog. I am a traveler from India. Love to explore the beauty of the world . A nature and animal lover. Follow me to explore the unexplored . View all posts by wanderwomen02.
Follow me on Instagram@wander_women_2
#mydiscovery.