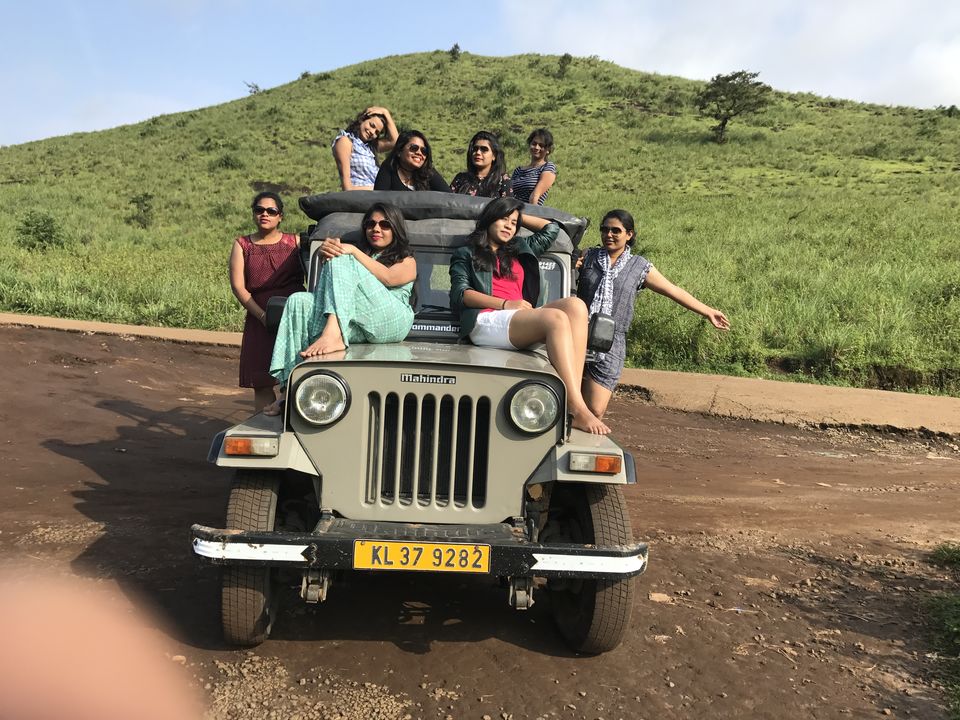 Continued...
One more thing i learnt after this trip is why you should travel with your girl gang to new place . We had an excellent time together and had so much fun . It was completely new experience for all of us and we had everything organized and somethings unplanned .
Kerala is heavenly beautiful place which one must visit in their life . It has unique charm in it and makes us realize how beautiful life is !
Day 3 :
Thekkady - Periyar Jungle Safari
We had reached to Thekkady on last night and after returning from Kathakali show , we got to know about Periyar Wildlife Sanctuary and Gavi Jungle Jeep Safari . Open jeep safari in jungle really exicted us and we booked the jeep for next day morning .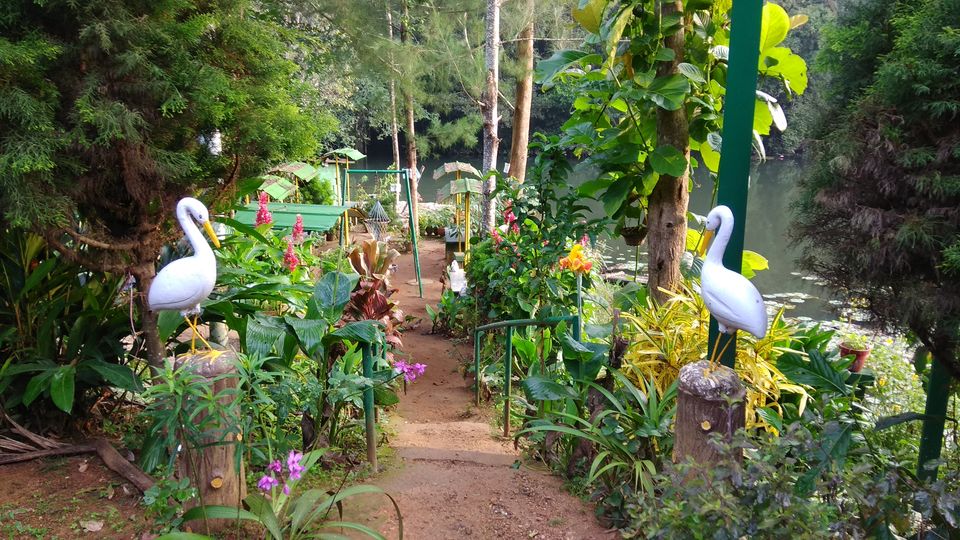 It costs Rs. 3000/- for 3hrs drive/safari ride and program starts from 5.30am in the morning in which special Jeep will receive you from your accommodation area 40 kms scenic drive through the jungle. Then you will reach a place called Gavi (Green mansion) there you can have your breakfast and you can start the view point visit, cardamom processing unit visit specially trained guides after you will reach the Green mansion .
Our jeep arrived at 6 am and our most exciting and thrilling journey of the trip started . But we were initially told that getting to see animals is all about luck if we reach earlier only . Gavi Periyar Wildlife Sanctuary is one of the richest tracts in Western Ghats rain forests. At a distance of 40 Km from Periyar sanctuary (Thekkady), there lies an Eco-System named GAVI with luxuriant forest, grassland and wild animals.
Pampa Reservoir and a large tract of reserved forests fringe GAVI. There is a wide range of animals in Periyar Sanctuary such as Elephant, Sambar deer, Barking deer, Mouse deer, Bonnet macaque, Lion tailed macaque etc. The chief predators are Tiger, Panther and Wild dogs. The Reserve also supports a wide variety of birds and insects.
Things to do in Periyar Wildlife Sanctuary and National park:
1) Nature Walk and Green Walk :
It is an interpretive sandal protection trekking programme offering excellent opportunity of watching birds, butterflies and other wildlife through a range of habitats during the 4-5 km 3-hours walk. These programme are offered between 7 am to 3 pm in different nature trails inside the Park.
2) Border Hiking :
It is day-long range hiking programme along the borders of Periyar Tiger Reserve. The route passes through undulating terrains and altitudinal ranges of 900 m to 1300 m where the trekkers can glimpse the lofty escarpments bordering the park, watersheds and the vast stretches of Cumbam Valley below. Gaur, sloth bear, elephants are often sighted apart from birds and butterflies
3) Bamboo Rafting :
This is the dust to dawn hiking and rafting programme through some of the richest forest tracts of Periyar Tiger Reserve. It starts at 8 am through a mosaic of habitats and forest rich in bird life, arboreal animals like Giant Squirrel, Nilgiri langur, herds of elephants and gaurs. The rafting is of about 3 hours duration where one gets a panoramic view of the forest clad hills reflected on the lake.
4) Periyar Tiger Trail/Reserve :
The Periyar Tiger Reserve, named after the Periyar river, is one of Kerala's prestigious possessions on the High Ranges of the Western Ghats. Periyar Wildlife Sanctuary spread across 777 sq.km, of which 360 sq.km is thick evergreen forest. The splendid artificial lake formed by the Mullaperiyar Dam across the Periyar River adds to the charm of the park. This is the only sanctuary in India where you can have the unique experience of viewing wildlife at close quarters from the safety of a boat on the lake.
Entry Timing : 6 AM – 6 PM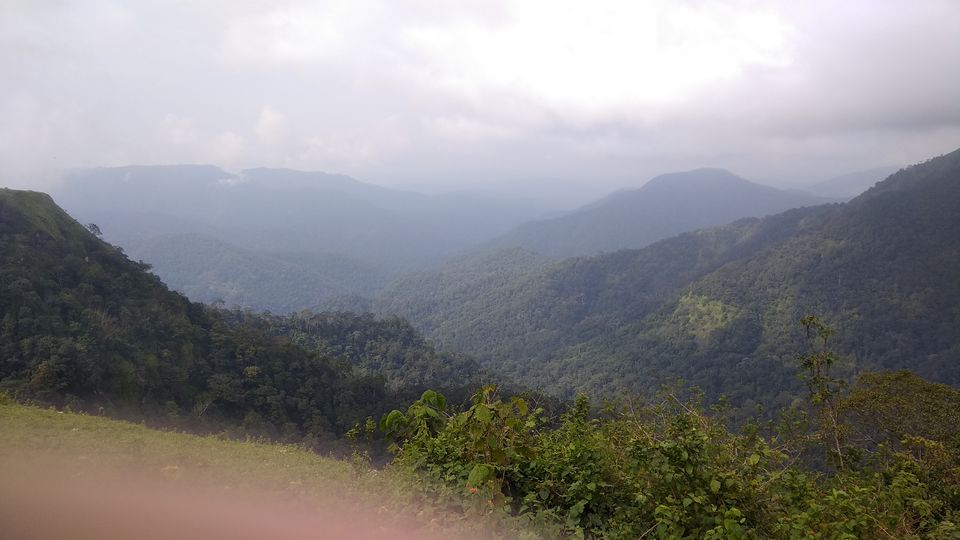 5) Bullock Cart Discoveries :
This program takes you in a unique experience through farm lands, vine orchards, jasmine garden, a typical tamil temple, coconut groves, a meandering river side trail and the sleepy village of Gudalur, the setting very similar to R.K.Narayanan's Malgudi Days. And you ride on a bullock cart guided by people who were once poachers from Tamilnadu. This is a trans-boundary tourism initiative of the Periyar Tiger Reserve. The program starts at 6 am in the morning and 2.30 pm in the afternoon.
6) Elephant Ride :
This program offers one a rare opportunity to experience the safari on an elephant.The 30 minute safari is through a spice plantation where the gentle breeze will refresh one with the spice-scented air. More options are available for those with strong heart-you can enjoy elephant rides to the forest interior and have a thrilling close view of various animals like Bisons,Sambar Deers and other Elephants.Elephant rides are organised at the Periyar Sanctuary by the private people.
Time : 10 am to 5 pm
7) Jeep Safare / Gavi Tour :
Starting from your accommodation to Jungle, jeep will travel inside the forest 70 km . Jeep safari starts the journey morning 6.am and drops at your place after completing jungle ride covering all major view points and safari include the transportation and needful permissions to enter the gavi forest only.
Entry Timing : 6 AM – 6 PM
8) Mangla Devi Temple :
The Mangla Devi Temple is located at the distance of 15 kms from the region of Thekkady. With ancient Pandian type architecture at the height of 1337 m on the Kerala-Tamil Nadu border, the temple attracts many pilgrims. Prayers are conducted in this 2000 years old temple only once in a year on a full moon day in between the month of April and May.
Hotel Sandra Palace :
After having super fun Jeep ride , we came to our Hotel . The reason i liked the hotel because of their hospitality cause we were 1 hour late for breakfast (between 7 - 10 am) and still without complaining , they served us delicious breakfast . We packed our bags and headed towards our next journey .
Elephant ride :
This time it was Elephant ride and it was just 10 mins away from place where we stayed . In this safari you will get a unique experience , seated a top an elephant guest are taken along rides in to the spice plantation to get the good views of valleys and mountains . And the elephant trainer would just instruct elephant in Malyali and she/he will do the same .
We took 350 rs. per person package which includes riding on elephant across spice plantation for 20 mins also they clicks photos and videos for you while you riding .
Allepy :
Next destination was Allepy for same day . Thekkady to Allepy total distance is 140 km which takes nearly 4 hours to reach and by the time we left thekkady it was around 2 pm and we landed to Allepy by 6 pm in evening . We had good power nap inside the TT .
Alapapuzha/Allepy beach :
Instead of checking in hotel we directly went to this fameous beach "Alpapuzha / Allepy beach" .
Alappuzha beach is a famous picnic spot and so it's a favorite gateway for locals and so it was heavily crowded in evening . But the sunset from this beach is most delighful experience and kites added beauty in it like cherry on top . Amusement amenities at the Vijaya Beach Park add charm to the beach. It houses the popular ancient pier that is approx.140 years old. Also, you can find an old lighthouse nearby Alappuzha beach which is very bewitching to visitors.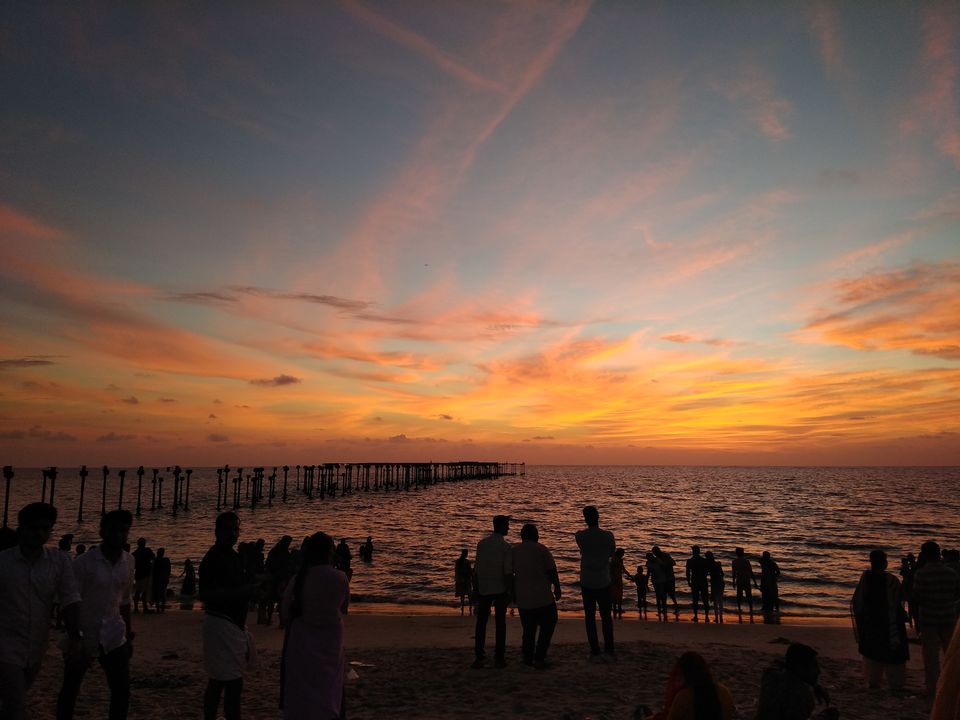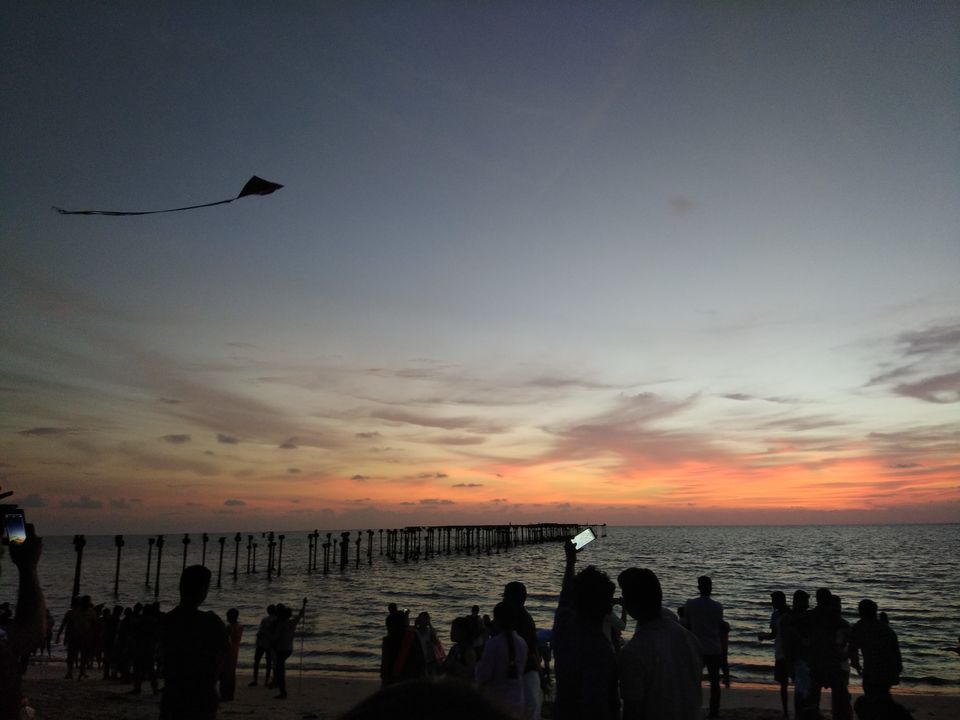 Best time to visit Alappuzha beach : Morning and evening hours are perfect to enjoy a quaint walk along the stretch of the beach but in evening you will not find space to do any activties . But you can have nice evening out and try local food out there.
How to Reach Alappuzha beach : Taxis and auto rickshaws are easily available in Alleppey and hence you can easily reach the beach. KSRTC Bus Stand is the nearest bus stop, which is 4.5 km away from the beach.
Pagoda Resorts , Allepy :
And the hotel where we stayed at Allepy was "Pagoda resorts" , 3 star resort located CCNB Road, Chungam, Alappuzha which is quite luxurious and relaxing . Pagoda is spread over a well-landscaped waterfront with manicured grassy lawns, stone-tiled walkways, tall and swaying coconut palms and a charming ambiance which is good option for family or group stays. But do not try out food from here as it is very expensive and not worth to spend money on it.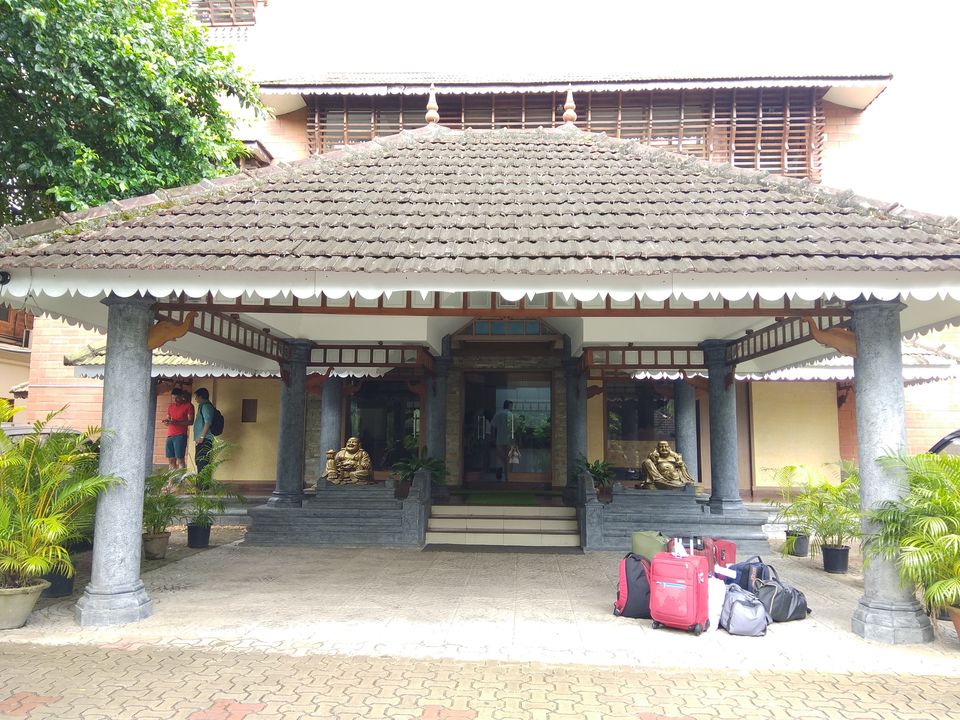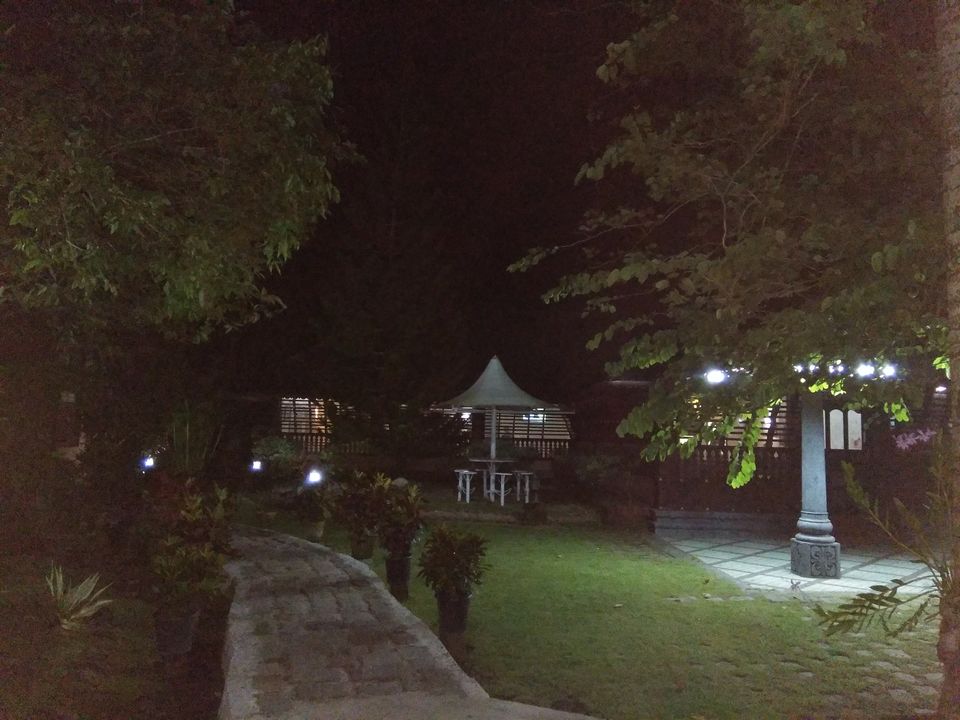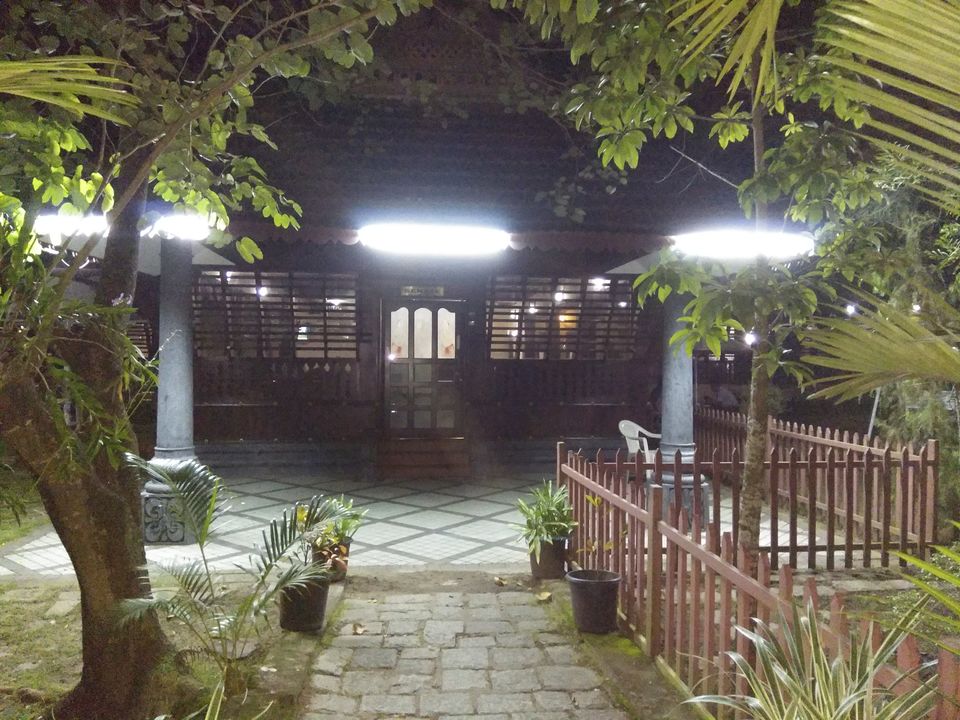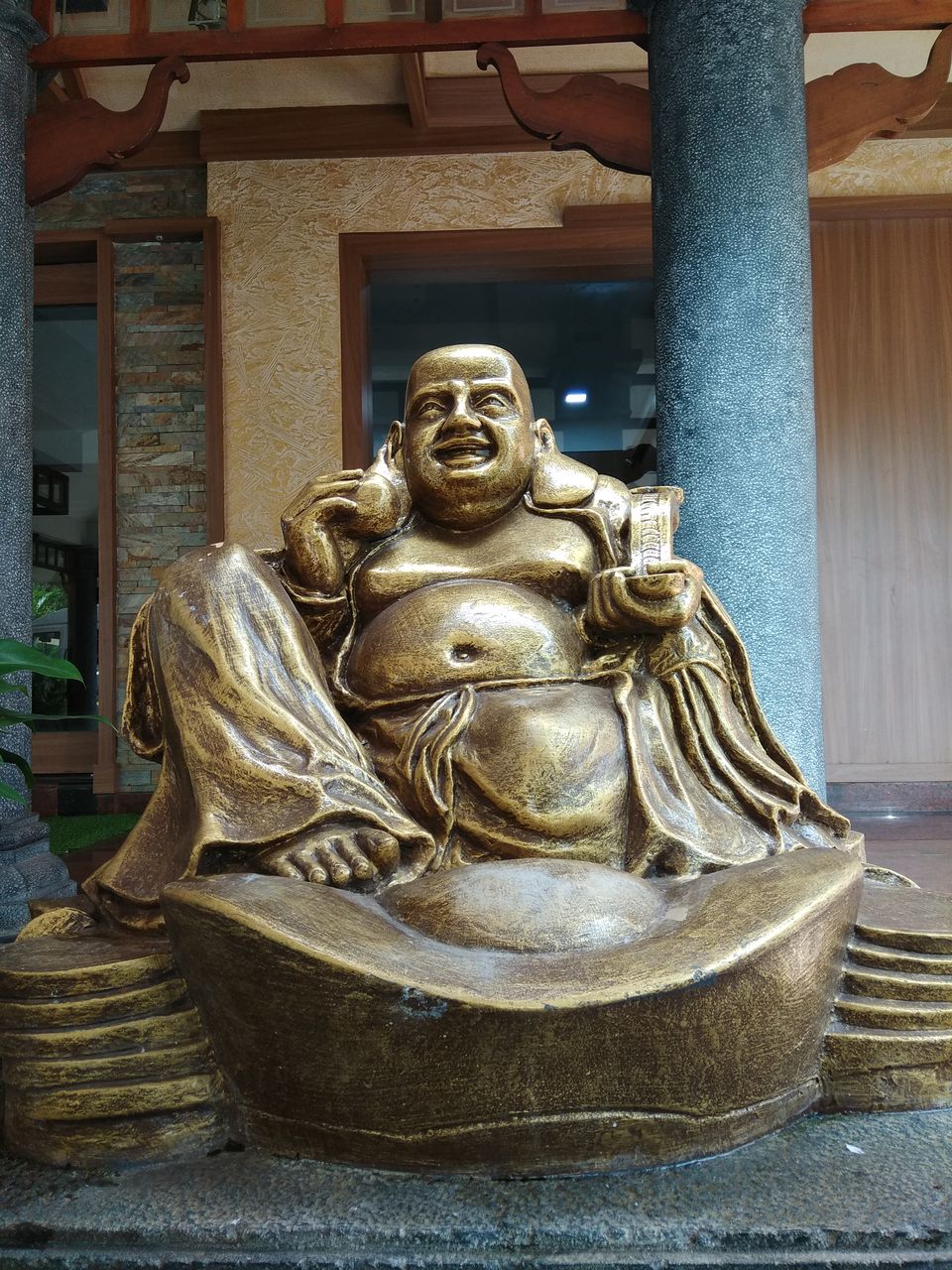 Where to eat in Allepy : If you want to eat out here and sea food lover then you may try yummy sea food which is quite popular here. You may satisfy your hunger pangs at the outlets of 'KreamKorner', which offers North Indian cuisines along with tandoori dishes. Visit any of the KreamKorner outlets, situated at Cullan or Mullackal Roads. Enjoy some delicious briyani at 'Halai's Fried Chicken', which is a pleasure for non-vegetarians.
If you want to enjoy real local cuisine, you may visit 'Chakara Restaurant', a perfect place to enjoy a drink or two and relish the popular Alleppey fish curry.
If you like to have European cuisines, 'Dreamers at Beach Front' is the best option that offers tasty European dishes. To enjoy Indian, Chinese and European dishes, visit 'Harbour Restaurant' at Beach Road, where you can spend a peaceful evening with your family or friends. Other options to eat out are like Vembanad Restaurant at the Alleppey Prince Hotel and Premier Bakery.
I am quite extrovert person and love to be alone , go out and talk to people to local people and that's what i did at Pagoda . It was nice to take walk around the resorts after dinner and feel good .
Day 4 :
Houseboat at backwaters :
It was our last day in Kerala and we had left our major thing to do from our bucket list , "Allepy House boat" .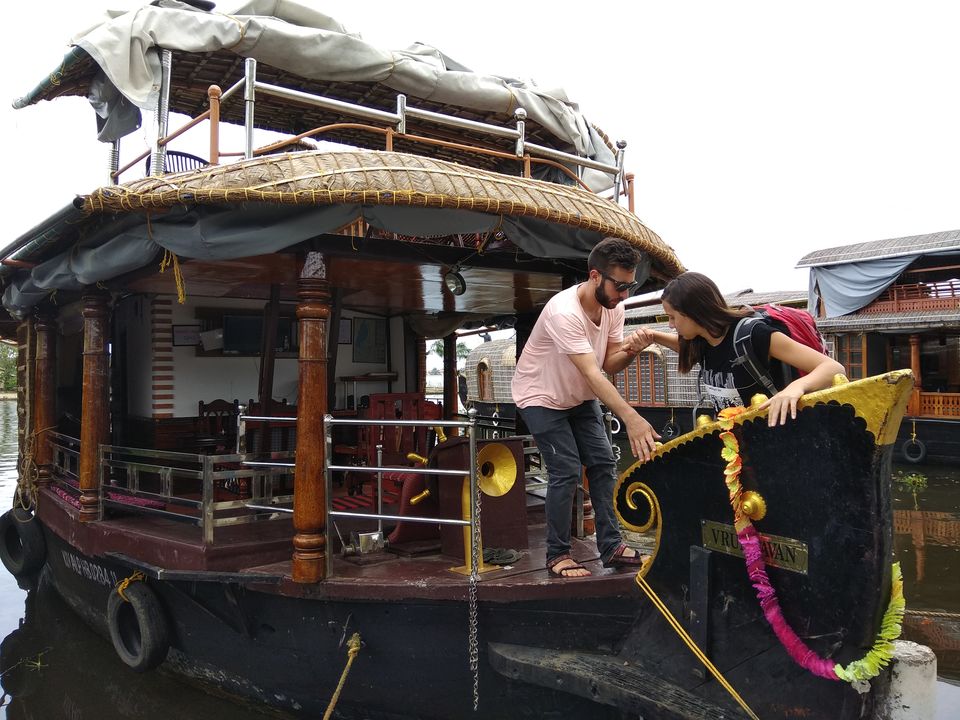 NOTE : If you are planning for stay in House boat , then i would suggest "NO" . Just go there , take day house boat ride which starts from 4 hours to all day and stay at some hotel or homestay . You will get amazed by serenity and beauty of this "Venice of east" but later you will get bored unless you are an peace and nature lover. Better have delighful house boat ride in day and explore the city in evening .
I never seen "Venice of East" but Allepy in just incredible place and i hope this metaphor does justice to it . The Kerala backwaters are a chain of brackish lagoons and lakes lying parallel to the Arabian Sea coast known as the Malabar Coast and are a network of interconnected canals, rivers, lakes and inlets . The river name i got to know from our house boat sailor was "Mattupalli" which was really big as ocean and which later forms canals from where local people have their transporation via small boats or ferris .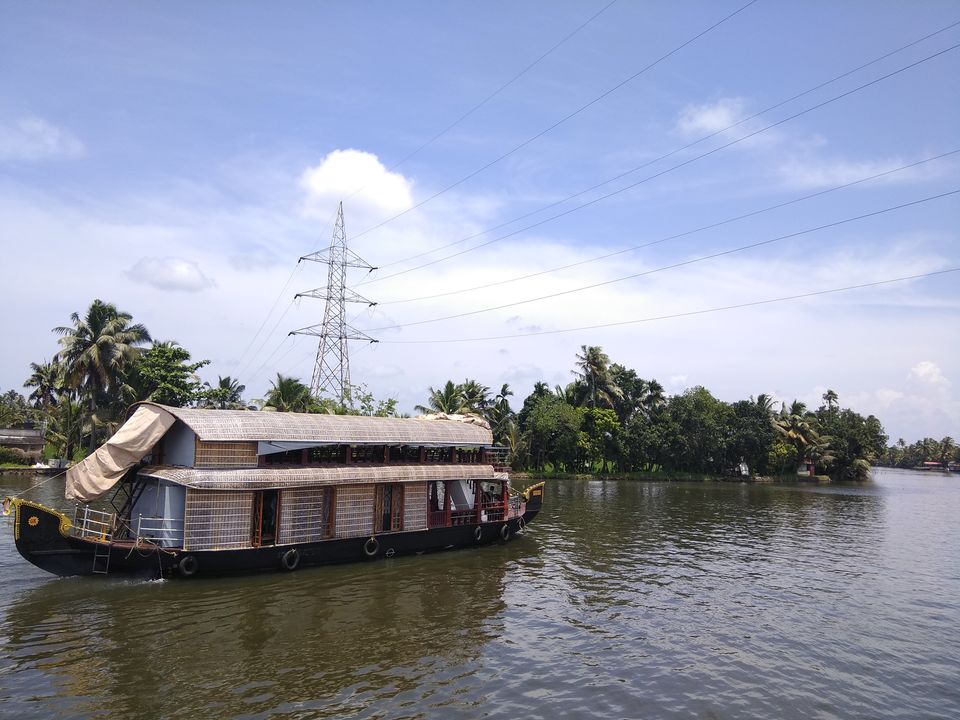 The Kerala State Water Transport Department operates ferries for passengers as well as tourists. It is the cheapest mode of transport through the backwaters which costs rs. 3-4 per person .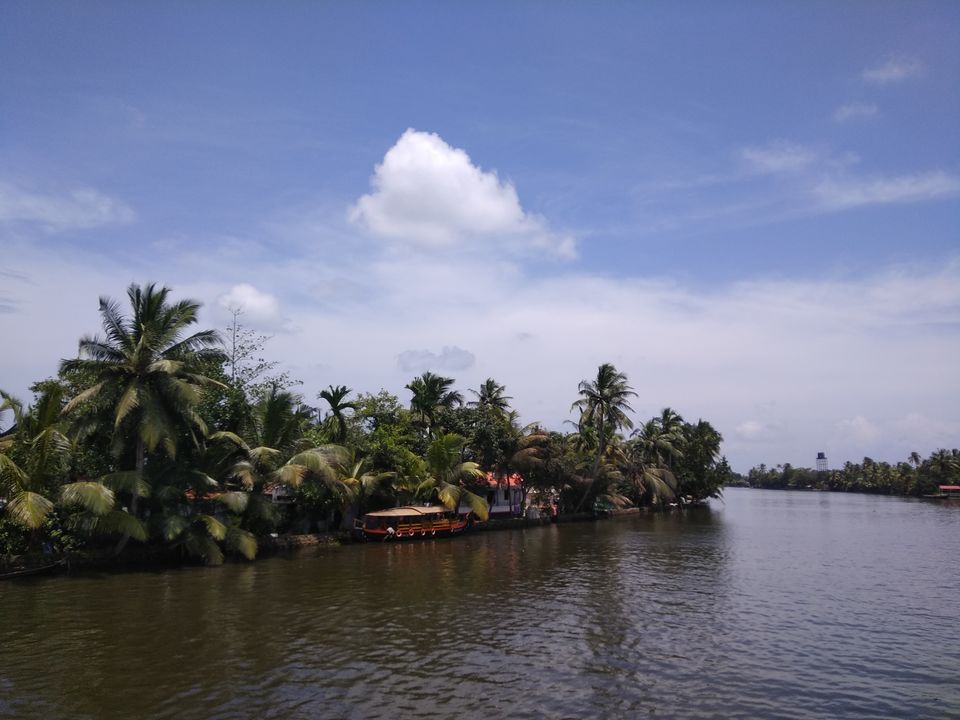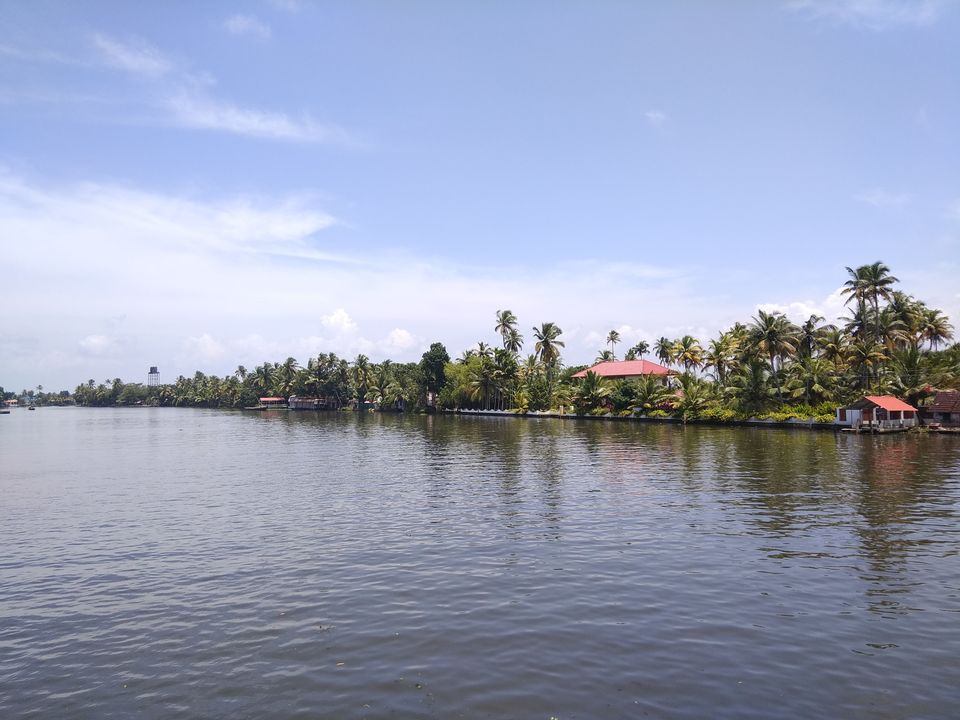 The houseboats you find in the backwaters of Alappuzha are in fact a reworked version of the "Kettuvallams" of olden times. Kettuvallam is a Malayalam word, 'Kettu', refers to dwelling structures and 'Vallom' means boat. The houseboats are of various patterns and can be hired as per the size of the family or visiting group. The living-dining room is usually open on at least three sides providing a grand view of the surroundings, including other boats, throughout the day when it is on the move. It is brought to a standstill at times of taking food and at night.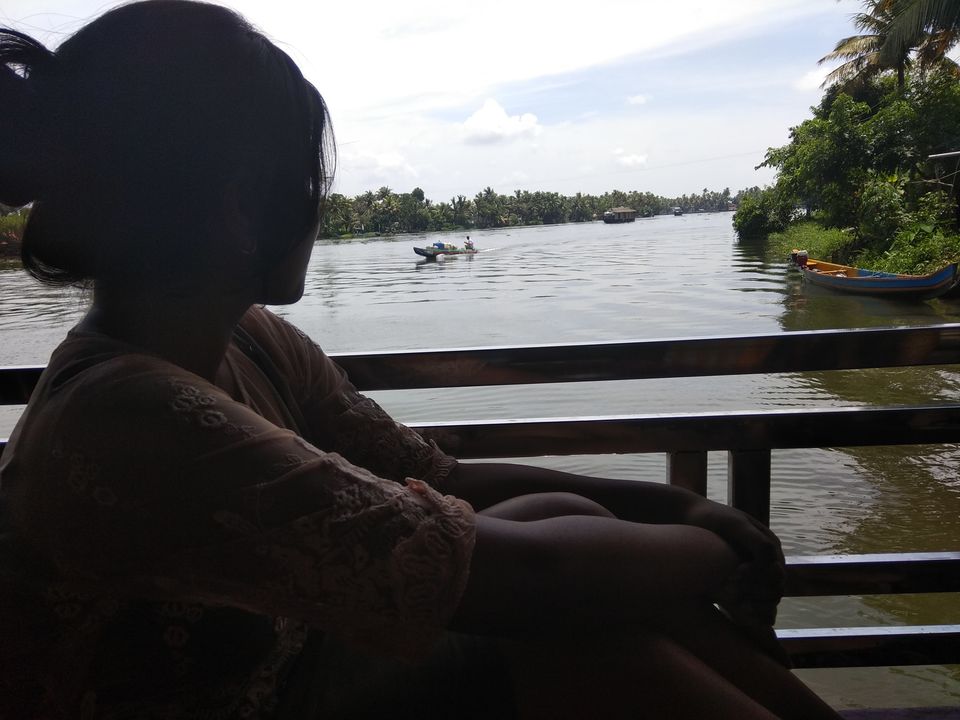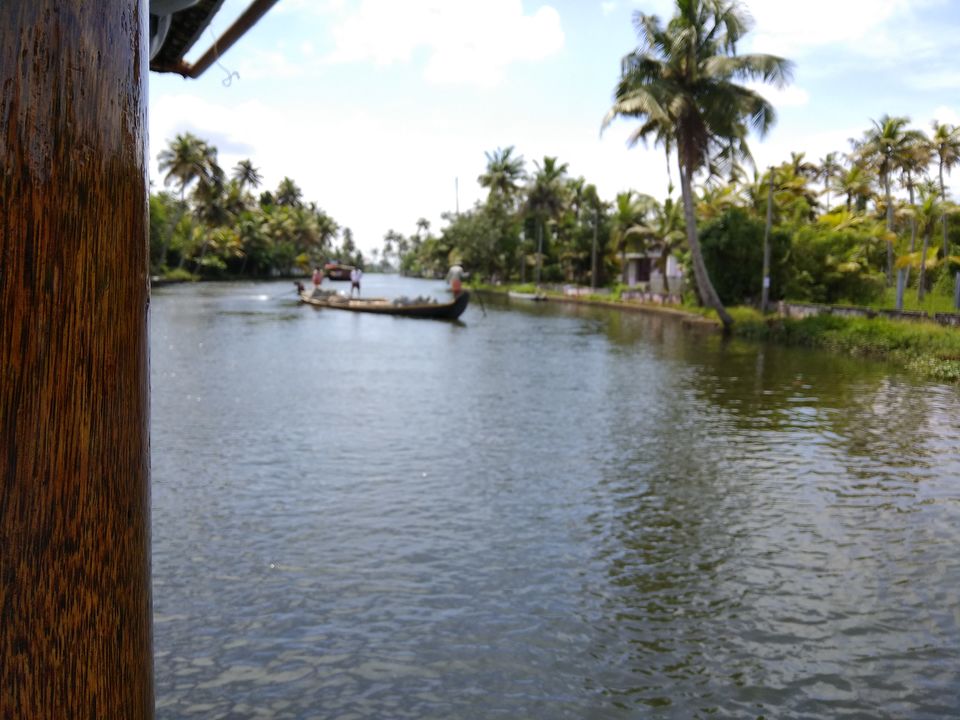 It was 4 hours house boat ride which included mouth watering Kerala style lunch in it and it was again mesmirising exeperience to explore the "Venice of East" and felt like we are in womb of nature .
Timings : Day rides starts from 9 am till 5 pm and night stay .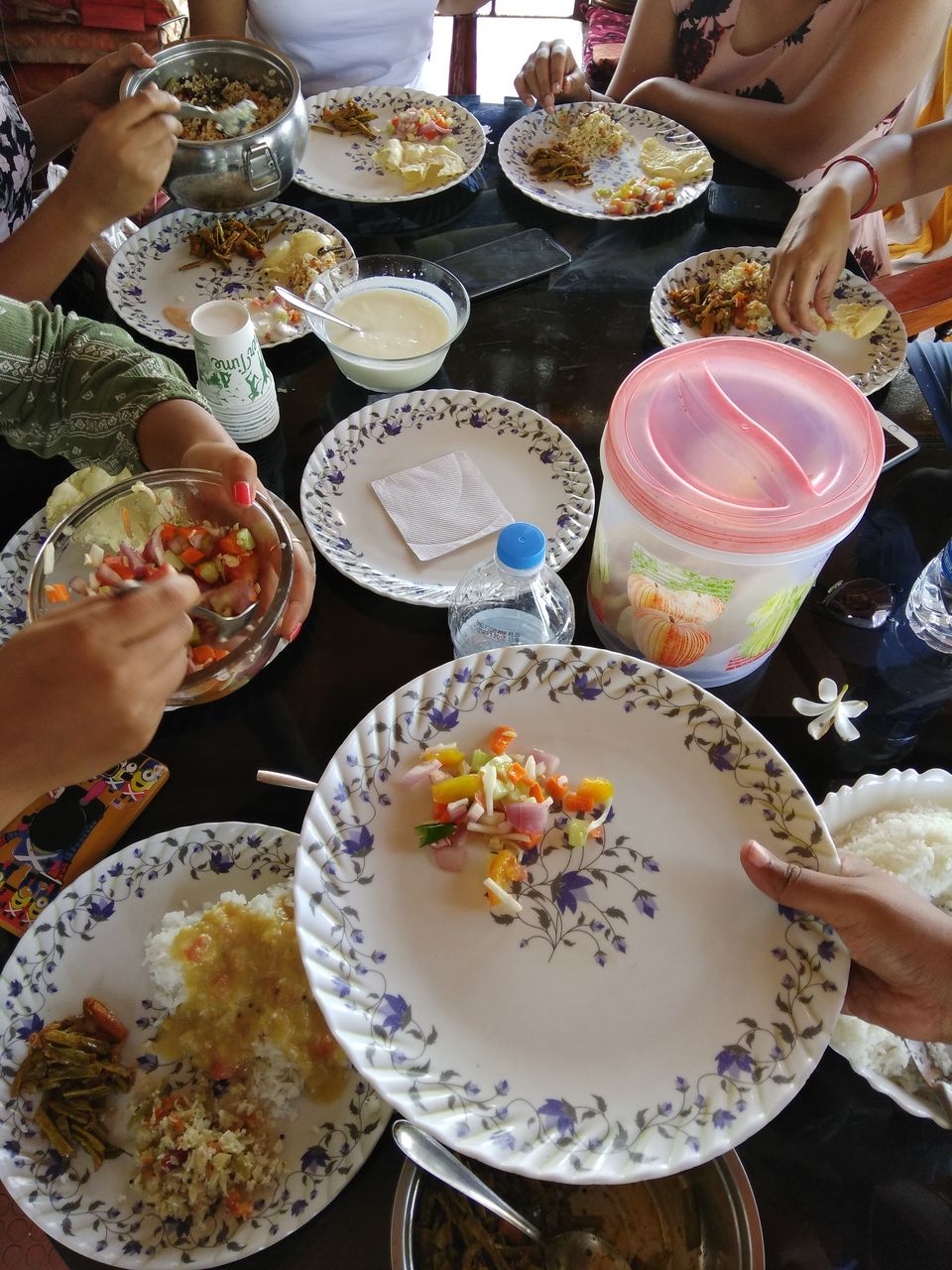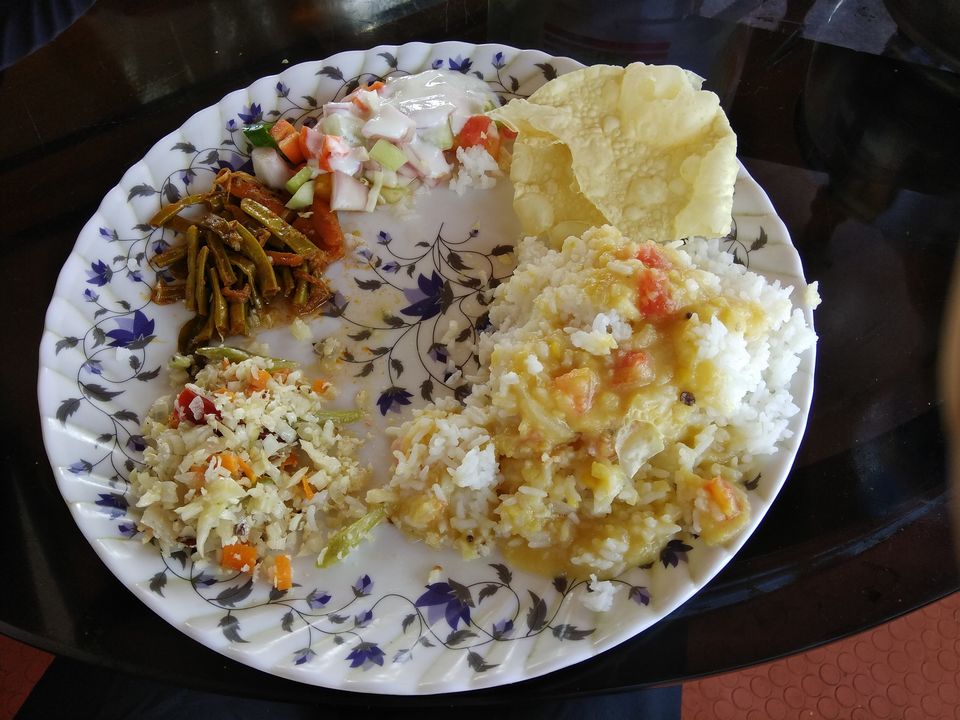 Cochin :
Moving ahead one of our friend had to catch the train by 8.30 pm from Aluva station so we headed to Cochin by 2.30 pm and reached to Cochin after 3 hours of journey . We stopped at one of local shop to buy Kerala style handloom Saari which is know as Kasavu silk saari . We had to bargain a lot as prices were so high because of handmade stuff and got a chance to actually see how hand loom saari is made . It takes 5 days to make one saari and work is so insignificant and detailed.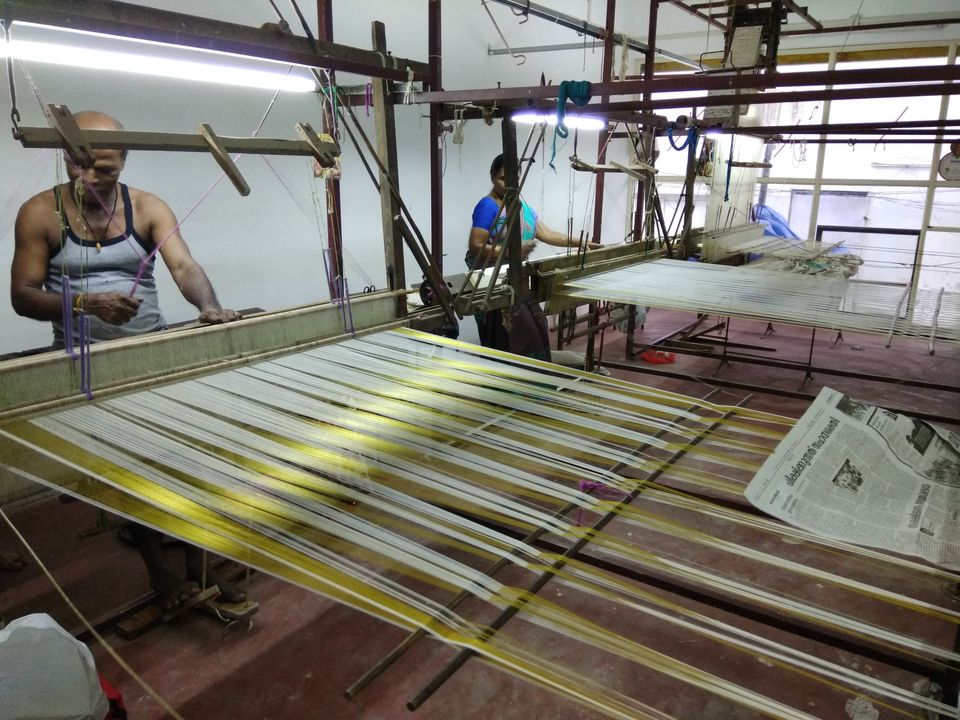 Now it was time to get the real taste of Kerala, "Banana chips" . So the driver uncle took us to these nearby shops on the way to Cochin and had quite nice time watching how fresh banana chips are made and buying them.
When deep-fried to the right texture and served on a plate, this nice and crispy snack resembles a heap of gold coins unearthed from some treasure trove. The flavor is so tempting that it is hard to stop eating it making one wonder whether it conceals some addictive attraction.
Lulu Mall :
So after shopping , it was almost 7 in the evening and time for dinner as we were running out of time . So we decided to go to Lulu mall which said to be Asia's one of the largest mall . While going towards mall , driver uncle showed us Edapally church .
St. George's Syro-Malabar Catholic Forane Church , Edapally :
I was so wondered to see such big church and cancelled my plan to mall with my girls squad . So i took a local auto on opposite direction to Edapally Church which is hardly 10 mins by walk and i did not want to waste time cause i had to join my friends back to railway station.
Basically it is St. George's Syro-Malabar Catholic Forane Church, located at Edappally and also well known as Edappally Church. This place is positioned about 10 kilometers from Cochin. This church is one of the ancient Roman Catholic churches in the state of Kerala. The church was constructed in the year 594 AD. Later in the year 1080, another church was constructed adjacent to the old church. Since the old church was found to be too small to accommodate the overgrown congregation in A.D. 1080 a new church was built in the present location.
And ohhh my God , it was such incredible thing to see such a huge peice of roman architecture as Church . I have been to many Churches before but this was one of the best in case of enormous built structure . It was enchanted and sacred due to evening light which was adding charm in it.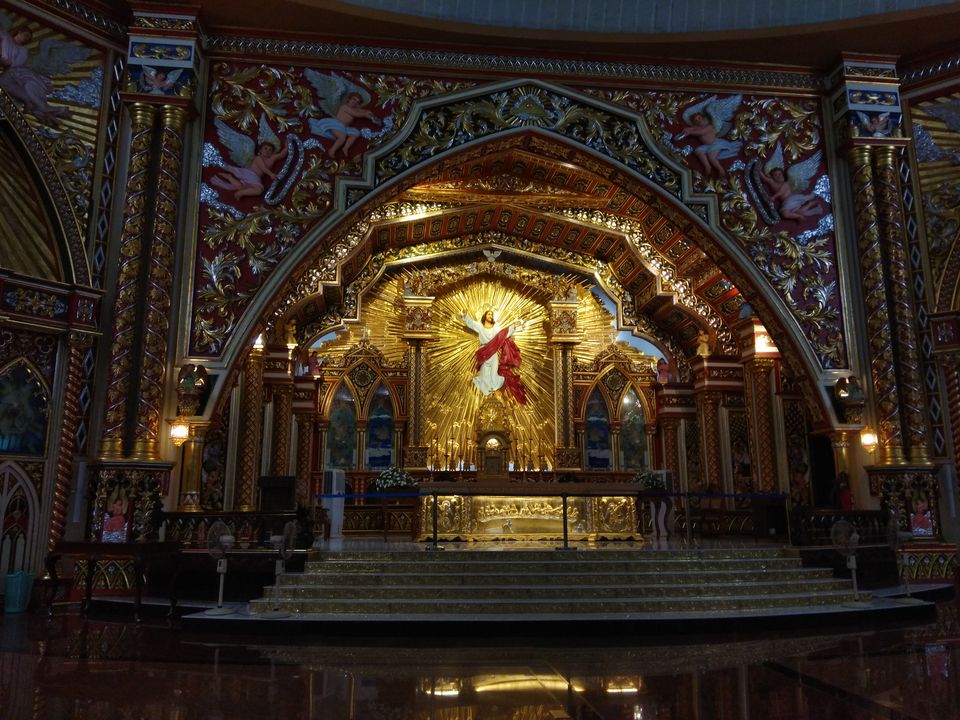 The water from the well adjacent to the church is believed to have miraculous curing power. Devotees drink the water or bathe their heads and faces with this water. Many take it home in bottles. The faithful also collect the soil from the churchyard and take it home.
I been to both the buildings and really enjoyed peaceful atmosphere and divine spirit there which made my day and best decision of going there instead of mall . After spending half and hour at church , i took auto back to mall and joined my friends on our way back to railway station.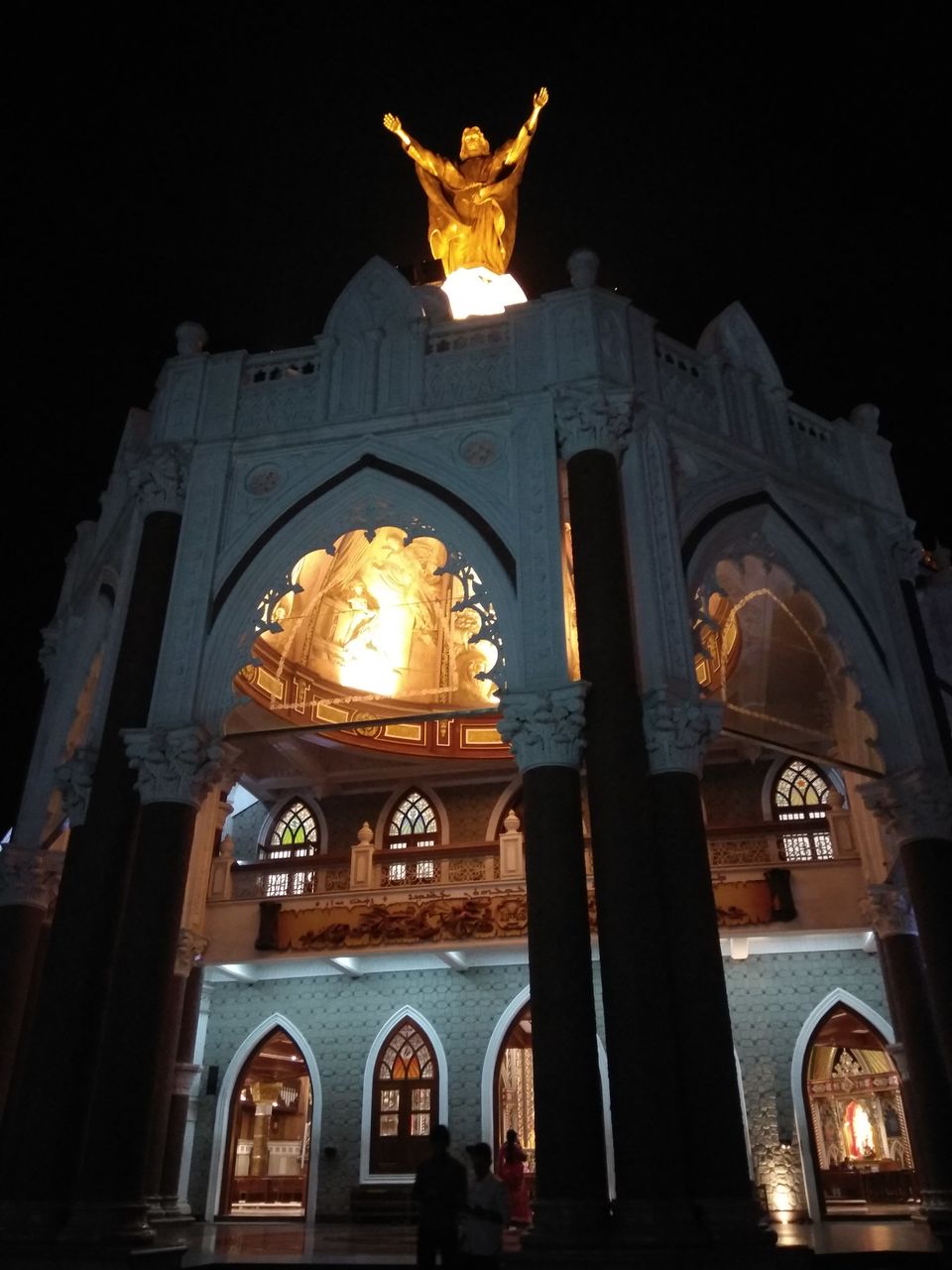 We reached to railway by 8.15 and dropped one of our squad member and we started for airport then.........