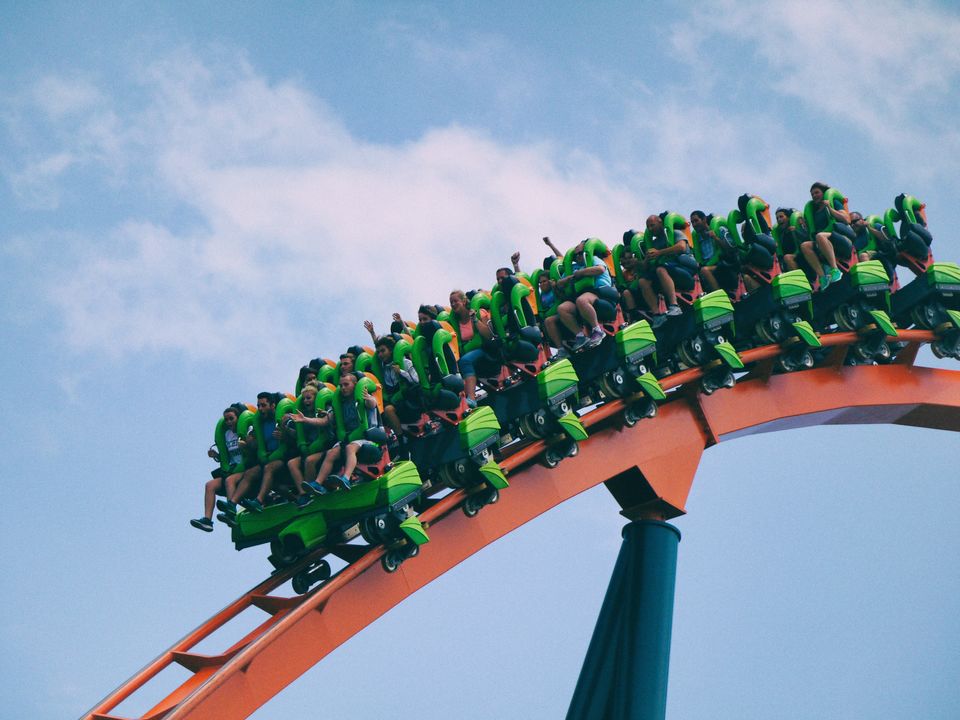 Thrilling drop towers, exciting rollercoasters, grand shows and insane rides are just a few of the things that come to mind when you think of theme parks. But what if I told you that there's a world beyond all the fun and frolic at Disneyland? What if I told you to look on the other side of the spectrum – to switch out your spinning tea-cups and water slides for something darker and more bizarre?
I can't promise that life will be all fun and games at the places mentioned on this list, but I can definitely promise that your visit to these places will definitely leave a lasting impression. From a visit into the depths of hell to a tour of of Escobar's massive mansion, here are some of the most peculiar theme parks around the world.
Love Land in Jeju, South Korea
Imagine this – a huge park, filled with hundreds of giant sculptures, engaged in sexual positions! That is South Korea's Love Land for you. Located in Jeju Island, the park has over 140 such sculptures that represent humans in various sexual positions during several stages. The park also has sculptures of phalluses, labia and various hands-on exhibits such as a "masturbation cycle". The park's website describes itself as being "a place where love-oriented art and eroticism meet."
However, Loveland didn't start out as a sex-themed park. It was actually built as an educational space during the Cold War-era for couples who were wed in arranged marriages and didn't know the first thing about sex.
It is important to note that only those who are 18 or older can get admission to the park.
Entry fee: ₹770 approx (12,000 KRW)
Timings: 9am to 12 midnight
Soviet Bunker in Vilnius, Lithuania
Išgyvenimo Drama isn't your run-of-the-mill theme park. It doesn't offer any spins and drops like a rollercoaster, but it will probably give you more chills and excitement than any ride ever could – because this theme park puts you right inside a Soviet-era prison.
For a few hundred dollars you can spend over two hours experiencing the trauma and torture that so many Soviet-era citizens in Lithuania went through. The action takes place inside a real bunker with former members of the Soviet army as the acting guards. You are forced to give up your possessions, change into Soviet clothes, learn their anthem, wear a gas mask, eat a typical Soviet meal and go through rigorous interrogations and medical checks before the ordeal is over. A congratulatory shot of vodka is served when it's all over.
Entry fee: ₹1,900 approx (£20)
Timings: The schedule for these performances are available online. Alternately you can also email bunkers.info@gmail.com to book a slot.
Crocosaurus Cove in Darwin, Australia
If the name of the place itself doesn't instil the fear of God in you, then imagine swimming underwater and coming face-to-face with the world's largest reptile – the 5 metre+ saltwater crocodile. You can experience this and more at the Crocosaurus Cove in Darwin Australia. Here, you are put into "The Cage of Death"– a clear glass cylinder– that is submerged under water which is full of crocodiles up to 20-feet-long, swimming around you for fifteen minutes.
The croc dive, which is the only one in Australia, became such a big hit that the park owners decided to up the ante by feeding these crocodiles while you're in the tank.
Entry fee: The entrance fee starts at ₹1,800 approx (AUD 35) and the fee for a dive in the 'cage of death' starts at ₹8,800 approx (AUD 170).
Timings: 9.30am to 5pm
Hacienda Nápoles in Puerto Triunfo, Colombia
It seems like Colombia doesn't want to let go of Pablo Escobar's tainted past. Instead of trying to erase his image from the memory of people, the Colombian government has converted his famous mansion into a theme park. A good way to cash in on his black market earnings, right? It has a zoo, a private plane, airstrip, a bull-fighting ring, and remnants of his car collection in addition to all sorts of artefacts that will give you a glimpse into the cocaine kingpin's life.
Entry fee: ₹910 approx (39,000 Colombian Pesos)
Timings: Tuesday to Sunday from 9am to 5pm
Dwarf Empire in Kunming, China
Also known as the Kingdom of Little People, it is exactly what it sounds like – a village filled with dwarves. Located in China's Yunnan province, the village is actually a fantasy theme park, which was founded in 2009 by a real estate developer, Chen Mingjing. There are 100 dwarves living here and they put on shows involving dancing, singing and sports contests. The performers also live in specially-constructed dormitories in the village itself.
The theme park has been the centre of controversy ever since it was launched due to the ethical and moral questions it raises. A number of activists feel that the park reduces dwarfism to a laughable syndrome meant for the entertainment of others. Mingjing and the dwarves however argue that it provides employment to people who otherwise found it difficult to find work elsewhere.
Entry fee: ₹710 approx ($10)
Haw Par Villa, Singapore
Like a nighttime journey in a Haryana Roadways bus, Haw Par Villa can take you through hell and back in just a few short minutes. The main aim of the theme park is to introduce tourists to Chinese folklore and mythology. It has over 1,000 statues and 150 dioramas depicting famous Chinese legends, but the main attraction is the 'Ten Courts of Hell', which is a gruesome exhibit showcasing hell as imagined by the Buddhists. Fun or not, you will definitely come back with a lasting impact .
Entry fee: none
Timings: 9am to 7pm
BonBon Land in Denmark
Located in a small town in Denmark, BonBon-Land is an adult-oriented theme park which is ironically most popular among children! Its history dates back to the life of a Danish candy-maker, Michael Spangsberg, who got popular with children after producing wacky candy with funny names. The candy got so popular that children wanted to visit the factory to see how it was made. But a tour of the factory was out of question due to hygiene issues, which is why Spangsberg came up with the idea of a theme park.
BonBon-Land features several gross visuals, jokes and rides – boogers, farts, faeces, and boobs are just some of them.
Entry fee: ₹1,600 approx ($149 DKK)
Timings: The park only functions during specific months and seasons. You can check the opening and closing dates here.

World Joyland in Changzhou, China
Themed after the popular massively multiplayer online game World Of Warcraft and Starcraft, World Joyland is like a dream come true for cosplayers and gamers. But this is not officially endorsed by Blizzard, the company that makes these games, and is essentially a rip-off. However, that is not the only thing that this theme park has ripped off. It also emulates a globe, similar to the one in Universal Studios, at its entrance. Transformers, Doraemon, Hello Kitty, Garfield, DC and Marvel character replicas can also be found here.
Despite these factors however, it has been massively successful and popular with locals as well as people from across the world.
Entry fee: ₹200 approx ($2.75)
Timings: 8am to 5.30pm
Ferrari World, UAE
If speed and adrenaline is your thing then a trip to the world's largest indoor theme park might just be the thing for you. A gigantic shrine to the Italian sports car brand, Ferrari world aims to transport you into the driver's seat of an F1 race-car. There are over 20 rides, shows and tours, but the Formula Rossa is the best and most exhilarating one by far. What is Formula Rossa? It is the fastest roller coaster in the world and it'll take you up to a speed of 149 miles per hour in under 5 seconds.
Entry fee: ₹5,700 approx (295 AED) for adults and ₹4,500 approx (230 AED) for children
Timings: 11am to 8pm
What is the most insane experience you've ever had at a theme park? Share it with us in the comments or write about it on Tripoto and share your story with millions of readers.