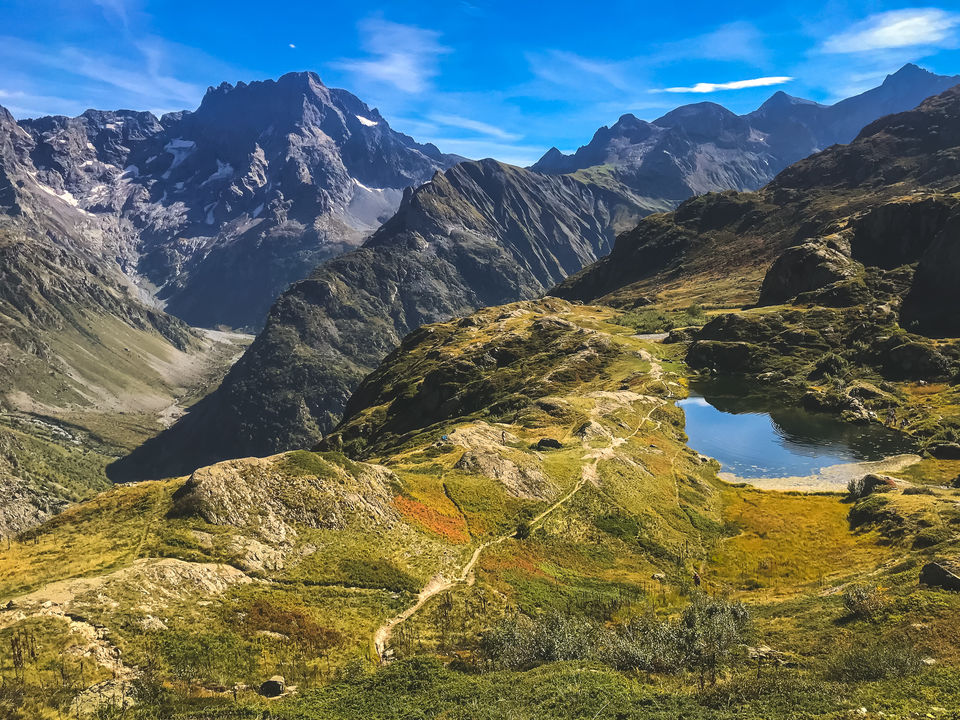 If hiking and adventure at heights of 2000m is what you're searching for, you've landed on the right page. I'm writing this itinerary for the French Alps as a resident of Gap for the past 2 years. Gap is a tiny city in the south-east of France with a mere 40,000 people and is known for its warm 300 days of sun. But, in the 2 years that I've lived here, most people- French and otherwise -just scoffed at me for living in this so-called "village". Sure, it's small and culturally not very stimulating but the lovely people I met here and the striking French Alps that surround this beautiful town are the reasons why I'm still captivated. With markets every Wednesdays and Saturdays from 7am to 12pm, people trustworthy enough to return a lost phone and wallet at the mayors office (two separate occasions) and even hitchhiking to and from the mountains, this city will not disappoint.
Being very close to the Italian border and the Mediterranean coast, the architecture in Gap is vibrant and full of warm colours. Being in a valley at 750m above sea level and the biggest city of the department, Gap is the perfect location to set your anchors (with plenty of reasonable airbnbs and cheap hotels in and around the city centre) while discovering the region.
Trekking around the region will require renting a car because the public transport will not take you to the base of the summits. You can rent a car in Gap itself or in the city you arrive in before you drive up to Gap.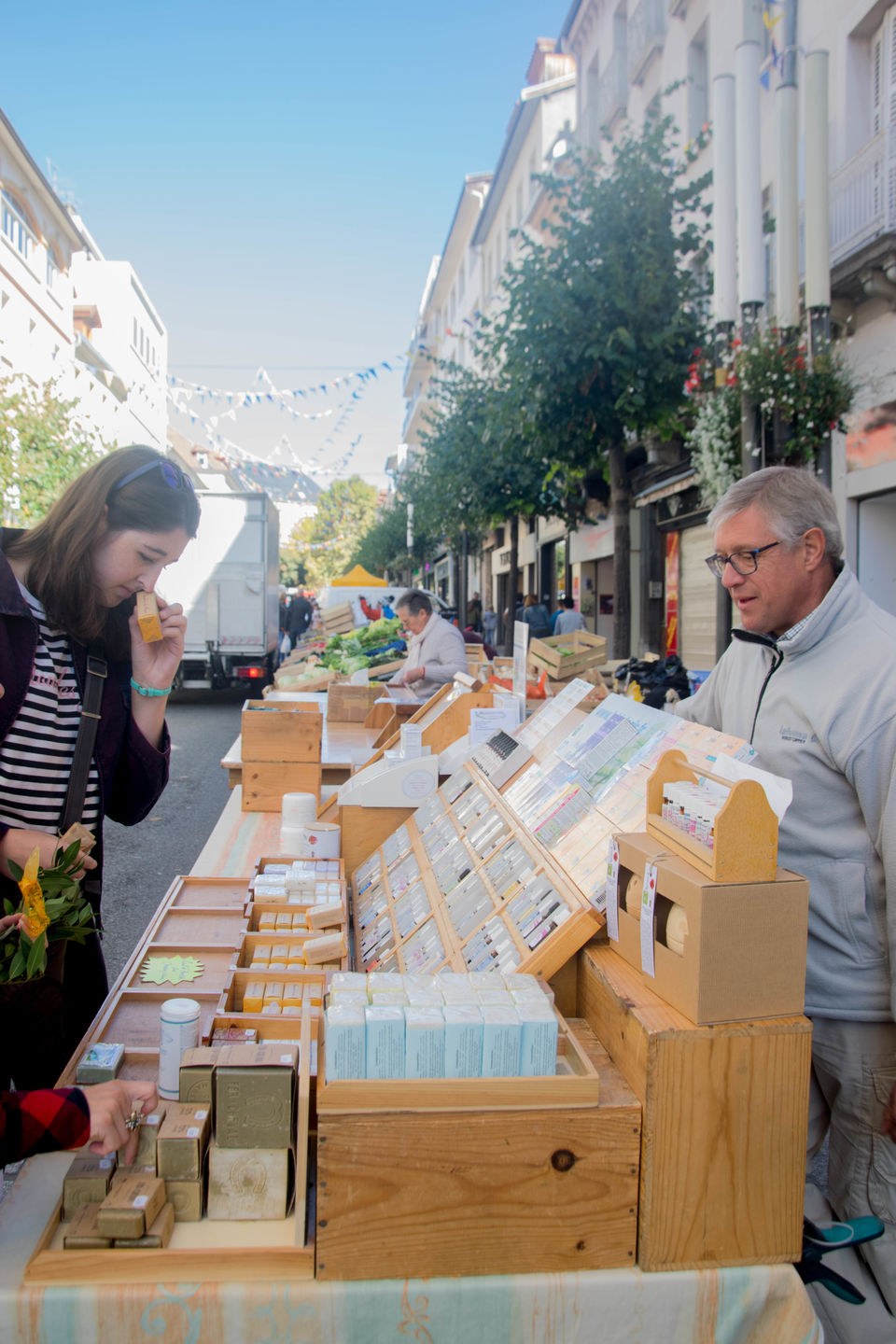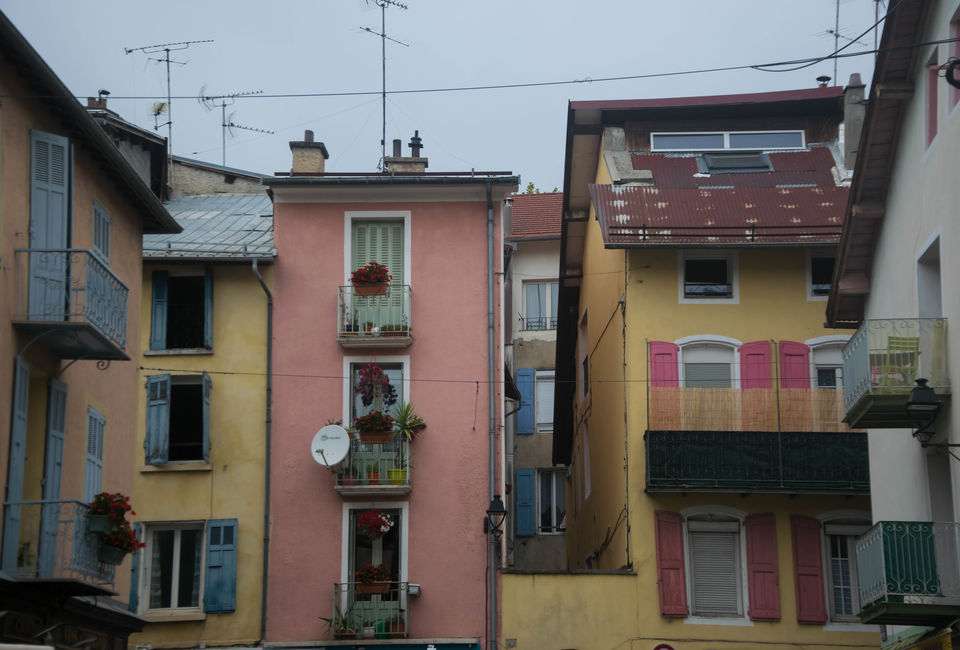 A great place to start your trip is the Gleize Peak (Pic de Gleize) . A 20-30 minute drive from the city centre will get you to the parking au col (1696m). The peak is at an altitude of 2161m and the total time for the trek is around 3-4 hours.
My friend Remi, who has been living in Gap for the last 10 years, who has climbed up this peak several times before, suggested we climb up from the south-east instead of taking the usual route up because there's a little bit of rock climbing involved which would be easier for me, since it is climbing up, not down. (But, if rock climbing down some steep rocks for a couple of feet floats your boat, don't hesitate.) At the top, just before the peak, we found a little cave with a tiny box with a book to leave notes, a couple of lighters and if you're lucky like we were, you might even find a granola bar for energy, left behind by fellow hikers. From the peak, we had have an incredible view of Champsaur, Vieux Chaillol and the national park of Écrins.
Lac de Serre Ponçon is one of the biggest artificial lakes in Europe and is only 20 minutes by bus from the Gap station. A bus to and from the lake (Bus stop: Savines-le-lac village) costs a mere 4 euros, to and fro.
I have been there on multiple occasions, once it was for a small and easy hike around the lake. Another time, it was with a picnic of baguettes and cheese, wine. We carried our speakers and mats and were just sunbathing on the shore for hours, which, if you ask me, is the ideal way to relax.
If boating is something your'e fond of, you can also rent a boat and drink some wine there. I don't think it matters whether you're on land or water, as long as you have a bottle of wine.
After a calm day at the lake, Pic de Morgon is a slightly more difficult trek you can accomplish. You can park your car at the Grand Clot parking lot (1660m) and then follow the trail in the forest to the Portes de Morgon. Past Porte de Morgon, cross the shepherd's hut while respecting its tranquility before attacking the climb (carefully, so as not to aggravate the erosion that takes place here). Climb to the top, where you will find the old orientation table which was struck in half by lightning. From above, the view of the two branches of Lake Serre-Ponçon is striking. You can take the same trail down as well.
I happened to have quite a terrifying experience when I went up there which consisted of taking the wrong trail down, rain on slippery rocks, menacing black clouds and a lightning storm. To read more about my adventure click on this link: https://www.tripoto.com/trip/pic-de-morgon-a-cautionary-tale-5c7c4e6db1451
You can, however, check the weather forecast and go on a sunny day and enjoy walking through the beautiful meadow, climb up to the peak and marvel at the orientation table that is struck in half by lightning and I'll always thank my stars that it was just the table.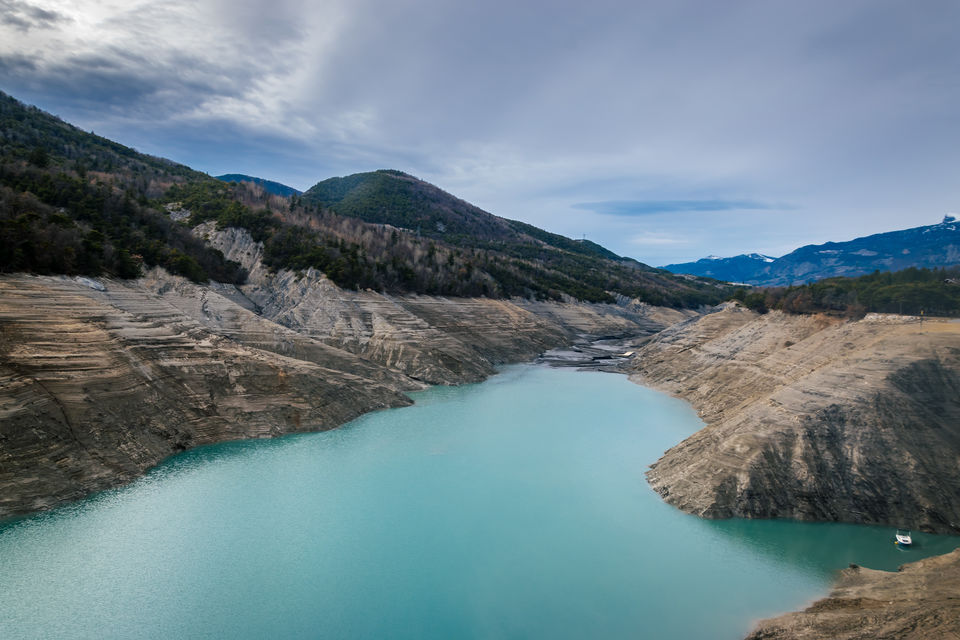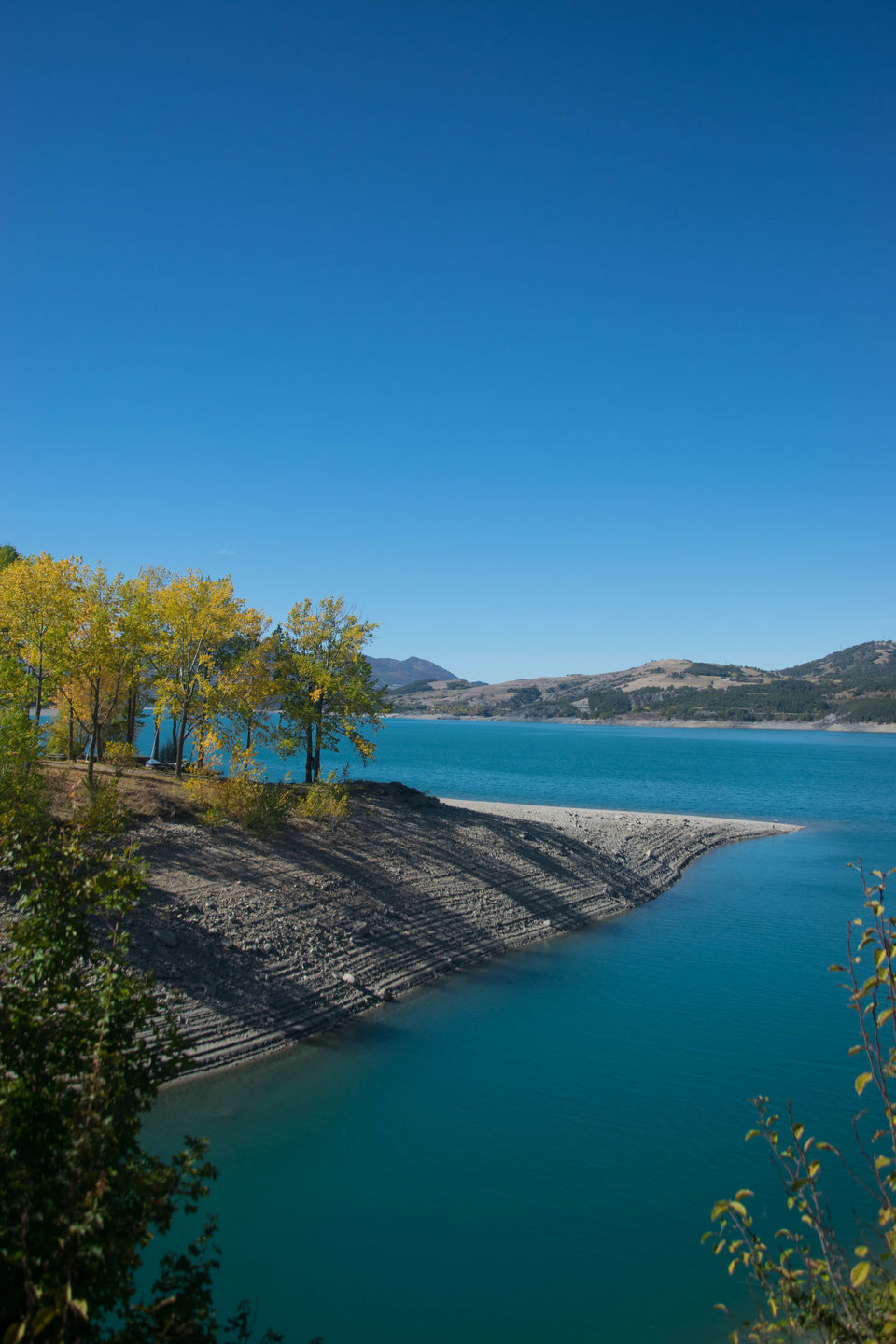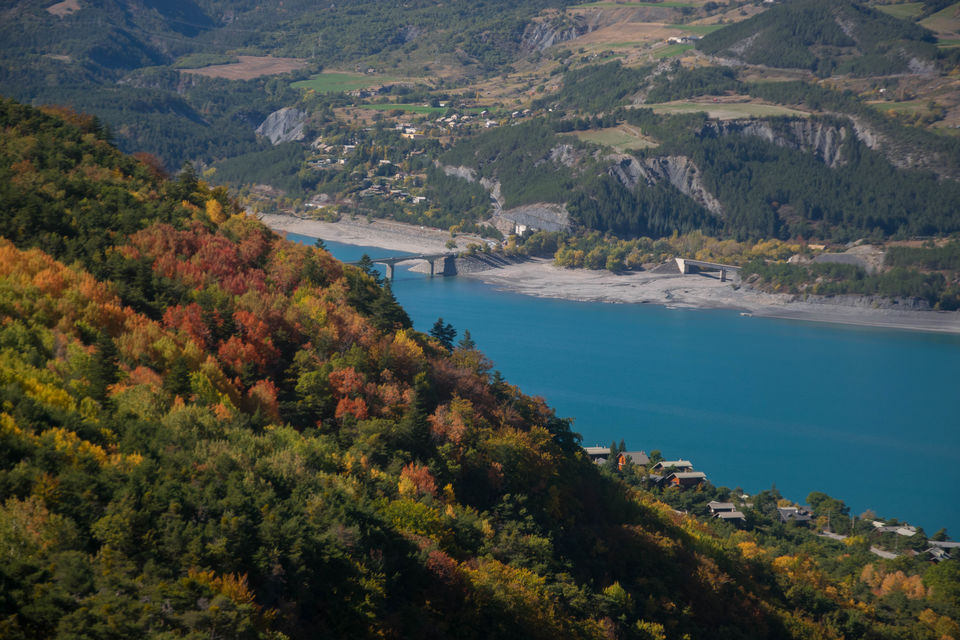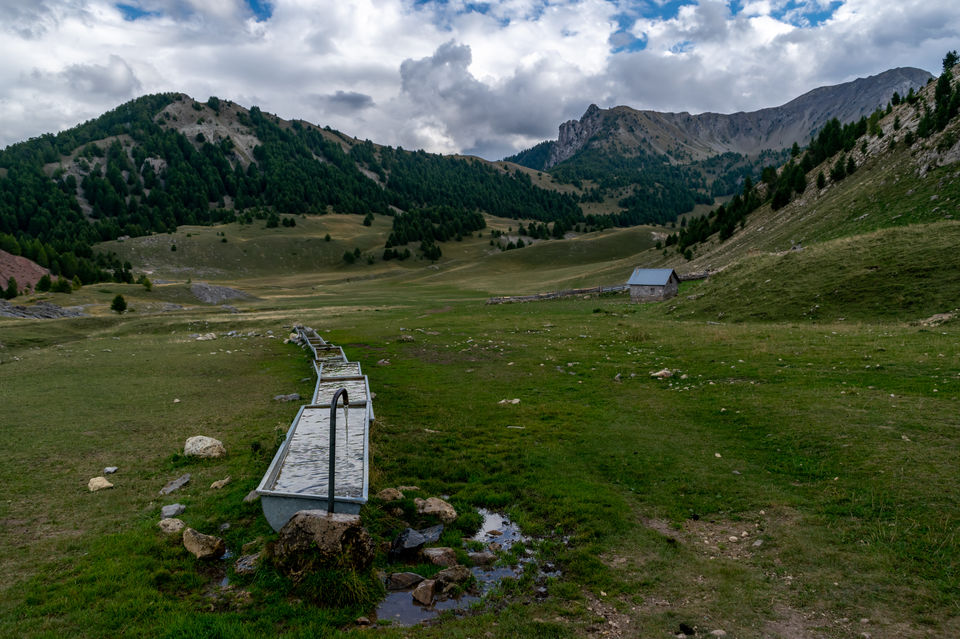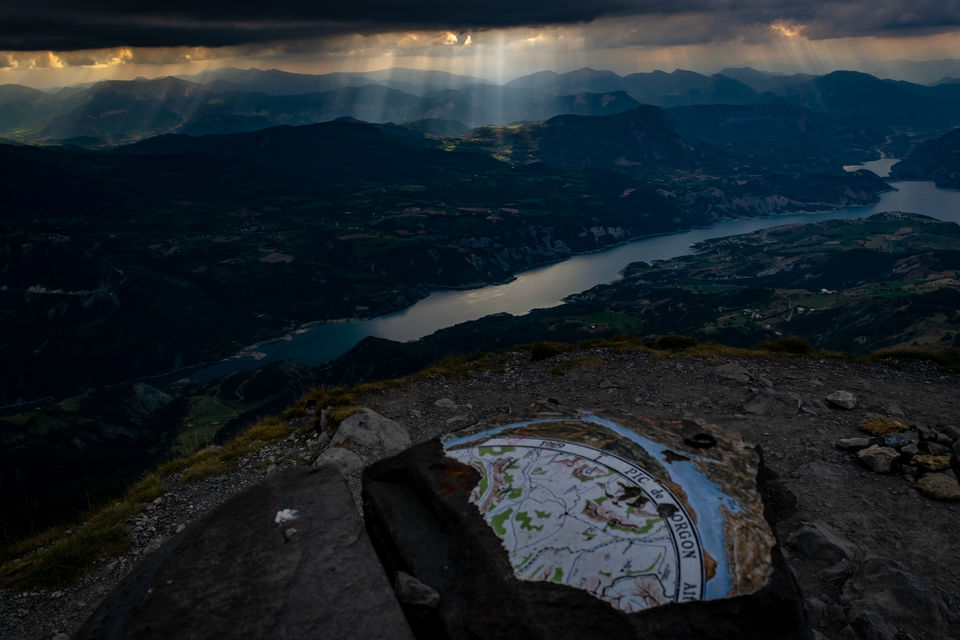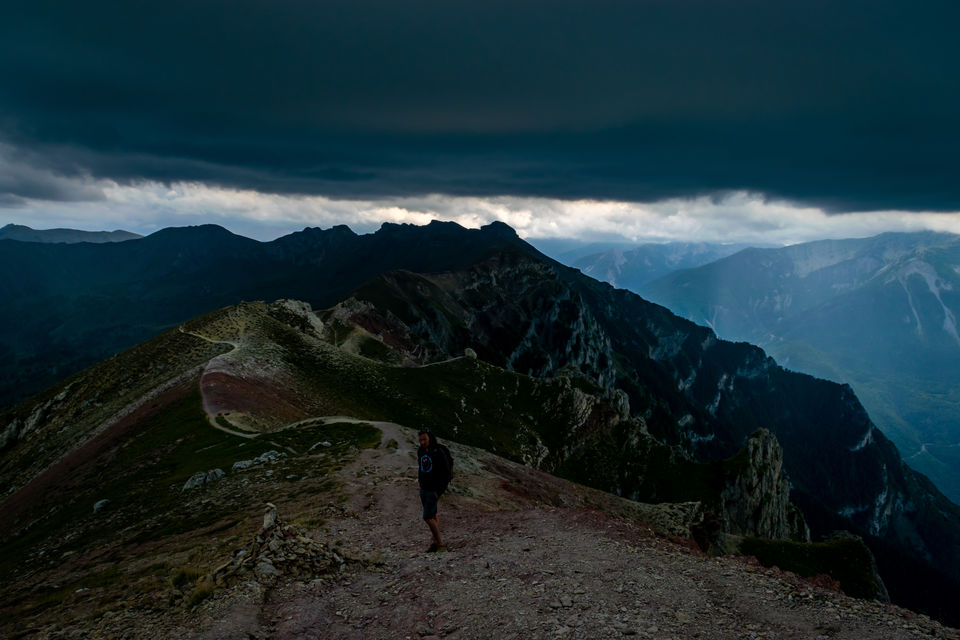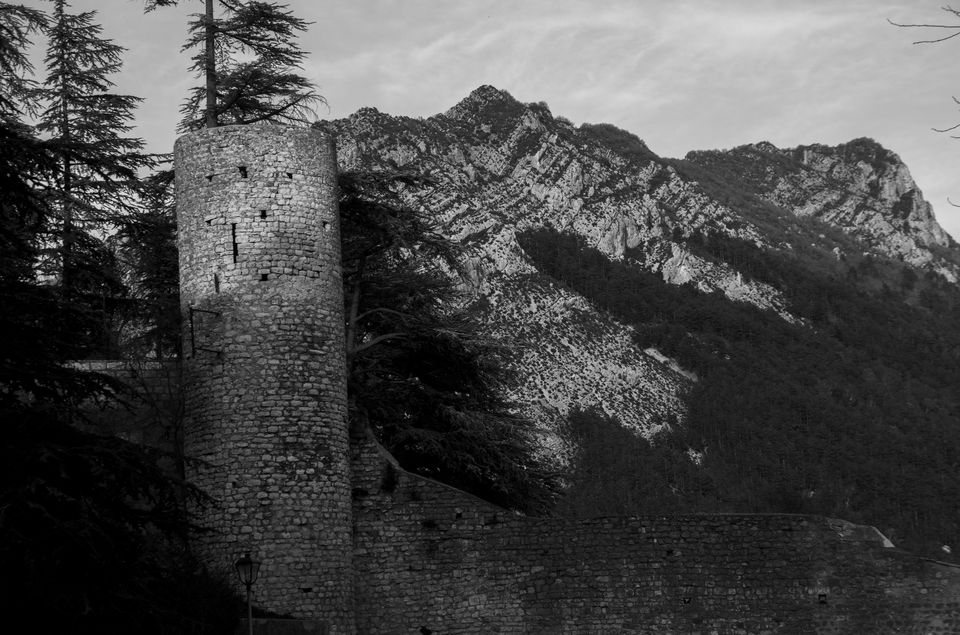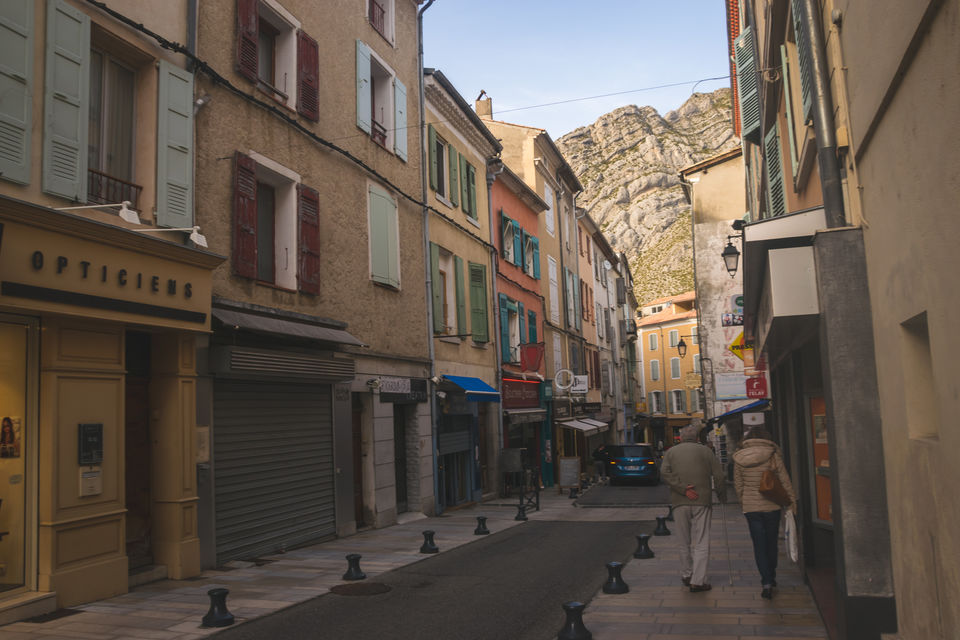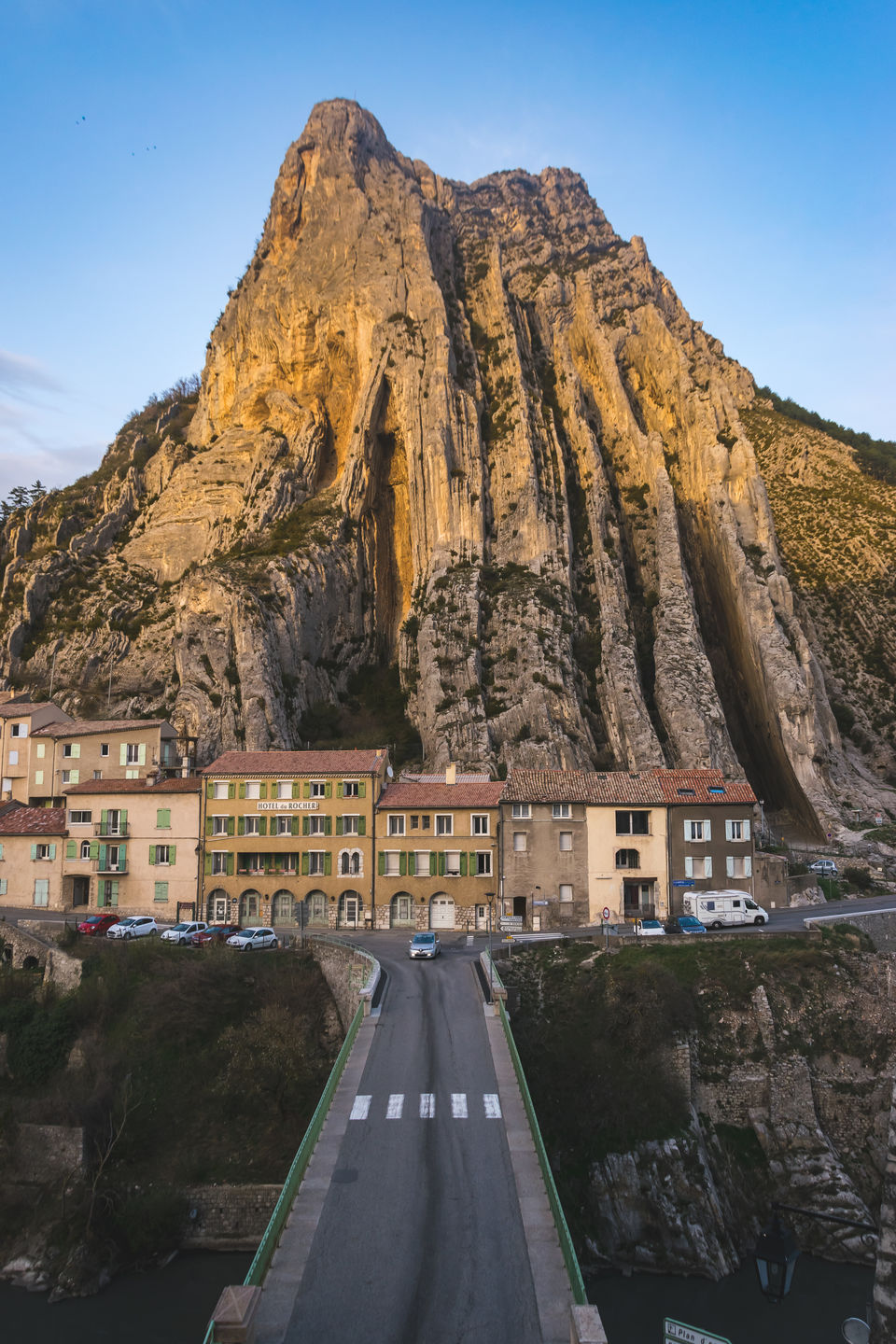 You can recover from this gruelling hike with a day trip to a nearby town called Sisteron. A short 45 minute drive from Gap by car, Sisteron is known as the pearl of Hautes-Provence. The citadelle on a hilltop, the museum and Gallo Romain and the church are worth a visit. There is a route to hike up as well and many Creperies to satisfy your sweet-tooth.
My friends and I drove to Sisteron on a fine day in Spring. We reached there around lunch time had some delicious crêpes and then walked around the streets for a while. We climbed up to the top of the city to see the citadelle and had a lovely photoshoot in the grass because we were celebrating the onset of Spring and warmth. The city was very calm and vibrance of the streets just made us feel very optimistic at the end of the day.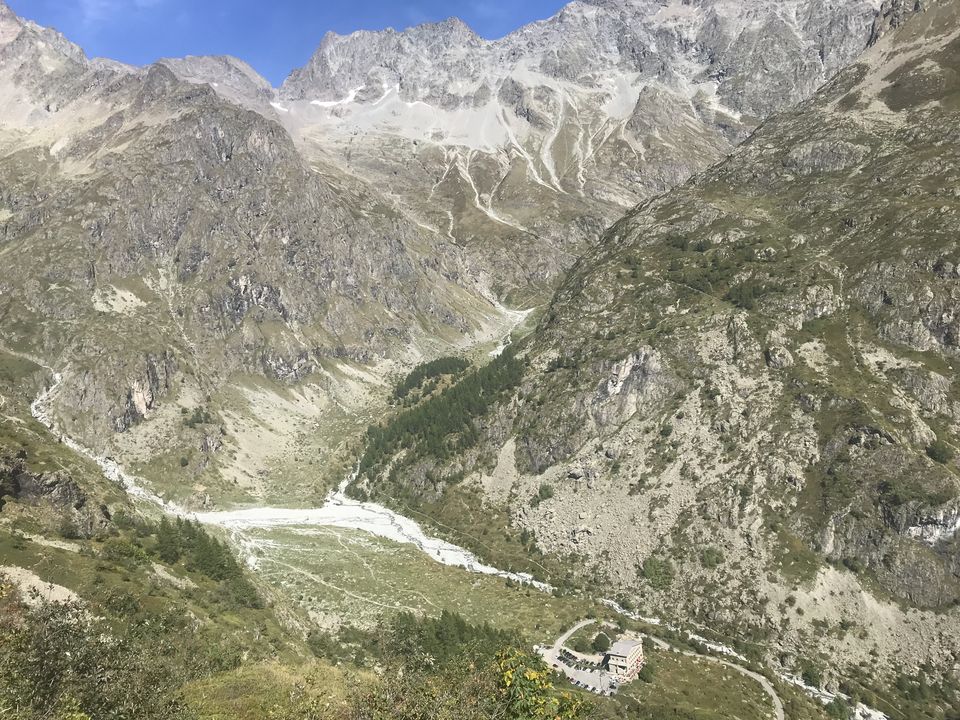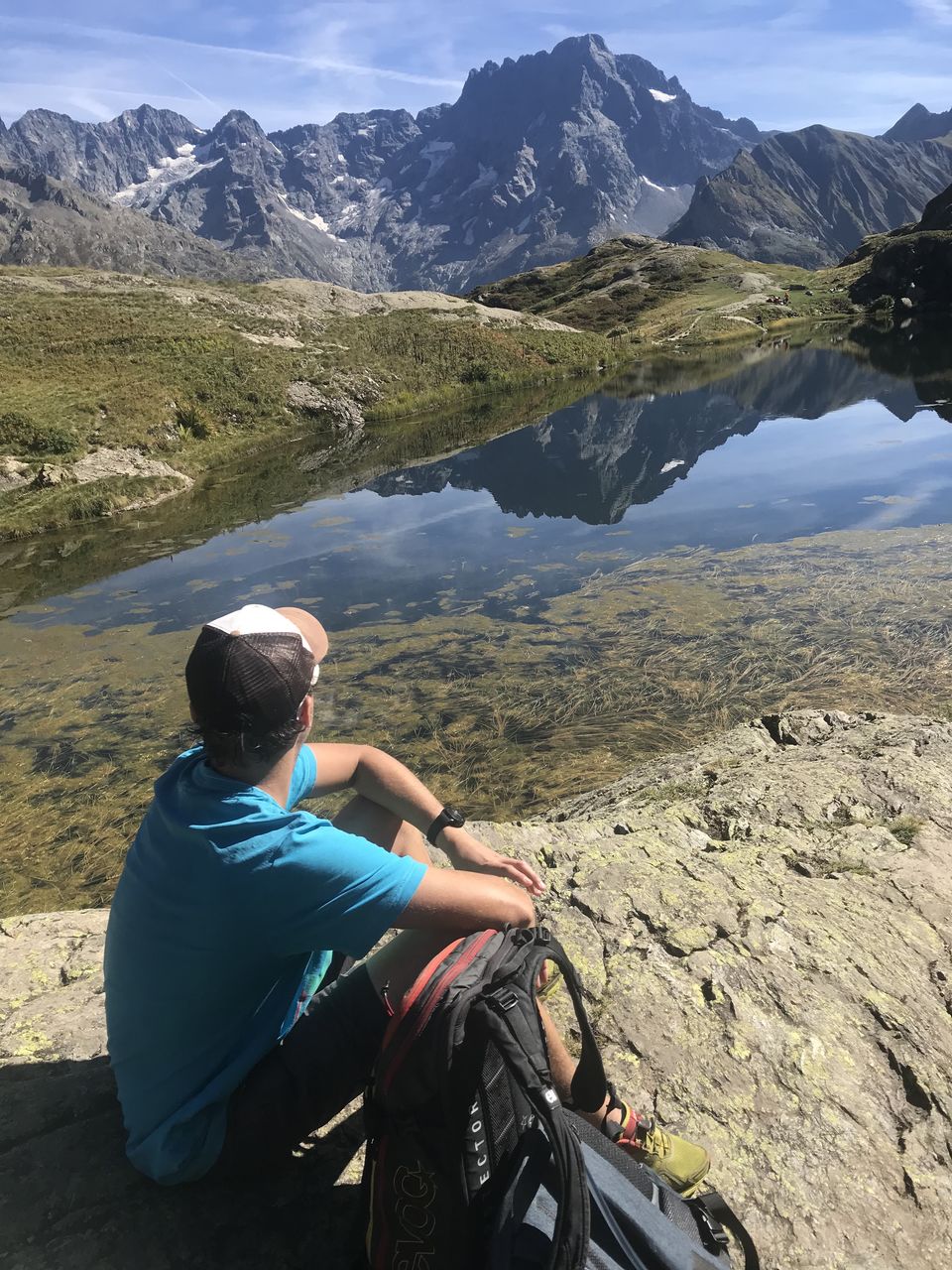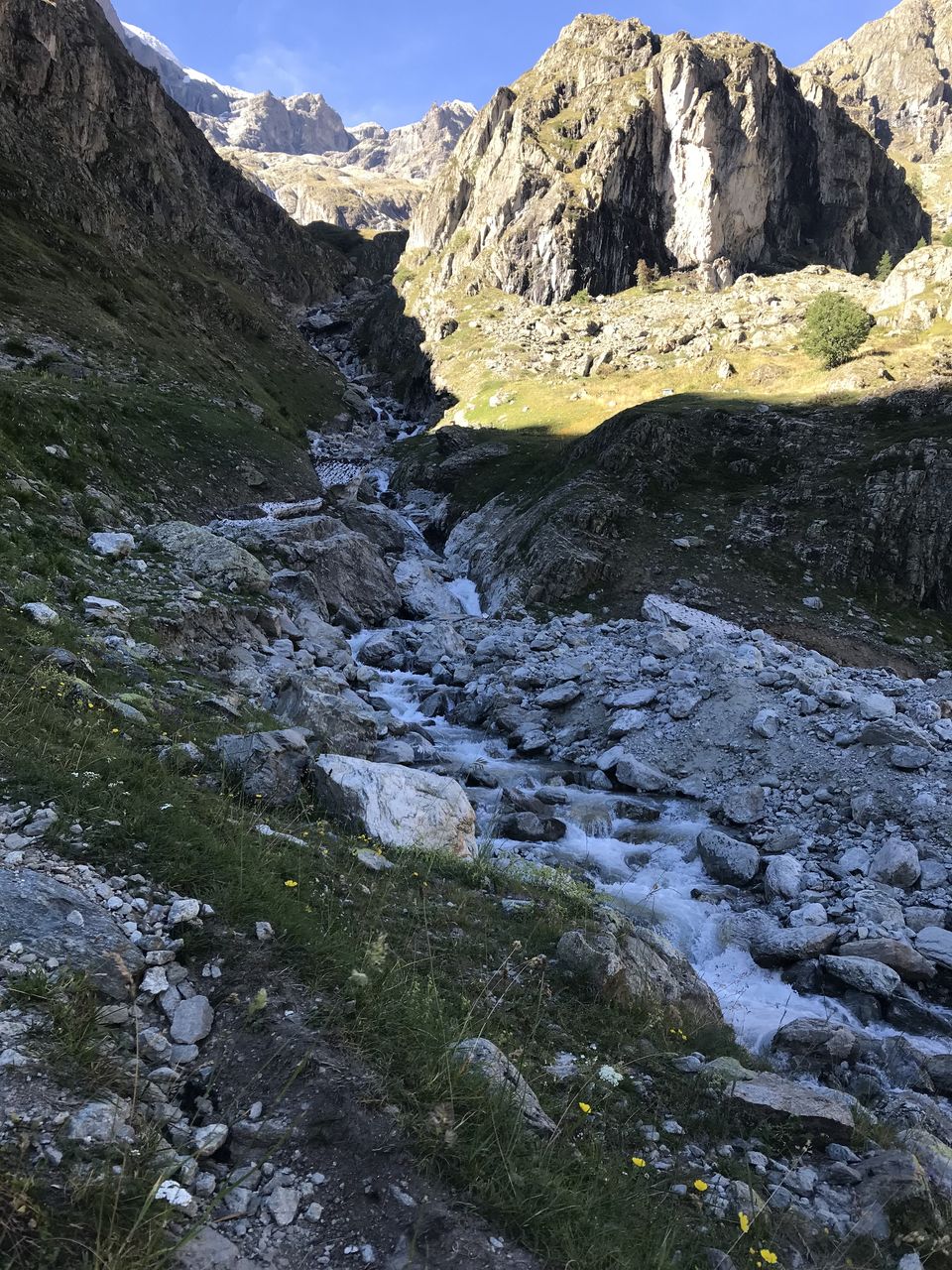 Lac du Lauzon, my favourite hike, saved for last. This is an hour long drive from Gap but definitely my favourite. You can park your car at Chalet-Hôtel du Gioberney, La Chapelle-en-Valgaudémar after which ,the route is pretty easy to follow up to the lake. It takes about 2 hours to reach the lake and another hour to come back down. Depending on how hot it is, you can take a refreshing dip in the lake or under the waterfall to cool down.
In any case, if you are not used to hiking, I wouldn't recommend going alone or going with people equally clueless as you, unless there are lots of people you can follow or you are 100% sure you know what you're doing. It is also very important to check the weather forecast because you don't want to get caught in a situation you can't get out of. The most important tip would be, knowing when to say no and not doing stupid things in the mountains that can put your life in danger. If you're unsure, you could always hire a guide.
If you land in Paris, you can take an overnight train that reaches Gap early in the morning and can be as cheap as 30 euros. If you land in Marseille, there are many trains to Gap for 20 euros and it takes about 4 hours or blabla cars (an intercity carpool service application that is very trustworthy) as well. As for the stay in Gap, there are numerous beautiful airbnbs that cost about 20 euros per night in the centre of the city from where the restaurants, bars, supermarkets, station and bus stop are accessible on foot. I suggest visiting this region during the months of April-May for Spring or September and October for Autumn. During June and Juy, it gets way too crowded and the temperature reaches more than 30 degrees. Whereas Spring and Autumn are hot enough to hike during the day and cool enough to enjoy the cool breeze by night.
Must try foods in this region include Tourtons (they are like fried pockets, they can be sweet and savoury) , Oreilles d'ânes ( which literally translated means Donkey's ears but, it's just wild spinach gratin and crepes/lasagna. It is named so because cooked Spinach resembles floppy donkey's ears) and Raviolis (The Champsaur ravioli is a kind of quenelle, made from potatoes and eggs). The best restaurant for all the cheese-lovers to try a raclette and fondue is "Le refuge" in Gap, where you should try the after meal digestive liqueur called "Génépi" which is made from flowers in the region ( Keep in mind that it is really strong). If you're craving Asian food, I'd suggest "Saveur d'Asie", for burgers "Chez Fred" and for some good old pizza "Giuseppe". For drinks, my favourite go to bar is "Au Ch'ti Bar" which is famous in Gap for its Belgian Beers. "Bistrot Gapençais" and "The Black Lions" are also great bars. If you're looking for something slightly upscale or fancy I'd recommend Le Beau Soleil. All of these are in the city centre and you can just walk from one to the other. If you're feeling like dancing one night, believe it or not, this small city has a nightclub about a kilometre and half from the city centre. It's a 25 minute walk but guess what? You don't have to walk all that way. Instead, you can call them up and request a shuttle to come pick you up and drop you back home at the end of the night. Isn't that just so nice?