Trekkers hold a special place for Uttarakhand in their hearts. If you're a mountain lover, it's not hard to explain what makes treks in Uttarakhand so incredible. Almost all trails here give majestic views of the snow-capped Himalayan mountain ranges. The treks here somehow seems much more rewarding here than anywhere else. 
Glacier treks in Uttarakhand have their own charm. While Pindari Glacier is one of the most popular trekking spot, there are several other glaciers around the same region which can be explored with the help of trek guides and porters but if you're an experienced mountaineer, you can attempt it independently.
Note: Several trekking organisations which can be found online provide trek guides and porters for these treks. You can also enquire about the guides at the respective basecamp for these treks. All mentioned treks should be avoided during monsoon season.


Pindar Valley has been an intriguing location for explorers since the last century. As an ancient trade route linking the Kumaon Himalayas to Tibet, it is a cultural hotspot too. The glacier is located at a scenic spot between Nanda Devi and Nanda Khot peaks and it marks the origin of the Pindar river. During this trek, the trail follows the Pindar river from Khati Village all the way to Zero Point. This is a six-day long moderate trek that can be done quite easily. However, trekkers should be moderately fit.
How to reach: Buses and trains to Kathgodam are available from New Delhi and on reaching Kathgodam, taxi can be hired from to Bageshwar or directly to Loharkhet.
Trail: Loharket- Kharkiya- Khati-Dwali- Phurkiya- Zero Point- Phurkiya- Dwali- Khati- Loharkhet
Duration: 6 days
Highest Altitude: 12,300ft
Gradient: Moderate
Best time to visit: April to November
Read More: Pindari: The one trek where Zero is the epitome of success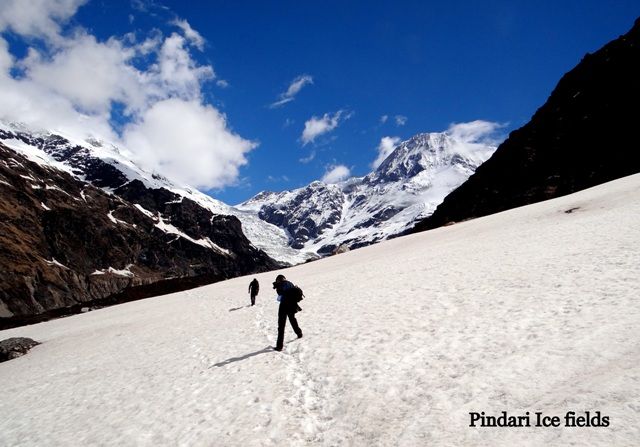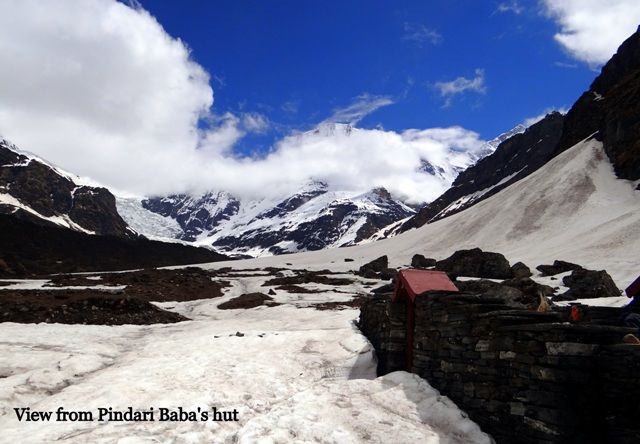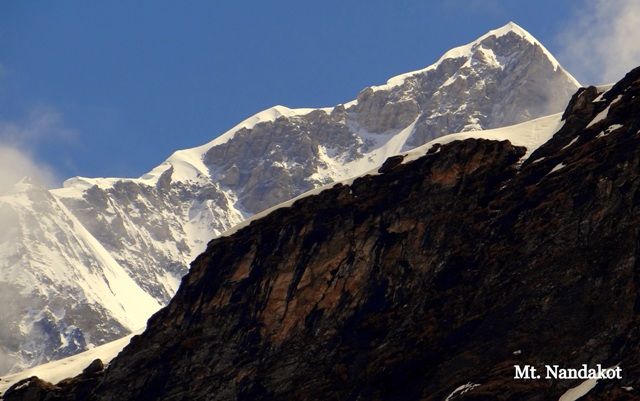 Mostly Kafni glacier trek is clubbed with the Pindari trek experience. However, if you do not want to indulge in an strenuous activity, Kafni Glacier in itself is quite a fulfilling experience. The trails starts from Loharkhet but diverges from Dwali. Kafni Glacier is the origin of the Kafni river which later meets the Pindar river. The trail starts with the view of Nanda Khat and Maiktoli as you climb Dhakuri Pass. Upon descending to reach the Pindar Valley, yu reach the point where Kafni and Pindar river meet and from here, you follow the Kafni river all the way to it's origin.
How to reach: Buses and trains to Kathgodam are available from New Delhi and on reaching Kathgodam, taxi can be hired from to Bageshwar or directly to Loharkhet.
Trail: Loharket- Dhakuri- Khati- Dwali- Khatia- Kafni- Dwali- Wachum- Dhakuri- Loharkhet
Duration: 6 days
Highest Altitude: 12664 ft
Gradient: Difficult
Best time to visit: April- May and September- October
Read More: Kafni Glacier- Views of the magnificent Himalayan peaks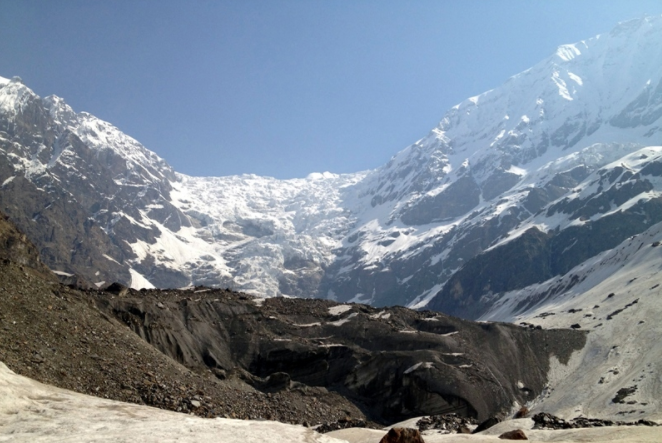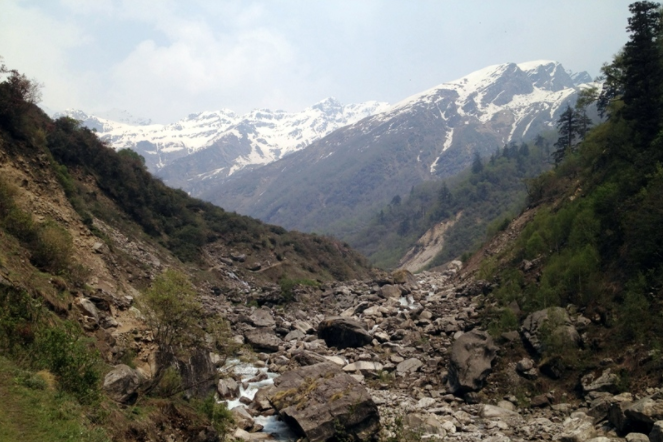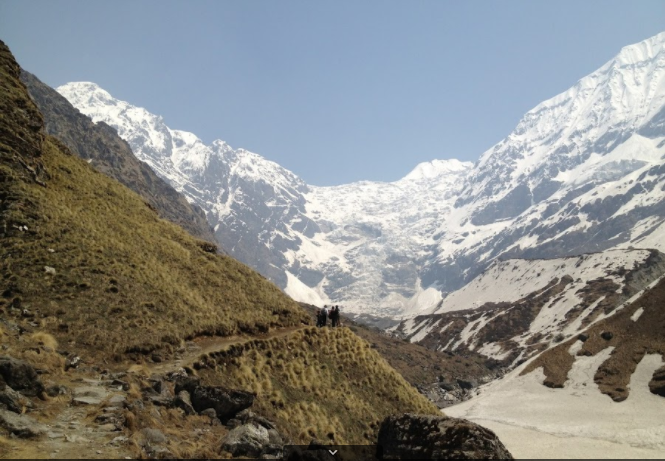 The trek starts from the picturesque village of Chaukori which is an offbeat tourist destination in Uttarakhand. You can find a suitable trekking company online that can provide guides and porters to accompany you on this rather strenuous trek. The trek starts from Chaukori with an incredible view of the Panchachuli Ranges at a distance. The trail leads you to the beautiful Senar Gad meadows on the first day. In the coming days you traverse through Sudamkhan and Hiramani Glacier leading to Namik Glacier. On this trail Namik village and Gogina are two villages where you can find traces of the old Indo-tibetan trade route that ceased to be used after the 60s.
How to reach: The closest railhead reach the basecamp for this trek is Kathgodam. Frequent buses are also available from Delhi to Kathgodam at all hours. From outside Kathgodam Railway station, taxis are available that can take you to Munsyari or directly to Chaukori from where the trek starts.
Trail: Chaukori- Senar Gad- Dhaldauk- Sudamkhan- Hiramani Glacier- Namik Glacier- Sudamkhan- Namik Village- Gogina- Liti- Bageshwar
Duration: 10 days
Highest Altitude: 11811 ft
Gradient: Difficult
Best time to visit: April to June


On this trek to Bagini Glacier you follow a round trail which starts and ends at Jumma , a village on the Joshimath Malari highway. The trail takes you to Ruing village next which is 2 to 3 hours away from Jumma. The steeper terrain starts after Ruing and lead to a village called Chaza which exhibits the terrain of a cold Himalayan desert. The trail gets steeper and next on the trail comes the village of Dunagiri. In the next two days, you can reach Bagini Glacier which falls on the northern side of the Nanda Devi Peak. The view of peaks like Kalanka, Changbang and Dronagiri, make this trek unmissable for mountain lovers curious about the Garhwal Himalayas.
How to reach: Trains and buses are available to Haridwar in Uttarakhand which is the closest railhead for this trek. From Haridwar, taxi can be hired to reach Joshimath. This would be almost a 6-hour long drive. On the second day, the basecamp at Jumma is only an hour away from Joshimath by taxi.
Trail: Jumma -Ruing- Chaza- Dunagiri- Longatulli- Bagini Glacier and Changbhang Basecamp- Dunagiri- Jumma
Duration: 9 days
Highest Altitude: 14,814 feet
Gradient: Difficult
Best time to visit: May- June and September- October
Read More: Bagini Glacier Trek by Abhinaba Naskar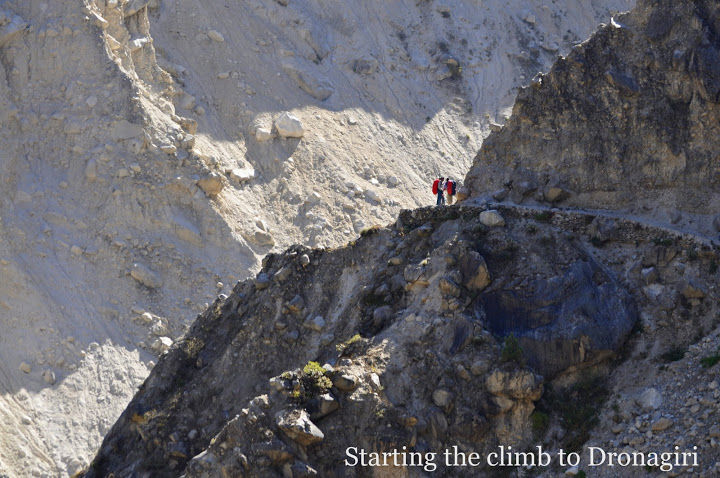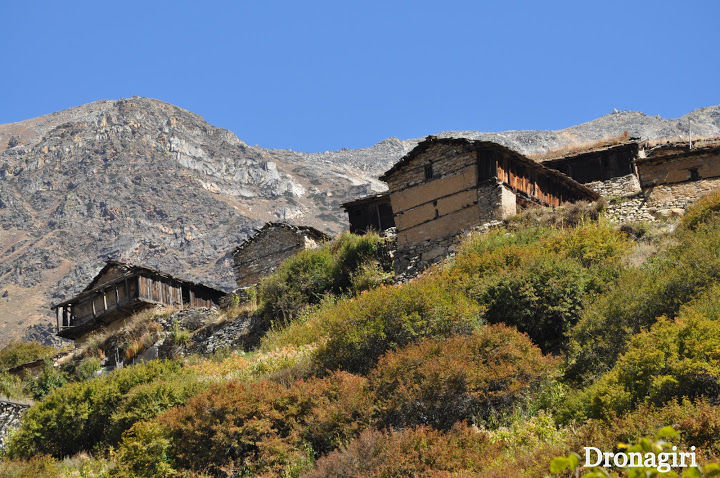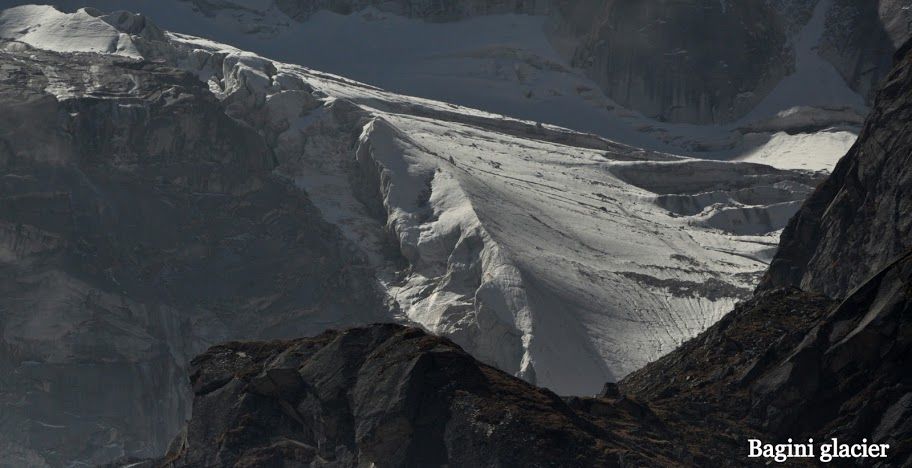 Milam Glacier is located 60kms from Munsyari and the complete trek is almost 114 kms. This glacier is the origin of the Gori Ganga river and the trail of the trek also runs along this river. This glacier lies at the base of Mount Trishul which is a majestic 7065m peak and it can be viewed on several occasions on this trek. Another highlight of the trek is the view of the Nanda Devi Peak on reaching Pachu Glacier on the eighth day. Trekkers also often take a day off here to acclimatize. For this 11 day long trek, several trekking companies in Uttarakhand provide guides and porters. You can also find guides in Munsyari for this trek but do make sure to take an experienced crew who know the route well.
How to reach: Kathgodam is the last rail head to reach Munsyari in the Kumaon region of Uttarakhand. Buses are also frequently available from New Delhi ISBT for Kathgodam throughout the day. You can hire a taxi for Munsyari from outside the railway station or the taxi stand. You can also spend a day in Almora or Ranikhet before proceeding to Munsyari from there.
Trail: Munsyari - Lilam- Bugdyar- Martoli- Ganghar- Pachu- Milam- Milam Glacier- Rilkot- Bugdyar- Lilam- Munsyari
Duration: 11 days
Highest Altitude: 12700 ft to 18000 ft
Gradient: Difficult
Best time to visit: May-June and September- October
Have you been on one of these treks in Uttarakhand? Tell us about your experience on the comments section below. If you have explored any other trek in Uttarakhand, write about your experience and help other travellers explore these trails.