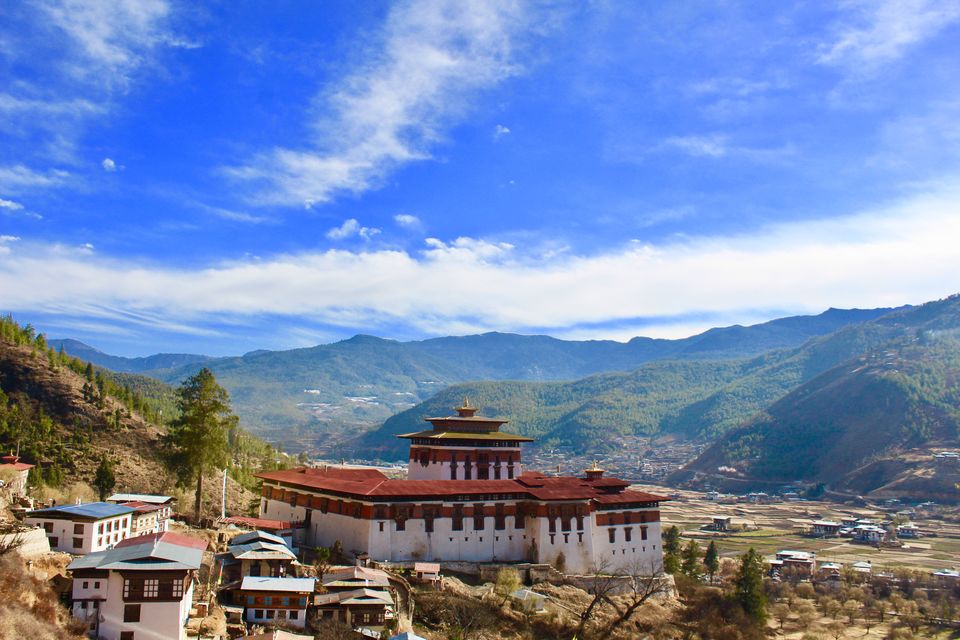 Breathless after seeing the views of the Himalayas from flight to Paro followed by landing on one of the most challenging airports of the world (only 8 pilots in the world are certified to do that), we were soaking ourselves in the natural beauty of the place right from the Airport itself.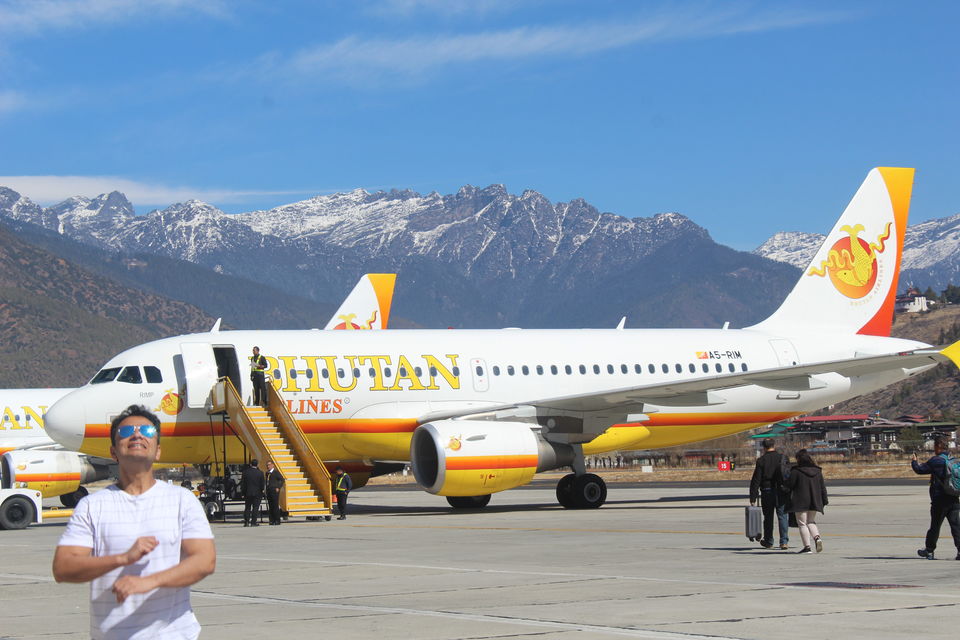 Super happy we were to land in such a beautiful country, we made our ways out of the Airport and booked a taxi. Penniless (cash), we were so we headed towards an ATM for withdrawing cash followed by eight of them. Clueless, we headed to another one, where somebody asked us to check the backside of our International debit/credit cards, only to found this-
"Not valid for payment in foreign exchange in Nepal and Bhutan"
Our driver (who was a complete stranger) offered to help us and told him that we will first transfer the money to his bank account.
Bhutan bank accounts do not have IFSC code and that made us unable to transfer the money to his account.
Lambu (Our taxi driver) was still there with the offer (the money he had was what he earned that morning and that too he was offering to us). We must have been sad at how we are going to stay in a completely strange country without any money but we were smiling, stunned by his generosity. We knew that this trip is going to give us goosebumps in many more ways.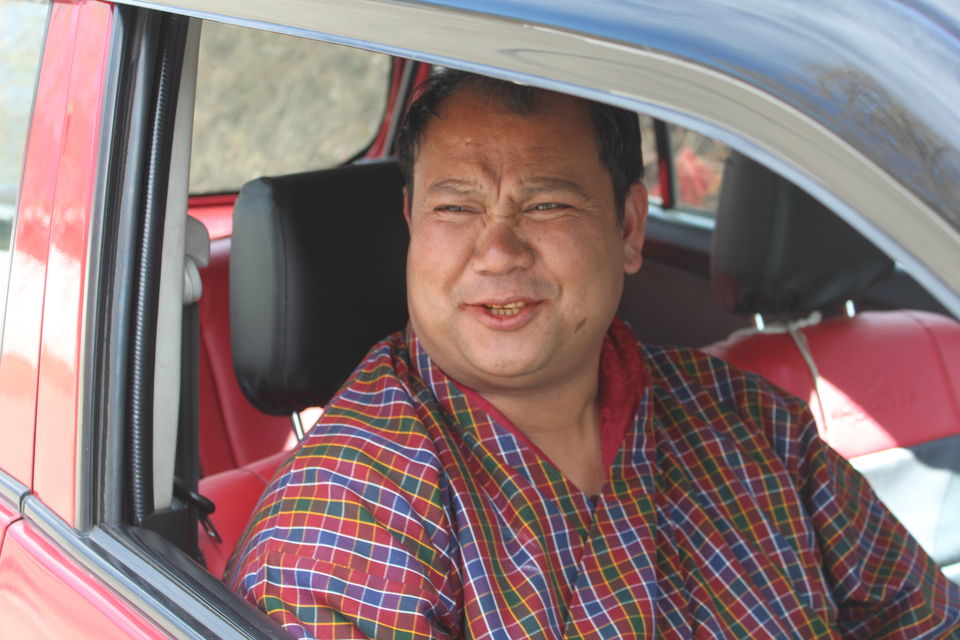 Paro is a peaceful valley and you will experience that within an hour or two after landing here. Our experiences in Paro includes -
Takshang Lhakhang (Tiger's nest)
3,120 meters above sea level
Fitted in a mountain cliffs and above a beautiful pine and rhododendrons forest is a prominent Buddhist site known as Tiger's Nest.
Guru Padmasambhava (Second Buddha), who introduced Buddhism to Bhutan is said to have meditated here.
To reach here you have to hike through the forest and it takes around 3 hours (4km) walking on a comfortable pace.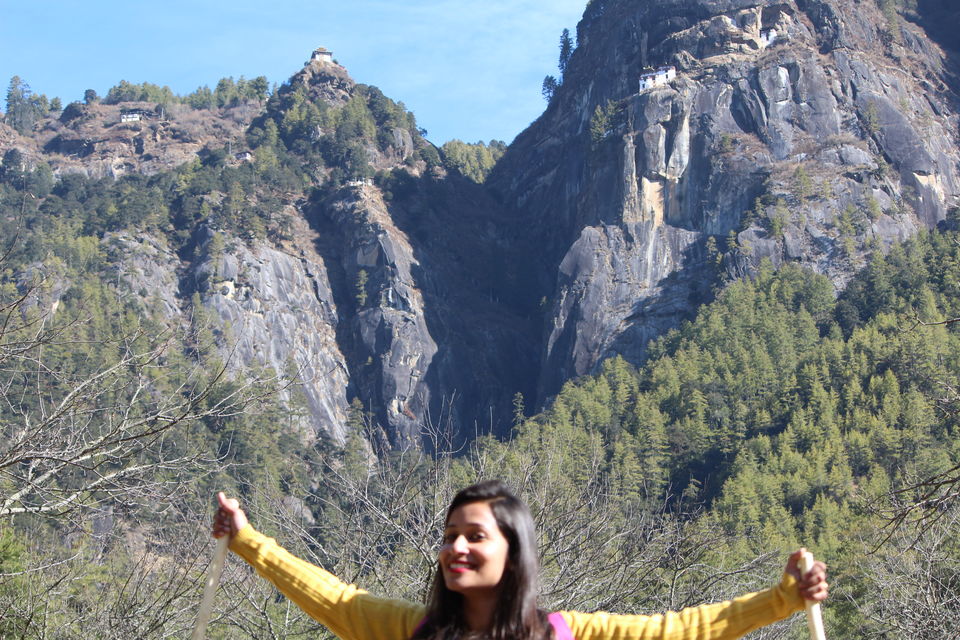 The view of snowcapped Himalayas as you ascend and far off tiger's nest gives the inspiration to continue.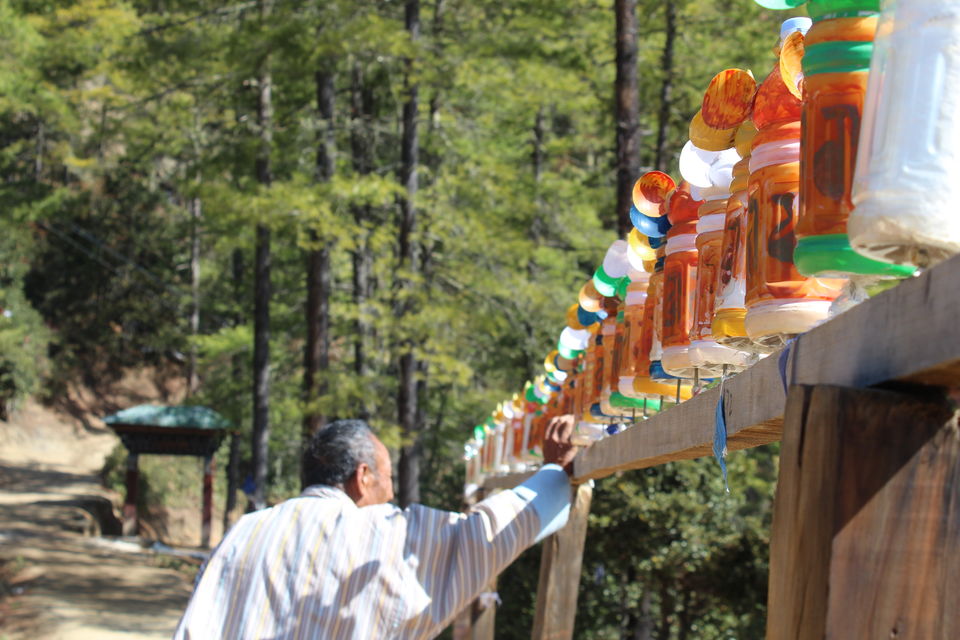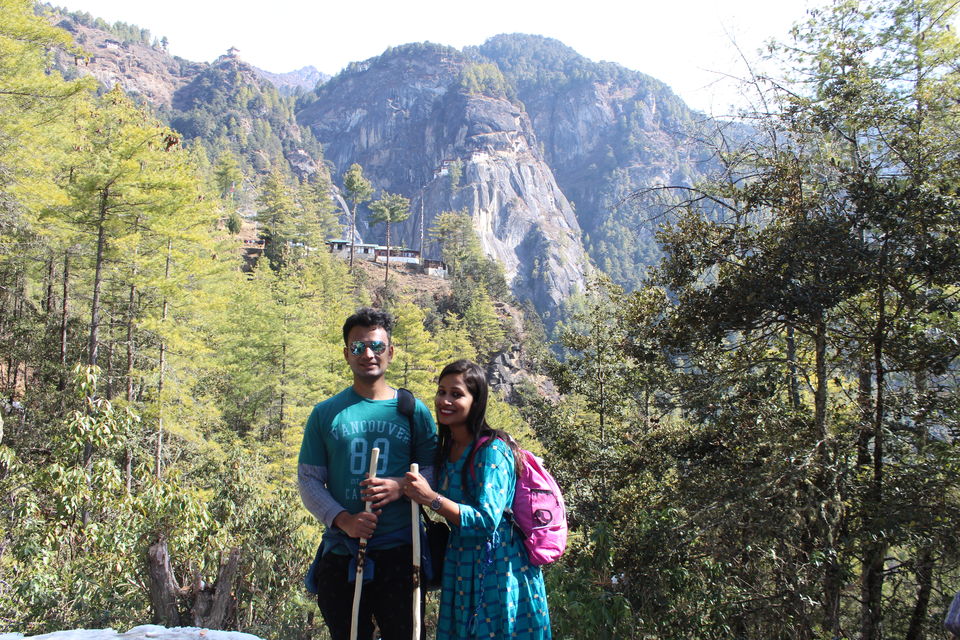 There are 4 main temples connected with each other by staircases and having balconies with fine views over the deep valley.
How to reach – If you have not booked a taxi already, you can use a taxi that may charge around 1200 Ngultrum per side.
Entry Fee - Rs. 500
Timings - Winter (Oct-Mar): 8 AM to 5 PM (Bhutanese Time)
Summer (Apr-Sep): 8 AM to 6 PM (Bhutanese Time)
Note – Make sure to cover your arms and legs while visiting Monasteries/ Temples in Bhutan
Kyichu Lhakhang Monastery/ Oldest temple in Paro
Legends say that it was miraculously constructed in one night and that too in the 7th century. I wonder which technology they were using!!!
A quiet, beautiful and one of the oldest temples, Kyichu Lhakhang was our first stop in Bhutan. This Himalayan Buddhist temple was built in the 7th century. We were deeply moved by the peacefulness of the place.
A temple guide is there to tell you the stories related to the temple. Ours was so smiling that we thought he will soon burst into laughter (though he didn't ;-))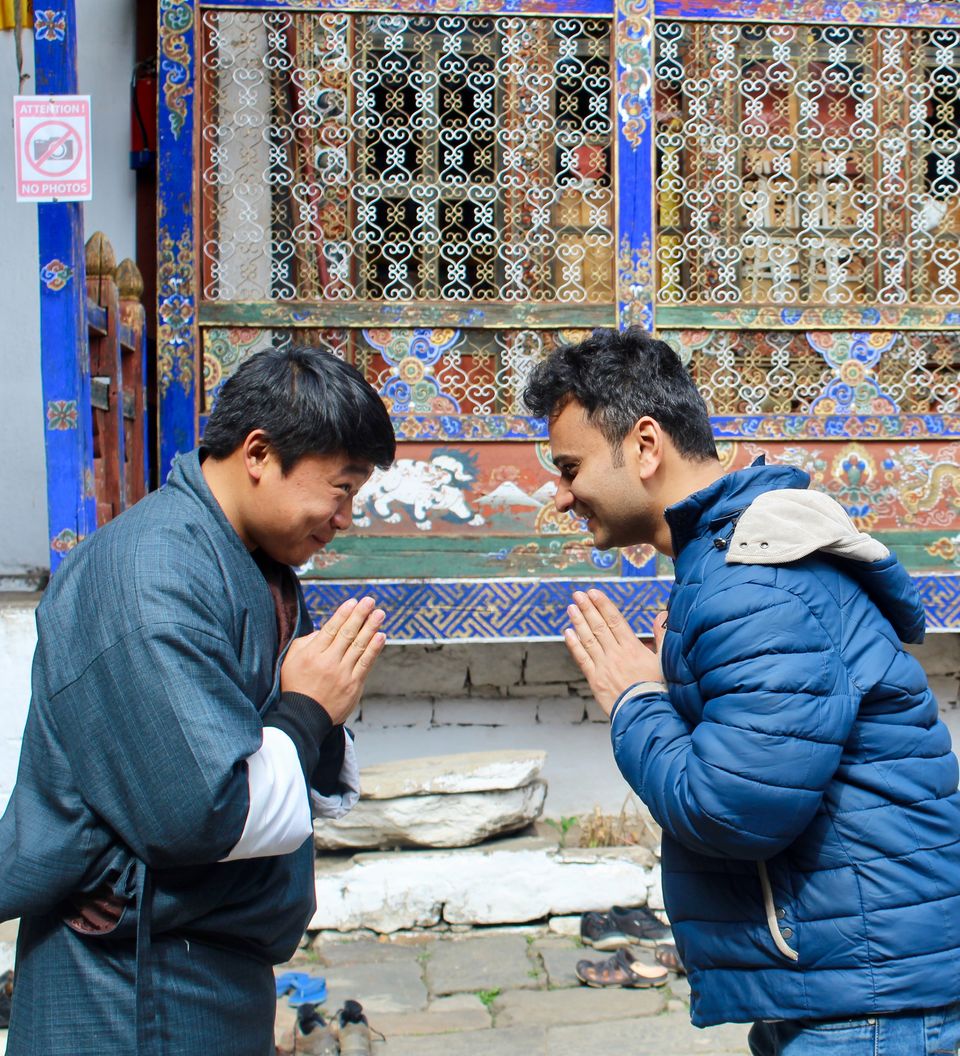 There is an orange tree inside the temple that bears fruit throughout the year (Yes it's true!!!)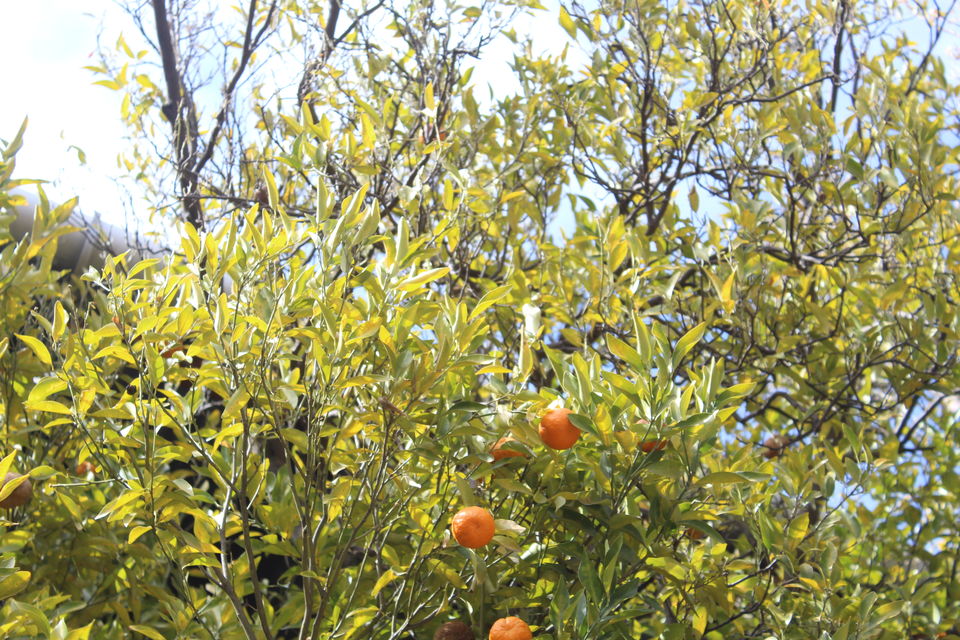 Location – It's around 5 km from Town Market, Paro
Entry Fee - Rs 300 (50% off for students)
Timings - 9:00 AM – 5:00 PM (All days)
ParoDzong/ RinpungDzong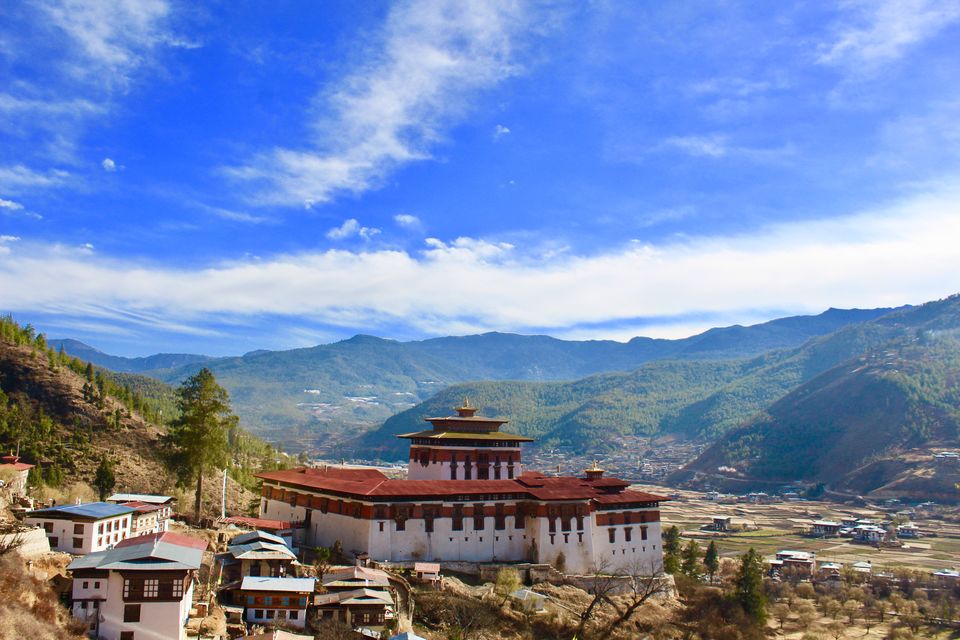 Fortress on a Heap of Jewels
Built on a steep hillside along Paro Chu River, an architecture of White walls, red brick color doors, windows, and top – the simple yet finest example of Bhutanese Architecture,
There are courtyards inside where you can see monks smiling, playing and roaming around.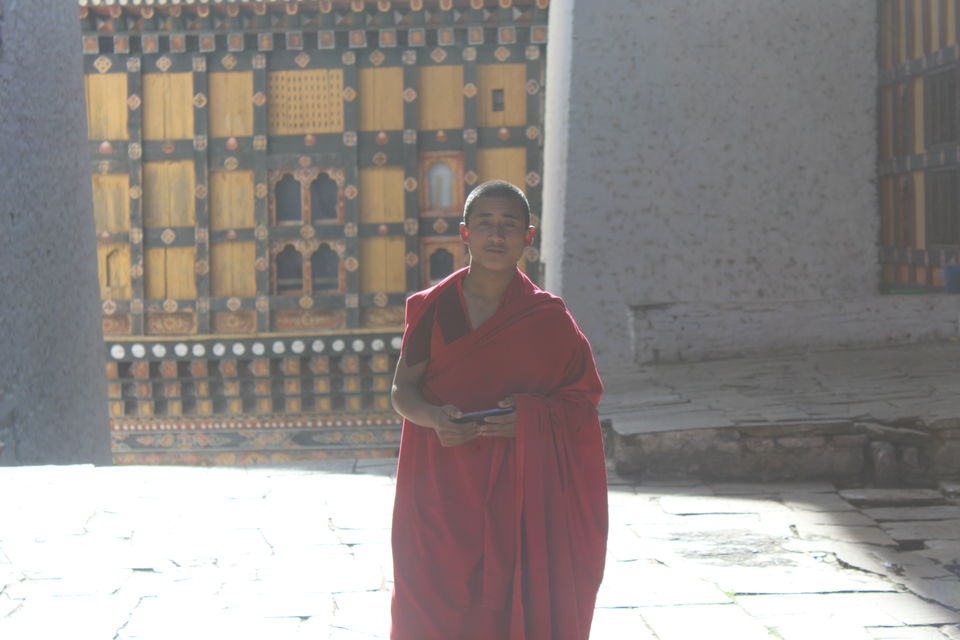 At the far end is a balcony to view the river flowing by, mountains standing tall and spectacular Paro valley.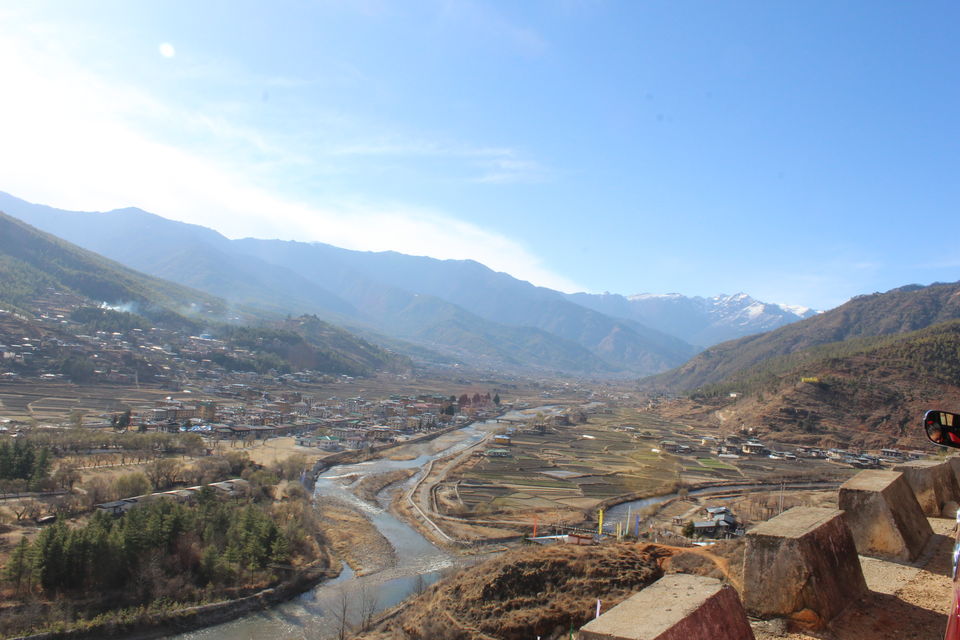 At night, Dzong lights up and looks more beautiful. You can spot it from Town market of Paro or while walking by the riverside.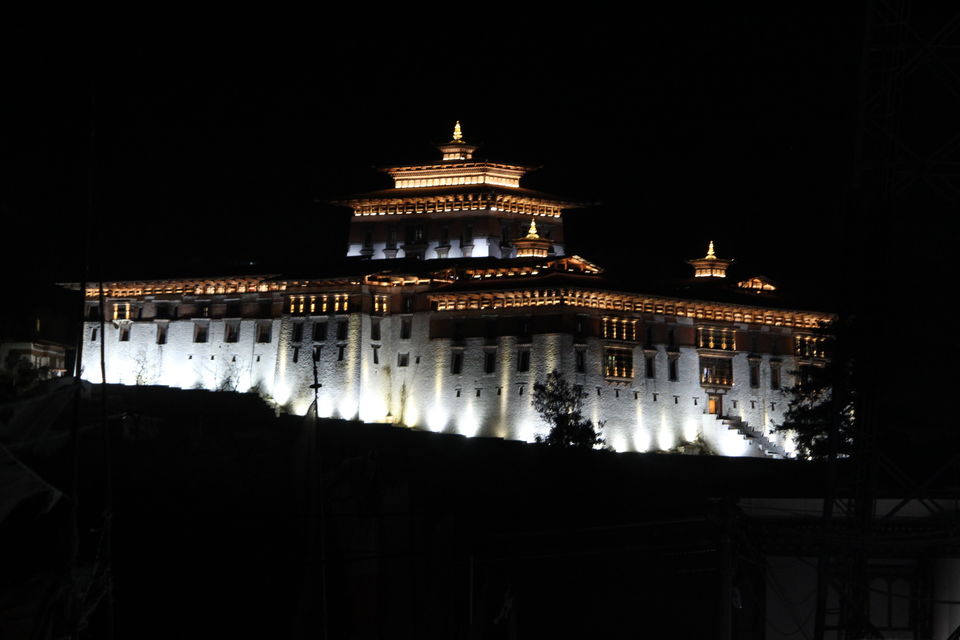 How to reach – You can cross the wooden bridge to reach Paro Dzong which is just 1 km from the city square. If you are taking a cab, that's a 4km route.
Timings – 8:00 AM to 6:00 PM from March to October and 8:00 AM to 4:30 PM from November to Feb.
Entry Fee - 300
Namgay Artisanal Brewery
For seeing the art of brewery beer and tasting some of the flavors of fresh beer, visit this amazing place.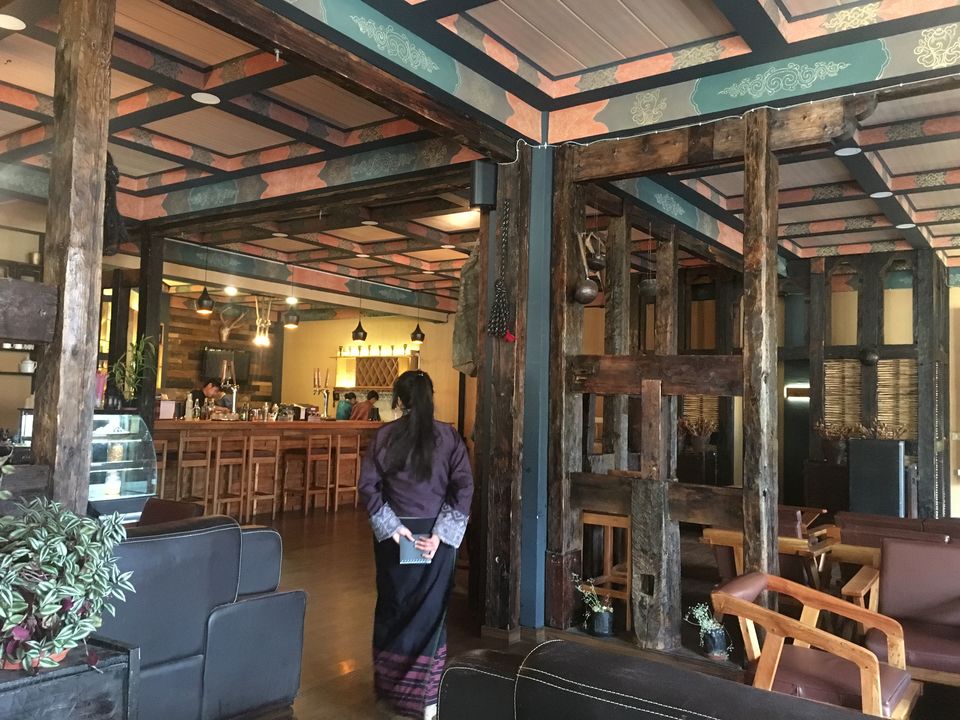 They have at least 8 different kinds of beers and they keep on experimenting for new ones.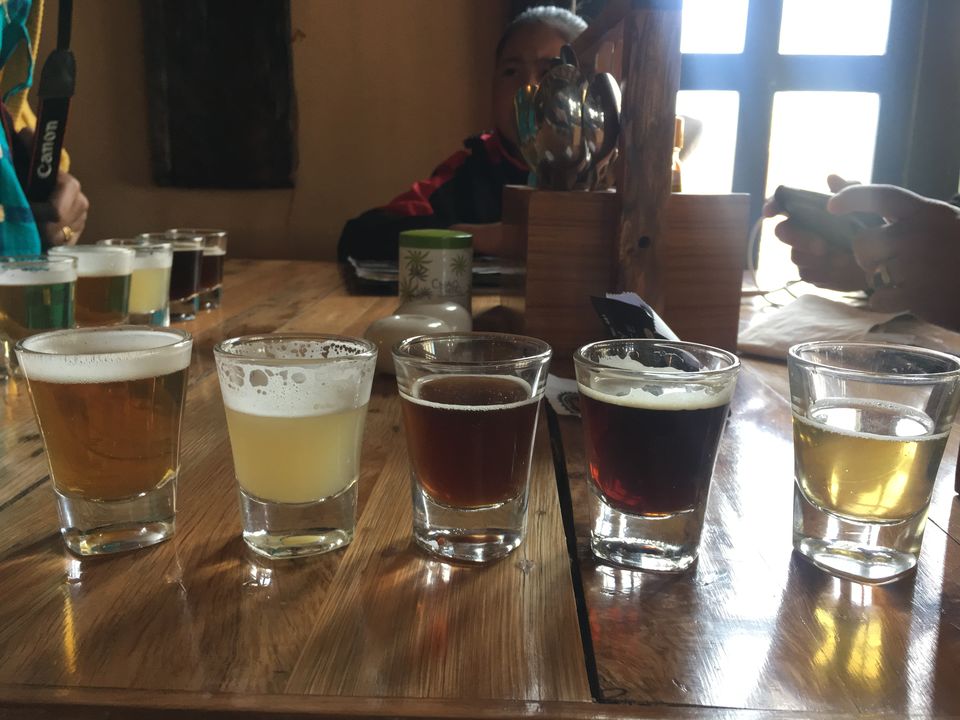 They charge Rs. 350 for visiting the brewery and tasting beers.
They also have a nice restaurant.
Location – It's around 4.4 km from the town market, Paro.
Paro Airport Bird's Eye View Point
The tiny but scenic airport between the steep mountains of the Himalayas is said to be the most challenging in the world in terms of landing as it is surrounding by sharp peaks of up to 18,000 ft tall. It's among the 10 most beautiful airports in the world. It's an amazing experience to see flights land at this airport.
Location – Paro Airport Bird's eye viewpoint is 3.6 km from the valley.
Town market
Reach the market, stand in the middle of it and observe –Wide open sky, snow-capped mountains, riverside, clean & systematic roads, beautiful Bhutanese buildings, shops with Bhutanese dresses, jewelry, show pieces, cafes, smiling people is what you will see.
Our personal favorite here is Mountain Café
Cafes and other shops remain open till 9:30 PM.
National Museum of Bhutan
To know the history of Bhutan, its culture, flora, fauna, its relations with India among other things, you can visit this place.
When we visited, the original museum was closed for renovation.
Exhibits are currently on display in an adjacent annex.
Museum itself is not that impressive but as it is uphill, the view from there is wide and peaceful.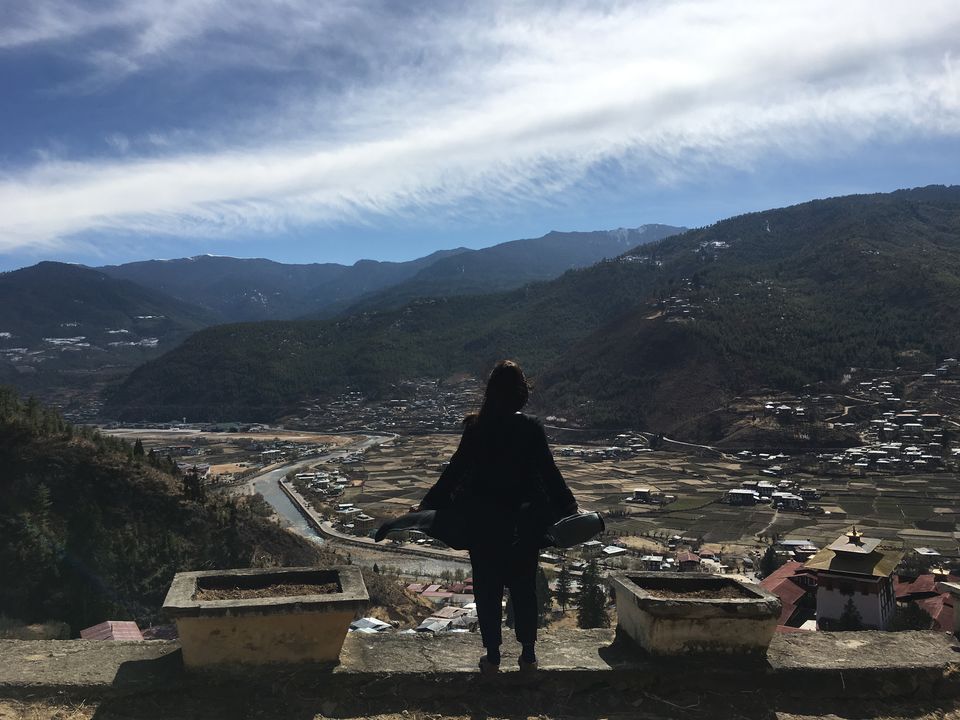 Go to the backside of the building for a view that contains mountains at the far end, step farming downhill, and clouds up there and to experience cool breeze that blows your mind and clothes.
Location – It's around 3 km from Town Market of Bhutan
Entry Fee – Rs. 50
Timings - 9:00 am to 4:00 pm from Tuesday to Saturday and from 11:00 am to 4:00 pm on Sundays.
Walk along the riverside
There is footpath by the riverside. Listen to the sound of flowing water, feel the cool and fresh air, see the lightened Dzong (evening) and mountains. There is no hustle bustle, people seem to be in no hurry, life seems peaceful and the world beautiful. You will surely feel that you are in a different world altogether.
Dart/ Archery
Archery is Bhutan's National Sport and your trip to Bhutan would not be complete without trying it. Archery and Darts competitions are so commonplace that you may find local playing them throughout the country.
And let me warn you guys, the targets are so far off that I was forcing my eyes to spot it (hehe its true!!!) and darts are big and heavy.
Tamchog Lhakhang/ Temple of the Hill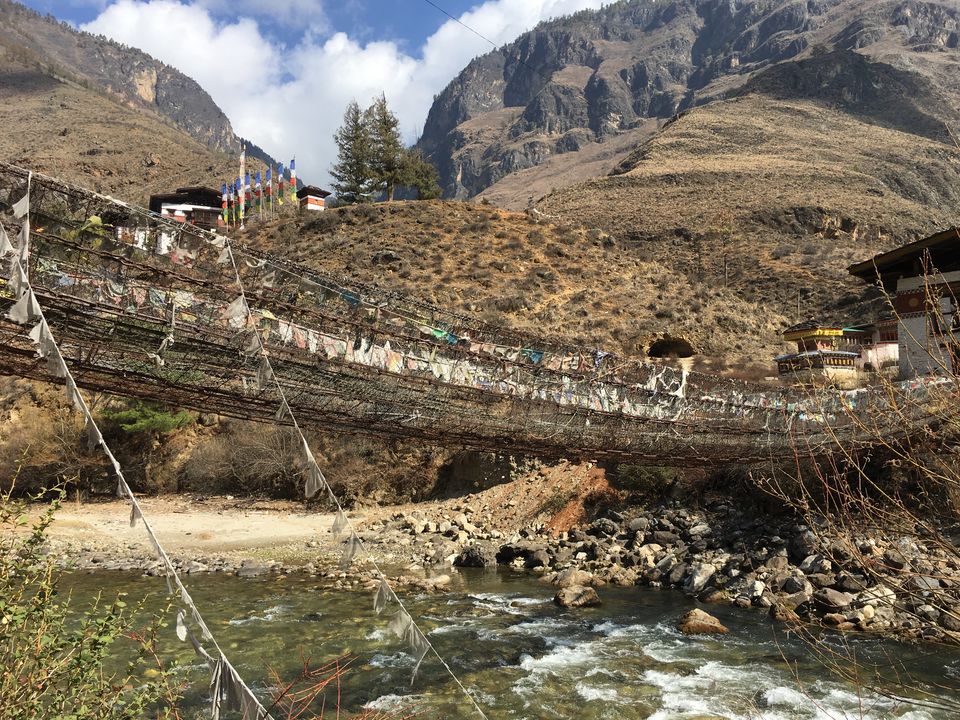 A temple located on the ridge across the built by a saint who was also a bridge builder.
A 15th century handmade iron chain suspension Bridge to cross the river was also made by him which was washed away by the flood in 1969. So, a new bridge was constructed by its side to cross the river.
15 minute short and easy hike on the other side of the river to reach this place which is walled by mountains and completely quiet.
Location - Its 30 minutes drive from Paro, towards Thimphu.
The Ancient Hot Stone Bath
Soak in a unique bath culture to relax and wind down after a long day of wandering and wondering.
Fresh river water containing Artemisia leaves is heated with river stones roasted on the fire.
Go Go Go guys!!! Explore Paro and share your experiences with us.
Frequent searches leading to this page:-
Top Bhutan tour packages with price, Best places to visit in Bhutan in march, Best things to do in Bhutan, Weekend getaways from Bhutan, Weekend getaways near Bhutan, Weekend getaways in Bhutan, Romantic getaways in Bhutan