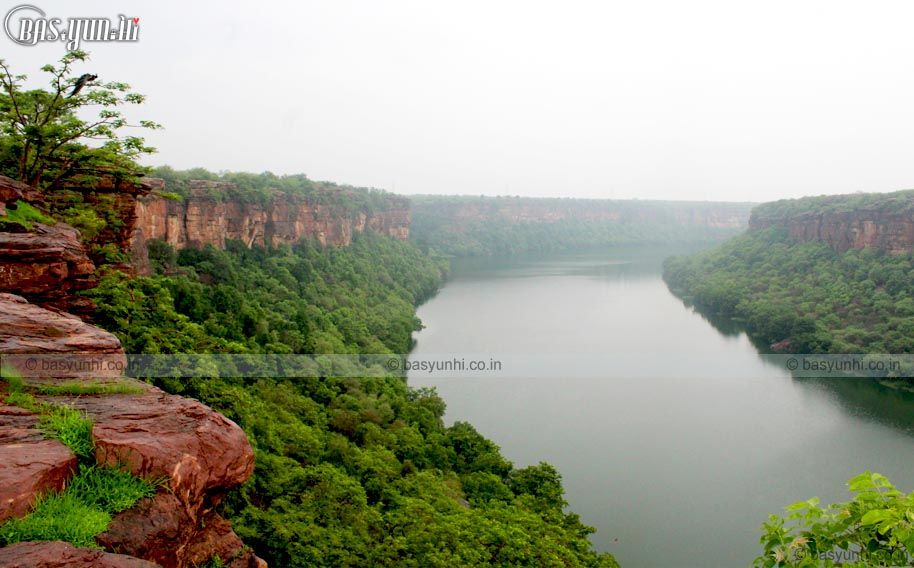 Hi friends welcome to my blog again with a fantastic experience!!!
This time I brought for you a great journey experience to travel in southern part of Rajasthan, which is situated on bank of Chambal River. I am talking about Mukundra Hills in Kota which is in Hadoti region.
Mukundra Hills, Gadariya Mahadev, Kota, Chambal
This place is also known as Rajasthan's third tiger reserve and spread across four districts which are Kota, Bundi, Chittorgarh and Jhalawar and covering an area of 759 sq km. Later on government named this century as Rajiv Gandhi National Park which covers area of 417 sq km and a buffer zone covering 342.82 sq km. With green hills & nice waterfalls this place is good for picnic and for those who are the fond of traveling.
Though this is tiger sanctuary but I only visited to Mukundra Hills, Gadaria Mahadev Temple and waterfalls as this place is very attractive and great picnic spot. From Jaipur it is quite far so it would be better to plan for two days trip.
It was a pleasant Saturday so I decided to go to this place in evening. I started my trip around 5:00 PM by taking Jaipur - Kota national highway. Around 9:00 PM I reached to Bundi, It is good place to stay as here you can enjoy to staying in Heritage Hotels. If are not able to reach Bundi before 9 PM then it would be good to stay in Deoli, because I didn't see any Hotels between Deoli and Bundi . So if you cross Deoli then it will take approx 1 hr to reach Bundi and it would be quite difficult to find hotel in late hours in Bundi. From Deoli our destination is approx 100KM and it takes 1.45 hrs.
Mukundra Hills, Gadariya Mahadev, Kota, Chambal, Highway, Raining, Clouds, Straight highway
window sitting area in roomOk now let's come back to Bundi. Most of Rajput families converted their Havelies into Hotels. Most of these Havelies are built prior to 1950 and have capacity of 5-10 rooms. You will get a feel of Rajasthani tradition & good ambition. Price of a single room is approx 1000 to 2000 excluding meal.
There are plenty of hotels, guest houses and resorts near Naval Sagar lake. you can check all available options. If you are fond of drink then there is a bar in "Nawal Sagar Palace" hotel, you can enjoy your drinks with lovely view of Nawal Sagar Lake.
I stayed at Annpurna Haveli which is very nice option with perfect overlooking to Naval sagar lake. I chose the front side room which has the window seating area. There are few good restaurants where you can get delicious food; these restaurants also deliver the food at hotels.
Next day early morning I departed towards Mukandra Hills which is only 50 kms from Bundi and takes max one hour. You can start your trip after taking breakfast at hotel, I started my trip early as I wanted to be there at Sunrise and wanted to avoid humidity. It is humid places and after spending 30 minutes, humidity can get unbearable. so I would recommend, plan your trip according weather and avoid visiting here in heavy raining. For Mukundra hills you need to take left, before entering Kota. After taking left, it takes 10-15 minutes to reach Mukundra Hills entrance check -post. Tea maker dhabba
Make sure to have have your breakfast before entering in sanctuary. There are couple of Indian style Dhabbs at road side on this route, they make Tea & parathas for breakfast and also sells biscuits, chips etc for breakfast . they also serve lunch after 11 AM, If you love Dal-Bati then you must try that, they provide delicious food at very nominal price. I had my breakfast at one of these Dhabbas, breakfast was good but I like owner as he is not only a owner also a good person gives good company to this customers with funny compliments. He wears traditional ornaments and dress.
On check-post you need to pay sanctuary fee, I paid 250 rupees entry fee for my car. From check-post it is Jungle for around half a kilometer, after cross forest you will reach to Garadiya Mahadev temple which is situated on bank of River Chambal. This is completely plateau area and you will find yourself on top of the hill from where you will see a nice view of Chambal River amid deep & wide ditch surrounding thicket of bushes & trees. There are few points for perfect photography, you can sit on edge of hill to get perfect thrilling view of Chambal with Mukundra Hills.
Mukundra Hills, Gadariya Mahadev, peacock, Chambal
Gadariya Mahadev, Kota, Chambal
Gadariya Mahadev
After exploring Mukundra Hills and Chambal River & photography I took trail to go to Garadia Mahadev temple, which is downwards from hill. There are two natural waterfalls where you can take bath before visit to temple. You will feel fresh and get rid of tiredness after take bath under these waterfalls. The experience of standing right under the waterfall is incredible. This temple is small & quite old.
OK! we have seen Mukundra Hills and Gadaria Mahadev temple, now I am going to tell you about a place which is unknown but really a enjoyable spot after visiting these tiring places. When you return from sanctuary, there is a bridge on the way over a water stream at a distance of a few steps from sanctuary's entrance. This is the place I am talking about, I am not sure if it's flows through in every season but in monsoon it has good amount of running water. I went there three times in this season and water was up to the waist. Further this water stream converts as waterfalls in Mukundra Hills.
Mukundra Hills, Gadariya Mahadev, Kota, Chambal, waterfall
Mukundra Hills, Gadariya Mahadev, Kota, Chambal, waterfall
Stones of this water stream are in tabulate shapes, you can sit on them, or lay down on them comfortably and relax. This cold water will give you freshness with natural noise of flowing water. Since this place is off road and not too much people comes here. so you can enjoy of this place with less crowd. If you are group of friends/family members you can spend good time here, and if you can carry cooking utensils then you can make some delicious dishes.
After spending 2-3 hours I returned back toward Jaipur.
What is the best way to go to Mukundra Hills (Kota)?
Location -
Fastest route from Jaipur is 260 KM (4 hrs) - Jaipur - Tonk - Deoli - Bundi - Kota
Three tolls in this route and would cost your approx Rs. 500 for trip
One or two days tour to visit entire place
Entry fee & conditions
Rs 250 fee for car entry in Mukundra Hills.
Entry time- from sunrise to sunset..
All kind of light vehicles and bikes are allowed.
This is a natural place where poly bags and the items which are harmful to nature and wild animals, are not allowed in this place
Please do not make loud noise, do not blow honk as this is the place of wild animals.
Best timing to visit:
Morning before 11:00 AM – best view of sun rise.
Evening after 4:00 PM – best view of sun set.
Service available on the way
There are few cities and towns in this route so you can get all services.
Dabbas on highway servers food till mid-night.
Last Midway hotels available at Deoli and Bundi.