Travelling towards the eastern side of Thailand we spent a day at Pattaya quickly hitting a few of the attractions. So heres a short writeup about the same.
Getting Here : Pattaya is around 150kms, about 2hrs from Bangkok. We took a bus from Ekamai Bus terminal, a ticket can be purchased at the counter, though you may have to wait a while for the bus as they seem to have some cut off times to issue tickets. Although the 9:30am bus seemed to be empty we got the tickets only for the 10:30 bus. At Pattaya songtheaws, jeeps converted into tuk-tuks, are extensively used instead of buses or the usual tuk-tuk. So hopping on one from the bus terminal they will drop you off near the hotel for a lesser cost to taxi. Although for travelling within the city they have some set paths and have a fixed price of 10 tbh irrespective of the number of stops. So hop onto one keep a track on the map where you want to go to and hop off wherever the route changes seemed to be the best option of using them. They also have a bell in the sitting area in case you want to get down and the vehicle will be stopped at the next bus stop. If you check with the driver on a particular destination then it's like hiring one for yourself and then the price would be equivalent to hiring a taxi.
Many tourists spots that you can choose from to visit, we just did the below ones.
Sanctuary of Truth temple was our only todo place in Pattaya. It's an impressive wooden temple being constructed by a Thai businessman and a work in progress. The ticket price is 500tbh and is open till 6pm. The outer structure is complete, artistically decorated in a thai-khmer style with beautiful sculptures in wood. Inside is 4 main halls each with a theme on life with construction in progress in some of them again beautifully decorated in wood.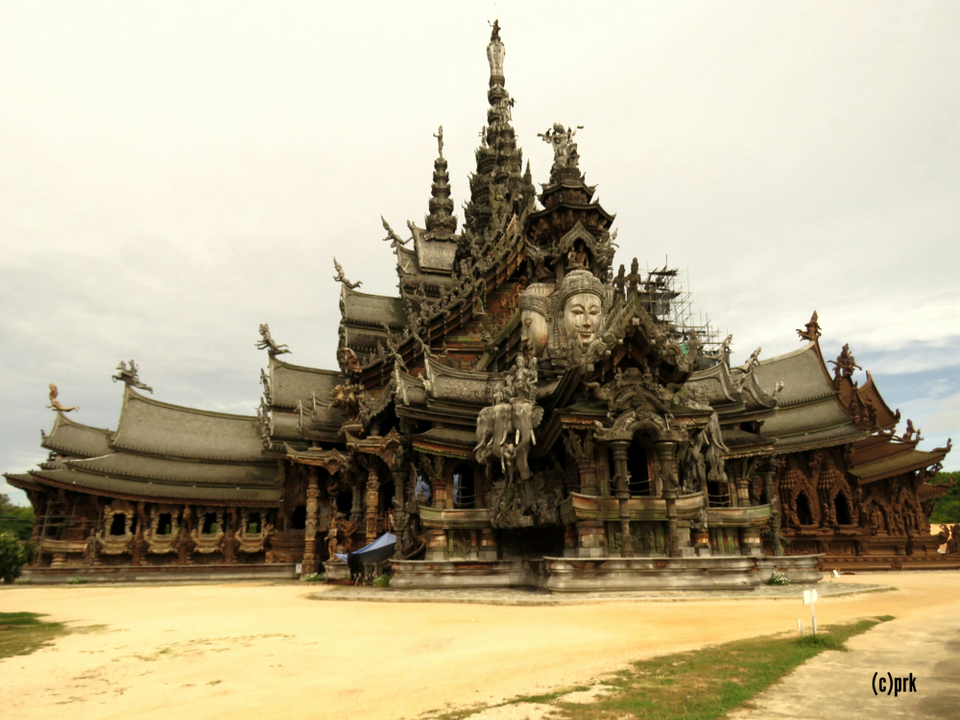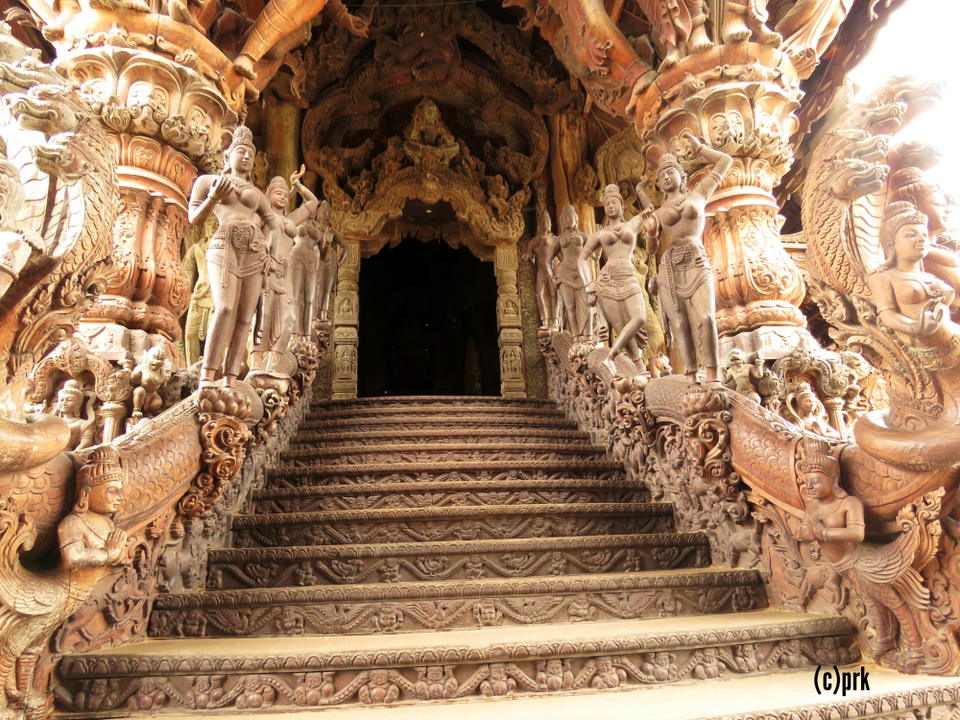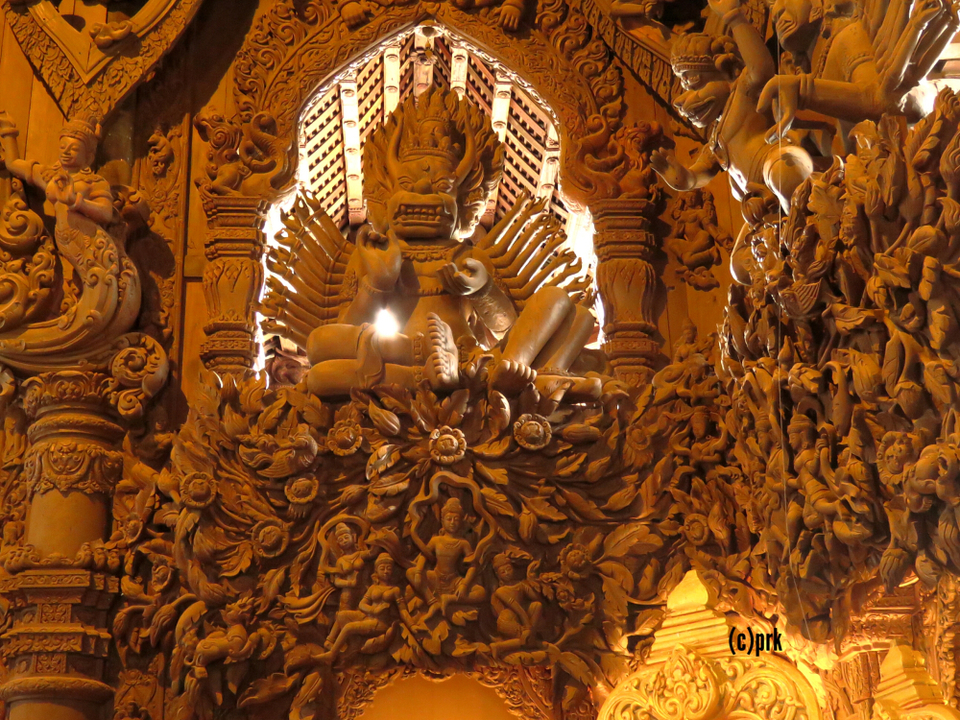 At 3pm they had a thai traditional dance performed near the cafe, a well choreographed small show.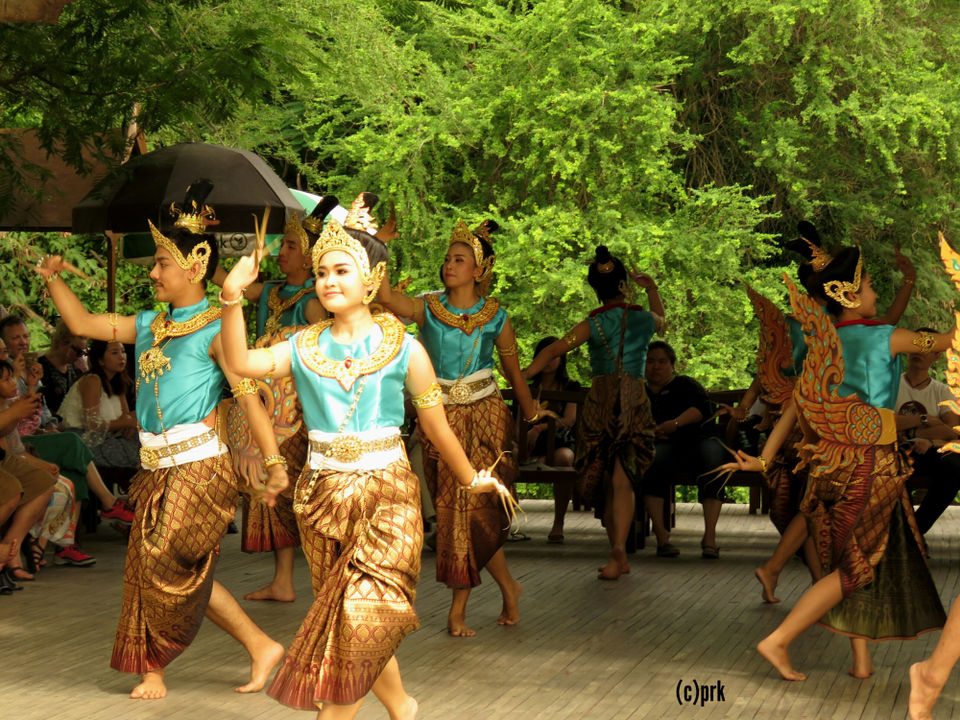 Wat Phra Yai, big Buddha temple. Since we had time we decided to go to this temple, but really was not worth the effort. We were still to figure out how the songtheaws worked so finally took a taxi for 200tbh. On the way back we walked down the hill and then jumped into a songtheaw and got dropped near the hotel for 10tbh.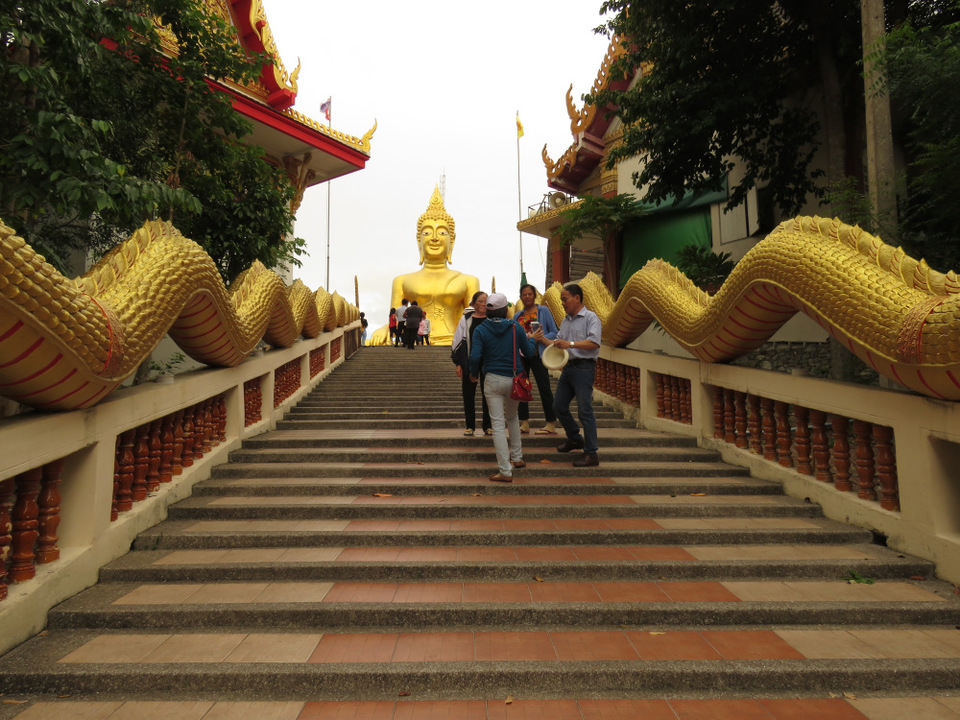 Tiffanys Cabaret show, we booked the evening show as this was so much talked about. Really not something I would have wanted to spend my money on, sets are good, the artists mostly transgenders are beautiful, however the lip singing of the popular hollywood songs really put me off.
One thing that is so obvious in Pattaya and rampant was the sex trade part. Filled with massage parlour with girls and women inviting guests in, pubs having girls dressed sikmpily and them pole dancing, it was a disturbing sight at times. Should I feel sorry for the girls for being in this trade or should I be disgusted that so many men throng this place and visit here with just this intention ...........