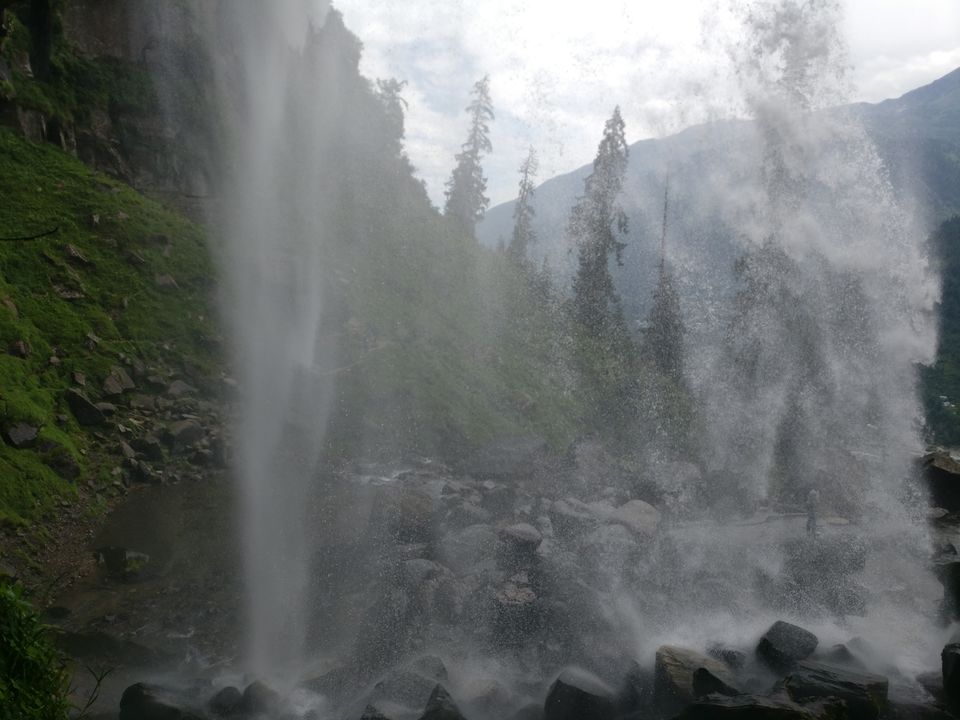 Have you been to Manali during last three-four years? The ones who have been there might be thinking it's too much overcrowded nowadays. Hotels are overbooked, roads are always full of cars, all you can see up to several kilometers is just vehicles meandering here and there to go ahead and the situation is even worse for Rohtang Pass, so called main tourist attraction. You have to get permission from the government to reach there nowadays as there is no other way to control traffic. Once you get permission; you have to wait for long hours in traffic to reach there. Reaching there, all you find is dirty black snow. Black, because the place is commercialized like never before and dirty because millions of people visit the same stretch during peak summer season. Leave behind all your worries about all these now on wards. I have cherry picked locations in surrounding region of Manali which are as beautiful as well-known tourist destinations yet haven't tasted overabundance of tourist till date. One such place is the Jogani waterfall.
The waterfall is located in Manali itself. You can see this splendid fall from the window of your car while traveling towards Rohtang Pass. To reach there all you have to do is small trek starting from Manali; passing through apple orchards and wooden bridges. Let alone the destination, the trek is fascinating in its own way. During the trek, if you are lucky then you will have dog accompanying you and guiding towards the destination. These dogs are as charming and loving as your own pets; as faithful as your own dog. They ask for nothing in return. Surreal it is, Isn't it? Walking near water stream throughout trek you get a chance to drink the water that is purer and tastier than RO purified water at home. It is full of natural minerals as it passes underground through places having calcium, sodium and magnesium in abundance. As a result, you will feel a whole new level of freshness altogether. This trek is quite easy and any physically fit person can do it. Time duration to reach the top depends on your speed. Generally, it takes 60 to 90 minutes to reach there. Reaching there, you will realize it is worth walking every step for the view and freshness you get. You can't find a better place than this in Manali town. I have been visiting Manali frequently since last ten years and this place is my favorite one to visit at any time of the year. Once you reach just enjoy the nature. The flow of the water makes a great sound; Listen to that soothing music. Water falling from such great height makes water droplets to spread in surrounding area. Sitting near the fall, you will find yourself wet after some time. If you are an adventurist just like me then you can even go at the back side of the wall. That particular place is believed to be sacred by shepherds. They worship Goddess Jogani sitting there. Looking at the world from behind the waterfall is thrilling in its own way. I know you have started wondering how stunning look that might be, the view is indeed better than your wildest imaginations. You can always click breath-taking photographs and later show them to your friends and colleagues who have been to Manali yet don't know about this place.
Watch expressions on their face. You are now the great explorer in front of their eyes and it is happiness you never expected.
For a better experience, carry snacks with you. The place is quiet and you can have your lunch or snacks sitting there; enjoying the calmness of nature; viewing beautiful town below. You can also visit another place called vasisth and have a look into the ancient temple dedicated to one of the great sage vasisth. You can actually start your trek from vasisth itself. Hot sulphur spring is its identity. Having a bath in hot water spring is a refreshing experience. The single bath can cure many of your chronic diseases as per belief of localities. In a nutshell, it will be a different experience for you in Manali visiting Joganifall and spending quality time away from jostling crowd of Manali. At last, don't forget to share your experience with us.
HAPPY TRAVELLING