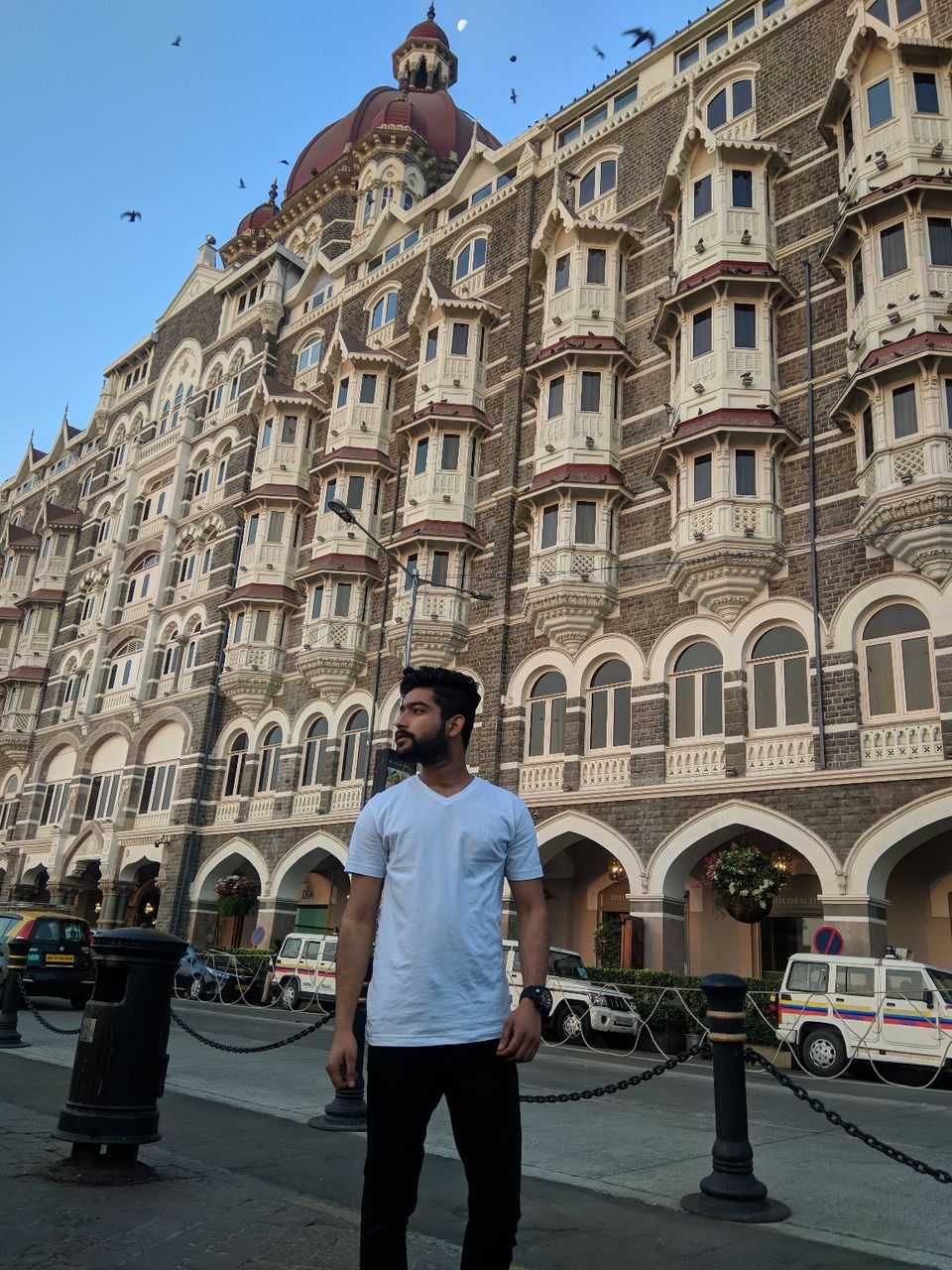 It was a day before sudden made plan me and my three friends reached Mumbai in morning around 3a.m. . Then we suddenly decide to go goa from Mumbai we booked the tickets train departure time from mumbai to goa was 1am in the middle of the night. Our tickets were from Panvel railway station. We decided to explore Mumbai in one day...so we left firstly to see the mesmerising morning view of marine drive with our luggages. We took a taxi from cst to marine drive for 300 bucks it took us 15-20 minutes in morning to reach there.
So finally, we are at Marine drive. The view was so beautiful that anyone would cherish it for sure. Young boys and girls were wandering there, a tons of couples are spending there leisure time and creating some memories together. A bunch of people's are there for morning walk especially senior citizens. Kids were playing badminton some are running and some are playing with dogs. The place was so peaceful in the morning we sat there to feel the waves and see the view it was so wonderful. We spend around 2 hrs at Marine drive and decided to go gateway of India by walking from marine drive with our luggages. We are on our way to gateway of india exploring the roads of middle Mumbai it was 26th jan so police forces were everywhere and security was too strict and high.
I was travelling with a bundle of marijuana that was inside my bag. We have to pass a high security checking zone to enter inside the gateway of India and officers were opening the zips and checking inside the bag too...i got too scared at that time and took a deep breath and said to myself will see whatever will happen but somehow i surpassed the security check and feeling relaxed after that we took a walk around gateway of India. Gateway of India and hotel Taj palace lands end both are parallel to each other. After gateway of India i went to Taj mahal palace lands end it was so beautiful architecture was amazing. After visiting gateway of India and taj Palace we took a taxi and went to the cst terminal from there we took Mumbai local and went to panvel. After some rest and food we submitted our luggage in cloak room and decided to not take a room. After submitting the luggage in cloak room we explored a bit of Panvel and local markets of panvel it was too hot outside. We decided to took Mumbai local except taxis to explore Mumbai.
Again we headed towards exploring aamchi mumbai in Local. We explored some famous places of mumbai like virar, navi mumbai,wadala, lokhandwala etc. When we are at bandra we decided to see the houses of some superstars of India. We went to the Salman khan's house (Galaxy apartment) thousands of  people's were outside his home just to see him once. People's were clicking pics and selfies in front of his house nameplate.
Aftet that we went to the Badshah of Bollywood Shahrukh khan's house Mannat. It was sooo awesome people's are in lakhs outside mannat lands end people's screaming his name some were crying. The crowd was there to just for a selfie in front of mannat's nameplate. I realized that time how much hardwork he has done to reach at that level. People's were crazy only for his house nameplate mannat lands end. Shahrukh house is see facing so went to the beach in front of his house we spend some quality time there and took some roasted corn (bhutta).
After that we went to panvel and waited there almost for 6 hours because our train was late.
That's it. I hope u guys will like it. Will write my experience in goa in my next vlog.