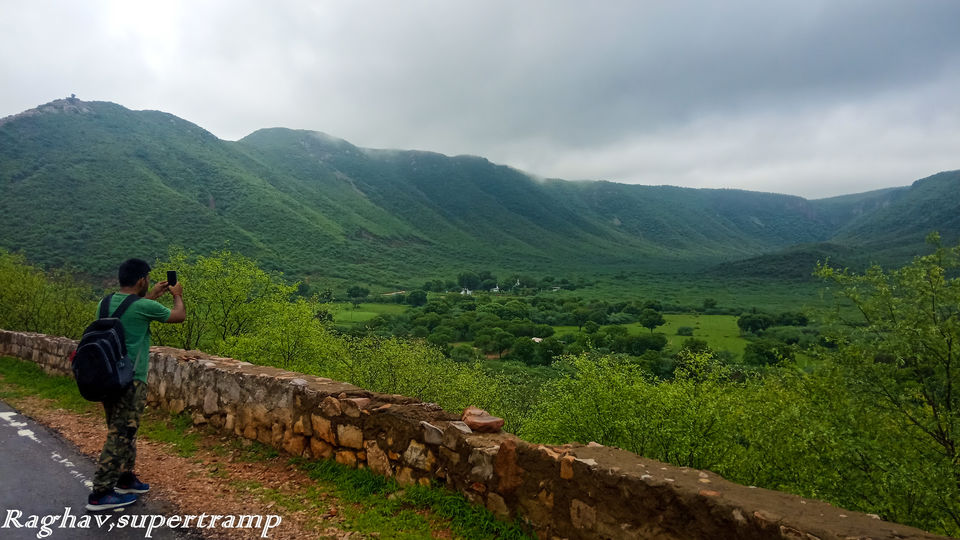 It was Friday evening when I called sanju to meet me at my house.
A few minutes later he was there.
I asked him if he would be willing go explore somewhere.
When our "meeting" ended, it was established that we will be catching the 3 am ranikhet express from sahibabad to go to alwar.
As it was monsoon and alwar is situated near the arawalis, I convinced him to come,suggesting that mountains are most beautiful in the monsoon and that we will be able to come back home the same day as alwar is just 4 hrs from Delhi.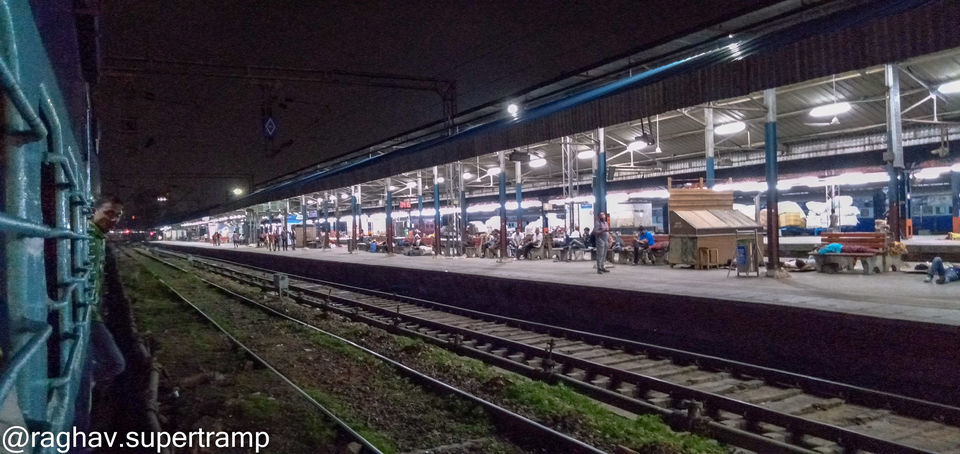 We had to wait till Delhi to get seats in the general coach of the train which was jam-packed when we boarded at sahibabad.
We caught the first sight of mountains at parisal railway station which is the last station before alwar junction.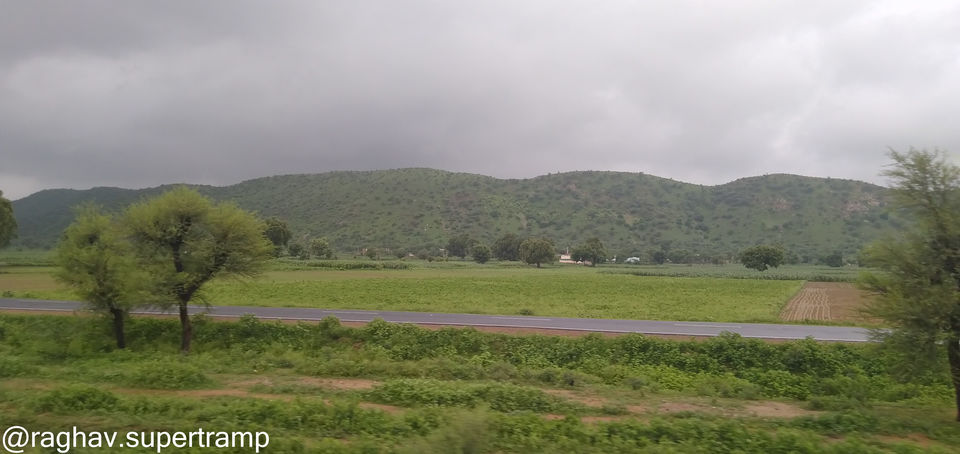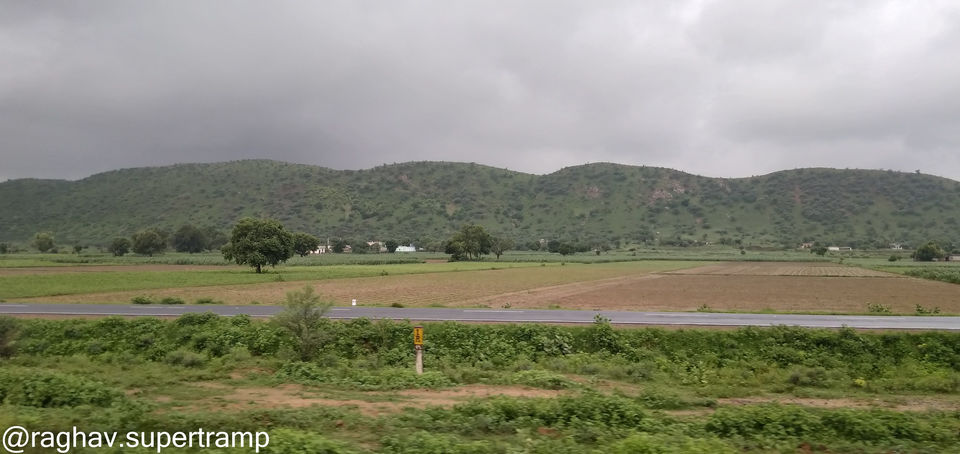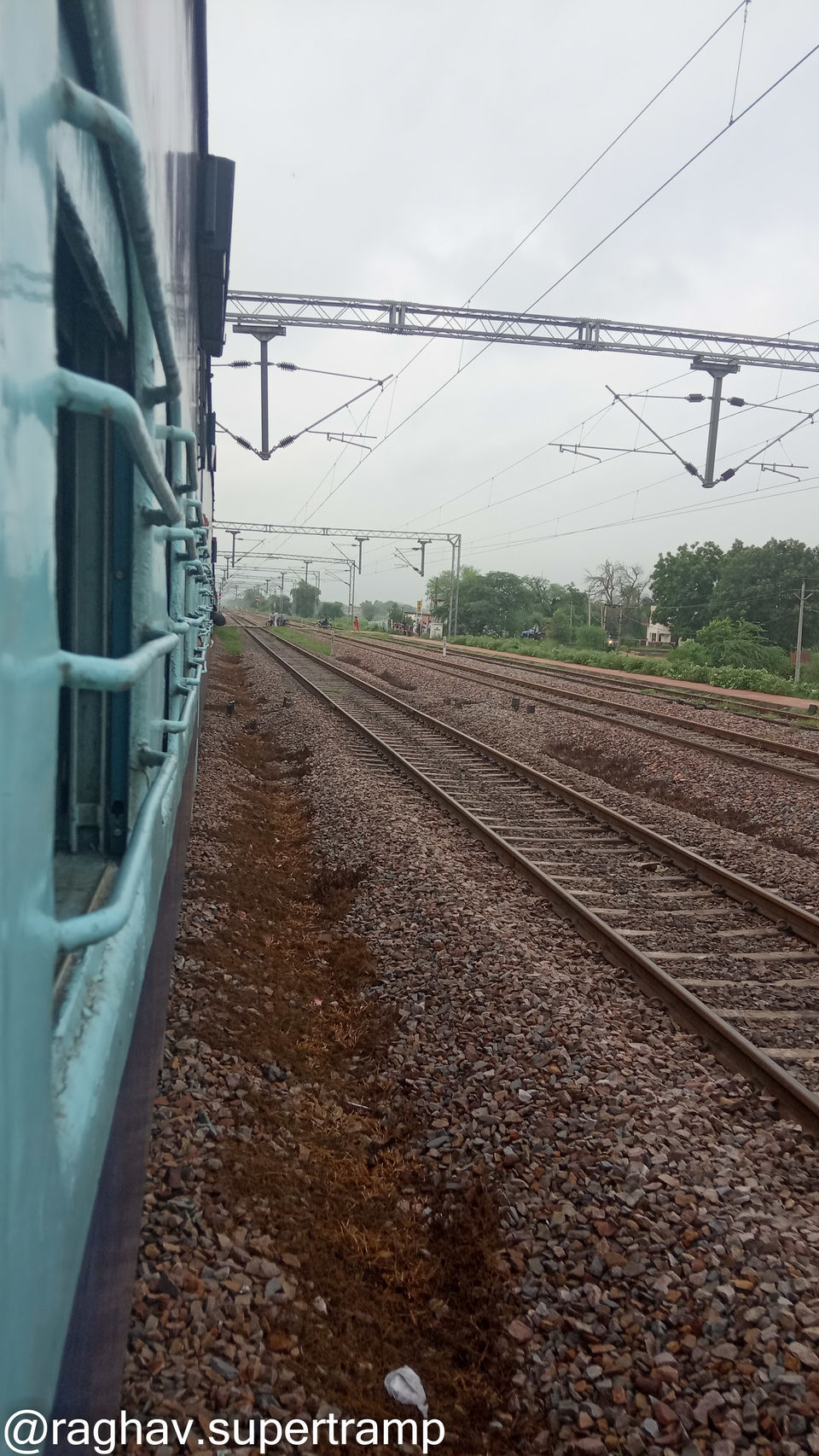 It was drizzling outside and the beauty of mountains in this refreshing morning drizzle was at its best.
We got ourselves busy in capturing this beauty on our phones.
It was raining cats and dogs when the train stopped at alwar. its a good thing I always carry an umbrella in monsoon and it came handy.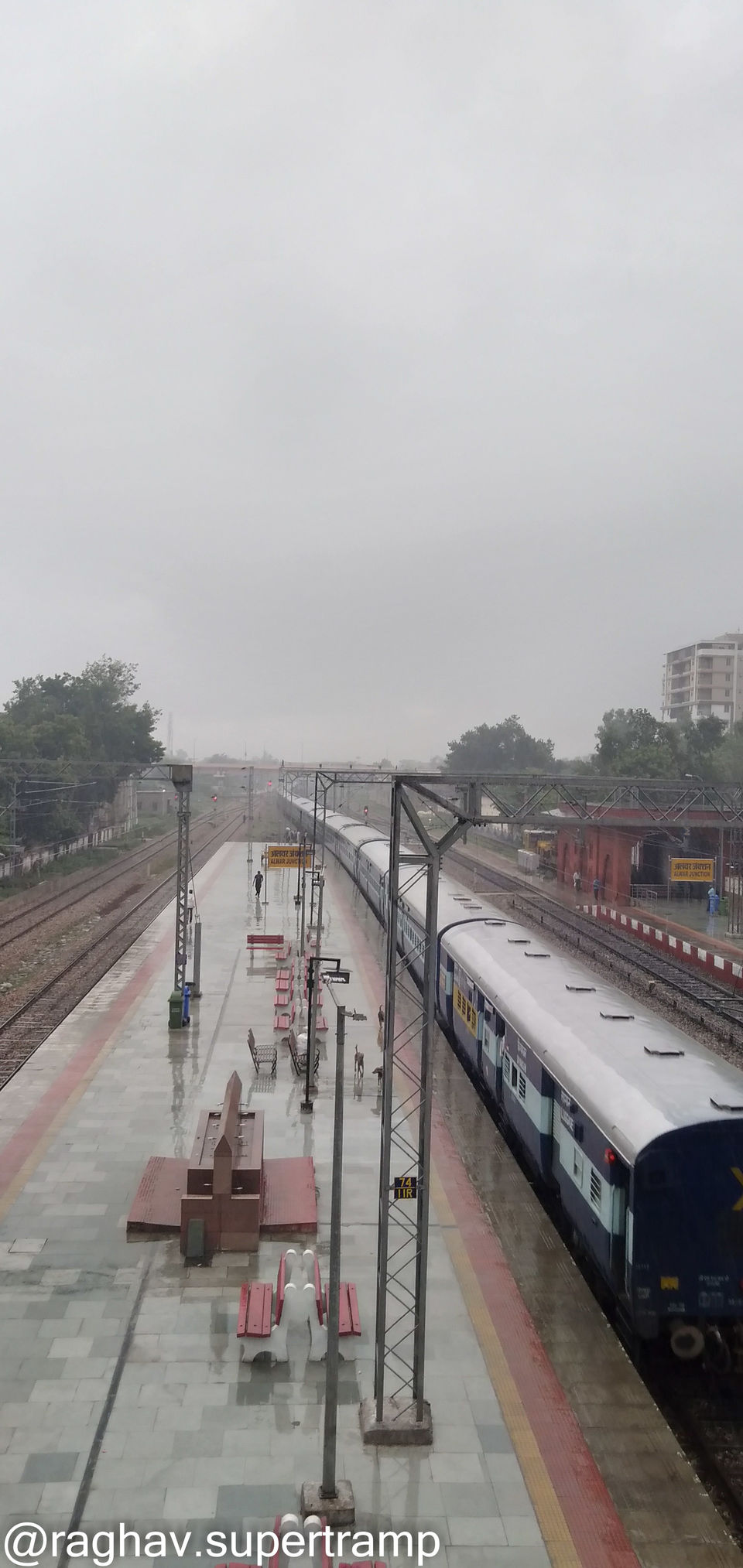 Outside the station, we were welcomed by the Annapurna rasoi ( a rajsthan government initiative to provide cheap, hearty and healthy food).it was a little food truck providing breakfast, lunch dinner for 5 RS per person.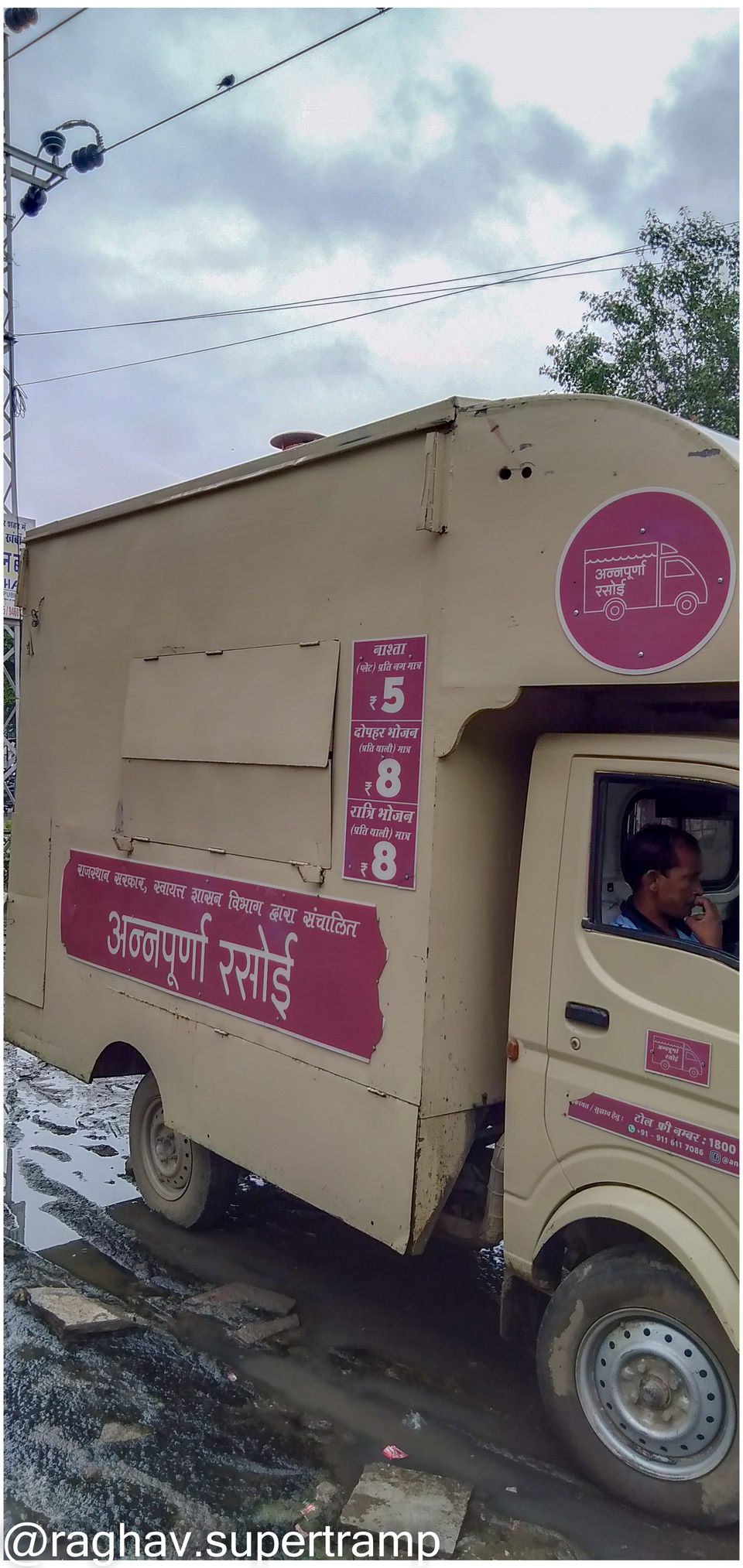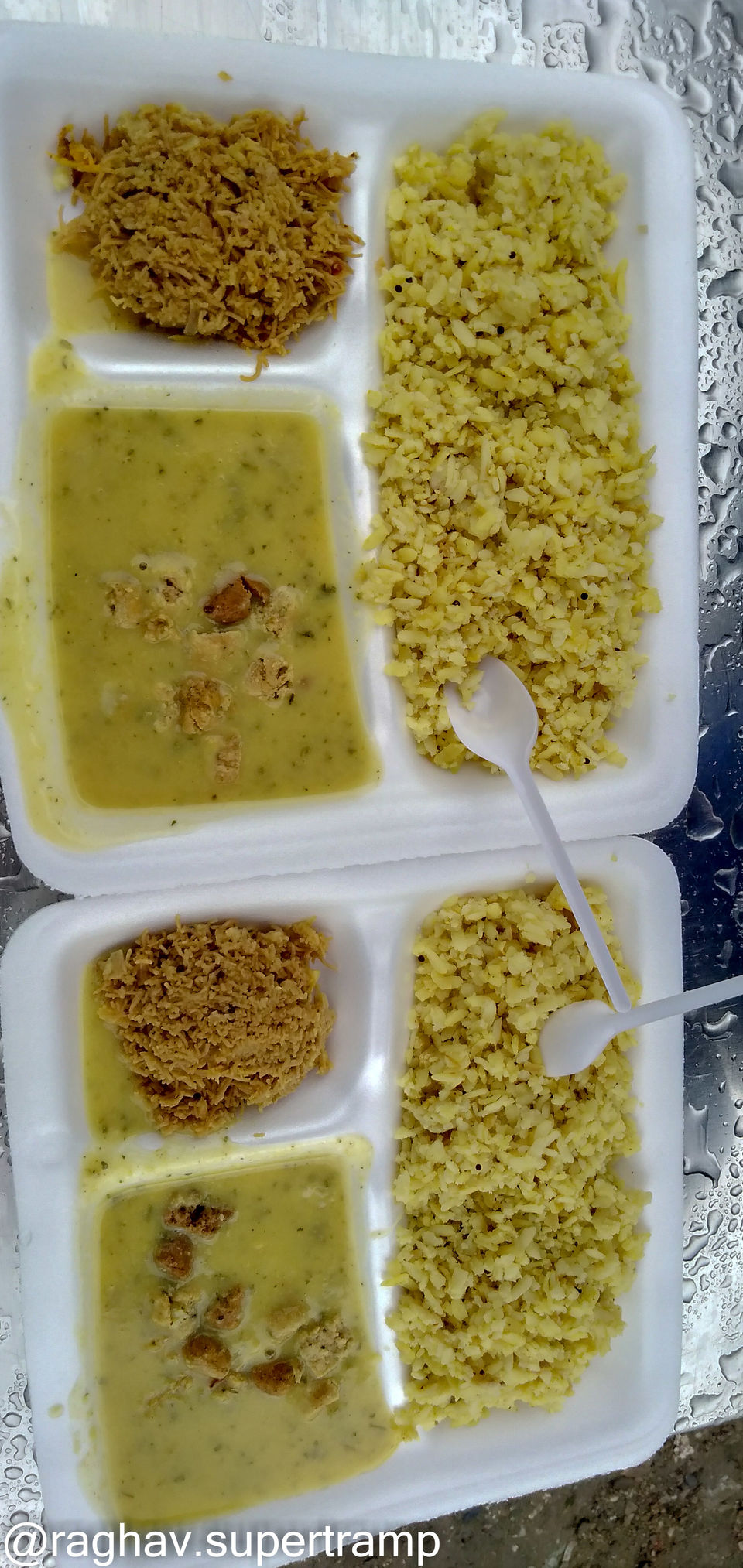 I got a plateful of chatpati sewai, kadhi and poha just for 5 RS and it was freaking delicious.
Places like these are a blessing for frugal travelers like us.they should be all over the country.even some locals were eating with us on the tables which they provide to eat on.
It was a grand welcome by alwar.
With our bellies full and bodies energized we took off for Bala kila hike.
Asking the local guy at Annapurna rasoi concluded that we will have to use e riksha as no buses go there.
With the help of the same local guy, we negotiated with an e riksha to drop us at karni mata temple which is halfway in the hike to bala kila for 20 RS a person.
It sounded like a pretty good deal so we hoped into the e riksha.it eventually turned it to be a pretty bad deal actually but more on that later.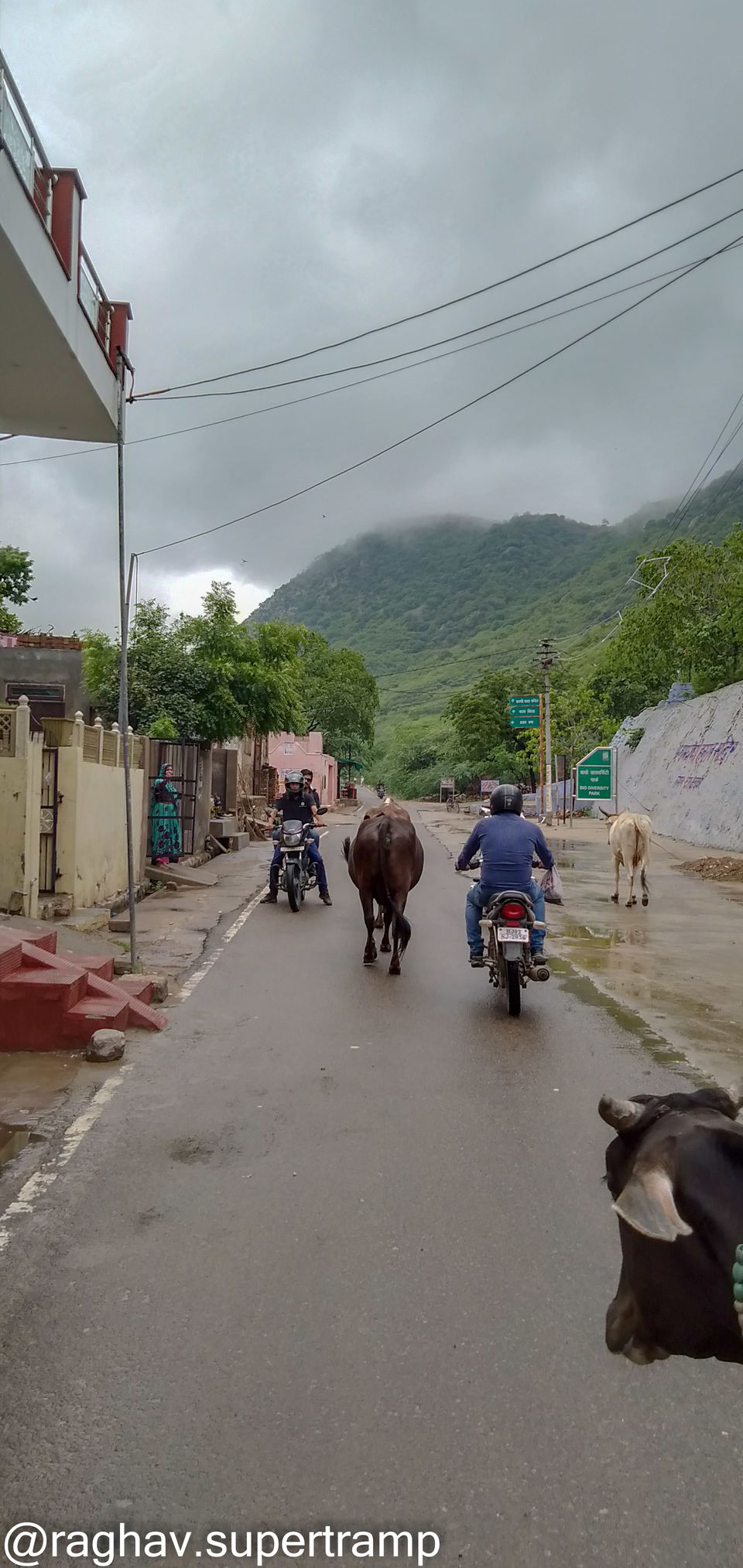 Passing through the streets of alwar we could see the mountains coming close every turn on the road.the heavy rain had turned into a drizzle by this time, making the atmosphere and breeze cooler.
Where the e riksha driver drooped us a few hundred meter before the sariska national park gate telling us they e riksha are not allowed inside the park and you will have to walk from here.we asked him to drop us at karni mata temple to which he said we already left karni mata temple behind.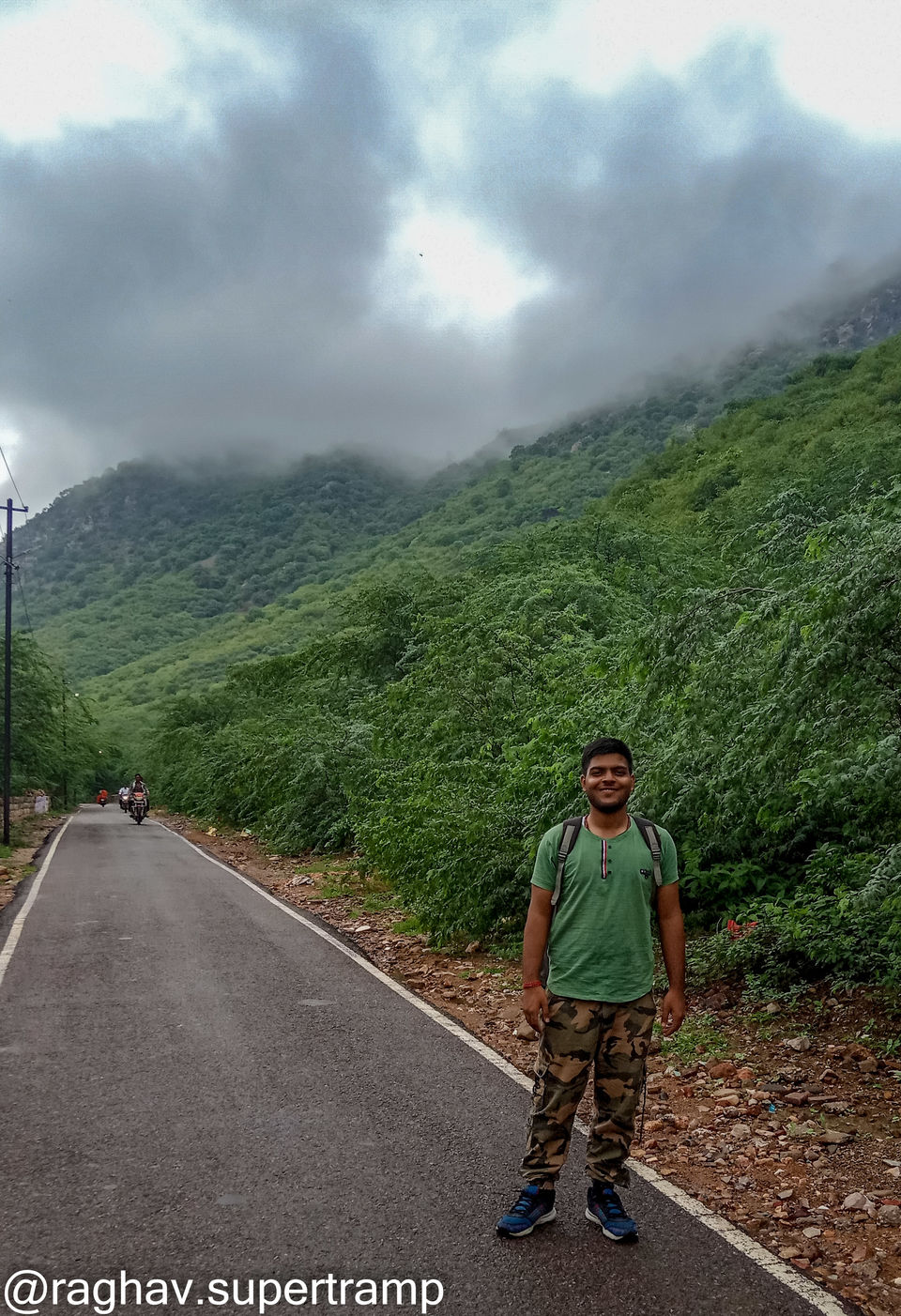 All of it as we found out later was lie and he was lying to us as he didn't wanted to ride his e riksha on the uphill slope.
After paying him 40rs we walked to park.
There were entry charges 10 rs per person.
The charges for car and bike were also written on the board which means you can visit here with your own vehicle.
It was here we found out that the eriksha divver had scammed us and bala kila was still 12 km and karni mata temple at halfway 6 km.
Anyway, we started our hike on the paved road. This road is well built as it is also used by some villagers to reach their village up in the hills.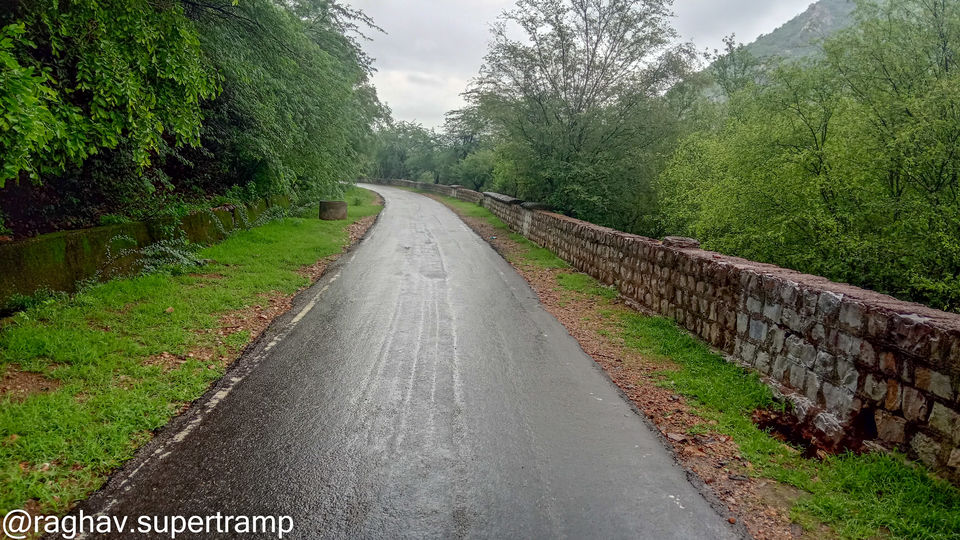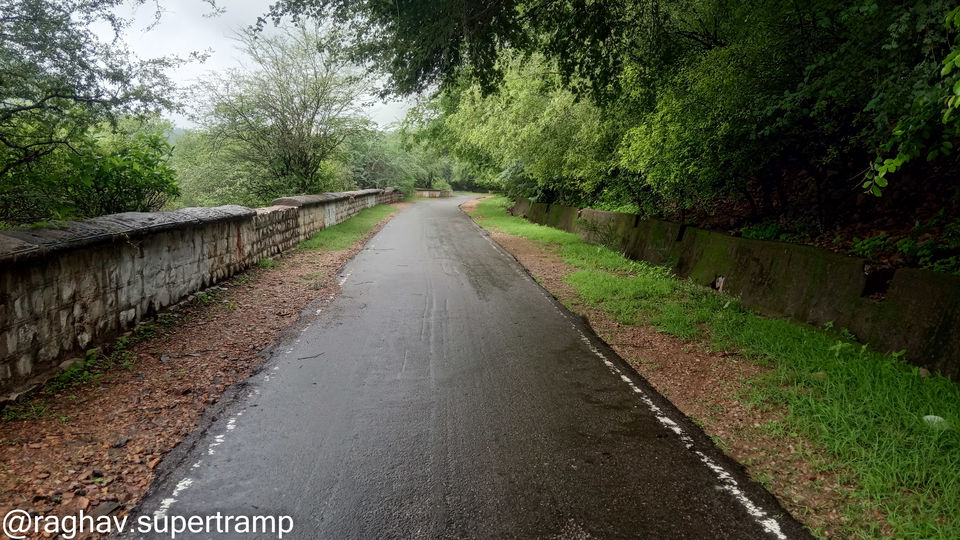 On the road we witness the real arawalis for the first time. we had valleys in front of us dotted with little huts and houses.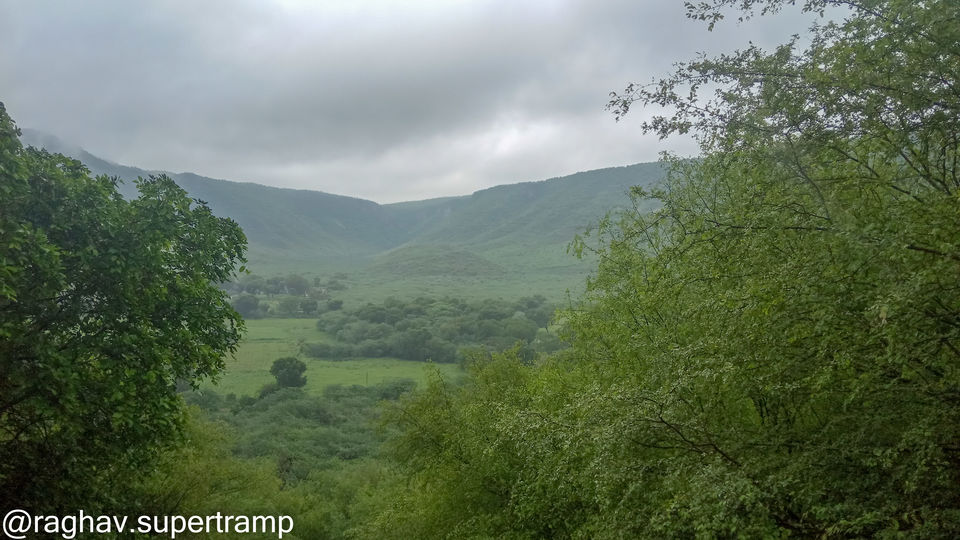 The views made us stop at every moment to capture the beauty through our eyes and our cameras.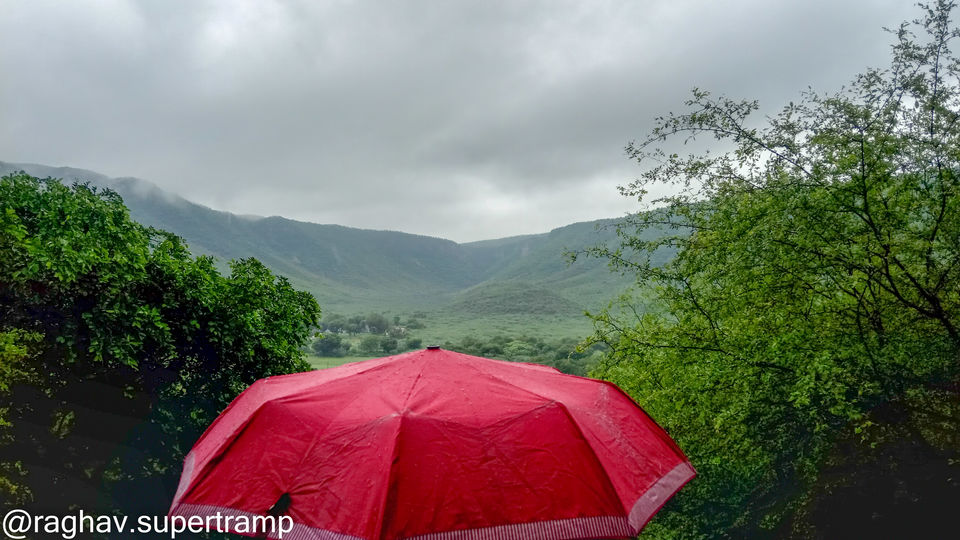 After 4 km and 100s of pictures later, when it was getting tiring we found our booties were empty and a few hikers who were coming back from the kila told us that we will get water at karni mata temple.
The temple was in a deep ravine between the road and another mountain.there were steps going down to the temple.some elderly local villagers were also going there.we found water at the temple and after thanking karni mata we got back to out hike.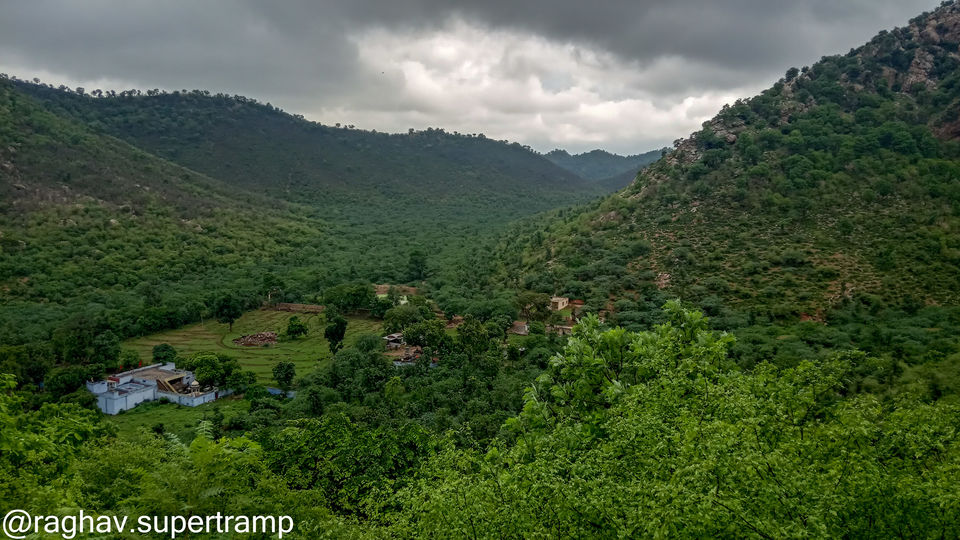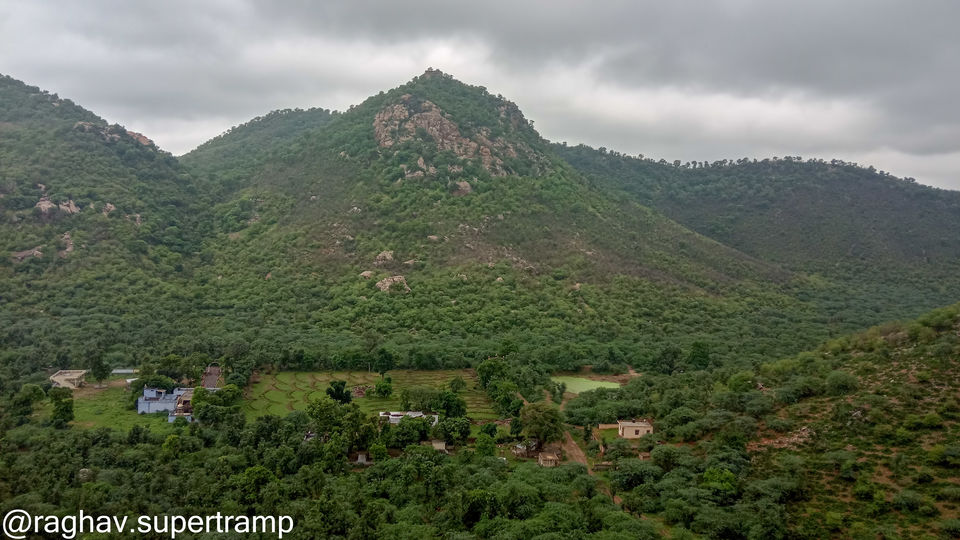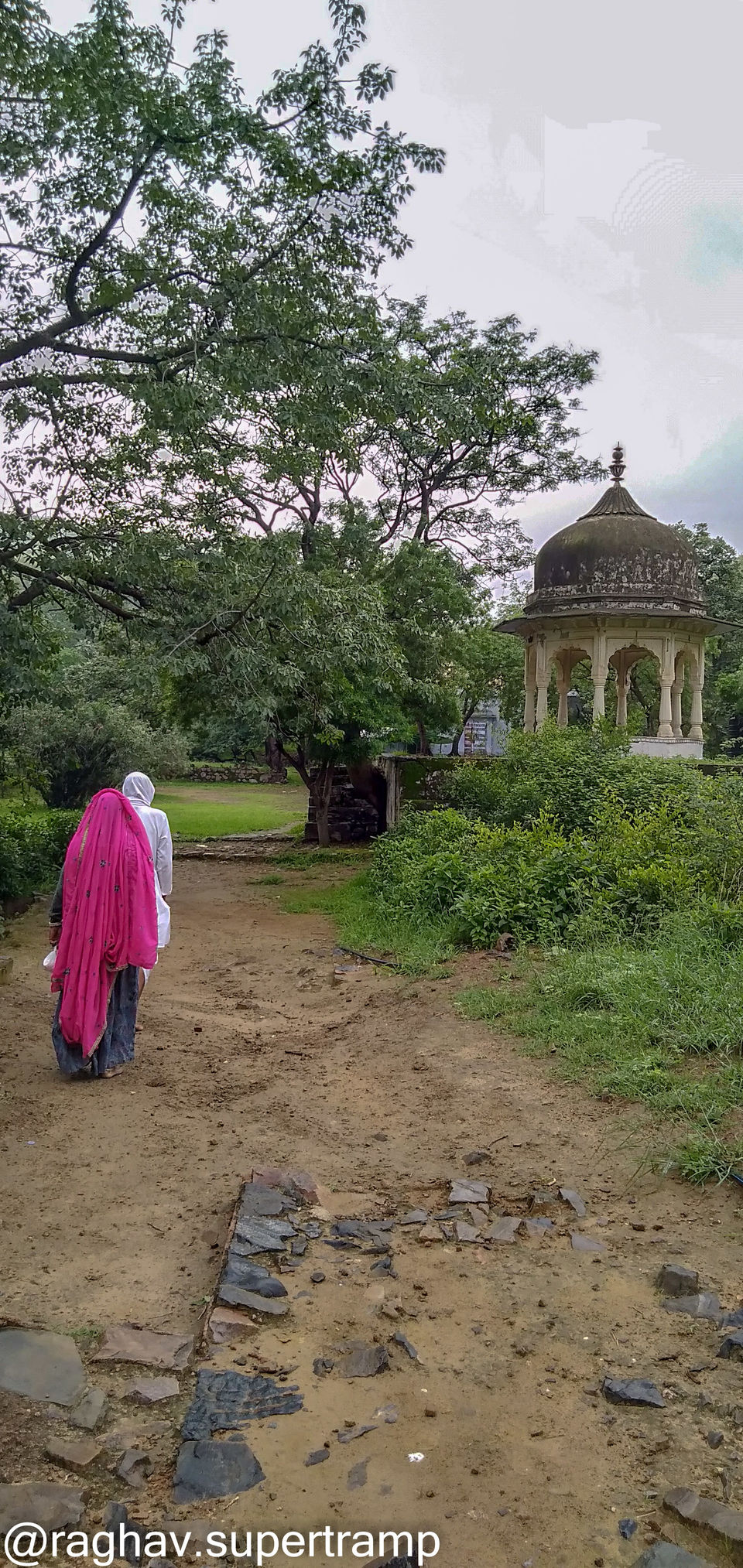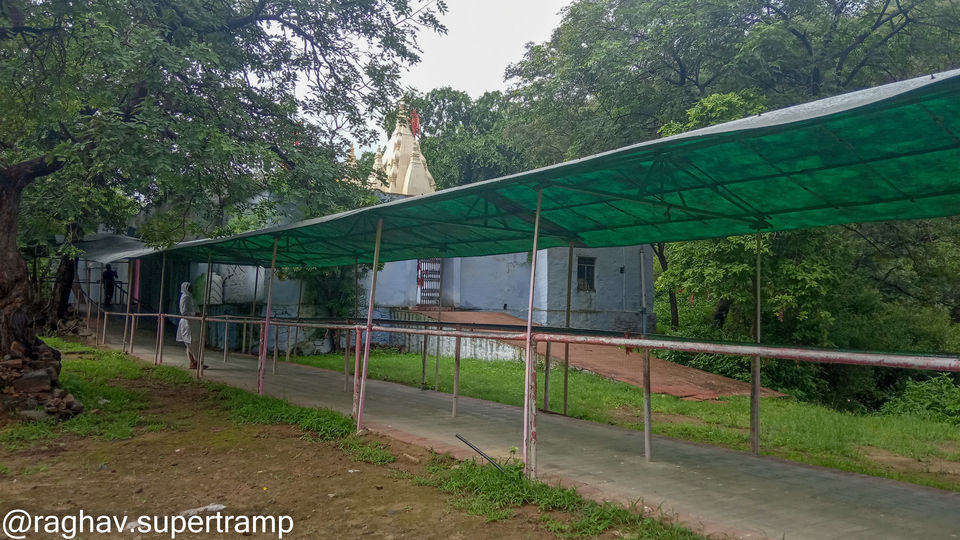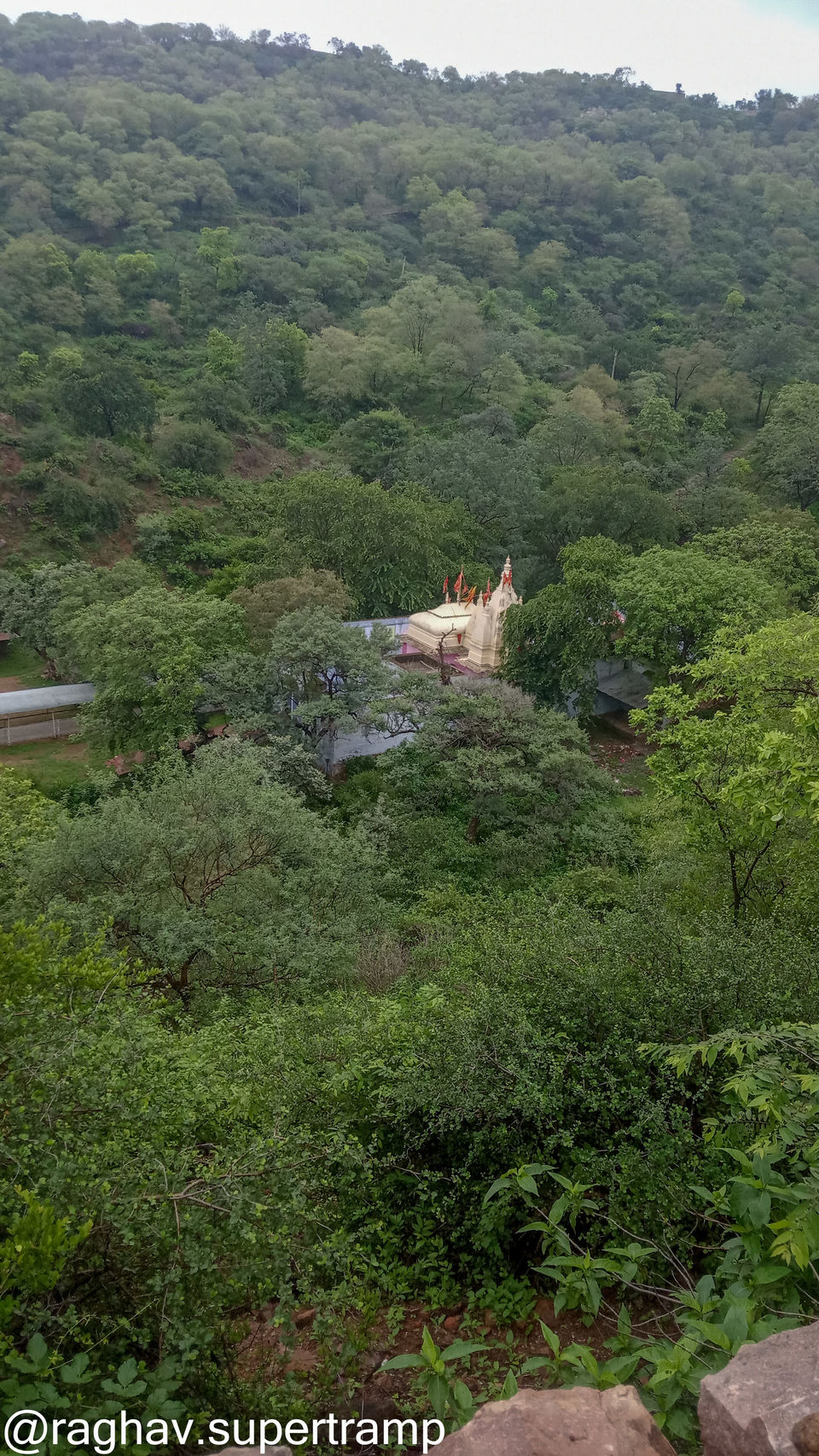 You will find a lot of fort walls during this hike which make you think you have reached baka kila but these are just old walls which circumnavigate the fort like the great Wall of China.
And after a lot of walking and pictures we at last reached the bala kila.
We found a lot of rajsthani locals here.it a weekend spot for people in nearby cities.
I concluded this from the rajsthani dialect that most people there were speaking.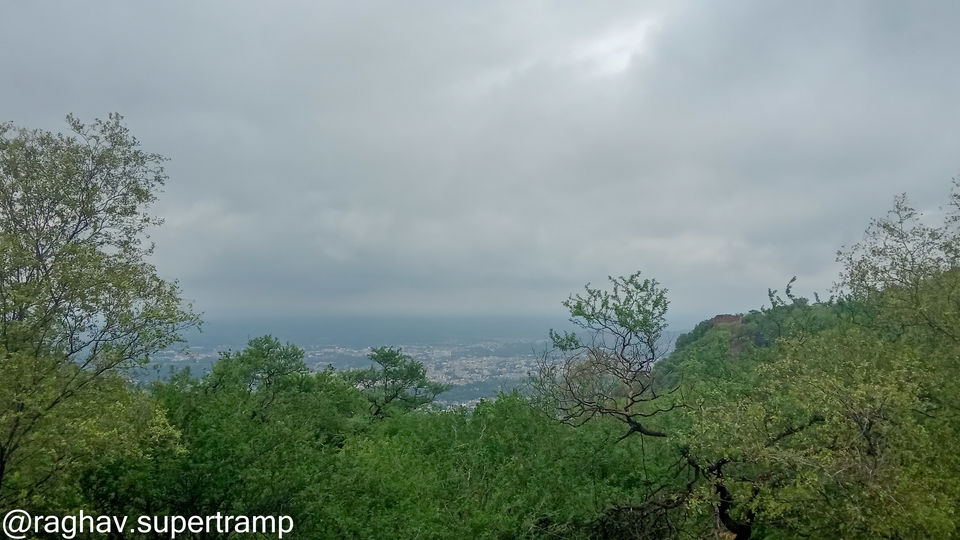 The fort is probably owned by Indian army as we saw many army truck in the fort as well as during our hike to the fort.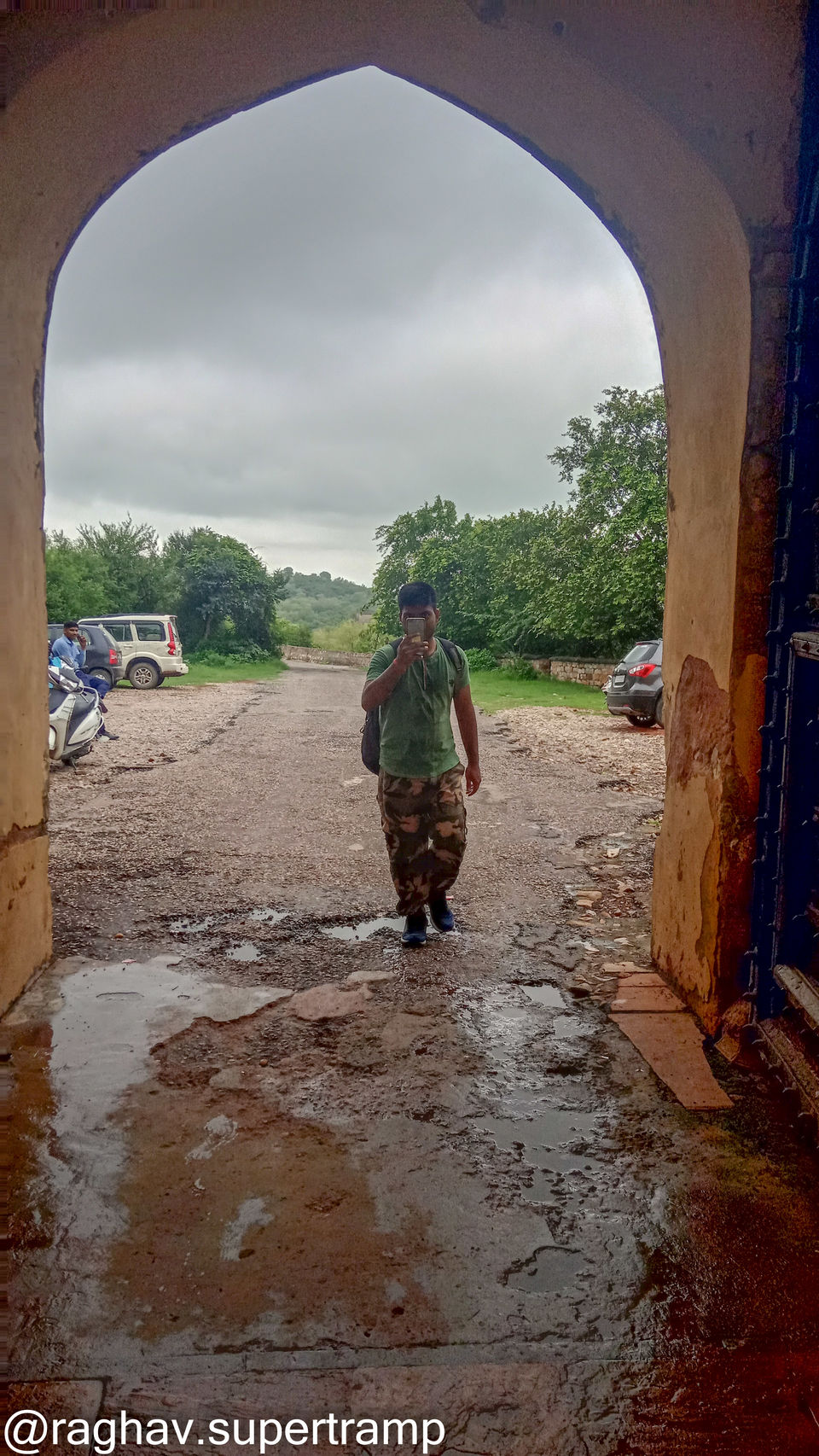 Some inner parts of fort are prohibited for people but the best parts that is the balconies, the roof and outer watching posts are accessible.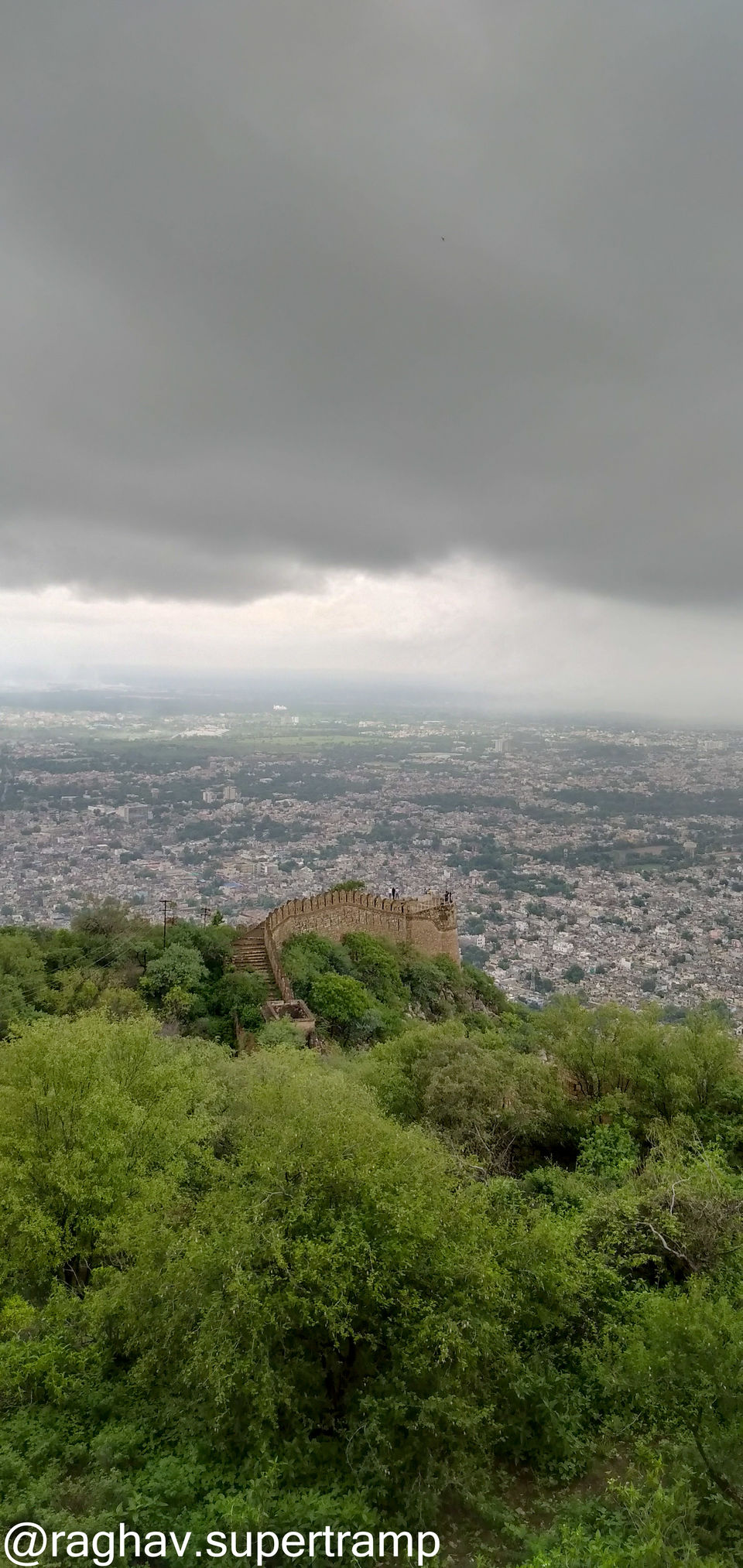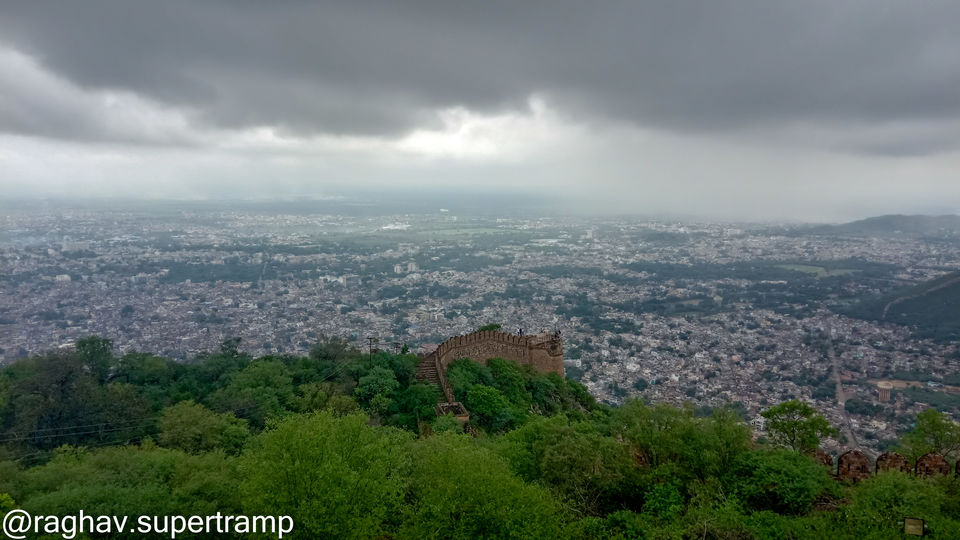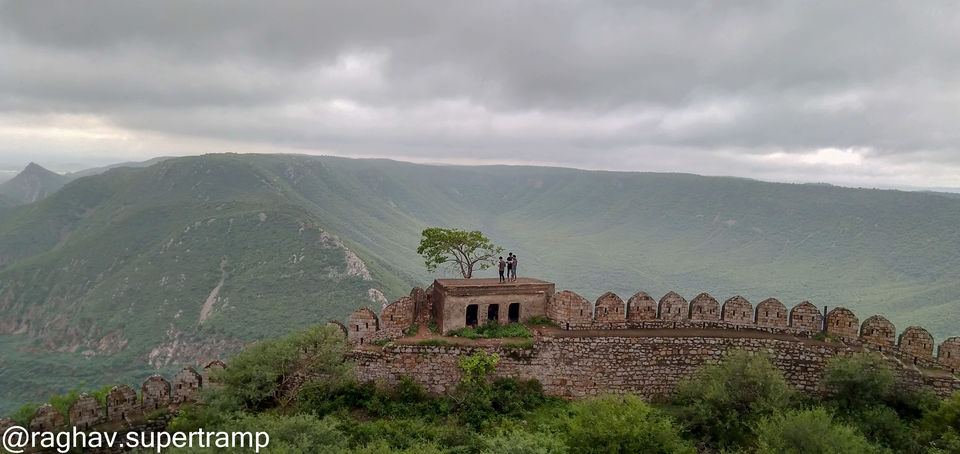 You can see whole alwar city in front of you and the plains of India as far as the eye can see on the other side you can see the nature reserve and the aravalis mountains expanding to the horizon. It was a staggering scene up there.the wind blows so fast it can take you on a flight above alwar if you don't hold on to the railings.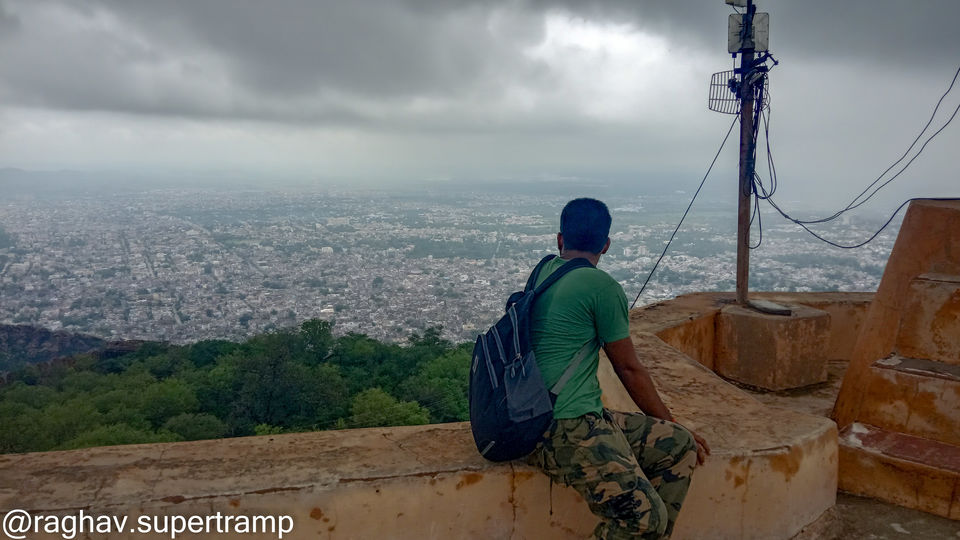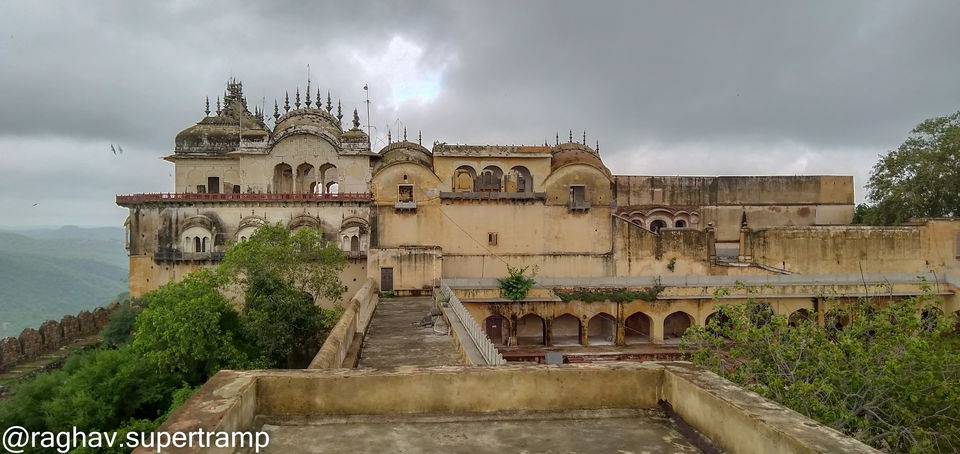 We started climbing at 9 and it was already 12:30.
We had plans for other places in alwar but we're were exhausted and we eventually scrapped them as we had to go back home today.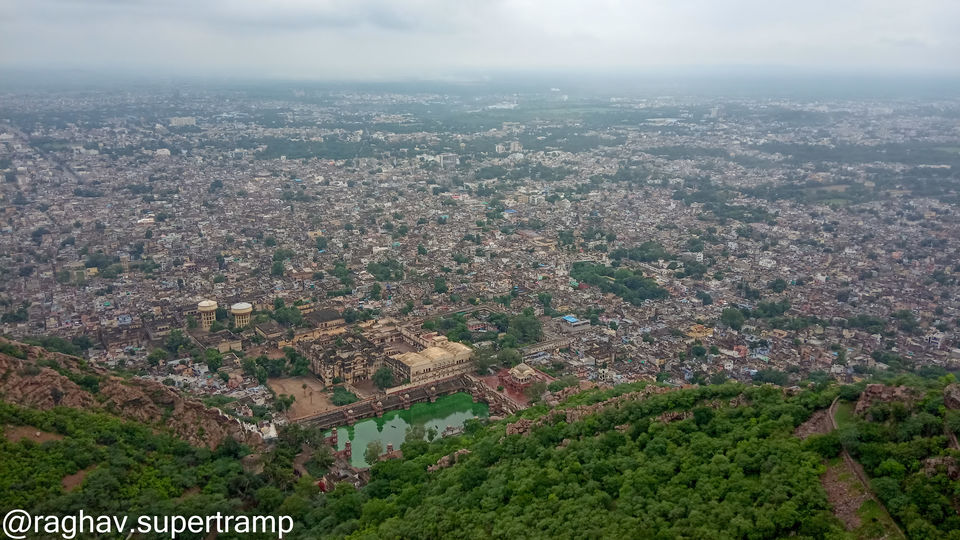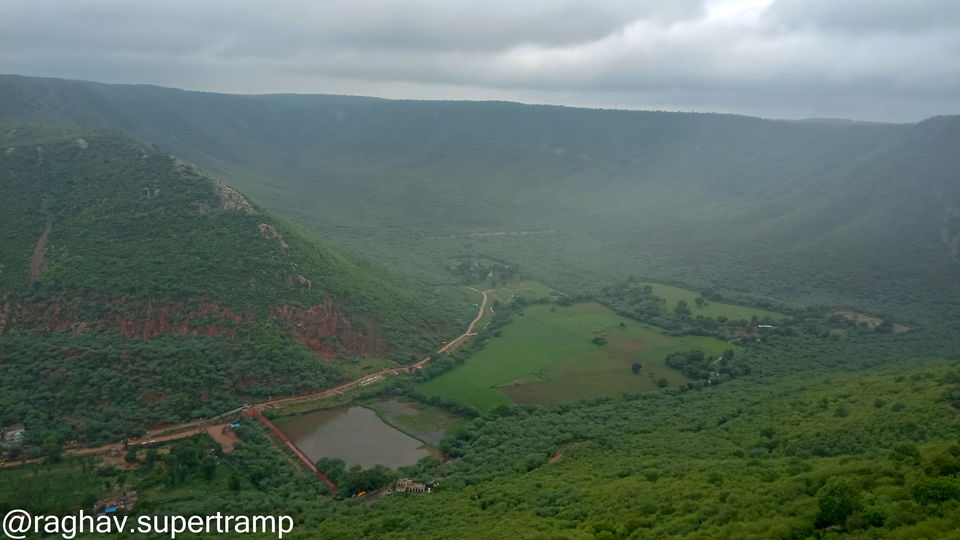 We started our descend at 1 pm and came down at 2 pm absolutely dog-tired.
We had no energy to walk any more and we were starving too.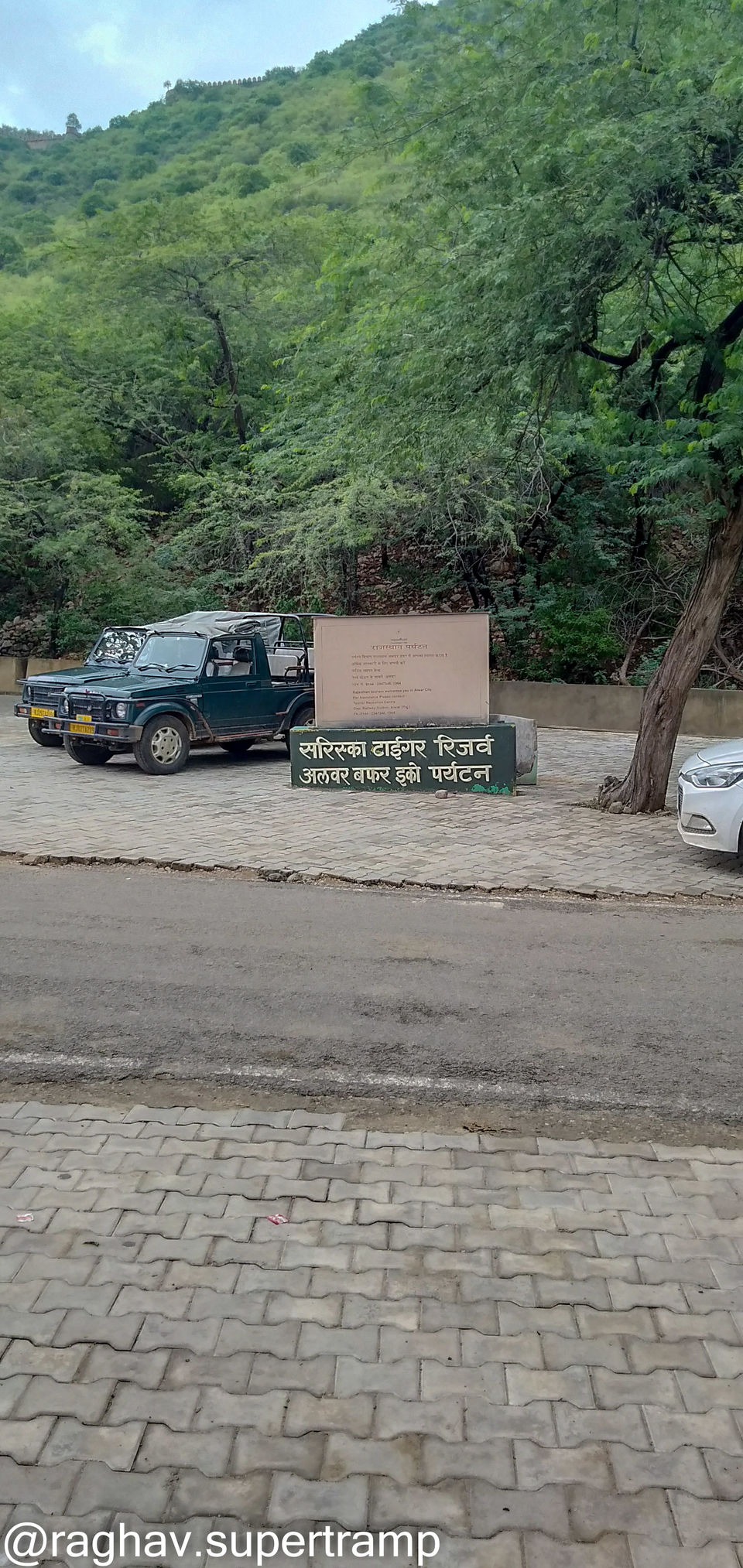 Reaching in the main city we found the bhandara going on and straight away we going the queue. We had the best aloo poori of our life and to top it off some boondi Prasad.
Hunger makes the food taste better and not to take away the credit, the bhandaras always make the best aloo ki sabzi.
We took from there in a e riksha and reached the station. It was 4pm when the next train motihari muzzarfarpur express came and we headed back to delhi. the general coaches were jam packed and we stayed at the gate the whole time.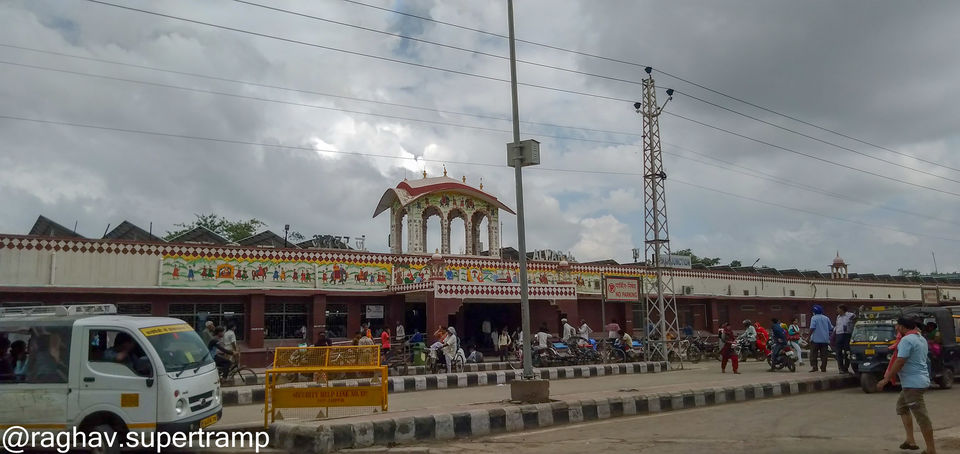 At 8 we reached old Delhi junction and took an emu from there to sahibabad and we were at home by 9pm.
This was our day in alwar and I thank you for reading this far.
your support is immensely appreciated.
this article was originally published at raghavsupertramp.wordpress.com