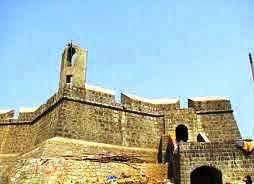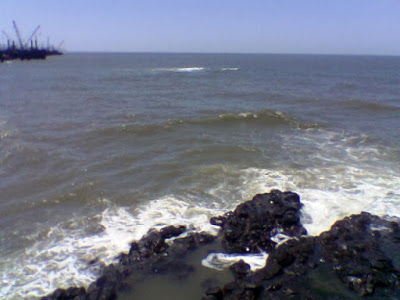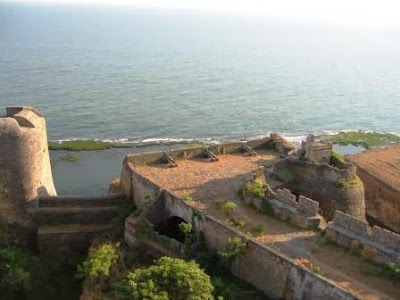 It was better to travel than to arrive :)
No reason to stay at home is a good reason to go Out ....we planned to move our lazy ass somewhere to make our weekend happening….told by one of my genius friend to visiting Worli Fort...It was Completely unknown but We took a narrow lane to a fishermen's village completely surrounded by slums...to be honest destination was the relatively unknown……
Enveloped by the smell of drying fish and the conversation of fishermen mending their nets, it's quite possible to imagine you're back in 1711, while walking through the narrow lane …. Someone beat a dholak and the whole neighborhood seemed to sway to a long-forgotten rhythm. …there was marriage ceremony and that dulha miyan got offended with abrupt disturbance ….
Drama followed by all junta Started questioning  driver's driving skills as that poor guy could not able to take even a small turn….steamily nervous  he almost gave up his skill while seeing those zig zag lane with minimum space to pass two bikes at same time. People were wondering where we going gives us first hit to think…..is there really something to worth watching….
But we along with few outsider friends (all set to see Mumbai) stayed positive about it….after all Google says, it was built around in the 17th century by the British, when Bombay used to be just a cluster of seven islands. Its gives the privilege to provide a vantage point over the Mahim bay, a apparently the British built this fort to keep an eye on approaching enemy ships and pirates & was used as a lookout point …
Finally we reached ……
The first reaction was BIG POUTED FACE with completely disappointed mood. …with consonance that bad day in roaming nowhere is much better than a good day anywhere else. I was in for a rude shock seeing the ruined condition of the fort. It was in absolute shambles -- roofless, battered walls and shrubs sprouting all over the place….. The fort presumably is used by the local slum population for all kinds of purposes: a place for local youth to get together for a drink and then enjoy the sea breeze and those cheap talks. I was saddened by the fact that it has not lost its old glory. 
Such a good historical place is being used as gym….Socking but true…. From the outside, the Worli fort looks like just another neglected historical site, and inside it gets worse…. (:
The architecture of the Fort is good undoubtedly …..Revealed in the beautifully ornamented gate that leads to the entrance of the Fort.  These days, the fort overlooks the Bandra - Worli seal ink, the first of a proposed chain. The view of the Arabian Sea from this fort is simply splendid and panorama. On reaching the top of the fort, one can  see & feel thick clouds gathering, giving some hope of an unseasonable shower
An officer from the department said on the condition of anonymity, "It is better to have a gymnasium inside the fort than be surrounded by drug peddlers as it has happened with the Mahim fort…oblivious  it's a complete nonsense…..The question of how do we in India relate to our heritage is very easy to answer. By and large we do not relate to our heritage in any way, unless what we do to them can be construed to mean that we treat them as our own.  
We can say… Those structures that cannot be so converted into places of worship seem to leave us cold and untouched and we treat them as a 'no man's land. I cannot think of any reason but sheer government apathy for neglecting such an historical fort. I am equally baffled why the archaeological department has not declared it a national monument or heritage site.
However, all journeys have secret destinations of which the traveler is unaware…So that this trip was having nothing to do & all day to do it in with least expectation. Ummm….No….writing no expectation with trip will be not justified…we all are awfully greedy; want everything from life. We want to be a woman and to be a man, to have many friends and to have loneliness, to be selfish and to be unselfish… You see, it is difficult to get all which I want…. 
When I have to give closing remark – All I can say is One should travel not to go anywhere, but to go. We traveled for travel's sake….It is good to have an end to journey toward; but it is the journey that matters, in the end….The great affair is to move  on  to Live, travel, adventure, bless and don't be sorry.
All you need is a destination.