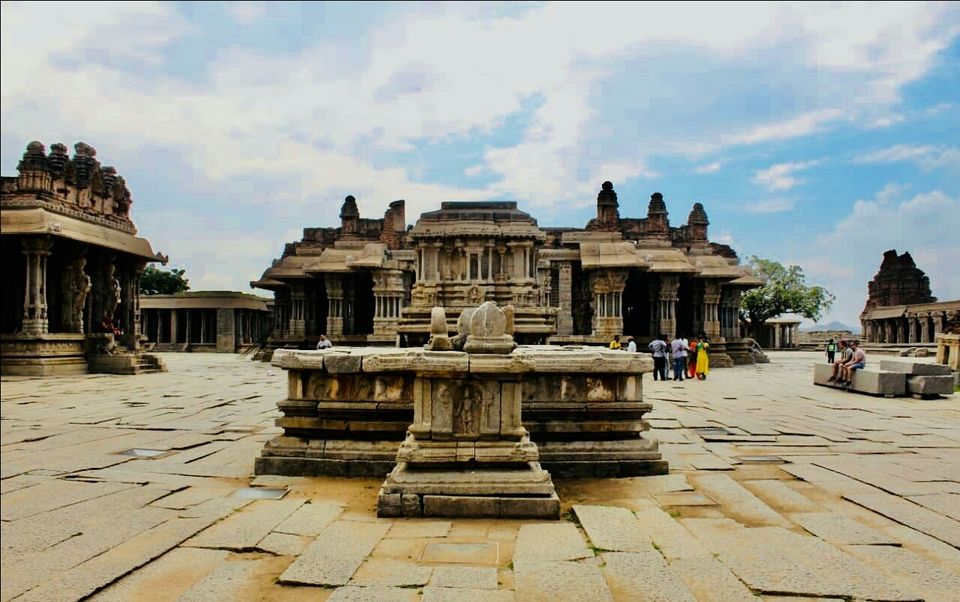 Yeah, the budget seems very low but it's true! 
I decided to travel to Hampi on 28th Sept. I left to Hubballi from Udupi on the previous day. My friends were going to join me there ( Hubli). The Govt Bus cost me Rs 326/- to Hubballi. As there are no direct trains to Hubballi, I had no option, but I could travel until Kumta in train and then catch a bus there, but I had to reach there before midnight for a good sleep. I reached Hubballi at 10pm and stayed there in my friends' apartment.
We started off early in the morning at 6am, boarded the Hubli - Tirupati Express train. The reserved ticket cost us Rs. 100, we reached Hospete Junction at 9:30am. We ignored all auto drivers and boarded a bus to Hampi after walking a kilometer to the bus stop. The bus ticket cost us Rs 13 per head for the 14 km journey. I had a water bottle which I refilled for Rs 3 at the Hospete Railway Station.
We reached Hampi bazar in 30 mins, hired an auto who charged us Rs. 1000/- until evening, I paid Rs 300/- and the rest was paid by my friends. We had a lot of fluids, like limbu soda, water, ice cream and that's why we decided against having lunch. The entry ticket to the Lotus Mahal cost Rs 40/- per head (Indians), the same ticket can be used at Vittala Temple.
We boarded the bus to the railway station from Hampi bazar, which cost us Rs 14/- per head. The general ticket to Hubballi from there cost us Rs. 35/- per head. I decided to leave to Udupi the next morning. I boarded the NWKRTC express bus to Kumta which cost me Rs. 155/-. The railway station in Kumta is at a walkable distance from the KSRTC bus stop. I waited for an hour to board the train, ticket cost me Rs 35/- from Kumta to Barkur, from where I boarded a bus and reached home.
You can see the brief summary of all my expenses :
1.KSRTC bus fare, Udupi to Hubli :Rs. 326/-
2.Water bottle.                                      :Rs. 10/-
3.Hubli to Hospete train fare.         :Rs. 100/-
4.Bus fare Hospet to Hampi.           : Rs. 13/-
5.Auto fare Hampi.                              : Rs. 300/-
6.Entry fee to Lotus Mahal.             :Rs. 40/-
7.Bus fare Hampi to Hospet.           :Rs. 14/-
8.Train fare Hospet to Hubli.           :Rs. 35/-
9.NWKRTC bus Hubli to Kumta.     :Rs. 155/-
10.Train fare Kumta to Udupi.         :Rs. 35/-
11.Bus fare to Home.                            :Rs. 15/-
12.Food expenses.                                :Rs. 50/-
13.Water refilling.                                  :Rs. 3/-
        Total.                                             :Rs 1096/-
PS: I could have saved some money, maybe in between Rs. 150-200.
Cheers!
You can follow me on www.theparttimetravelblog.wordpress.com


#travel #photography #tourism #budgettravel #Hampi #monuments #karnataka #india #worldheritagesite #UNESCO