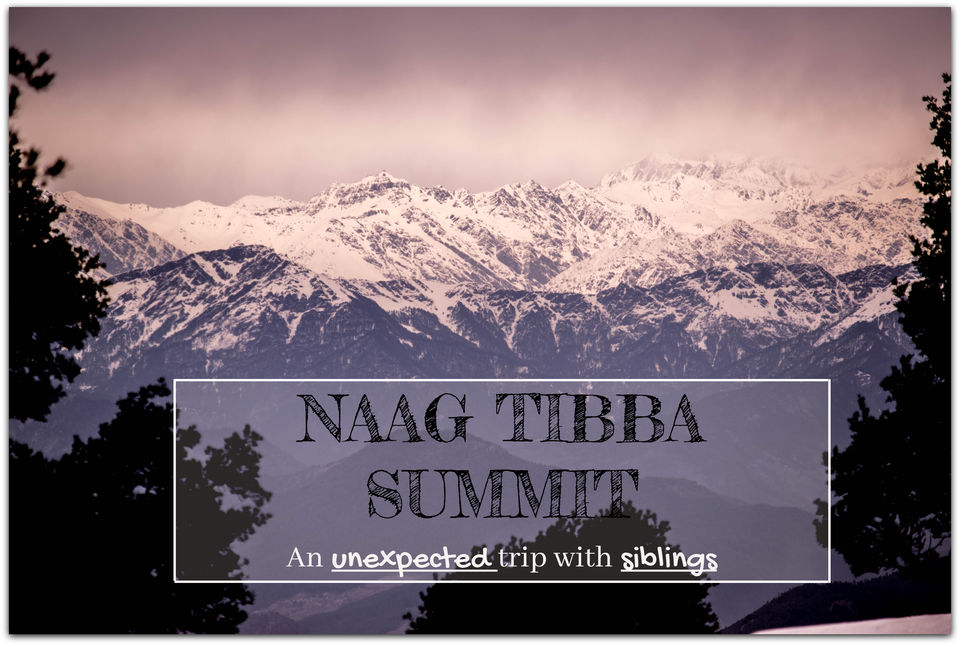 Context:
Well the story might inspire you to plan your trip with your siblings. We are three sibling and each of us quite a unique personality in ourselves.
After we all got settled in different places we decided to plan a trip together each year, or whenever possible I was coming from Australia to visit mountains my favorite place. Although I was never expecting this kind of experience and not in my dreams that I will be able to meet two legendary personalities.
We booked in a moderately easy looking trip in Nag Tibba region of Uttarakhand and we assumed we will just enjoy some hill vibes,and booked this trek with Renok adventures, it was 5499 per person including meals, accommodation in camps and trek guide. The description wrote easy trek and some basic tips.
Our expectations and the actual story
My sister runs a page on Instagram "it's a happy world", and is almost a celebrity now, many of her illustrations are inspired by Ruskin Bond's writing. So, when she heard of the plan, she got excited for a different reason. Her inspiration was Ruskin Bond - the famous writer. She demanded if we are going to Mussoorie we must meet him. Everyone was getting something so all were happy. Do watch and listen to the bakar in video for the entertaining bits.
Day 1 – Delhi to Dehradun to Camp, the change of sceneries from plains to hills
We packed and left for Dehradun in our Safari. Plan was, to road-trip till Dehradun, where the tour guys will pick us up and drop to the village where the trek commences.. After reaching Dehradun our travel agent picked us in the tempo traveler.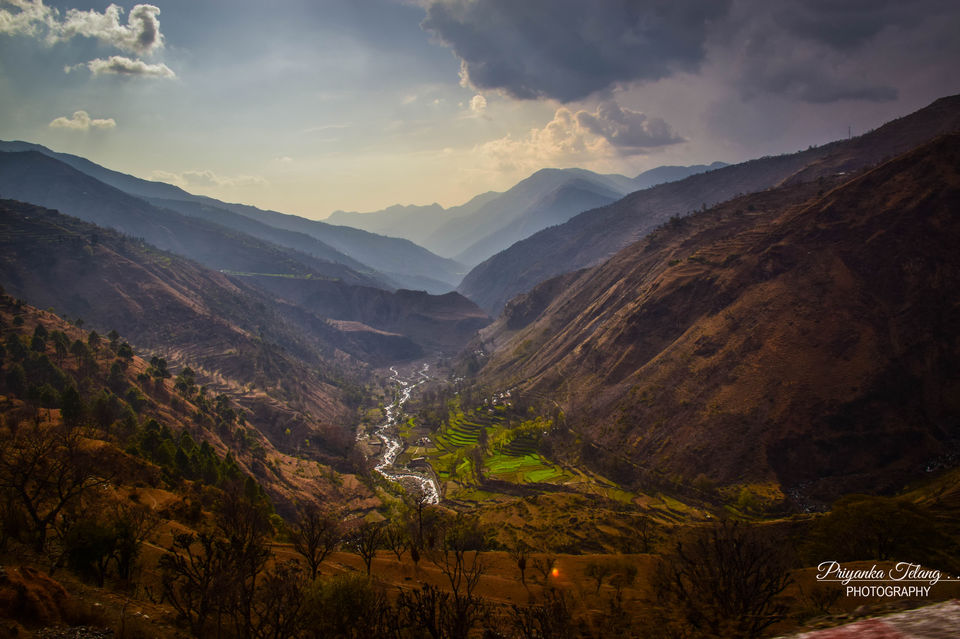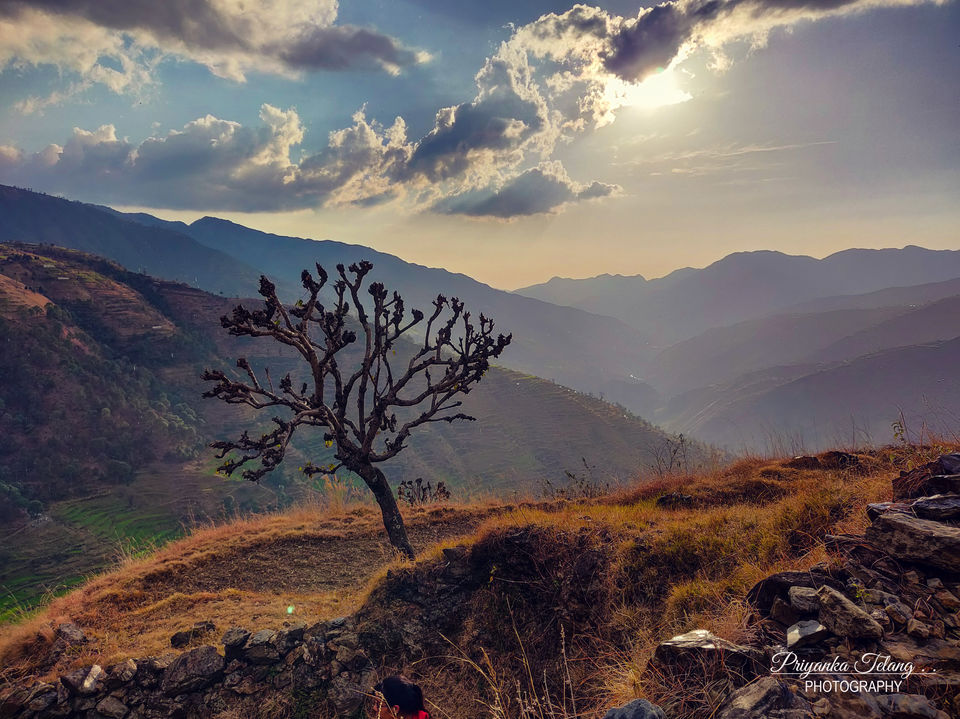 The views changed from boring highways to greenery, hills and streams and so our mood. We reached the village around 04:00 PM and our trek guide was worried and eager to start.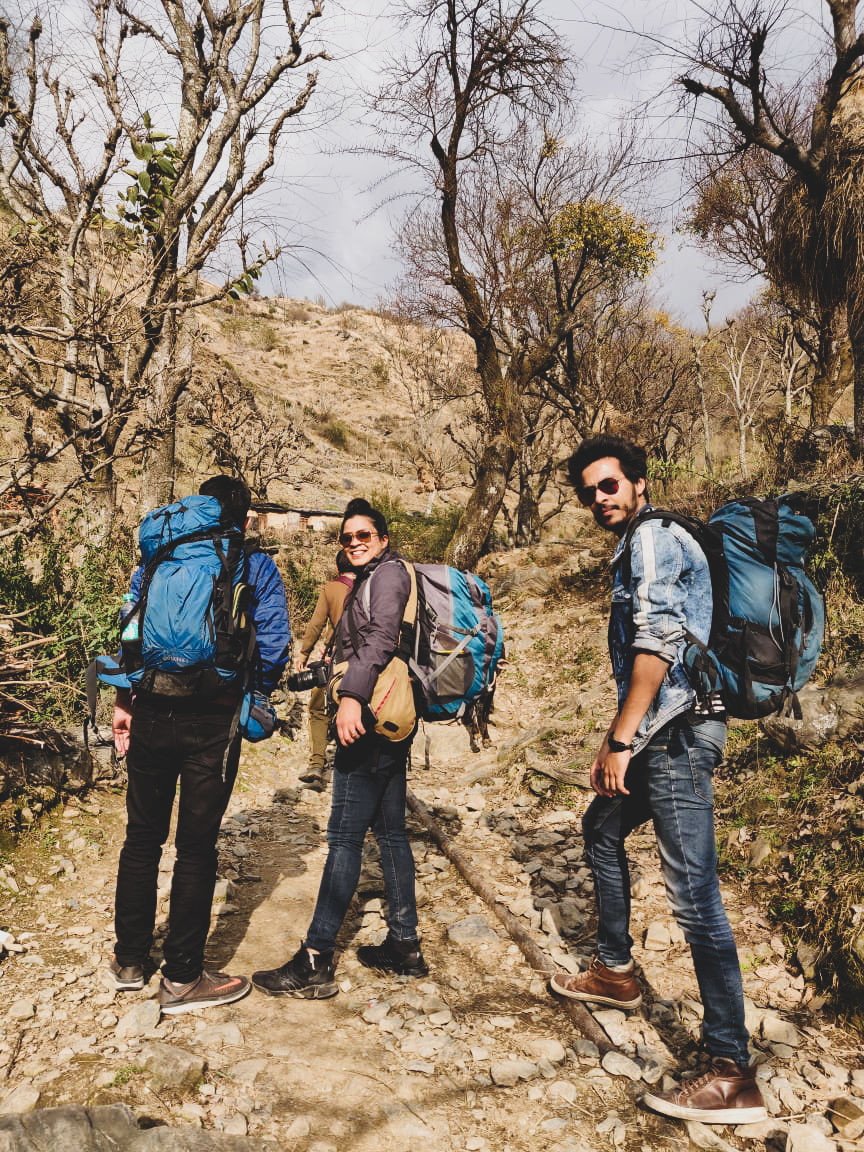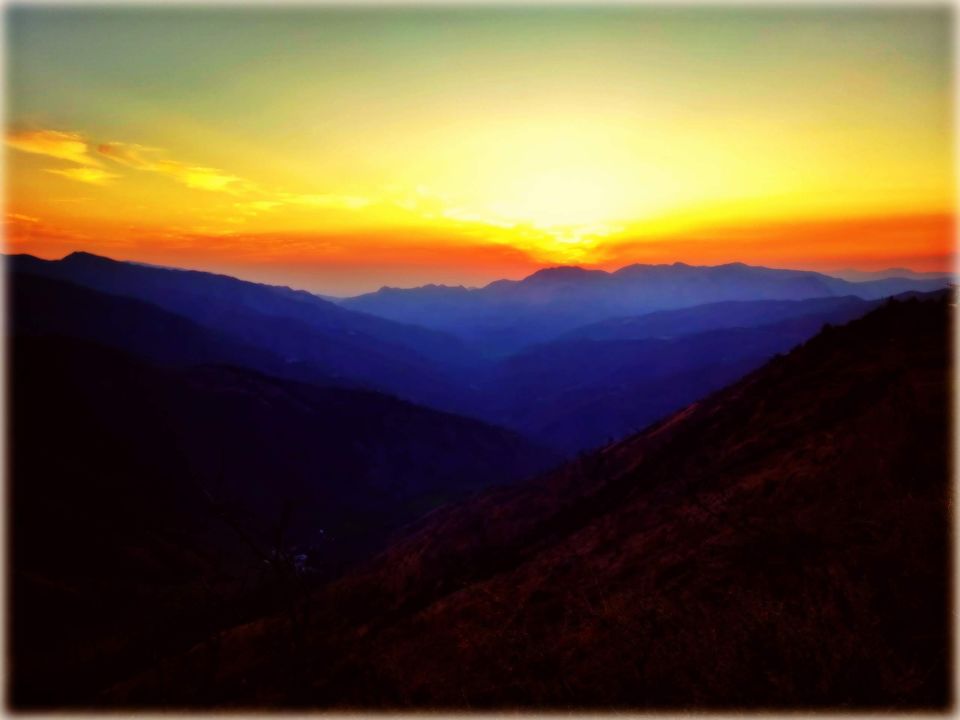 Day light was fading and it was a 5kms steep trek, none of us was prepared for.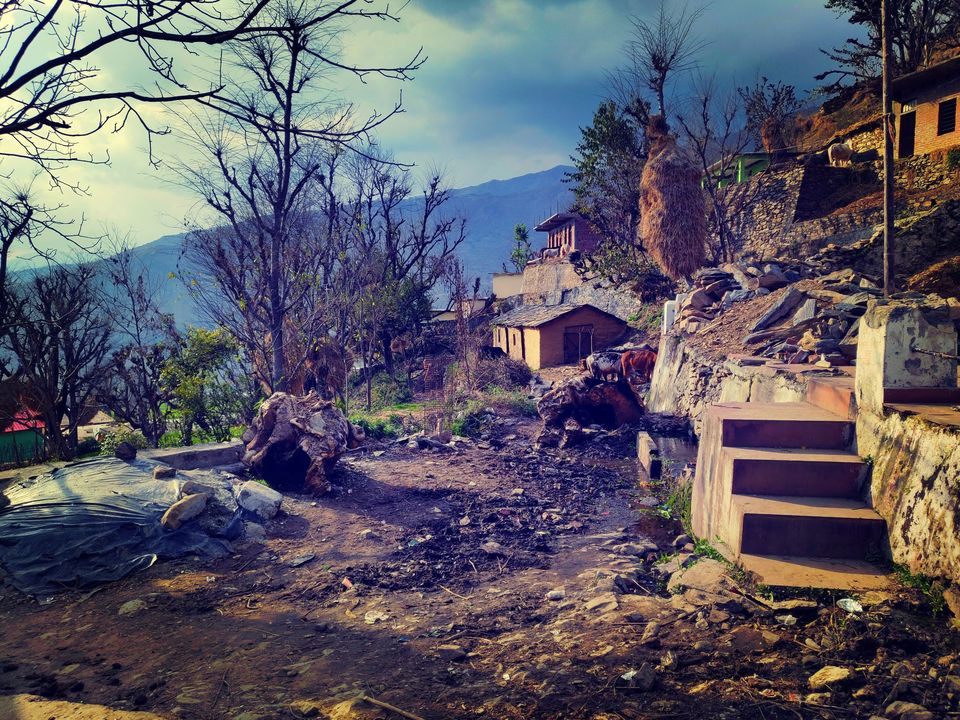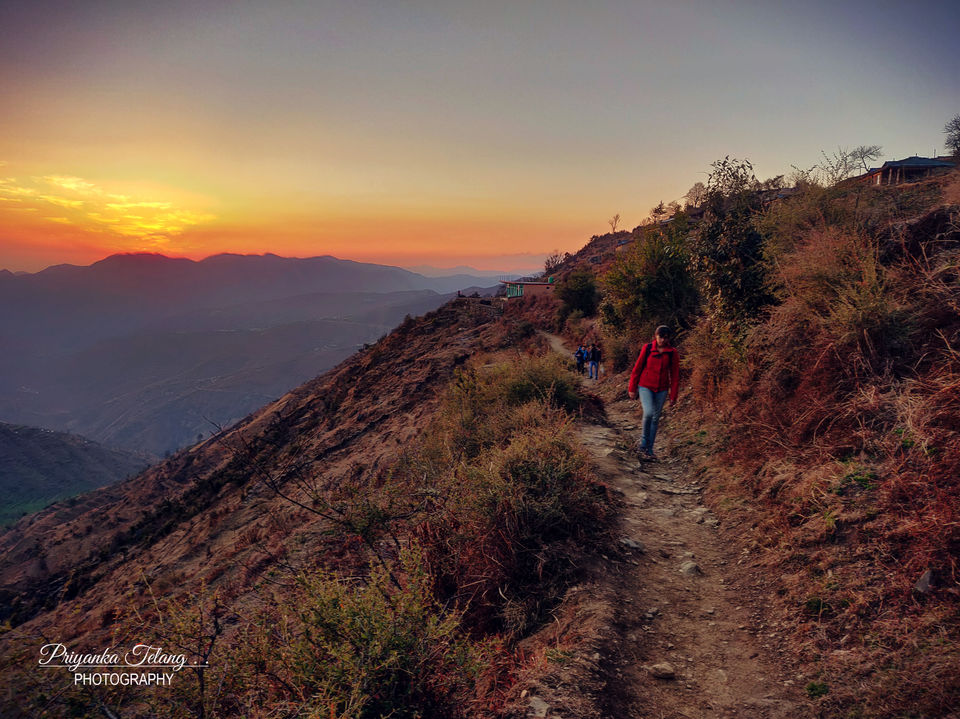 Until you start hiking, you don't realize how unfit you have been, you did nothing except sit and get pampered. Some of us, completely forget the basic of fitness, same happened with me I was sour in few mins and was struggling.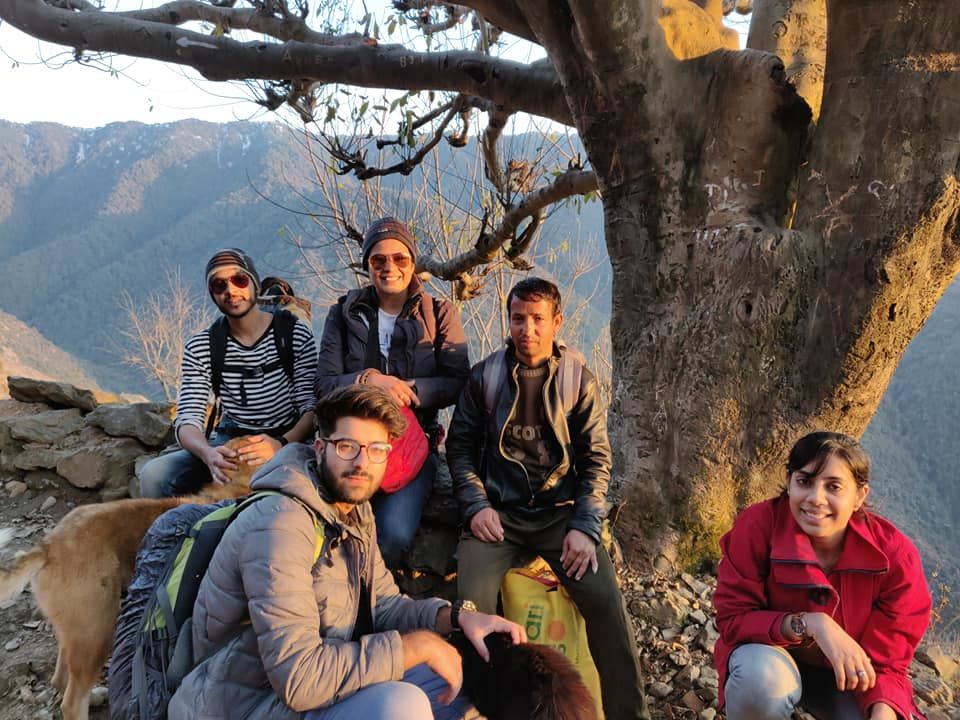 But I was still happy with the pain, it makes the journey worthwhile, this was joyous pain, so was the experience.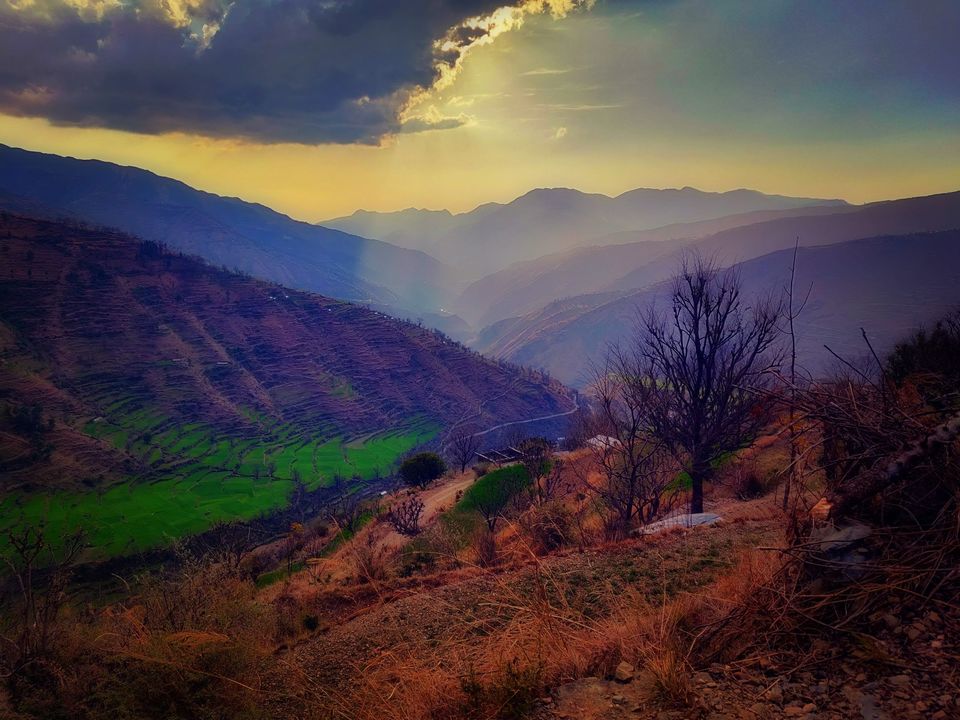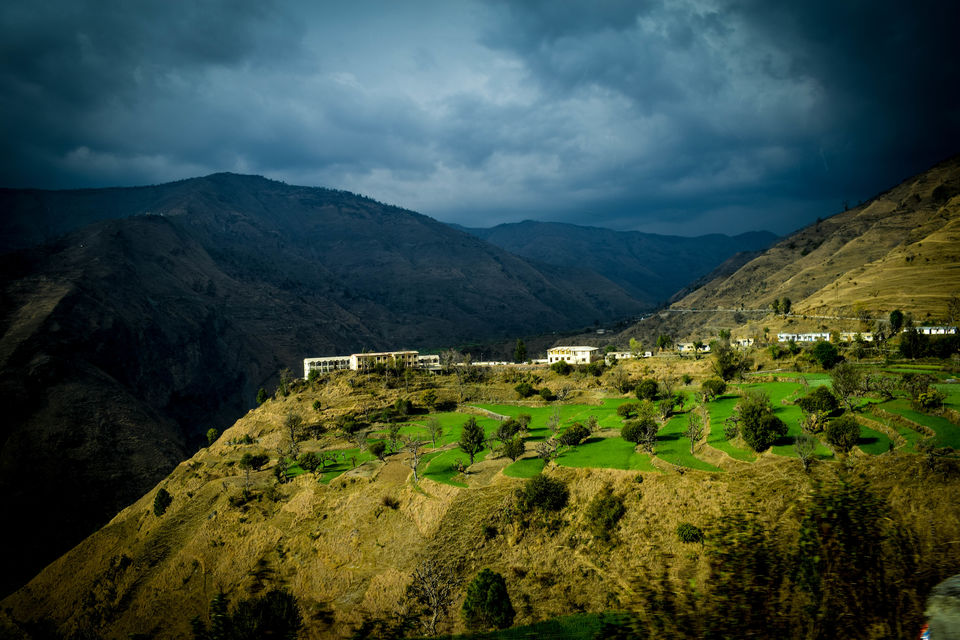 It was almost dusk and our guide kept saying, we are just there, and we have to keep going. We covered the trek in 2.5 hours and he admired us for completing within time and good pace.

The site was dark, no light and chilling weather, a Bonn fire here was not luxury but an essential need. Hot tea and Maggi was served to our greatest delights, it was a life saver.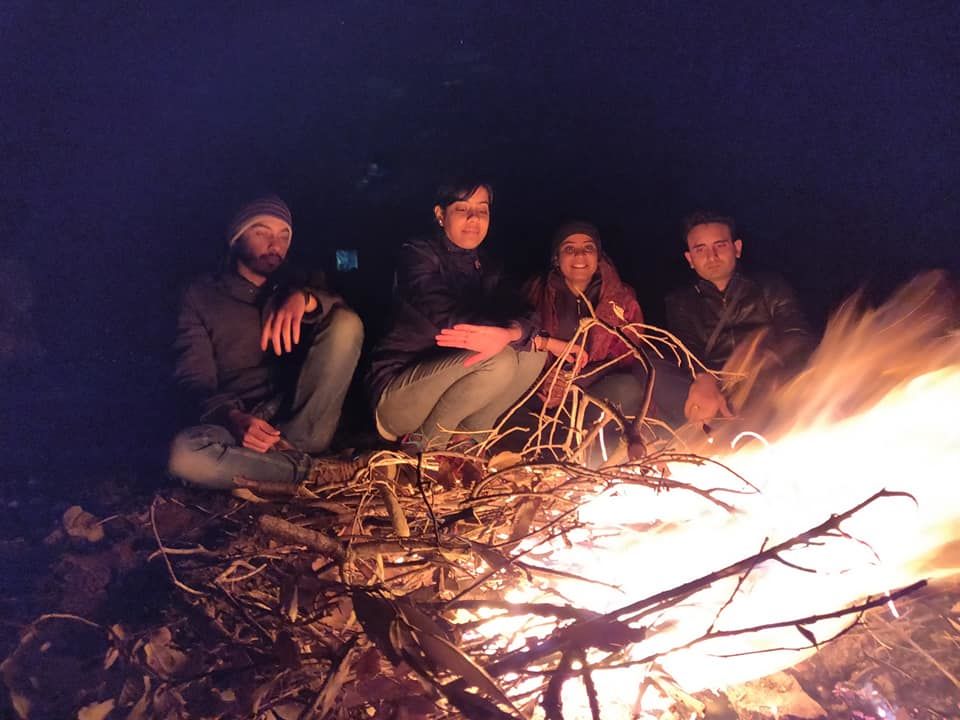 After a lengthy discussion, about the pains, the weather and the trek, we finally went off to our tents.
The camp Night
For me and Prachi it was a very long night, our tent was surrounded by two dogs, looking for warmth around human bodies and one of the dogs was completely resting over the tent's zipped entry, so we had a tent guard.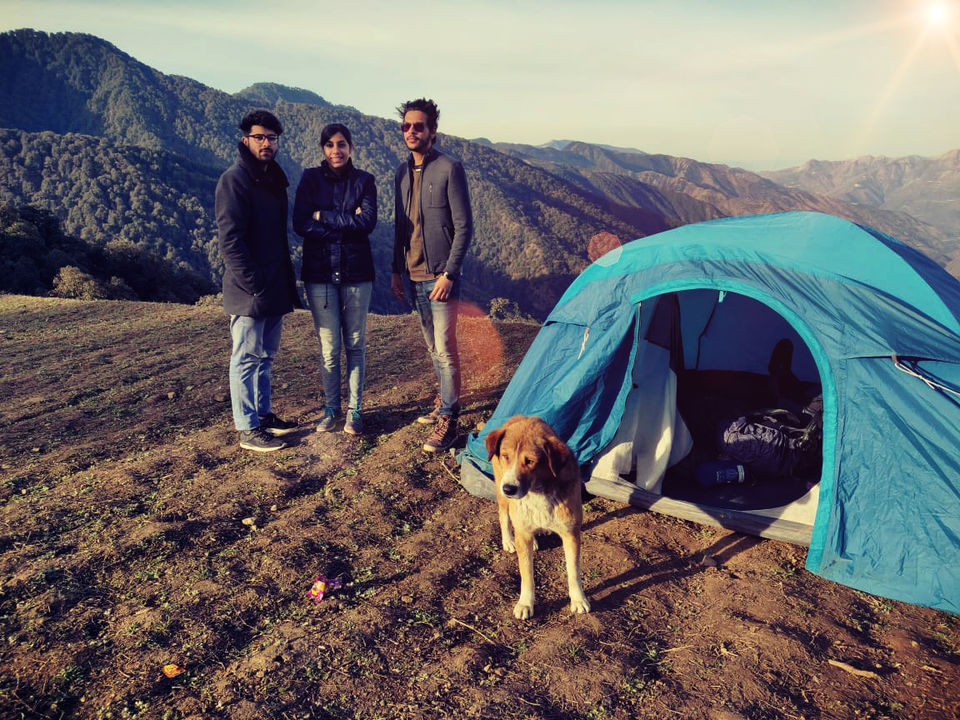 It was around -7 or -9 degrees, and we were lying wearing all possible woolens, caps, muffler shawls and still we couldn't sleep a wink. We had to go to pee several times. That's how we spent nearly all night unwrapping ourselves from our somewhat acquired, comfortable position, removing layers of coverings inside sleeping bags and then struggling with the tent guard, for a time lengthy enough to pee our pants. The night was long and cold.
DAY 2: The Unexpected turn of events and beginning of adventures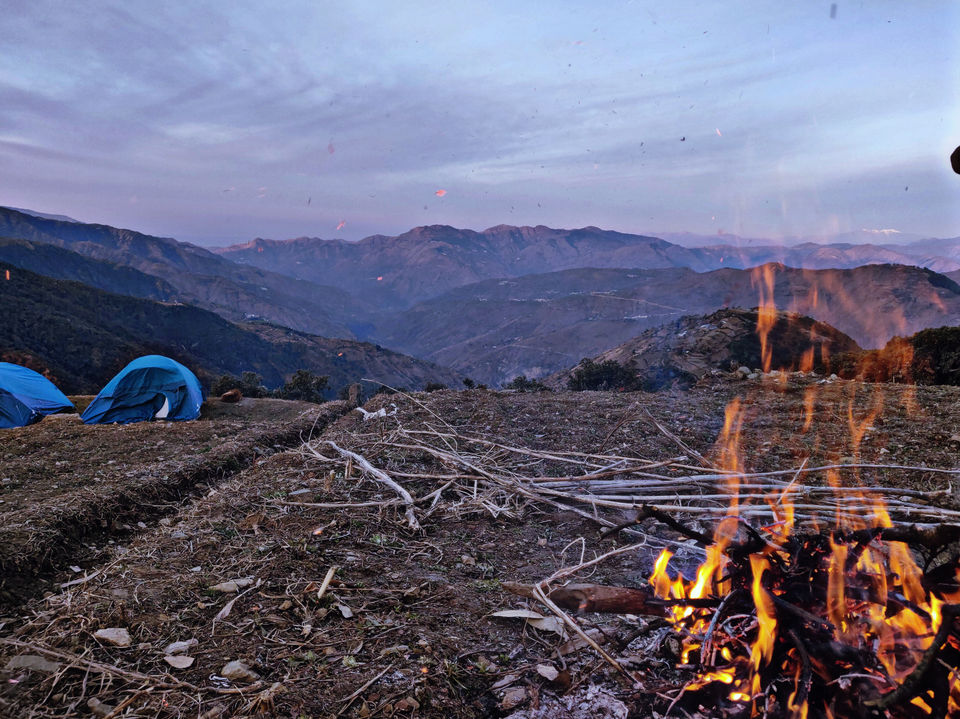 Both of us were waiting for sunrise. We were out at 05:00 again, it was still dark, and the sky was lit with stars. Whole night me and my sister plotted , how we are going to convince our guide to make some different arrangements or we will leave for Mussoorie.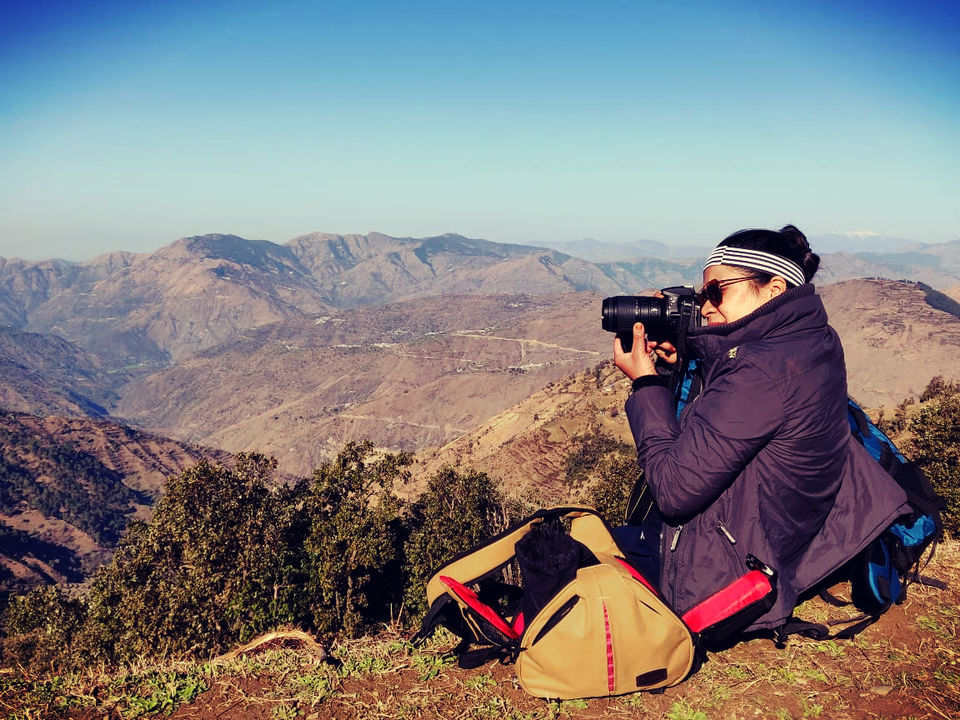 I was completely in synch, until morning when a breeze of fresh wind, and hot tea wiped my painful memory of night.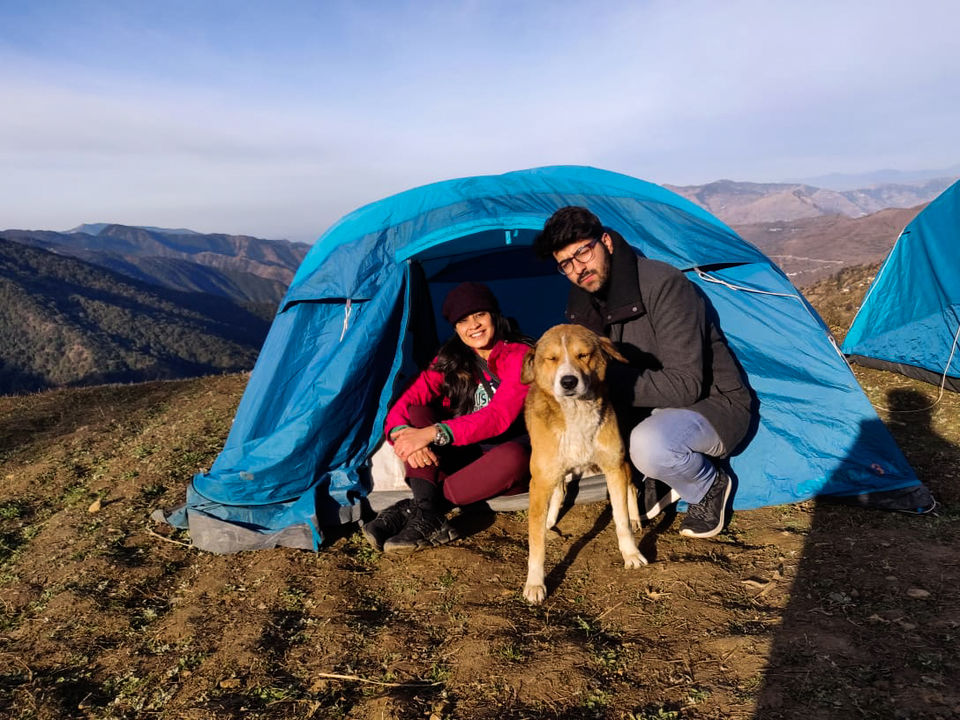 Our guide said, we will make bed in Kitchen which was warm and cozy hut, made of bricks held by mud, filled with their daily stuff. I was happy with that arrangement except the presence of Badal, who was a Pony. My sister was still not convinced for staying here and was pushing to leave for Mussoorie.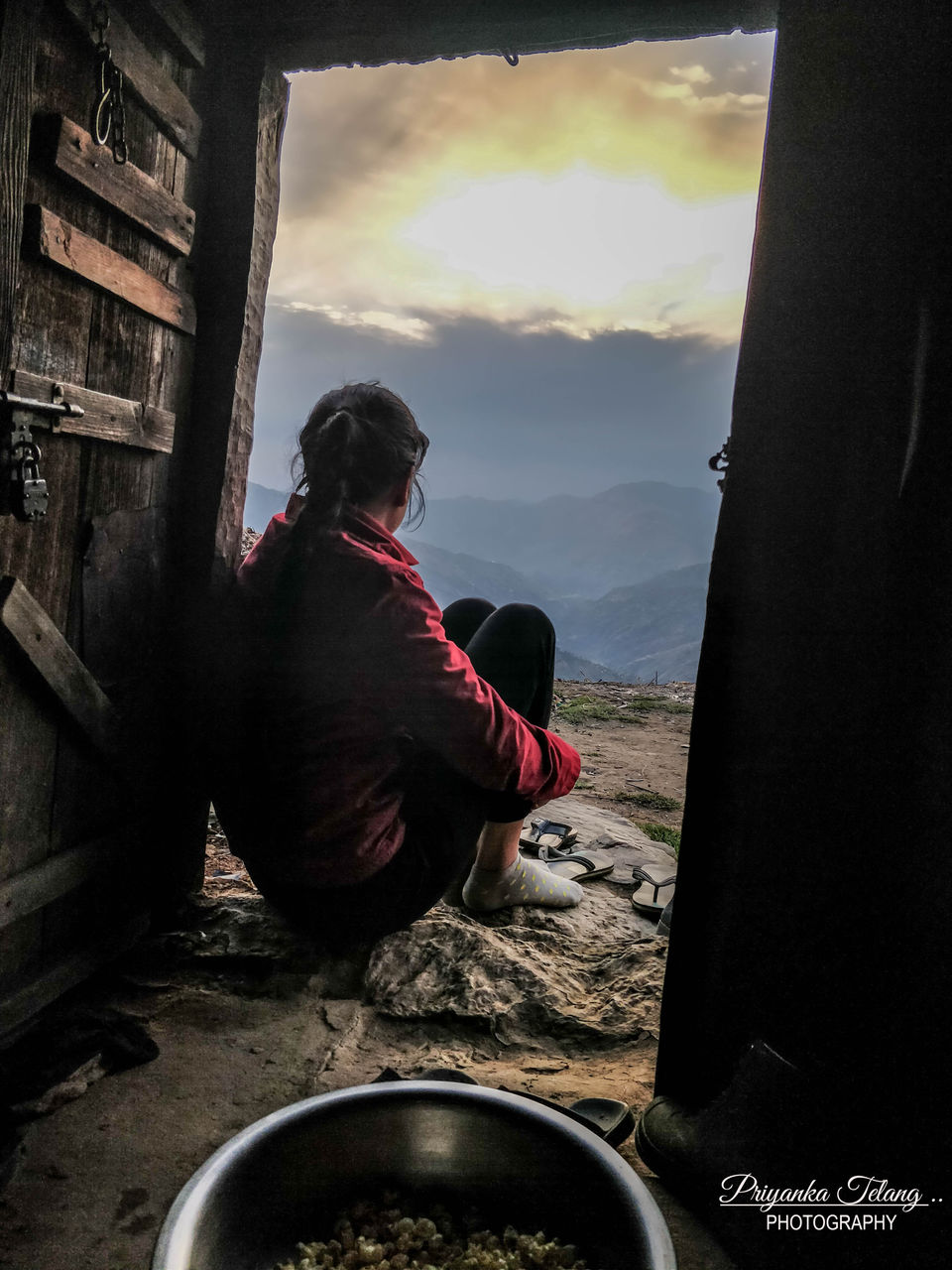 When we were sipping our morning tea, our guide started prep talking. "People who come here, must go to Naag Tibba, it's a beautiful peak. You see Nandadevi ranges, half way you see a temple then other half it's all snow" . We were here to spend some time together, not to conquer a peak, so we were like, we will pass. Then our inspiring guide told us about the group of 25 girls, who were also climbing that day, and Bachendri Pal was leading them.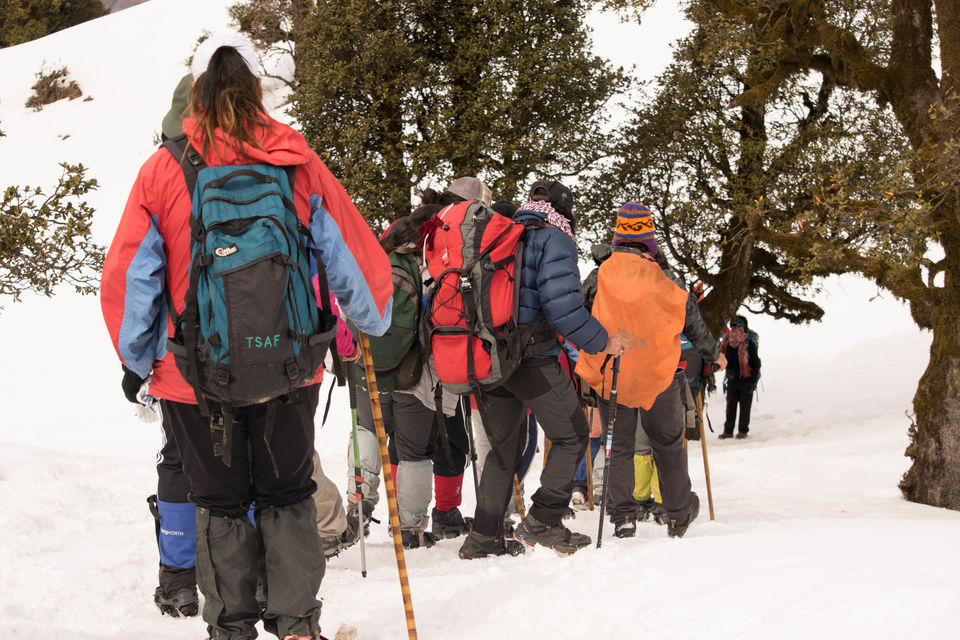 I paused and asked who? He said Bachendri Pal, the two post 90s- generation #Insta-young men in our group had no idea, who she was? Rest of us were thrilled to know we have a chance of meeting the legendary woman, first to climb mount Everest. We were late it was already around 08:00, had a sleepless night, no gears for the dense snow, but motivation to meet her on the peak and it was Women's day, coincidentally.
Bacchendri Pal - The inspiration of our climb
Suddenly there was an upsurge of energy in the group and we all got inspired to do the summit, keeping aside our limitations and mindset.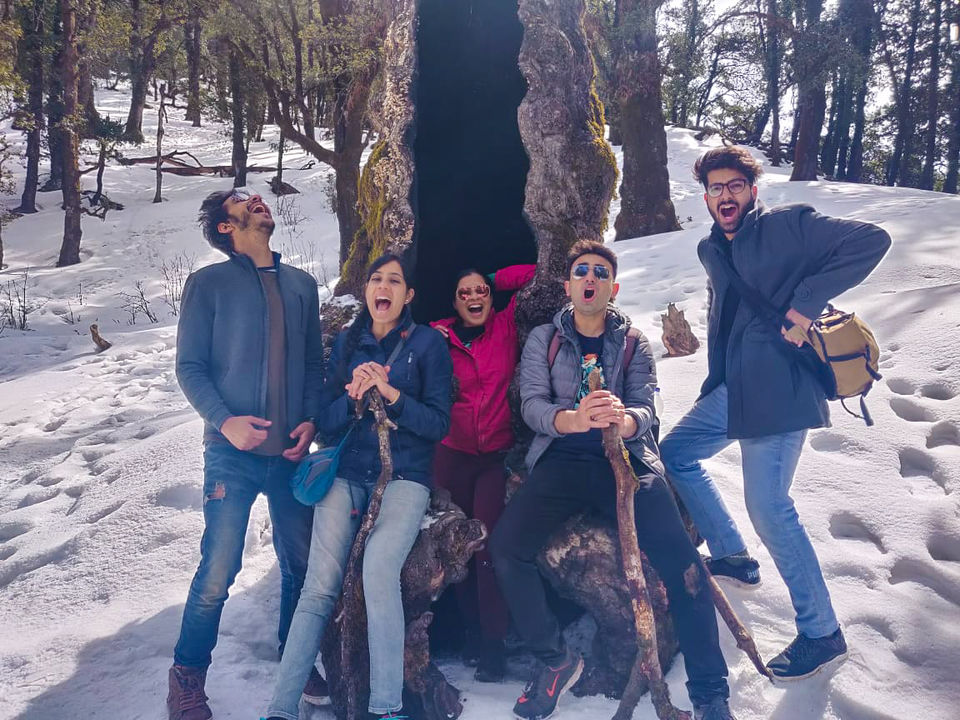 The trek began, our legs were somewhat conditioned after one day trek. It was a moderate struggle, with our limited speeds and exhausted body until the Nag Tibba temple, a local pilgrim and temple area covered in Snow.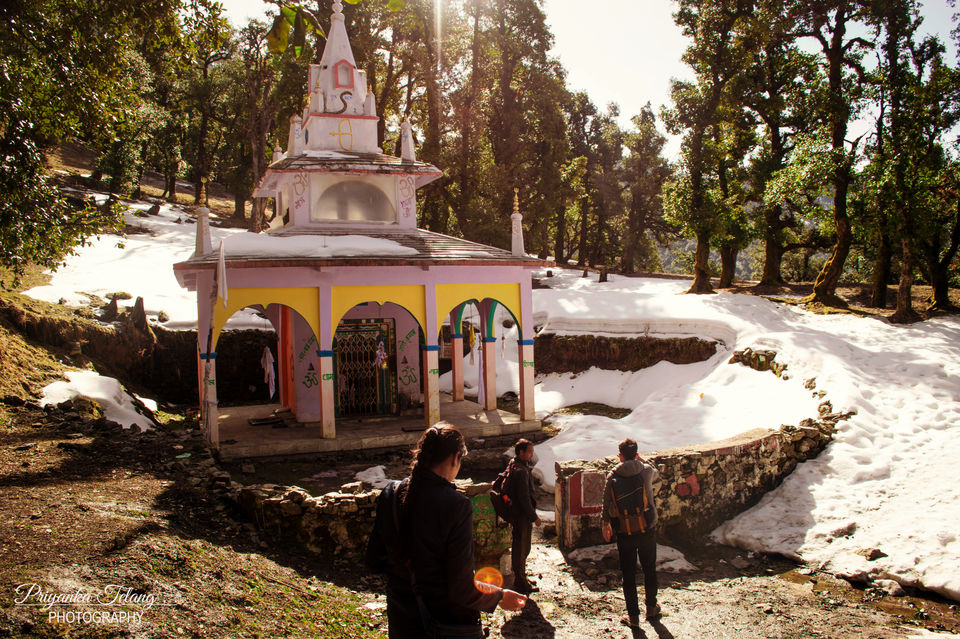 From this area the snow cover had started and there was a trek of 3 kms remaining all under a dense sheet of Snow. 3 Kms sound reasonably easy, for plains, it's a lot of effort on a hill specially a steep one and its an extreme effort, if that steep hill is covered with Snow.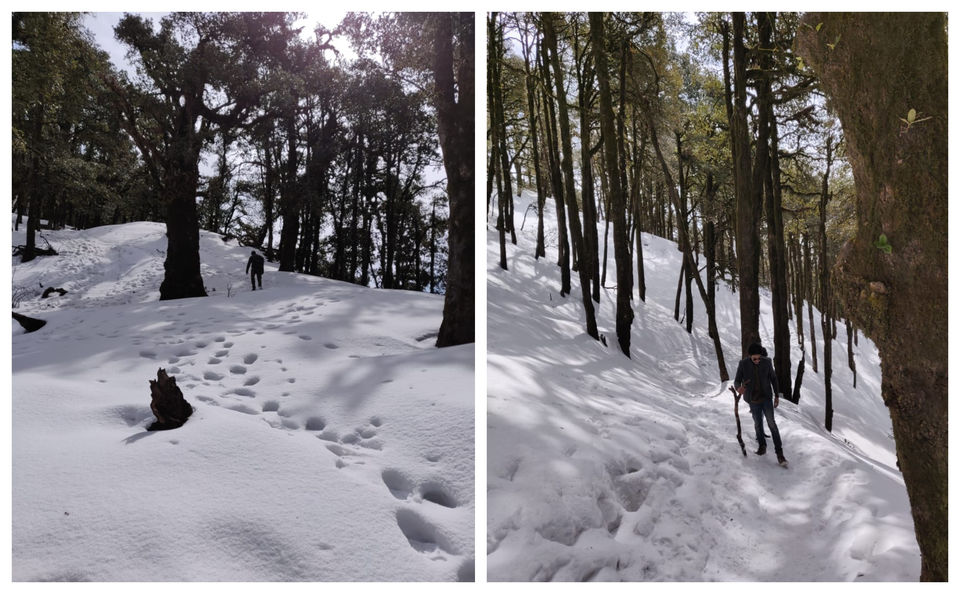 Soon we realized our shoes and clothing were completely unsuitable to walk over the snow. All of us were taking little steps and still were struggling to keep our feet on ground firmly.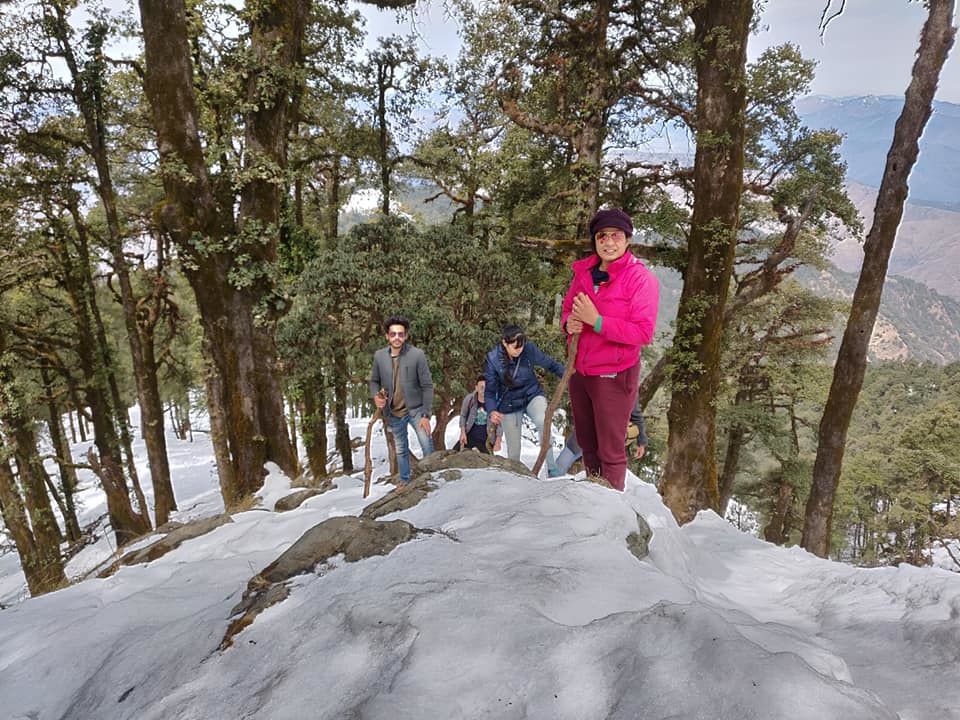 I was nearly wet till my knees and believe me walking with wet shoes and socks in extremely cold weather is more than just painful, its punishment. I can't even imagine the spirits of our soldiers working full time under such conditions its beyond comparison.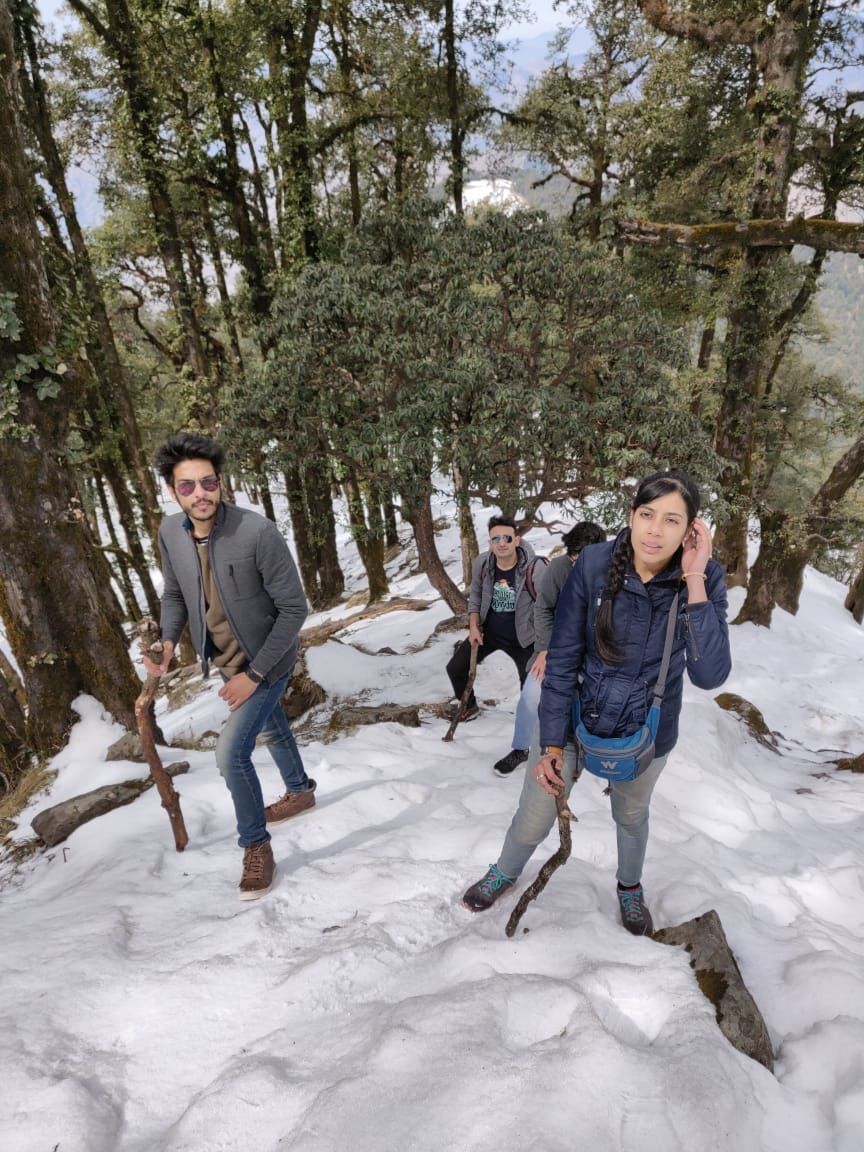 It was getting difficult at every step, and when we turned back, we were nervous about getting down this steep slope in a snow laden terrain. It was full of risk and challenges, almost death like that we didn't prepare for.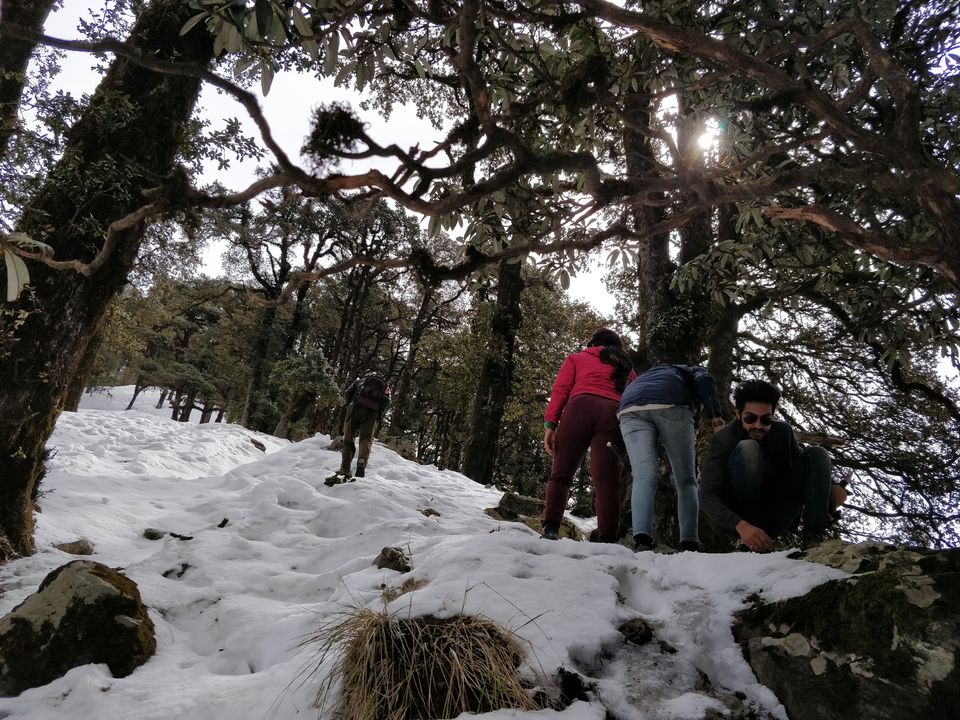 Nonetheless we kept moving forward with sour knees, wet feet and determination. The climb was not just a physical effort, but I would say mainly a psychological one, we were using mental strength to find ways to navigate around the difficult climb, taking support from some dry woods, branches and sometime wet hands, numbed by Snow.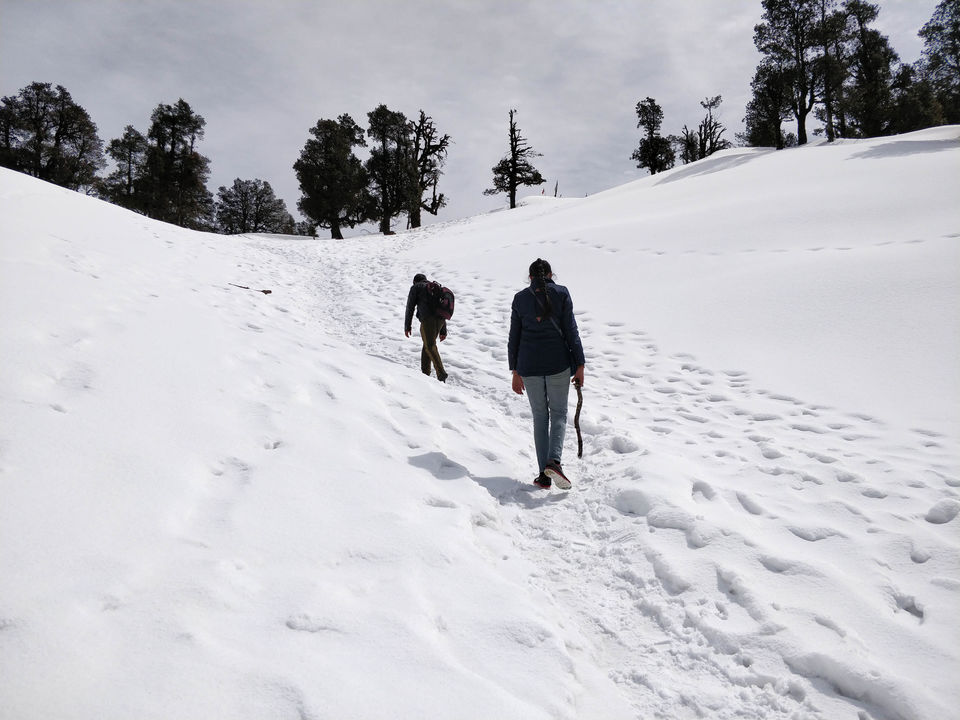 After an effortful climb of 4 hours we reached the peak, and suddenly it felt like we were injected with Glucose. There was a batch of girls roaming around the peak and my eyes were looking for Bacchendri Pal, as if I have seen her and I will recognize her.

I shamelessly shouted, "Pal Madame where are you?", over the peak. My siblings gave me typical "You embarrass us" look. I gave an "I don't care" look, back. I am proudly, such an embarrassment sometimes.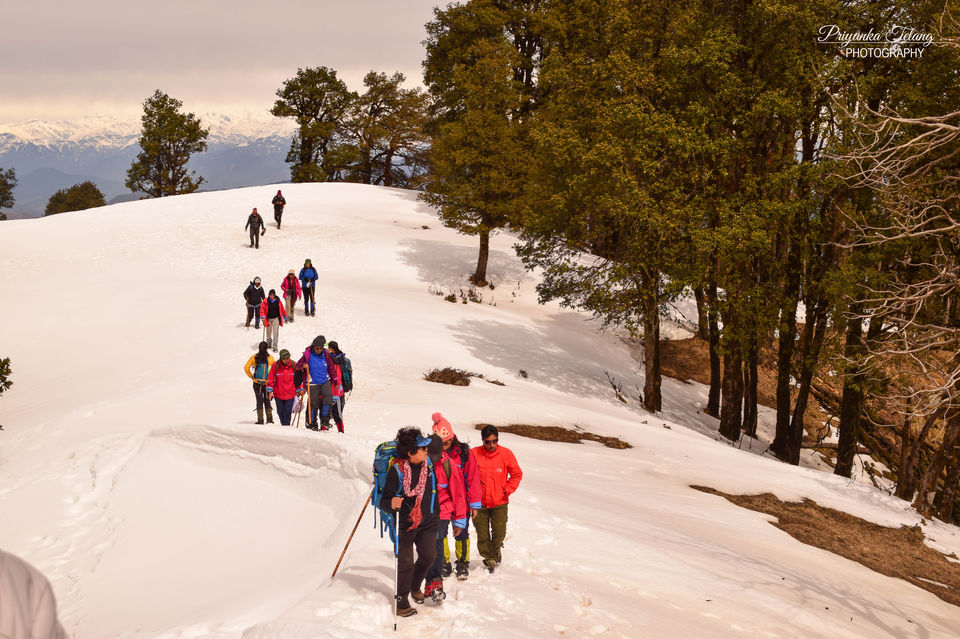 We were also told there was an amazing lady Premlata Agarwal, the first Indian woman who scaled seven Summits of the world. Finally, we had the privilege to meet both the legendary women on a Summit. We narrated our whole story about reaching there, and how she inspired us to climb the peak without any plan and preparation, that too on Women's day, a great coincidence which none of us noted earlier.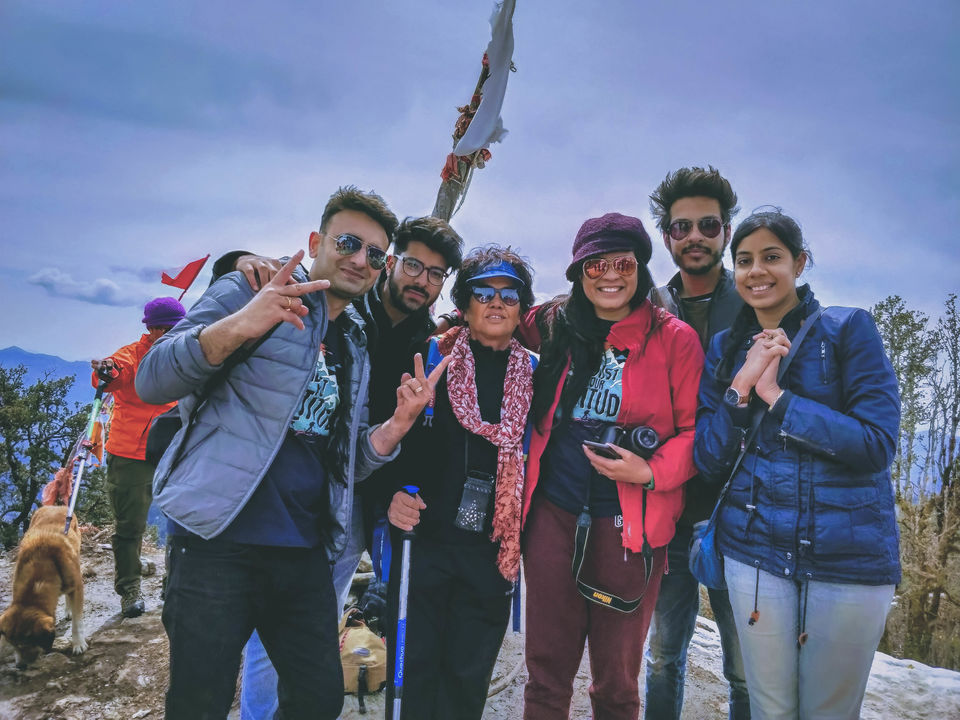 Now it all made sense she came with a batch of 25 girls from Tata steel. I knew this moment will be recorded for life, and I am making my own history, to tell tales to my future generation.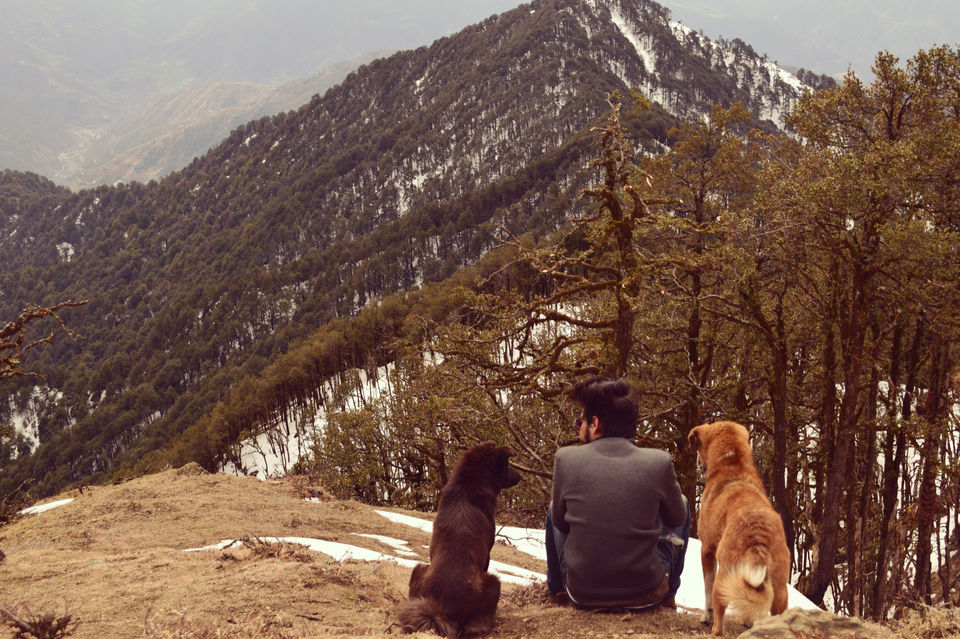 She was amazed to hear, how we made it with our ordinary shoes and clothes to the summit, and we knew it was all the inspiration we drew from her.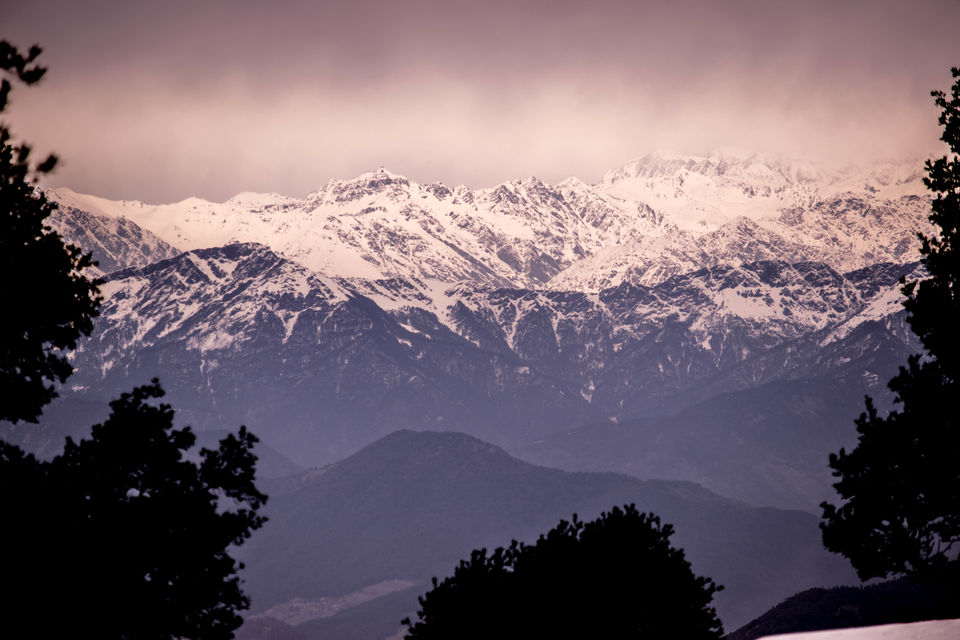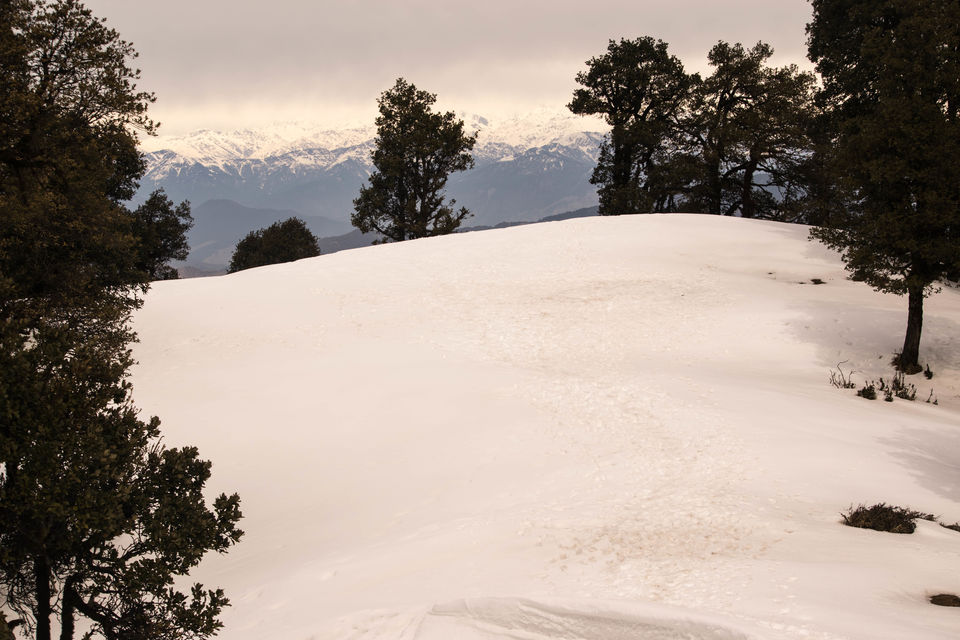 We were just recollecting our strengths and have been on the summit for just 15 mins, while the group of girls had already spent 2-3 hours and were rushing back.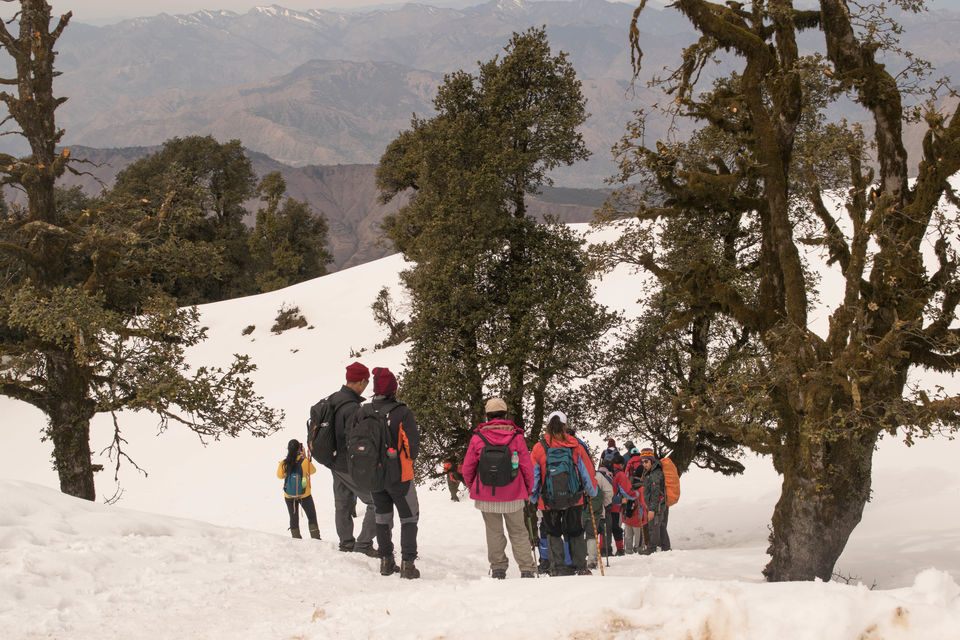 After all the climb our strength had faded, and downhill was more dangerous and tough.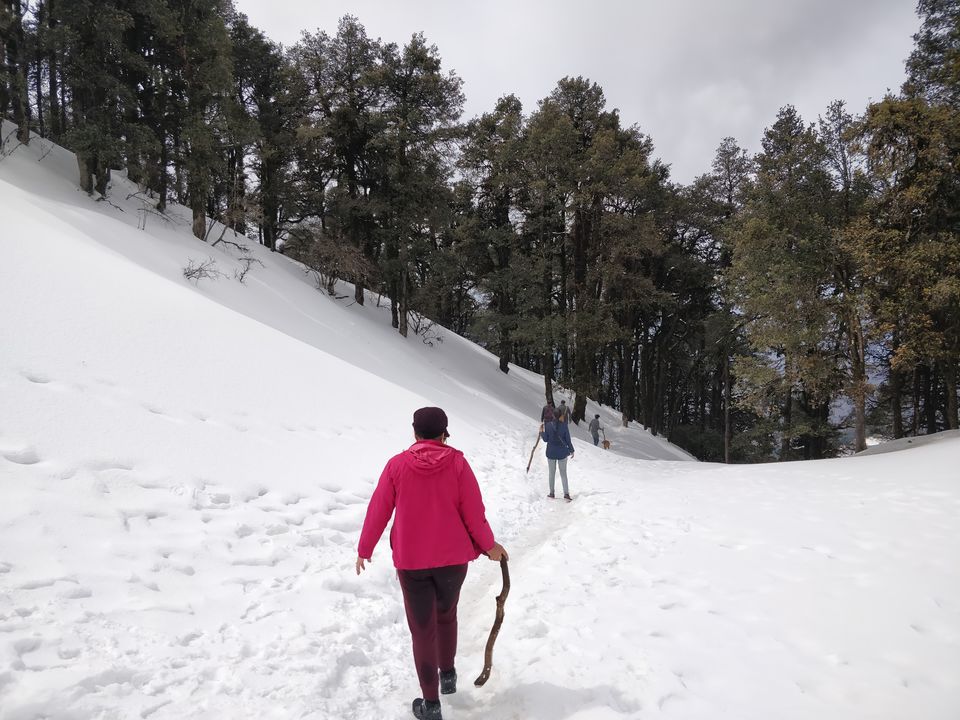 Without wasting time we started walking downhill, to follow Bacchendri Pal. The girls were geared with Snow clamps, snow shoes gloves and all what was needed to go thru the extremes of weather and the terrain. We were looking completely impromptu.
Rajma Chawla - The Inspiration for getting down
It was extremely tough then what I have imagined, at every step I was falling it was a complete slip fall, and repeat journey for most of us. Due to this, instead of walking my brother chose to slide sitting and rowing by his hands in snow. It was very hard for others to move as well, there were so many blank spots we encountered while trailing, where we were just standing and strategizing our next move.
The stomach was growling with hunger, our guide mentioned we will get Rajma Chawal once we reach. This was much more than, just motivation for the two Poonchi people (Kanav and Paarth, as Kashimiri's national dish can be Rajma Chawal). While climbing the inspiration was to meet Bachendri Pal, now it was Rajma Chawal. It's interesting how people are motivated by needs of their body and taste specially.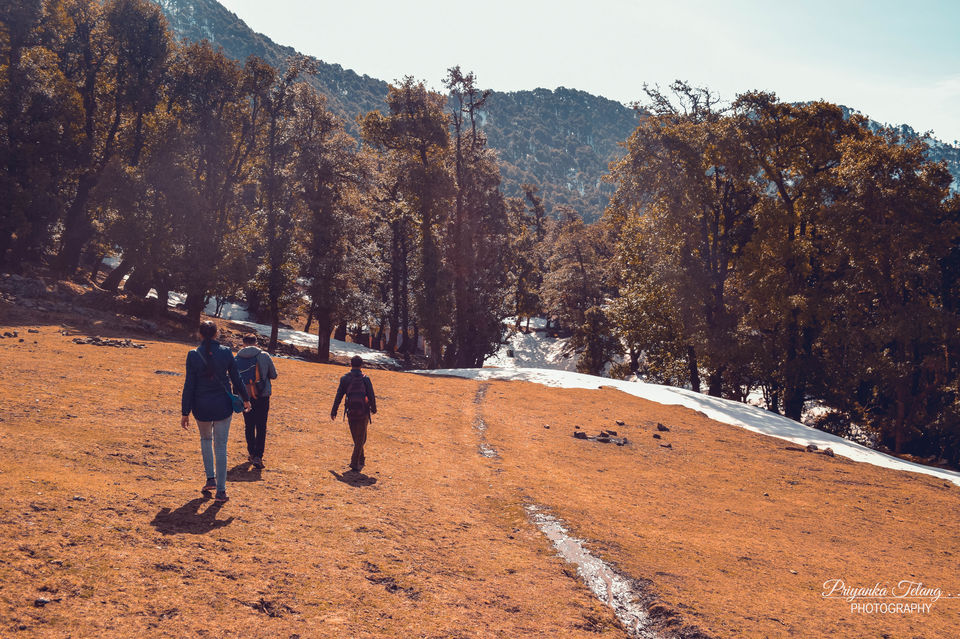 Finally, we made it to the camp, with wet clothes, wet shoes, bitten by cold and fatigue. My legs declared EOD (end of the day in IT terms) and couldn't move when we reached the campsite.

After 15 mins of being physically dead, I gathered some courage to find dry clothes and change. We all enjoyed a great meal, Paarth and Kanav ate 3 plates of Rajma Chawal and all were looking better. After this we, just took the sleeping bag on the ground and lay there until dinner.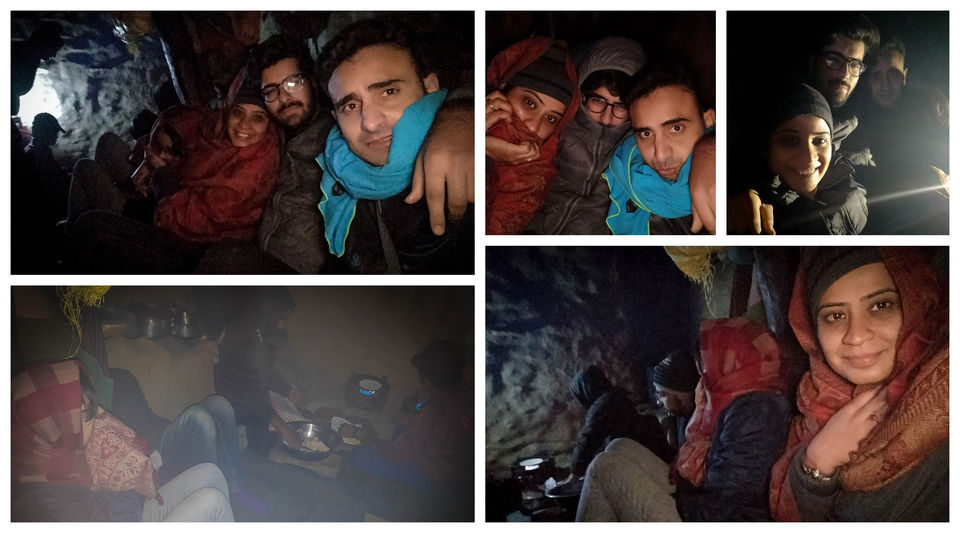 Today was a better night in warm, and cozy huts and above all, we had a sense of achievement prevailing within our group on completing the summit, with our high spirits alone and the meeting with Bacchendri Pal of course!.
Day 3: Naag Tibba to Mussoorie - The dream to meet Ruskin Bond
The pain of the last day was finally kicking in and we had to leave for Mussoorie. Luckily, we planned the camp at right time and therefore it was Saturday. The day we can meet the famous writer Ruskin Bond in the Café. We were happy with our trip so far, keeping aside the discomfort and sufferings. We had grown mentally somewhere with our experience.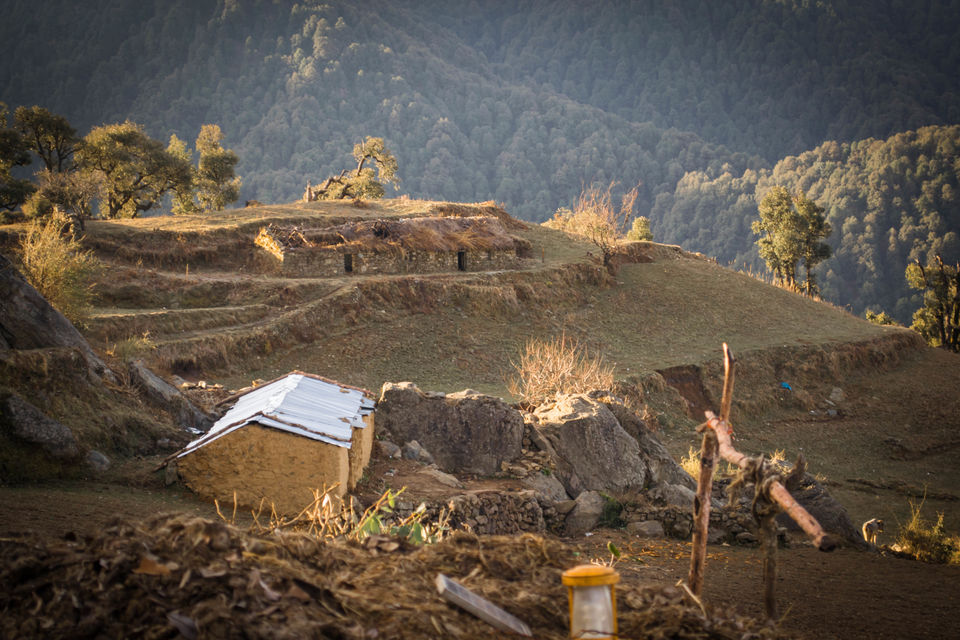 The trek to the village downhill started, and this was feeling simple, in terms of our last adventure. We were watching new travelers coming up, to Naag Tibba, and they were somewhat looking Victim to us. Unaware of the upcoming extremes.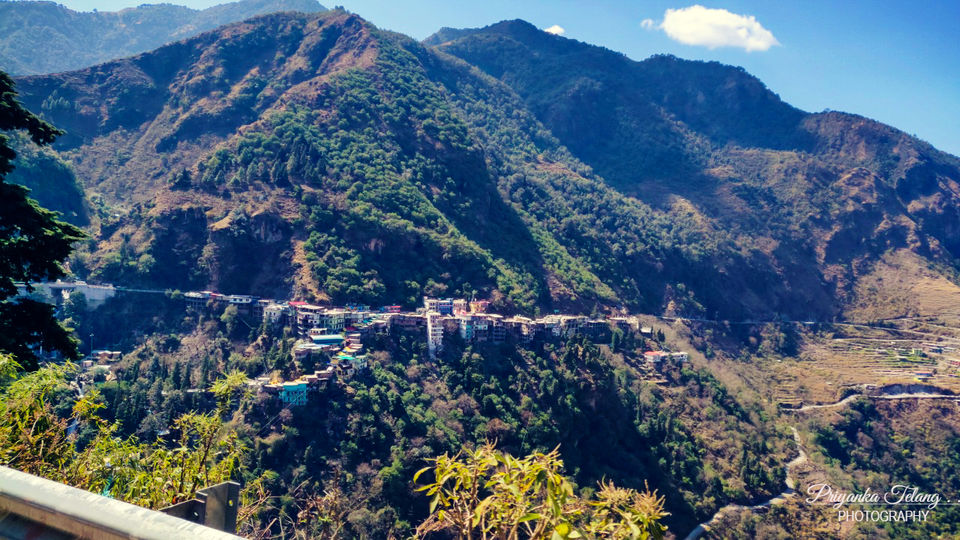 We reached a point where vehicles are able to reach and the team of girls were waiting in the Bus for rest of the companions to join. I was completely busy in myself, we stopped for a break and then suddenly I asked Prachi, "Mujhe Bachendri Pal wali photo de Insta pe daalni hai" (give me, our pic with Bachendri Pal for Insta). I repeated 3-4 times may be, and never noticed that Pal Madame was sitting in the bus and listening to all my conversations and smiling. I was so embarrassed later, that I did the rest of the trek without looking back.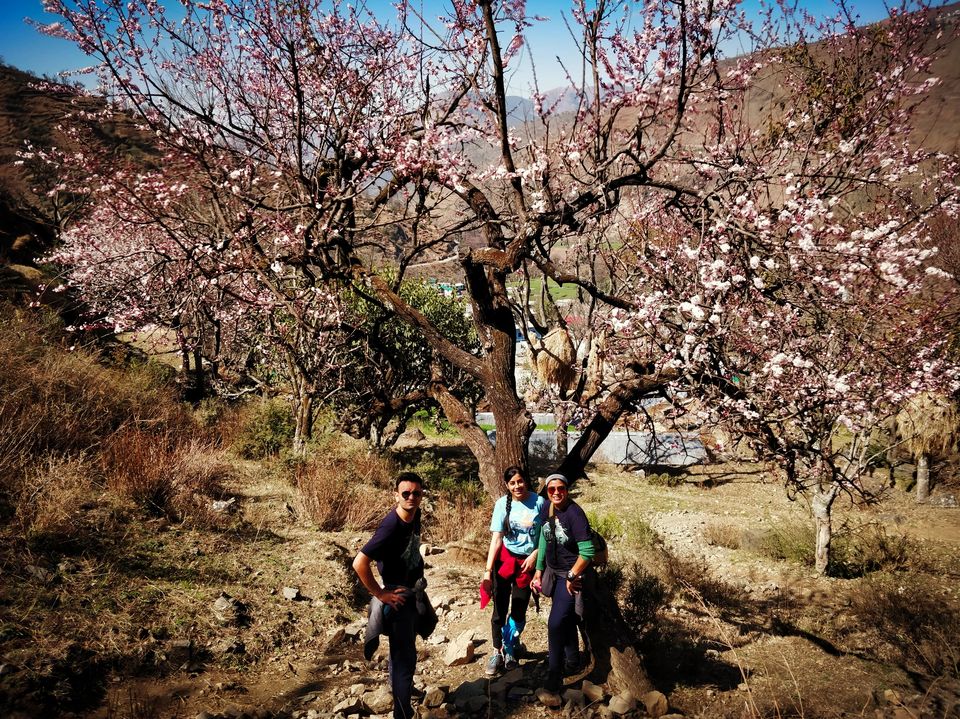 Mussoorie - The meeting with Ruskin Bond
While reaching, Prachi called up the book store where the writer meets his fans on Saturday. To our dismay he was not coming to the book store today due to sickness. We kept insisting for address and any chance to meet him and the lady was reluctant.
Our first priority was to get a decent hotel (not Jab We met wala Decent). After refreshing ourselves, we left for the market, to enjoy the hill station vibes. Kanav found a driver who knew the address of Ruskin bond and was ready to take us there. We all were thrilled, without wasting a breath, we all jumped in the car and left. No one even let the possibility of not meeting him, to cross their minds all were positive.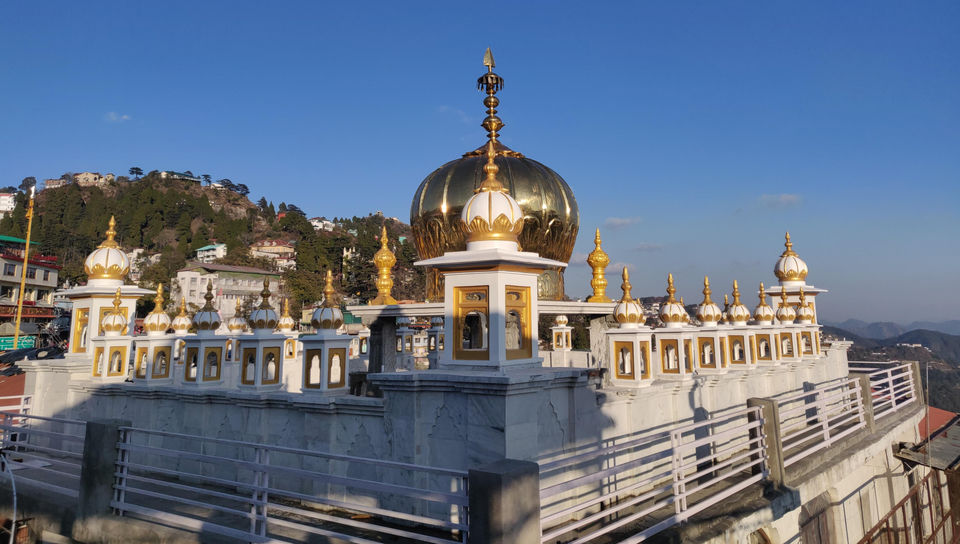 At a point it felt like impossible to meet him, but we never gave up to know how we were successful in meeting him please watch our interesting video below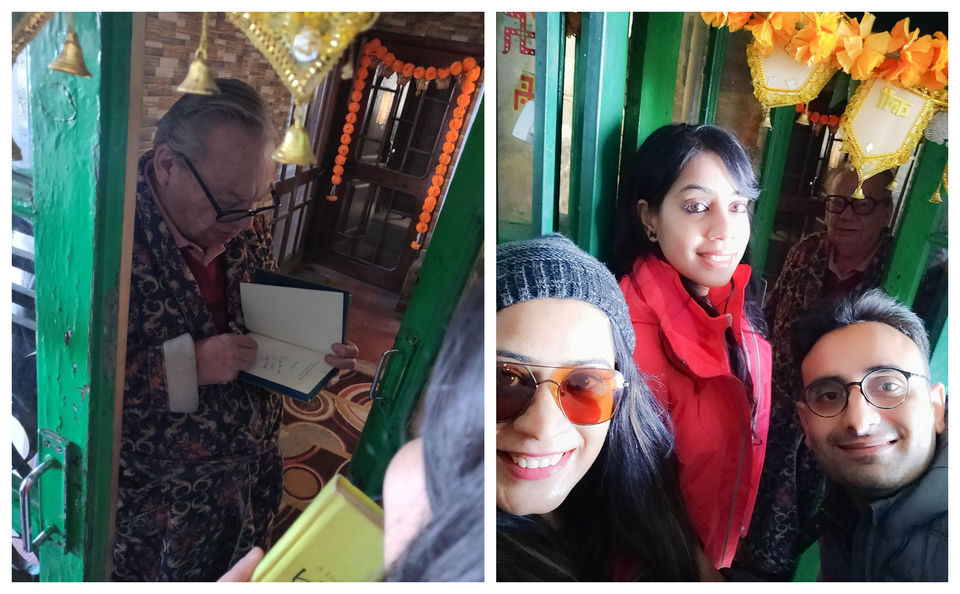 Our trip was finally complete. We enjoyed rest of the day exploring cafes and local life around Mussoorie, in morning we left with loads of memories and tales to share with our future generations.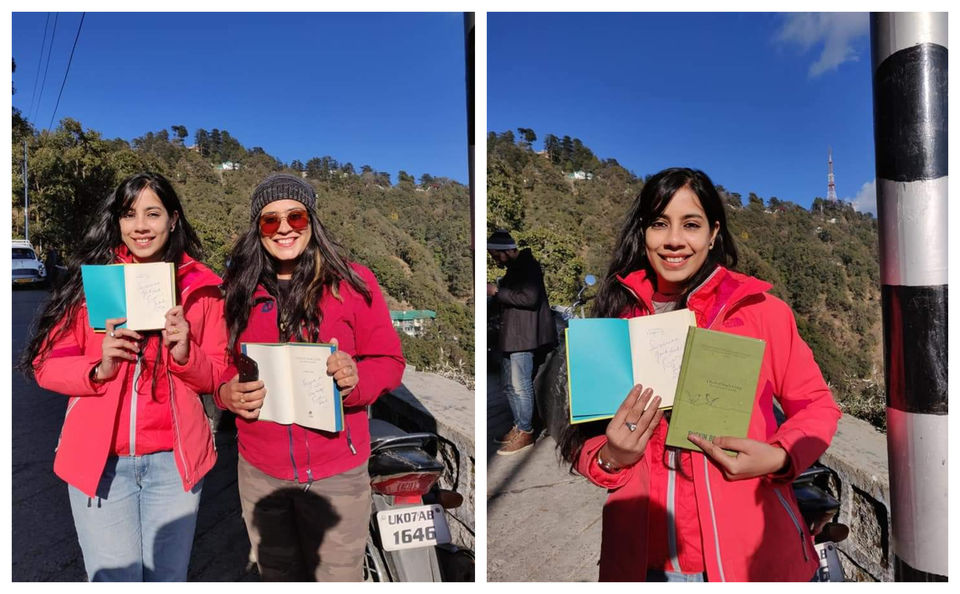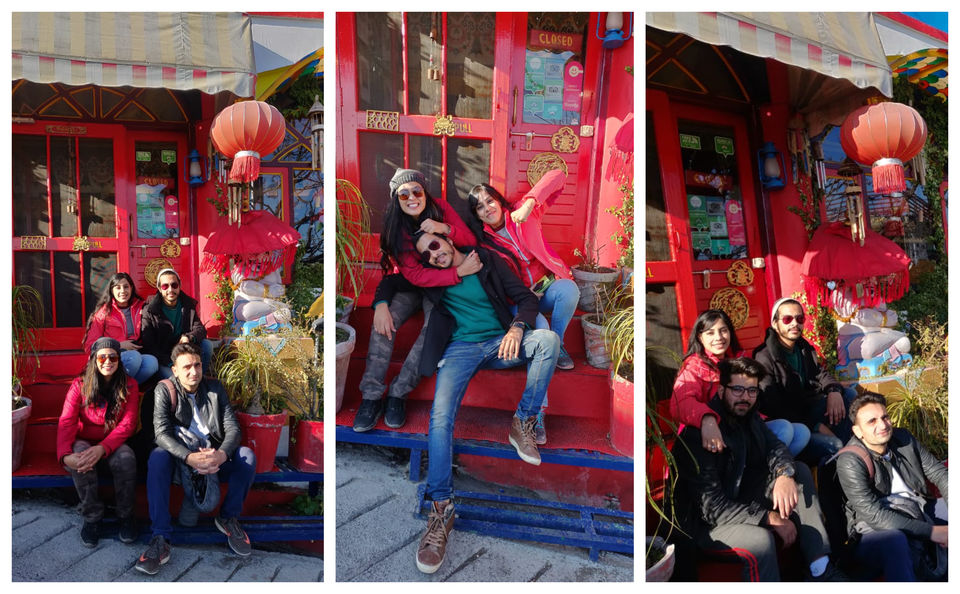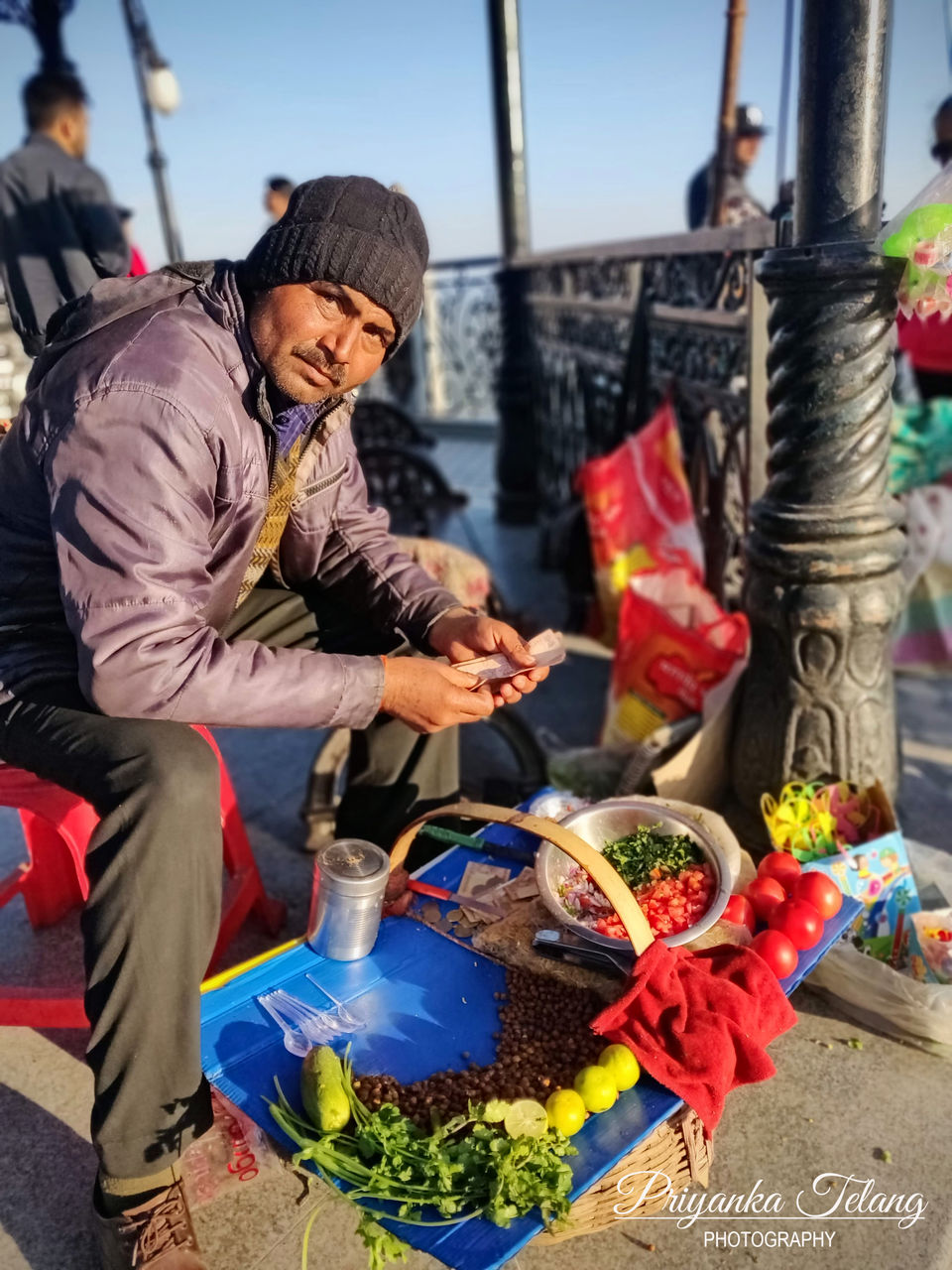 Travel tips:
1. The Trek is moderate/easy for other seasons but very challenging for winters with the snow cover.
2. Please plan and carry proper shoes and gears. Snow boots, Gloves, woolen cap and socks are not optional but mandatory in winters.
3. Take ample time before reaching the site, and better to carry less, but imp things like water and food shouldn't be compromised.
4. Try finishing before sunset, as its gets dark within few mins and there is a high risk of falling, it will also increase the time to complete the trek by hours.
5. Whatever you do, don't pull a stunt on mountains they are much bigger and powerful than you can imagine.
6. Ruskin Bond sits every Saturday in Cambridge Book Depot, do plan to meet him as its once in a lifetime experience. You will understand if you read, at least one of his books. They are very simple and easy to read and will fill you with positive vibes.
7. I recommend "Renok Adventures" the guides the facilities were on time, and they were flexible enough to accommodate our needs.
And at the end " HAPPY TRAVELS".
well its an interesting long story so to follow complete story of this check out my blog -manyjourneysmanystories.com

Follow me at https://www.instagram.com/travel_o_some/