It was all started with my passion to ride long to the end of India that's Kanyakumari (Last road of India ends) with my Fiance (Rashika) and Milou (Avenger 150street modified). I know it was a not that easy to ride 3500KM in 5days (1 day extra stay in Pondicherry). It was a six months plan which is to be executed in June but due to my some personal issues we haven't made it in June. So we made it a quick decision to ride in September last week (September 28th 2017) to October first week (October 3rd 2017), as we both have continuous 5days holidays. We haven't planned stay and didn't carried food, its just we both, two pairs of cloths and Bike. Coincidence to our ride is one day before our ride starts i.e., Sep27th two of my friends (Nagesh and Om) have already planned same ride on same dates on there two royal enfields. So we four Decided to together from a meet point. Finally we made the ride very adventurous.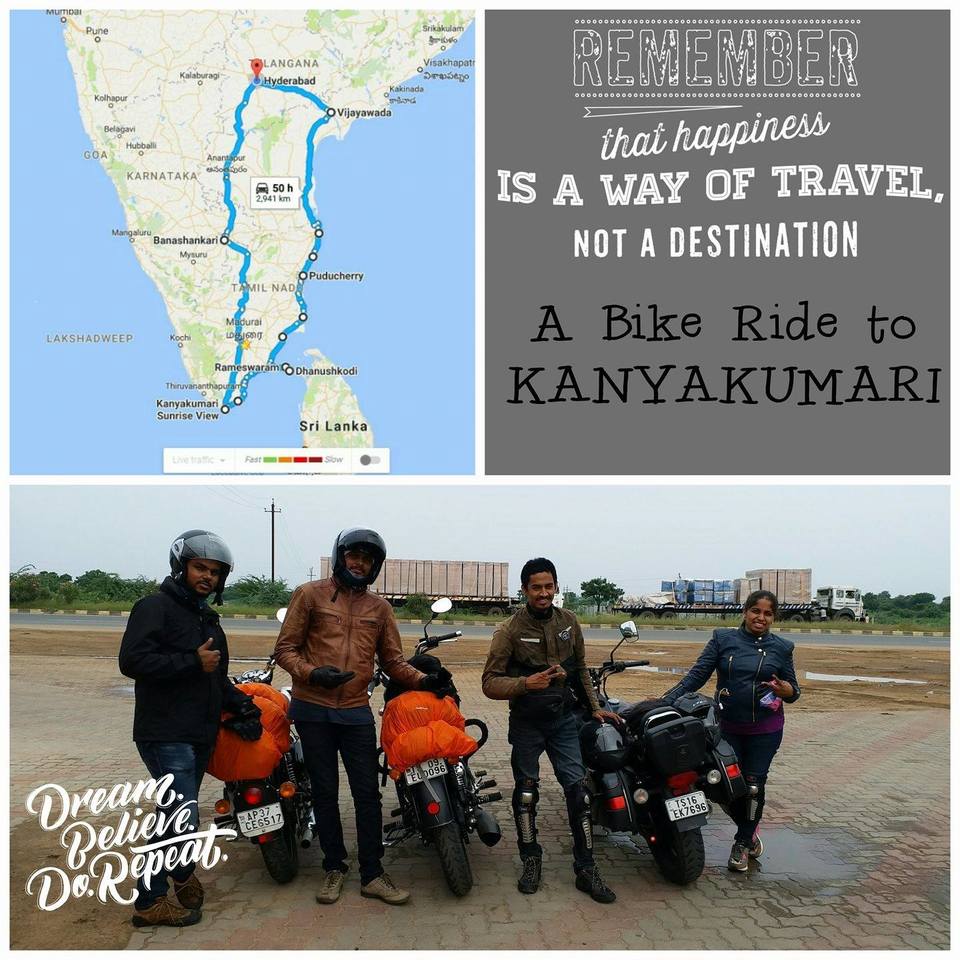 10 Things describe our memorable Bike ride to Southern Tip of India:
10x6= 60 Hours Ride
9 Places (Banglore, Madurai, Kanyakumari, Pamban bridge, Rameshwaram, Danushkodi point, French Colony, Rock Beach, Chennai)
8x15=120 Litres Petrol
7 Types of Food
6 Days of road trip
5 States (Telangana, Andhra Pradesh, Karnataka, Tamilnadu and Union Territory Puducherry)
4 Bikers (Nithin, Nagesh, Om and Rashika)
3 Bikes (2 RE' s and 1 Milou)
2 Last Tip of South India Destinations (Kanyakumari Sunrise Point and Danushkodi point)
1 Longest East Coast Ride of 1300+KM
A Ride to be Marked on my list which covers half peninsular India.