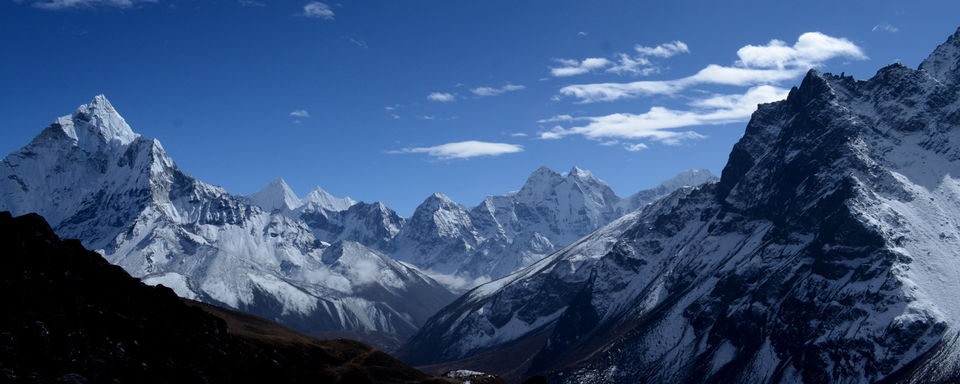 What does the world look like from the summit of Mt. Everest ? How hard is it to get to the top of the world ? Is climbing the highest peak a dream that can easily materialize? Questions as these may have crossed the minds of many, it certainly has crossed mine umpteen number of times but hadn't given it much thought until I happened to read a book on George Leigh Mallory. George Mallory was part of the earliest expeditions led by British to conquer the highest peak. During his third attempt to summit Mt.Everest, George Mallory along with his climbing partner Andrew Irvine are known to have left from the last camp towards the summit, never to return.Whether or not they successfully reached the summit has to this day remained a matter of speculation. I personally hope they did summit but there isn't substantial evidence to prove it.
Mallory's life, his passion, relentless efforts to accomplish the big dream and his famous three words "because its there" has inspired many many mountaineers. It did leave an impression on me and Mt Everest has captivated me ever since. While climbing Everest still remains an impossible dream (mostly), trekking to Everest base camp, I realized, is an achievable goal. The thought of walking in the footsteps of legendary mountaineers to get a glimpse of the world's highest peak is quite alluring.
An article on the same was published in Deccan Herald - on road to Mt.Everest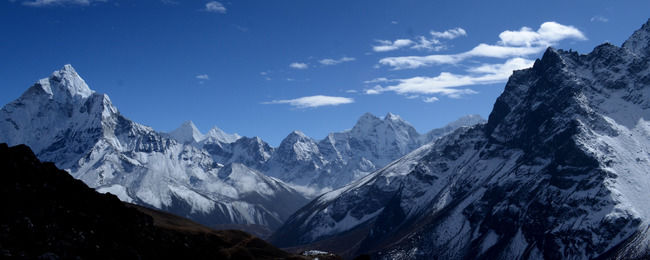 Everest base camp (EBC) trek is a feat that involves 10 to 12 days of arduous journey on foot covering a distance of about 60 kms one way, starting at 9350 ft and reaching an impressive altitude of 17,598 ft.
We set off with high spirits from Bangalore. On reaching Katmandu we met up with our guide and spent a couple of days in Thamel. Thamel is a popular and colorful tourist hub with its narrow alleys bustling with mountaineers, trekkers buying and renting gears for their expeditions.
Trek to EBC technically starts from Lukla, a small town in the Khumbu region. Flight from Katmandu to Lukla takes about 40 mins before the highly skilled pilot lands the small aircraft on one of the most dangerous runways in the world, a small single landing strip that ends at a cliff with a fall of 9300 ft !
The way up from Lukla to Everest base camp trails though the gorge of turquoise Dudh kosi , a glacial runoff that originates from high altitudes of Everest, surrounded by lush green Rhododendron forests giving way to more alpine land as we go higher. Further the path traverses through glacial moraines and foot hills of snow clad peaks offering spell binding views all along the route making it the grandest walk in the Himalayan region.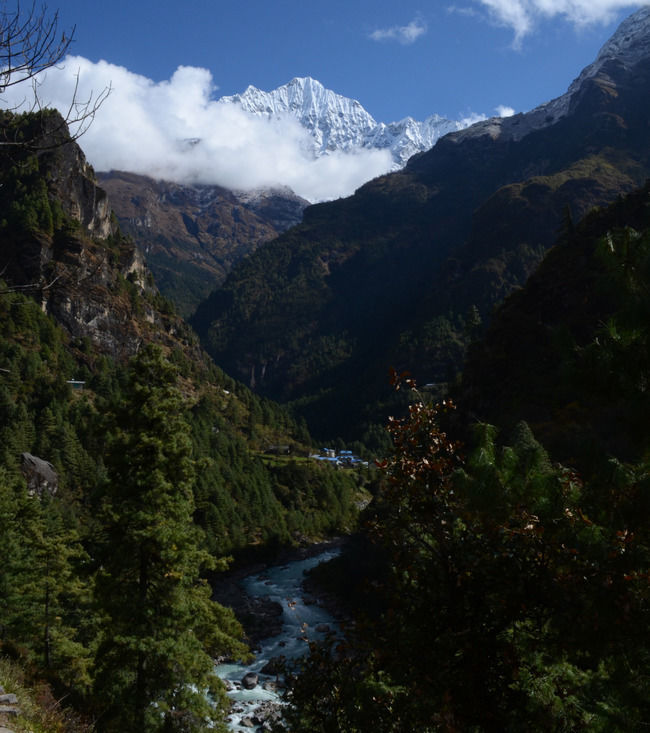 We spent the first night in Phakding, a small settlement with a dozen houses. Heading up the picturesque trail next morning we walked past several other trekkers, porters and yaks carrying supplies to the settlements higher up in the region. We crossed Dudh kosi over a high raised suspension bridge famously called the Hillary bridge beyond which the path is a steep ascent and finally a lengthy flight of stairs lead us to the capital of Sherpas, a market hub - Namche Bazaar at 11,290 ft.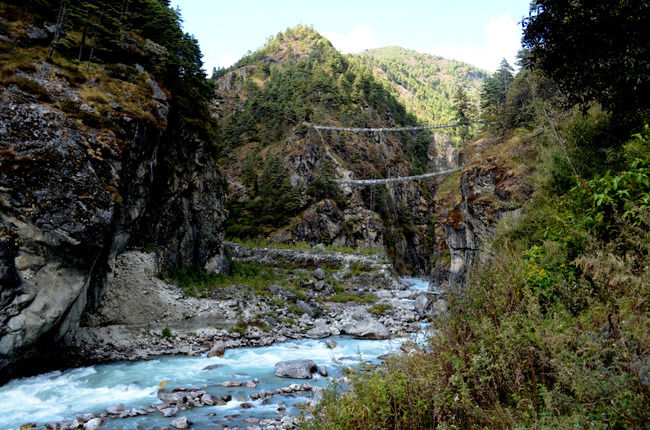 Altitude sickness also known as AMS(Acute mountain sickness) slowly starts setting in at this altitude making it essential for trekkers to spend a day for acclimatization. During the day we made short but steep climbs to let our body adapt to decreased oxygen level - a necessary ordeal to prepare for the trekking days ahead.
Having missed the first view of Mt Everest enroute to Namche the previous day due to cloudy weather, we anxiously walked up to the view point first thing in the morning and there it was! The most eagerly awaited moment - first glimpse of Mt. Everest, peeking from behind the formidable 27,940 ft Lothse, the fourth highest peak in the world (The best view of Mt.Everest on this route is from top of Kala Pattar which is at an elevation of 18,200 ft). On the other hand it was love at first glimpse of Ama Dablam, a popular peak in Everest region which is by far the most beautiful one and dominates the eastern sky throughout the trek to EBC.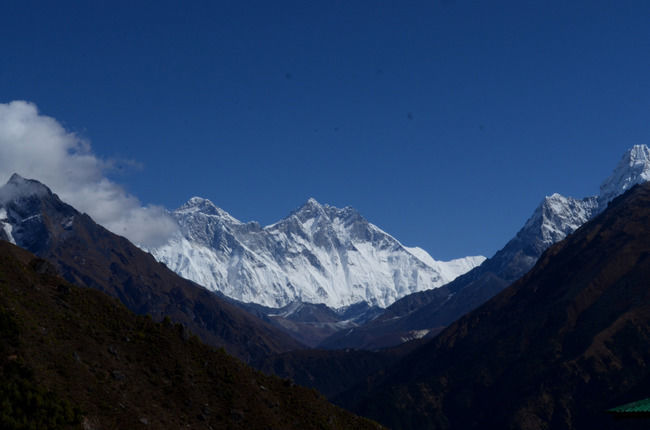 With our body slowly getting used to higher altitude the following day we set out to the serene settlement of Thengboche . Cloudy evening masked the panoramic view of mountains that surround the largest Bhuddhist monastery in Kumbhu at 12,700 ft. As night fell we retired to our room in the tea house with hot water bottles to keep us warm inside the sleeping bag. One can only marvel at the beauty of snow clad mountains in the moonlight as millions of stars lit up the night sky that had completely cleared up by then.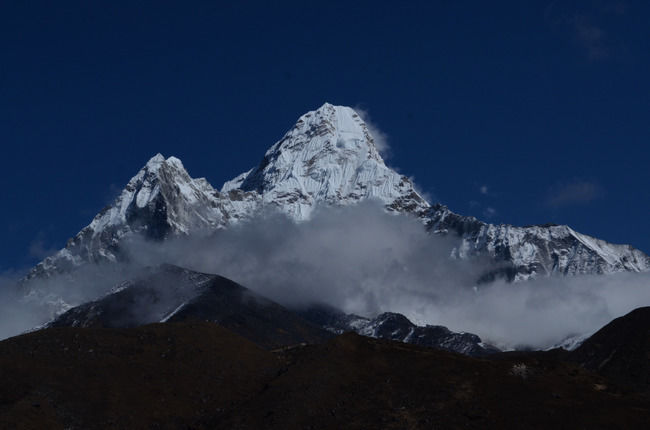 The next 4 days we pass through the settlements of Pangboche, Dingboche and Lobuche gaining altitude as we walk through the mountainous terrain soaking in the changing landscapes. On the way there are memorials of several climbers who lost their lives in various Everest expeditions. We took a moment of silence to respect their adventurous spirit. Tired and exhausted due to thin air at higher altitudes, with loss of appetite owing to AMS we pushed ourselves slowly and steadily towards - Gorak Shep at 16,942 ft, just before the EBC. There is a sense of achievement at the end of each day when you lie down shivering at negative temperatures in the tea houses reminiscing the adventurous journey.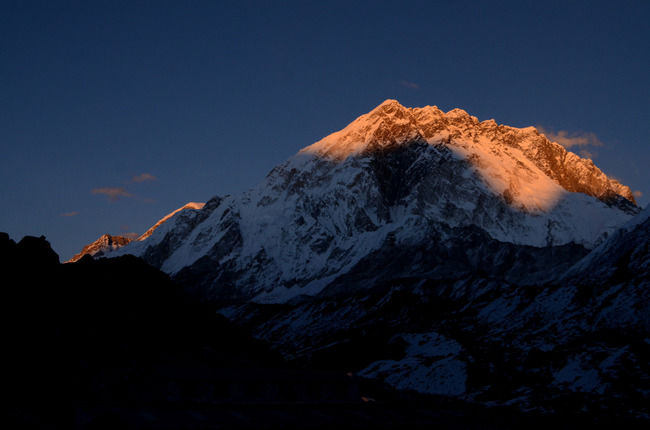 Most tea houses have a common dining hall and small rooms with plywood walls offering little protection from cold temperatures at night. Though rudimentary these tea houses offer good food topped with the warmth of Nepali households. We spent the evenings huddled around a heated fireplace in the common area playing card games and getting to know people from different parts of the globe. One group of French trekkers we got acquainted with were doing impressively well for people in sixties! Clearly age is not a factor, their unflinching spirit was our motivation during times when the trek felt like a relentless struggle.
Our guide, also a Sherpa and a commendable three time Everest summiteer gave us a glimpse into the Sherpa culture. Sherpas are a friendly and extremely hard working community without whom the whole mountaineering adventure in the Everest region would be a tougher ordeal.
Gorak shep to Everest base camp is a 2 - 3 hour trek on a hilly terrain next to the vast glacial moraine. Most trekkers also go up to Kala Pattar which resembles a big black dune situated close to Gorak Shep. Kala Pattar is the highest point one can reach without a climbing permit. It provides a spectacular view of Mt.Everest standing tall at 29029 ft flanked by magnificent peaks of Lothse , Changtse and Nuptse.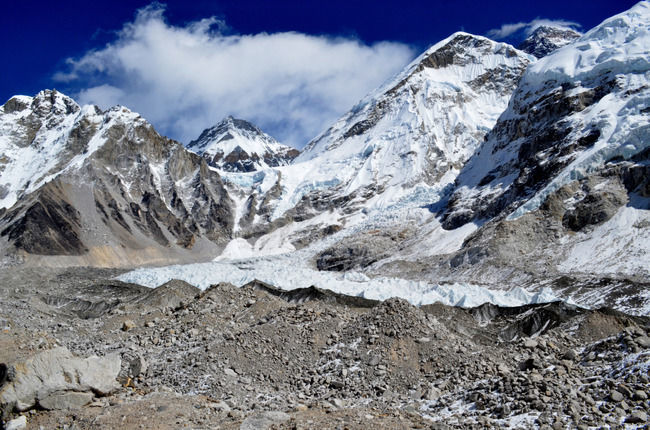 Standing at the Everest base camp at an incredible altitude of 17,598 ft in the looming presence of Mt Everest, the feeling is nothing short of euphoria! I wondered what it takes to get to the top of the world and my admiration for the more daring climbers only deepened. I found myself marveling at the panorama of mountains in complete silence forgetting for a while how exhausted I was or how desperately I had earlier wanted to get back to civilization. We clicked a few pictures next to huge rocks covered with prayer flags with khumbu ice fall in the background!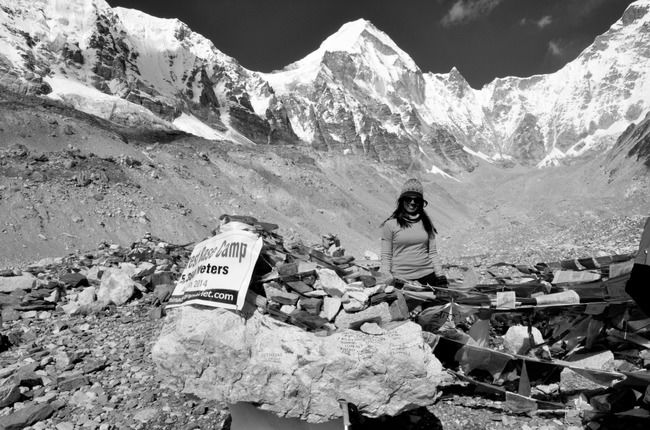 As you turn around to start the decent you are filled with a personal sense of achievement but bear in mind you have only completed half the journey. It is another 4-5 days of decent to Lukla from where you fly back to the comforts of Katmandu hotel and then it's party time!!
As amazing as it sounds this trek is no cake walk. At times it pushes you to the limit, both physically and mentally, and regardless of your physical fitness AMS can play spoil sport. Getting to Everest base camp is indeed an achievement, but enjoying the journey is equally important and the key is to train well.
In the end, you may not have set foot on Mt Everest but traversing the most scenic route on the planet and standing there, half way to the top of the world is an exhilarating experience that leaves you craving for more!
Experience the trek to EBC trek through pictures - Most scenic trek in the Himalayas