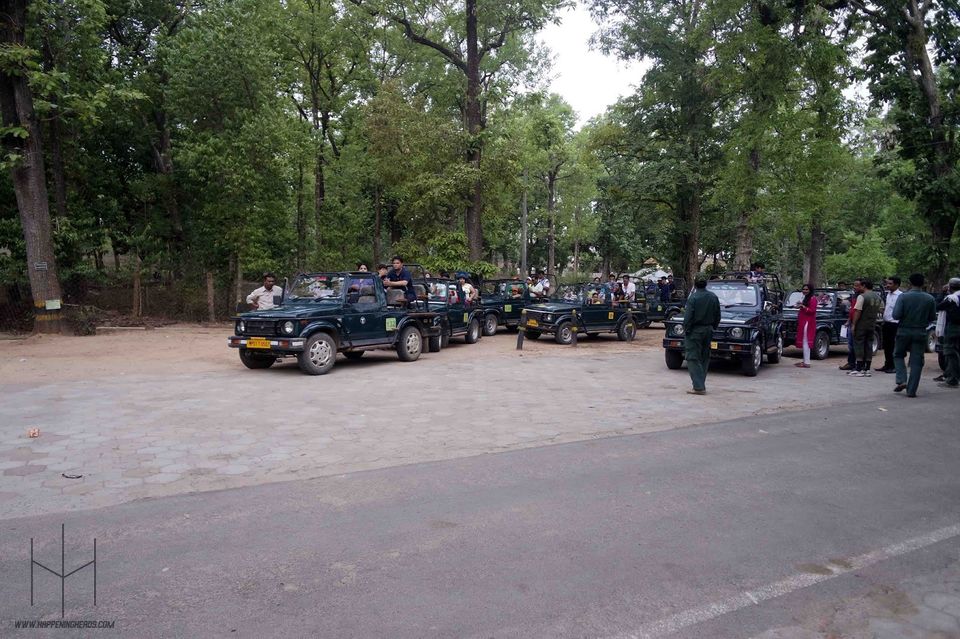 A happening jungle safari in the Kanha Tiger Reserve - Madhya Pradesh's largest national park with the biggest cats tops the bucket list of all the wildlife lovers considering the fact that it is spread across 940 sq.km area and has a high count of the majestic Royal Bengal Tigers.
At Kanha Tiger Reserve, jeep safari can be done twice in a single day viz. One in the early morning and other in the late afternoon with the help of a 6-seater open jeep. In each jeep, 6 passengers are allowed to travel along with a driver and naturalist and one has to complete the mandatory paper work at the entrance regarding the vehicle details, naturalist details, visitor details, etc. Before entering the Kanha National Park which consumes around 15 to 20 minutes.
The Four-Wheel Drive Open Jeep is the best way to explore wildlife beneath the thick and lush green forest of Kanha Tiger Reserve so we booked a 4x4 open jeep accompanied by an experienced naturalist early in the morning. There's a fixed route that every jeep follows so even the animals are well-aware of it so chances of them getting bothered by it are less as they are use to the regular commute.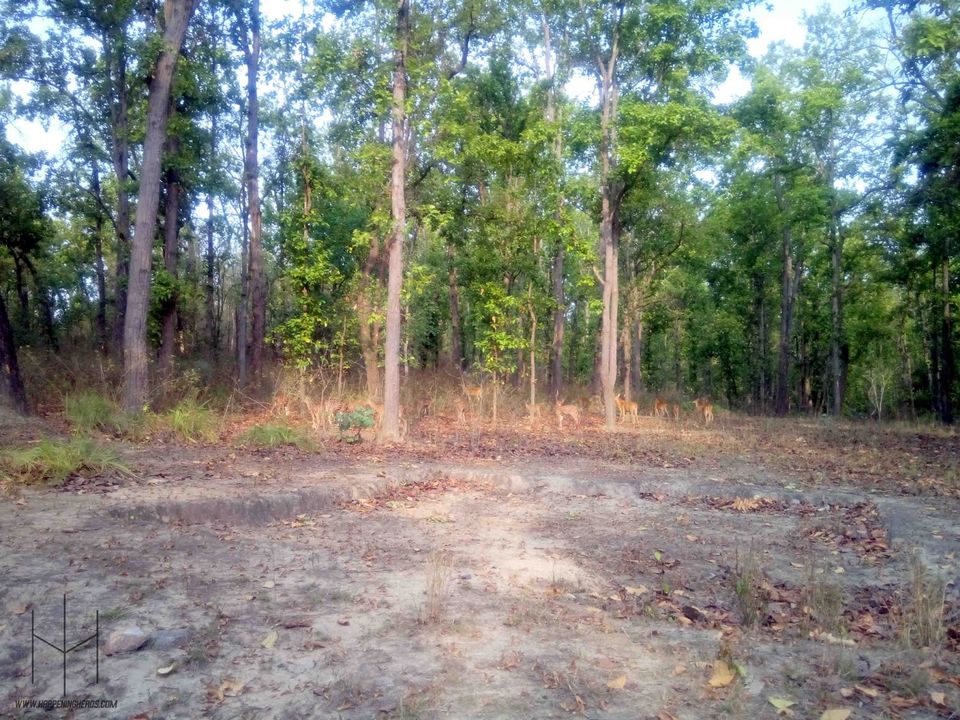 The best thing about jeep safaris is that they always keep you on the edge of your seat and this is what we were experiencing in the Kanha Tiger Reserve. The open jeep provided us the privilege to explore the places, which wouldn't have been possible if we had opted for any other vehicle.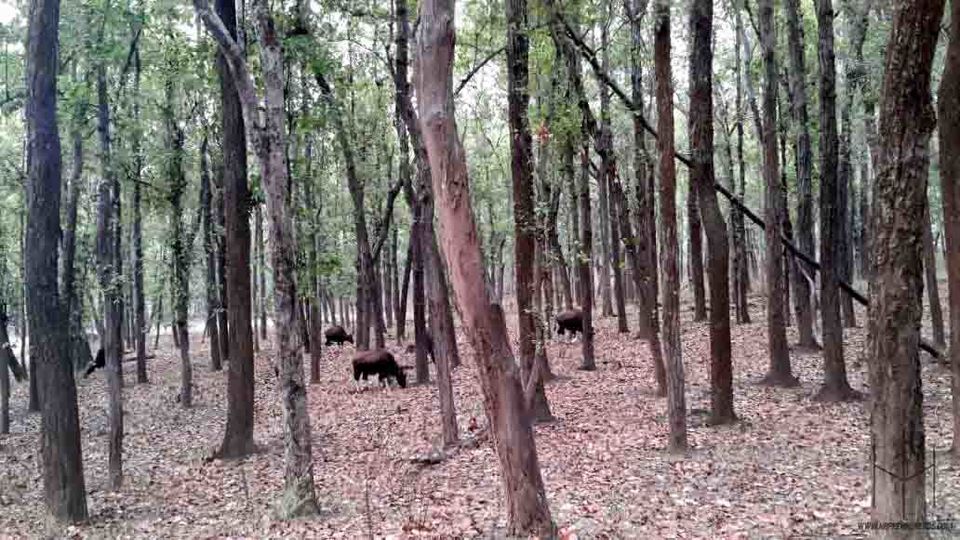 My driver was driving slowly and with care because there's a vast difference between driving in the city and driving in a freaking tiger reserve off-course because disturbing animals on roadside in their own territory is the last thing you want to do! Isn't it? Though I was unfortunate to not spot a Royal Bengal Tiger even after hours of roaming beneath the forest, sighting other wild animals gave me an immense pleasure being a wildlife lovers for sure along with the various kinds of sounds made by numerous birds and animals along the way. However, there were many instance along the way where I was asked to keep a pin drop silence by the naturalist because he and the driver did felt that there is a tiger somewhere around, all I was left after that was an utter disappointment because not sighting even a single tiger at Kanha Tiger Reserve which is considered to be the helm of many Royal Bengal Tigers kinda bothers you back in the mind but nevertheless, we will take it as yet another reason to visit the Kanha National Park once again in the future!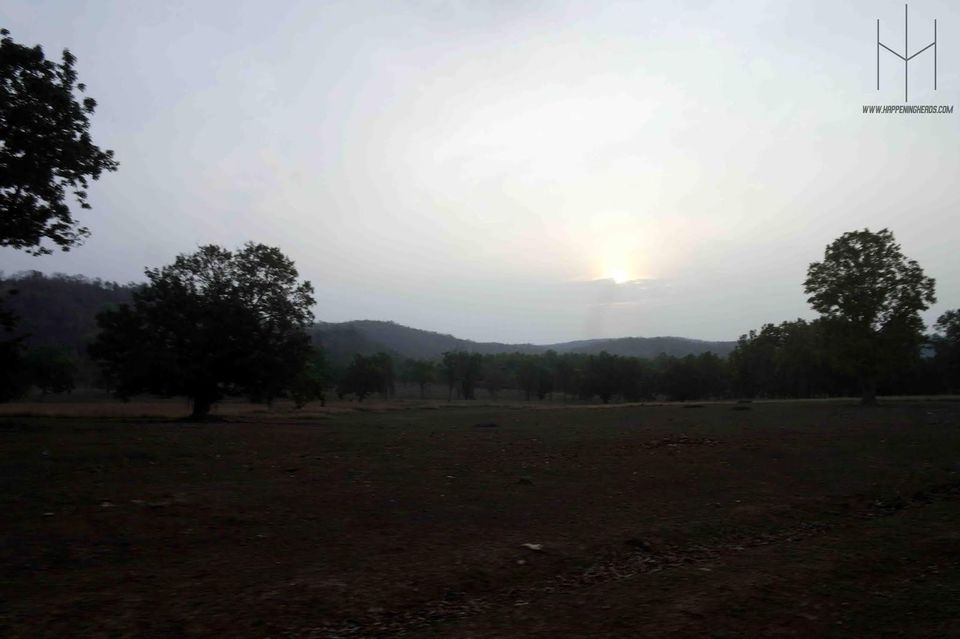 THINGS TO REMEMBER WHILE GOING ON A JUNGLE SAFARI IN THE KANHA TIGER RESERVE:
1. All the animals in Kanha National Park are wild so trying to get close to them is not only prohibited but can also prove dangerous.
2. Respect the wild animals and avoid doing things which might disturb them like shouting on top of your voices, littering around, etc. Remember, they are the ones who should get the first priority in their territory!
3. I would recommend you to wear jungle-friendly colours like shades of beige, brown, green and black while going on a jungle safari as bright coloured clothing can disturb the animals.
4. Avoid the usage of flash while capturing the animals as they might not like it and get aggressive at times.
5. Always follow the instructions of the officials accompanying you i.e. Your driver and the naturalist as they are familiar with every nook of the national park and can assist you perfectly well in order to experience an exceptional wildlife of Kanha Tiger Reserve.
ALSO READ: HOTEL MAYURA VALLEY VIEW MADIKERI REVIEW: A BUDGET-FRIENDLY HOTEL IN COORG HILL STATION
Follow me on Twitter, Facebook, Instagram, subscribe to my YouTube Channel and visit my Blog for more such happening travel stories!