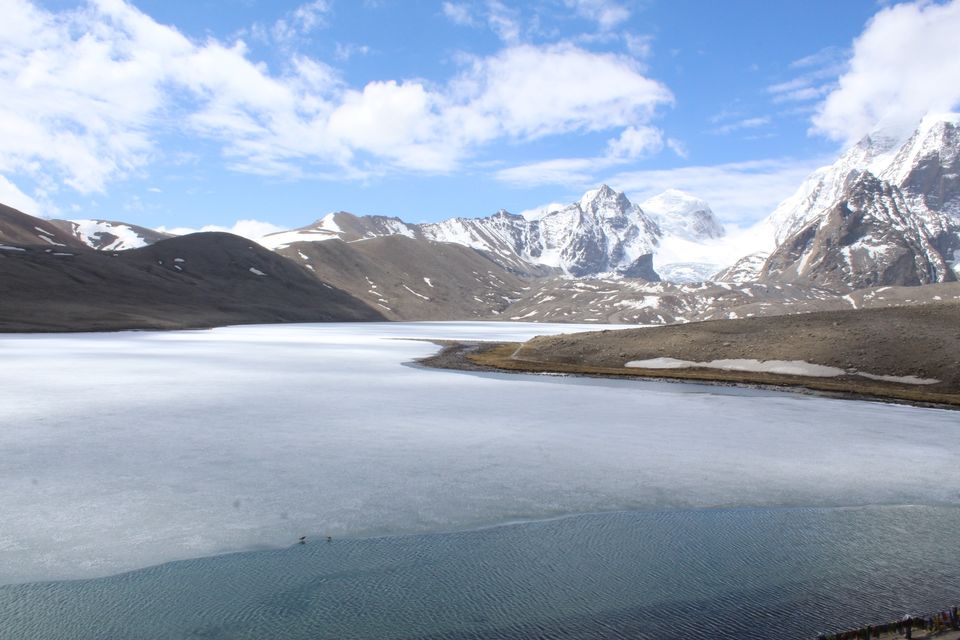 I am an ardent mountain individual. "Himalaya" is the only place I seek solace in. This craze drives me to different parts of Himalaya. And this bug inside drove me to North Sikkim...which I felt is one of the abode of God.
Being a budget traveller and travelling those terrain for the first time, I decided to go by the mass and took a shared package tour from Gangtok for ₹4500/head.
You get ample of tour operators in Gangtok who arrange packages for you. You need to bargain a lot for the best price.
I was travelling along with my boyfriend. At 8am we checked out from our hotel at KAZI Road, Gangtok and took a small cab for ₹100 towards the North Sikkim Taxi Stand. It's a request to travel light if you are hiring a shared cab, because they get pissed off whenever they face huge luggages.
A Bolero was provided to us, in which all 10 people were stuffed in. It is really difficult for long legged people to travel like that because the journey and the road, is a hectic one.
We both being short and budget travelers, had no objection to the seat or the car. The fellow travelers were super friendly and helpful with open hearted spirits and we enjoyed the entire journey. We made some amazing friends.
Our first stop for the day was lachung, enroute we visited:-
•SEVEN SISTER WATERFALL
•BHIM NALA
On this route, we found a lot of such beautiful waterfalls all through our journey. The roads were fine but sometimes bumpy which could be managed.
At 7pm, our driver "Daba" dropped us at the hotel which was arranged for our night stay. The room provided was a huge one and perfectly clean, with sparkling clean bathroom. We were in a group of four and all of the four groups were provided separate rooms. We got the last room with an amazing view. We had our dinner at the hotel and note it.. that they arrange both veg and non-veg food. But you don't get a chance to choose from the menu, whatever food is provided should be consumed which really tastes very good.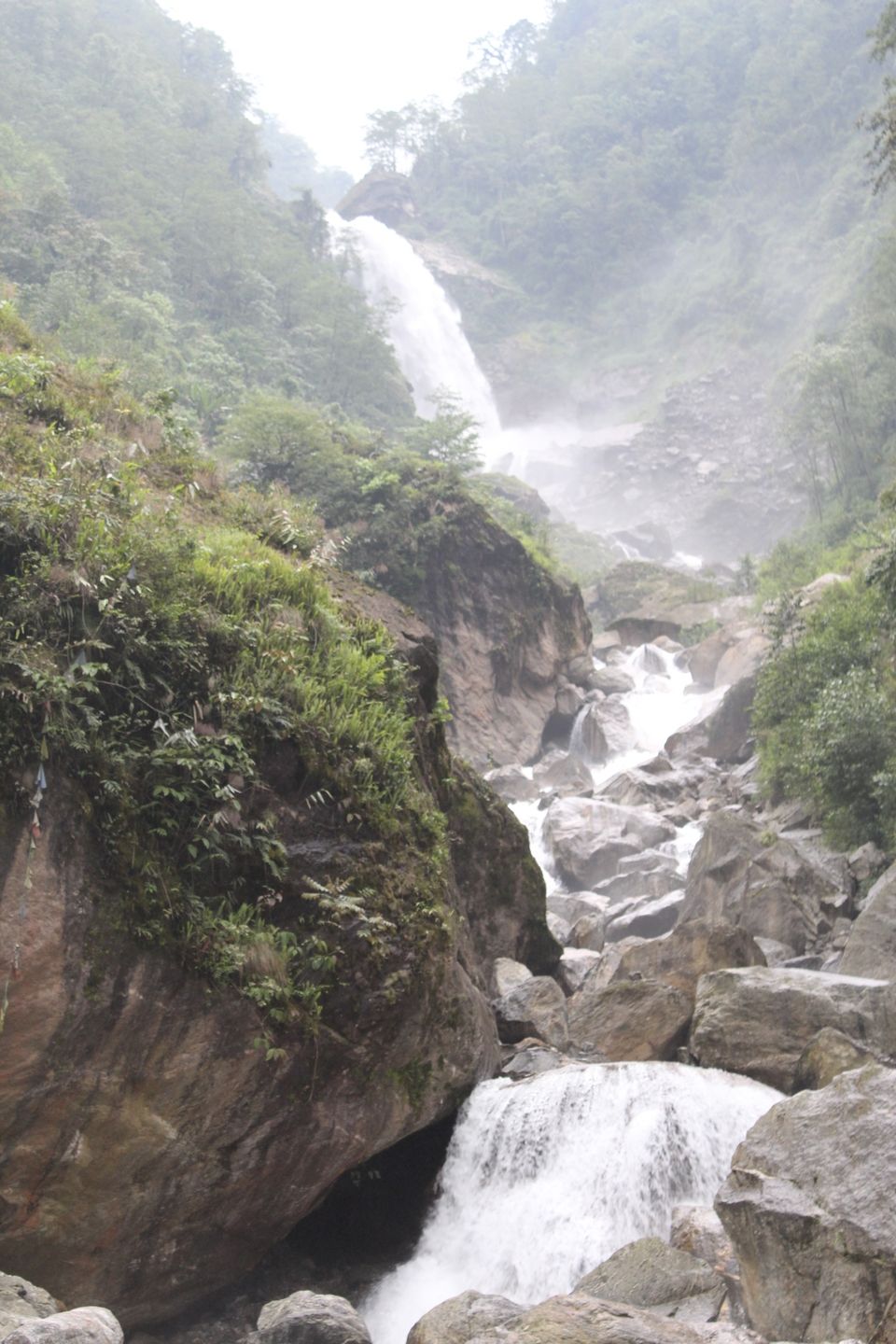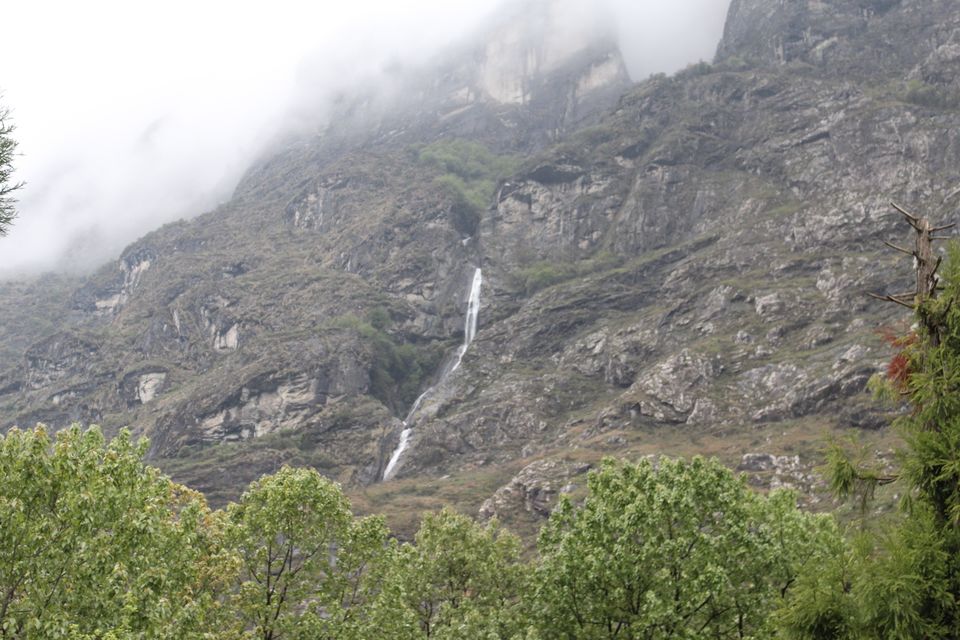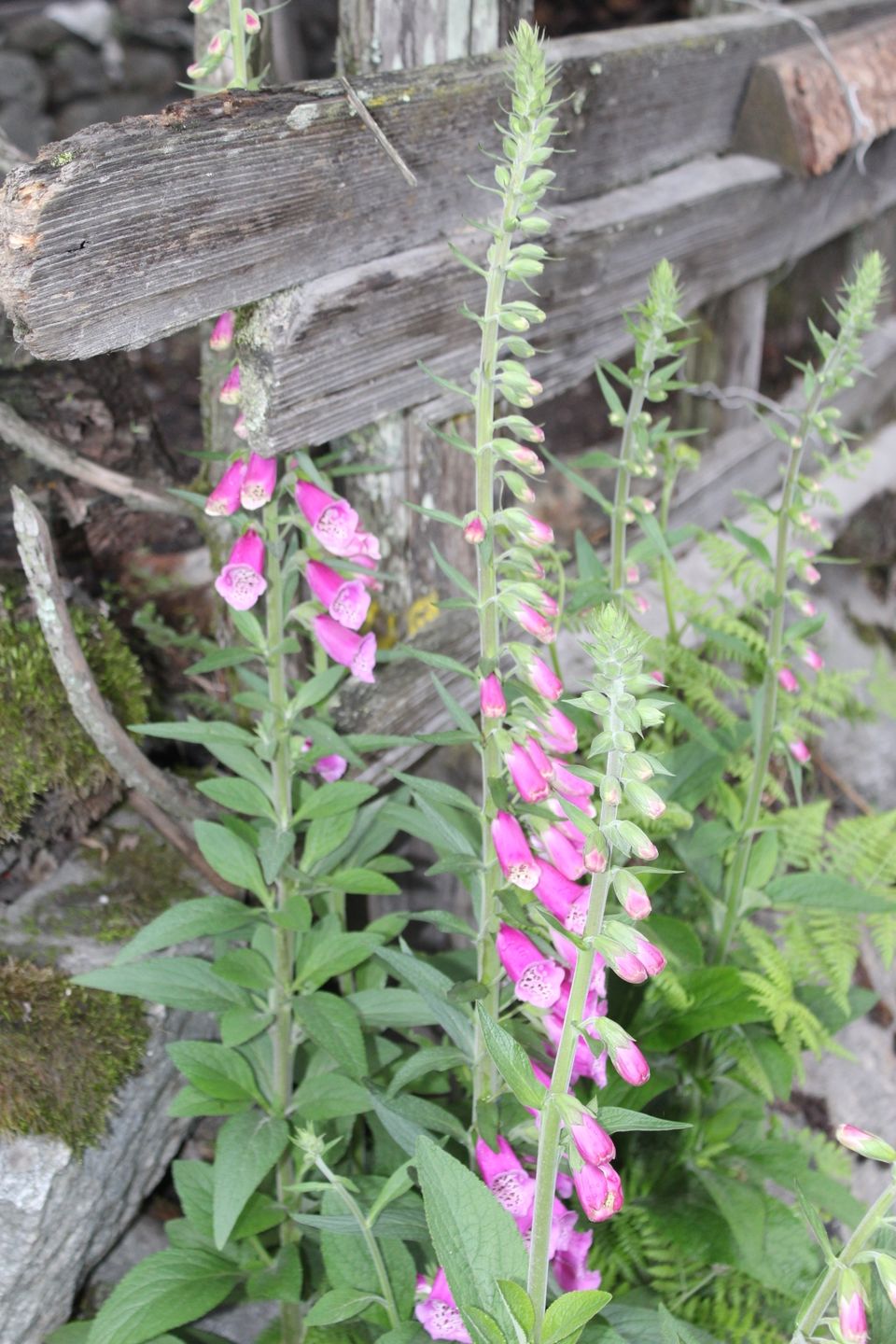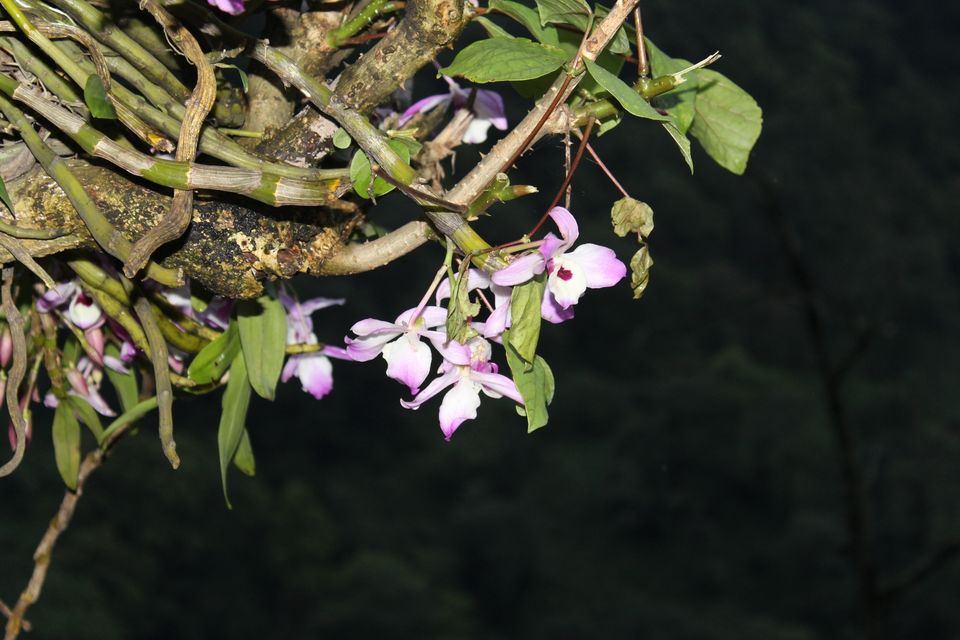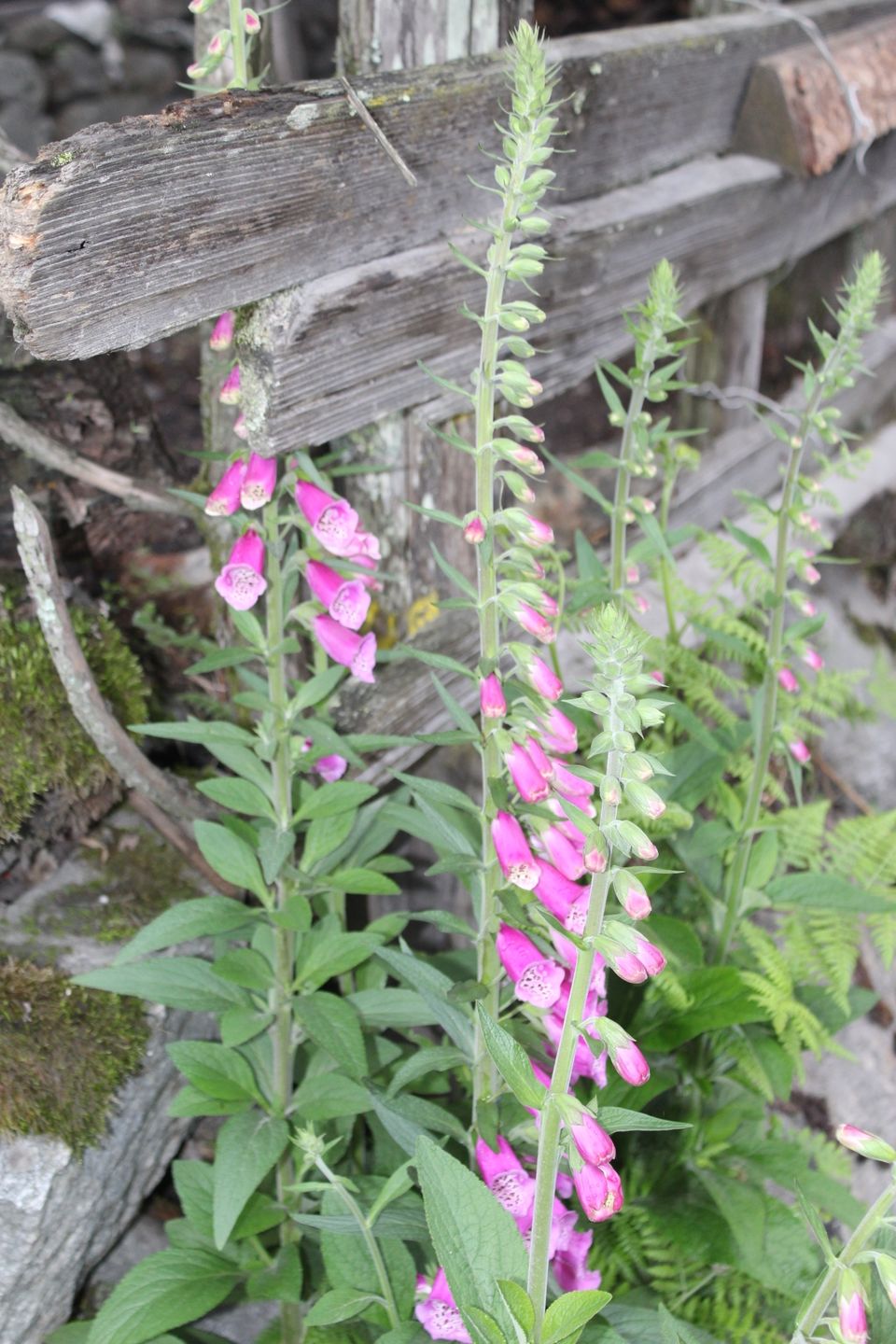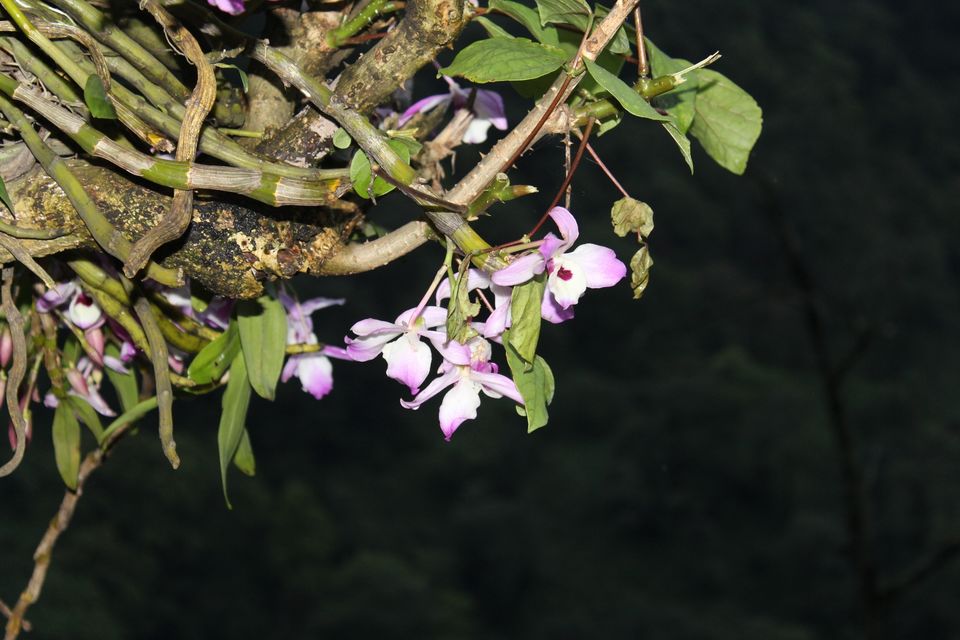 We completed our dinner by 8.30pm, and went off to sleep early as the next day demanded long hours of journey.
Next day, we all got ready by 7.00am and started our journey towards Zero Point. The climate was chilling and the road was terrific. After a bumpy ride, we reached Yumthang Valley. We had our breakfast, ( bread and jam is provided i.e included in your package, but if you order anything extra, you will have to pay for it) and headed forward to Zero Point.
Zero Point-
This place is all about snow and snow lovers. Sharing the border with china this place is strictly controlled by the ITBP.
We had about an hour to enjoy the snow and so we did. We did not face any issues regarding breath though the altitude is around 15,300ft.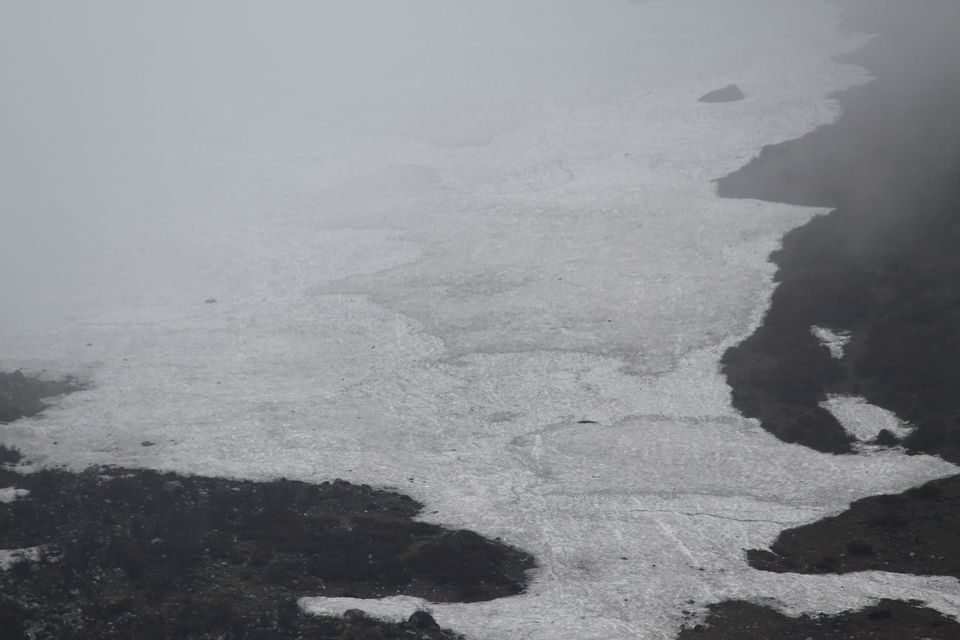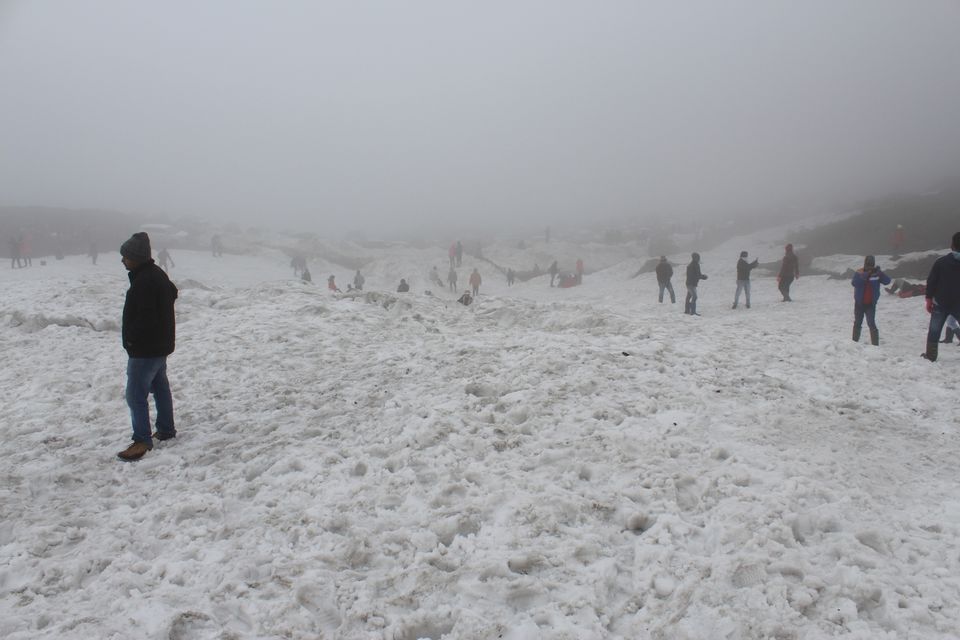 We returned back to Yumthang Valley after spending an hour in zero point. As we were returning, the weather turned out to be rainy and snow fall began. We all were mesmerized by the view.
Yumthang is a beautiful valley also known as Valley of flowers, home of the famous RHODODENDRON, the state flower of Sikkim. As I visited in the month of May 2019, I could witness the valley in its full colours. I could have sat there for the entire day just witnessing the changing colours of the valley.
While returning back to our hotel, we also visited a hot spring. The road to the spring was amazing but the spring was not at all appealing to me.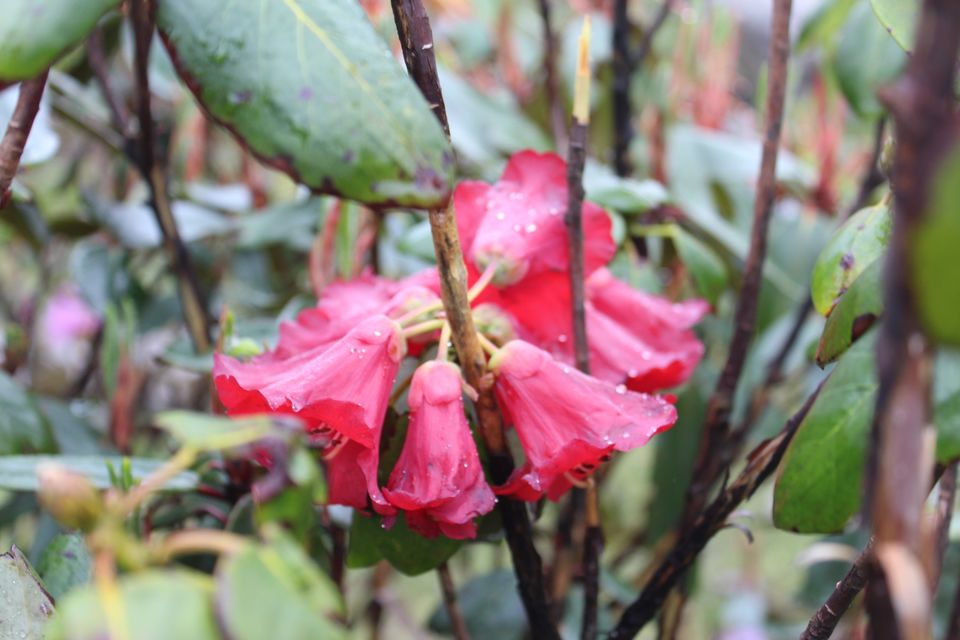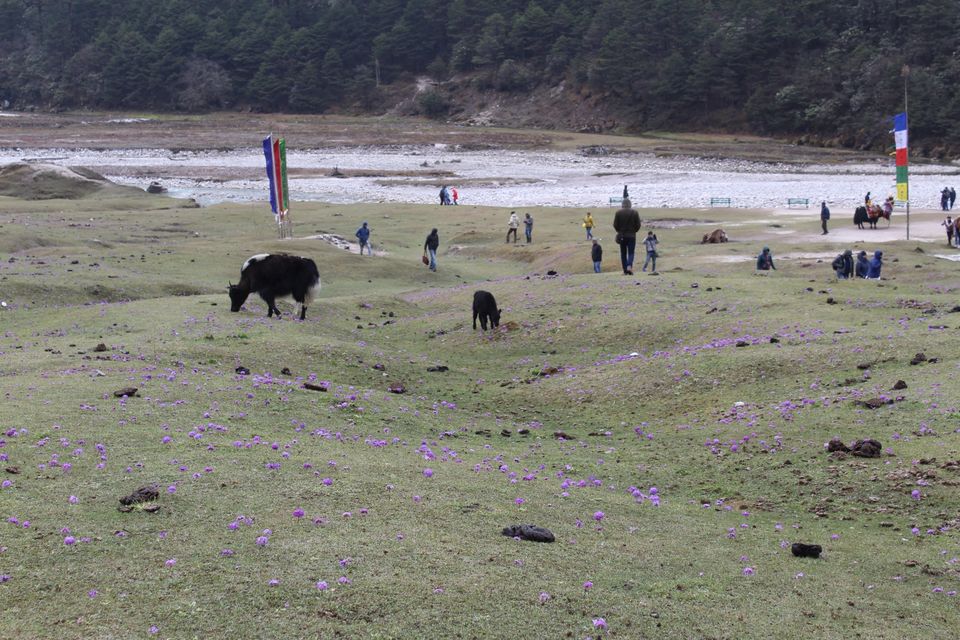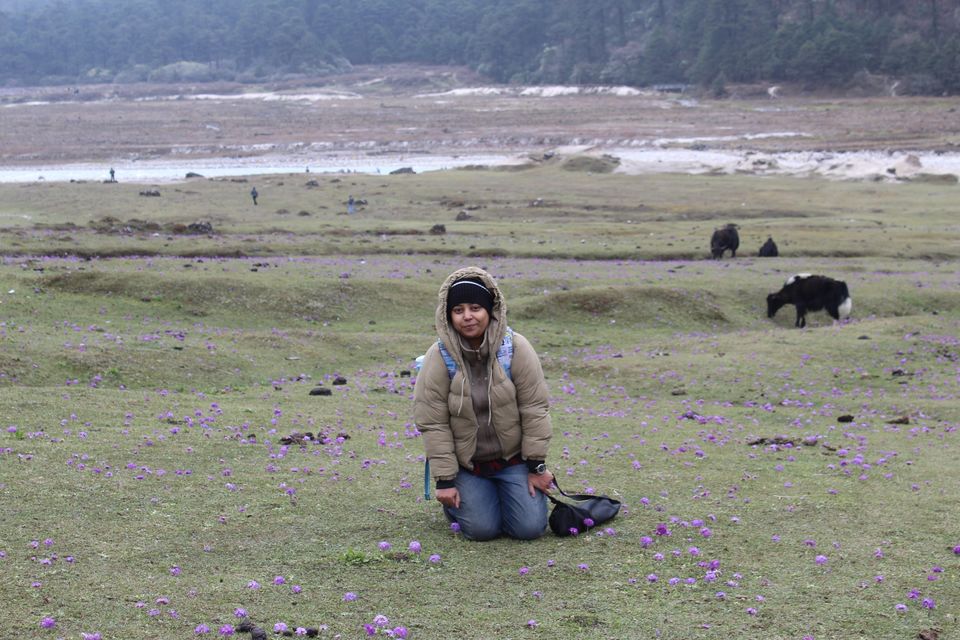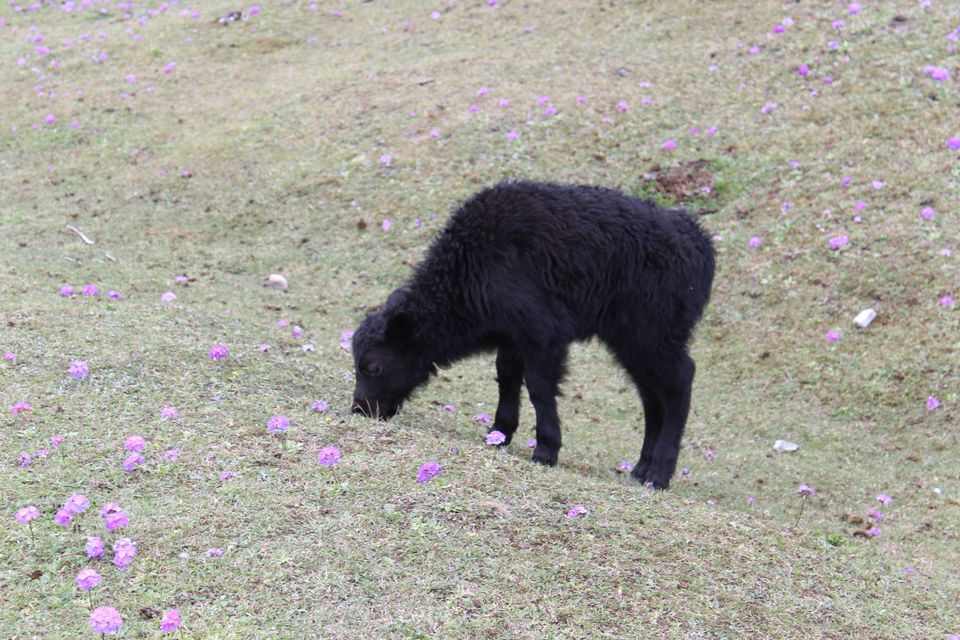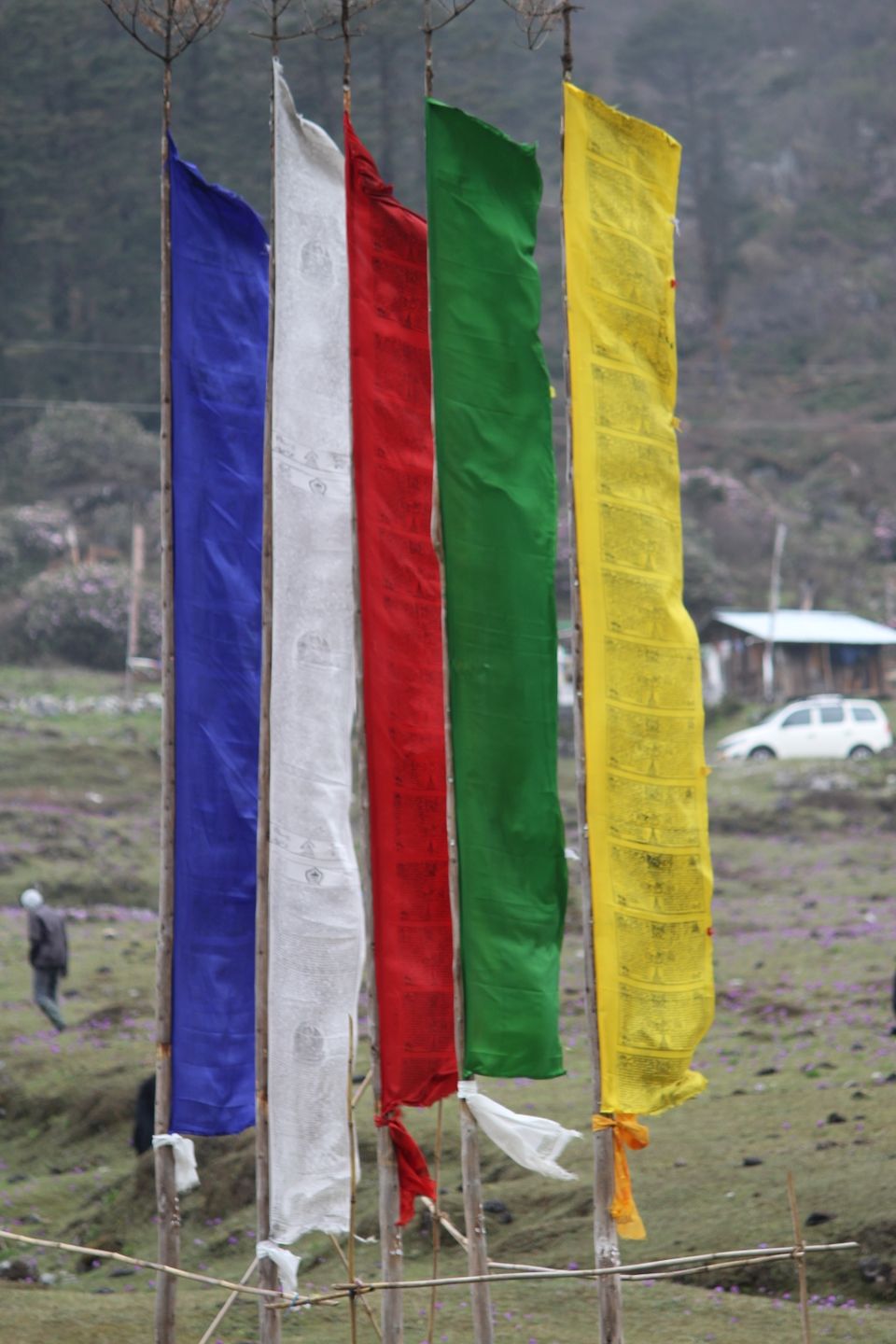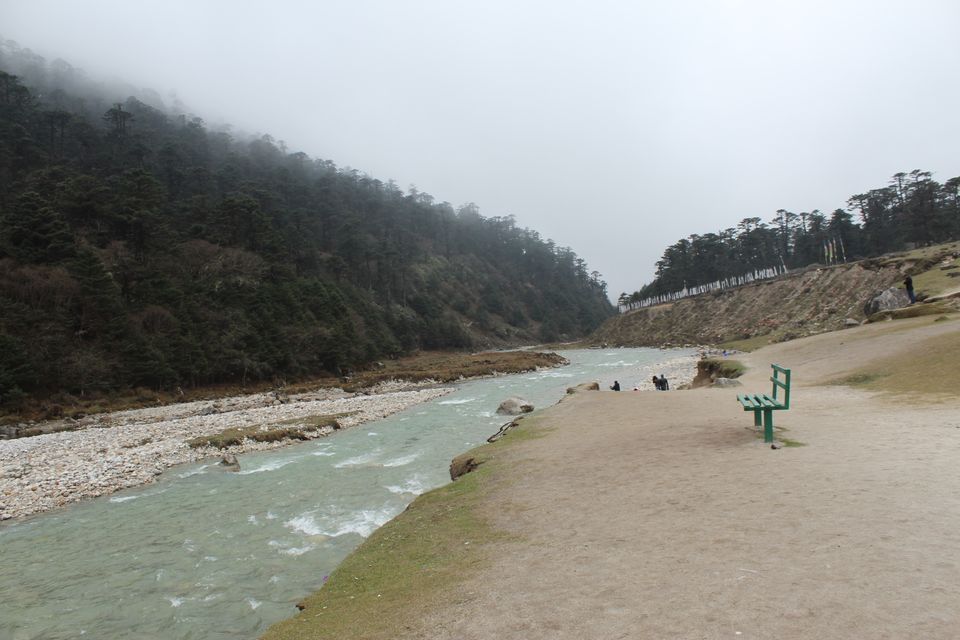 We came back to our hotel, had our lunch, loaded our luggage in the cab and started for our next Stop.... Lachen.
The road to lachen is treacherous, and after a long time we reached to our destination around 7.30pm. The temperature was around 1°C. After keeping our luggage in the room alloted, which was much more luxurious than the room in lachung, we two moved out to explore the village. It is a pretty village with lots of beautiful homestay all carved in Tibetan style.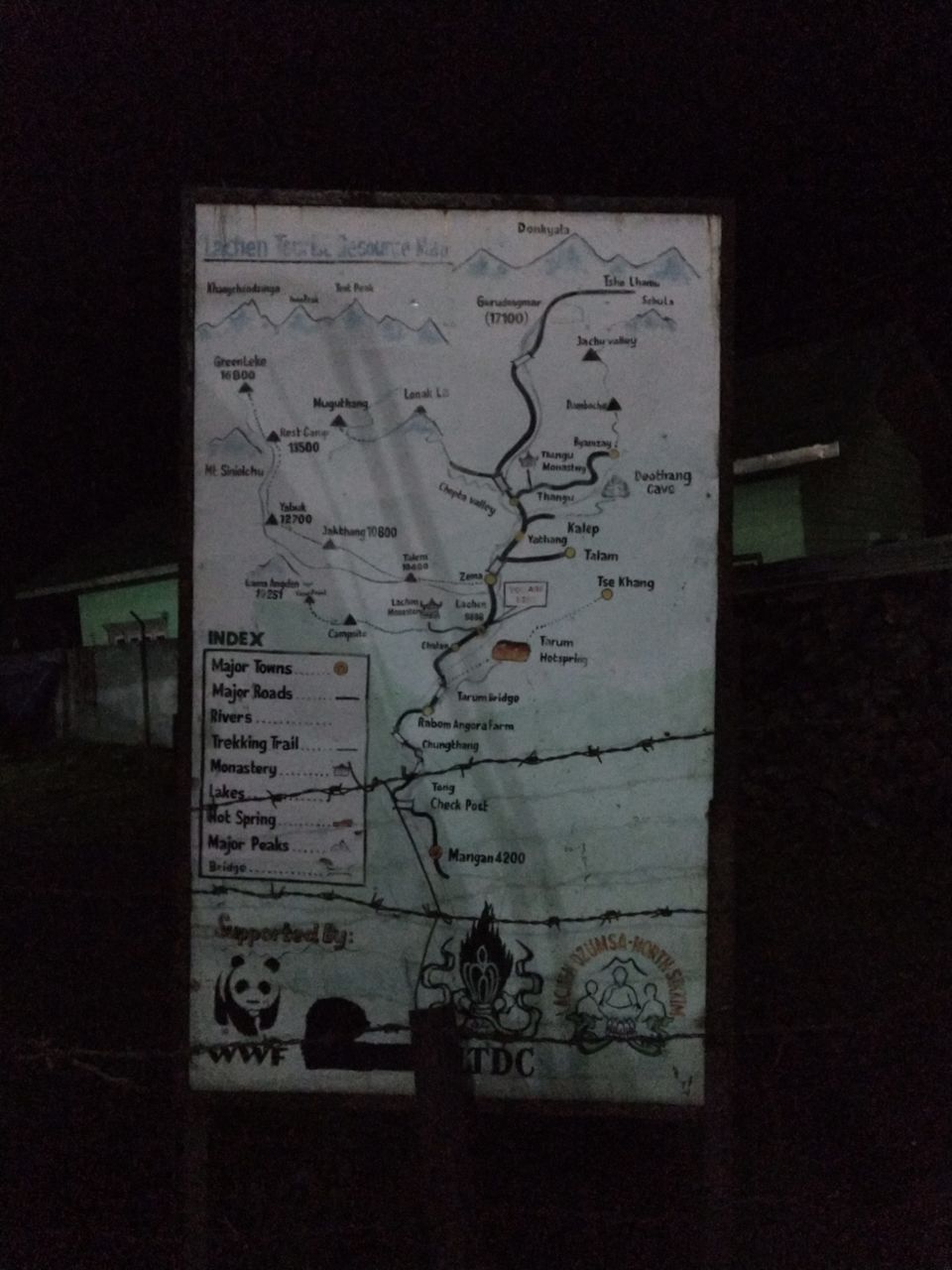 We returned around 8.30pm, had our dinner which was super delicious, and went off to sleep as the temperature was freezing.
The next morning, we woke up around 3.30am, freshen up, packed our luggage, and headed towards the famous Gurudongmar Lake.
We started our journey around 5.30am and reached Gurudongmar at 9.30am. The road is very bad and due to low level of oxygen, it is very hard for older people to travel to this terrain. We had experienced more difficult roads in Spiti so we were ok.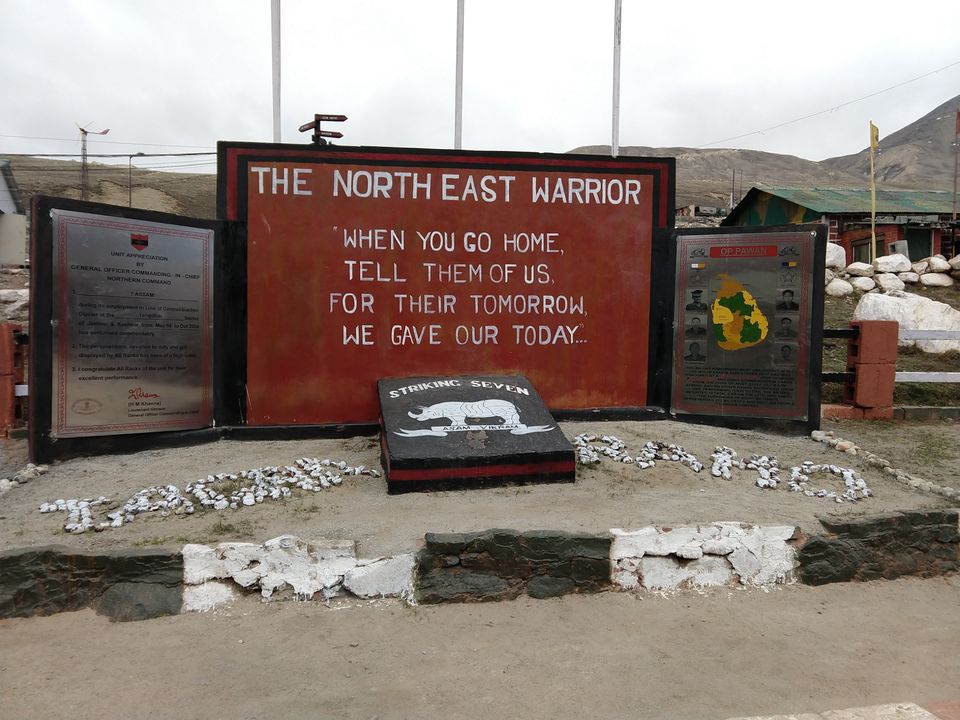 There are innumerable check post before entering the region as it is very close to Indo-china border. But as we were in a package tour, we had no headache of permit.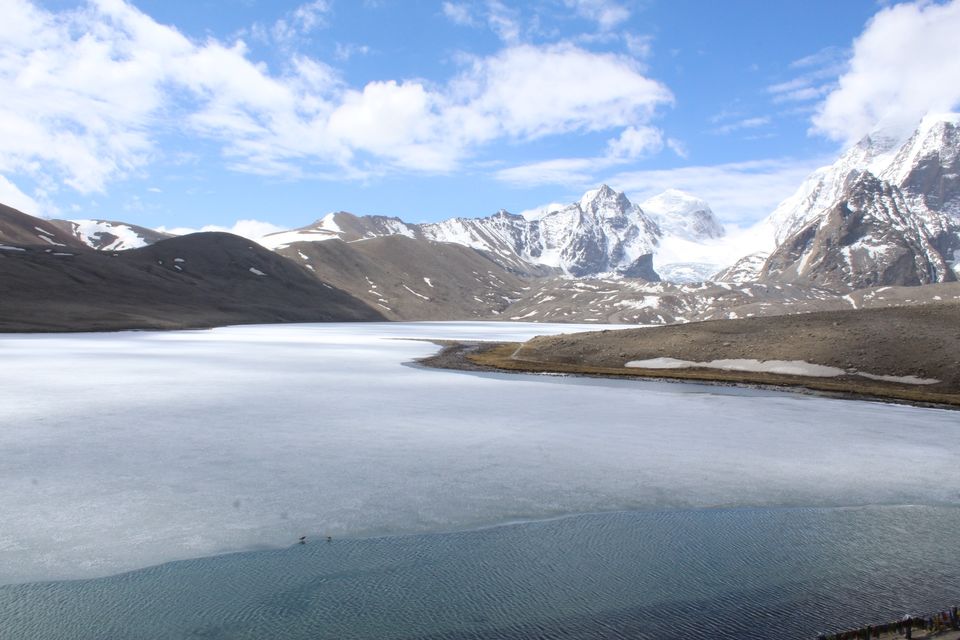 The first view of the lake felt like witnessing heaven. Situated at an altitude of 17,800ft, this lake is considered sacred by the Hindus, Buddhist and Sikhs. Part of the lake never freezes and is the source of water to locals. This lake is considered to be holy.
I felt like I was standing there just to feel God around me. It was such an amazing experience. I am too short of words to describe it...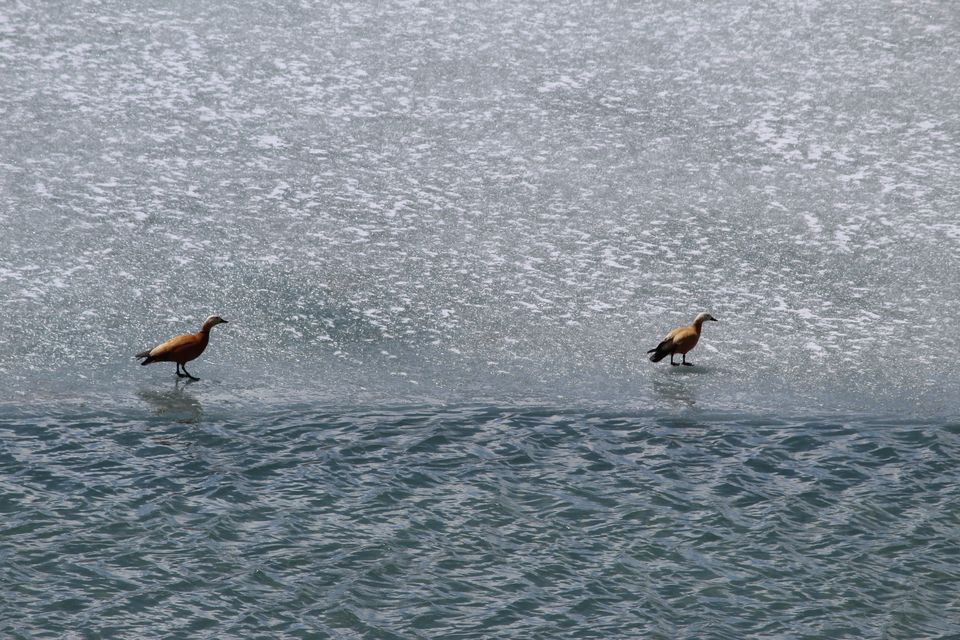 After spending half an hour, we headed towards another treacherous journey- Kala patthar. Mainly located in Nepal, a part of it is in Sikkim, and this place is considered to be "no man's land". This area is covered with snow all through the year and it is more peaceful and less crowded than zero point.
I thanked our driver for keeping lachen for the second day as it was much much more beautiful experience than Lachung.
This place has black mountain rock covered entirely with snow and thus the name "Kala" meaning black and "patthar" meaning rock.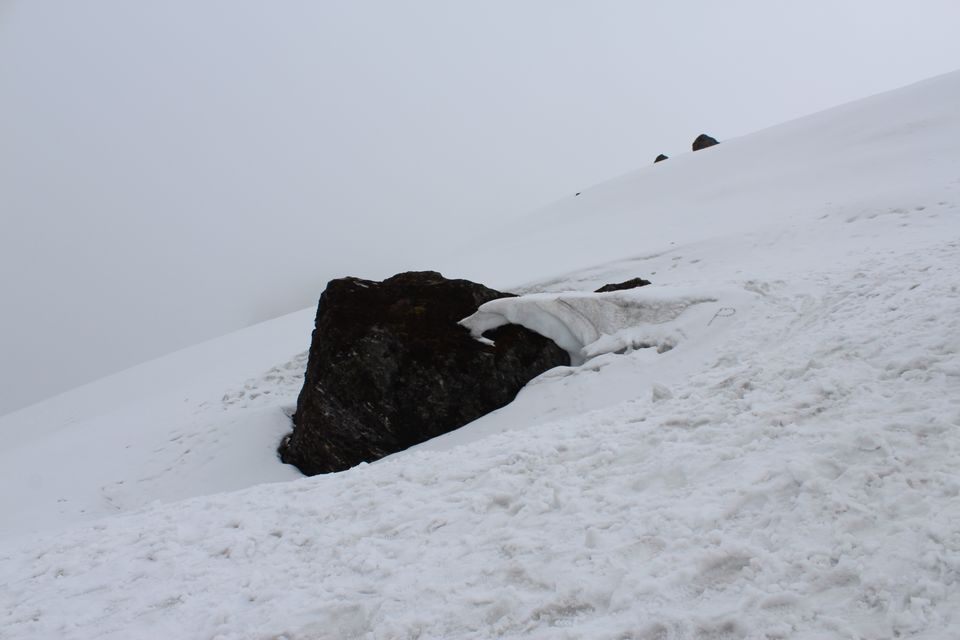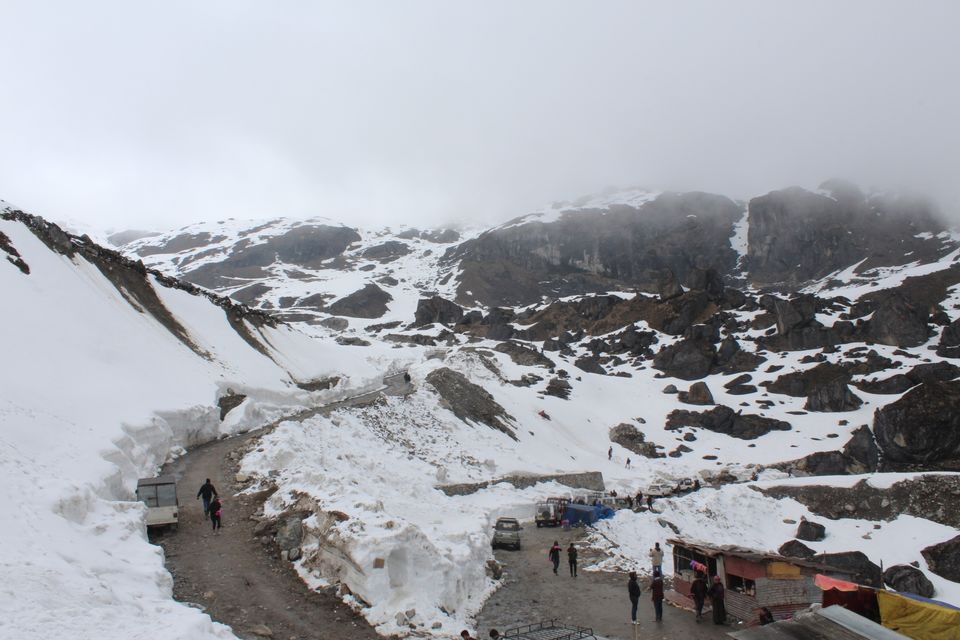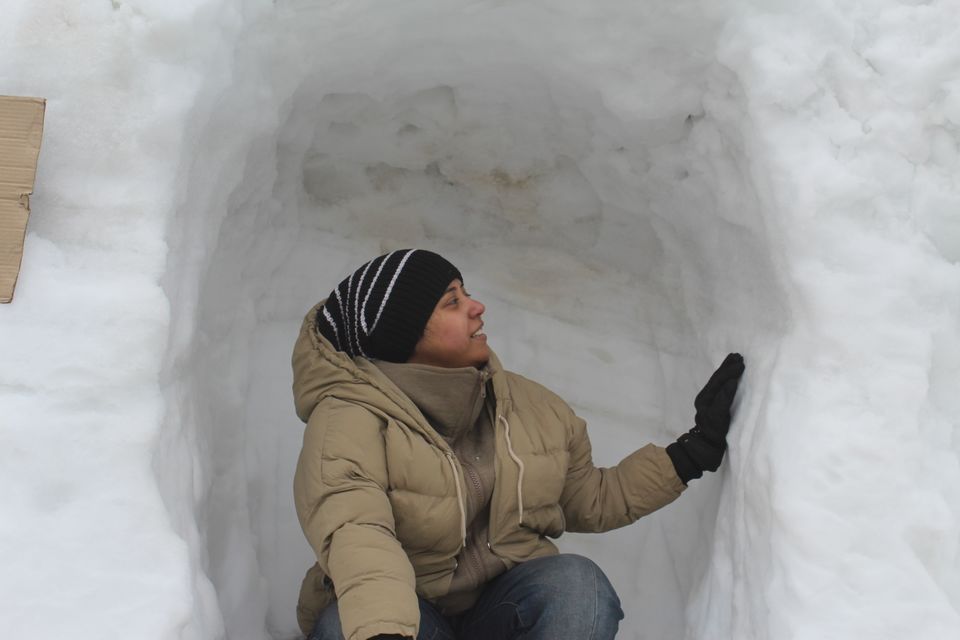 This place has nothing to offer more than snow and view but far more better and beautiful and isolated than zero point. But the altitude is much more grave and most of the people were facing serious breathing problems due to the altitude.
My take: I had a lifetime experience in this North Sikkim tour but if you are a nature lover especially a mountain lover, then my suggestion would be to book a personal cab for 4-5 days for North Sikkim. Spend a day for Lachung and visit the zero point and Yumthang Valley and spend atleast 3-4 days in lachen. For trekkers, there are innumerable trekking route in this region.
I have a wish to travel further more than gurudongmar Lake to another lake called Tso Lhamo lake at an altitude of 5330m. This is just around 4km southwest of China border and thus requires permit from Sikkim. This lake feeds from zemu glacier another place for trekkers and is considered to be one of the most dangerous glaciers.
Someday I will write a story about my journey to this lake. Till then keep travelling and spread love.
NOTE:- PLEASE KEEP YOUR SURROUNDING CLEAN. DO NOT THROW PLASTIC ALL AROUND THE MOUNTAIN BECAUSE GOVERNMENT AND DEFENCE ARE DOING FAR ENOUGH FOR OUR PROTECTION AND WE SHOULD FEEL RESPONSIBLE TOWARDS OUR NATURE.