Long weekend... two words that hold the power to get your bags packed and reprogram your mind to do just one thing; Travel.
Fortunately, the geographical positioning of Delhi is such that it provides a number of fascinating weekend getaways; which are budget friendly as well. Be it the mountains, heritage cities, river sides, or wildlife reserves, one can have any kind of travel experience, available at an overnight distance from the capital city.
This story is about one such long weekend that reconstructed my mind as well, and took me to a place, which I could say, was conveniently located at a couple of blocks away from heaven.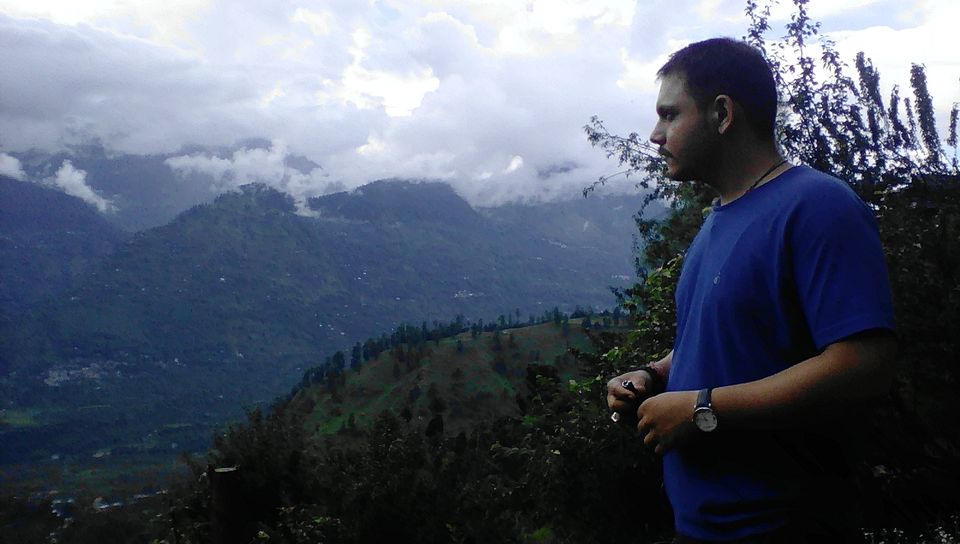 I love travelling to mountains (and I am sure there are many out there who resonate with this). So, when it came upon me to decide the location to travel over the upcoming long weekend, it wasn't hard to decide where I wanted to be. However, there was only one constraint; it was a nationwide long weekend (Independence Day).
When it comes to long weekends, I've observed that, almost half of Delhi and a three quarter of Chandigarh amalgamate at one particular destination; Himachal. I personally adore mountains. They seem to give me that space and ambience which I keep craving for. But, when there are so many people crowding at the same place (read mountains), the essence gets lost. Which is also one of the main reasons why there are so many underrated places in India that never makes to the bucket list of travelers in India. 
Nevertheless, after contemplating for days and consulting with friends and peers, I finally pinned down to a location that befitted my requirements perfectly. It was a place that is not just in the mountains, but also, far away from pollution, honking, and commercialization. A quaint little village in Himachal called RUMSU.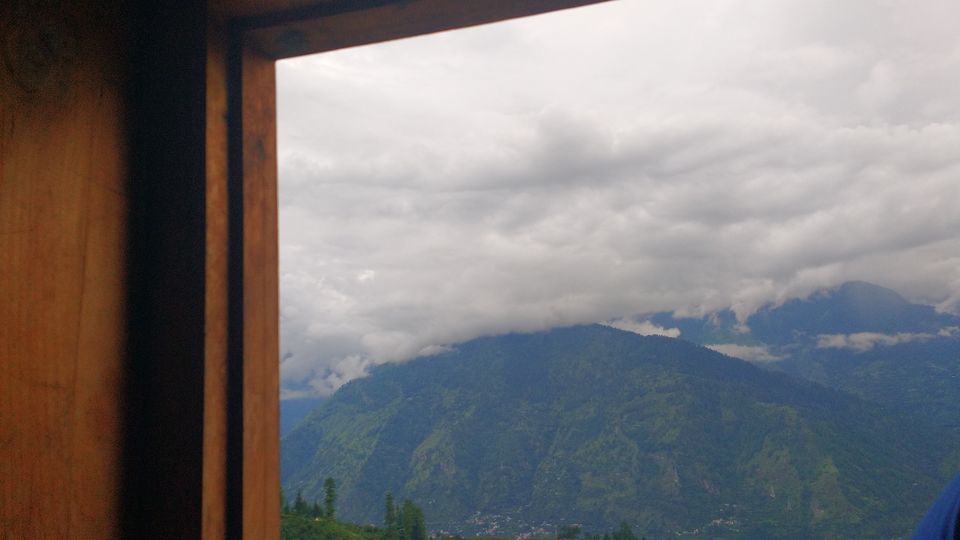 Frankly, I had never heard about this place ever before. It was a coincidental appearance in my bucket list, which eventually won my attention. A few of my friends run a firm that organizes trekking in and around Manali (check Kailash Rath for more). Their base camp is located in Rumsu village and it was through them that I had learnt about this place. I could see a perfect outline for a peaceful, yet, adventurous trip for the holidays, and thus, without any second thoughts, I (with another travel bud of mine, Vinit) decided to travel to Rumsu.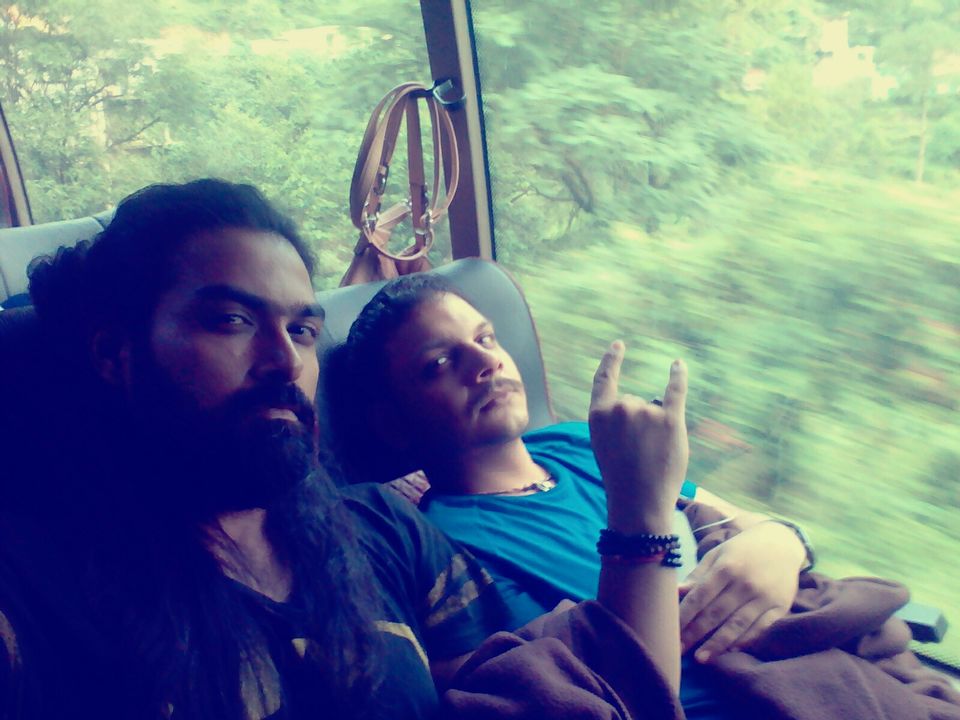 Located right at the centre of the route from Kullu to Manali, lies a small town named Patlikuhal. One needs to get down there and hire a local taxi to drive uphill to Rumsu village. Crossing through a gigantic bridge, built over the ferociously flowing Beas River, the route is a half an hour (tops) drive. I and Vinit, with couple of our friends from Kailash Rath team (Vacky and Pushkar), took an overnight bus from Delhi to Manali and got down at Patlikuhal the next day. A local mate was waiting to pick us up for Rumsu.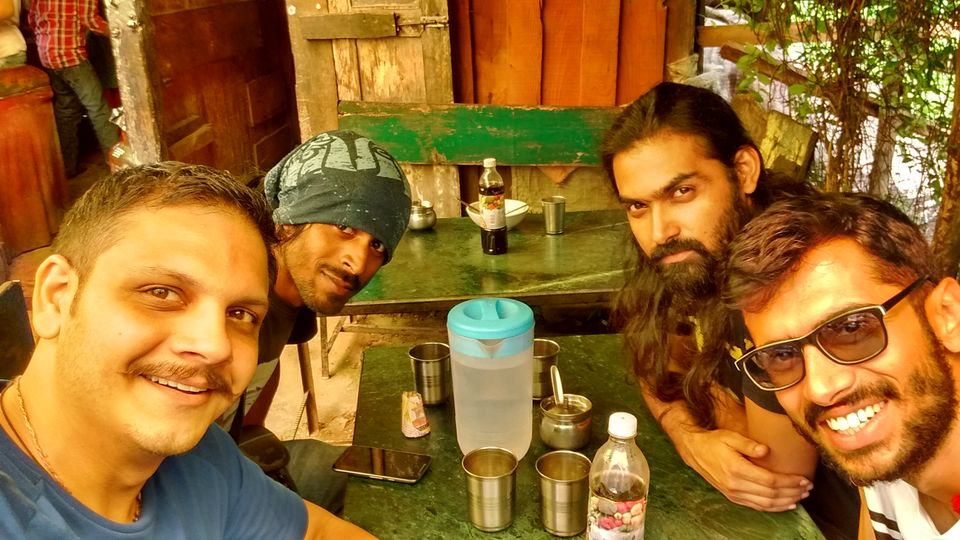 Ok, so, before we move forward with my trip, a little introduction about these friends of mine; just in case anyone was wondering who these guys are. A bunch of IT rats, who finally decided to break out from the cage and become the lions of the mountains. While, many (I count myself too) simply keep contemplating about shifting to mountains and live there forever, these guys made it a reality and settled down in this village. They run their own firm now that organizes adventure camps in Manali and around. Covering trails from easy to intermediate, and to the hard ones, they manage several scenic trekking spots. This includes Chandrakhani Pass Trek, Brighu Lake, Hampta Pass, Saar Pass, Pin Parvati, and a lot more. They have created their base camp in Rumsu and that's where the groups assemble to start their journey of adventurous trekking in Himalayas.
FYI, i chose Chandrakhani trek for my trip.
Now, coming back to where I had left off. After almost a 15 hours bus ride (the bus was comfortable though), we got down at Patlikuhal, where a friend was waiting to receive us to take us to Rumsu village. We all reached the base camp at around 4 in the evening, and having nothing to do for the rest of the day, we decided to simply chill.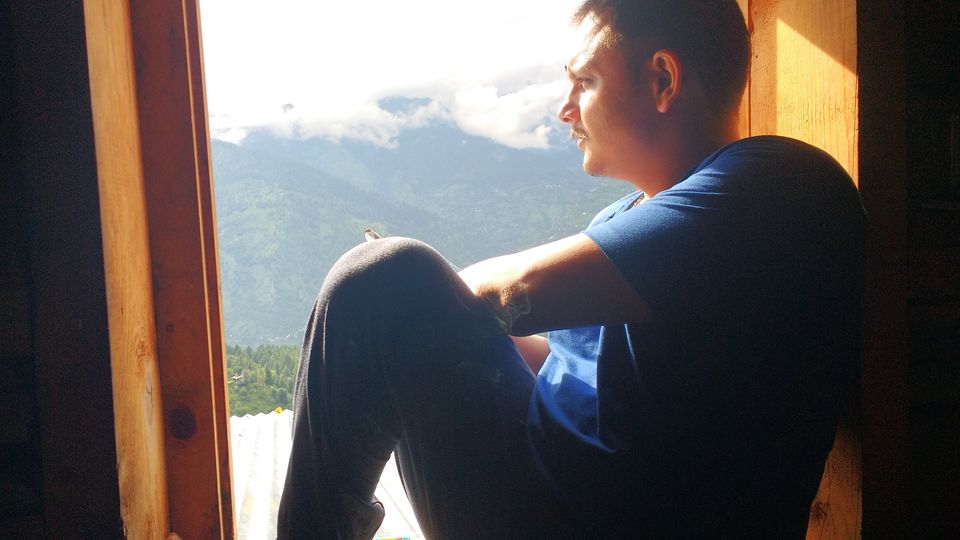 The village, Rumsu, had all the elements that I was looking forward to for my trip. It was away from crowd, noise pollution, commercialization, and anything remotely comparable to city life.
Quick question! How many of you have watched the movie, "Mission Kashmir"? Do you remember the hideout of Hrithik and his team? Well, the base camp, and the route through the village to the camp, was very much similar to the one shown in the movie. And, for those who haven't watched the movie, well, it was sublime in its own ways.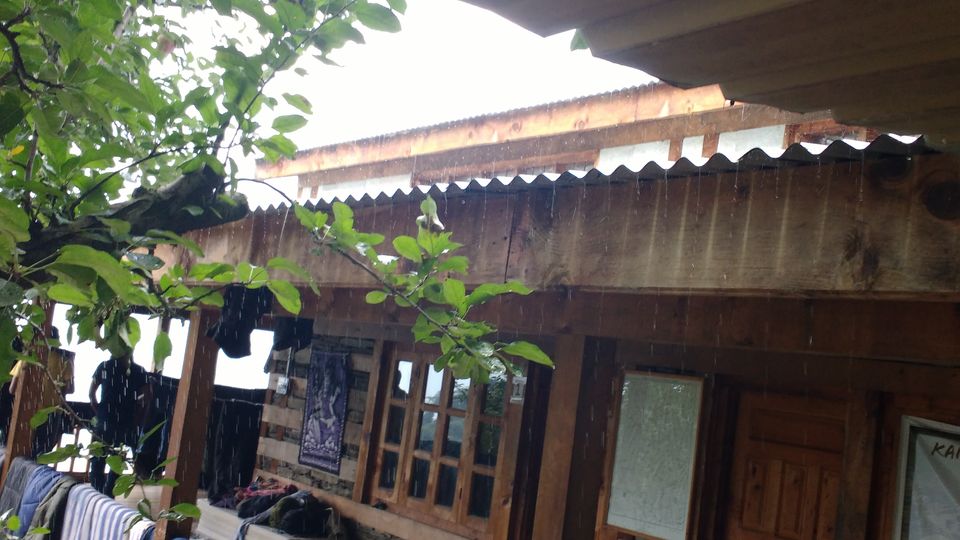 It was a beautiful wooden house, located in a scenic surrounding. It had a gorgeous attic, along with rooms for the groups to stay, a kitchen, washrooms, and the office area; accessible only to the owners (and, of course, me :P). The best part was that these crazy minds had built their office area in the attic itself, which provides some surreal views through the small window that it has. There were apple trees all around the camp area, which sorted my breakfast scene for the entire time I was there. Frankly, I could have just spent my entire weekend at the camp itself without having to regret for even a blink.
On the day of our journey for Chandrakhani, we started early in the morning; as decided. I was offered to tag along with one of the groups that were to leave for Brighu Lake the same morning, but I chose to stick to my plan. Finally, I, Vinit, and Vacky (to guide us through the trek) left for Chandrakhani.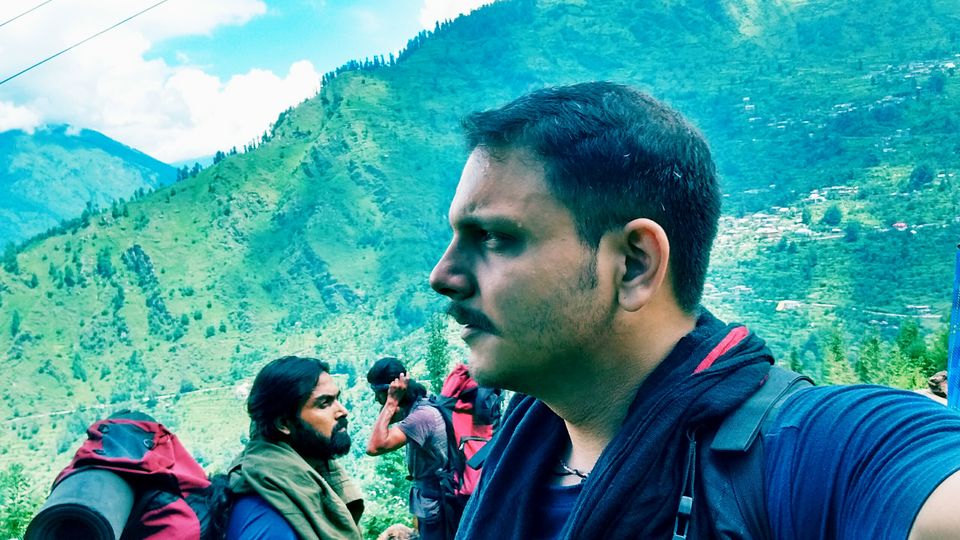 I am not a regular mountaineer, or trekker. So, the initial few hundred meters were a nightmare for my lungs. But, gradually, I paced up and soon we were at our first check point; Stelling. During our bus ride from Delhi to Patlikuhal, Vinit could not stop talking about how mesmerizing Stelling is. And, while I was simply wondering what could possibly be the reason to name a spot like this, I got my answer when I reached there. An open patch in the mountains, covered with lush green grass, and dotted with tall deodar trees all around; one could see glimpses of mountain tops from between the tree gaps. It was a stellar landscape, and that's exactly the reason (I concluded) why it was named Stelling.
By the way! Did I tell you that I am good at countering bad lucks most of the times!? Well, this is where I tell you. While I was grasping the beauty of nature around me, I learnt that Vacky was feeling sick. Can you believe that!? I mean, the one person, out of all three of us, who is more acquainted to these surroundings and had the least possibility to get weak, got sick; GREAT! Anyhow, this made us alter our itinerary, and we decided to camp at a point named Ghankulhadi; another check point that was a few kms ahead of Stelling. How do they keep all these names I wonder!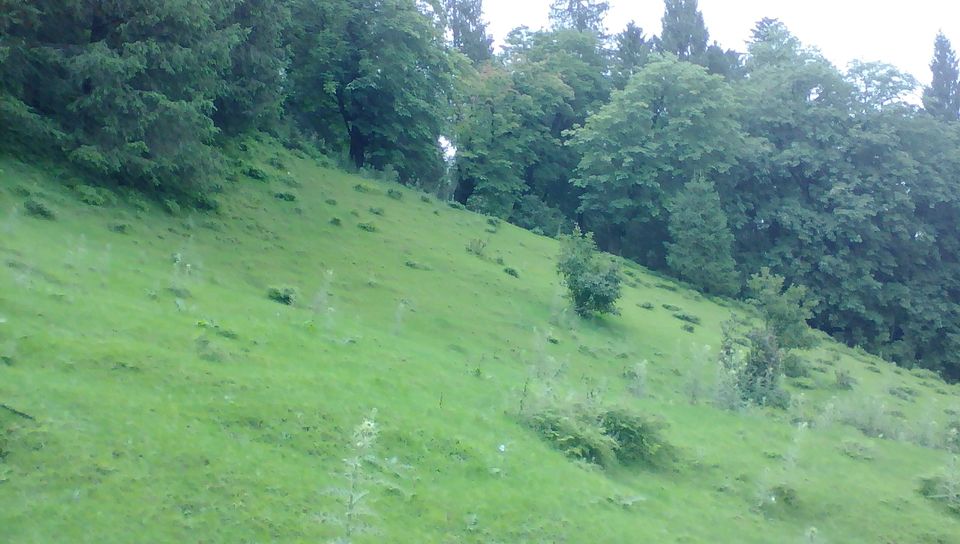 I wouldn't say that I wasn't feeling disappointed about not going all the way. But, as we reached Ghankulhadi, I could hardly think of anything else. It was pure... wait for it... bliss. Smog, distant mountain view, cool breeze, lush green landscape and our sweet little camp in the middle of all of it. It was as if I was living the moments from 'Into The Wild' movie, right out of the screen.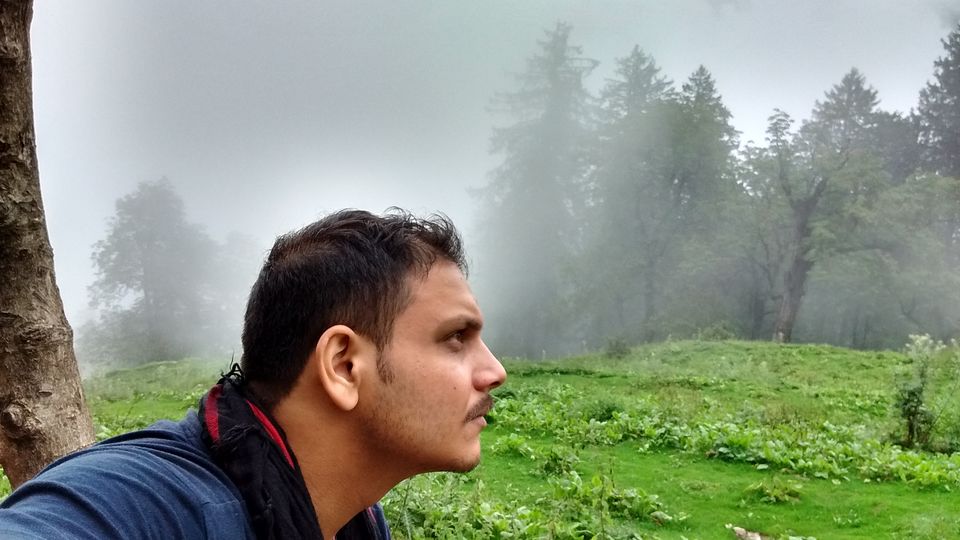 After almost an hour of failed attempts to light a bonfire (it rained a few hours before we reached), we decided to simply embrace what's around us. If you don't speak, you could literally hear the sound of the nature. The breeze, whisking through the trees, the river flow somewhere way down, the birds; THE SILENCE. Frankly, this was my first night camping experience in the mountains (or anywhere, for that matter), and all I could think of and get excited about was the fact that I am finally getting to do it. There were other trekkers who passed by, halted to interact with us for a while, and helped us with some stuff we could use to pass the night. It was all going as I had thought.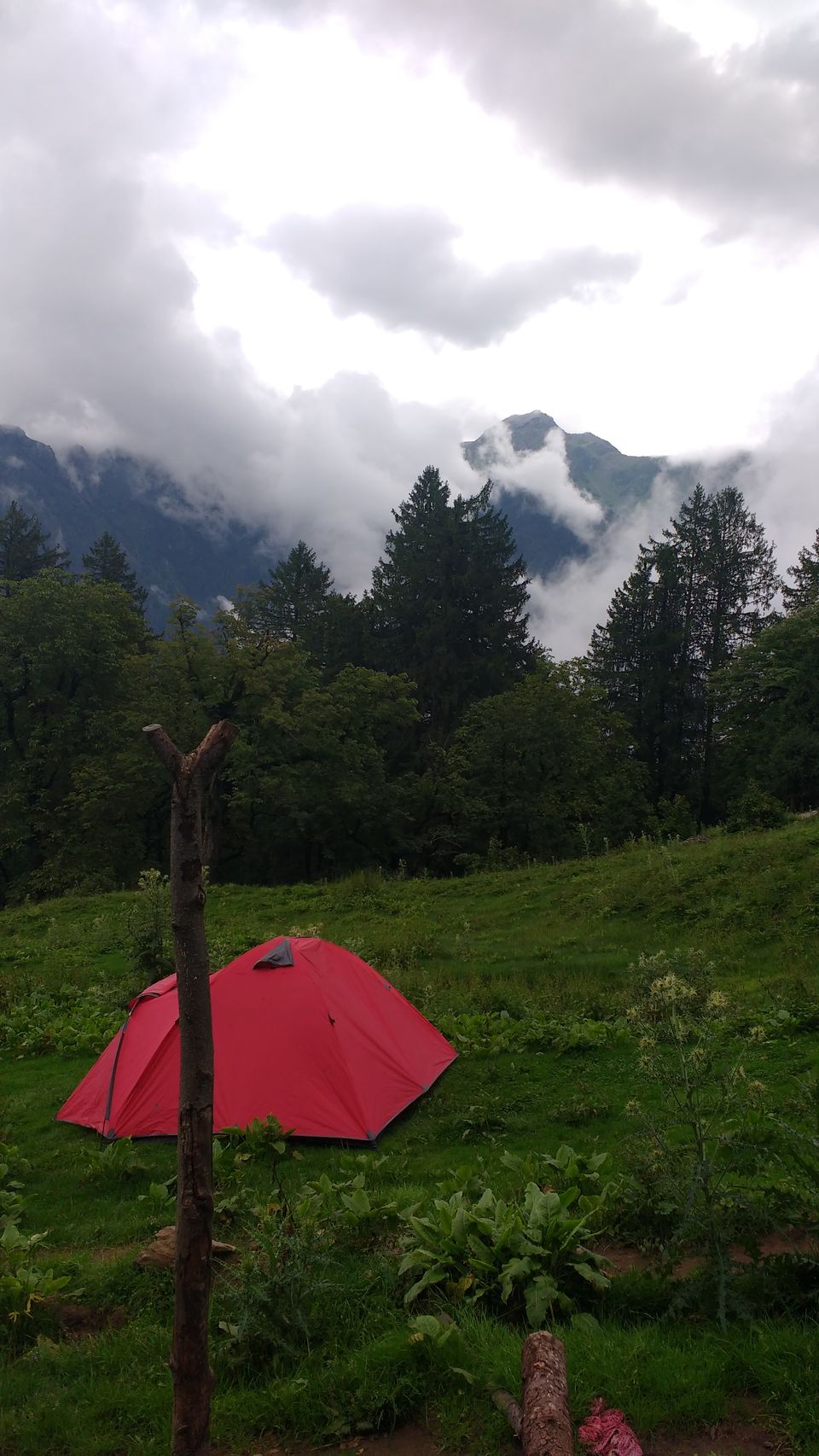 I didn't sleep the entire night; none of us did. Not because the darkness freaked me out (well! Maybe be a little), but mainly because I couldn't take my eyes off the clear sky above me. The twinkling stars, which you hardly get to see in the city, the sound of the nature, and the sheer tranquillity that was icing the cake. Plus, who likes to sleep when you have a bag full of mountain delicacies to gorge on.
We managed to snore for couple of hours, and woke up before the first light of the sun hit the camp. We started our descent, early next morning, and were back at the base camp a little before lunch time; it gets quicker on your way downhill (obviously), but riskier as well. It had rained the previous night (and the night before), and the trail was all muddy and slippery. And, the fact that I managed to slip only twice on our way back, and being drenched in mud and dust, all I could think of was to take a long, refreshing shower. This was, yet another day to simply relax, walk around the village, interact with local villagers, and, of course, eat lot of apples; I am hoping to stay away from doctor for a lot of days now (PJ Alert).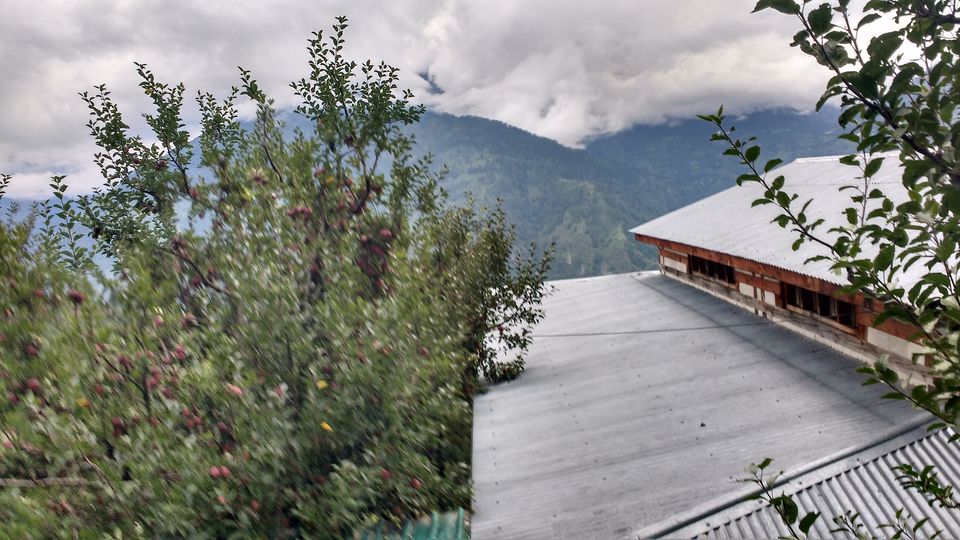 Since, it was our last day of an extraordinarily wonderful holiday; I decided to make the most of it. My friends at Kailash Rath have a local partner, Mr. Subhash. A very interesting guy, Subhash Ji knew the mountains on the back of his hands. I had a great conversation with him, where I learnt a lot about, not just the mountains, but the village Rumsu as well. It was interesting to know that the people of this village had there own set of laws and authorities; of a kind. In fact, I learnt about this temple in the village which is STRICTLY out of approach for outsiders; especially, tourists. You can't even go near the temple. The people believe that this is the only way to keep the purity and piousness of the temple intact. And, i guess I don't blame them; considering how we treat our temple areas.
Nevertheless, it was great to learn about the village, its people, there culture, beliefs, and more. But, like every good thing, the trip had reached its terminus, and it was time for us to leave. I wanted to stay a little more (who wouldn't); actually, a lot more than a 'little more'. We bid adieu to the village, our friends at Kailash Rath, Subhash Ji, and the lovely mountains; all to come back to the banal lifestyle.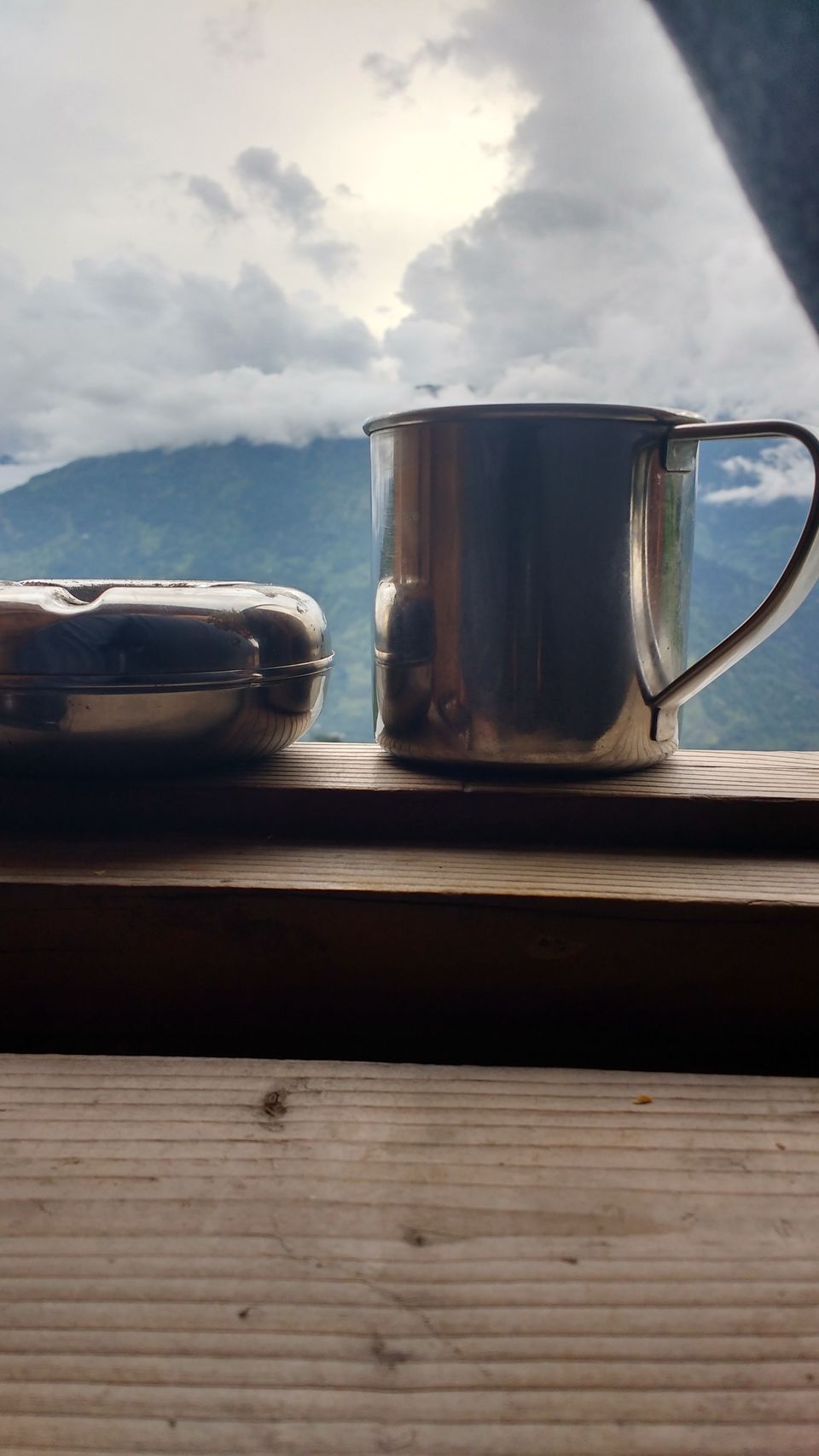 My trip to Rumsu and the trek to Ghankulhadi will remain in my memory books forever. What I lived in just three days, became a part for the lifetime. And, the next time, I am going to conquer Chandrakhani for sure; 'coz, I know there will be a next time... soon!
To know more, you can watch my video from the trip; hope you all enjoy it.