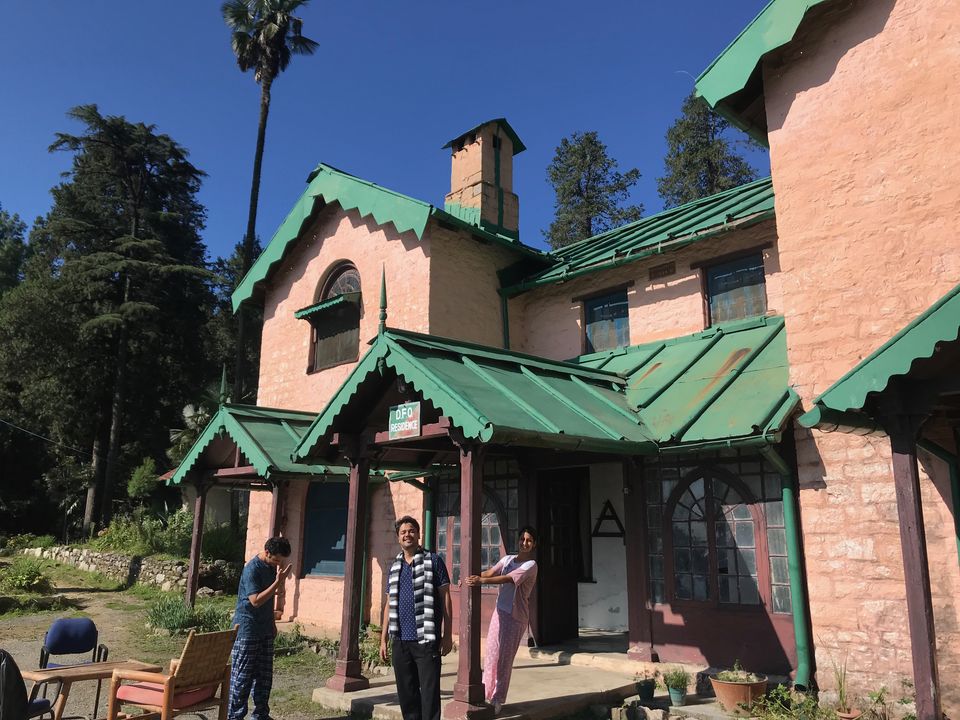 You see many horror movies and serials but never thought that one day you would be a part of it. We will try to explain our 2 day story at DFO's (Deputy Forest Officer) residence in Chakrata.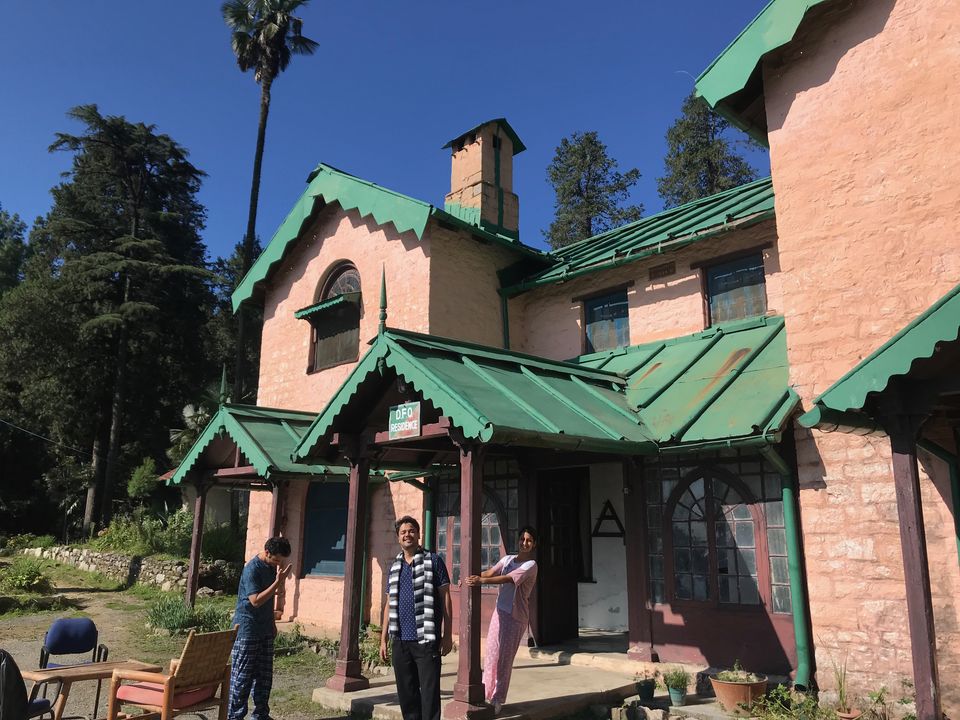 First thing is how do we get to visit this house?
One of my best friend is in relation to DFO so we had a junket to chakrata with a given chance to stay at this Bungalow for 2 days. It was an extremely old style beautiful property with high roofs and big rooms. It had a chimney and every room had a fireplace to keep warm. The house was in between the forest and at exotic location with a view of the chakrata valley. Birds chirping all around the house.
So we were four and we were on holiday after a long time. Aur jab bhi main apne is dost se milta hun kuch hamesha hi alag hota hai, toh is baar yeh bungalow hi reason ban gya.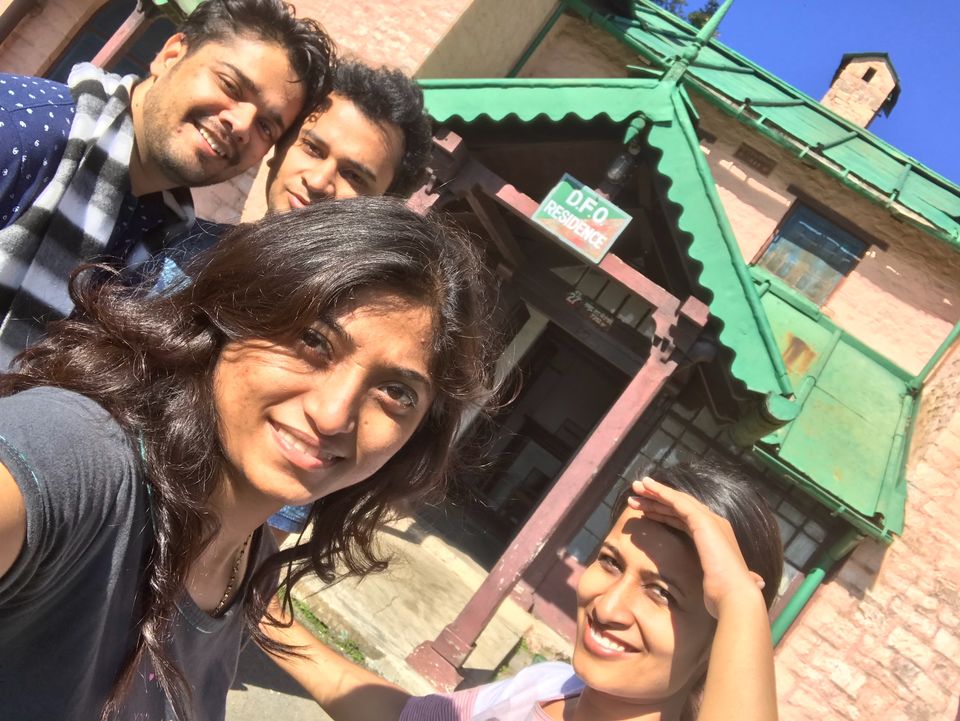 It was her father's house (her - the girl holding the camera). So we reached this house at 8:00 P.M with a cook and a helper with us.
So my friend named Pulkit had the habit to open every door jaise ki haveli mein hota hai na ki har kamra ko kholne ka system. So we were given two rooms on the first floor by the helper. So we asked there are many rooms on the ground floor, we can sleep in them but the cook and helper told ki niche itna acha nhi hai upar ke rooms ready karaye hue hain aapke liye. Itne pulkit sab rooms dekh raha tha ki uske ek room kholne se pehle hi cook shouted to not open the rooms as it is closed since years, there might be bats and the room might be dirty. Ok Pulkit said and we moved to the first floor.
We started playing UNO at 9:30 P.M with some snacks made by our cook and suddenly we heard a thump of the door from the ground floor. We neglected as the game was going interesting, but i doubted as i already had a previous scary experience to Bhangarh so mera dimaag waise hi chalne laga. Without telling about my feeling to my friends i went to the helper and told him the same, he told that the room on the ground floor has its windows opened so maybe the air ventilation clanked the door. I wasn't convinced as to how it might happen, there wasn't any breeze going on which could move the door.
Owing to my curiosity, i told everyone why not play on the ground floor. Pulkit's wife Aishwarya resisted and tried to stop us by making useless excuses as she has already been to this property twice. Now my doubts regarding the situation went much higher and i told Pulkit that something is frizzy. Pulkit said jisko chalna hai chalo we both are going down and will sit for some time.
Then all 4 went and sat on the chairs outside the room. It was hell lot of silence which was not feeling good but we resisted and started playing uno. After 3-4 minutes of playing UNO, all of us heard "thak thak thak" one thak in every second. It seemed like a person is walking with a stick in hand and the sound of stick is what we are hearing.
I told everyone to be silent and listen to the voice, MJ got scared as to why we are doing this let's go to the first floor and sleep but we resisted. As soon as we got silent, sound didn't come but when we started playing again the sound came and this time even louder "thak thak thak thak thak". Aishwarya told it might be the sound of windows. How it's possible that helper and aishwarya are in the same tune.
All of us got scared instead of Aishwarya, she seems to be normal. I stood up to open the room, but she stopped me saying that cool breeze would come and we will end up having cold. But i reverted that we have our jackets on so not to worry, she again resisted there might be bats in the room you would get hurt. I stopped in that case kyun apne haathon se panga lu let it be but doubt was still in my mind as well as pulkit.
Now it's time to sleep, we were given two rooms and because of the fear all four of us slept on a single bed. Now the challenge is which room should we choose.
1st Room was on left side but in front of the stairs coming upwards.
2nd Room was on the right side that was just above the defaulter room.
Problem yeh hai ki left side waala choose kiya toh seediyo se aake maar dega.
Right waala choose kiya toh just upar waala hi room hai defaulter room se.
We went for Right waala room on voting basis.
Sone ke baad at 3:00 AM, Pulkit heard the voice thak thak so he woke up MJ and she also heard the same. Then they woke me but this time i didn't hear the voice. We slept again ignoring and now it's the morning we went for a walk and must needed fresh air.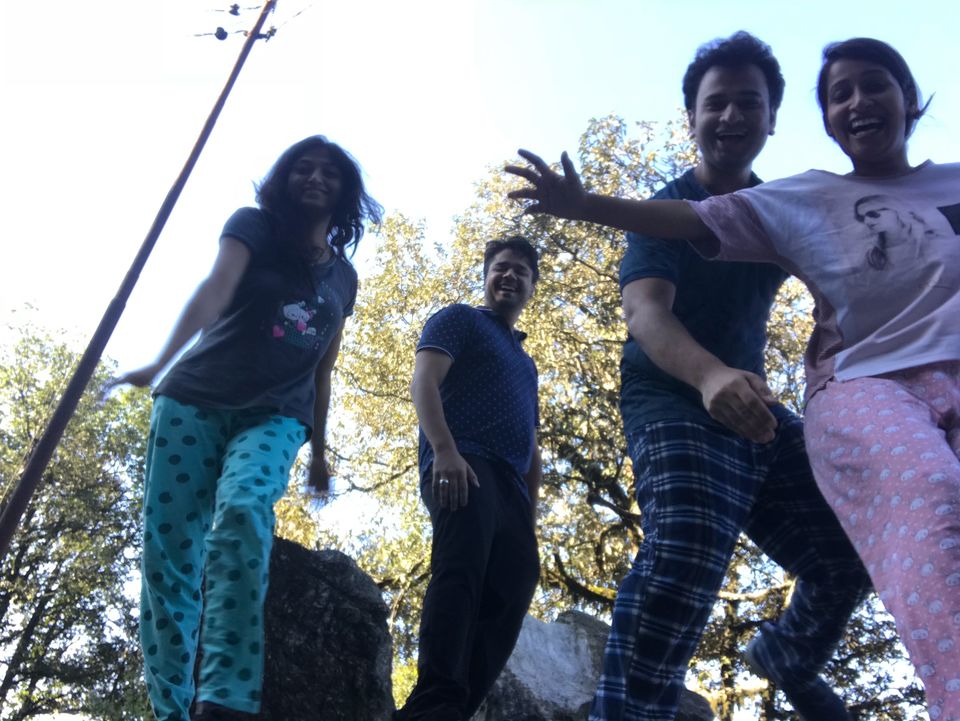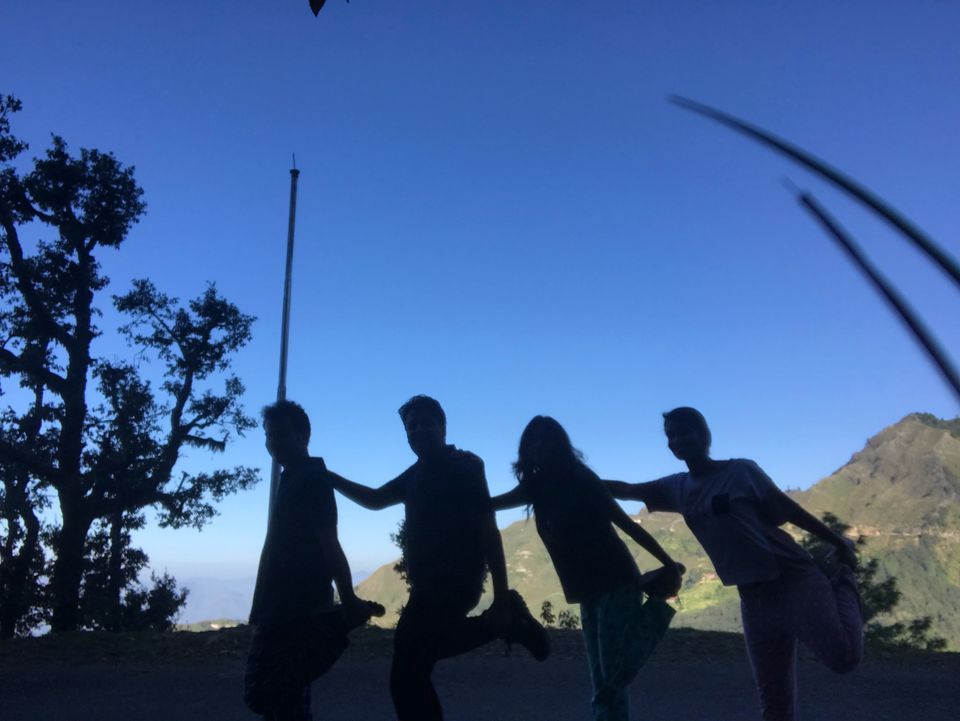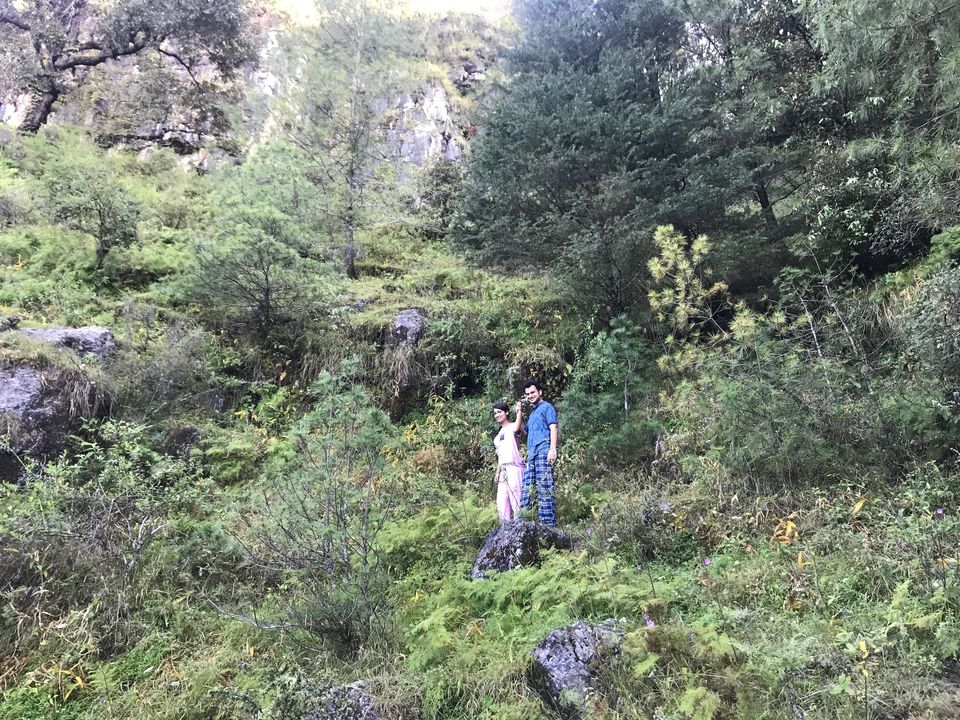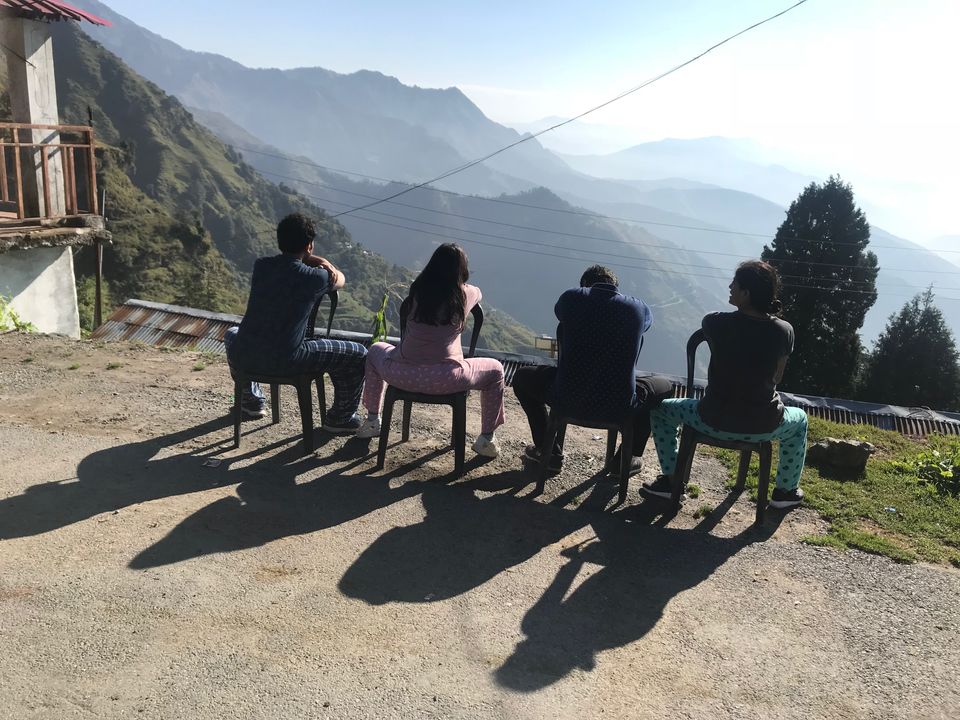 In the above photo see the right one Aishwarya, how she seems to be mocking at us. It seems that she knows everything and making fun of us.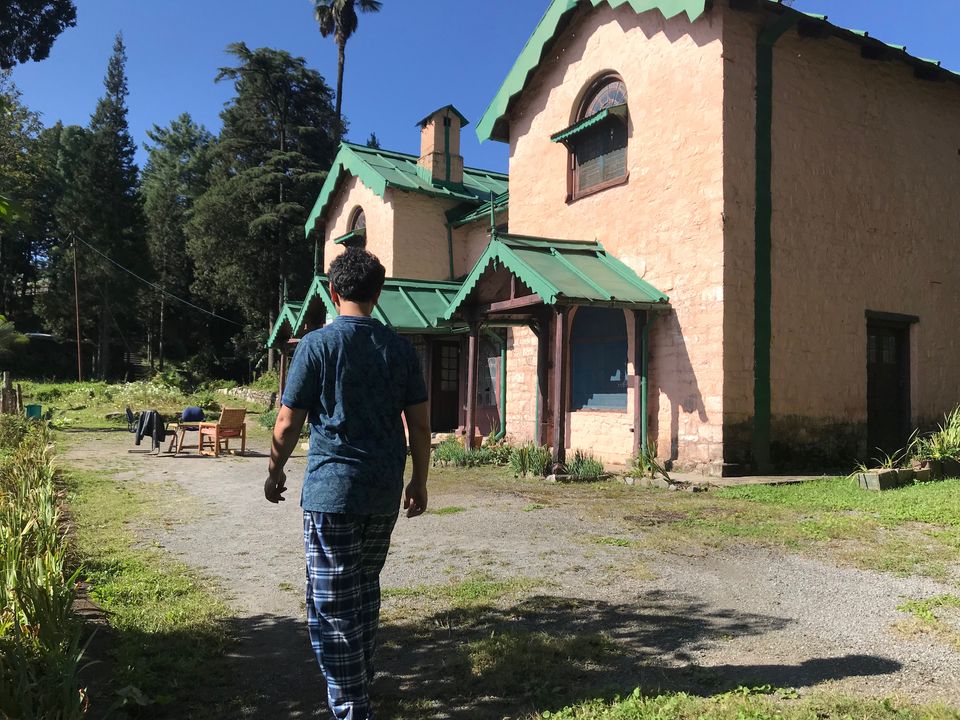 After having wonderful memories at Deoban and Kanasar in chakrata, we reached home at 7:00 PM staring at the same room. But i din't bother and straight away started to move to the first floor.
Jaise hi chalne laga Pulkit ne mujhe roka chal saath chalte hain, lekin wo ek dum se chilaaya ki shu jahaan khada hai wahaan se hatt, i asked him why, usne kahaan dekh neeche. It was a tape which was joining two carpets but in the form of cross (jesus). Ab samajh mein aa gya ki yahaan pakka koi bhoot hai jiski wajah se cross sign bhi laga hai.
Cook and helper again said it's just the tape which is by chance in that shape. Mann kiya ki wo darwaza kholke saara system khatam kar dun but ye saala mann hai na yeh nahi maanta.
Hum so gye fir se after booze and it's time to leave the next morning just when we saw the room was opened the next morning. Hum paagal ho gye ki yeh kaise ho sakta hai aur Aishwarya, cook and helper were continuously laughing ki kaat diya. Everything was planned they said. It's just that all coincidences happened and unhone usi ka faayda utha ke humko hila diya. We went inside the room and it was the cleanest room covered with red carpet.
Ruko kahaani khatam nhi hui hai, nayi subah sab kuch naya but ab bhi dimmag poori tarah accept nhi kar pa rha tha. We left chakrata and reached our home. I googled the same regarding DFO Chakrata and look what i found
https://www.amarujala.com/photo-gallery/dehradun/dfo-haunted-bungalow-in-chakrata
Open this link and it was on newspaper that it is an haunted house, all things we experienced were true, we found ourselves lucky.
We call the cook and he said Yes it's true. Everything is true about the dead officer roaming in the same room (which we called it as defaulter room).
So guys it was a breathtaking experience of horror, i hope you will enjoy reading it. I don't know ki maine grammar shi likhi hai ki nhi par ye dil se nikli hui sach kahaani hai.
At last aapko chakrata valley toh dikhaani banti hai.