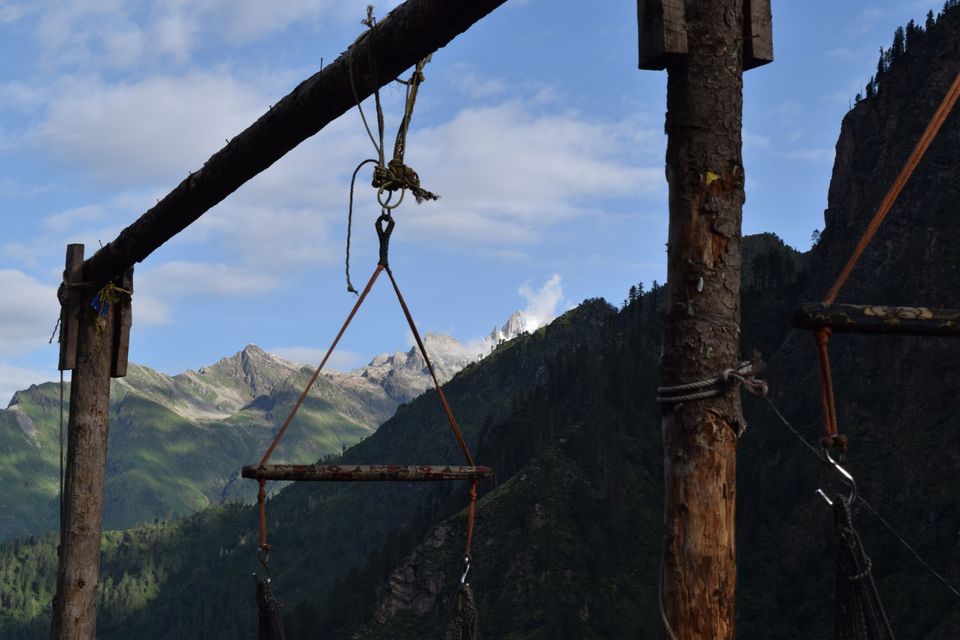 ****** The Beginning******
'And you thought, it was as easy as sitting in a cab and partying?' I'm sure the crest must have said something similar to itself while smiling at our plight. After all, who were we to it? Just a half dozen heavily panting people in their late and early 20s almost ready to give up midway?
Is there anything exciting in doing all the hard work for nothing but a truckload of sceneries on the way and multiple camps hinged to the mountain top in a land which would have been otherwise a No-man's land ? I mean, is there any worth in leaving all the luxuries back home and being at the mercy of the unpredictable nature which speaks only through actions. Well let me assure you, I wouldn't play the hero here by giving some unheard answers to this question. In fact, the clichéd and the shortest answer to this in all probabilities will be a big YES. If there is any value at all you see in living as a human with full- blown senses, making memories for a lifetime and having experiences, KheerGanga trek would be THE journey you wouldn't want to miss at any cost.
Well, that was the reason we didn't hesitate even a bit on execution of this idea the day it germinated. We all were having a small home party, cribbing of our much restricted lives leaving negligible energy to do anything else at all. The night progressed and so did our ideas. Within another few moments, the idea of an independence day- long weekend trip viciously entered the party. Usually, the very next day of such parties are about dumping the idea to its graveyard and moving on with our usual lives. But this one was different. As if Kasol & Kheerganga trek was calling out to us, our plans progressed real fast when we decided to go with all-inclusive package with a travel site .
11 th August 2017 was one of the most anticipated Fridays in a long time .The adrenaline rush was all because of the freedom from usual weekday bickering of our lives. It was no less than what is shown in our Bollywood movies whereby the hero/ heroine gets a backpack on and rush for their destinations dumping all the same old as if they aren't looking back again. Well, for those 4.5 days, we were no less than that. After all, isn't taking on unpredictable challenges, playing to your best of abilities and living a life out of dreams what Heroes do?
Our hopping point was Hanuman Mandir (Jhandewalan) New Delhi. While we were given the boarding time of 6 PM, our excitement led us there 30 minutes early and going by Indian sense of time, no wonder we had to wait for another 2 hours before we could embark on our much awaited journey. With the fun-filled initial few selfies, our ride was going just fine till a sudden halt brought us back from holidaying mode to reality. Apart from a few glitches like our bus grazing the back of two different cars enroute and people taking too many leak-breaks , it was a smooth ride and we were able to make it to Kasol in almost 14 hours of semi-sleeper ride ( read suffer-ride). Meanwhile, the driver became a demi-god for his excellent driving skills despite odd conditions on the way (Yes! there wasn't any sarcasm here) and his accomplice best of our friends. Soon we were in our allotted rooms after a short but uphill walk up to our 'Blue Diamond' hotel.
After a quick shower in our 'Girls only' and 'Boys only' triple-sharing rooms, we set on for a walk on streets of the famously known as the Israel of India- Kasol. All thanks to the monsters in our stomach making us go wild with hunger. Despite our not so deep-seated desires of trying some local cuisine, we gave up after a couple of wrong dishes there and came back to ' Saddi Dilli' model whereby we tried to savour on some Alu Parathas and tea at a local vendor's stall. No guesses with the word 'tried', we helplessly failed and this search for ideal food led us to the momos' stall our there which finally managed to save the grace of Kasol. Barely though. Next few hours were fun and frolic with shopping of fun yet never-to-be-used-later caps, aviators with fake brands while sipping tea here and there. After the aimless( largely) roaming around the streets, we headed back to our hotel rooms having skipped the short trek to Chalal our trip co-ordinators took others to . Since we knew what was coming the very next day, we thought we'll rest well before it rather than exhaust ourselves on false pretext of rehearsing. The whole night was whiled away in a fun and frolic party where a lot of laughter was shared through & through. Around 3 am, our lights dimmed a bit and we decided to head back to our rooms for some sleep before the big day.
******The Ascent******
Next day morning we had our stomachs brim-full before starting for the bus we were supposed to board at 9 am. The bus was to take us to the trekking start location and was hardly a 30-45 minutes ride which we did manage to cover in the said time (for a change). The walk from bus until the assembly point was an easy one and we did make the usual mistake of believing the trek ahead would be similar and hence we would cover the whole of 12 km one side in no time. Unfortunate as it may sound, we heavily over-estimated our fitness levels taking the wrong stroll as a sample. Soon, we realised our own folly when the roads had vanished and the only thing that remained all around was: fragrance of adventure.
The whole of this trek's path was laden with uneven, heavy rocks, all sorts of debris, thick tropical jungle around and several other surprises of nature. If I were to compare it to anything at all, it was like walking/running on a treadmill at an average of 7 km/hr for the next 5.5 hours. Only, the resistance levels were increased manifold. And the single way of verifying my claims is nothing else, but to go yourself.
'If they aren't all athletes and instead most of them miles away from any physical activity, how did they reach in time for merriment on the top?' This might be the next question that must be popping up in your head.
'Survival makes you do all sorts of weird and impossible things' would be the only fitting response herein: D
Now that I have digressed enough to sound like I'm writing an essay on just the invisible road for trek, it's time to detail on the first conflict we faced right at the start of our long walk. We were all supposed to trek along with the TravelTriangle co-ordinators but the 'not so efficient' co-ordination within the team led to two different groups going different ways. Since we were slightly late to the trek starting point (having reached at 12 pm), we were confused between the two possible trails we could follow. Adding further to our confusion was the co-ordinator who stayed back for the remaining people. He was almost going to add 4km to our long trail, when we decided otherwise and rather follow the larger set of people. We soon hit it off from there and within half an hour (of bumpy ride which was way more tough and Roadless than Triund trek which we did in July'17), when we felt we must have covered 2 km already, we were jolted back to reality with the passing people mentioning it has been just 500m . While the ride ahead was certainly tough with this piece of information, we nevertheless started making milestone goals and it did help in an otherwise super-tiring journey.
We took many water breaks in between but refrained from any major breaks till 2:30 pm when we finally decided to stop for a quick Maggi and Chai break. And trust me, that brief moment of relaxation felt no less than a luxury in a millennium. After the unparalleled chai & maggi at that point and time, we heard another sentence from the shop owner which felt like a music to our ears: "50% to cover ho Gaya ... Bas 50% baki hae (you have already covered half the trail, just another half remaining)". After that our milestones got even bigger and we decided not to stop unless there was major fatigue. But nature indeed had different plans for us. While we had basked in its beauty till this point, now was the time to see the scary part that magnificence gets for you.
There was a heavy landslide in a lean yet critical connecting path while we were done with 3/4 th of our goal trail. Seeing uprooted trees, unstable surface beneath our feet and just a 5 inch land to help and move ahead made it seem straight like one from one of those ' I wouldn't be alive ' shows on Discovery. Understandably, it became a one-way for the time being. But the shriek-arousing part was how just one person at a time was to cross the debris beneath. Just the word 'tough' wouldn't do any justice to the scene that sat right in front of us. It was for the two heroes who rose to the moment that a queue of approximately 70-80 people were able to cross it. The scene of the whole rumble shift beneath me with a huge trench right beside was to traumatise me for another few hours however. It was time to catch a breath and muster some courage moving on. We covered the rest of the distance with less of noise and just one goal in mind: 'reaching the top by 5 PM (before it gets dark or rains) at all cost'. We couldn't afford further hurdles. And we indeed met our set goal for self. Rest assured, it was no less than a moment of victory for us when we saw multiple camps tied on the mountain top and realised 'This is it!.'Having traced the assembling camp for all travellers in the camp, we unwinded ourselves completely with delicious pakoras and tea. Adding to the beauty of the moment was the rain which supported us all through and started only when we reached the top.
****** A Backpack of memories******
If there was any heaven at all, it was this. Camping in the cold weather around, having whatever food was available and atop that lovely music felt like a perfect compensation to the whole day of hardship. If I were to think of it today, learning to enjoy with little was a key extract of the whole piece. Sleep never sounded as sweet as that night.
As if our blessings hadn't ended, the morning came with another beautiful surprise. When chill of weather combines with the magnificence of Parvati valley, it's sheer magic that one experiences and apologies for this one but no one else can describe you what it is. You have to go there to feel it.
The most obvious craving that this vision aroused was of a hot steaming cup of tea. 5 of us started off in search of that perfect cup. However magical that might sound, I'm not going to lie: It was not perfect at all. Instead, we ended up being disappointed with the weird milky flavour of Israeli tea. Anyways, a sumptuous breakfast did make up for the morning disappointment and it was time to say Bye Bye to the glorious top. By the time we were ready to leave, it was all shiny and bright.
Even though the descent was far easier than the ascent, it was not a cakewalk either. In fact, endless hours of waiting for the congestion on the path to clear made it unbearable at a point. This congestion was due to the same landslide as that of day before. Only, the rain last night made it far worse. This is that one point where I felt immense respect for the co-ordinators of this travel site. They rescued and helped the multitude of people who were returning back. They hardly budged despite the pressure created due to that piece of path being landslide prone and nothing but worry marked over 100s of faces. In fact, they tried to cheer all even in that situation. I clearly remember how one of them told me while giving hand for support. I was wearing a shirt with the tagline ' Aao kabhi haveli pe ' that day . And that guy made an encouragement out of the same saying 'Are madam apko to abhi haveli pe jana hae '. This might seem like a small thing, but in that situation, it was nothing short of inspiring.
This whole scene again made us appreciate the rest of the journey as far more easy. A few wrong turns here and there, a few bouts of cribbing over the sun being too bright and path being too long seemed far too small beside a single thought of finally sitting comfortably in an A/c bus. And no doubt we reached down even though at different paces. The result sounded no less sweet for any one of us. We topped our happiness of making it back to a road finally with an awesomely made Vegetable maggi and headed back to our bus which was waiting for us as the last set of people to board.
The ride back was one wherein the only objective was 'making the most out of the few last bits of this vacation' and obviously recovery. With GOT playing on our phones and our tired minds discussing each of ours' jobs, we could agree on how well this going. We had a late dinner at the most unhygienic dhaba ever and it was another signal to the fact that vacation was indeed on the verge of getting over. Not everything seemed awesome and wonderful as it had when we were in lap of Parvati valley.
Having slept to our desire through the night, the only bidding thoughts came out at the breakfast table somewhere in Punjab/ Haryana and we were set on to complete our final lap till Delhi.
A few weird Haryanvi songs and 200 kms later, we were back to where we started off on Friday and were already saying our goodbyes to each other.
Only, we weren't really the same people who started off for the journey.
Our shoulders were a tad bit heavier with the beautiful memories of the freedom weekend and a lot of after-smiles just thinking about the numerous laughs, wrong-turns, maggi sessions and carefree bits we had managed to live in the past 90 hours of our lives.
By the way, I still get trauma attack if I get those scary dreams of the rumble of landslide shifting beneath me.
I always manage to save myself however *chuckles thereafter*
******After-Thoughts******
With most of the people fast asleep on our bus journey back to Delhi, I was revisiting the moments we carved out of the last 2.5 days and then the discussion on the same old jobs at the dinner table.
'If we were to talk of the same things again, what did we really gain out of this trip? I had thought to myself then. Now that I was coming to think of it, a simplistic answer to this popped up.
It isn't about a drastic change in life, it's all in the baby steps that the journey to Change lies
And we all had taken a step forward with starting to let go of all worries with exploring of the unknown (even though ,for a brief moment)
*********