Kashmir: A Heaven Unexplored
While doing my engineering (bear with me), it came clear in my mind that engineering is not my cup of tea, I am not 9 to 5 person and I want adventure and gratification in my life. So my first step towards exploring my traveller traits was Kashmir, where I applied for Basic Mountaineering Course in JIM & WS at Pahalgam. Think it like you get free accommodation, food, clothes, basic utilities etc for 24 days and you'll be able to visit places that are not on travel sites, able to do what you guide will not make you do, camping in wild with red eyes (fox or snow leopard) staring when Friday night chicken is made (happened with us once) and with all this friendship made for lifetime. My first encounter with unexploited beauty of Kashmir and I have tried to keep it in layman's terms so as to accomplishes its purpose of conveying the experience and not taking Mr. Shakespeare head on. Read on! if you want to know that are you a tourist or a traveller?
I took my flight from Delhi to Srinagar, knowing that recent floods in state of J&K have crippled any other mode of transportation be it roads or railways. While flying I was able to see majestic change of landscape, Kashmir doesn't only offers magical snow-bound mountains with awe-inspiring beauty but gust of freshness surrounds you the time you comes out aircraft door after warm farewell by beautiful air hostess, tough luck for her as she have to go back to Delhi without living the incredible beauty of Kashmir. Make sure you are not duped by pre-paid taxi drivers like I was because if you have power carrying your luggage for 80 meters you save yourself 1k-2k bucks. Come out of Airport complex and take a 'contri-taxi' to Pahalgam which will not cost you more than 100 bucks and don't be frightened if driver says 'Islamabad mein jam hoga' , its what they call Anantnag (A city before Pahalgam). As main roads connecting cities were worst affected by floods, our driver took narrow unmetalled roads which took me 2hours to reach my home for next 24 days in Kashmir 'Jawahar Institute of Mountaineering & Winter Sports'. Anyone from plains like me will be awestruck by the beauty of the place. The melodious sound of river in front of complex, cloud forming on hills in front of you, it'll take time to believe you're actually seeing all this and all also your eyes will take time to understand crystal clear views that were coated by pollution back in big metropolitan. First day welcome by Kashmir was more than one can wish for, there was snowfall, first for me in 21years of life. What more can I say than
I felt the time stop and went in nirvana for some seconds, that how mesmerizing the scenery was.
The sweet dream was soon broken as next morning we have to report for PT as 0530 hours, why I am using military slang! Because when we are given welcome address we got to know that institution is ran by Ministry of Defense that means army personnel will be our instructors for next 24 days and that means when it is said to come at 0530 hours you should be there at 0500hours. With us there were 30 soldiers of 16 Punjab regiment who also came for learning basic mountaineering; guys came handy with life hacks and reporting on time which was difficult for guys like me who wakes up at 10-11 am because of hunger back at home!! We were instructed to keep a "healthy" distance from female counterparts but boys will be boys. The routine changes every week but thing remains constant is, waking up early and running for 3-5 kms followed by exercises, washing your glass and spoon that is issued to for all 24 days and they are your responsibility and lots of thrill, adventure and fun. After first week of getting everyone in minimal required fitness, it was time for 40km Tulyan Trek which will make one go through rough terrains from muddy and slippery forest to snow upto your waist, at times you'll be walking at an angle of 42-45degree, all this with 10kg backpack which turns heavier after drizzling rain. One feels like throwing away even extra pencil while constantly fighting for air in lungs which are jammed by Tar of cigarettes smoked during engineering years, one thinks of quitting at every curve and get much needed rest but than a sound comes saying '2 kms more' which have been coming for last 10kms and you march on. After reaching the top all the pain and anguish disappears there is only sense of joy and achievement, that even you didn't knew could be done, after doing 15-min face muscle exercise thanks to 'Puri-aaloo' that was bought along and have turned strong as metal but you have to eat to get power to go back down.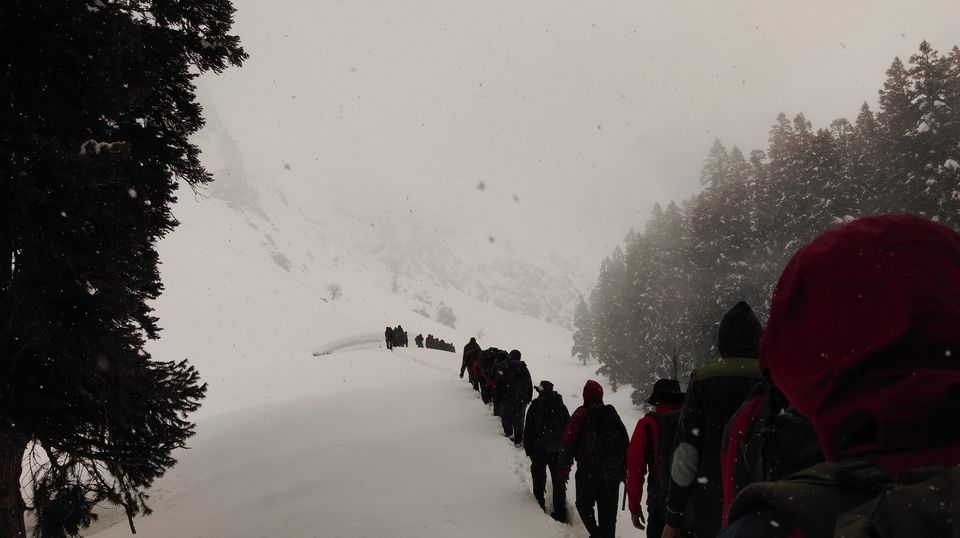 Energized by food and rest we started taking pictures of place where there is nothing but snow and smoke of cigarettes ignited as commandos have accomplished the mission. Retuning back all good boys wanted to taste colorful water that is prohibited in Pahalgam. With the help of cab drivers we were able to arrange XXX Kashmiri with MRP of Rs.200 and costed us 1000bucks. After 4days of rock crafting, it was time for a week in Jungle where fresh drinking water have to be collected from rapid flowing river and after soda-stuffed food one have to excrete it in holes dugged faraway from camp by axe issued to you. Learning how to save oneself and others during avalanche, practicing ice climbing and having fun sliding over snow, what more can freshout of engineering college expect? Moving ahead in day, the camping and bonfire is where you can expect honesty from a complete stranger, bonfire has that effect on you. Also drinking again the colorful water during camping enhances the experience and people can make mistake of not bringing water bottle while going to get water and then people improvise:
Completing the camping week and walking back 20km to complex comes with mixed feeling as we'll be getting soft bedding, warm room, you know basic amenities but the fun being in wild and seeing yourself as Bear Grylls is unparallel.
Coming back to complex doesn't mean you can have rest! You are sadly mistaken, my dear! Now you have to collect all issued items, wash bags, shoes, clothing's, cramp-ons and deposit them and than you can have your tea and city visit. But yes we went for city visit and had excellent "Trout fish", if you go to Pahalgam and do not have Trout! Its great treat for your taste buds missed! Returning back late than the said time came heavily on us. We have to do 3 rounds of complex with stomach full with trout upto neck, this was nothing compared to next announcement lead instructor made! Next day was endurance run with 15kg backpack (15kg of stones we were made collect from river bank) for boys and 8kg for girls and we have to run for 5km on challenging inclined roads. Man! it makes me tired thinking of it. I finished 21st out of 68 guys and girls, which is satisfactory thinking of my fitness level at that time. Next day was closing address for our BMC-111 batch and heart warming goodbyes to many friends made during this wonderful experience of lifetime. Many booked taxis from Pahalgam to Srinagar as taxi stand is merely 50mtrs away from complex. Our small group of 6 stayed a night in Srinagar to live a night in "Shikara" (the boat house in Dal lake) and talked our fun experiences during the majestic stay in beautiful Kashmir while sipping colored water, of coarse. Next day we hugged each other shared phone numbers, pictures and went on ahead with our flights. Thinking of Kashmir, after coming back to fast moving metropolitan, mind misses the peace, calmness and blessing of that place made Amir Khusro say "Agar firdaus ba ruay zami ast, ami asto, ami asto, ami ast"
By
Sahil Shukla
ilooklikesahil@gmail.com