The itinerary of our trip goes on like this:
March 21-March 25
21st March: Bus from Delhi to Bhuntar, 22nd March: Hangout in Kasol, 23-24 March Round Trip of Kheerganga Trek, 24th March Night: Return Bus from Bhuntar to Delhi
In this article, I am mainly gonna focus on the trek to Kheerganga, as it has become one of the recent attractions near Delhi. I really got nervous and tensed after reading so many articles to Kheerganga while planning for it, as it was too confusing.
So I am here to make your lives simpler with this article.
As we reached Bhuntar on 22nd Morning, it took one hour from there to reach Manikaran, a 4 KM distance from Kasol. That took almost afternoon for us to settle down in the hotel and get ourselves freshened.
Then we took a walk from our hotel towards Kasol, 'the Mini Israel of India'.
It was a peaceful walk which is a 4 KM journey. Below I am attaching a link where I have collated the pics which I clicked on the way towards the town.
That day we had a lovely lunch nearby the Parvati Valley in a restaurant named Panj Tara Bar & Grill. We also bought some biscuits and bakery stuff from a nearby German Bakery Store. The whole ambience there was pretty chill and I really could witness why everyone died to be in Kasol. ???? (If you know what I meant)
The next day was our most awaited experience to be. *The Trek To Kheerganga Camp*
We started early at 9 A.M. the next day. And luckily, we got a bus to Barshaini immediately. Barshaini is the starting point of the trek.
So I am gonna explain the route of the trek. There are basically two familiar routes. One is along the Parvati River and the other is through the Forest, which is to the right of the former route.
I am posting a picture below for a better understanding.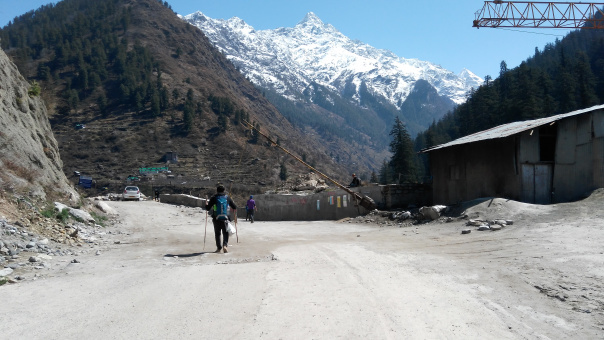 (So as mentioned above, you can see a straight road which leads to two opposite paths, we took the left route and the right one is through the forest)
Both of these routes intersect at a common point named 'Rudra Nag', about which I will talk in the upcoming paragraphs.
The next stop for this route was Nakhtan, which was around 3-4 kms away.
I am sharing some pictures below, which I have clicked on the route.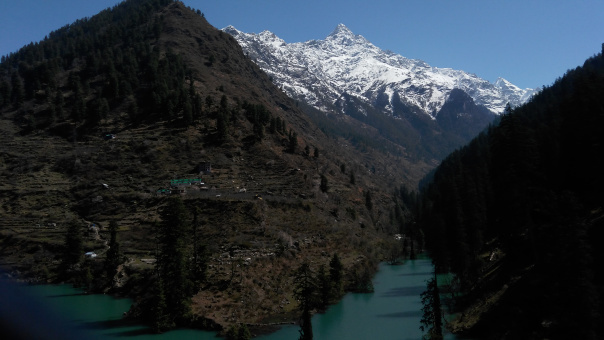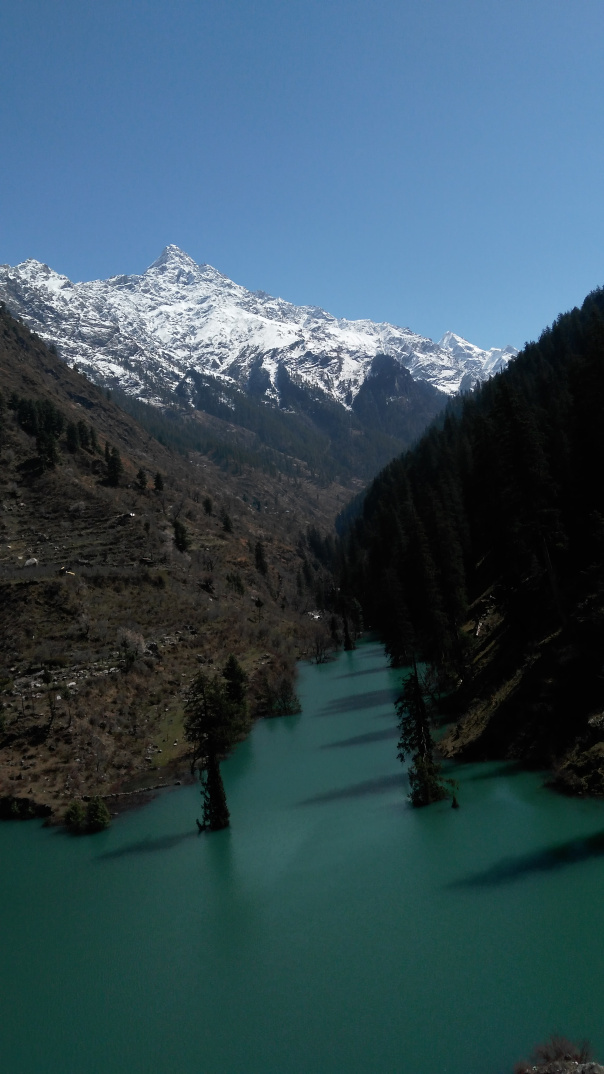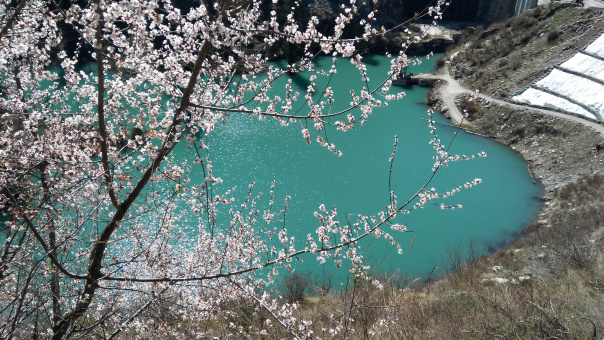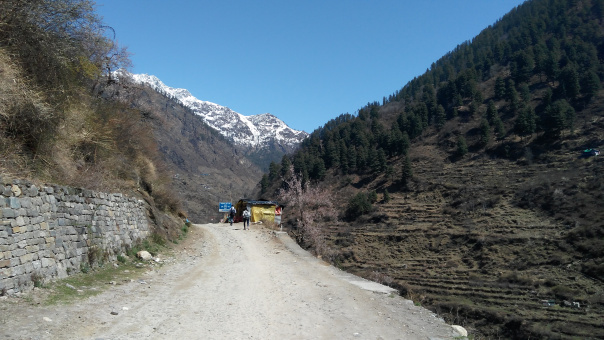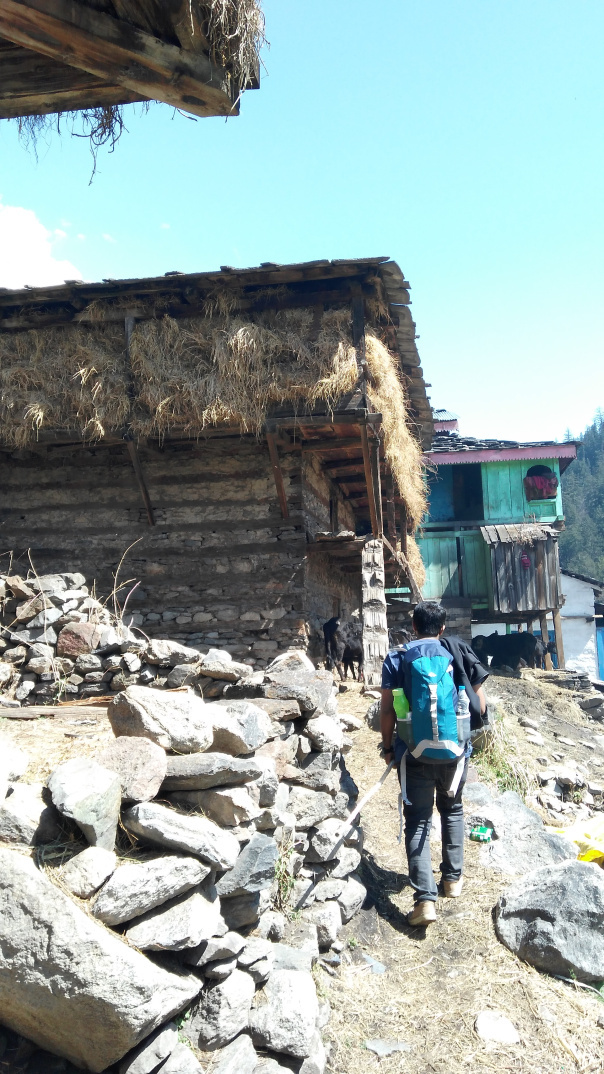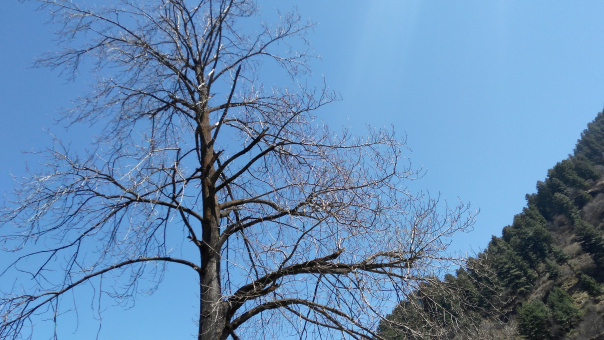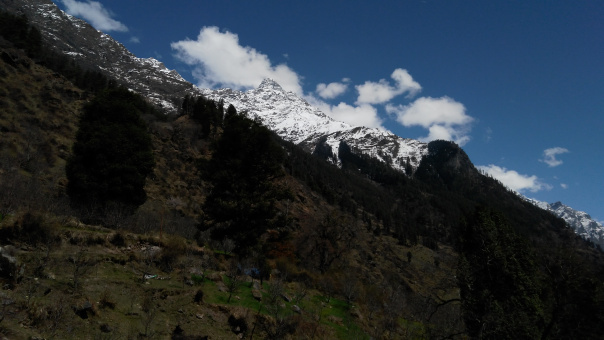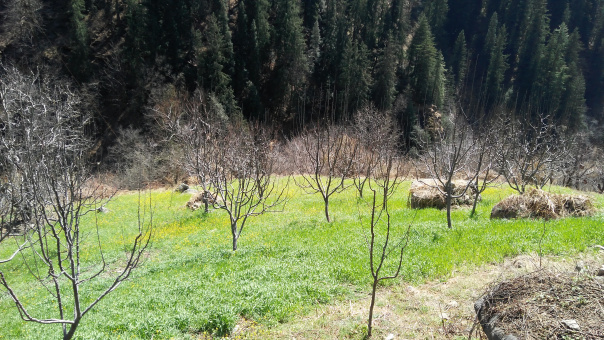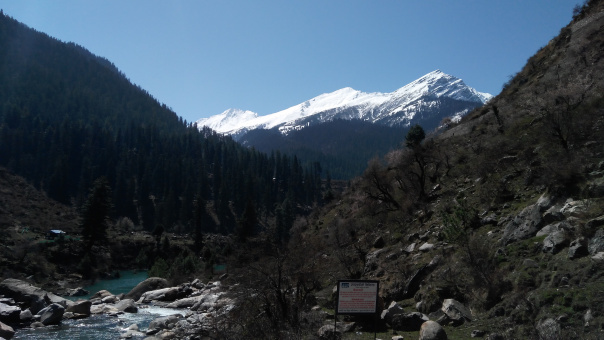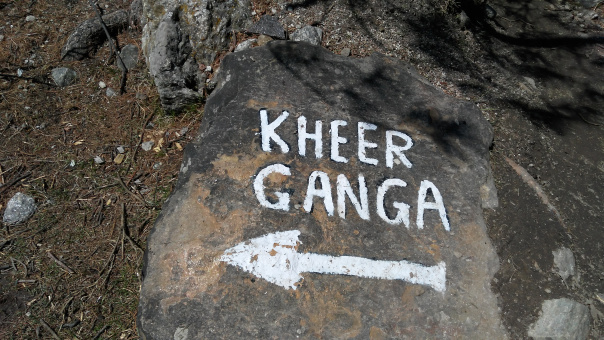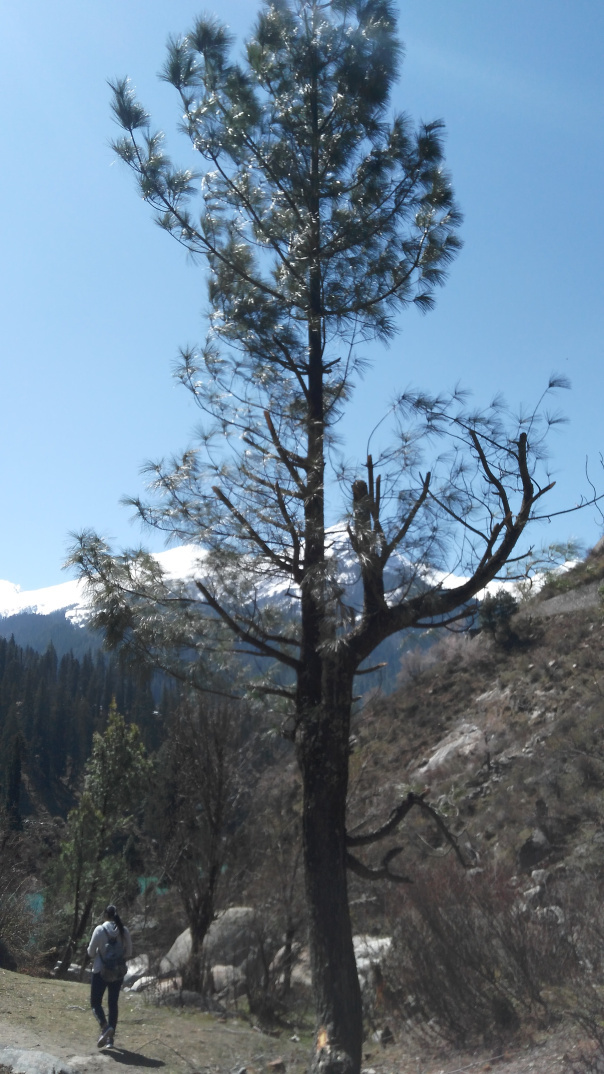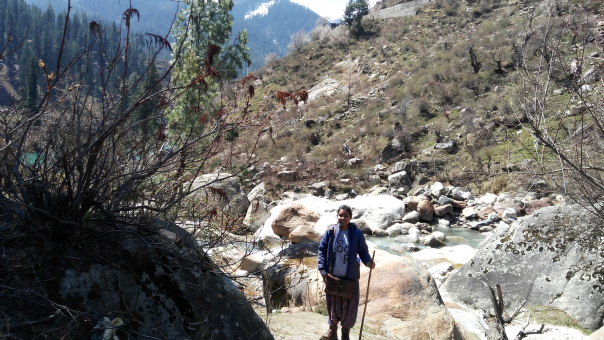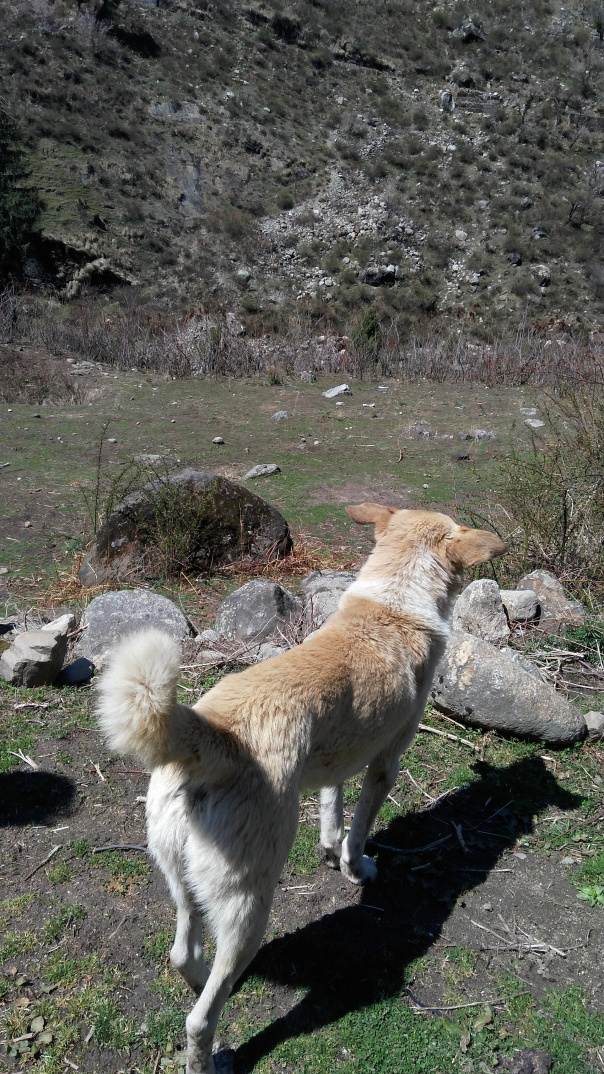 Okay, now this is a big list of pictures. Hope you liked them ????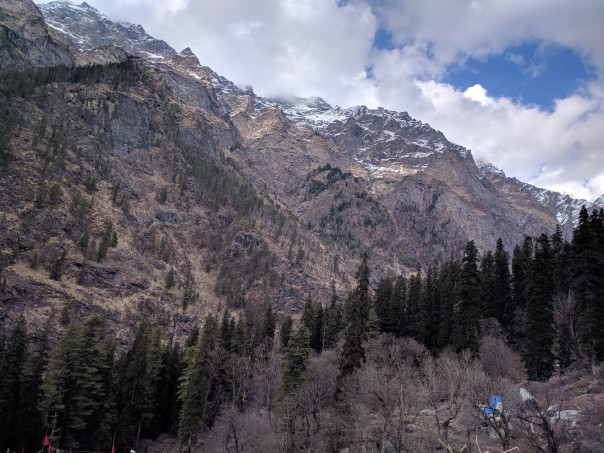 So when we reached Nakhtan, it was around 11-12 in the morning. Nakhtan is a small village where the houses are pretty cool and are wooden ones. I can show them in pictures.
After this there were apple orchards. There were clouds floating by and I could witness the majestic peak with its snow-capped ranges. You can have a look at it.
From Nakhtan, we headed towards the next stop Rudra Nag. So yes, to talk about Rudra Nag, it is the half way through of the trek, i.e. you have covered 6km when you reach Rudra Nag. And the whole trek is a 12km one.
At Rudra Nag we had our mini lunch break and had chai with hot maggi. We also hydrated ourselves with nimbuzz, buttermilk, minute maid etc whatever was available. And yes, keep snickers with you to re-energize yourself.
Until Rudra Nag, we were taking short break for every half an hour to forty minutes. At that pace, we wouldn't have completed the trek by evening. Hence, after Rudra Nag, we reduced our pit-stops to 2-3 min ones, so that we can make it before it gets dark.
This slideshow requires JavaScript.
This trek through the forest was too tiring and too steep. You should be very careful while you take your steps. Make sure that you wear strong shoes or boots, whichever comfortable. We had a bunch of co-travelers and hence we didn't feel that demotivated all the way through the trek.
And Finally, we made it to the top by around 4:45 P.M.
The Kheerganga Camping Site. It was a sheer of joy. I couldn't express my joy after seeing the snow-capped mountains all around me and I was living my dream. Oh man! It was INCREDIBLE!!
We stayed over the camp for the rest of the night and it was my first ever experience in a tent and it took a hell lot of time for me to get accustomed to the tent atmosphere. I literally was fearing of the heavy sound of the winds along with the gushing out of Parvati River.
The next day we woke up pretty early at around 6 in the morning and to witness the sunrise on the snow-capped mountains. It was a magical experience, literally.
These pics will make you believe.
This slideshow requires JavaScript.
And then after the photoshoot, we had an amazing bath in the hot springs. It still was a reminiscing moment for me, when I had all the snow-capped mountains surrounded by me everywhere when I was in the hot springs. It was one hell of an experience.
To cherish this moment, you need to be a bit early so that you can be the first person or you can get some privacy to stay in the hot springs. And believe me, they have wonder powers to reduce all the pain you had after trekking up such steep edges.
After this we had an awesome breakfast with the majestic mountains infront of us.
With this we started off downward all the way to Barshaini.
Some key point to note before you start for this trek:
Buy all the essentials you feel like you need to have, before starting the trek Buy the stick for making the trek a bit easier, if you are a beginner to trekking Talking about the physical fitness, if you are confident about your physical health as average then ,voila, you can easily finish off this trek successfully. Don't lose hope at any point of time. Be cheerful. Enjoy the nature. Immerse with the beauty. That is the only distraction you get, as your mobile networks will not be in coverage area Keep yourself hydrated. Avoid beverages like coffee and tea. I would suggest lots of water, buttermilk or any other juice you prefer. There is honey lemon ginger tea famous out there in the Kheerganga Camping site. Don't forget to try that. Always keep some extra warm clothes. Trust me you would be needing them.
Whoever has done this trek, would be feeling so tiny in this world, that there are lot more amazing things to witness than to crib about our day-to-day problems. Yes, we are the tiniest of the tiniest of this world in front of these majestic and beautiful mountains. Save Mother Earth. She is inexplicably beautiful. Let her beauty be witnessed by every single creature born into this world. She is a lot more worth than what we can even think of. Try to be a bit responsible towards Mother Earth than you are today. Bit by Bit can bring a hell lot of change. Be that Change.