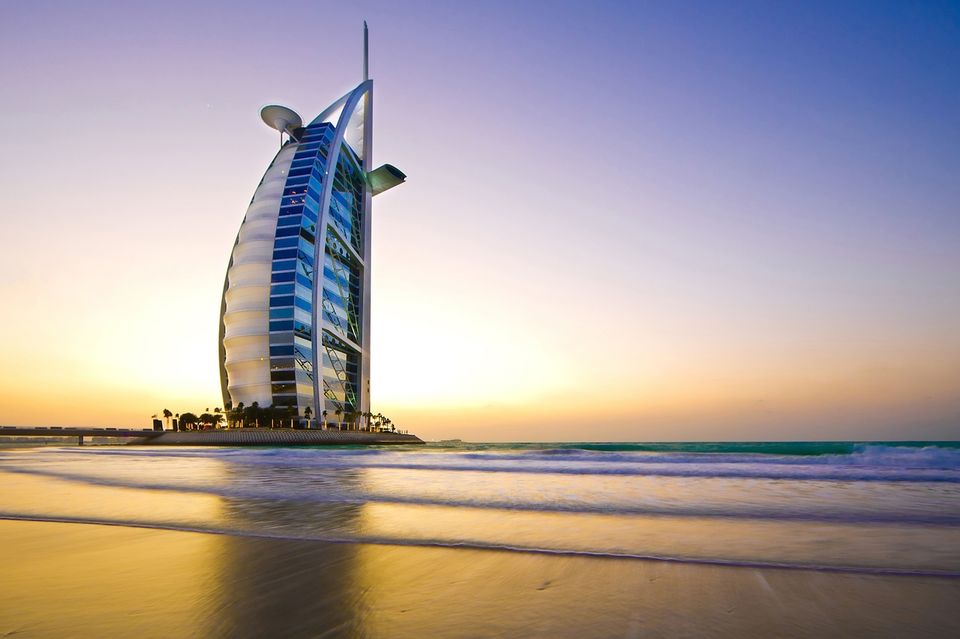 Buzzing with action and crowded with people playing beach games and water sports, Dubai's beaches are not the quaint turfs of sand and sun that you'd find in other parts of the world. They're action hotspots and definitely an experience you won't get anywhere else.
Dubai has both public and private beaches. Many belong to hotels and are accessible to non-guests for a hefty fee. Some of the public beaches also charge a fee, although it is nominal. Unlike the common perception, at most beaches in Dubai, it is acceptable to wear swimsuits.
Thirty-second takeaway: Popular amongst kite surfers (hence the name), Kite Beach is the preferred destination for water sport enthusiasts in Dubai. You can try paddle-boarding, speed boating, kayaking, beach tennis and volleyball, among other things. You can book lessons and hire equipment from a number of shops right on the beach. There are also various cafes and restaurants on the beach.
Type: Public beach
Location: Off Jumeirah Beach Road, Jumeirah 3
Price: Free entry
Thirty-second-takeaway: This clean, wonderful beach has all the facilities you'd need to make your trip fun and relaxing, including showers, toilets and changing rooms. There are a number of water sports available and a separate section for kids and even an outdoor gym for fitness enthusiasts. Plenty of food and drink outlets are available as well, although alcohol is only available in the hotels.
Type: Public beach
Location: Dubai Marina
Price: Free entry
Thirty-second-takeaway: Located just north of the Jumeirah Beach Hotel, Umm Suqeim Beach is the place where most people snap that enviable selfie with the Burj Al Arab in the backdrop. The beach is one of the best in the area for surfing. It is well maintained and although it doesn't have toilets or restaurants, there are showers and mini-marts in the area and an Emarat service station on the main road. It also has a short flood-lit section for swimming at night.
Type: Public beach
Location: Next to Umm Suqeim Park
Price: Free entry
Thirty-second-takeaway: Situated on the border of Dubai and Abu Dhabi, Ghantoot Beach is a private shoreline run by the Golden Tulip Al Jazira Hotel and Resorts. You can enjoy a lazy day here by lounging on sunbeds or indulging in some beach volleyball. The resort also gives you access to the swimming pools, cafes and restaurants, in addition to the water sports club, volleyball nets and barbecue area.
Type: Private beach
Location: Along Sheikh Zayed Road that goes towards Abu Dhabi
Price: Access to the beach costs ₹1,700 (approximately)
Thirty-second-takeaway: Another gorgeous private beach, RIVA was reopened to the public this year in November after months of renovation. Owned and operated by RIVA Beach Club – the first independent club to operate in the Palm Jumeirah – the beach has unrivalled views of the Arabian Gulf. There are sun loungers where you can spend your day relaxing. The club also gives access to its restaurant, pool and bar for a fee.
Type: Private beach
Location: Next to the Shoreline Buildings on Palm Jumeirah
Price: Access to the beach costs approximately ₹2,000 for adults and ₹1,000 for children
Thirty-second-takeaway: If you're looking for a luxurious beach getaway, this is the place to be. The private beach, owned by the Royal Island Beach Club, is the first one to open to the public on Dubai's famous World Islands. The resort is spread over an area of about 40,000 square meters and has a number of international restaurants, beach areas, swimming pools and chalets. You can enjoy a five-star meal, sip on some classic cocktails and smoke some shisha, all on the beach side.
Type: Private beach
Location: Lebanon Island, World Islands
Price: Access to the beach costs approximately ₹4,300 per person
Thirty-second-takeaway: Located on the Dubai-Sharjah border, Al Mamzar is one stylish place. Spanning 106 hectares, it boasts of four beaches, a lawn, pool, and a cycling and walking route. You can spend the day soaking in the sun or having a picnic on one of the many grassy areas. There are food kiosks set up in the area for a quick bite. Despite so many facilities, the entry fee for Al Mamzar is nominal.
Type: Public beach
Location: Al Mamzar Al Khaleej Road, Al Mamzar, Dubai
Price: Access to the beach costs a nominal fee of approximately ₹87
What is your favourite beach destination? Write about it on Tripoto and help the travel community grow.