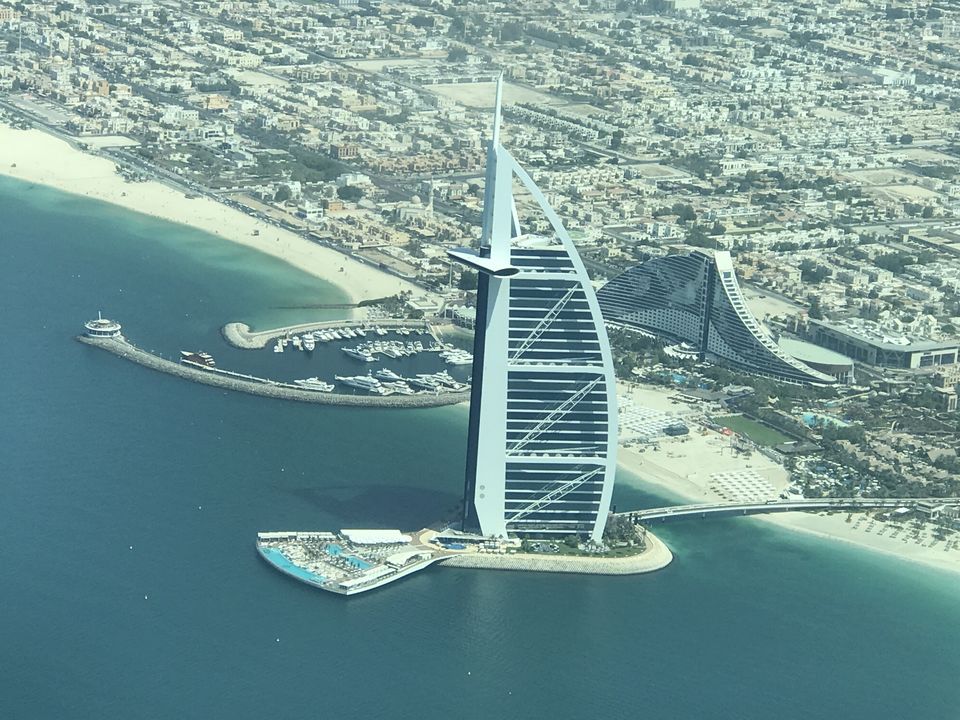 Bhuj-Al-Arab a Luxury
Most of us are aware of this unique 7 star hotel in Dubai and to spend a luxurious night in this is completely an honour and a big spent also.
U need to book a dinner night in advance to have an ultra luxury experience just to see this hotel from inside but to stay here you need to pay quite a huge amount.
It is very uniquely designed in a sail shaped building this luxury hotel is everything to serve you once you are book a luxury stay .Opulent suites,24 carat gold iPads ,free wi fi ,Flat screen TV & iPods , Designer toiletries ,Snooker table, library , cinemas and private elevators everything under one roof.
A luxury stay which costs you around Rs 1,45,000/- per night for two including a kids club , private swimming pool and so many other facilities in the uniquely designed packages.
How to get there
This luxury hotel is just a 15 minutes drive from Downtown Dubai.You can book an uber or a private cab from your hotel to reach there.The Bhuj Al Arab also provides a pick up but it depends on the package what you have opt for.
If you have booked it just for a dinner or lunch you need to go there by your own and if you have choose it for a stay the hotel provides a pick up from airport or from any other area of Dubai where you currently stay the hotel sent a luxury Rolls Royce to pick you in a most luxury way.
Once you get In
When you enter in this luxury hotel you don't find it much different from other luxury hotels like it was fully carpeted like other luxury hotels but yes Bhuj-Al-Arab has been overrated in some points like the bars & restaurants are not differently or uniquely designed.
But the difference is the use of Gold in the interiors specially the lift what we used to go up was so different and beautiful.It was a gold plated lift with some glass work abstract design doors will grab your attention instantly.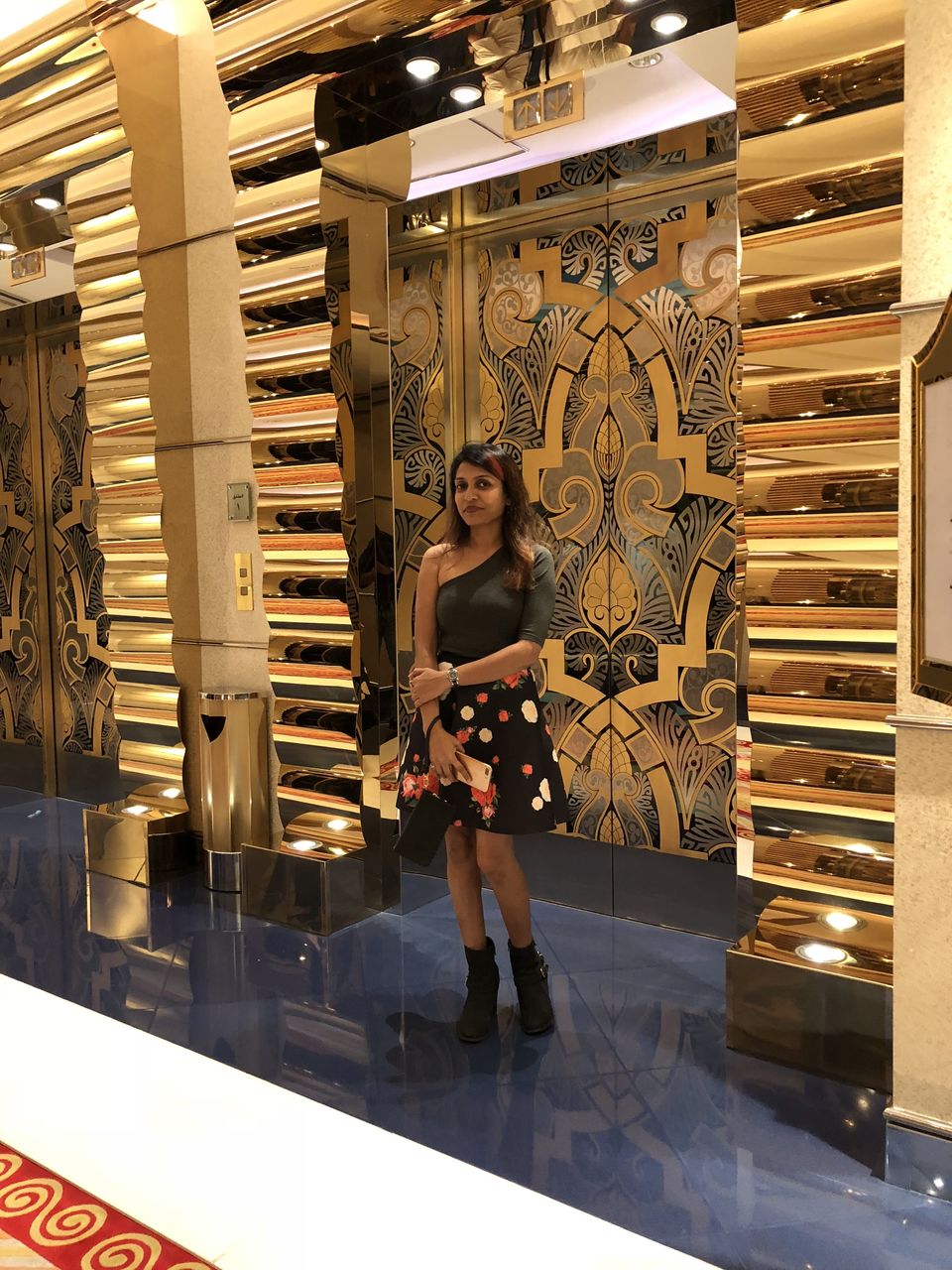 The other thing was a fluctuating fountain which is huge like a stair case coming from up to the floor and there was a big couch in front of the fountain where both the side elevators connect to the different lifts to go to the different restaurants whichever you have booked.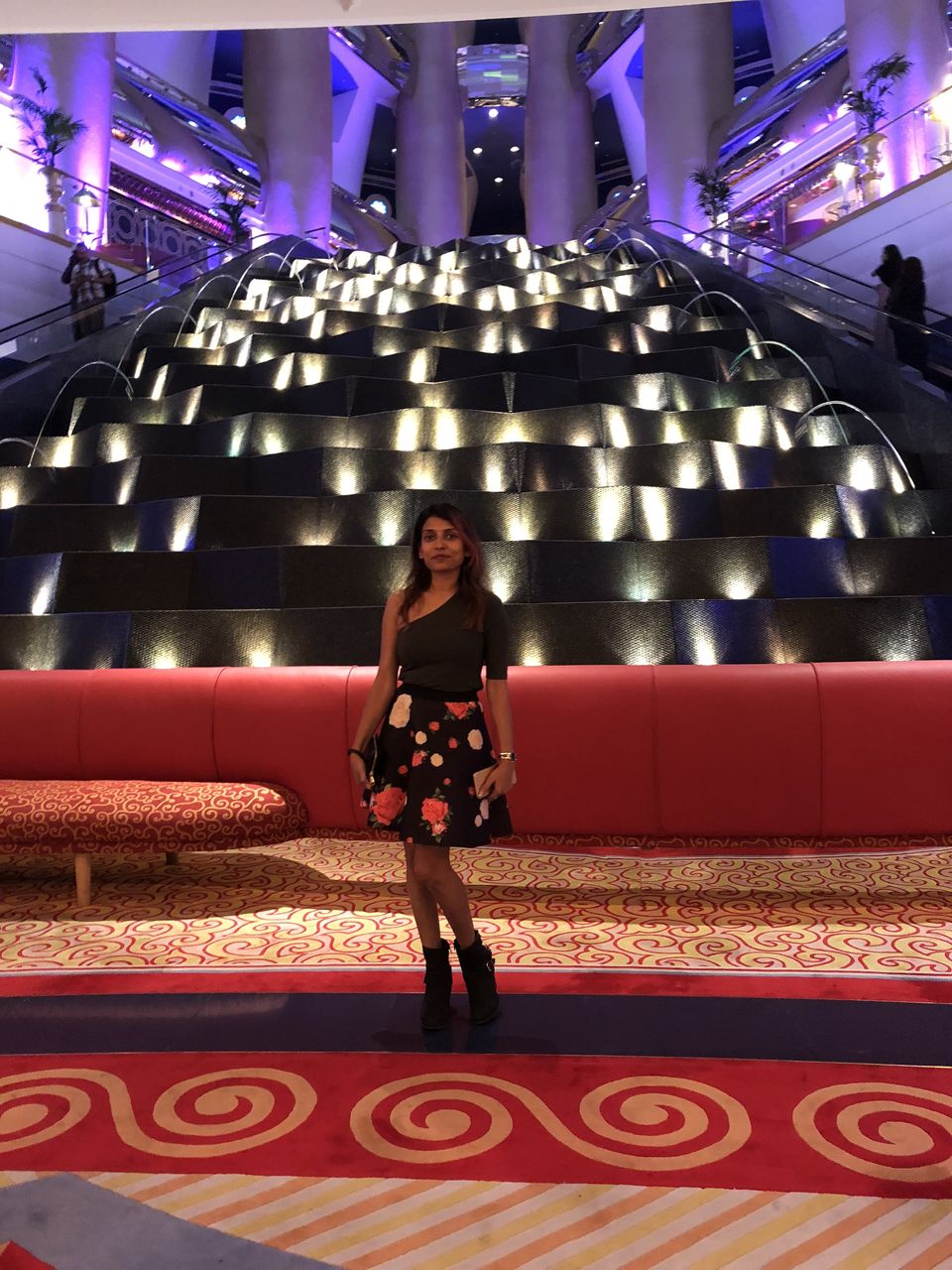 Dress code is must
You can't enter in Bhuj-Al-Arab if you haven't follow a proper dress code.
You will surprise to know that different restaurants have different dress codes for you so gentlemen can't wear t-shirts so the business suits with proper shoes are to be followed to experience this luxury dinner.
For ladies the party wear and evening gowns are the proper dress codes and you can check online the options what they have given for ladies.
The Food presentaions
Yes its time for what we are here to have dinner and a great time with your spouse.Food & drinks are included in you package so you don't have much choices if you are vegetarian very limited options for you.We ordered a maze platter with different dips and some cocktail drinks which we loved in the menu.
The best part was the food presentation yes it was in the Bhuj-al-Arab shaped platter which was so unique that you are following your hotel theme so seriously.
Food & Drinks were ultimate and super delicious plus the presentation got the full marks on it.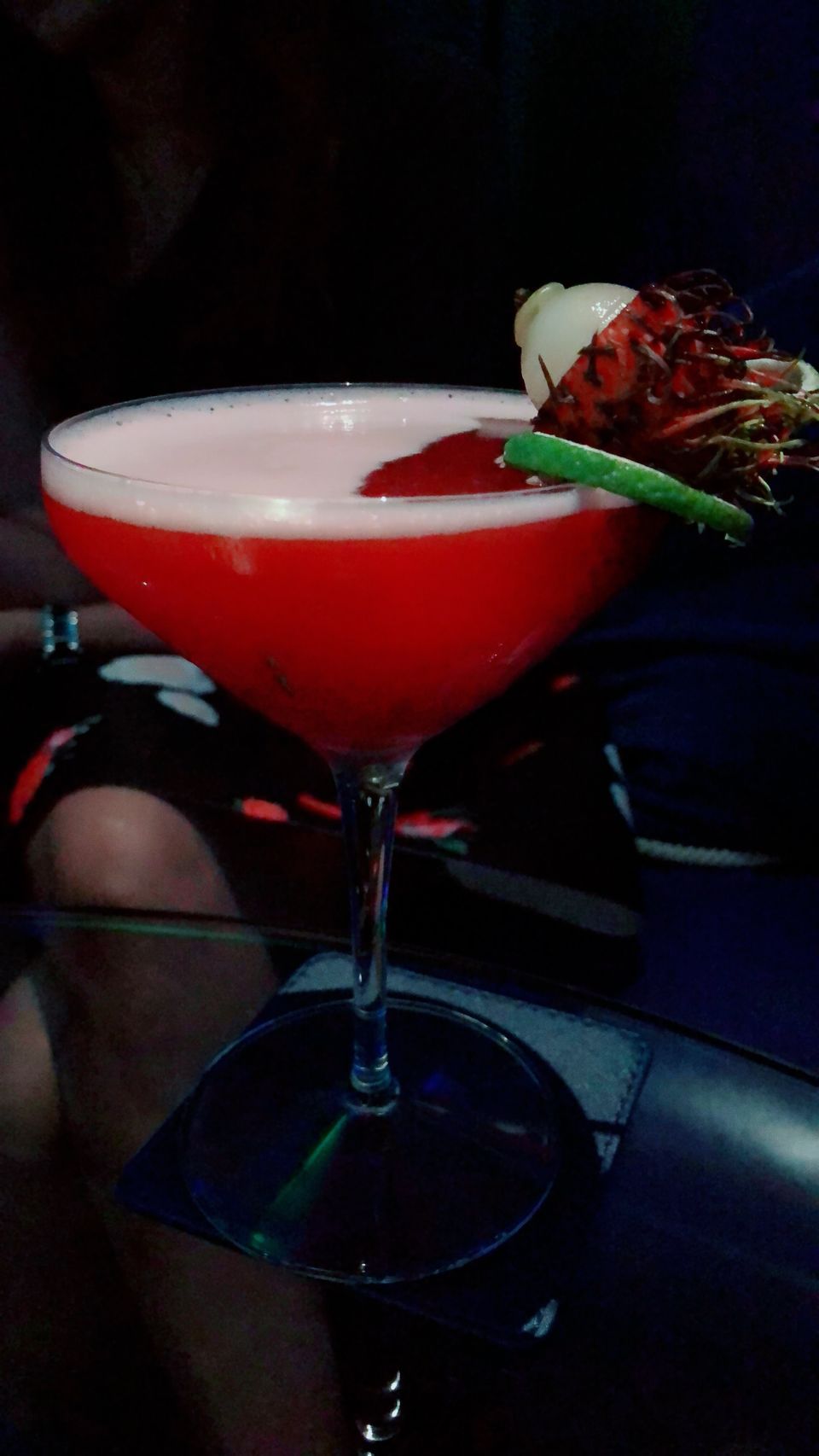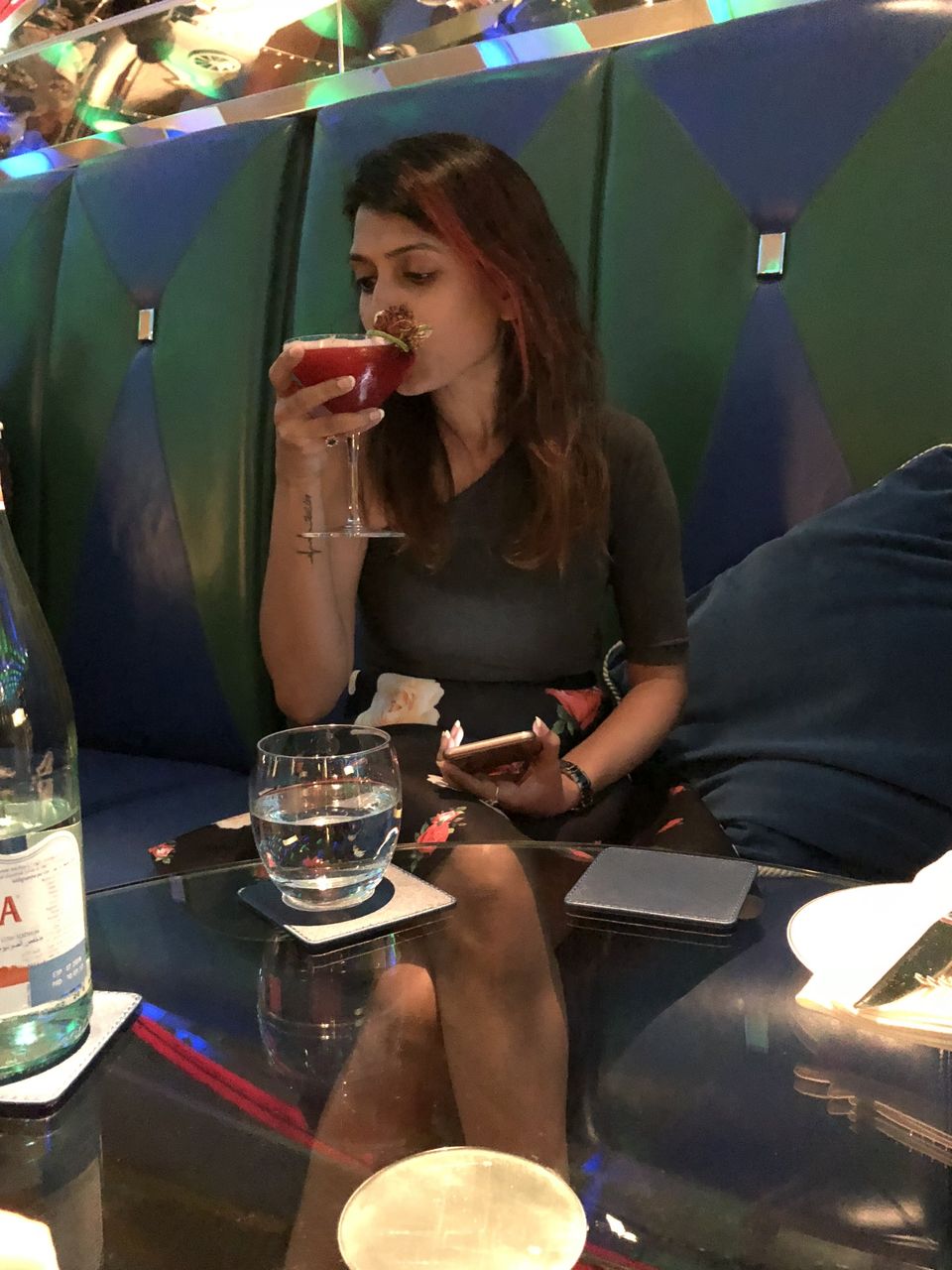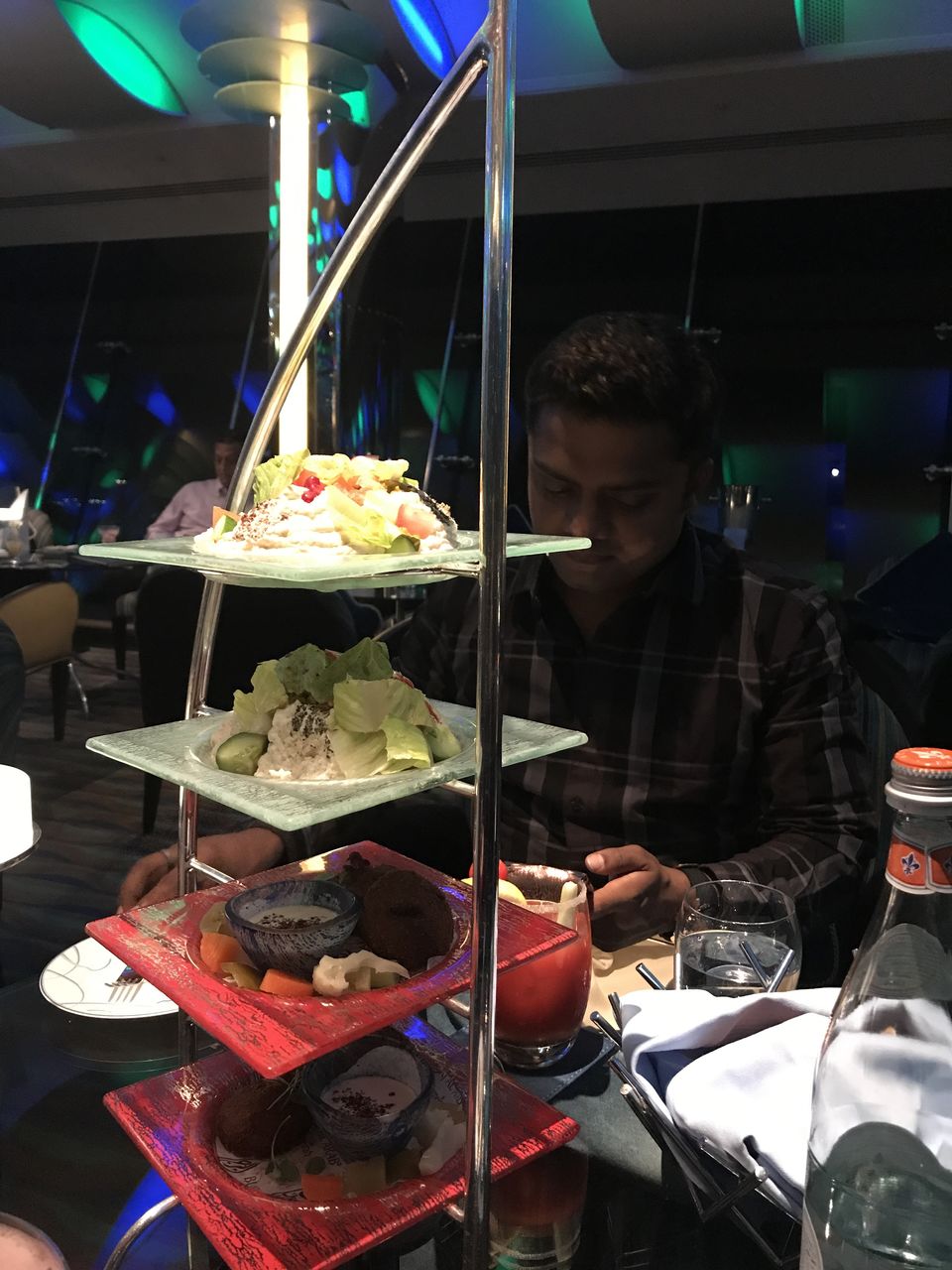 Hotel Staff & Services
The staff is well educated and well dressed of course and they have given a tremendous service whether it is allotting a table or asking for special menus or anything else they were so polite but yes I personally found them little bit snobbish because may be they are the staff of the self declared 7 star hotel in the world.
When I asked them to click a picture they definitely came and ask to capture some more if we want.
It was a good and a luxury experience and I have no complaints but yes I must say that this hotel is for the luxury stay and just to have an experience to see it from inside you can book it for a dinner night or a lunch.
How to book a dinner in Bhuj-Al-Arab
We have booked for a luxury dinner night in Sky View Bar a restaurant in Bhuj Al Arab you can book online as well either you can book by calling at the hotel reception.
They have breakfast ,Lunch and dinner time options for you to choose any one of them according to your preference.
The charges per person is Rs 15000/- for a dinner in Sky View Bar you can check the different options online also.
Jumeirah Beach
After having the dinner we planned our beach outing as it is a walkable distance from Bhuj-Al-Arab and we wanted to see this mesmerising beach view in the night and specially the Bhuj-Al_Arab looks stunning in the night from the Jumeirah Beach.
Click to the below given my youtube link to see more