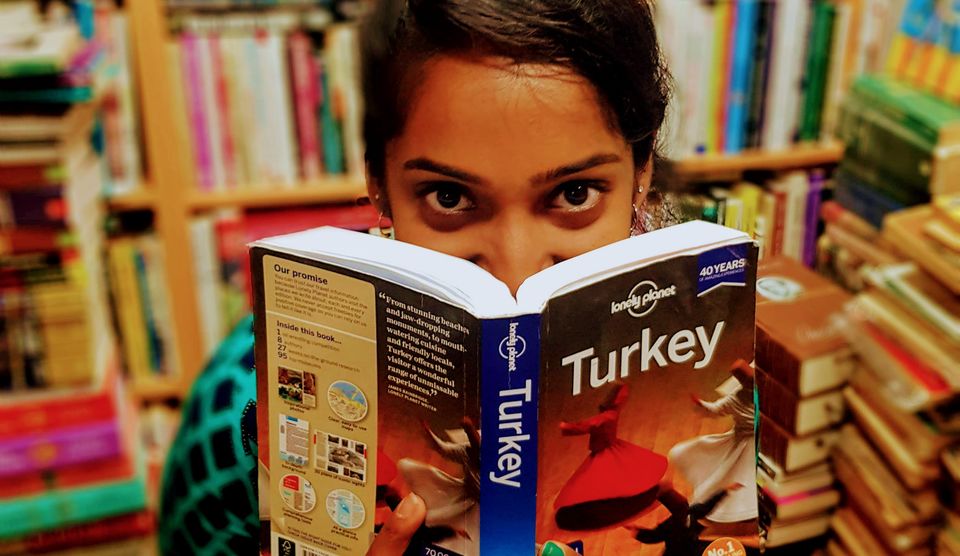 https://myaffairswithtravelandwine.wordpress.com/2019/09/15/a-memento-for-turkey/?preview=true
Muezzin's wake up call
It was 5 am in Istanbul, the voice of muezzins from the nearby Aya Sophia and Blue Mosque wafted in through our open windows. I had insisted on staying in an area called Sultanahmet just for this wake-up call. As a nerdy teenager, I had woken up to the muezzin's call for the most part of my high school life. While I did wake up to do fun things like revising my lessons before school, those wake up calls were some my happier 5 am memories I had until now. Listening to the call of prayer, I set out to plan my first day in Istanbul.
Sultanahmet is on the European side of Istanbul and it is what most European cities would call the "Old Town". Without fail it is the best place to begin a trip to Istanbul. Due to the high density of historical landmarks in this area, I wanted to explore Sultanahmet on foot and so, equipped with a colorful map of Sultanahmet, we signed up for a free walking tour. While aimlessly walking around an old town has its own charm, walking around with someone narrating stories from a bygone era tends to make me feel slightly wiser about the place. It was somewhere along this guided walking tour that we discovered that before the reign of Ottomans, which is what most people associate Istanbul with, it also served as a capital for the Eastern Roman Empire. While the old town is littered with alternating examples from both these dominant eras, Aya Sophia is the epitome of the amalgamation of the two cultures. Though it was a church in its previous avatar, the only remaining evidence of this now lies in the mosaics that were discovered under the plastered walls. But irrespective of which era it belonged to, Aya Sophia had my heart the minute I stepped into it. With its low hanging chandeliers outlined with yellow lights and an atmosphere of serenity, this one stood out for me among the many attractions in the old town. I could probably go on and on about Aya Sophia, but due to paucity of reading bandwidth, I am going to move on. After Aya Sophia, our walk then took us to the Blue mosque (which I haven't yet figured out why it is called blue since its insides barely have any hint of blue), Topkapi Palace and gardens (a massive place which served as the not so humble abode of the early Ottomans), Basilica Cistern (an underground water reserve from the Roman era), Grand Bazaar and Spice Bazaar (a labyrinth of shops where I got lost, literally), Old book bazaar (which had exactly two shops with English books but still worth a visit just to smell the scent of old books) and lastly the Suleyman mosque (which is what appears on most postcards from Istanbul and had a fantastic view of the city).
While on the map it looked like the walk wouldn't take too long, the sheer amount of stories narrated along the way and the walk across the hilly terrains resulted in it taking up the whole day. Calling it a day and also for rewarding ourselves for the day's hard work, we convinced each other that we deserved to end the day on a sweet note at Hafiz Mustafa. A baklava and desserts heaven which can found quite frequently in the old town area, Hafiz Mustafa spoilt me with too many choices throughout my stay in Istanbul and was single-handedly responsible for half of the excess weight I had to lug around in our days to follow.
Tram-ing my way into the new city
I again woke up to the muezzin's call but this time I woke up disoriented. Along with the muezzin's call, my phone was buzzing with a work call. As I picked it up to discuss work, I took a couple of minutes to realize that I had woken up in Istanbul. Taking advantage of the fact that I had woken up early, I decided to map out the plan for my day 2 in Istanbul.
This time we were set to explore an area what the locals called the "New Town". After the information overload of day 1, we decided to explore the rest of the city by aimlessly walking around and so with no real agenda in mind, we set out to the new town. To get to this part of the city, we crossed the Golden Horn on tram and landed up at Karakoy. From here originated the historic tunnel tram which was said to be the world's second subway system. The tunnel tram took us to the base of the Galata tower from where we walked up the Istiklal street to get to Taksim square. Crowded with shop fronts and shoppers, this was a rather busy street and a definite destination for shoppers. Since I am not a big fan of shopping and since my husband is a big fan of eating, we walked around a bit to build an appetite and then headed to Ladees menemen restaurant to have our second breakfast. Menemen is essentially just a bowl of scrambled eggs with tomatoes which the locals generally have with pastrami. After having our share of menemen, we followed it up with a dish called kaymak. If there is any dish that I need to recommend as a must-eat in Turkey then it is this one. The dish looked simple, a slab of thick clotted cream served in a bath of fresh viscous honey. But don't judge the dish by its looks as it is to die for and probably a lot of it can actually kill a diabetic. Just as we were finishing up our second breakfast, the rain gods came crashing down over Istanbul. Perhaps it was a sign from God that we were not to leave the restaurant without trying out their other delicacies. After 2 hours and what felt like infinite cups of tea later, we finally managed to get out onto the streets and made our way back onto the Taksim square. With the clouds looming over our heads, we rushed to make our way up to the Galata tower before the next bout of rain decides to flood us. With its narrow spiraling staircase, the Galata tower made me feel a bit like Rapunzel but I bet she didn't have such a glorious view of Istanbul with watercourses crisscrossing through the city.
After walking up and down the Istiklal street a couple of times, we made our way back to the old town by crossing over the Galata bridge. Thankfully by then, the rain had decided to call it a day and the sun was just about to call it a day too. On the bridge, we were treated to magnificent views of both the old as well as the new town which was only enhanced by the fluttering wings of the crazy seagulls. Under the Galata bridge, we, rather my husband, tried the freshly caught and fried mackerel sandwich and I tried the pickle juice that goes with it. While the pickle juice was like pickle juice, we chanced upon a best selling Lokma vendor that made our seaside fish smelling stroll worth the effort. It was just day 2 in Istanbul and I was already feeling at home in this massive city.
The crossover
Day 3 in Istanbul was also our last day there and I wanted to explore the Asian side as well as the Bosphorous. Among the many things to do in Istanbul, a Bosphorus cruise was said to be a must-do. It was the most relaxed way to get a sense of the enormity of Istanbul and after two days of walking around, we decided it was anyway time for an upgrade to our mode of transport. After a sumptuous meal at a place called Balkan Lokantasi, a buffet/self serve format restaurant that can be found across Turkey, we made our way to Eminonu to find a Bosphorus cruise. We hadn't pre-booked one and we weren't entirely sure how to go about it either. But just as we were strolling along the promenade, we heard a ferry captain calling out and inviting passengers for a cruise. Skeptically, but still proud of the economic cruise that we chanced upon, we boarded the cruise and took our place on the top deck where we would remain for the next 90 mins.
While the starting point for these cruises aren't as pretty as one would expect, it was also a terminal for the public ferries and hence it had an undeniably local vibe complemented with the smell of fish and the salty sea with a tinge of kerosene. Soon the ferry undocked itself and we began our journey into the Bosphorus, cruising along with the seagulls, as they made unsuccessful attempts at catching the bread crumbs that the passengers of the cruise were trying to lure them with. As we exited the golden horn, the first Bosphorus Bridge, now called the 15th July Martyr's Bridge, made its first close up appearance. Built-in 1973, this engineering marvel looks like a thread that connects Asia and Europe, a thread that is 1.5km long and costed USD 21 million. It obviously was not the first time I was seeing this bridge since it is usually visible from quite a few places in Istanbul as well as while flying over Istanbul, but seeing it up close is the only way to truly get a sense of the sheer size of this spectacle. The cruise then took us to the second Bosphorus bridge which was repetition after seeing the first, but by this point in the cruise, I was beginning to get a sense of the how expansive Istanbul really was. While the European side was densely populated with slightly shabby looking apartment buildings, the Asian side seemed sparsely populated and posh with its fancy condos overlooking the Bosphorus. On our way back we crossed the Maiden's tower, a cute lighthouse on a small island at the junction of the Bosphorous and the Marmara sea, before we docked back next to the Galata bridge. With just a couple of more hours left in Istanbul, we decided to crossover to the Asian side for a quick bite before we boarded the bus to Sabiha Gokcen airport which was also on the Asian side. Since we had already covered tram and ferry as a mode of transport, this time we decided to crossover using their Marmara underground trains. A couple of long zig-zagging escalators later, we boarded the train to switch between the continents. Getting out of the train station and onto the Kadikoy pier on the Asian side left me a sudden sense of detachment from the Istanbul that I had known for the last two days. With its spiraling minarets and cascading domes, the old town was now just a distant skyline and soon Istanbul would become just a distant memory.
Kadikoy center turned out to a very bustling commercial hub where locals went for shopping, window shopping or eating. After quickly grabbing a couple of bureks to eat, a puff pastry with stuffings, we decided to walk down to the Moda park which was the southernmost tip of the Asian side of Istanbul. The walk from Kadikoy to Moda would have been fairly easy if we didn't have to drag our luggage along, but it was a good sunny day to be out in the Moda park. As we rested on the freshly cut grass of park lawn to soak in what would turn out to be our last glimpses of Istanbul skyline, a few teenagers added to our melancholy mood by playing what I assumed would have been Turkish love songs. As our departure time neared, we took a "nostalgic" tram ride back to Kadikoy pier to catch our bus to the airport.
https://myaffairswithtravelandwine.wordpress.com/2019/09/15/a-memento-for-turkey/?preview=true