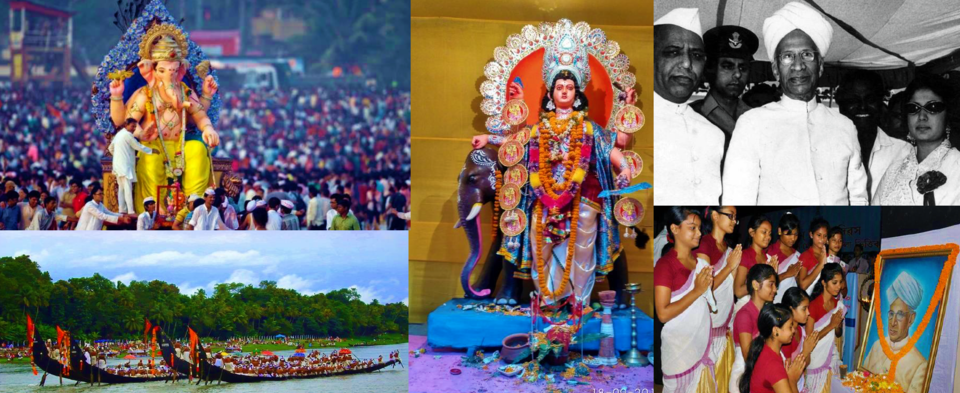 India is a land of culture, heritage, history and diversity. In India, it is said that everyday is a new festival. We love to celebrate life and our culture, which can be quite beautifully reflected in our festivals. In India, Festivals are a year long affair, with every new month, comes a new festival. But the diverse culture and activity spanned out across India, makes it very difficult for a first time visitor to India to plan his/her trip. Did you want to celebrate Holi in India, but unfortunately miscalculated your trip and arrived in April? Yes, these mistakes can happen. And that's what this article aims to resolve and help you plan your trip to India. So let us take a look at the festivals in India according to the month they are celebrated.
1. January
January is one of the most culturally rich month of India which overlooks a month long celebration across India in various forms. As it turns out, the Gregorian calendar month of January coincides with Makara Rashi (Capricorn) of Hindu Calender system. It also marks the start of harvest season. Across India this time is celebrated in various forms in different states. Northern States, especially the state of Punjab celebrates the beautiful festival of Lohri, Eastern Regions of Assam, West Bengal, Orissa celebrates Bhogali Bihu (only in Assam) and Makara Sankranti. In the Southern States of Tamil Nadu, Andhra Pradesh, Karnataka, the auspicious festival of Pongal is celebrated with great pomp. The Western State of Gujarat celebrates the colorful and unique Kite festival. Colorful kites of various shapes and size adorns the skies over Gujarat.
It must also be kept in mind that India celebrates her Republic Day on the 26th of January every year, which marks India's transition to a Republic. This day is celebrated in a great show of patriotism, love and happiness. Parades are held throughout the country and the largest being held in New Delhi.

2. February
The month of February witnesses the beautiful Goa Carnival, which commemorates the Christian festival of Mardi Gras in the state of Goa. It is a very joyous festival followed by a carnival parade. Tracing its origin back during the Portuguese occupation of Goa, it remains as one of the few traditional Western Christian festivals in India.
This month also oversees the Hindu festival of Vasant Panchami in the Eastern states of Orissa, West Bengal and Assam. This festival marks the end of winter season and onset of spring. The festival is more popularly celebrated as Saraswati Puja. A very popular festival amongst the students, teachers, the celebrations are widely held in Educational Institutes.

3. March
Although a worldwide celebration, I find it quite necessary to mention that India, along with the entire world celebrates the International Women's Day every year on 8th of March to celebrate the strength, courage and contribution of women. March is also an important time in India, as we celebrate one of the most important festivals, Holi the festival of color. A vibrant is beautiful festival, Holi brings joy and happiness to hearts of every Indian. More than playing with colors, the spirit of Holi which brings people and communities together is celebrated with great pomp. Also, March sees the celebration of Mahashivaratri, when we pay our obsience to Lord Shiva, one of the three Gods of the Trinity in Hinduism.

March is an important period for Parsi and Jewish community of India. Nowruz or Navroz, the Parsi New Year is celebrated, while the Jews celebrate Purim, a holiday which commemorates saving of Jewish people from Haman, a Persian Empire official.
4. April
April marks an important time in India and for Hindus. According to Hindu Calendar system, this time period marks the beginning of a new year, the month of Vaishakh. It is celebrated in various forms across India. In North, the state of Punjab and other states, celebrates Baisakhi, and also celebrates the start of spring harvest period. It is an important festival amongst the agricultural community. Gudi Padwa is celebrated in the Western and South Western Regions, especially in Maharashtra and Konkan regions. South Indian states celebrates the period as Ugadi festival. The Eastern States of Orissa and West Bengal celebrates it as Pohela Baisakh, while Assam celebrates the beautiful ethnic festival of Rongali Bihu. In all these celebrations, although geographically divided, yet festivities are followed by dance, cultural activities, music, good food and exchange of gifts.
April also marks the beginning of Ramadan or Ramzan for Muslims in India as well as for Muslims across the world. Christians celebrate Good Friday. In many parts of India, Ram Navami is celebrated which marks the birth of one of the most important deities of Hindus, Lord Ram.

5. May
The month of may begins with the end of Ramadan, and observing Eid-ul-Fitr, for Muslims. It is time of reflection and gratefulness by Muslims, and a time of charity, when the more fortunate donates to the less fortunate. It begins after the month long fasting period of Ramadan.
Hindus and Jains celebrate Akshaya Tritya. The festival is celebrated in prayer for prosperity, happiness, joy and success. The celebrations are followed by Buddha Purnima, which commemorates the enlightment of the Buddha under the Bodhi Tree.

6. June
The month of June celebrates the Jewish festival of Shavuot, which commemorates the revelation of Torah to Mosses, on top of Mount Sinai, according to orthodox Judaism and Rabbinic traditions. The Jewish community of India too, celebrates the traditional Jewish holiday. June also witness the International Day of Yoga, held every year in Rishikesh, the Yoga capital of the world which celebrates the spirit and beauty of Yoga, an Indic practice which has become popular worldwide.
7. July
July begins with one of the most beautiful traditional festivals of India, the Jagannath Rath Yatra (Chariot Festival) in Puri, Orissa. In this massive festival, the presiding deities of Puri's famous Jagannath Temple, Lord Jagannath, Lord Balabhadra and Goddess Subhadra are removed and placed on their ceremonial chariots. This follows the procession of the chariots being pulled by the devotees. The festival attracts numerous visitors, both devotees and tourists, who come to witness the beautiful occassion.
July also marks two of the most important periods for Muslims. Muslims observe the Eid-ul-Adha or Bakri-Eid. It marks the act of obedience by Ibrahim towards God by allowing the sacrifice of his son, however before he could sacrifice his son, God provided a lamb to be sacrificed instead, thus saving his son. Also, Muslims observe Muharram, which marks the advent of the first month according to Islamic Calendar as well as to commemorate the battle of Karbala. This time is spent in mourning for the loss of Imam Husain in Karbala, prominently by the shia sect of Muslims.

8. August
The month of August oversees two very important festivals. Rakshabandhan, which celebrates the divine and lovely bond between a Brother and Sister, where a thread (Raakhi) is tied by the sister on her brother's wrist, and the brother pledges an eternal love and care for his sister, along with exchange of gifts. Also, this is also the time when the birth of Lord Krishna, Janmashtami, a very important deity for Hindus is celebrated.
August marks a very important time for Indians, as we celebrate Independence Day, the day when our nation broke free from the shackles of Foreign imperialism. The country observes this day with beautiful cultural activities, music, dance and other celebrations. It is a great time for visitors to witness the unity, strength and history of India unfold.

9. September
September is yet another festive month for Hindus. The southern state of Kerala celebrates the vibrant festival of Onam, which marks the legendary ruler King Mahabali who found liberation at the feet of Lord Vishnu. It is the state festival of Kerala, and is celebrated by traditional pratices, boat races, religious processions by the hindu community of Kerala. The state of Maharasthra celebrates Ganesh Chaturthi, which marks the commemoration of Lord Ganesha. This is a very important festival for Marathi and several Konkani communities, and is celebrated in huge pomp and show. Infact the Ganesha Chaturthi of Maharashtra is one of the largest and most vibrant festivals in India. In Eastern regions of West Bengal, Assam Vishwakarma Puja is celebrated to offer prayers to Lord Vishwakarma, the God of Architecture. It also marks the start of preparations for Durga Puja in the upcoming month.
Also, India observes 5th September as Teacher's Day to mark the birthday of Dr. Sarvapalli Radhakrishnan, a Philosopher and former president of India.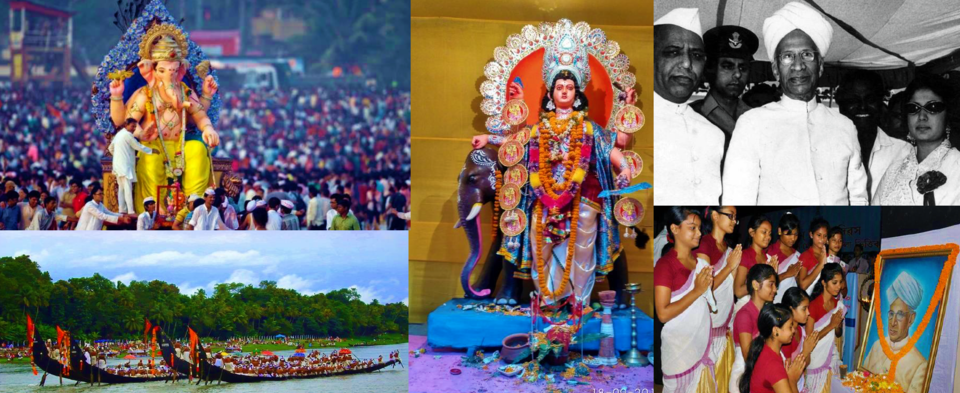 10. October
October witnesses the grand celebrations of Durga Mahotsava in West Bengal, Assam and Orissa primarily. It is a great time for "Pandal hoppping", treating yourself to delicious delicacies, dressing up in your best attire. The Puja pandals of West Bengal are famous worldwide and a sight to behold. The Northern states celebrates the Goddess Durga through observance of Navaratri. The celebrations reaches an ultimate after the 9th day, when all celebrations precipitates into Dusshehra, where the demon king Ravana and his son and brother is burned in manifestation of victory of good over evil.
October also marks the most important and holy day for Jewish community, as they celebrate Yom Kippur, or the day of atonement.

11. November
November month hosts two very important festivals for Christian communities in India, Thanksgiving Day and St. Andrews Day which are popularly observed by christian communities spread across India.
November also hosts one of the most famous and popular festival of India, Diwali the festival of lights, which is preceded by Dhanteras. Visitors wanting to experience the beautiful festival when India lights up beautifully, must plan their trip accordingly in this month. During Diwali, in West Bengal and Assam, people also celebrate Kali Puja, praying to the Goddess Kali. Also, The important festivals of Bhai Dooj or Bhai Phota (in Bengal) which is very similar to Rakshabandhan follows, along with Chath Pooja (celebrated primarily by Bihari Hindu Communities).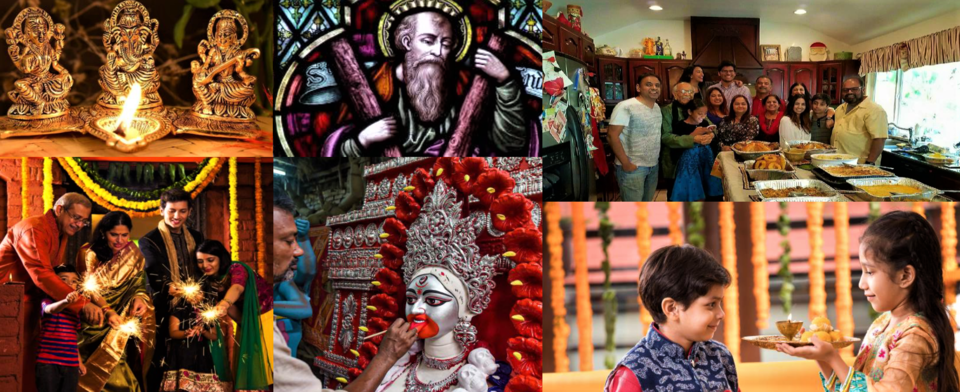 12. December
The Month of December brings joy and the spirit of Christmas for every Indians, Christians as well as other communities. It is a time of Joy, belonging, when we spend our time with our loved ones, decorating the Christmas tree and exchanging gifts.
Also, Jewish Communities celebrate Hannukah, a very important festival in Judaism, which is similar to Diwali. It can be rightfully called as the Jewish festival of Lights.

As you can see, India is a pandora box of wonders, and a true diverse country. We believe in celebrating life, love and our differences. So, next time you decide to book a flight to India, make sure to choose the right month. But we won't mind even if you want to stay the whole year. Experience the Incredible India.
Do you want to learn more about India and our culture, heritage ? Make sure to look up on my photoblog on my Instagram, and do read my articles on Tripoto. Have any doubt? Worry not, write to me on the comments below.