Alibag or Alibagh or Alibaugh, is a small town south of Mumbai, which can be reached by road or via Catamaran from Mumbai in about an hour. Its major draw are its beaches, some clean, others that could use some sprucing up. Remember it is us, folks who visit, that need to take care.
Besides, there is the usual plethora of Forts and Temples, a hallmark of Maharashtra, that make interesting sight-seeing and story-telling. Local arts and crafts, shopping, and now with the influx of tourists, water-sports on the sea.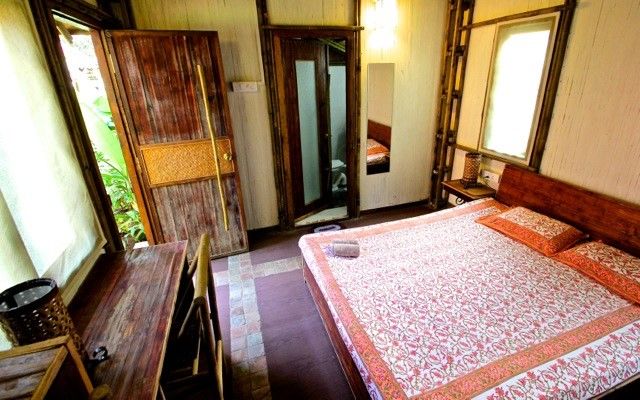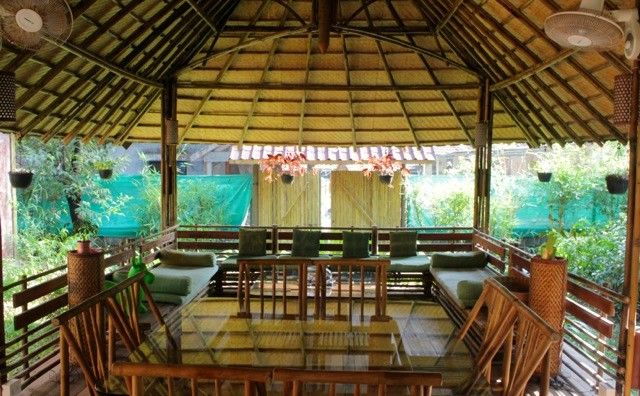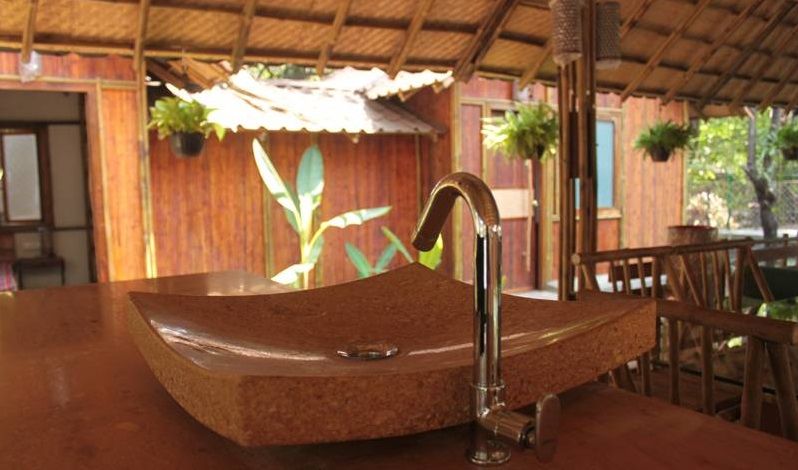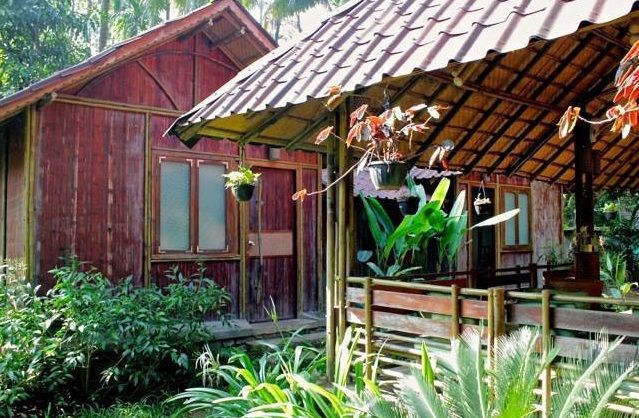 My friend, the inimitable Rashmi, mentioned Gandhar, an ecologically friendly lodge, her new venture at Alibag. How cool is that, and what a surprise!
Rashmi, like Chethana and Som who run Eco Habitat in Coorg, is one of those rare breed of entrepreneurs who won't quit their dream. For almost two decades, her social enterprise, Culture Aangan, has defined through demonstration, what is sustainable rural tourism. While Governments and Tourism Departments pay lip service to eco and sustainable concepts, and providing livelihood in villages to stem rural migration to cities; locals earn money because of her, and stay local.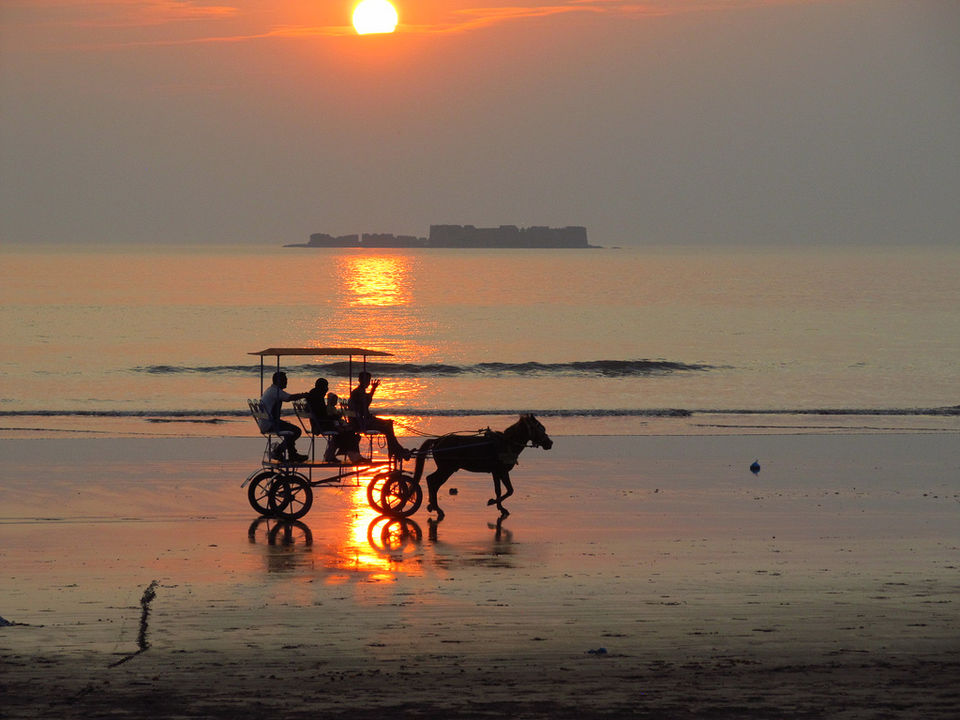 Guests at Gandhar experience local flavour normally offered to friends. If you so choose, mix, it is not compulsory folks. Sometimes I just like to be left to chill, and that is cool too.
Made for
Gandhar is great for family, couples and friends getting together. Relax, gourmet, shop, explore or play. Get in touch with the Culture Aangan people (info@cultureaangan.com), share what you like, and allow them to share possibilities. Do remember, this is social enterprise, not the Intercontinental or the Hilton.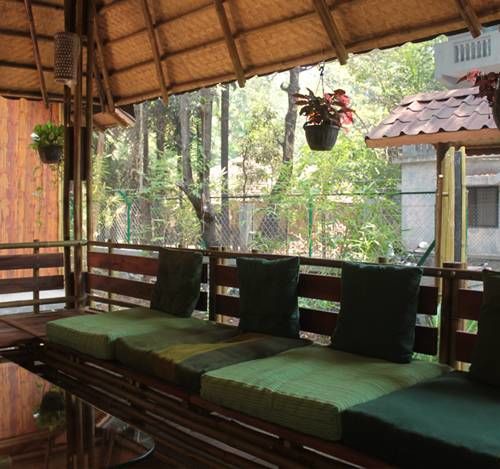 About the property
The framework on which Gandhar came about, follow the Tonal Scale 'Me' or in our local Indian Swaras 'Ga', representative of the element 'sky', a calm and serene space. The extensive use of bamboo is intentional. In China, bamboo represents longevity; in India, friendship. Bamboo is upright, tenacious, its hollowness represents an open heart.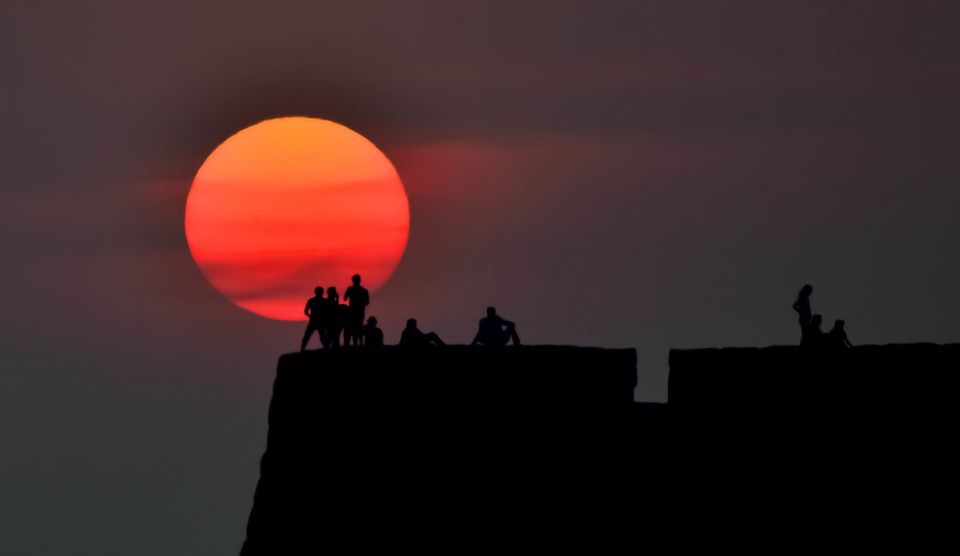 Gandhar is located in the village of Thal, just north of Alibag, and south of the Mandwa Jetty, about 20 minutes to either, give or take. There are 4 air-conditioned rooms with Queen size beds. I am not much for air-conditioning in an eco-system, but recognise the necessity of an eco-system, friendly and comfortable for people too. It is a trade-off, which serves a good cause. Each room can accommodate 3 people, with an extra bed. Western water closets and showers, with towels, soap and shampoo. Kiran and Geeta are on hand to help you settle in, and do they do a good job at this !
Food
Local and Maharashtrian, with a continental breakfast if you opt. All is good. Meals are included in the price, both vegetarian and non-vegetarian. Have the chilled Kokam juice.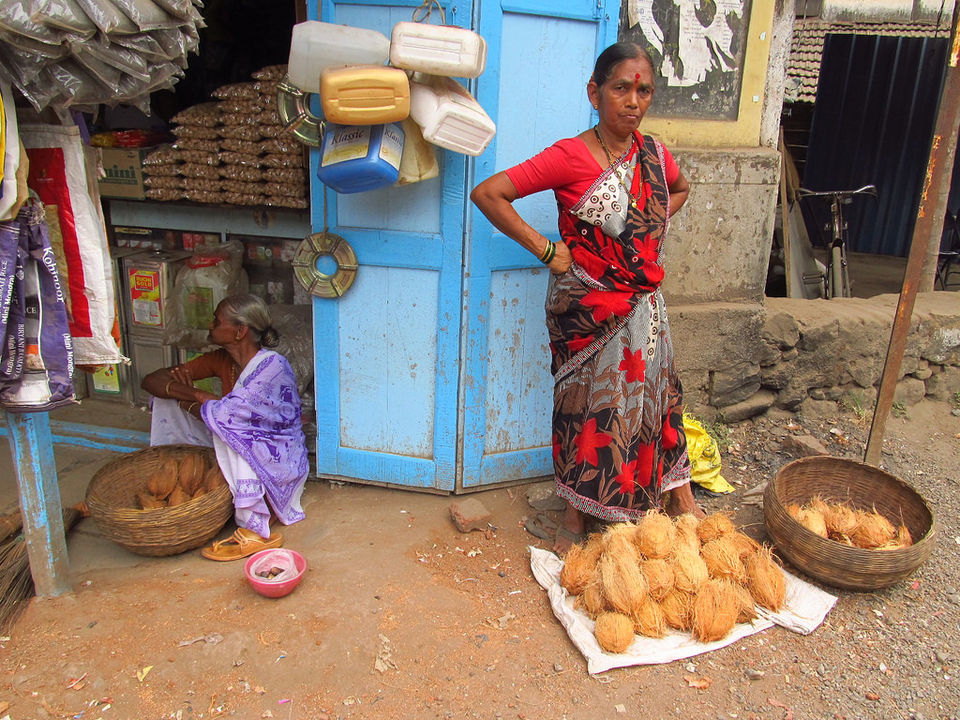 What to do around the property and around
Relax. Peruse the vegetable in the garden, and pick some for your meals. It is all organic. Explore the village, meet the locals (ask Kiran and Geeta), watch a movie at the local cinema, try your hand at rangoli (flower decoration on the floor), walk the beach, try your hand at some sculpture. A small venture in cottage industries produce quality jams, pickles and squashes; please buy something.
The closest beach is Thala. Others are Nagaon, Varsoli, Mandwa, Awas, Akshi and Alibag. Water sports include scuba diving, jet skiing, paddle boarding, banana and bumper boat rides, para sailing, speed boat and sea kayak.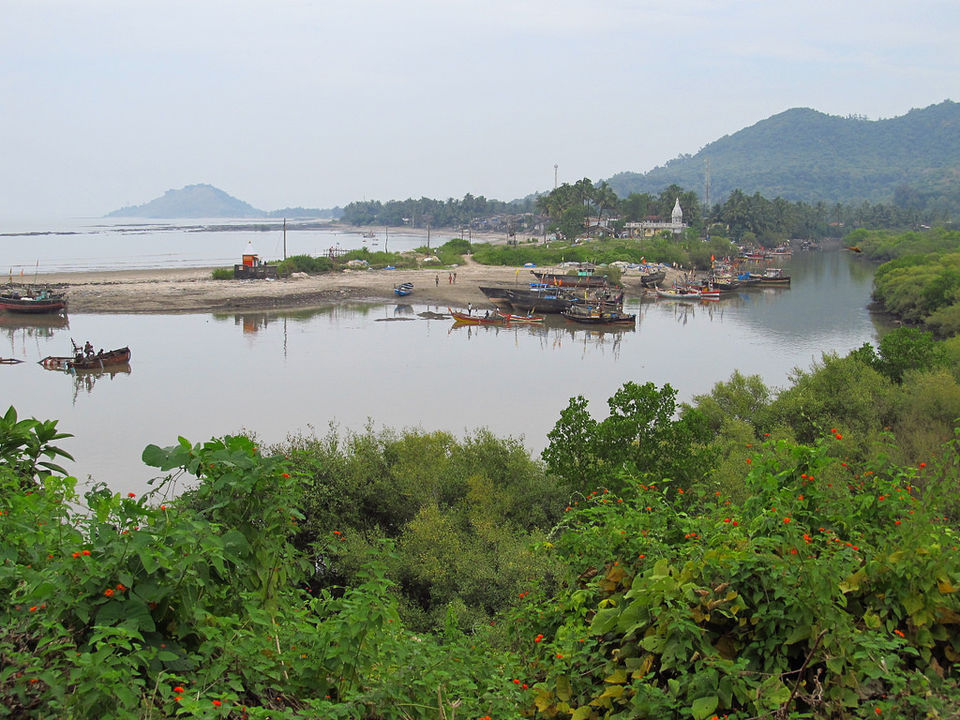 There are the Kolba and Undheri Forts, the Native Biodiversity Garden, the Vikram Vinayay, Hanuman and Kanakeshwar Devasthan temples, the Pushkarna and Brahma Kunds, the Magen Aboth Synagogue and the Karmarkar Museum of Sculpture.
October through May, after and before the rains. Summer can be a bit warm. Best time is November through March. If you have braved the rains in Goa and Kerala, then come here during the monsoons, everything but the beach and water sports is available. Rains have their own special charm, and they are pretty and romantic. I'd say the monsoons are an ideal time to cosy up with your special someone, in a nice place like this.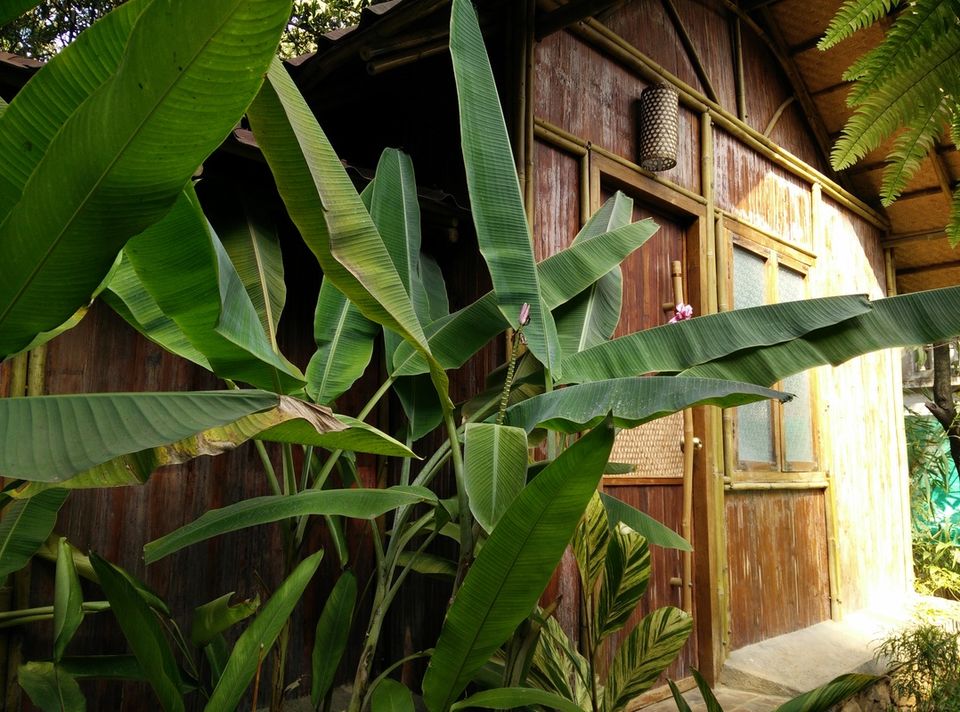 Cost
Prices with meals are about Rs.10000 per room per night. However there is an offer of 2 nights with sight-seeing, for Rs.9250 per person.
Day 1
Take the 8 am PNP catamaran from Gateway of India to Mandwa Jetty
Arrive at the Gandhar Eco lodge by 10 am.
Village walk
Visits to small cottage industries located in the village
Day 2
Early morning boat ride to Mandwa fort
Afternoon visit to Alibag, Alibag fort and the Synagogue.
Day 3
Return to Mumbai on the 11 am PNP catamaran.
If you are travelling in the monsoon, when there is no Catamaran service from Mumbai, then you can motor down yourself or take the bus (catamaran or bus ticket is included in the price).
Included are
Share a double-bedded room(no twin beds, please note people!) for 2 nights and 3 days
Breakfast, lunch, snacks, dinner, mineral water (refillable)
Sightseeing as described
Pick up and drop - Mandwa jetty or Alibag Bus stand
Prevailing taxes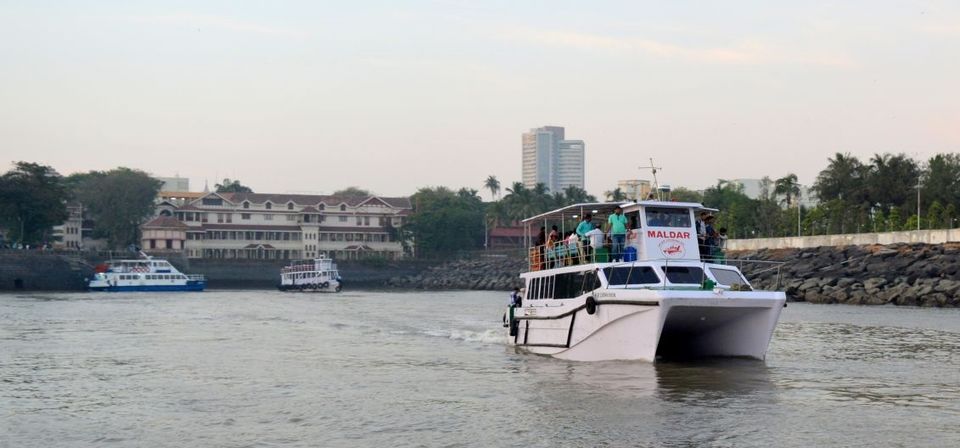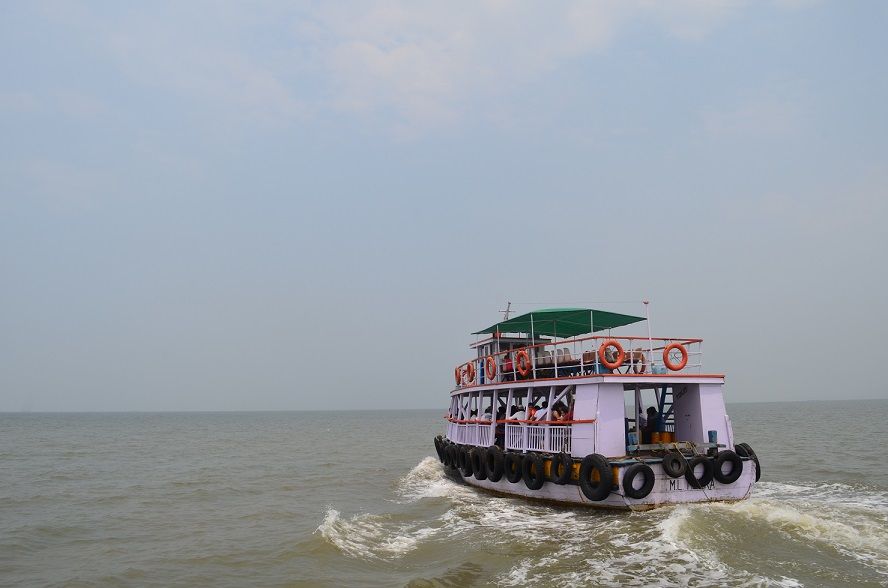 The nearest metro city is Mumbai. Mumbai has a National and International Airport, excellent Railway connections around India and both ordinary and luxury Intercity Bus Service.
Alibag, that is, the Mandwa Jetty, is about a 45 minute cruise from the Gateway of India, Mumbai. There are over 20 scheduled departures each way between 6 am to 6 pm, with ticket costs between Rs.85 to Rs.150 (a/c) per person one way. This fare includes the bus from Mandwa Jetty to Alibag bus stand, and you can hop-off anywhere along the way. There is no Catamaran service June through September, exact dates vary with the advent and departure of strong monsoon winds and shower. Ferry tickets in Mumbai are available from at the Gateway of India complex, and in Alibag adjacent the Bus Stand.
By road it is over an hour, and really depends upon which part of Mumbai you are travelling from and the traffic conditions especially in the city.
Visit the community forum to ask questions, get answers, meet other travellers, and share your advice.
If you know of a hotel, homestay or resort that made you fall in love with the destination? Write about it on Tripoto and help the traveller community discover something new.