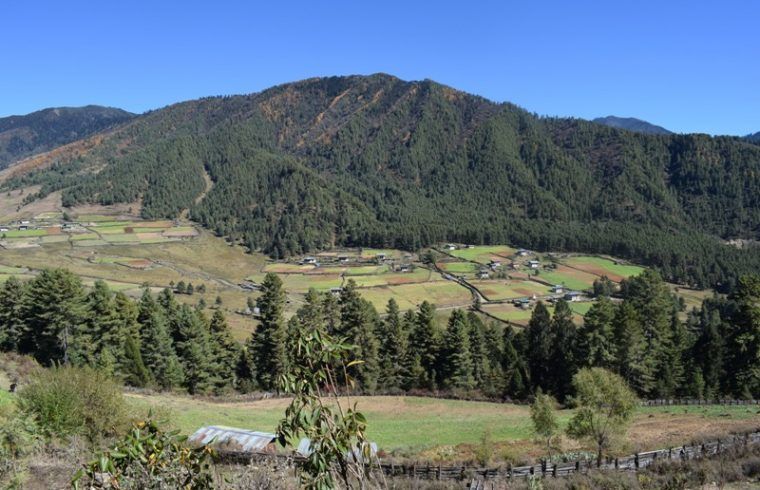 A night in the glacial valley of Phobjikha ,Bhutan
The Phobjikha Valley is a vast U-shaped glacial valley with a central stream meandering through the open grassland and thickets of dwarf bamboo. Phobjikha also known as Gangteng Valley named after the impressive Gangteng Monastery of the Nyingma sect in central Bhutan, where the graceful black-necked cranes in Bhutan from the Tibetan Plateau visit the valley during the winter season to roost. Gangtey or Phobjikha at an average altitude of 3,000m is a wide and beautiful valley.
It was our second decided destination to visit in our trip. We reached Thimpu on the night of 9 th and were off to Phobjikha for 11 th as every year on the 11 th of November, the annual black necked crane festival is celebrated when endangered black-necked cranes that migrate from Central Asia in the winter come to Phobjikha valley. The booking for this place was really hard online. So found a home-stay booking with the help of a friend.
We hired a cab for the Thimpu sight visit. The person was really kind and helpful so, we shared our route plans with him and asked for hiring his cab for 3 days and he agreed. As per the plan, we were off to Phobjikha at 6:30 in the morning. The roads were really winding which made me feel uneasy so I asked the driver to stop for some time. As we got out of the car, I wanted to ask the driver more about the trip. He always wore shades; while I was talking to him, the sun rays fell straight into his shades and I felt something strange about his left eye. I came to know that he lost one of his eyes in an accident. Till this moment his driving was really smooth but i felt a bit scared about the rest of our journey and discussed it with my travel partner.
In sometime we reached Dochula pass which is located on our way. The pass is a popular location among tourists as it offers a stunning 360 degree panoramic view of Himalayan mountain range. The view is especially scenic on clear, winter days with snowcapped mountains forming a majestic backdrop to the tranquility of the 108 chortens gracing the mountain pass. The weather was really cold and as we got out of the cab, we started shivering. But as we saw the breath-taking 360 view, we forgot all about the weather and cold. Sadly, we couldn't stay for long as we had to reach our destination on time.
Click on images for full view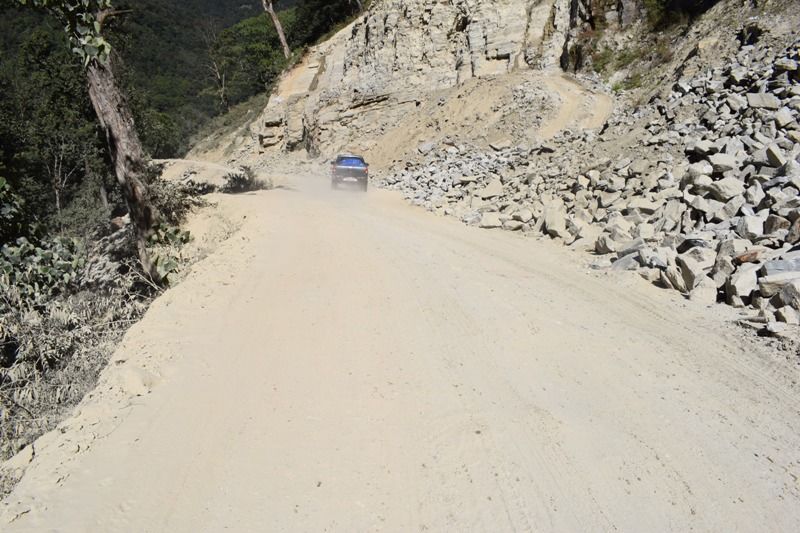 Soon the road became bumpy, narrow and bouncy. Also the road was broken because of ongoing road widening work. The road's condition was same from continuous 3hrs. On one side there was a broken road, the other side had a steep fall and on top of that driving with one eye. It seemed it was the last day of our life. But jokes apart, he was really a skilled driver inspite of his disability. He drove really nicely in such a road which most drivers aren't able to do.
Finally, we reached Phobjikha valley which had a stunning and spectacular view. Click on the image for full view.
Till 12:30 in the afternoon, we reached the courtyard of Gangten Gonpa Monastery where the festival was held. There were many roadside stalls on the way to the Monastery. There were also stalls for games like archery which is their national sport.
Watch festival's video
As we stepped inside the place where the festival was held, the aroma became joyful and cheering. The festival includes cultural programs such as folk songs and dances (some with black-necked crane themes) and mask dances performed by the local people, crane dances and environmental conservation-themed dramas and songs by the school children. The festival had some amount of entrance fee which was used for the support of endangered species of black necked crane. The next day cranes were seen on the valley.
After attending the festival, we were off to the home-stay. Because of no proper landmark, it took a bit struggle to reach there. When we went to our room to keep our luggage, we were in an extreme shock as there were no beds but mattresses on the floor, no geyser, no heater, no network, we were feeling extreme cold and also food was not prepared by that time. There were no shops for anything. I started panicking but my travel partner and the driver suggested me to stay for tonight. The owner understood neither English nor Hindi. The driver translated everything to the lady and she urgently made some food for us. We ate the stew, which is similar to a curry, they had daily along with red rice. It's made of green, yellow or red chilies, some leaf, yak or cow's milk cheese, onions and tomatoes.
We tried to call our homes but there was less balance in our Bhutan sim. Shortly the driver went and supposed to come in the morning. As we went to our rooms, an Indonesian group of ladies which were above 50-55 arrived with their guides. Inspite of their age they were very fit, active and enthusiastic. It's not like they didn't have hardships in that place but all they cared about was being happy and enjoying every moment to the fullest which was really inspiring. They were really friendly and soon we became friendly. Meanwhile, two little girls (owner's daughters) came to us and gave us a talk time scratch card and said that it was given by our cab driver. We were really touched by how caring and concern he was.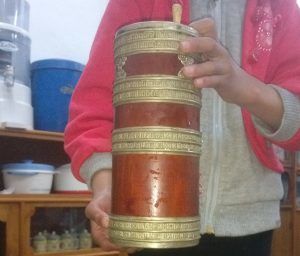 Watch video
We refused to take dinner as there was only pork and beef in main menu. But the host was very concerned and didn't want us to sleep hungrily at their house. They came to our room with their children and requested us to have dinner. They had specially made veg dishes from what all they had. They were serving everyone with real joy. In sometime there was a feeling of happiness in the air when the owner's little daughters showed and taught us their folk dance and at the last they served us locally brewed ara (or arag), a fermented drink made from rice, maize, millet, or wheat. Ara tastes a bit like extremely, extremely strong sake but was really good.
Click Here To Make An Enquiry If You Want To Visit The Happiest Country Of The World, Bhutan
Most people are not satisfied in what they have but always wish for more. I observed that the people in Bhutan don't have many resources to earn money but still they believe in staying happy in what they have. They are always ready to help and share with others. I learnt a lesson in life that it doesn't take money to make a person happy "sirf dil bada hona chahiye".
Read related post: