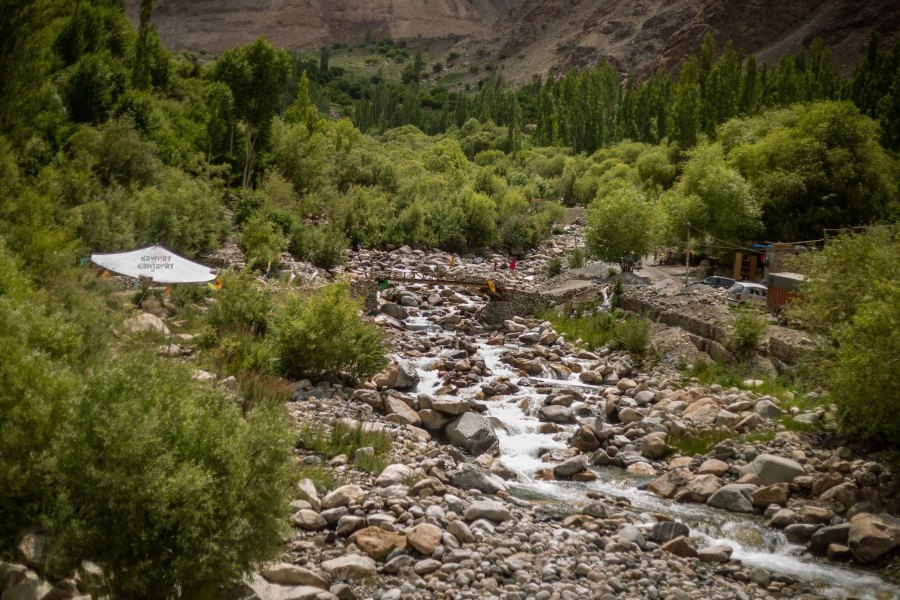 On our recent expedition to Ladakh, we happened to drop by at this village called Turtuk. Often referred to as the last frontier of North India, Turtuk was into Pakistani Occupation till the Indo Pak war of 1971. The consequences of this war changed the lives of the people in Turtuk overnight. The entire territory along with its people following the culture of Baltistan became Indians.
Also Check Out: The Villages of Spiti Valley (Part 1)
Before we go on to share the pictures and lives of people around here in Turtuk, here are a few basics that you should know before you decide to land here:
Where is Turtuk Village?
Turtuk is around 205 km from Leh and is a part of the Leh district. Located in the Nubra tehsil, it is nurtured by the waters of Shyok river. The village is among the 4 villages (Tyakshi, Chalunkha and Thang) in Indian occupation which originally belonged to the Baltistan Region of Pakistan. The Pakistan border is just 7 km from Turtuk and is one of the gateways to the Siachen Glacier.
How to reach Turtuk?
Well, it's not that easy to be very honest. Limited amenities and its location make it a little tricky to commute till here if you are not a local. The locals, however, use Diskit as the junction. Turtuk is 90 km from Diskit and a butter smooth road would bring you here if you are driving on your own.
Public Transport from Leh to Turtuk Village: A Bus for Turtuk leaves Leh every Saturday at 6 AM. Fare per person is Rs. 316. This bus will pass through Khardung La, Khardung, Khalsar, Diskit, Hunder and Thoise.Note: This bus runs only on Saturdays and hence it might not fit your itinerary.
Public Transport from Diskit to Turtuk: Turtuk has got only one bus that plies daily between Diskit and Turtuk. The bus leaves Diskit Bus Stand near the market at 2:30 pm and would drop you at Turtuk by 6:30 in the evening. The bus fair is INR 110 for a one sided trip. Private taxi from Diskit would cost you around INR 3000.To summarise, you would have to reach Leh and then plan accordingly as per your choices and conveniences.
Inner Line Permits for Turtuk
As this is a border village like several other regions in Ladakh, one needs to apply for an Inner Line Permit (for Indian Nationals) or Ladakh Protected Area Permit (for Foreign Nationals). You can get the permits online. Besides, the DC office at Leh issues permits between 9:00 AM - 4:00 PM on working days.
Best Time to Visit Turtuk Village
Best time to visit Turtuk is between the Summer months of May and October. The village blossoms and goes fluorescent green by the end of May. July is when the village is full of Apricots season. The color of the village changes with every passing month and if you were here in September, you would find the autumn colors turning this entire region into a fairy land oozing golden colors.

Stay Options In Turtuk
Turtuk was opened for tourists only in 2010 - around 41 one years after it became an Indian occupation. With tourism flowing in, the locals have opened their homes and hearts for the travellers. There are a handful of homestays around but we would recommend staying at Asadulla Bhaijaan's Homestay (also a Bawray Banjaray Home) located by the famous Friends Cafe of Turtuk.

Culture Of Turtuk
While most of the Leh district follow Buddhism as its main religion, the folks in Turtuk have Islam as their main relegion - owing to their origins from Balitistan. The people would speak Balti, Urdu and Hindi while they still reminisce of their Balti days. The people love to play polo from the yesteryears - no wonder why there are so many polo grounds around in the region.

Interestingly, as is known that the entire region of Ladakh is predominantly Buddhists, even Balitistan had its share of Buddhist days... Read More