Gujarat is known for many wondrous things. The western tip of our country, Gujarat is the land of temples and gardens, Mahatma Gandhi and Narendra Modi, dhokhla and khakhra, beaches and desserts and much more. Infamous for being the 1st dry state of India, this state has many delightful things to offer.
There's one very special thing that makes Gujarat a sought after place by Hindus - Dwarka Dham. According to Hindu tradition, there are 4 religious spots in our country that are of the highest value - Badrinath in north (Uttrakhand), Rameshwaram in south (Tamil Nadu), Dwarka in west (Gujarat) and Jagannath Puri in east (Odisha). Dwarka is a Krishna temple and attracts millions of Hindus every year. The second thing that attracts Hindu devotees to this state are the two Jyotirlingas. A Jyotirlinga is a place of worship for Shiv worshippers and there are 12 in our country. Two are in Gujarat - Somnath, the 1st one and Nageshwar the 12th one.So, last month, i.e. in February 2016, I went to Gujarat to visit these religious spots with a huge group of senior citizens and it was a surprisingly fun vacation to say the least.
Somnath
The trip started with an early morning flight from Delhi to Ahmedabad and a long 8 hour road trip from Ahmedabad to Somnath. We reached Somnath at 5 in the evening and decided that after a quick shower and a cup or two of tea, we would visit the temple. The Somnath temple is a sight to behold. It is beautiful and grand and has a massive compound surrounding it. The temple is known for the intense history of being plundered numerous times and constructed again and again. But the current structure stands tall on the sea shore, welcoming one and all, with open arms. The Shivling inside the temple is beautiful and the sanctum sanctorum, or the "garbhgraha" as it is called in Hindi, is made of actual gold and houses the Shivling. The rest of the structure is painted in gold colour with the central spire standing 15 metres tall. Surrounding the temple on one side is the sea and the seashore with a sprawling beach and the other side is a small market. The beach is very touristy but offers the perfect view of the sunset. We stayed in Somnath for 3 days and visited the temple at dusk and at dawn and during noon and every time the view of the temple was different and unique.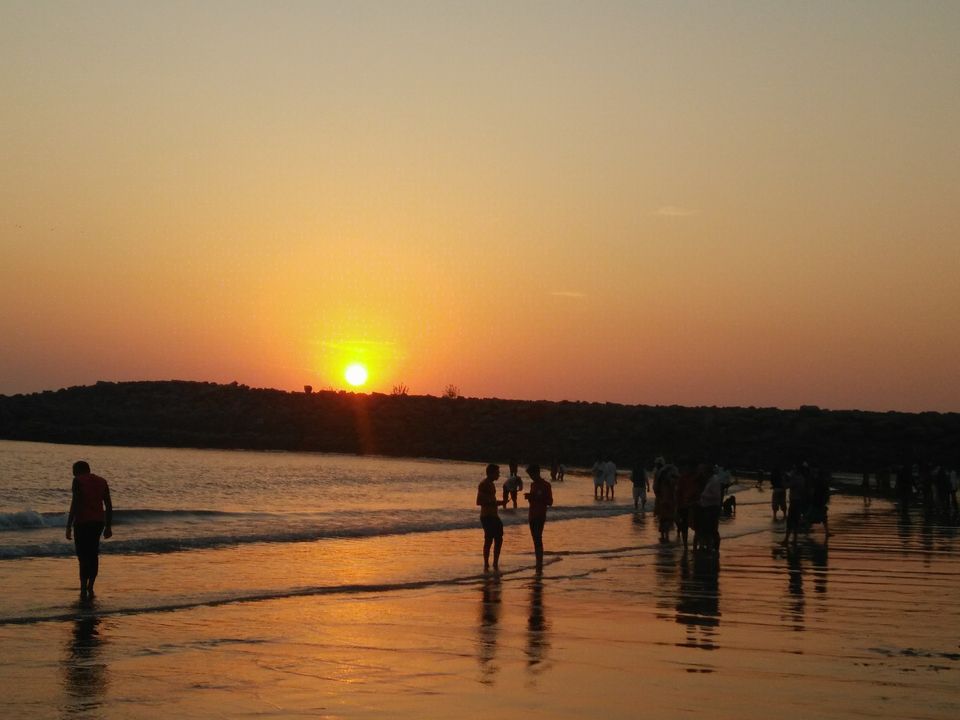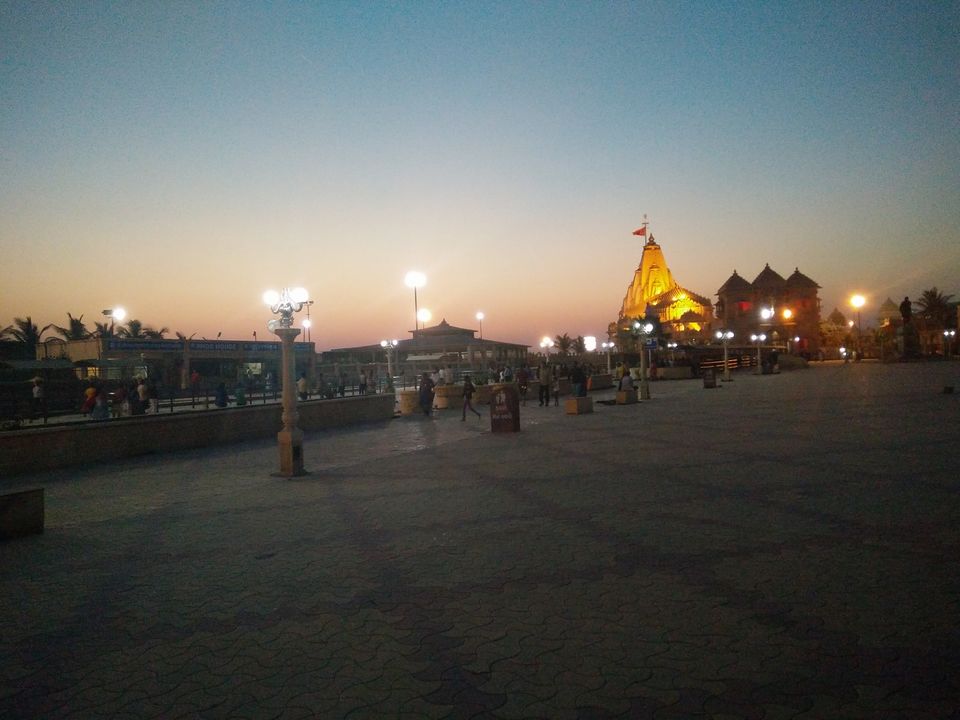 Gir National Park
On our third day in Somnath we decided to visit Gir National Park, the only home of the majestic Asiatic Lion. Gir is located at 80kms from Somnath and we decided on a quick day trip to the park to go say hello to the lions. When we left from Somnath, we weren't hopeful of sighting any lions but we still went, knowing in our hearts that the chance of seeing a lion was very slim. However, when we reached there we were pleasantly surprised. Not only did we see a lion, we saw a full pride - one majestic lion and three lionesses. We spotted them sleeping under the shade of a tree and honestly, it was one of the most surreal moments of my life. Seeing a lion so close was something that I had never even imagined, but it happened and it was everything I had hoped for, and more.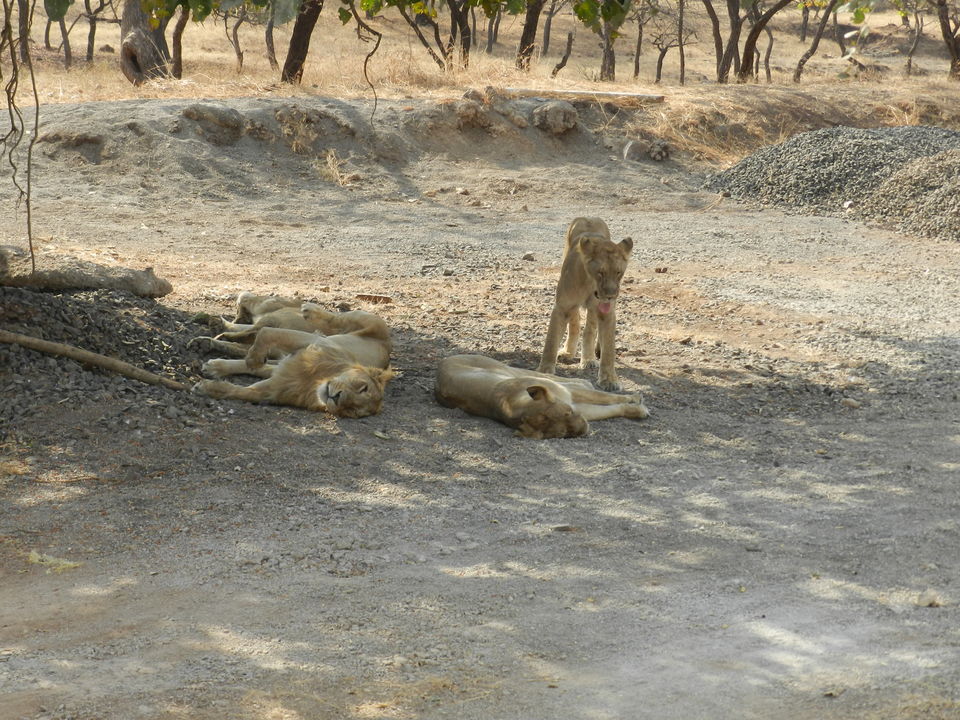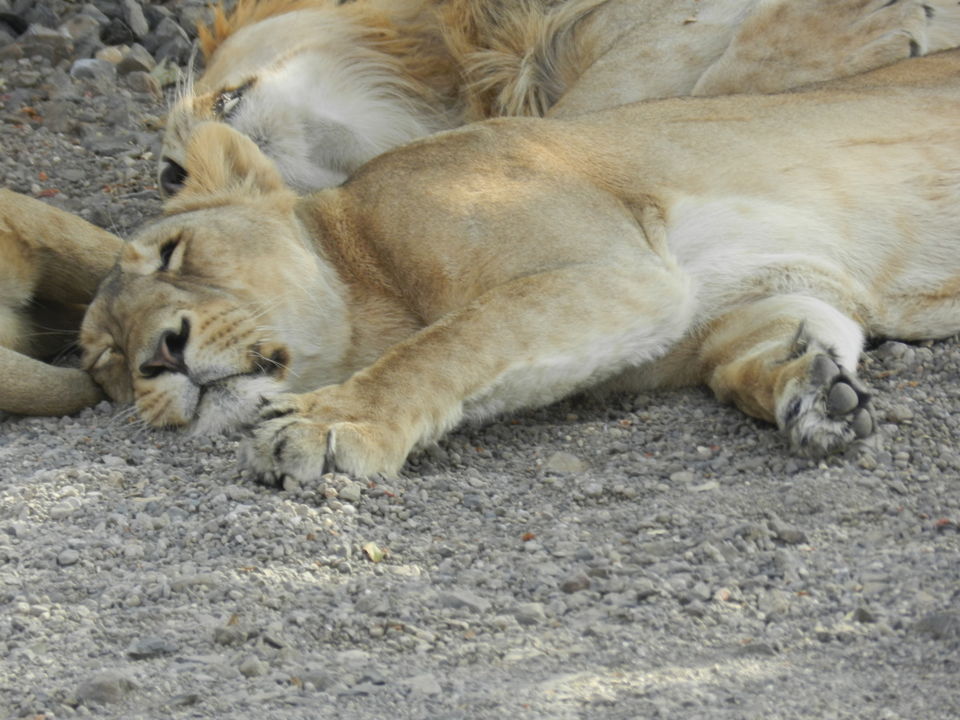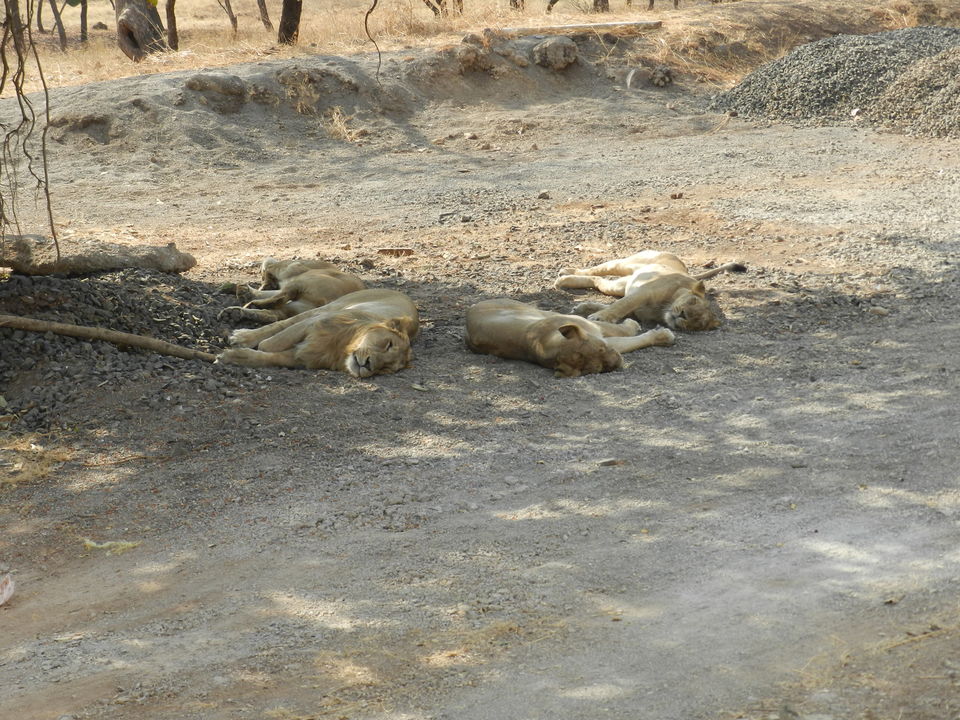 Dwarka
The fourth morning we left for Dwarka Dham, covering the distance of 250 kms in 5 hours. When we reached Dwarka we followed the same routine as Somnath. We took a shower, had a cup of tea and left for the temple. The temple was located at a kilometre and a half distance from our hotel and the walk to the temple was a beautiful one. Sea on one side and bustling markets on the other side greeted us all the way to the temple. The temple is huge, built in a similar way to the Somnath temple, with a huge compound surrounding it. The temple is a Krishna temple and is named as "Dwarkadheesh Temple", translated to "The Temple Of The King Of Dwarka". According to Hindu mythology, Lord Krishna was born in Mathura, spent his childhood in Vrindavan, his teenage years in Mathura and his entire adult life in Dwarka. Dwarka was the place where he established his rule and worked endlessly to bring balance to the Earth. Devotees call the Krishna residing in this temple as the "King of Kings". The statue is beautifully adorned and attracts devotees and non devotees alike. We worshipped the Lord and left soon after.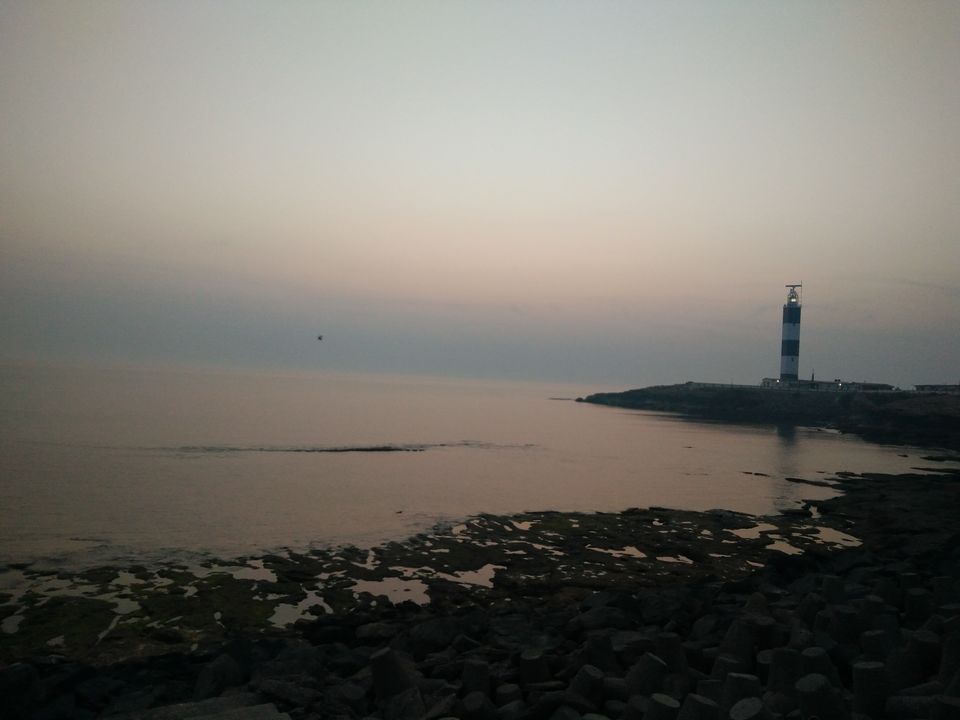 Bet Dwarka and Nageshwar Temple
The next morning we visited two remaining religious spots of our trip - Bhent Dwarka or Bet Dwarka and Nageshwar. Bet Dwarka, according to Mythology, is the place where Krishna met his best friend Sudama after a really long time. It is located in the middle of an island and can only be reached by a ferry or a fisherman's boat. We took a boat and it was so much fun on that 20 minute ride. The entire ride we were escorted by a huge group of seagulls. They reminded me so much of the animated movie Nemo. They kept flying with our boat all the way through. It was a beautiful sight. Our last stop on this pilgrimage was the Nageshwar temple. It is another Jyotirlinga, a Shiva temple and it was built in the same grand manner as the Somnath temple. We visited it for a short period of time but it was beautifully adorned with silver all over and chants of Shiv mantras were all around us in that temple. It had a very serene ambience.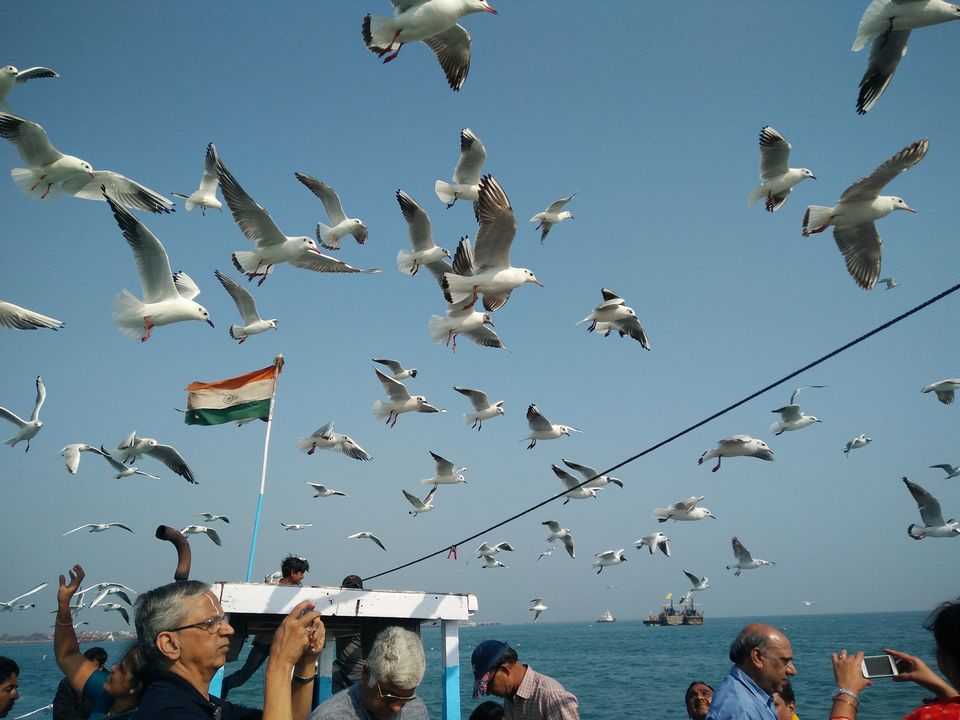 Why I call this a pilgrimage and not a trip? Because there are many things to do in these cities but the only thing I did was visit temples and see the devotion of people around me. The only reason the day trip to Gir was planned was because the people with me realised that there is a young kid with them who might like something a little different. 
Few things that are worth mentioning:
1. All three temples, Somnath, Dwarkadheesh and Nageshwar were absolutely clean, contrary to many Hindu temples in Northern India. The donation system was very systematic and there were no priests inside the temples, forcing you to donate some amount or promising you exclusive 'Darshans'. I believe the credit does go to the Government of Gujarat and the trusts that maintain these temples.
2. These temples are all situated on the tip of Gujarat and on seashores. That is one reason that all the temples have a pleasant sea breeze flowing during late hours in the evening.
3. Gujarat is a western state and the sunset is a beautiful view in all these three spots. It is something that you must not miss.
4. You don't need to be a devotee, or even a follower of the Hindu religion to visit these places. All you need to do is respect the religion and devotion of the pilgrims and bow your head down. They will accept you with warmth and love.
5. DO NOT listen to any 'pandits' offering you special 'darshans' etc. These temples are constructed in a manner that every pilgrim, rich or poor, can visit the Lord with ease and without any extra measures.
I am a young 27 year old woman and I never expected myself to go on such a pilgrimage but it turned out to be fun and educational and I probably would do it again!
Trip Details:
Delhi to Ahmedabad Flight - Rs. 12,000 return.
Ahmedabad to Somnath - 400 kms
Somnath to Dwarka - 250 kms
Dwarka to Ahmedabad - 450 kms
We hired taxis from Ahmedabad to Ahmedabad at a price of Rs. 11/km and maximum distance of 1800 kms in 6 days. The Gujarat highways are superb and driving is a delight there.
Hotel in Somnath: The Fern Residency
Hotel in Dwarka: The Manek Ocean View